Diwali, the festival of lights, holds a special place in the heart of every Indian. Celebrated with much fanfare and joy, Diwali illuminates not just homes but also minds with its symbolism of the victory of light over darkness and good over evil.
Amidst the flickering diyas, resplendent rangolis, and sparkling fireworks, a cherished tradition that adds an extra layer of joy to the festivities is the exchange of gifts. The act of gifting is not just limited to family and friends; it also extends to the professional world, hence the concept of corporate Diwali gifts.
Corporate Diwali gifts express gratitude, foster goodwill, and strengthen relationships within the business realm. They stand as a token of appreciation and acknowledgement for the hard work, commitment, and loyalty that employees, partners, and clients have shown throughout the year.
The right gift can resonate with the recipient's tastes and values, creating a lasting positive impression on the giver.
In this blog post, we will delve into corporate Diwali gifts, exploring their importance, what to consider when choosing them and presenting a few thoughtful Diwali gift ideas for corporates to inspire your business this festive season.
Join us as we illuminate the art of corporate gifting during Diwali and how it contributes to nurturing a positive corporate culture.
Why are Corporate Diwali Gifts important?
Corporate Diwali gifts are a well-established tradition in many organizations worldwide, especially in India, where the festival of Diwali holds significant cultural value. These gifts carry more than just the festive spirit; they symbolise several important aspects of the corporate world.
Here's why corporate Diwali gifts are important.
1. Building relationships
Corporate gifts during Diwali are a token of appreciation towards employees, clients, and stakeholders. They can help to strengthen relationships, build trust, and foster a stronger bond between the company and its associates.
2. Employee recognition and motivation
Diwali gifts can act as a form of recognition for the hard work and dedication shown by the employees throughout the year. This recognition can motivate employees, boost their morale, and create a positive work environment.
3. Enhancing the corporate image
Thoughtful and quality Diwali gifts can enhance a company's image. They reflect the company's values and ethics, portraying it as an organization that cares about its employees and associates.
4. Client retention
Sending corporate Diwali gifts to clients expresses gratitude and appreciation for their association with your company. This thoughtful gesture can aid in maintaining long-term professional relationships and improving client retention rates.
5. Cultural significance
Diwali is among the most important festivals in many cultures, especially in India. It is seen as an auspicious time, and giving gifts is a traditional way to celebrate the festival. Participating in this tradition can show that your company respects and values the cultures of its employees and clients.
6. Promoting brand
Customized Diwali gifts featuring your company's logo or brand name can act as an effective promotional strategy. It can enhance brand visibility and recognition.
Corporate Diwali gifts are a small investment that can yield significant returns regarding employee satisfaction, client retention, and brand recognition. It is not merely about the gift's monetary value but about its sentiment and goodwill.
Key considerations when choosing corporate Diwali gifts
Selecting the perfect corporate Diwali gifts can be quite a task. The goal is to express appreciation and convey respect without overstepping professional boundaries. Keeping that in mind, here are several key factors to consider:
1. Cultural sensitivity and appropriateness
Diwali is a profoundly significant cultural event. It's important to ensure that any gifts you choose respect this. Avoid anything that may offend someone's beliefs or traditions.
2. Diversity of recipients
In any corporate setting, there will be a diverse mix of individuals, each with their own preferences and needs. Therefore, while it may be tempting to go for a 'one size fits all' approach, putting some thought into who the recipients are can be more impactful. Consider age, gender, religion, and personal tastes when choosing your corporate gifts.
3. Balance between individuality and mass appeal
Corporate Diwali gifts should balance being unique and appealing to a wide range of people. A too-generic gift may seem impersonal, but something too niche might not resonate with everyone.
4. Quality and usefulness
A good quality gift reflects well on your company and is more likely to be appreciated by the recipient. Practical and useful gifts are always a good choice - think about what your employees or clients might need or use regularly.
5. Budgetary considerations
Determining your budget for corporate gifts is crucial before starting the selection process. There are options available at all price ranges, so decide on a budget that's comfortable for your company and stick to it.
6. Brand representation
A corporate gift should ideally subtly represent your company's values or services. Customized gifts with a company logo or personalized items that promote your brand subtly can be a great way to make your gift stand out.
7. Delivery logistics
In this era of remote work and online business, the delivery process for your gifts becomes an important consideration. Make sure the gifts are easy to transport or deliver, especially if they must be sent to different cities or countries.
10 Popular corporate Diwali gift ideas
Choosing the perfect gift can be challenging, but thoughtful and appropriate choices can leave a lasting positive impression.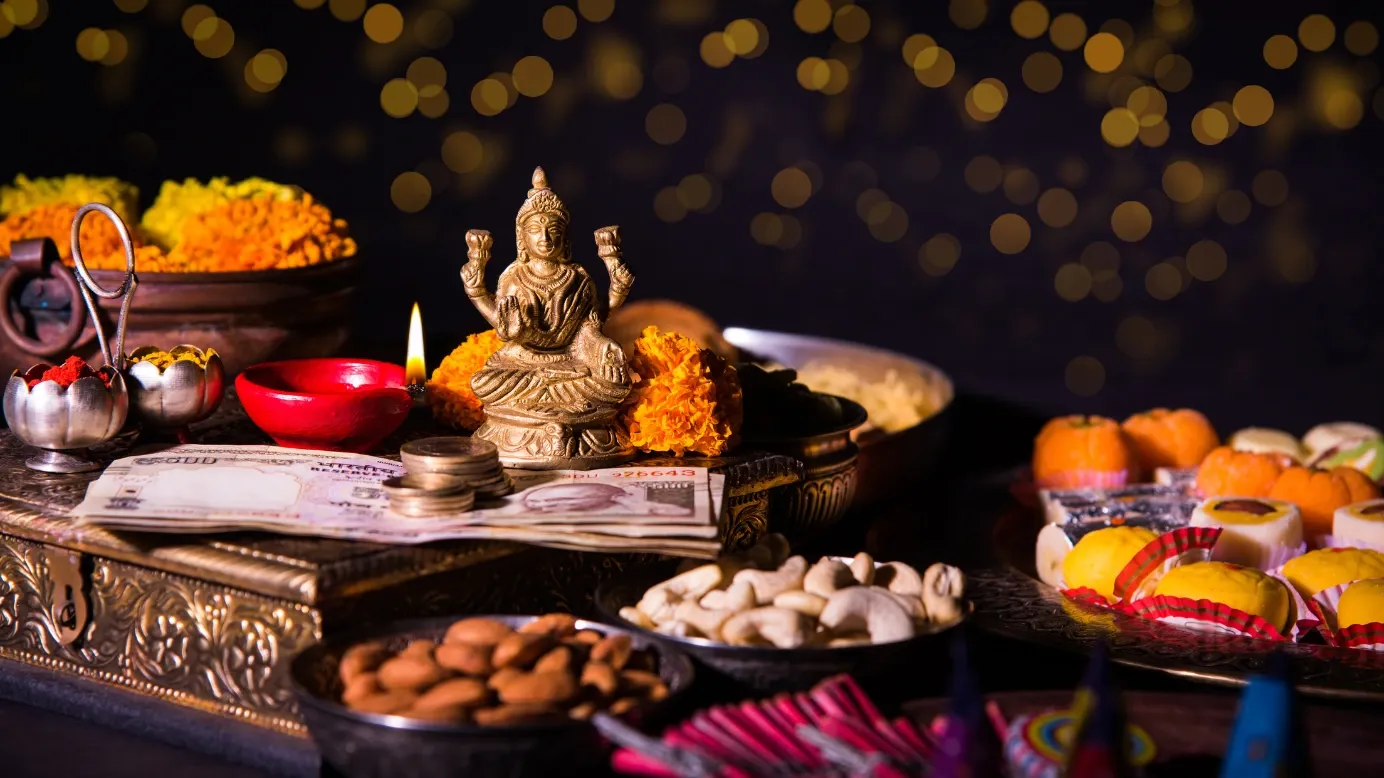 Here are some popular corporate Diwali gift ideas that you pick from.
1. Traditional Indian gifts
These gifts embody the spirit of the Diwali festival. Items such as beautifully crafted diyas, intricately designed candle holders, and idols of Lakshmi and Ganesha resonate with the cultural significance of Diwali. They are not just decorative items but also hold spiritual value, symbolizing prosperity and good luck.
2. Sweets and gourmet hampers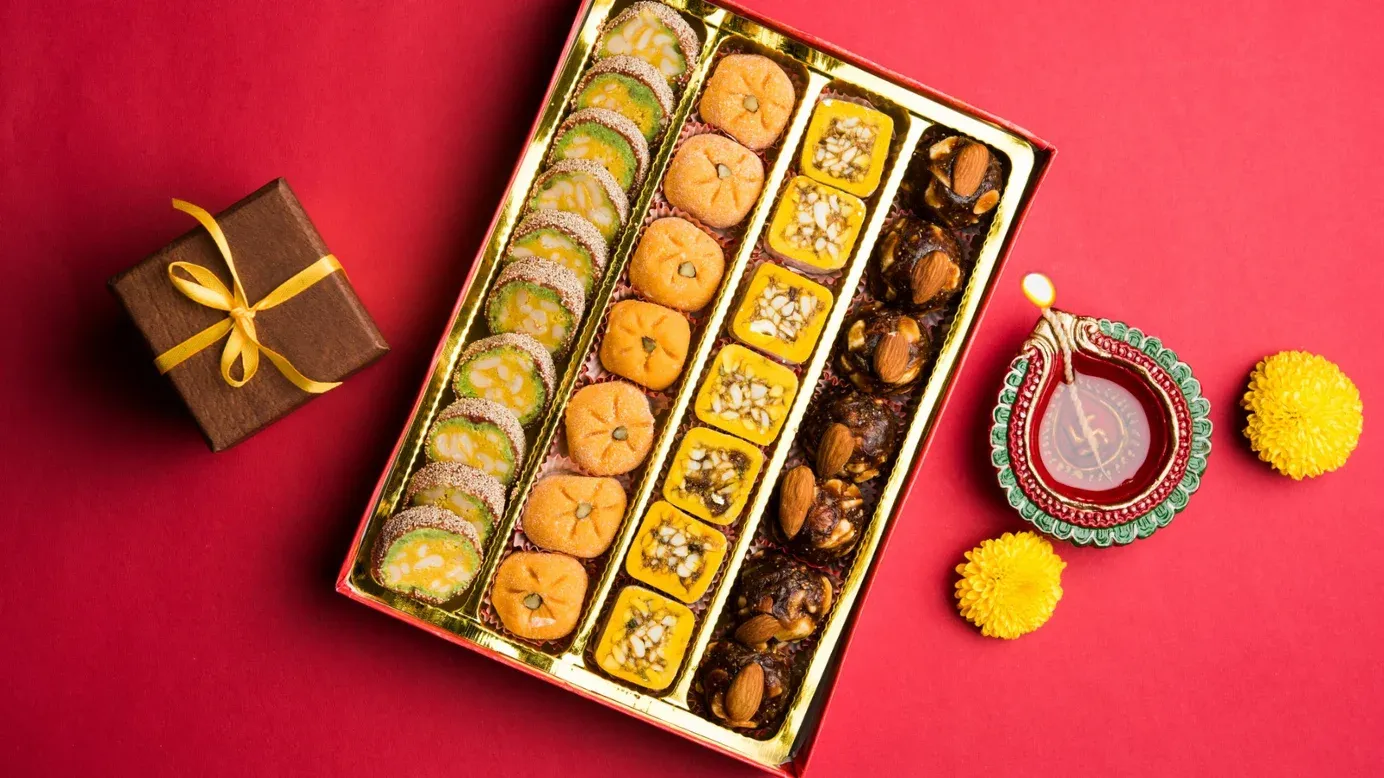 Boxes of premium sweets or assortments of dry fruits are a classic and safe choice for Diwali gifting. For a more modern twist, consider gourmet hampers.
These hampers can be filled with luxury chocolates, exotic teas or coffees, artisanal cheeses, or other high-quality food items. Such hampers can cater to a wide range of tastes and signify indulgence and festivity.
3. Practical office items
Items that can be used daily in the office such as high-quality pens, leather-bound notebooks, or elegant desk organizers make a great corporate gift.
They're practical and often appreciated by recipients. Moreover, every time the recipient uses the item, they are reminded of your brand, fostering a positive association.
4. Tech gadgets
In the digital age, tech gadgets are a hit. Items such as power banks, bluetooth speakers, or headphones are highly useful, and if you choose a high-quality product, it can reflect positively on your brand. For a more personalized touch, these gadgets can be customized with your company's logo.
5. Personal care items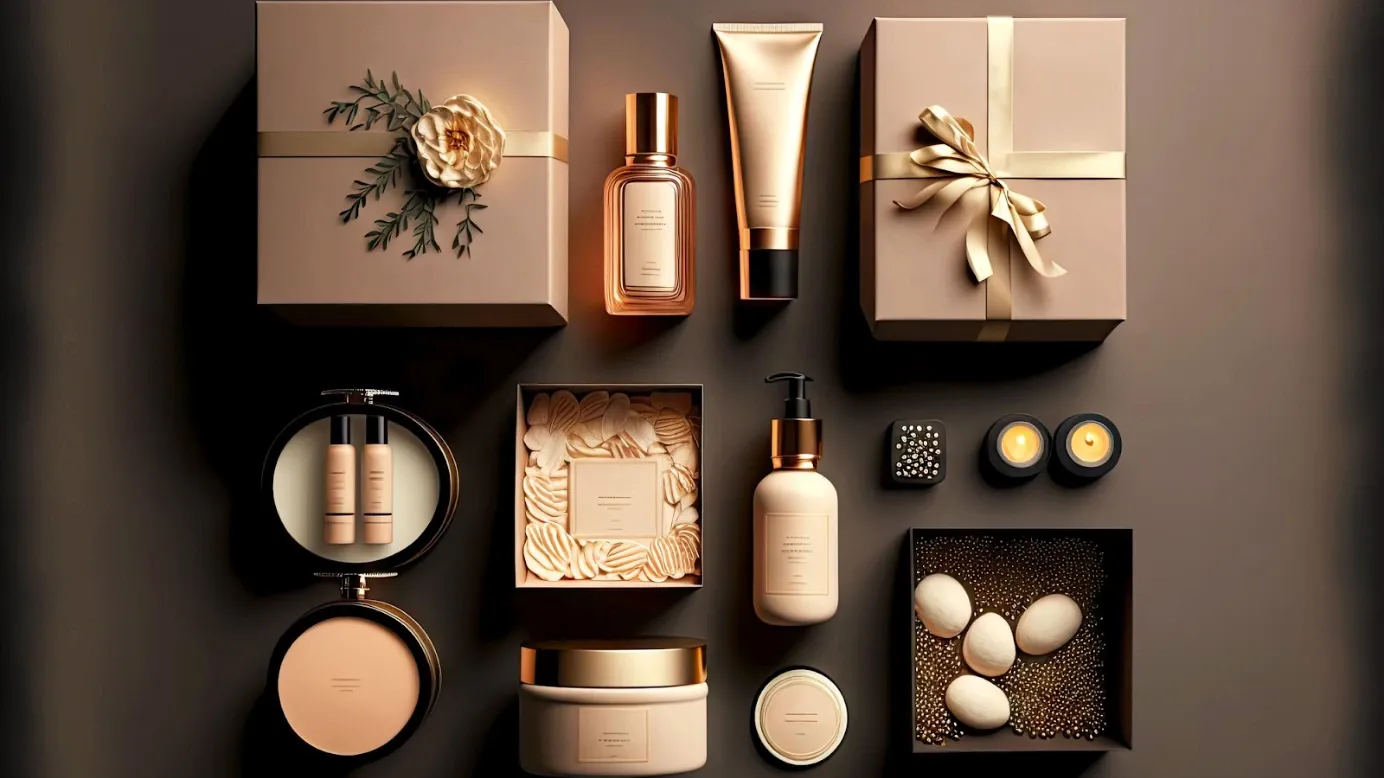 Luxury personal care products, such as organic handmade soaps, aromatherapy candles, or wellness kits consisting of essential oils and massagers, offer a touch of luxury and show that you care for the recipient's wellbeing. Such gifts can provide a much-needed opportunity for relaxation and self-care amid the festive rush.
6. Eco-friendly gifts
As businesses increasingly prioritize sustainability, eco-friendly gifts have become a popular choice. Consider gifting indoor plants, which not only brighten up office spaces but also improve air quality.
Other options include reusable shopping bags, bamboo desk accessories, or items made from recycled materials. These gifts are a great way to show your company's commitment to environmental responsibility.
7. Customized gifts
Adding a personal touch to your corporate gifts can make them stand out. Gifts such as diaries or mugs with the recipient's name, or tech gadgets imprinted with the company logo can make the recipient feel special. Such gifts are not only memorable but can also enhance brand visibility and recall.
8. Gift cards
If you're uncertain about personal preferences or want to offer more choice, gift cards are an excellent option. These could be for online retailers, gourmet restaurants, wellness spas, or bookstores. A gift card gives the recipient the freedom to choose a gift they truly want, ensuring your gift is appreciated.
10 Corporate luxury Diwali gifts ideas
When it comes to corporate gifting, luxury items can create a lasting impression and show your appreciation for the recipient. Let's explore luxury Diwali gifts that offer a blend of luxury, utility, and a touch of opulence to celebrate the festive spirit.
1. Luxury pens
A luxury pen from a reputable brand like Montblanc, Cross, or Parker can be an ideal gift for executives. These pens combine functionality with sophistication and often come in beautiful gift boxes. Every time the recipient uses the pen, it will serve as a reminder of your brand and the thoughtful gift.
2. Designer watches
A timeless gift, designer watches are a symbol of elegance and luxury. Brands like TAG Heuer, Rado, or Tissot offer a range of sophisticated watches suitable for both men and women. While they are a considerable investment, a luxury watch can speak volumes about your company's regard for the recipient.
3. Premium leather goods
High-quality leather items, such as wallets, business card holders, or briefcases, are practical and stylish. They are durable and improve with age, reflecting positively on your brand. You could choose items from luxury brands like Gucci, Coach, or Hugo Boss.
4. Jewellery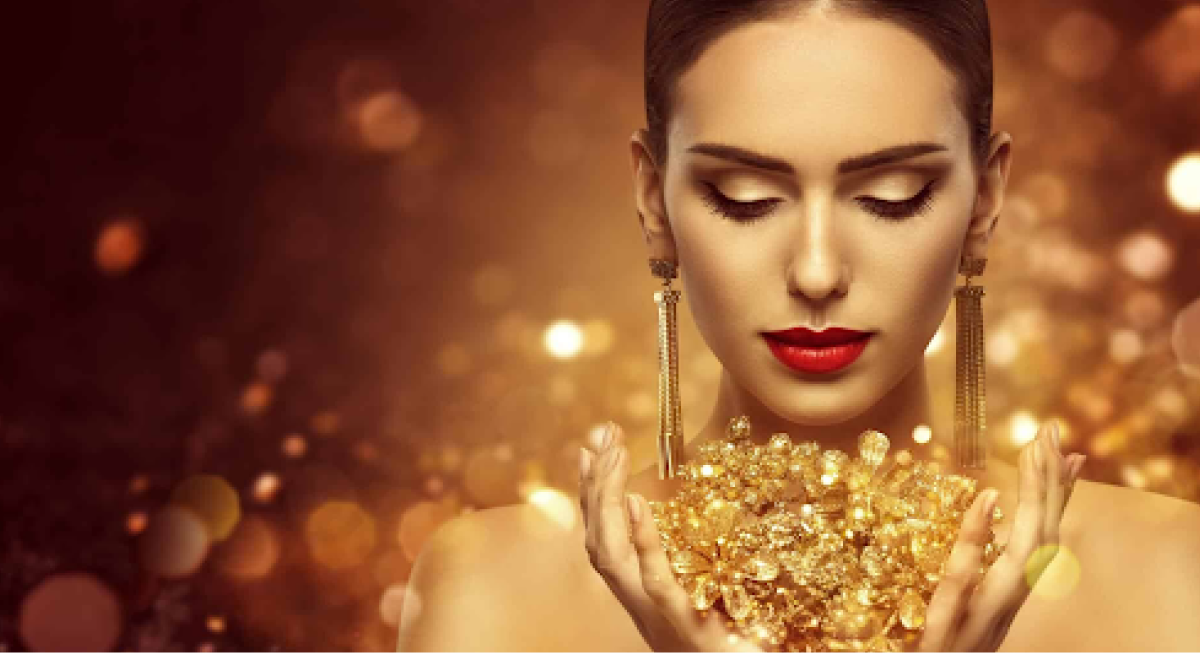 High-end jewellery can be a fitting gift for an important client or a highly valued employee. You could consider a tasteful pair of cufflinks for male recipients or elegant pendants for female recipients. Jewellery, when chosen carefully and appropriately, can serve as a lasting and cherished gift.
5. Luxury gourmet hampers
A luxury hamper filled with gourmet delights can be a grand gesture. These could include fine wines, imported chocolates, artisanal cheeses, or high-quality dry fruits. For a personal touch, you could also consider customizing the hamper based on the recipient's preferences.
6. High-end electronics
Luxurious electronic items can be an excellent choice for corporate gifting. Devices like premium noise-cancelling headphones from brands like Bose, high-end tablets like the Apple iPad, or even a compact projector for a home theatre experience can leave a lasting impression and cater to various needs and interests.
7. Artisanal tea or coffee sets
For connoisseurs among your employees or clients, consider a luxurious tea or coffee set. You can opt for a collection of rare, premium teas from around the world or a selection of gourmet coffee beans. Pair this with a high-end French press, a stylish teapot, or even a small espresso machine for a complete package.
8. Luxury fragrances
Perfumes from renowned brands such as Chanel, Dior, or Giorgio Armani, are a sophisticated gift choice. Opt for classic and universally appealing fragrances. If you are aware of the recipient's preferred scents, personalizing this gift becomes easier.
9. Designer homeware
Items such as a set of crystal wine glasses from Waterford, a silver photo frame from Tiffany, or a set of premium Egyptian cotton towels can add a touch of luxury to everyday life. These items combine practicality with a high-end feel.
10. Travel Accessories
For those who travel frequently for business or pleasure, consider luxury travel accessories. A leather passport holder, a stylish carry-on bag from a brand like Tumi, or a designer travel scarf could be greatly appreciated.
While these luxury gifts come at a higher cost, they can be a worthwhile investment, particularly for high-value clients or exceptionally performing employees. Each of these gifts carries an element of sophistication and exclusivity, reflecting the high regard in which you hold the recipient.
10 Unique corporate Diwali gifts for employees
Diwali is a time of joy, prosperity, and togetherness, making it a perfect occasion to show your employees how much you value their contributions. While traditional gifts are always appreciated, unique gifts can make your employees feel even more special.
Here are 10 unique corporate Diwali gifts for employees.
1. Personalized caricature
A personalized caricature could be a fun and unique gift. You can commission an artist to create digital caricatures of your employees based on their photographs. Not only will this make for a memorable gift, but it can also bring a touch of humor and light-heartedness to the occasion, fitting with the festive spirit of Diwali.
2. Green gifts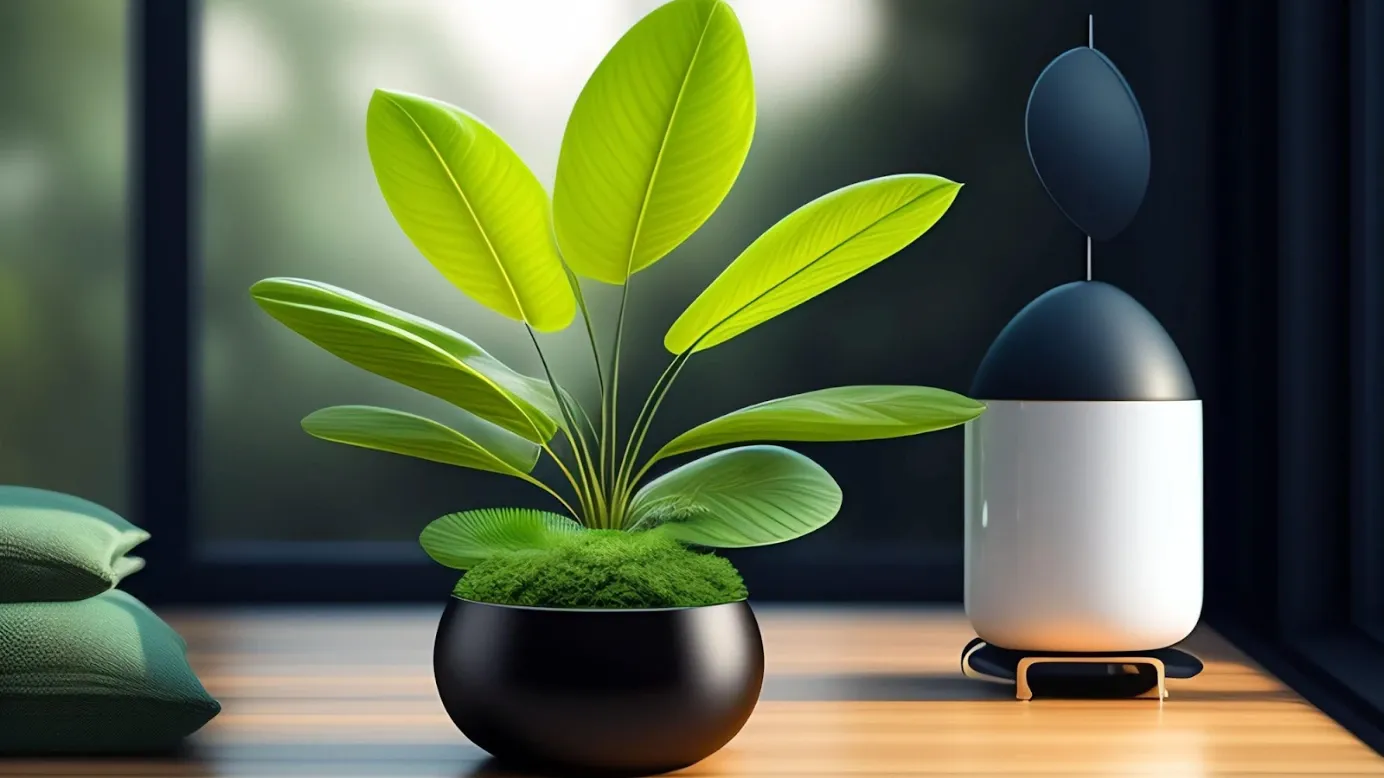 A unique and eco-friendly idea is to gift your employees air-purifying indoor plants. Each plant can come with care instructions and a beautiful pot. To make it more personalized, include a note explaining the significance of nurturing growth, paralleling the plant's growth with the individual's growth within the company.
3. Handicraft items
Gift items made by local artisans are not only unique but also support local businesses. These could include handwoven baskets, pottery, or hand-painted lamp shades. Each piece will be unique and carry the touch of the artisan's craftsmanship, much like how each employee brings their unique touch to their work.
4. Diyas and candle sets
Diwali is all about embracing the light and discarding the darkness. Gifting your employees a set of handcrafted diyas or scented candles can add a warm and personal touch to the festivities. To make it unique, you could opt for candles in custom shapes, colours, or scents. This gift can light up their homes and serve as a symbol of hope and positivity.
5. Diwali e-Cookbook
Food is an integral part of Diwali celebrations. An e-cookbook with a collection of traditional Diwali recipes can be a unique gift. This could include both savory and sweet dishes. For a personal touch, you could include a few favorite recipes from the company's leadership. This gift would inspire your employees to create delicious homemade delicacies and immerse themselves deeper in the Diwali celebration.
6. Wellness subscription
Diwali signifies spiritual growth and the victory of good over evil. Aligning with this theme, a subscription to a wellness app or platform can be an excellent gift.
This could include meditation guides, yoga tutorials, or mental health resources. This will show your employees that you care for their holistic well-being, especially during these challenging times.
7. Customized lanterns
Lanterns, or "kandils," are a beautiful part of Diwali decor, signifying the dispelling of spiritual darkness. Consider gifting your employees customized lanterns, with their names or a special Diwali message from the company. Not only will these add to the festive decor, but they'll also be a symbol of your company's appreciation.
8. Personalized Diwali greeting cards
In the digital age, a personalized, physical greeting card can be a unique and touching gift. You can design special Diwali cards for each employee, including a heartfelt message or wish of gratitude for their contributions. This small but thoughtful gift can make your employees feel special and appreciated during the Diwali celebrations.
9. Subscription boxes
A one-time or ongoing subscription box can make for a unique gift. These could range from book subscription boxes for the bibliophiles, wellness boxes filled with yoga and mindfulness resources, to gourmet food boxes for the foodies. This is a gift that keeps on giving beyond Diwali.
10. Online classes or workshops
If you know your employees' interests well, gifting them a course or workshop in a field they are passionate about could be a thoughtful gift. Platforms like MasterClass or Coursera offer courses on a wide array of topics like creative writing, photography, music, coding, and more.
11 Unique corporate Diwali gifts for clients
In the context of business relationships, Diwali is a golden opportunity to express gratitude and cement ties with your clients. Let's delve into ten unique corporate Diwali gifts for clients ideas that carry the essence of Diwali.
1. Handcrafted Diyas
Diyas, or traditional oil lamps, are a crucial element of Diwali, representing the illumination of knowledge and eradication of ignorance. Gifting your clients a set of premium, handcrafted diyas can be a unique and thoughtful idea.
These could be sourced from skilled artisans and presented in a beautiful package. Each time they light these diyas, they'll be reminded of your business relationship.
2. Eco-friendly Diwali hamper
Diwali is often associated with a profusion of sweets and snacks. Instead of conventional food hampers, consider gifting a hamper of eco-friendly, health-focused products.
This could include organic dry fruits, herbal teas, and even seeds to grow their own herbs. Such a gift aligns with the spirit of well-being and new beginnings that Diwali represents.
3. Exclusive Diwali webinar/workshop passes
In the age of digital experiences, an exclusive pass to a Diwali-themed webinar or workshop can be a unique gift.
This could range from a workshop on making rangolis, a webinar on the history and significance of Diwali, to a virtual Diwali concert. This allows your clients to immerse themselves in the festive spirit, even from the comfort of their homes.
5. Customized silver coins
Silver coins are traditionally given as gifts during Diwali as they are considered auspicious, symbolizing prosperity and wealth.
To add a unique touch, you can customize these coins with your client's and your company's logo. This combines tradition with personalization, making it a memorable gift for Diwali.
6. Diwali virtual event access
In the era of online interactions, granting your clients access to an exclusive, Diwali-themed virtual event could be a unique gift.
This could be a virtual concert, a webinar on Diwali traditions and celebrations, or even a virtual cooking class featuring festive recipes. It's a great way for your clients to connect with the cultural elements of the festival and enjoy a unique experience.
7. Artisanal diya set
Diyas, or oil lamps, are a quintessential part of Diwali, symbolizing the removal of darkness and ushering in of light. Consider gifting your clients a set of handcrafted, artisanal diyas.
Each diya would be unique and represent the hard work and talent of the artisans, much like the unique solutions and dedication that each client brings to your business relationship.
8. Customized silverware
Silverware, like bowls or cutlery sets, make for a traditional and auspicious Diwali gift. To make it unique, consider customizing the silverware with your client's company logo or a festive motif. This blends tradition with a unique personal touch, making for a memorable Diwali gift.
9. Virtual reality experience
For a truly unique gift, consider offering a Virtual Reality (VR) experience. This could include a VR headset and access to a curated list of experiences such as virtual tours of world-famous destinations or immersive cultural experiences.
This futuristic gift can offer your clients an unforgettable experience, even as they celebrate the age-old festival of Diwali.
10. Curated Diwali gift basket
A specially curated Diwali gift basket can be a wonderful way to celebrate the festival. You could include items that resonate with the Diwali spirit such as handcrafted diyas, a box of gourmet sweets, artisanal candles, and some premium dry fruits.
For a more personal touch, consider adding a handwritten note expressing your appreciation for their business and wishing them a prosperous Diwali. This gift not only aligns with the festive occasion but also carries a personal touch that your clients will appreciate.
11. Gift cards
A gift card offers your clients the freedom to choose a gift they truly want. It can be from a popular online retailer, a renowned restaurant, a wellness spa, or even a bookstore. It's a considerate gesture, acknowledging that while you wish to gift them something special for Diwali, you want them to have something they genuinely need or desire.
To add a Diwali touch, the gift card can be sent along with a digital greeting card themed around the festival, carrying a warm message about prosperity and success in the coming year.
Each of these gifts not only carries a thoughtful message but is also imbued with the spirit and essence of Diwali, making them a memorable token of appreciation for your clients.
6 Corporate Diwali gifts for channel partners
Diwali is an excellent occasion to appreciate your channel partners and strengthen your business ties. Here are 6 unique corporate Diwali gift ideas for your channel partners that encapsulate the spirit of Diwali.
1. Traditional artwork
Consider gifting a piece of traditional Indian artwork such as Madhubani or Warli art. Each piece tells a unique story and embodies the rich cultural heritage of India, much like how Diwali is a significant part of this heritage.
Such a gift can serve as a memorable piece of decor, symbolizing the beautiful and enduring partnership you share.
2. Exclusive webinar series access
Knowledge is a gift that keeps on giving. You could arrange a series of exclusive webinars tailored to the interests of your channel partners. These could cover emerging industry trends, leadership, or even sessions on maintaining work-life balance during festive times.
A thoughtful message about the light of knowledge dispelling the darkness of ignorance can tie this gift back to the theme of Diwali.
3. Customized festive hampers
A Diwali hamper curated specifically for your channel partner can be a thoughtful gesture. This could include a mix of items like gourmet sweets, festive decor items like lanterns, and personalized stationery with their brand logo. Each item in the hamper adds to the festive cheer, making it a perfect gift for Diwali.
4. Ethnic accessories
Accessories like cufflinks, brooches, or stoles with traditional Indian motifs can be a unique and stylish gift. These accessories can be worn during Diwali celebrations and beyond, serving as a constant reminder of your appreciation for your partner's contributions.
5. Sustainable growth kits
In line with the Diwali theme of growth and prosperity, consider gifting a sustainable growth kit. This could include seeds for plants that symbolize prosperity, biodegradable pots, and organic fertilizer.
This gift not only promotes environmental consciousness but also represents the growth and flourishing of your business relationship.
6. Gift cards
A gift card provides your channel partners the freedom to choose what they want, ensuring your gift will be appreciated. The gift card could be for a popular online retailer, a high-end restaurant, or even for a wellness retreat.
This kind of flexibility speaks to a considerate and thoughtful gifting process, and the choice to use it aligns well with the spirit of prosperity and abundance in Diwali.
10 Unique corporate Diwali gifts for investors
Here are 10 unique corporate Diwali gifts for investors that you can give this festive season.
1. Virtual masterclass experience
Offer investors access to an exclusive online masterclass, perhaps related to wine tasting, gourmet cooking, or even a financial market analysis session with an industry expert. This digital gift provides an enriching experience that they can enjoy from the comfort of their home.
2. E-Gift cards for luxury brands
Send digital gift cards for renowned luxury brands or upscale online stores like Rolex, Tiffany, etc, allowing investors to choose something they'd love. The convenience and variety that e-gift cards offer make them an ideal choice for the digital age, aligning with the preferences of many modern investors.
3. Luxury timepiece
An elegant, high-end watch can serve as a metaphor for the value of time in investing. This can be a luxury brand that is appreciated worldwide. To make it more unique, consider a custom engraving on the back of the watch case with a thank you message from your company.
4. Custom financial artwork
Artwork can be a very unique and personal gift. There are artists who specialize in financial-themed artwork, creating pieces that symbolize various aspects of finance and investing. Such a piece could be a talking point in the investor's office or home and serve as a constant reminder of your company.
5. Bespoke financial software subscriptions
Investors appreciate tools that can aid in their decision-making process. Gifting a year's subscription to premium financial software or services, such as Bloomberg Terminal or FactSet, can be an excellent gift. Make it unique by partnering with the software providers to offer some exclusive features or benefits.
6. Premium whisky set
A bottle of aged, single malt whisky could make for a luxurious gift. To enhance the uniqueness, consider pairing it with a high-quality crystal decanter set etched with the investor's initials or company logo. This gift signifies the fine quality and maturity that align with the world of investments.
7. Handmade luxury pen
A well-crafted, luxury fountain pen from a prestigious brand such as Montblanc or Pelikan makes for an elegant and sophisticated gift. It could be personalized with the investor's name or initials. The pen, a symbol of authority and wisdom, resonates well with the character of a seasoned investor.
8. Exclusive wine club membership
A membership to an exclusive wine club would allow the investor to sample different varieties of premium wines throughout the year. This not only provides them with a unique experience but also gives them an opportunity to expand their knowledge and taste of fine wines.
9. Luxury tech gadgets
High-end tech gadgets such as the latest model of a noise-cancelling headphone, a high-resolution smart display, or a smart home assistant make for great gifts. They offer the recipient a blend of luxury and utility. Choose a renowned brand that offers premium quality and service.
10. Designer cufflinks
A pair of designer cufflinks from a high-end brand like Tiffany or Cartier makes for a stylish and luxurious gift. You could opt for cufflinks with a financial theme, such as a bull and bear design, which could serve as a unique and subtle nod to the investor's profession.
11. Custom-made portfolio journals
A high-quality, leather-bound portfolio journal can be a great gift for investors. It can be customized with their name, initials, or even the logo of your company to make it more personalized. Inside, there can be a variety of sections for them to note down their investment ideas, track their portfolio performance, and plan their investment strategies.
12. Financial literature collection
You could gift a carefully curated collection of financial books. This could include classic investment books like "The Intelligent Investor" by Benjamin Graham, and contemporary best-sellers like "Principles" by Ray Dalio. To add a personal touch, include a bookplate with a note from your company or CEO.
Choose Xoxoday Plum for Your Corporate Diwali Gifting: A Fusion of Variety, Speed, and Personal Touch
As businesses around the globe seek to make their Diwali gifting memorable, that's where Xoxoday Plum emerges as an ideal choice, and here's why:
1. A global catalog like no other
With a staggering 26,000+ reward options, Xoxoday Plum offers a diversity in choices that few can rival. Its extensive global catalog ensures that every recipient, regardless of their location, preferences, or cultural background, will find something they genuinely appreciate.
In the spirit of Diwali, which is all about spreading joy, what better way to make the recipient feel valued than by offering them such a vast array of choices?
2. Speed and convenience
The festival season can often be a logistical challenge for companies, especially when it comes to distributing gifts. Xoxoday Plum simplifies this with its promise of instant and hassle-free reward delivery. Gone are the days of delays, lost parcels, and logistical hiccups.
With Xoxoday Plum, every recipient gets their chosen gift promptly, ensuring the festive spirit remains untarnished.
3. The personal touch
Diwali gifting is not just about the gift itself but the sentiment behind it. Xoxoday Plum recognizes this, allowing businesses to send personalized greetings via emails and SMS. Such gestures make the gift more than just a tangible item—it becomes a heartfelt message of appreciation, amplifying the essence of the festival.
4. Round-the-clock support
Questions and issues can arise at any time. Xoxoday Plum's 24X7 customer support ensures that any redemption-related queries are addressed promptly, offering peace of mind to both the gifter and the recipient. This dedicated support emphasizes the company's commitment to a seamless gifting experience.
Highlights from the Xoxoday Plum's global gift cards catalog
Xoxoday Plum's catalog is brimming with options:
Tech enthusiasts: Gift cards from leading tech brands like Apple, Samsung, and Bose.
Fashion forward: Choices from brands like Zara, H&M, and Louis Vuitton.
Bookworms: Options from stores like Barnes & Noble and Amazon.
Experience seekers: Unique experiences like spa days, gourmet dinners, and adventure activities.
In an era where corporate gifting is as much about the experience as it is about the gift, Xoxoday Plum stands out as a holistic solution. Its blend of variety, efficiency, personalization, and impeccable support makes it a top choice for businesses aiming to leave an indelible mark this Diwali.
With Xoxoday Plum, companies are not just giving a gift—they're delivering an experience, making Diwali truly special for their workforce.
Conclusion
As Diwali illuminates homes with joy and prosperity, the corporate world too has an opportunity to brighten the spirits of its workforce. Corporate Diwali gifts are not merely tokens; they're potent symbols of appreciation, gratitude, and recognition.
In this era, where well-being and engagement are paramount, thoughtful Diwali gifting can foster stronger bonds and boost morale. As businesses navigate their gifting choices, it's imperative to focus on both sentiment and substance, ensuring each gift resonates with the recipient.
Here's to embracing the spirit of Diwali in the corporate realm, celebrating success, unity, and mutual respect.
---