Table of Contents
The need for a single platform of software that can integrate all communication methods offered by a product or service-based brand is at an all-time high.
Marketers and managers are forever looking to unify all their platforms in a single software so that all customer queries and issues, no matter what medium they are received on, can be collected, organized, tracked, and completed in record-breaking time to delight customers.
Keeping up instantaneous support, seamless app integrations, and hassle-free customer service demand can be unnerving, and this is where Freshdesk comes into the picture.
Freshdesk's simple and sleek customer service platform helps agents and support staff keep up with the communication channels already in place to provide seamless customer support.
In this blog, we discuss how Freshwork's platform integrates with 10 of the most used softwares to provide a wholesome customer delight experience.
10 Best Freshdesk Integrations in 2023
When it comes to a customer support platform, being able to close customer queries quickly and tickets are perhaps the most important feature of all.
But a platform that can work in tandem with the rest of the ecosystem to provide better communication and insights and seamlessly blend with the existing work platform is equally important. Integrations make it easy to link apps together so they can work while complementing each other.
Here are 10 of the most popular softwares that are used by businesses that work well with Freshworks to provide a holistic customer delight service:
1. Xoxoday Plum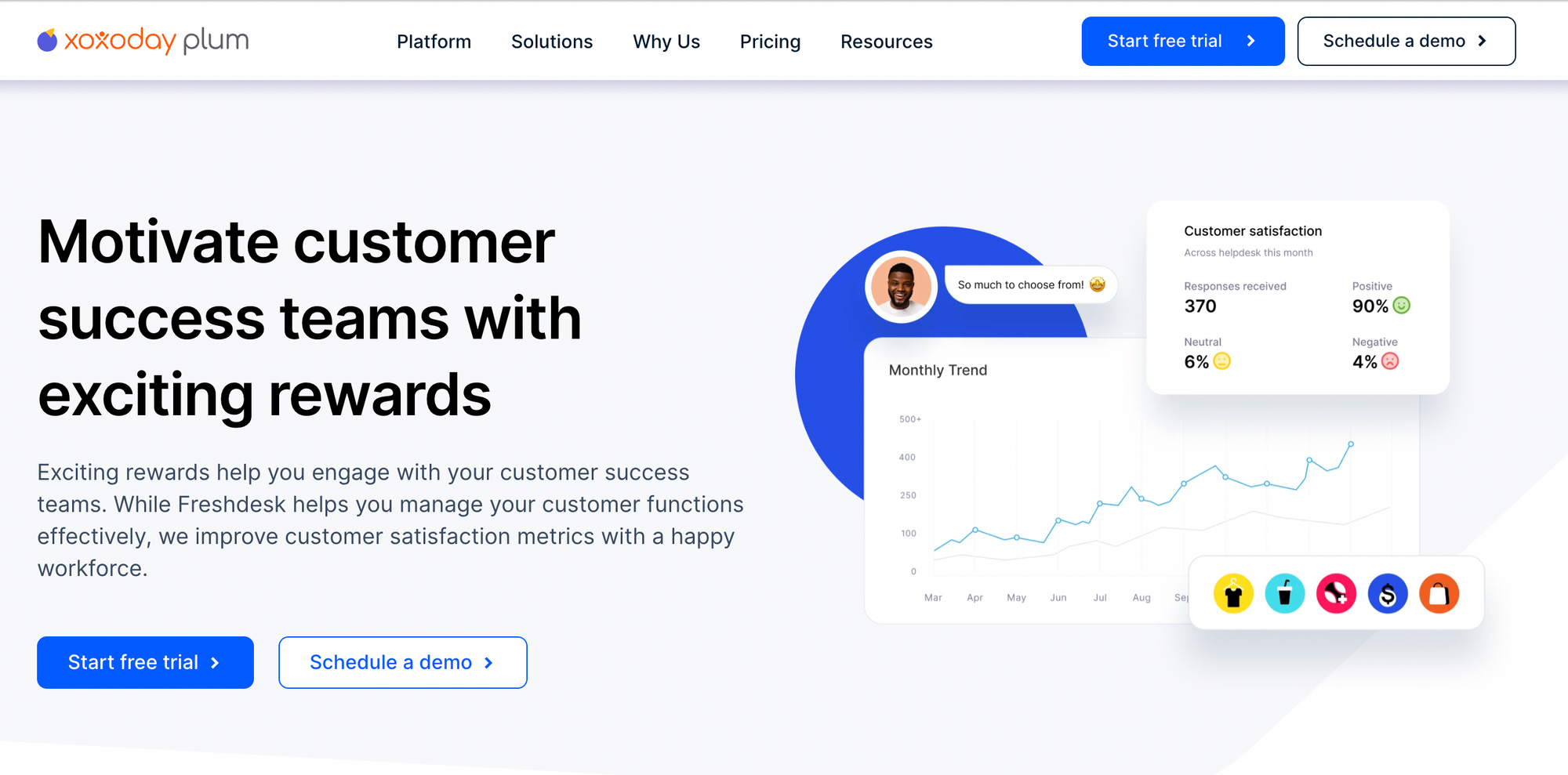 Integrating seamlessly with Freshdesk, Xoxoday Plum helps you efficiently manage customer functions while keeping your workforce engaged and motivated through exciting rewards and incentives. Recognize your employees' hard work with customizable options, from gift cards to memorable experiences, leading to happier, more productive teams and ultimately driving enhanced customer satisfaction. Achieve success by prioritizing both your employees and customers with Xoxoday Plum.
Key features:
No-code rewards marketplace: Xoxoday Plum offers a no-code and self-configurable rewards marketplace with over 1 million reward options across 100+ countries. Users can access rewards from various categories and enjoy a multi-lingual interface.
Global scale: Xoxoday Plum allows users to send rewards globally, thanks to its multilingual platform. Users can choose local brands, customize gifts to match recipients' interests and redeem rewards in local currency effortlessly.
White-labeled storefront: Users can tailor it to align with their brand's aesthetics. They can customize the color scheme, logo, and product categories to enhance the end-user redemption experience.
No-code, headless APIs: Xoxoday Plum provides customized access to its reward marketplace, categorized by location and denomination. Users can also access APIs for specific product functionalities like points, code, and link-based rewards.
Sandbox environment: It offers a sandbox environment for users to simulate rewards and payouts, allowing them to test integrations without real transactions. This environment includes scenarios such as declines, fraud, and invalid data.
rewards
Vast reward options: With over 1 million global rewards, it offers an extensive selection to cater to diverse user preferences.
Global accessibility: Xoxoday Plum's multilingual platform and support for local currencies make it easy to connect with a global audience.
Customization: Users can white-label the storefront and tailor it to match their brand's identity, providing a personalized experience for their audience.
Pros:
Diverse and extensive reward options.
Global reach with multilingual and multicurrency support.
Customizable storefront for brand alignment.
Flexible APIs for integration.
Sandbox environment for testing.
Cons:
Lacks direct conversion to cash.
Pricing: Free version with minimal features available. Basic Plan starts at 599 USD per month.
Customer case studies:
Yarra Trams, Melbourne's largest tram network, streamlined employee recognition and engagement by integrating Xoxoday Plum with its SuccessFactors Human Experience Suite. This digital-first rewards platform simplified reward management provided a diverse selection of gifts, and seamlessly integrated with their HR system.
Employees swiftly embraced the user-friendly platform, and Yarra Trams intends to enhance and personalize its rewards program further with Xoxoday Plum's support.
Borderless Access, a market research firm, faced delays in rewarding survey participants. By implementing Xoxoday, they reduced procurement and distribution time by 90%, achieving almost instant reward delivery.
Xoxoday's platform provided various rewards, advanced security controls, and improved visibility. API integration is underway to streamline the rewarding process further, saving time and costs.
Companies that use Xoxoday Plum:
Amazon
Adobe
Microsoft
Grammarly
G2 rating: 4.6 on 5
Capterra rating: 4.4/5
2. Slack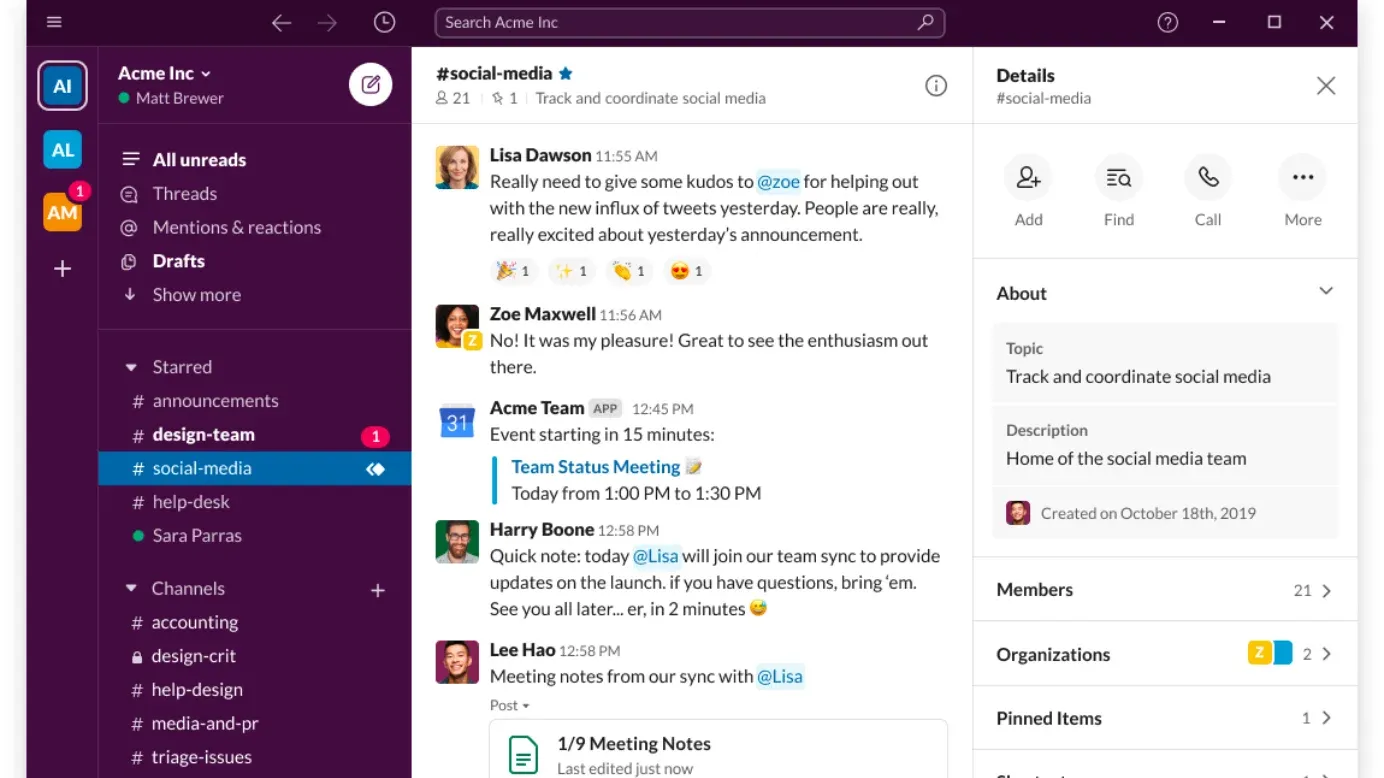 Slack is a communication tool that helps businesses connect various teams and departments and promote communication by cutting down on all the different apps and programs that they may need to collect, organize and share files.
Using slack's comprehensive search function, all employees are able to find what they need and are perfectly in sync with what is happening in each department.
Key features:
Real-time messaging: Slack provides real-time messaging, making it easy for teams to communicate instantly via text, calls, and chat.
Searchable record: It offers a searchable record of all files and conversations, ensuring that important information is never lost.
Integrations: Slack seamlessly integrates with numerous bots and apps, enhancing productivity and expanding functionality.
Why is Slack the best?
Seamless collaboration: Slack facilitates seamless collaboration among team members, regardless of their location or the nature of their work.
Centralized workspace: It creates a centralized workspace where all communication, files, and tools are readily accessible, streamlining workflow.
Extensive integrations: With a wide range of integrations, Slack adapts to various business needs and allows users to customize their workspace.
Pros:
Real-time communication fosters quick decision-making and problem-solving.
Easy access to conversation history and files promotes organization.
Integrations with third-party apps enhance productivity and workflow efficiency.
User-friendly interface and customizable notifications improve user experience.
Supports both desktop and mobile platforms, ensuring accessibility on the go.
Cons:
Managing multiple channels and notifications can become overwhelming for some users.
The free version has limitations on message history storage and integrations.
Pricing: Free version with minimal features available. Basic plan starts at 7.25 USD per month.
Customer case studies:
Ocado Group receives Slack's Excellence Award for effectively using Slack to enhance remote communication and streamline workflows. Slack has enabled improved collaboration, agility, and innovation, with over 50 champions promoting its adoption within the organization.
Intuit, a global technology company effectively streamlined communication and collaboration across its organization by adopting Slack. The platform's ease of use and versatility have resulted in viral adoption, significantly improving productivity, onboarding, and customer support processes.
Slack's integration with custom bots and its role in connecting geographically dispersed teams have made it a valuable tool for Intuit's workforce.
Companies that use Slack:
OpenAI
Vodafone
Canva
Zomato
G2 rating: 4.5 on 5
Capterra rating: 4.7/5
3. Salesforce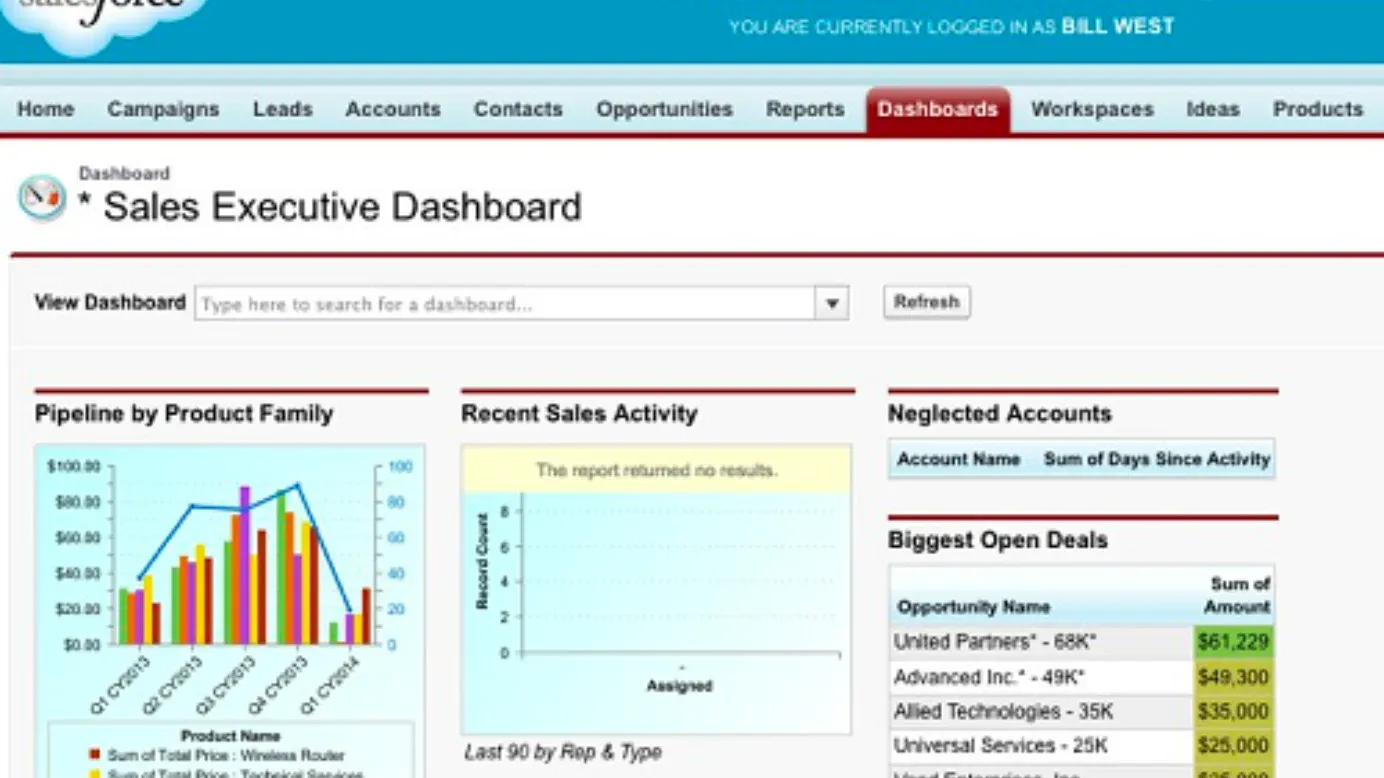 Salesforce provides companies with a CRM, sales and marketing platform that either work together or can be individually used with other softwares, thanks to its multiple integration platform.
Salesforce believes in having everything ready to go, online using cloud technology so that keeping up with data is fast and instantaneous. Freshdesk's customer service platform helps bring all the company functions together under one seamless ecosystem.
Key features:
CRM, sales, and marketing integration: Salesforce offers a comprehensive suite that includes CRM, sales, and marketing platforms that can work seamlessly together or integrate with other software solutions.
Low-code development: The Salesforce Platform offers low-code development capabilities, enabling teams to build and extend their customer-centric solutions with AI, automation, and data.
Customer 360: Salesforce helps create a unified view of customers, allowing businesses to centralize customer information and improve customer interactions.
Data-driven insights: Salesforce leverages data to provide actionable insights, aiding in decision-making and customer engagement strategies.
Why is Salesforce the best?
Comprehensive solution: Salesforce offers an all-encompassing suite of tools for CRM, sales, marketing, and more, making it a one-stop solution for businesses' customer-centric needs.
Cloud-powered agility: Its cloud-based architecture ensures that businesses can access data and adapt quickly to changing requirements, making it an agile choice for modern enterprises.
Integration flexibility: Salesforce's integration capabilities allow businesses to connect with other software systems, enhancing efficiency and eliminating data silos.
Automation and productivity: Salesforce's automation features streamline workflows and boost overall productivity, helping businesses operate more efficiently.
Pros:
Scalable: Salesforce can scale to accommodate the needs of both small businesses and large enterprises.
Real-time updates: Cloud-based technology ensures real-time access to data, keeping information up-to-date.
Integration: Its robust integration platform allows for easy integration with various software tools, enhancing functionality.
Low-code development: The low-code platform simplifies application development, reducing the reliance on IT resources.
Cons:
Cost: Salesforce's comprehensive features can be expensive for smaller businesses with limited budgets.
Complexity: The platform's extensive capabilities may require time and effort to fully understand and utilize.
Pricing: Platform starter package starts from 25 USD per month.
Customer case studies:
Pidilite Industries Limited leveraged Salesforce to enhance customer engagement and productivity. Automation streamlined processes, the sales team embraced the mobile app, and contractors benefited from a dedicated app. Influencer engagement improved, onboarding time reduced, and product innovation thrived. They're currently developing a collaborative solution on the Salesforce Lightning Platform to boost productivity and customer experiences further.
Mercedes-Benz Silver Arrows, a luxury car dealer, improved customer engagement and productivity with Salesforce. They streamlined sales processes using Salesforce Sales Cloud, doubling conversion rates and enhancing salesperson productivity. Marketing Cloud helped nurture leads and reduce conversion costs by 33%. The unified platform also simplified post-sales interactions. They aim to become India's top Mercedes-Benz dealer by leveraging innovative customer engagement and technology.
Companies that use Salesforce:
Raymond Realty
REVA University
L&T
Hero FinCorp
G2 rating: 4.4 on 5
Capterra rating: 4.4 on 5
4. HubSpot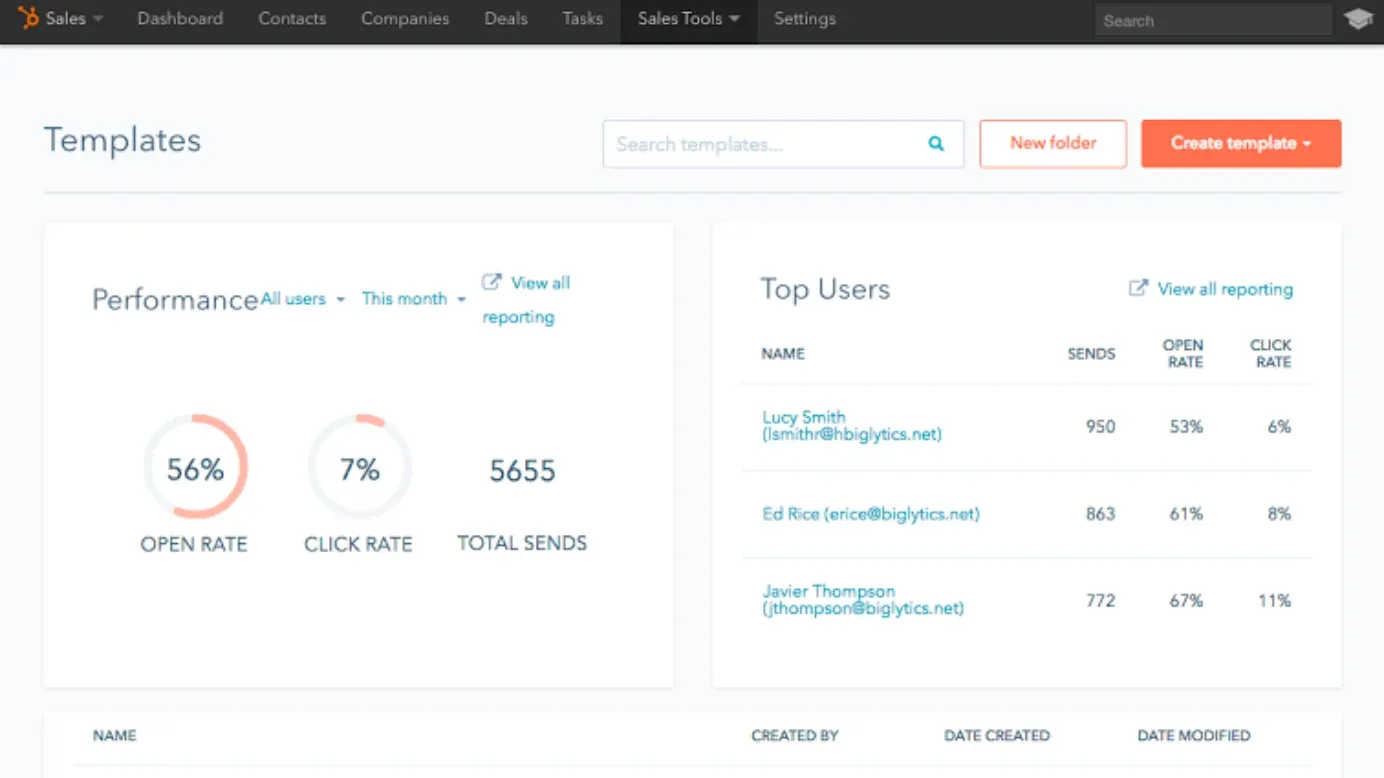 Hubspot offers a complete suite of CRM, Marketing, Service and Sales platforms that helps business owners and managers to easily navigate between various functions of a business. Hubspot CRM offers unique tools to store and access customer details and to provide insights on post sales customer retention techniques.
Key features:
Sales CRM: HubSpot offers a powerful CRM with sales engagement tools for efficient customer relationship management.
CPQ functionality: It includes configure-price-quote functionality, streamlining the quoting and sales proposal process.
Sales analytics: Robust sales analytics tools provide valuable insights for growing sales teams.
Single source-of-truth: HubSpot's CRM platform centralizes customer data, tools, and teams, creating a single source-of-truth for enhanced sales rep efficiency.
Integration ecosystem: Access an extensive ecosystem of app and solutions partners for an end-to-end customer experience.
Why is HubSpot the best?
Efficiency: HubSpot streamlines sales processes, making it easier for teams to manage customer relationships and close deals.
Data insights: The platform provides rich insights and warmer leads, enabling sales reps to prioritize their efforts effectively.
Scalability: HubSpot allows companies to scale without adding complexity, making it ideal for small and large businesses.
Pros:
User-friendly: HubSpot is known for its user-friendly interface, making it easy for sales teams to adopt and utilize.
Integration: It seamlessly integrates with other HubSpot tools and a wide range of third-party applications.
Analytics: Robust analytics and reporting features help businesses make data-driven decisions.
Scalability: HubSpot can grow with your business, accommodating your needs as you expand.
Cons:
Pricing: While it offers a free version, some advanced features require a paid subscription, which may be costly for smaller businesses.
Learning curve: Despite its user-friendliness, mastering all of HubSpot's features may take some time for new users.
Pricing: Free accounts are available; paid accounts start at 45 USD per month and go on to 3600 USD per month.
Customer case studies:
Ceros, a creative empowerment company, encountered prospecting challenges due to complex systems. They needed deeper audience insights to fuel growth. Implementing HubSpot, Ceros unified data, gained valuable insights, and improved targeting. This led to a 180% increase in deals, 18%+ growth in SQLs, and under 5-minute lead response times. HubSpot streamlined prospecting, enhanced predictability, and enabled sustainable growth.
Kahoot!, a global learning platform, streamlined its operations with HubSpot CRM. They unified data, improved cross-selling, automated customer onboarding and invoicing, and reduced forecasting time by 50%. These changes saved time, enhanced coordination among teams, and benefited customers.
Companies that use HubSpot:
Reddit
Soundcloud
Loom
Netlify
G2 rating: 4.4 on 5
Capterra rating: 4.5 on 5
5. Shopify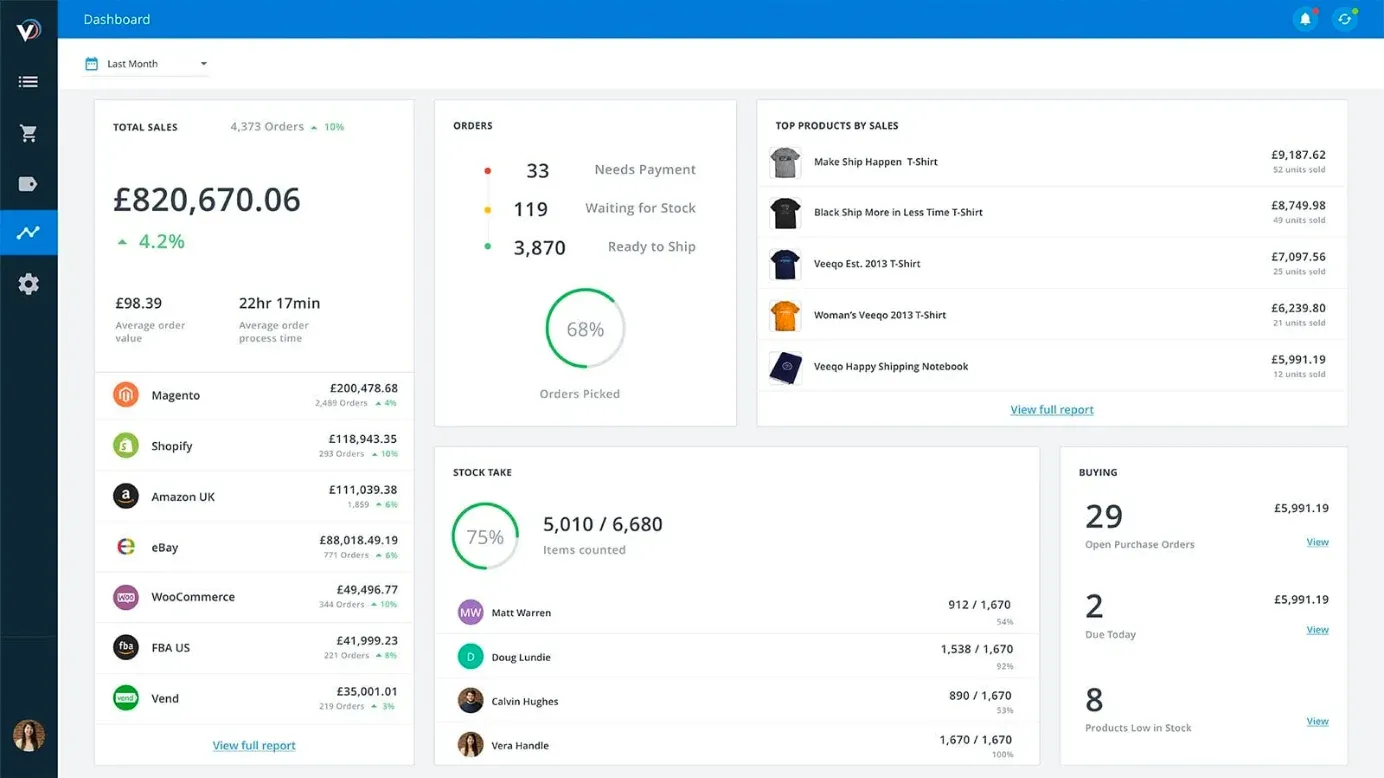 Shopify offers a fully customizable online storefront that extends to websites, real POS stores, or social media stores. No matter what product you deal with or what service you offer, shopify can help businesses sell through websites, other retail sites, stores, FB marketplace, or Instagram.
Key features:
Fully customizable online storefront: Shopify provides a highly customizable online store that can be extended to websites, physical POS stores, and social media platforms.
Multichannel sales: Businesses can sell products or services through various channels, including websites, retail sites, Facebook Marketplace, and Instagram.
Tailor-made custom sites: Shopify offers tailored websites that handle product variations, inventory management, marketing tools, and seamless payment integration.
Freshdesk integration: Integration with Freshdesk streamlines customer support and query resolution, making it easy and efficient for Shopify users.
Omnichannel communication: Shopify enables omnichannel communication for customer support, including phone, SMS, mobile notifications, WhatsApp, and social media, ensuring customers can reach out through their preferred channels.
Why is Shopify the best?
Versatile sales platform: Shopify caters to a wide range of businesses, making it suitable for various industries and product types.
User-friendly: It offers an intuitive interface that allows users to set up and manage their online stores with ease, even without extensive technical knowledge.
Scalability: Shopify is designed to grow with businesses, from small startups to larger enterprises.
Reliability: The platform is known for its reliability and uptime, ensuring seamless operations for online stores.
Powerful back-office: Shopify provides merchants with comprehensive back-office tools and analytics, offering insights into their business performance.
Pros:
Ease of use: User-friendly interface for store setup and management.
Versatility: Suitable for various business types and sizes.
Reliability: Highly reliable with minimal downtime.
Scalability: Can accommodate business growth seamlessly.
Cons:
Transaction fees: Shopify charges transaction fees for each sale if users don't use their payment gateway.
Limited free themes: Some users may find the free theme options limited in customization.
Pricing: Basic Shopify starts at 29 USD monthly (free three day trial available).
Customer case studies:
Hip-hop star 2 Chainz and Street Execs have transformed merchandising with Shopify Plus and real-time social media feedback. They create products based on fan popularity, eliminating excess inventory. A recent Christmas sweater collection made $2.1 million in 30 days, offering substantial profits and rapid fan response.
100% Pure, a natural cosmetics retailer, switched to Shopify Plus to address slow site speed issues and achieved 40% year-over-year growth. The move to Shopify Plus improved site speed, streamlined inventory management with custom API tools, and enabled international expansion, including plans to enter the Chinese market.
Companies that use Shopify:
Mcaffeine
Nush
Vahdam
John Jacobs
G2 rating: 4.4 on 5
Capterra rating: 4.5 on 5
6. Trello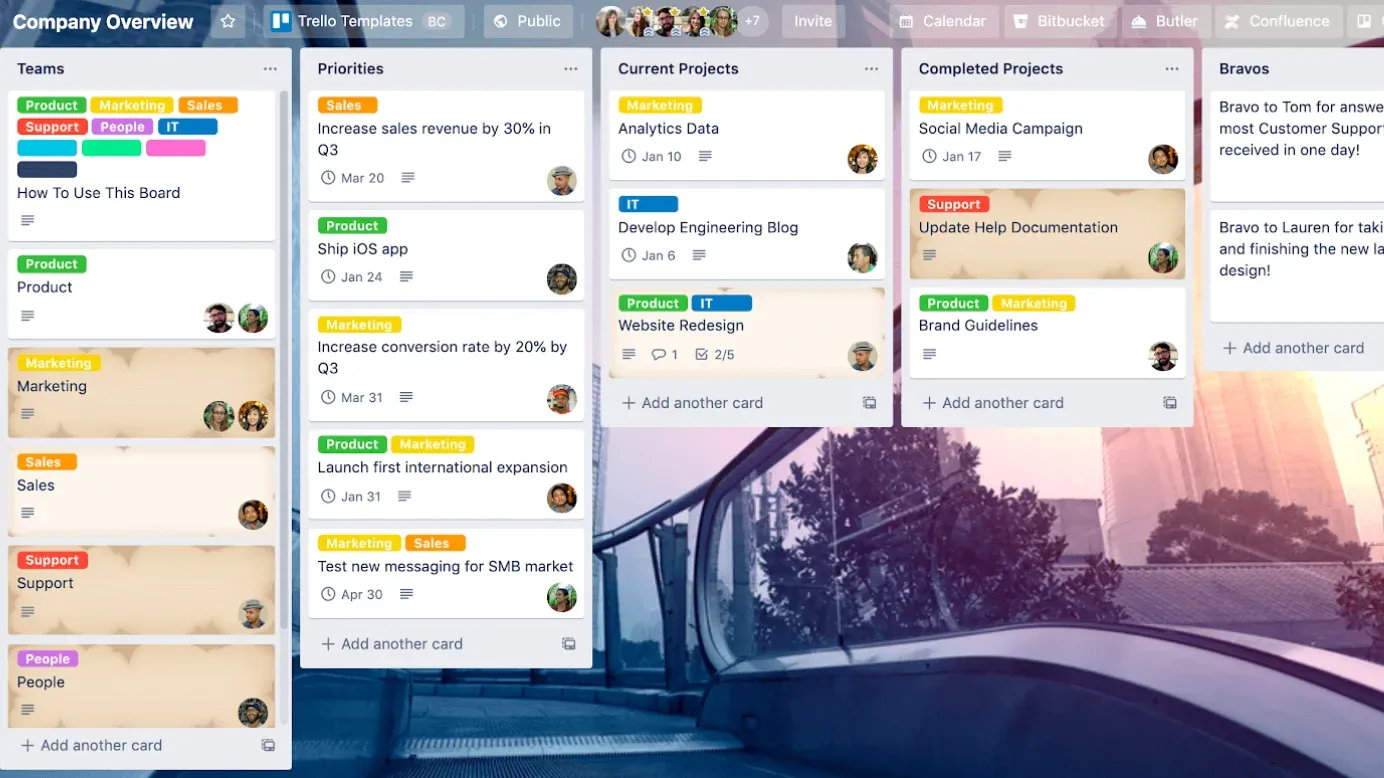 Trello is an easy and effective teamwork, project management, and collaboration software that has taken the market by storm.
This easy solution to mundane and cumbersome project management tasking involves the use of boards just like sticky notes - where you can pin up tasks, collaborate with other people, share thoughts and plans, check for updates and statuses, work with people from different projects and departments and also keep tabs on who is working on what, reducing errors, mismanagement of time and removing redundancy.
Key features:
Visual project management: Trello offers a visual approach to project management with boards, cards, and lists, making it easy to organize and prioritize tasks.
Flexibility: Trello can be adapted for various teams and industries, allowing customization to meet specific workflow needs.
Integration: It integrates seamlessly with over 100 third-party tools like Google Drive, Slack, and Jira, enhancing collaboration and productivity.
User-friendly: Trello's intuitive interface requires minimal onboarding, enabling quick adoption by teams.
Transparency: Provides a clear overview of tasks, progress, and assignments, ensuring everyone is on the same page.
Why is Trello the best?
Trello excels due to its user-friendly interface, adaptability to different workflows, and seamless integrations with other tools.
Its visual project management approach simplifies task organization and enhances transparency, making it a versatile choice for teams of all sizes and industries.
Pros:
Easy to use: Trello's simplicity ensures that teams can start using it immediately without extensive training.
Customizable: Its flexibility allows teams to tailor boards and cards to their needs.
Integration: Seamless integration with various apps streamlines workflow and communication.
Visual organization: Visual boards provide a clear overview of tasks and progress, reducing confusion.
Collaboration: Enables effective collaboration within teams and across departments.
Cons:
Limited complexity: While Trello is great for visual project management, it may lack advanced features for extremely complex projects.
Cost for advanced features: Some advanced features and integrations may require a paid subscription, which could be a drawback for smaller businesses on a tight budget.
Pricing: Free version with minimal features available. The standard package starts at 5 USD per month.
Customer case studies:
Palace Law, a law firm, went paperless with Trello, streamlining operations, improving client service, and saving 200 sheets of paper daily. This transition led to a 76% revenue increase in 9 months, an NPS of 70, and reduced stress, boosting overall job satisfaction.
Instinct Dog Training, a growing nationwide franchise, utilized Trello to enhance operations. With streamlined workflows, automation, and improved visibility, they saved significant time for various teams. As they expand further, Trello plays a crucial role in their organization and quality care.
Companies that use Trello:
G2 rating: 4.4 on 5
Capterra rating: 4.5 on 5
7. Zendesk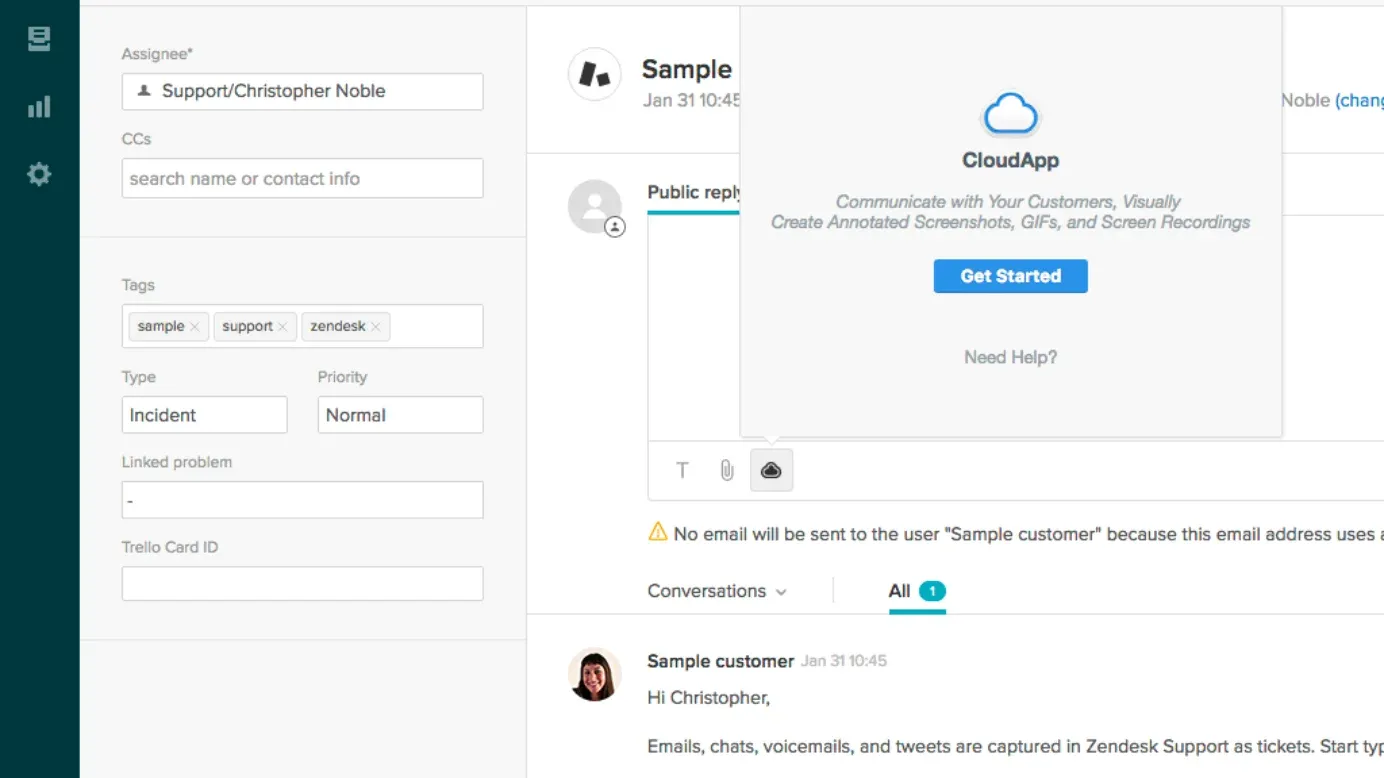 Although Zendesk is similar to Freshdesk, many companies use both software simultaneously to offer a shared and integrated ecosystem and help customer support seamlessly as they sync and work brilliantly together.
Key features:
Multi-channel support: Zendesk offers support across various communication channels, including email, chat, voice, and social messaging apps like Facebook and WhatsApp, streamlining customer interactions.
Unified agent workspace: The Support Suite provides a centralized workspace for agents, allowing them to manage customer interactions and access relevant context easily.
Scalability: Zendesk caters to businesses of all sizes, offering plans suitable for startups, small companies, and larger enterprises.
Zendesk sell integration: Seamless integration with Zendesk Sell, a modern sales CRM, to enhance revenue generation and customer experience.
Zendesk Sunshine: A modern CRM platform built on AWS, offering a complete customer view and the flexibility to innovate and scale.
Why is Zendesk the best?
Versatile customer support: Zendesk offers multi-channel customer support, ensuring businesses can engage with customers across their preferred platforms.
Unified workspace: The unified agent workspace simplifies customer interactions, leading to faster and more personalized customer service.
Pros:
Comprehensive customer support: Zendesk covers various customer interaction channels, providing a holistic support solution.
Scalability: Zendesk can accommodate businesses at different stages of growth.
Cons:
Cost: While Zendesk offers scalability, its pricing can be a drawback for smaller businesses with tight budgets.
Learning curve: Implementing Zendesk may require some training for users unfamiliar with the platform.
Pricing: Basic plan starts at 19 USD per month.
Customer case studies:
Plix, an Indian plant-based health brand, adopted Zendesk for streamlined customer support and operational efficiency. With Zendesk, they improved response times, enhanced customer satisfaction, and gained insights into customer journeys. Plix plans to optimize its services further and expand its use of Zendesk for continued growth.
VIVOTEK, a surveillance solutions provider, adopted Zendesk for sales and customer support automation. The transition boosted efficiency, increased sales, and raised customer satisfaction scores. VIVOTEK plans to further explore Zendesk capabilities as it expands its global presence.
Companies that use Zendesk:
G2 rating: 4.1 on 5
Capterra rating: 4.3 on 5
8. WhatsApp Business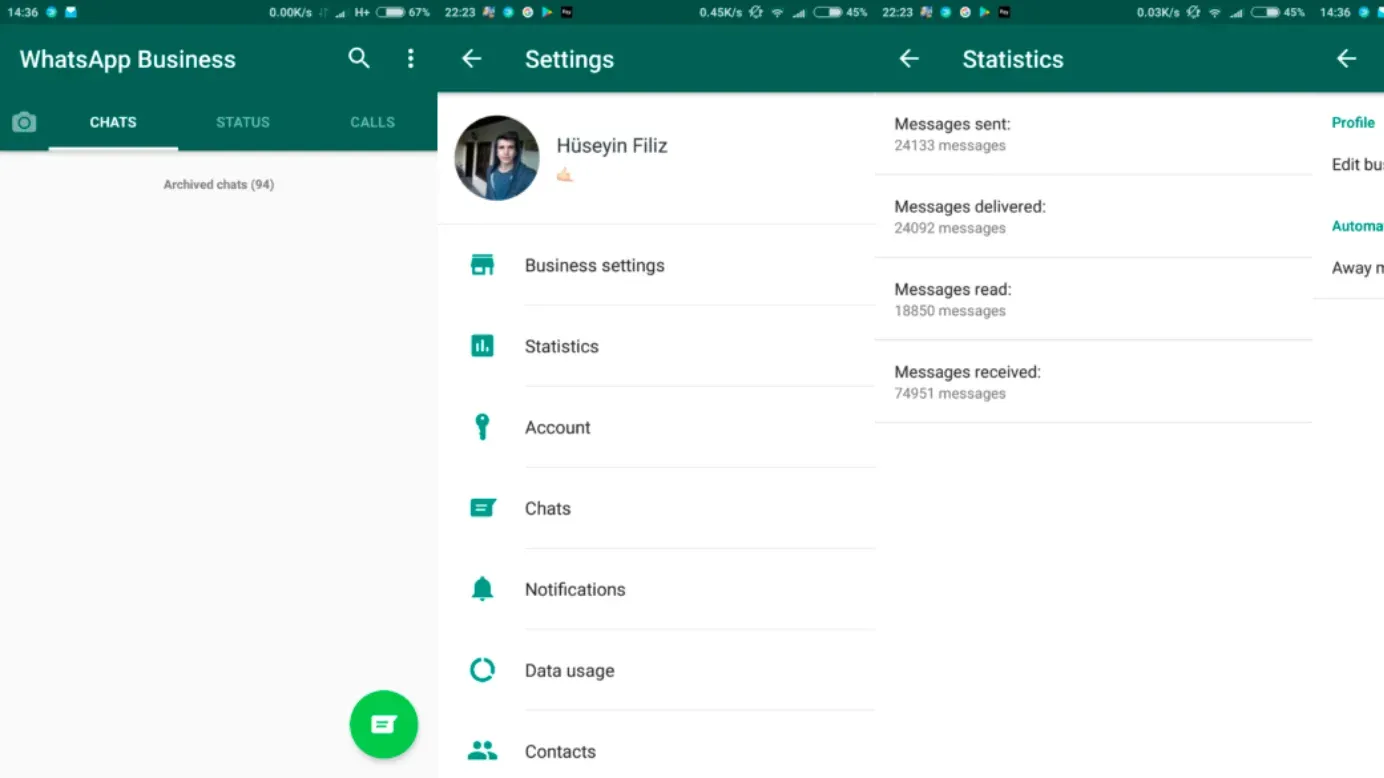 WhatsApp is being used universally between brands and customers to connect with each other in a simple, informal manner. All brands are now linking their website with a verified WhatsApp Business account so that customers can quickly click and chat for any of their product or service-related queries, complaints, grievances or post-sales support.
Key features:
Verified business account: WhatsApp Business allows businesses to create verified accounts, giving customers confidence that they are communicating with a legitimate business.
Messaging and notifications: Businesses can send messages to customers, including order updates, appointment reminders, and more. Notifications help keep customers informed.
Catalog management: Businesses can showcase their products and services through a catalog, making it easy for customers to browse and inquire about offerings.
Payment integration: It offers efficient payment integration for online transactions, making it convenient for customers.
Real-time chat: Real-time chat capabilities enable instant communication between customers and support executives.
Why is WhatsApp Business the best?
Wide user base: WhatsApp has a massive user base worldwide, making it an ideal platform for reaching a broad audience.
Trust and verification: The platform offers verified business accounts, instilling trust and confidence in customers.
Efficient customer support: Automation tools and real-time chat help businesses provide quick and effective customer support.
Multimedia support: Businesses can share various media types to enhance customer interactions and support.
Pros:
Global reach: WhatsApp has a vast global user base, allowing businesses to reach customers worldwide.
Customer engagement: It enables businesses to engage with customers in real-time, fostering stronger relationships.
Cost-effective: WhatsApp Business offers cost-effective communication compared to traditional methods.
Automation: Automation tools reduce the workload on support teams by handling routine queries.
Cons:
Limited to mobile: WhatsApp Business is primarily a mobile app, which may not be suitable for businesses that require desktop access.
Privacy concerns: Handling customer data on a third-party platform raises privacy concerns and requires careful data management.
Pricing: Businesses using WhatsApp are charged per 24-hour conversation, with different rates by conversation category- marketing, utility, and service.
Customer case studies:
Banco Bolivariano, a major Ecuadorian bank, implemented WhatsApp with an AI assistant called "Avi" to enhance customer communication. This reduced call center volumes by 46%, resolved 98% of inquiries on WhatsApp, and increased customer satisfaction, with 70% of clients preferring this channel for banking services.
Benefit Cosmetics enhanced customer service with WhatsApp. They streamlined appointment management, allowing customers to modify or cancel appointments easily through WhatsApp. This change resulted in a 30% increase in bookings compared to the previous year, freeing up in-store teams to focus on customer experience.
Companies that use WhatsApp Business:
Benefit Cosmetics
MomConnect
Midland Realty
Pelephone
G2 rating: 4.7 on 5
Capterra rating: 4.7 on 5
9. Google Workspace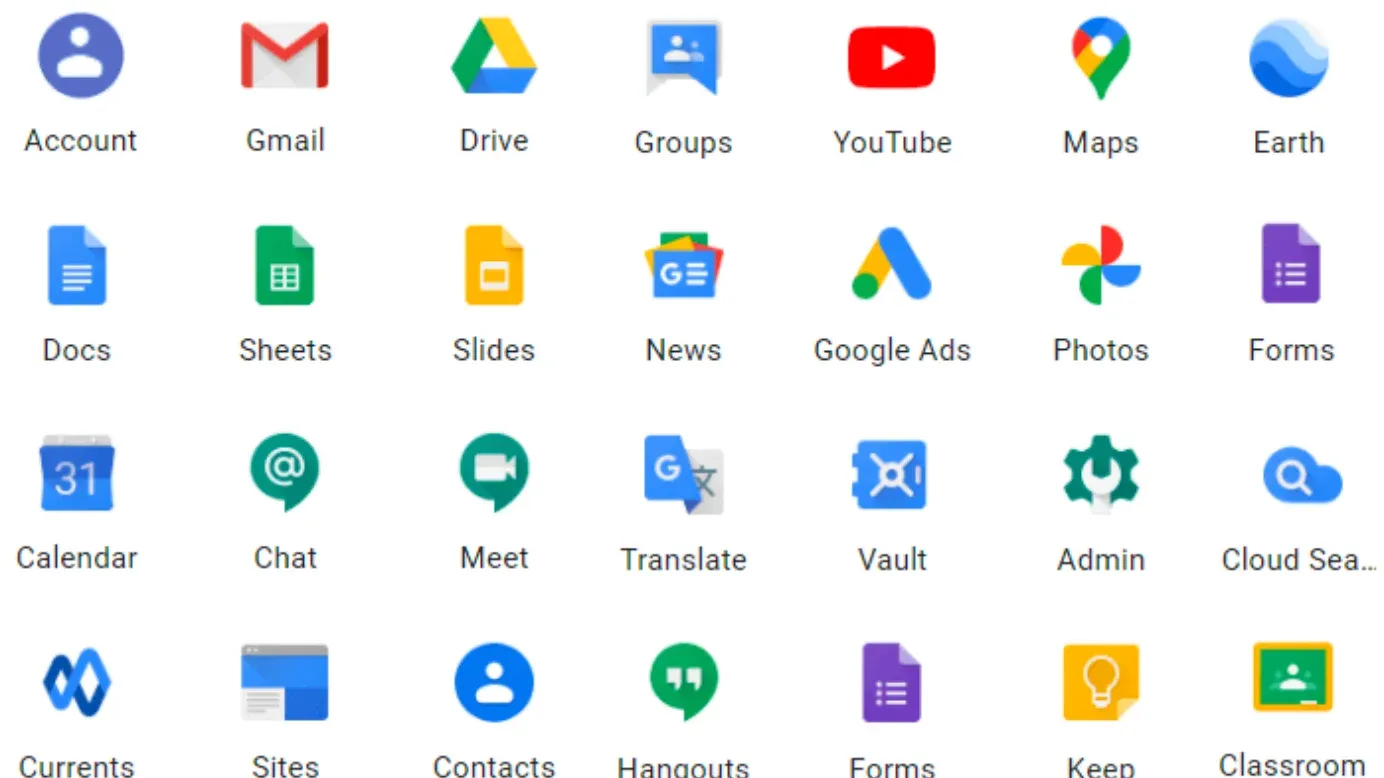 Most organizations worldwide work on the Google ecosystem and are familiar with programs such as Docs, Sheets, Hangouts, Drive, Sites, Calendars etc. One of the best and the most affordable yet safe and private softwares in the world, Google Workspace provides all applications in a single bundle. It can be managed using the Google console for privacy, security, and management of control over this softwares.
Key features:
Comprehensive suite: Google Workspace offers a complete set of productivity and collaboration tools, including email, cloud storage, document editing, video conferencing, and more.
Integration: It seamlessly integrates with other popular apps like Freshdesk, Trello, Jira, and Slack, enhancing productivity and workflow automation.
Collaboration: Real-time collaboration on documents, spreadsheets, and presentations is made easy, with multiple users able to work on the same file simultaneously.
Regular updates: Google continuously updates and enhances its applications, ensuring you have access to the latest features and security updates.
Why is Google Workspace the best?
All-in-one solution: Google Workspace consolidates essential business tools into a single bundle, streamlining communication and collaboration for teams.
User-friendly: It's user-friendly and widely adopted, making it easy for employees to adapt and work efficiently.
Cloud advantage: The cloud-based nature of Google Workspace ensures scalability, flexibility, and easy maintenance without the need for extensive IT infrastructure.
Reliable support: Google provides reliable customer support, ensuring minimal downtime and quick issue resolution.
Pros:
Cost-effective: Google Workspace offers competitive pricing, making it an affordable choice for businesses of all sizes.
Scalability: It can scale with your organization as it grows, accommodating additional users and data.
Mobility: Accessible from any device with an internet connection, enabling remote work and on-the-go productivity.
Cons:
Internet dependency: Google Workspace relies on a stable internet connection, which can be a limitation in areas with poor connectivity.
Data privacy concerns: Some businesses may have concerns about data privacy when using cloud-based services, although Google has robust security measures in place.
Pricing: Business Starter package starts from 6 USD per month.
Customer case studies:
DTDC Express adopted Google Workspace to enhance collaboration, reduce costs, and improve efficiency. The move led to a tenfold increase in collaboration speed, expanded mobile access, an 80% reduction in email support costs, and improved decision-making. The chairman, Managing Director, and franchisees now use the same applications, promoting collaboration and efficiency.
India's LifeCell, a leader in stem cell storage and genetic screening, boosted productivity and security by adopting Google Workspace. With 99.9% uptime, an 80% reduction in email support costs, and robust security features, the transition enhanced collaboration among its 1,200+ employees, aiding healthcare initiatives and competitiveness.
Companies that use Google Workspace:
ACDC Express
Adobe
Aerotech
AirAsia's BIG Rewards
G2 rating: 4.6 on 5
Capterra rating: 4.7 on 5
10. Microsoft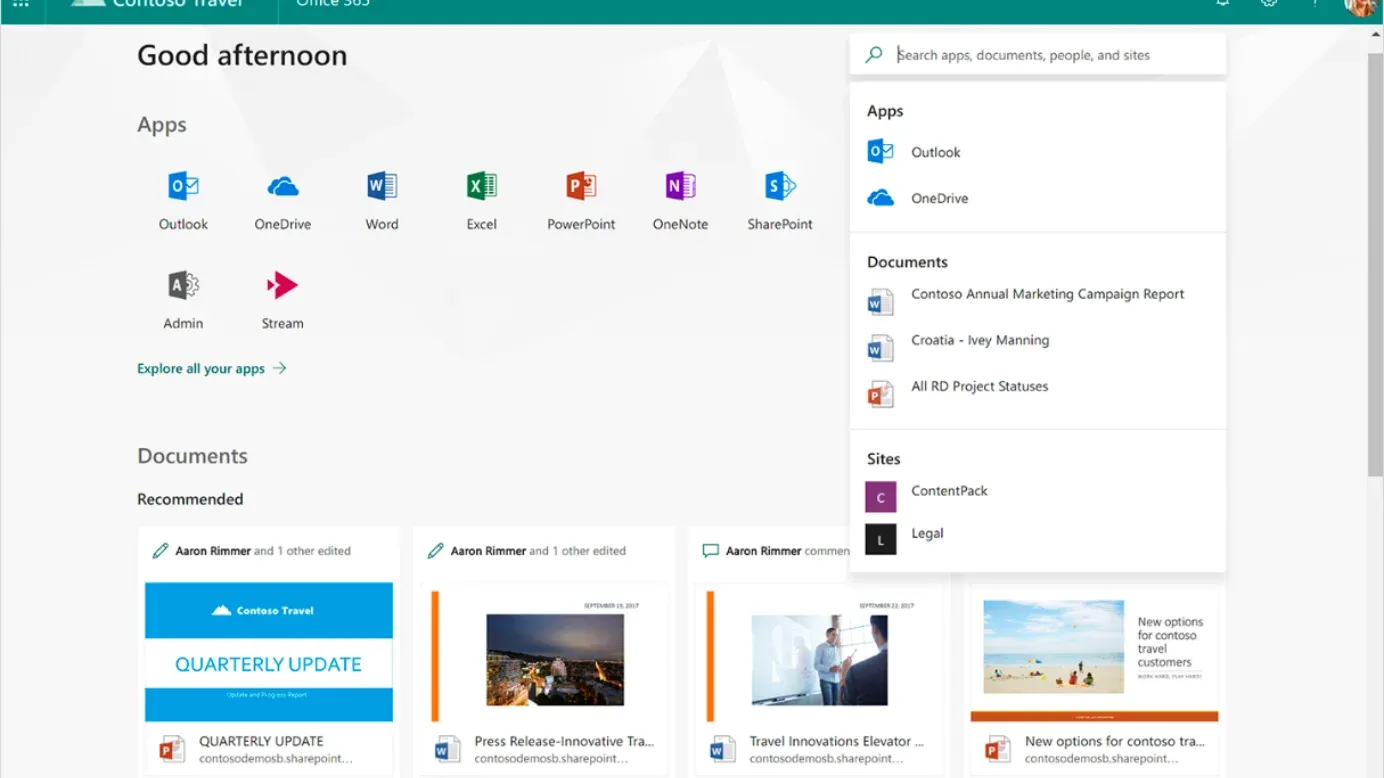 Just like Google Workspace but better, Microsoft offers a whole sleuth of programs and applications that we are all familiar with working from day 1. With a suite that comprises Microsoft Access, teams, outlook, Azure, Forms, planner, SharePoint and so many more, the ecosystem that a business needs is all available under just one label.
Key features:
Comprehensive suite: Microsoft offers a wide range of applications and services, including Microsoft Access, Teams, Outlook, Azure, Forms, Planner, SharePoint, and more, making it a one-stop solution for business needs.
Integration with FreshdeskAccess: Microsoft applications like Access and Teams can seamlessly integrate with Freshdesk, allowing for efficient customer database management and collaborative project work.
Cloud productivity: Microsoft 365 provides cloud-based versions of essential office tools, enabling users to be productive from anywhere with an internet connection. Use Word, Onenote, excel, and other apps to record and share information with customers as and when you interact with them.
Why is Microsoft the best?
Microsoft stands out due to its extensive ecosystem and familiarity. It offers a suite of applications businesses have relied on for years, ensuring a smooth transition. The integration capabilities with Freshdesk and other productivity tools make it a versatile choice for various business needs.
Pros:
Familiarity: Many users are already familiar with Microsoft applications, reducing the learning curve.
Integration: Microsoft's suite integrates well with third-party applications, enhancing workflow efficiency.
Cloud productivity: Cloud-based tools provide flexibility and accessibility, allowing remote work and collaboration.
Cons:
Cost: Depending on the plan and features required, Microsoft 365 can be relatively expensive for small businesses.
Complexity: The wide range of applications and features may be overwhelming for some users, leading to underutilization.
Pricing: Microsoft 365 Business Basic starts at 6 USD per user per month (free one-month trial available).
Customer case studies:
Hindalco Industries, a major metals company, adopted Microsoft Teams Rooms for efficient hybrid meetings, leading to improved collaboration among 5,000 employees and reduced costs. Future plans include expanding the deployment and using analytics to enhance collaboration further.
Indian School of Business (ISB) improved teaching and cybersecurity using Microsoft 365 A3 and Security solutions. Microsoft Teams achieved 100% adoption for flexible collaboration. Robust security with Azure AD and Intune reduced threats.
Companies that use Microsoft:
Dabur
Amrita
Tata Motors
Aditya Birla Hindalco
G2 rating: 4.6 on 5
Capterra rating: 4.5 on 5
Conclusion
Customers are essential to the lifeline of your business, it is important to stay with the changing demands and the changing needs of customer experience that the market has to offer.
With a SaaS provider such as Freshdesk, customer service executives can resolve customer issues faster and more efficiently, making them feel as important as they are.
Integrating these 10 softwares, Freshworks delivers value-added service and makes customer delight much easier. When support staff can provide top-notch service to their customers, the quality of support and delight extends, and it shows in the companies' brand image, overall sales, and ultimately, the growth in the market.
---