Table of Contents
During autumn 1621, the pilgrims of Plymouth and the Native American Wampanoag people came together to enjoy a copious harvest. This ordinary-looking incident, where two different cultures united together to work towards a common goal, birthed one of the most significant events in the history of America—Thanksgiving.
Basking in the glory of more than 300 years, the tradition of Thanksgiving has reshaped and acquired a far more significant allegory. It has ceased to remain a mere illustrative day to say thanks for a bountiful harvest, only to emerge as a moment to express your gratitude for family, friends, and close ones, and for the blessings of the previous year.
It achieves furthermore profound symbolism when you shower your thanks over your employees through Thanksgiving gifts for employees. Similar to the pilgrims of the Wampanoag and Plymouth people, your company is a melting pot of polar opposite people, who wear various hats and march towards a goal – the "bountiful harvest" of the company.
Moreover, since the very breath and soul of Thanksgiving is expressing sincere gratitude, no event in the calendar is haven-made for companies to appreciate their employees for their noteworthy contributions and for staying with them through thick and thin. It then shouldn't make you wonder why 66% of employees surveyed by Forbes said they would quit their jobs if they felt unappreciated. So, engrave this in your psyche: Gratitude is an absolute must. Ignoring it is a trigger that you pull at your own peril.‍
What to Gift your Employees During Thanksgiving?
Thanksgiving is quintessentially different from Christmas. Unlike the latter's religious undertones, the former is a local and cultural event deeply soaked in the overwhelming emotion of expressing thanks and gratitude - and thanking is always personal.
Clearly, in order to have any resonance with employees, Thanksgiving gifts for employees need to tick three checkboxes:
They should be customized and personalized
They should evoke the feel of community
They must exude the whiff of culture and tradition
It is unanimously hinting at the supremacy of experiential rewards over material ones, and it originates from a deeper psychological churn. Though objects can enthral us and caress us immensely, it's fleetingly momentary.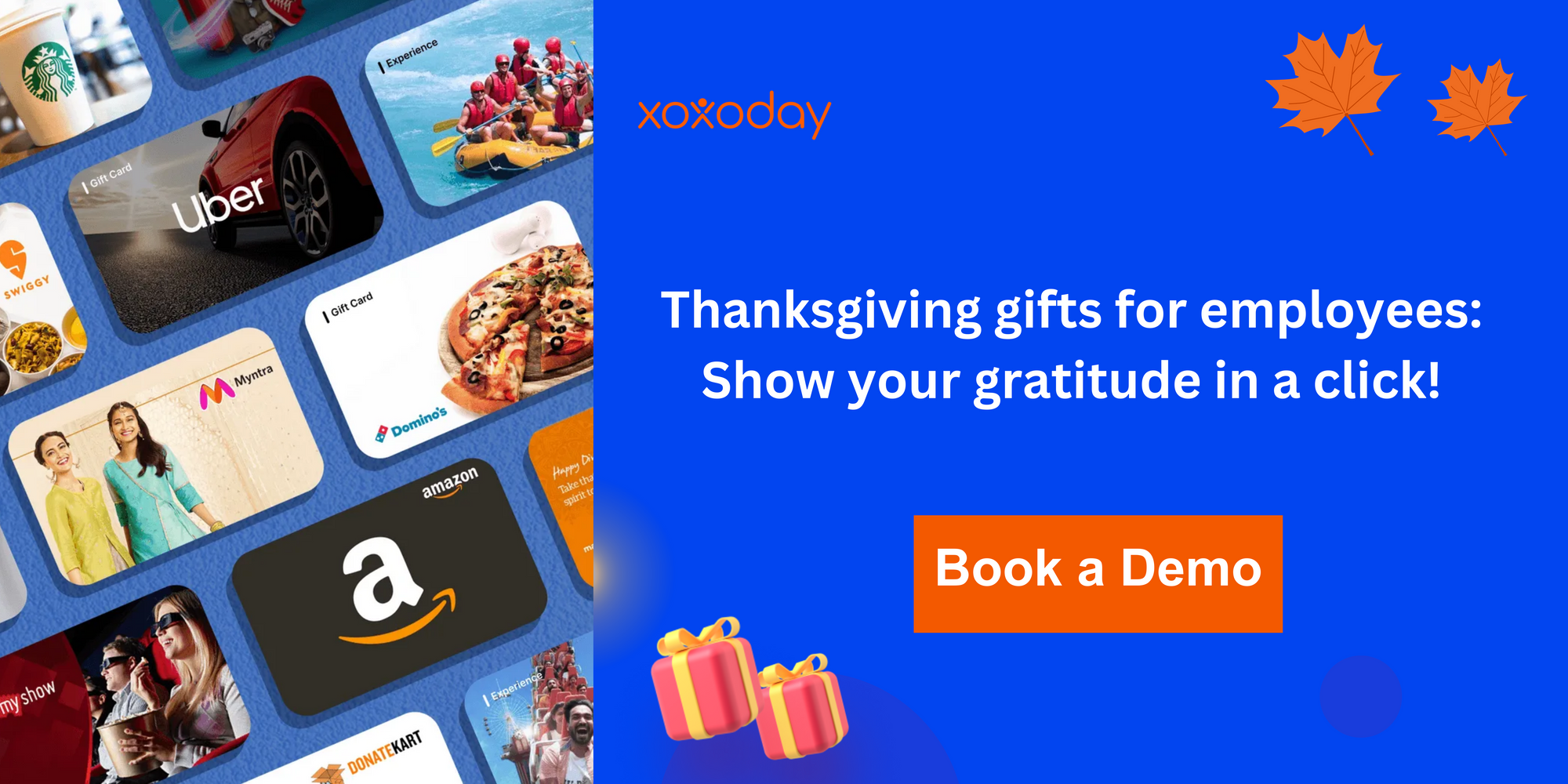 You see those objects around you for your waking life, and they lose the shine of novelty - making them easily erasable from your memory.
Experiences, on the other hand, engage all the senses and create an emotional reaction that is impossible to recreate for any tangible object.
Dinner under the twinkling stars with your beloved will mark its permanence in your whole being, as you know that they are a once-in-a-life event. Consequently, you cherish them, only to stay with you for the longest time.
1. Team Lunch
Try to imagine Thanksgiving without a grand meal of turkey and wine. More often than not, it will end up as a futile exercise. The reason for it is since time immemorial, food has been the thread that has woven communities together - and Thanksgiving is a prime cultural case in point.
Companies can easily use this spirit of Thanksgiving in weaving up Thanksgiving gift ideas for employees by arranging a cozy team lunch.
It doesn't just thaw the communication winter among the siloed employees. But by smoothing out the hierarchies through a sense of appreciation, it inculcates the feeling of togetherness among variegated compartmentalized teams - Kernel to the removal of administrative and emotional silos that may deprive you of the attainment of your most-cherished business goals.‍
2. Home Decor
The doorbells constantly ring on Thanksgiving eve as friends and family populate your homes with a bountiful amount of wine and gifts. And everyone wants to show their homes to the world when they are at the peak of their resplendent beauty.
Your employees might overlook it while they are busy roasting the duck and baking the cake. Vouchers of big home decor giants as a Thanksgiving gift can save them from possible embarrassment.
3. Personalized Commodities
Since the very essence of Thanksgiving is expressing gratitude to those who have been your 3 AM friends, cowalkers towards the same dreams, pillars of strength, Thanksgiving gift ideas for employees shine with more glow if they have a tad touch of personalization.
It doesn't just become memorable. But the mere thought of how considerate the gifter has been in analyzing the likes and dislikes instills in the heart of the receiver deep respect and love - the reason why employers give their employees in the first place.
It then explains why 62% of Americans want to receive a gift that comes from the heart and feels more personal.
Moreover, personalized gifts also rope in two of the most desired ambitions of a company's marketing vision:
To create a positive vibe around the brand
To enhance the brand reach by lingering on all the possible senses of people
Since personalized gifts touch the deepest chord, 58% of people will tell other people about their gifts if they are personalized. Thoughtful Thanksgiving gifts for employees, thus, are the most cost-effective, home-grown, timely, and joyous modus operandi to turn your employees into loyal brand advocates.
4. Paid Holidays
A study conducted by the Harris Poll found out how 'family holiday' was the most preferred reward amongst 57% of the married males in the sample set. It indicates unambiguously how strenuous work schedules are eliminating quality family time from an employee's life.
You can assuage this all-true dread from your employees' lives by gifting them a paid holiday into idyllic scenery and stays that are classic Americana, making it the perfect place to celebrate Thanksgiving.
With a scrumptious feast and all the seasonal activities, right from turkey trots to hiking amid gorgeous fall foliage and snow-clad mountains, holiday vouchers should be atop your list of Thanksgiving gifts for employees.‍
5. Subscription and Entertainment
In the past, Hollywood biggies aimed at Christmas for a film release. Now, they eye for Thanksgiving- and there is sound logic behind it. This four-day-long holiday is the longest continuous break, even longer than the Christmas leaves or New Year holidays. Naturally, it's the de-facto " huge family weekend" in the American calendar. Moreover, there is not a lot of outdoor recreation in the Midwest and the East. Everyone prefers movies at some point over Thanksgiving.
Clearly, a movie experience on a large screen as a Thanksgiving gift doesn't just suit the socio-traditional construct of Americans. But it comes with an extra pleasant possibility of satiating their innate craving for the bg-screen magic, which was taken away from them by the ravaging pandemic.
6. Electronics
Black Friday and Cyber Monday have emerged as the biggest shopping days in the west. U.S. shoppers spent a record $34.36 billion on retail websites over the five days from Thanksgiving to Cyber Monday, up from $28.49 billion for the same period last year- throwing to the wind the loom that pandemic might have cast over the festive spirit.
Since electronics are high-ticket items, everyone wants to get hold of them at a discounted price. It, then, shouldn't knock you out of your senses to know that all across the globe, electronics have featured predominantly in the wish list of buyers.
The writing on the wall, with all the analytical residual, is clear. Even if you open all the avenues of your comprehension to reach closer to happify your employees through a Thanksgiving gift, there is hardly a better way than handing them out gift vouchers of electronics' who's who stores to let them choose what they want.
7. Cash & Prepaid Cards
Though humans essentially are the same, they aren't clones of each other. The unique streak of individuality makes them desire different things and value each thing differently, justly showering upon them the sobriquet of the individual.
Regardless of the endless swathe of your gift catalog, it will always lack something that your employee is striving for. All he might want this Thanksgiving is a snorkel in the deep sea or a mundane repair of the clogged water pipe.
In such a case, giving them prepaid cards and cash to let them do whatever they want appears like a simple solution to the complex riddle.
It doesn't just give the freedom of choice by following the "each to his own taste" principle, but the heightened sense of happiness which germinates from doing what is close to your heart with the Thanksgiving gift money.
In a nutshell -
Though Thanksgiving gifts are indeed perfect tools to let your employees feel how deeply you value their contribution to keeping your company alive and kicking, deciding on what to gift can be a hair-splitting exercise. That's because more than any measurable achievement, they are given for expressing sincere gratitude towards the employees - making the personalization and feel of tradition unavoidable parts of it. Experiences, thus, might work better than mere objects in the form of gifts.
🎁
See how
Xoxoday
irons out the problem of gift selections with its capacious gift catalogs and guarantees personalized and unforgettable gifting experiences to your employees. Now thank your employees through the yet-unseen ways.
---