Table of Contents
Your existing and potential clients have been at the other end of too-much salesy calls and dull automated email inquiries. With no touch of personalization and no remindable built-up to the communication, your customers have only one adjective to describe your efforts to reach out—Alienable.
Even your employees, the real asset of any organization, are missing out on warmth and human touch due to this pandemic-forced remote working - and salary alone is too weak to become a powerful alternative to it.
The business world is in dire need of a magic wand that will joyously humanize and positively healthify all the relationships that constitute your business ecosystem.
Corporate gifts, with its inherent capacity to bring the most organic smile on the lips, and thereby getting etched permanently in the psyche of the recipient, thus, is the only and much-touted silver bullet.
💡
Important Stats that reveal Why Corporate Gifting matters in a Business:
➼
63% of companies
credited gift-giving as a factor in their improved customer relationships with their clients.
➼
94%
of top business executives believe that gifting can impact a business relationship.
➼
53%
of employees stayed at their company due to the recognition and reward.
➼
27% of organizations
say that external gift-giving resulted in their clients referring their business to new customers.
What is corporate gifting?
Corporate gifting is a gesture of gifting valuables to clients, employees, or any other co-habitant within the business space. Recipients see it as an expression of gratitude, appreciation, and value.
In essence, with endless gifting possibilities - gift cards, swag products, and premium offerings, to name a few - the real purpose of corporate gifting is to make an indelible impression and create a long-lasting connection with the recipient.
Why is corporate gifting important?
Psychologists, en masse, will nod their heads in approval in the assertion that people may forget what someone has said or how others have behaved. But they never forget how someone has made them feel.
And this very psychological construct is at the helm of corporate gifting. With this distinct sense of recognition and being valued, gifts transcend the border of mere being gifts, only to achieve the value of trophy and uncommonness of achievements in the recipient's eyes.
Consequently, it acts as an impetus to all the components that constitute the organizational framework; to employees and partners, it motivates them to think a little more outside the box; to clients, it gives a strong emotional rope to stay long with you.
It's then hardly an eyebrow-raising thing that the University of Lincoln considers gifts as important tools in the marketing communication mix and believes that properly timed and appropriate gifts are one of the best ways of conveying the important message that a relationship matters.
How Corporate Gifting Can Help Businesses
1. Builds stronger relationships
People prefer to buy from a business they know, like, and trust, making it imperative that your clients become aware of your brand first.
Perfectly-timed gifts can synergize this all-important "Know, Like, and Trust" link. By rewarding potential clients for attending your product launch or sending out a digital gift for watching your product video for the first time, you can establish the first thread of communication with them.
This first positive impression sets the right tone at the beginning of communication itself, ensuring its further continuance in the future. More than just a strategic move, corporate gift-giving, thus, is an emotionally intelligent gesture.
2. Strengthens company culture
Gone are the days where only monetary glitz dazzled the eyes of the cream of the employees. Now, company culture has moved significantly up in their criteria while choosing a workplace.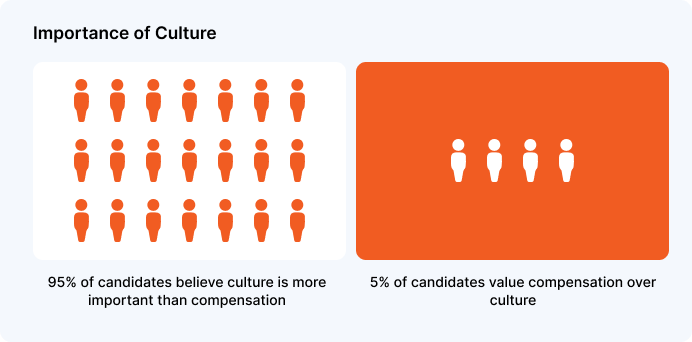 Delighting employees with relevant, suitable, and desirable gifts gives you a long rope to achieve that ideal culture, as gifting has the same positive impact on employees as it has on clients. It affects their performance and your client's satisfaction with the end product/service. Get-to-know-you questions can help employers better understand their employees' likes and dislikes when it comes to gifts. This way, they can avoid giving gifts that are not relevant or desirable to their employees.
However, there are "side" benefits of investing in culture. Gift-giving harmonizes the relationship between employees and organizations and makes them feel valued.
In that case, they are less likely to leave the organization by contributing continuously with even greater enthusiasm. And the worth of highly engaged, motivated employees is measured in gold, as they set the bottom line in yet-unseen motion by outperforming their competition by 147%.
3. Revitalizes employees with motivation
Every organization is as good as its employees—and no organization stands outside of this purview. Motivating them, thus, is of paramount importance in achieving overall operational efficiency and acing customer service.
However, there is a limit to how much motivation a company can induce in employees in a given day through traditional ways. That's where strategic corporate gifting comes in handy, as it grandly satisfies that one desire which every employee secretly craves: recognition.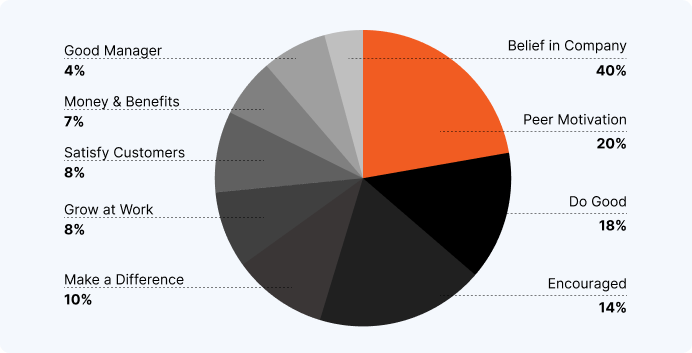 What makes business gifting an even more pointed weapon is its ability to become socially recognizable and worthy of peers' respect.
It's then not surprising that the Advertising Specialty Institute found that 70% of respondents said that receiving a holiday gift from an employer made them want to work harder.
💡
Also,
Gen Z & Millennial Work Recognition
found that a whopping 79% of millennials expressed that an increase in recognition of their hard work would make them more loyal to their employer. Despite being scientifically proven methods to motivate employees, only 42% of companies are taking advantage of this.
4. Reinforces the brand with the regularity of a pendulum
The most commonly performed mistake in the corporate world is communicating with your clients sparsely and sporadically—only while trying to sell something or announcing vital achievements.
This ad-hoc approach is wrong in two aspects:
First, such occasions are rare, making you hover less on the horizon of your customers.
Second, it deteriorates the customer engagement quotient, as it is not adding any value to customers' experience.
In either case, you are not hitting the bull's eye when it comes to grabbing more eyeballs for your brand.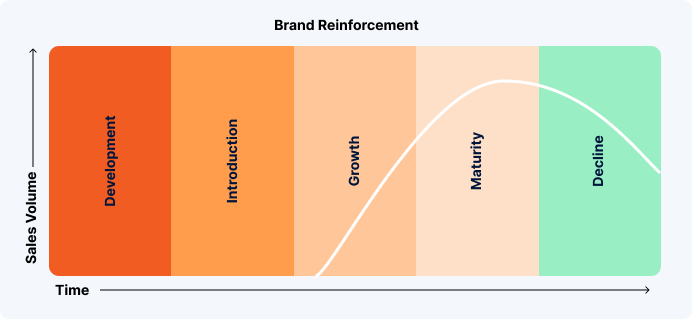 This is where corporate gifting at the right point in the sales cycle becomes pivotal since gifts serve as a constant reminder of your brand.
They keep you in the sight and mind of the customers—an absolute prerequisite for brand reinforcement that is nothing but a psychological reiteration of something already there.
It takes shape through a practice of seeing the same thing again and again, then relating these repeated instances to an image or item, thereby linking the two concepts.
Ideally, you'd like your brand to connect to the idea of "innovation," "good culture," or even "trustworthy." Well-timed corporate gifts that aim to accomplish this goal should occur during the "growth" phase of the connection between you and your clients.
5. Helps advertise in a cost-efficient way
Anyone who has even half an eye for media spending will know that traditional advertisement forms like TV, radio, hoardings impose astronomical costs.
Moreover, they deprive you of personalization, as they are meant for amorphous masses. By giving out personalized items that people use regularly and objects that can be made visible all over the office, corporate gifting guarantees nominal cost per impression.
Digital gifting further reduces the load on your administrative pocket, as it makes sending and receiving gifts as easy as sending emails.
Moreover, integrating cheaply through APIs makes your gift catalog a feat of diversity, enabling you to delight the recipients by gifting them unforgettable experiences.
6. Incentivizes mission-critical tasks and book more sales
The avalanche of digitization has forced the customer journey to go through the most acute paradigm shift.
Whether it's a small social media post or a lengthy and detailed ebook - you never know what will become the first point of contact between you and your potential customers.
Incentivizing customers at every stage of their buying journey is not just a strategic masterstroke but is the most-needed thrust for your customer acquisition aspirations. And the world is yet to see a better tool than joyous gifts/payouts to nudge the customers towards a final buying decision.
You can reward customers for downloading a brochure that authenticates your know-how of the industry. Once convinced, send an invite to attend your webinars by incentivizing them.
Send them perks during their first meeting with the sales representative by a gesture that wins your customer's heart. Once the closing is done, you can allow him access to your gift-rich catalogs.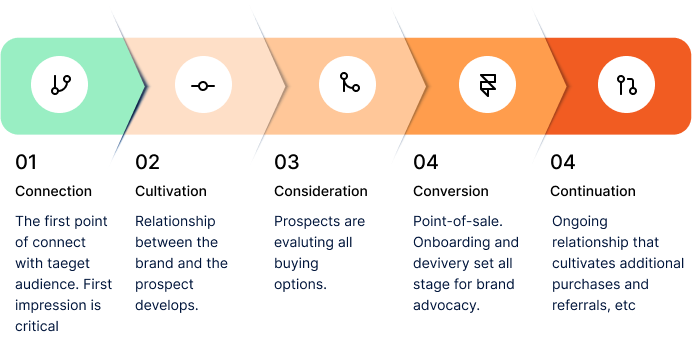 Things to Keep in Mind While Sending Corporate Gifts
It's as clear as daylight that corporate gifting can act as a multi-pronged tool in elevating your bottom line as well as creating durable relationships with all the stakeholders.
The only caveat is that it needs to be thought out holistically and executed non-erroneously.
The following mapped-out corporate gifting strategy, thus, doles out the much-needed actionable points to harness the power of giving.
1. Understand the religious, regional, and social contours of gifting
Though the receding wave of globalization has made the world one large homogenized global village, the deeply entrenched imprints of the local culture are hard to go.
Multiple folklores, the cumulative experience of the nation as a whole, history, mythology, and much more carve the social and cultural monolith of countries. Since people are sensitive to it, a wrong gift, even a wrongly presented gift, can become a powder keg.
💡
Just to put it in context, it's a coded taboo to gift a clock, watch or pocket watch in China. According to Chinese taboo, clocks symbolize that time is running out - and therefore, "to send a clock" sounds like "the funeral ritual." Similarly, in Saudi Arabia, you should never gift gold or silk to men.
The telltale sign, then, is as clear as the sound of clarinet: While framing up your gifting strategy for diverse terrains, pay heed to the cultural subtleties as diligently as possible.
Here are a few to begin with:
Very few countries have unique gifting traditions like India. Gifting money is considered auspicious in India. Gifting sweets at the corporate level is more than welcomed, as sweets in India mark a blessed beginning.
Americans may not bring gifts to customers when meeting for the first time. But gifting to coworkers, colleagues, and customers during the holiday season (late December) is an acceptable norm.
In Japan, gift-giving is a central part of business etiquette. When making an initial visit or sales call, it is common to bring a small gift. O-seibo (year-end) and O-chugen (midsummer) are the main gift-giving times.
Good taste is a must while giving business gifts in France. Since the French community is more artistically and intellectually inclined, giving gifts that feature your company's logo only can be taken in poor taste.
In Ghana, gifts are vital to business relationships. Many businesses show appreciation at the end of the year by gifting their customers, vendors, clients, and other business associates. Christmas hampers are more preferred gift items all across the country.
Australian culture appreciates modesty in business dealings and overselling in the form of business gifts. Gifts as pure tokens of appreciation, however, are always welcome.
Swedes consider it appropriate to give gifts at the closing of the deal as opposed to its beginning. However, gifting during holidays is a big yes.
2. Tax implications
Tax regimes for gifts vary as per the gift type, and different countries have different rules. For example, the IRS states that organizations can deduct gifts of up to $25 for each individual per tax year.
It applies to gifts that are given either directly to an employee or indirectly to the family of an employee or a client. For gift cards, the full cost is tax-deductible. Company swag also allows complete tax-deductibility if it costs under $4 and has your company name.
Remember that getting entangled in the harmful tentacles of law won't just make a big hole in your pocket but can dent your hard-earned reputation. It's, thus, advisable to keep records of all the corporate gifts you send, along with the business purpose behind each gift.
3. Clients' limitations
Not all organizations allow their employees and top executives to accept corporate gifts, particularly for government organizations and people of a higher power.
This makes it an absolute must to check with your client's company first whether gifting is permissible. If you want to send surprise gifts to clients in the coming future, add a question in your welcome process to ask if they can accept gifts.
4. Set your business gifting goals
Once you are done with the legal, social, and ideological foundation, the next step is to set up your gifting goals that align well with your big-picture business goals. List them down on the priority level and think about using them as a platform to showcase your business values.
Meanwhile, create a bulleted list of your values. It should be a bird's eye view, including what ethics, success, engagement, and aesthetics mean to you.
Note that humans are wired to indulge in stories. Naturally, gifts that weave up a web of human stories become more memorable, and thereby, everlastingly valuable. They work even better if they dart out from your core values, making their germination unadulteratedly authentic.
5. Nail the perfect gift moments
Since gifting is less about merely rewarding and more about humanizing the relationships, gifting should heighten the positivity and happiness quotient in the relationship dynamics. Unsurprisingly, birthdays and anniversaries are the biggest draws in this context.
However, gifting only in the private sphere comes with a danger—the danger of missing out on the overall canvass of life events.
Every individual lives a multi-dimensional life, giving a stronger reason to believe that more might be happening in the recipient's life—and you might be required to send more than one gift.
Therefore, the need is to justify all the personal, social, and professional events in the recipient's life.
Life events: Birthday, Baby shower, Wedding, and Wedding anniversary
Work-related: Onboarding, Hiring, Performance, Retirement, Promotion, Initiative, Work anniversary
Milestones & achievements: Sales, Team performance, Closing important contracts
Festivals: All important festivals of respective countries
Important days: Mother's day, Father's day, Women's day, Men's day, New year
Events: Product/service launch, Trade shows, Conferences, Channel activation events, Promotional events, Seminars, Leadership talks
Naturally, an ideal gift strategy should accommodate these unexpected events and auto-shape itself accordingly to deliver timely gifts.
The following questionnaire can guide you in nailing the perfect gift moments:
How many clients or employees do you have, and how often should you give gifts to them to meet your goals?
What are the key events to send gifts in your industry, e.g., tax season, company milestone celebrations, partnership anniversary, real estate peak season, thank you, and, of course, holiday?
How have the previous gifting seasons worked for you? Do you need to make any amendments to weed out the past mistakes?
What are the key events that your competitors are eying, and what is the cost that you will pay if you miss out on those events?
How is the pandemic changing the need for gifting to stay in contact with employees and customers?
6. Zero-in on your budget
Once you have identified your key gifting moments, figure out your gifting budget as realistically as possible.
Take stock of your existing expenses, which might have been exacerbated due to certain unplanned occurrences, prepare a detailed list of your recipients, and then establish your spending amount per recipient.
What could give a semblance of sense to your budgeting is the industry standard for gift budget planning.
Approximately, it is $75 per person for individual gifts, $150 for premium gifts, and $20 for office/team gifts. These numbers are research-borne, as studies have found that these are sweet spots in recipients' eyes.
7. Give right legs to your budget
The grim reality is most of the companies have a shoe-strung budget for corporate gifting initiatives. The key here is to use every ounce of that budget by vetting each spend cautiously against the possible impact.
The best approach to do it is deciding what matters most to your business:
Reach a larger group of people with smaller token gifts, or
Reach a smaller group of people with a more expensive gift.
Ideally, this priority approach should include handwritten cards for standard clients, a $50 gift for premium clients, and $100 gifts for VIP clients.
8. Select the right corporate gifting company
Gift companies are the enablers between you and your clients. If they fail to reflect the values that you strive for through their gifting items and etiquettes; or miss the delivery deadlines that are key to your sales cycle, it does not just stifle your revenue but affects your reputation detrimentally.
Indeed, all the gifting edifice can collapse within a blink of an eye if you err while selecting the right corporate gifting company.
Clearly, it screams for judicious vendor evaluation, demanding answers to the following questions:
Do they fully and unambiguously understand your needs?
Through gift selection, pricing, packaging, and redemption options, can the vendor represent your brand values the way you want?
Do they offer a gift concierge expert to guide your gifting decisions?
Can they uncomplicate the gifting by making it as easy as sending emails?
Do they have a comprehensive gift catalog, including unique experiences, discount offers, subscription options, utilities, merchandise, that allows you more gifting options with a touch of personalization?
Are they geographically and linguistically agnostic, granting more global footprints for your gift-scaling aspirations?
Can they seamlessly integrate with new cutting-edge automation tools and guarantee precision and efficiency?
Do they allow the omnichannel model for gift sending and receiving?
Do they have a communication system and acumen to make employee gifting look classy and personal?
Do they ensure a no-dissonance gifting redemption experience?
Can they think on their feet to come up with last-minute gifts?
Do they help you in measuring the success of gifting campaigns by giving you a real-time view of total spendings, redeemed and unredeemed gift vouchers/links, recipients list?
Challenges that Businesses Face While Gifting
Despite corporate gifting slowly and steadily becoming the relationship moisturizer across all the industries and information overload of does and don'ts, many companies walk with a lump on the corporate gifting path. It darts out from the fact that one size really doesn't fit in gifting.
Each receiver is different. Each country has different laws and distribution systems, and companies have to take a stern stock of all these factors within the available budget. They are about to be inundated with some fierce challenges - the following are just a few to name.
1. The gift is not personal enough
Regardless of how thoroughly you study your receivers, something about them will always remain hidden. Though what they post on social media might give you a fair idea of their likes and dislikes, that may be just the paper part of their core being.
A person who puts cat videos doesn't have to be a hardcore animal lover. The only reason behind those posts might be he is enamored by the cuteness of cats. Clearly, he may not appreciate a cat dish with whiskers on it as a gift.
2. Administrative burden
For a company with clientele or employee size of dizzying heights, the sheer gift volume puts a smoldering burden on its administration.
Finding out addresses of all the receivers and verifying their authenticity, purchasing a variety of gifts in bulk, making shipping and packing arrangements, and sending them to different geographical locations can suck the administration bone dry.
Note that a recent survey of British SMEs by Sage revealed that small companies spend an average of 71 days and £35,600 on admin tasks per year.
3. Missing the perfect timing
There is no difference between yesterday's newspaper and a birthday gift that arrives a week later. The emotion of the day, the ambiance, and the excitement of the moment are gone—and with it, the value of the late-arrived gift too.
While "it's the thought that counts" is true, timing is everything for gifting. Remember this to never forget: gifting came into existence to decorate special moments.
4. Same old, older, and oldest gifts
If you go to Niagara falls ten times, you will cease to see Niagara falls as Niagara falls on your eleventh visit. It will be a mere and only water body to you. It's a social and psychological law that you lose the significance of a thing that you are overly familiar with and if it's ubiquitous in nature.
Companies have hit the same deadpan with boxes of sweets and chocolates as their preferred gifts, particularly during the festive season.
Since each ounce of your employees' and clients' houses bulge with such all-too-common gifts, your gifting endeavor doesn't run the risk of not being memorable. It can go completely unnoticed as well.
5. Impersonal messaging
The number of business gifts sent without thoughtful and pleasing personalized messages is alarming. A copy-to-all message that reads:
"Your business is important to us!"
basically tells your client that your business is just as important as everyone else. It eliminates the heart from the gifting activity, which is to make the receiver feel special.
6. Language barrier
Though English is a world language, personalized gift messages enfolded in one's own language have a sentimental value. It's particularly true if your business has successfully trotted the globe and boasts clientele on which the sun never sets.
But when companies are struggling with personalized messages, writing them in multiple languages for multinational and multicultural clientele is a hard nut to crack.
The only way out of this is to hire language experts for each language, and this eats up the gifting budget.
Digital gifting platforms, with their online-only operability, can circumvent these challenges in the most cost-effective way. They let you:
Save cost by reducing administrative and storing overheads
Make your gifting catalog capacious enough by integrating it to multiple shopping avenues through API integration
Make your gifting endeavor profitable, as you pay only for the rewards claimed
Give freedom of choice to redeem whatever gifts receivers want
Convert personalized messages into multiple languages
Support cash rewards all across the globe with the multi-currency support
Ensure instant gratification by rewarding through the channel of your receivers' choice
Ensure perfect timing by setting date for sending out gift cards
Set a prefix message depending on the event or occasion
Set a distinguishing and personalized look for gift card email with a creative display of your brand logo
Include gift cards on-the-go that are popular among receivers
Real-time insights into total gifts sent, rewards claimed, overall spent, and ROI


What Corporate Gifts to Send?
Remember that the "value" of the gift as well as the choice of the gift needs to be considered thoroughly, as it sends out two messages loudly:
"This gift symbolizes who you are."
"This gift's perceived value tells your clients, employees, and partners how much you value them."
Clearly, the key lynchpin, if not the only one, that decides the success of your corporate gifting endeavors is how diverse, personalized, uncommon, and experiential your bucket of gifts is. And that's where digital gift platforms, with their ability to accommodate every perceivable gift in your gamut through a single integration, overwhelmingly outshines physical gifting.
By pleasantly robbing you of the common pains of logistics, administrative costs, and limited choices, it opens up a whole plethora of gifting possibilities to choose from.
10+ Best Corporate Gift Ideas to Choose From
The following enlisting throws light on some, not all, of the most memorable, gratifying, and meaningful gifts that companies can bestow upon their key stakeholders.
1. Gift Vouchers
The reason why gift cards are surging in popularity since 2012 is the freedom of choice they give to the recipients.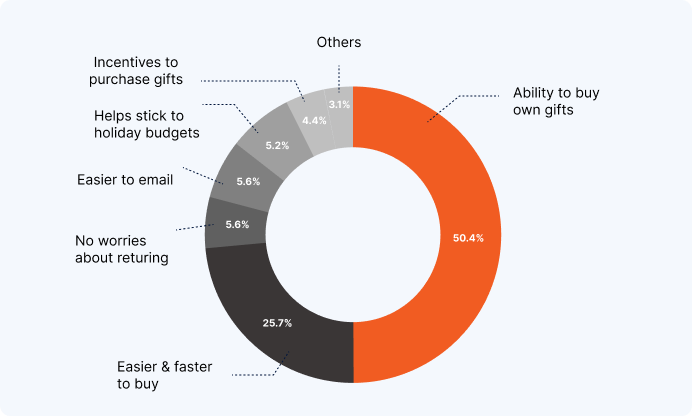 Also,by letting people exchange it for goods worth the same amount, they are ideal for small-ticket gift items such as groceries, books, baby products, toiletries, mobile and DTH recharge, and apparel.
2. Cash and payouts
Maybe, your recipient has a secret desire to buy something specific, and your all-encompassing data and research may not decipher it. Just kindle this desire by letting him buy what he yearns for. The easy way of doing it is showering on him lucrative and easily encashable payouts.
3. Electronics
Electronic gift items are like swiss-knives - they meet all the objectives that the corporate gifting campaigns strive for. Being high on monetary as well as on an experiential value, they create the unbeatable sense of being worthy in the heart of recipients. Moreover, they are usable in daily life, ensuring that the recipient will remind you in each moment of his waking life.
4. Health and wellness
WHO has defined health as the social, psychological, and physical well-being of a person. Though it's difficult for a company to do much in the recipients' social and psychological sphere, physical fitness is easily touchable. Gift gym membership to recipients, and ensure that they break a sweat and not the bank.
6. Merchandise
Merchandise has evolved from a gifting mechanism to a promotional accessory. Those cool hoodies, water bottles, laptop sleeves, pens, hats, and whatnot are still leading the way in the form of gift bags and welcome kits. They work even better if they are jazzed up by a creative touch of personalization.
7. Home and living
With holed up in houses and no possibilities of attending the office visible near sight, work from home is here to stay. It accentuates the need for employees to create a home ambiance that is conducive to work, a small microcosm of the office.
You can assist them by gifting ergonomic chairs, a table hammock, or simply a gift card to the nearest furniture store for them to upgrade their home office. Remember: the more entrenched they are in an office-like environment, the more attune they will be for productivity.
8. Restaurant, Food & Drinks
Nothing satiates the heart more than a sumptuous food with a finely-refined wine in a restaurant known for its dimly lit, atmospheric ambiance. By gifting an exquisite dinner or covering a week's online food deliveries, decorate your recipients' hard-earned weekend with the sight, sound, and aroma of delicious food.
9. Subscriptions
Your recipients are spending half of their time in homes. Thinking about how to up their home-entertainment quotient, thus, is a step taken in the right direction. Gift them endless crumbs of OTT-subscriptions and peripherals, and don't let them feel the passing of time.
10. Travel and leisure
With stress being the middle name of modern life and the scarcity of time the first, letting your clients and employees recuperate in divine blue lagoons and misty forests is no less than soul placating. Gift them vacation by giving them instant access to discounted hotels and flights - especially in the holiday season where tickets become the most demanded entities.
11. Reading and learning
There is as much knowledge nowadays in digital troves as it is there in inked books. Let your recipients leverage it as per their attitude and aptitude. Gift them online courses, coveted information resources, and special access to great talks by greats. Note that an upgraded employee is like a dynamo, capable of metamorphosing his KPIs with his acquired know-hows.
12. Charity and donations
The purpose of life is to have a life of purpose. Fortunately enough, the tentacles of corporate gifts are capacious enough to deliver this purpose to the recipients.
Give them charity gift cards and empower them to "spend" on the charity of their choice. If you do not have a dedicated charity card in your gift box, let them donate the rewards points to the cause that is closest to their hearts.
Types of Corporate Gifts
Since corporate gifts come with the high-seismic potential of strengthening and elongating the relationship between a sender and a receiver, they can revitalize the four key components that frame up the administrative and functional DNA of any organization:
Marketing
Sales
Clients
Employees
Since all these components have their own journey, marked with starkly different stages, the modus operandi of corporate gifts has to be altered—ensuring they impose the desired impact at each stage of their respective journeys. The bottom line is, even if gifts remain the same, their timing will differ based upon which operational segment you are targeting.
1. Marketing gifts
Marketing gifts are a perfect way to go beyond a mere audience reach and get hold of audience engagement - the actual holy grail of the final buying decision.
You can incentivize all the possible entrances of marketing by giftifying following actions:
Event attendance
Downloading a piece of content
Sharing your social media posts
Attending your webinars
Referring customers who share your product or service with friends
Signing up for your newsletters
Filling up survey forms
2. Sales gifts
Sales are, in essence, presales. The reason for it is, the buying decision germinates much earlier than the actual moment of buying.
It might begin by reading a positive review about your product or going through a well-crafted piece of content where you have demonstrated your wizardry in your sector with all the credible sources.
That's where creating early positive vibes about your brand in the minds of sales prospects holds prime importance. Gifts are perfectly cut out for this task. The following stats can vouch for it.
70% of respondents believe that a uniquely picked gift will encourage them to do business with a company.
8 in every 10 people have said that uniquely picked gifts will create a positive impact on behalf of the gifter.
Just like the marketing gates, you can incentivize following sales gates by keeping a warm and smile-evoking gatekeeper in the form of a creative gift:
Thanking a new lead for their time
Accepting your call or meeting invite
For going through your product demo
When the buyer is nearing to the closure of sale
Thank a repeat customer for continued patronage
How much sales gifts can yield hinges on acute personalization. Each industry is different - and the magnitude in which it works is also different. SMBs are struggling even to touch those sales fruits that are low-hanging ones for giant enterprises.
Gifting a voucher for an online course bathes in more meaning for SMB than for a huge enterprise. Moreover, the simple message of how much time and care you have invested in coming up with the perfect gift through personalization makes them believe that you really value them.
Factoring in this nitty-gritty while sending out sales gifts ramps up your response rate and thereby the ultimate prize- revenue.
3. Customer gifts
Once your sales and marketing efforts have reared fruits in the form of conversion, the next step, maybe the most important one, is customer retention.
It is the most valued currency, not just in terms of marketing spend, as acquiring a new customer can cost five times more than retaining an existing customer.
But it adds greater meat to the final weight of revenue generation as well. The probability of selling to an existing customer is between 60% and 70% as opposed to 5% to 10% to a new customer.
Existing customers are 50% more likely to try your business's new product.
Existing customers are also 31% more likely to spend more on their average order value with your business.
The average, loyal customer spends 67% more in their 31st to 36th month with a brand than in their first six months of the relationship.

Besides, it gives wings to your brand advocacy ambitions too. Only and only engaged, active, and retained customers can become your authentic brand evangelists and spread good words about your brand.
Through strategic and timely gifting, you can hover on the conscience of your existing customers and remind them of your existence—without sounding too desperate and pushy.
All you need to do is piggybacking on the right events and actions, such as:
Holidays
Festivals
Special days like Womens' day and independence day
Contract renewal
Collaboration anniversary
Providing consumer-generated content in the form of product reviews
Employee gifts
A Caution: Pitfalls that Need to be Avoided
Though we have framed a seed to fruit journey of corporate gifting, certain thorns need to be uprooted. Almost the don'ts of business gifting, make sure they don't sneak into your main goal of delighting your most valued recipients.
Don'ts
Ignore the cultural and social subtleties while finalizing your gift items and methodologies.
Make gifts gender-specific unless it's for special occasions like Women's day.
Walk across the thin line between being generous and being economically imbecile.
Miss out on the quotient on personalization, as accentuating the happiness of the individual is the very breath of corporate gifting.
Gift anything that goes contrary to the values that you stand for. An NGO gifting a wine bottle will always bode ill.
Create a gifting mechanism that is difficult to manage both in terms of time and cost
Follow the one-size-fits-all approach. Millennials might see value in cost, while baby boomers usually see the cost in value.
Gift anything that isn't useful, psychologically affecting, and emotionally uplifting.
Key Takeaways
Memorable and joyous, corporate gifts are an affordable delicacy that emotionally sweetens and psychologically deepens the relationship between an organization and its key stakeholders.
Incentivizing the modern serpentine customer journey with timely gifts can fire up your sales funnel in yet-unseen ways.
Embark upon corporate gifting by deciding on gifting objectives and selecting the right corporate gift company after the strictest possible evaluation.
Do not make the mistake of gifting only at the holidays and anniversaries. Identify other giftifiable life moments to hover more on the minds of customers.
Restricted options, worries of damage, higher cost of logistics, and non-instant gratification renders physical gifting less viable and desirable. Digital gifts are a proven antidote to these pains.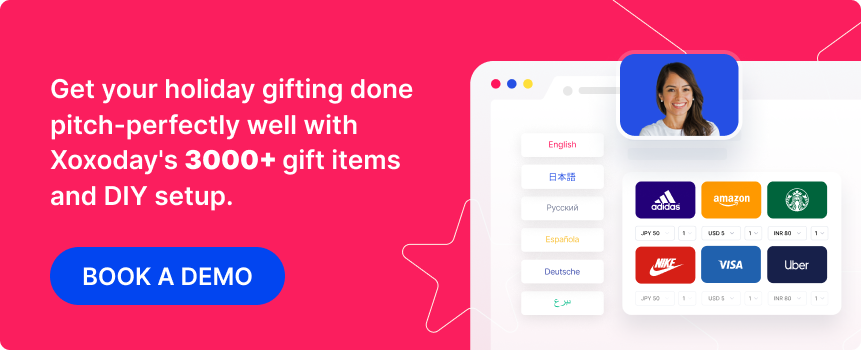 ---