Table of Contents
Most sales and marketing teams have the same overarching goals: improve campaign response rates, attract prospects, delight customers, improve attendance rate to webinars & events, and of course, drive conversions. Interestingly, the way to achieve the end goal in these use cases is the same: rewards.
But the question is, how do you implement them digitally?
Meet Plum, a robust cloud-based rewards platform from Xoxoday that helps businesses to add rewards, incentives, benefits, and payouts to your marketing campaigns in no time.  
Whether you want to delight employees, customers, or a broader sales channel, digital rewards provide complete control over the gifting workflow and a user-friendly experience from start to finish.
Combining this potential with the HubSpot CRM provides the perfect opportunity for businesses to incorporate rewards throughout their ABM strategies by using small gifts and other incentives to revitalize stale accounts and make new connections by standing out from the competition.
While the Xoxoday Plum integration with HubSpot is beneficial for B2B sales and marketing teams, it can be ultimately used by any company that wants to capture more value from its CRM setup.
So let's explore how marketing, sales, and HR teams can use Xoxoday Plum & HubSpot integration to connect with their audiences and form stronger relationships through meaningful gifting.
Benefits of Using Xoxoday's Plum Rewards & Incentives with HubSpot CRM
The problem with many rewards and incentives programs is that they are time-consuming to operate and require one-on-one attention for every touchpoint.
The HubSpot Xoxoday Plum integration bypasses this resource drain, empowering sales and marketing teams to implement an incentive strategy through the entire customer journey at scale using the workflows and programs they have already set up.
Here are just a few examples of the integration's benefits:
1. An extensive global e-gift catalog
Xoxoday Plum offers access to a global eGift catalog of 4000+ brands across 100+ countries, including a personalization feature that tailors each gift towards its recipient and uses their native currency. Choose from gift cards, experiences, and prepaid Visa, Mastercard, or Rupay cards.
This personalization feature is especially critical for international companies or companies with a global audience. It ensures that recipients are getting something they love—and that they don't have to jump through hoops to enjoy the gift or experience.
2. Omnichannel reward delivery through SMS, email, and more
No matter how customers or employees prefer to receive eGifts, Xoxoday Plum can make it happen. Use SMS, email, WhatsApp, and more to send bulk gifts to international contacts. By incorporating the contact's preferences, you can increase the likelihood that they will respond and use the reward.
3. Significant company savings on unredeemed gifts
The reality of sending corporate gifts virtually (through gift vouchers or eGifts) is that not every recipient will go through with claiming their offer. When Xoxoday Plum powers the incentive process, clients reclaim 100% of the value of unredeemed gifts.
This preserves sales and marketing dollars for other high-impact measures (or more gifts for recipients who do claim them).
4. Direct connection with HubSpot sales workflows and marketing sequences, preventing manual work
For companies that want to automate reward- and incentive-based campaigns, the HubSpot CRM can seamlessly integrate with Xoxoday Plum to trigger gifts and rewards via sales workflows and marketing sequences.
This automation allows for an incentive strategy that runs in the background, offering a "set it and forget it" benefit that preserves time and energy for other initiatives.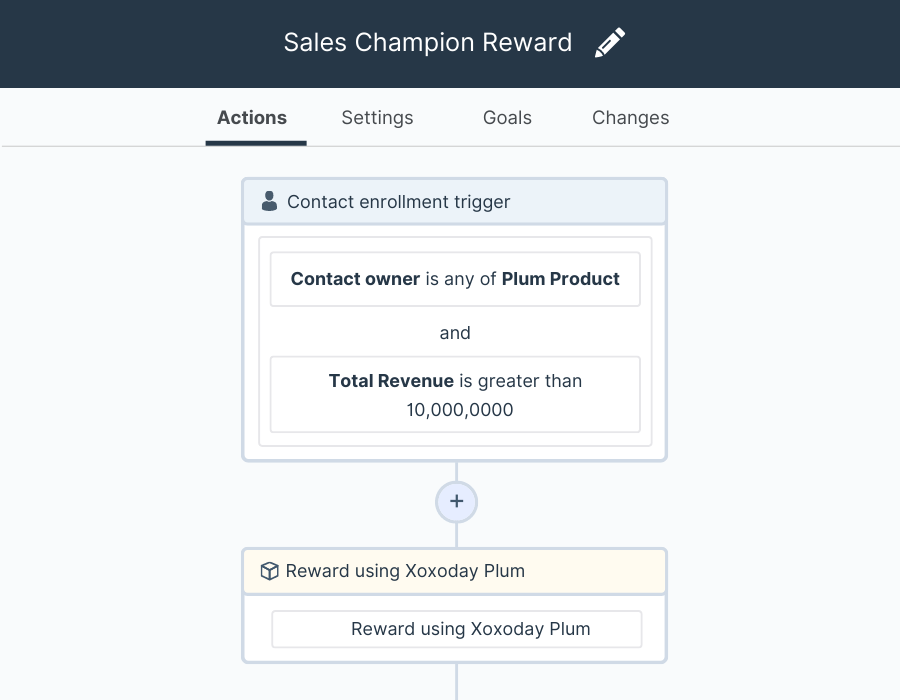 3 Ways to Use the Xoxoday Plum integration with HubSpot CRM for More Impactful Sales and Marketing

Today's brands are looking for ways to recognize loyal customers, sweeten sales deals, and otherwise surprise and delight prospects from the first touchpoint through the closed deal.
Gifts and experiences are becoming a popular choice for brands to engage with their audiences, and for good reason: 93% of consumers are influenced by brand incentives.
Let's take a closer look at three specific use cases for the Xoxoday HubSpot integration.
1. Accelerate international sales pipelines
Xoxoday Plum can distribute rewards across national borders without any hassle through HubSpot. Sales and marketing teams can enable reward-based campaigns to increase conversions, accelerate their sales pipelines, and ultimately drive revenue.
Thanks to Xoxoday Plum's rich and elegant user interface, users can select bulk vouchers delivered via email, SMS, WhatsApp, etc. Incentivize prospects by jump-starting their buyer journey with a gift card or make meeting and conversation follow-up more meaningful with coffee and restaurant vouchers.
Every reward helps to build a relationship with the prospect or customer, who now feels like an individual instead of a task on a sales associate's to-do list.
2. Enable holistic demand generation
Demand generation has evolved tremendously in recent years, and webinar attendance and virtual events have become a key driver of new leads and engagement. Webinar attendance rates average around 40-50%, leaving an opportunity to bring more registrants to the event—and maintain their attention once they're there.
Gifts and incentives support every step of this process, providing another reason for registrants to show up to the event and actively watch and listen once they're there. One company, Graziani Multimedia, used this integration to provide a $5 voucher gift card for all those present during the webinar.
As Tracy Graziani shared, "The idea was to appreciate and respect their time and show that a webinar can benefit both the speaker and the attendees."
During the webinar, additional $10 vouchers were used to encourage attendees to answer questions and join the conversation. As a result, 85% of Graziani's audience was present until the end of the webinar, and 95% spoke during breakout sessions.
You can use the same approach to discourage meeting no-shows and boost engagement with prospects before and after demos. Since HubSpot's CRM already manages these touchpoints, adding automated reminders and personalized messages with the Xoxoday Plum integration is seamless.
3. Drive more referrals
Finally, automated Xoxoday Plum rewards can be used to encourage existing customers to refer others to the brand. The integration empowers marketers to run tiered reward programs, with each new tier offering improved benefits and tapping into aspirational desires. Game-play mechanics also provide an immediate reward.
Thanks to the integration, businesses can make customers their promoters, accelerating the business flywheel and helping lead to exponential growth. They can even incentivize the specific actions they're hoping to drive, whether that includes referrals, endorsements, reviews, or something else altogether.  
Together, Xoxoday Plum and HubSpot can be combined for a robust incentive strategy that helps to attract, engage, and delight customers. See how your organization can use the Xoxoday Plum integration with HubSpot to generate new business and engage with existing audiences.
---