As a time of celebration and love, Christmas is when people gather to glorify Jesus's birth. You can send corporate Christmas messages to customers to wish them good fortune.
You need to cultivate loyal and long-term relationships with your customers if you want your business to succeed. Your business can handle even the most challenging economic conditions if you have built strong customer relationships. A loyal customer does not hold a monetary value. You can use the holiday season to express your gratitude and appreciation for your valued customers and let them know how vital they are to the success of your business.
The following are heartfelt and professional Merry Christmas messages to customers that demonstrate your sincere appreciation for them and your best wishes for the new year. Check out the below corporate Christmas messages from organizations to clients.
Short Merry Christmas Wishes for Clients & Customers
The following are some short Merry Christmas messages to clients and customers.
1. We wish you a Happy Christmas and a prosperous new year. Your contribution to our work is greatly appreciated.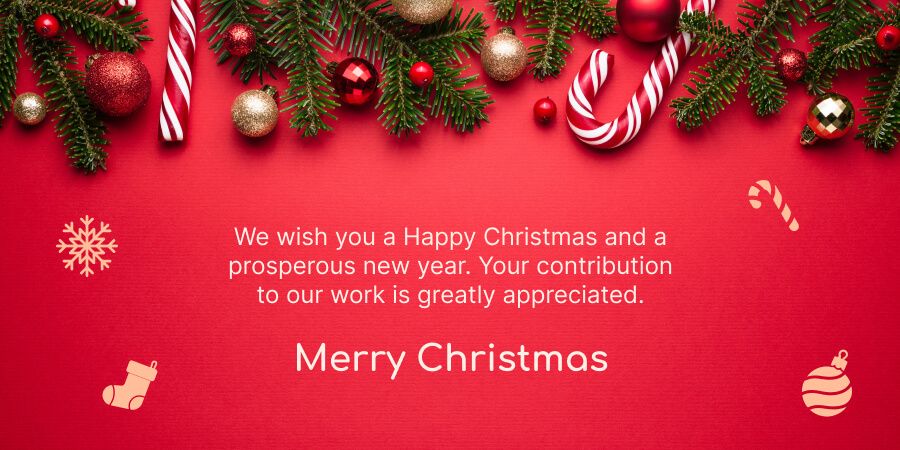 2. Our sincere gratitude goes out to you for another year of support, and we wish you the blessings of Christmas.
3. We wish our valued clients a Merry Christmas.
4. Customers mean the world to us; we can never adequately express that. Wishing you a peaceful Christmas, and thank you for your continued support.
5. We wish one of our most valued clients a bright and Happy Christmas.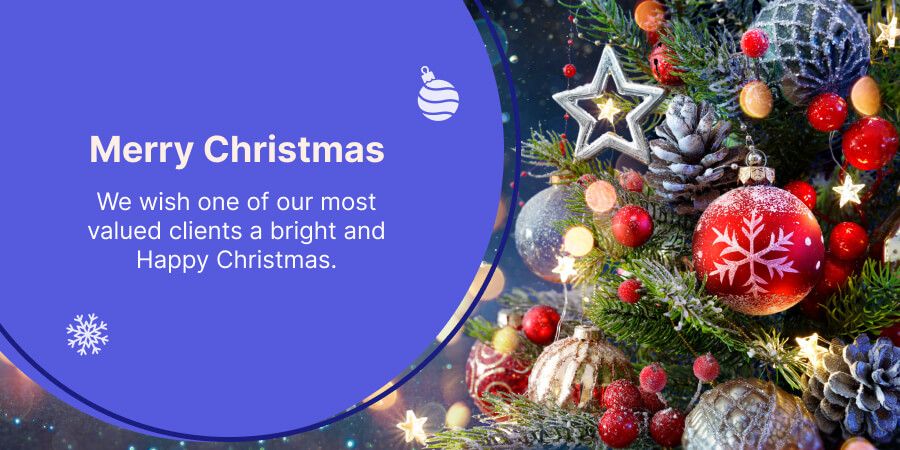 6. Best wishes for a Happy Christmas and a prosperous New Year from our team to yours. Thank you for doing business with us.
7. We wish you and your team a Merry Christmas and a prosperous new year from our crew.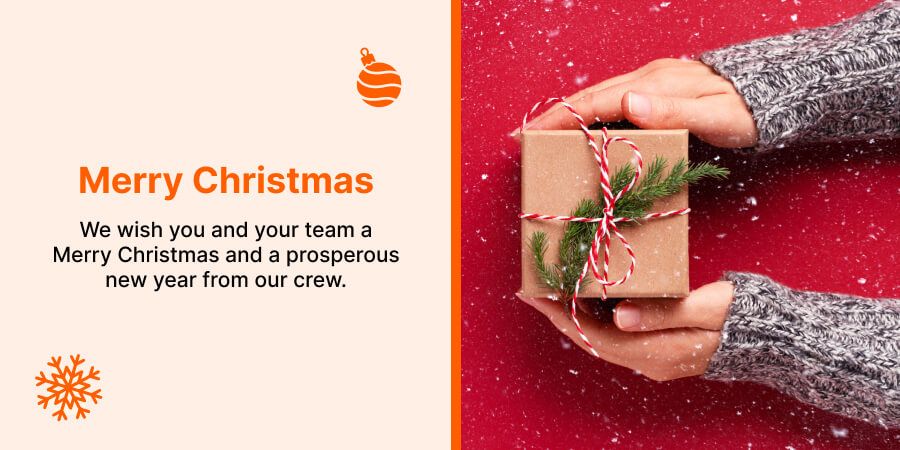 8. We have had the pleasure of serving you this past year. Wishing you many happy returns at Christmas and throughout the new year.
9. A Merry Christmas to all! Thanks to customers like you, we can provide the best service possible.
10. Merry Christmas, and best wishes for continued success to you and your family.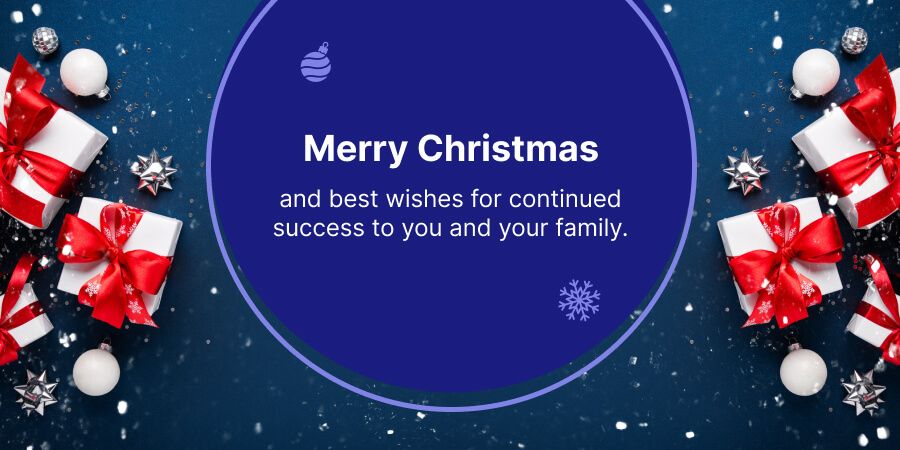 11. We hope to continue working with you in the future. Merry Christmas and warmest wishes for the new year.
12. Thank you for choosing us this year. We are looking forward to a better year in 2023. Have a wonderful Christmas.
13. It has been a pleasure working with you. Throughout the past year, we have appreciated your support. We wish you a happy and healthy Christmas.
14. We can operate our business because of loyal customers like you: Merry Christmas and best wishes for the new year.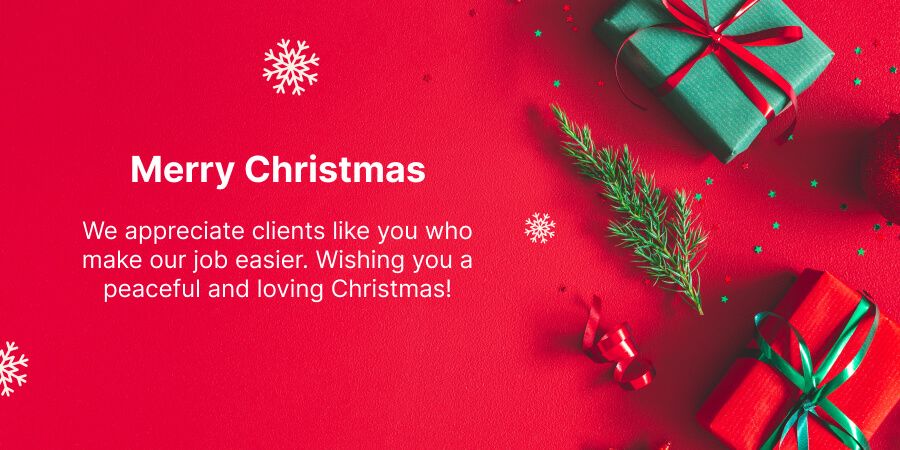 15. It means so much to us to do business with you. We wish you a meaningful holiday season—Merry Christmas from our hearts to yours.
16. We send warm Christmas wishes to you and your family. We are pleased to serve you better, and we appreciate your partnership.
17. Thanks to our products this year, we met your needs. Wishing you a funfilled fortune this Christmas season.
18. We appreciate clients like you who make our job easier. Wishing you a peaceful and loving Christmas!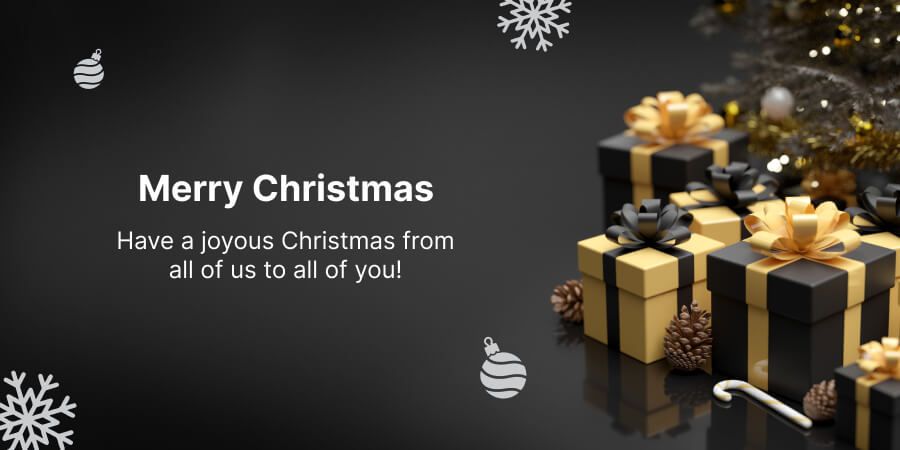 19. We are sending you Christmas cheer from our team! Thank you for letting us serve you.
20. Have a joyous Christmas from all of us to all of you!
21. Wishing all your Christmas dreams come true, our cherished customer. It is an honor to have your business.
22. We wish you the brightest holidays and a Merry Christmas and holiday season. Thank you for supporting our products; we appreciate your business.
23. We wish you good luck and warm wishes from our company. Have a wonderful Christmas!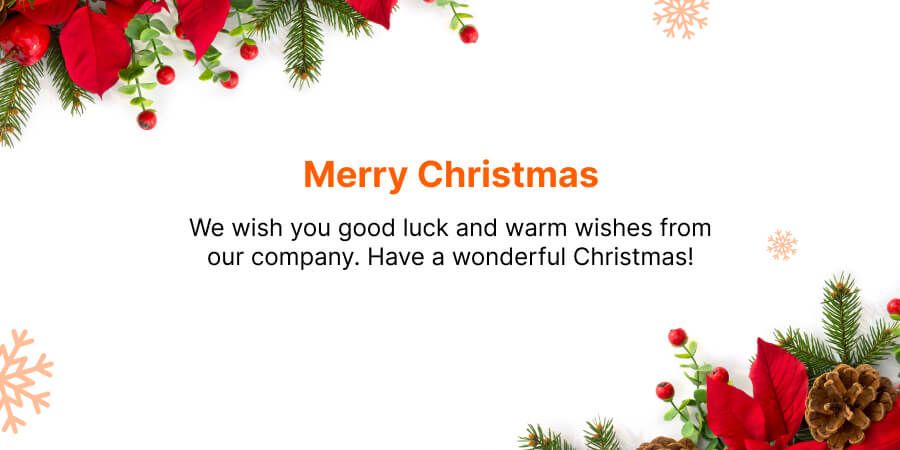 24. As we approach the end of another year, may your success continue. We wish you a very Merry Christmas!
25. We are thankful to be a part of your business for another year and send you warm Christmas greetings.
26. We wish our best customers a warm, friendly, Happy Christmas and a prosperous New Year. It has been a pleasure serving you.
27. Thank you so much for your business! Merry Christmas to you, and may the season's joy remain with you throughout the year.
28. Let us make great things happen together in the future. Happy Christmas, and may God bless you always.
29. We send you our warmest thanks and tidings of joy at Christmas as a token of our appreciation for allowing us to serve you.
30. During this holiday season, we wish you all the best. The support and patronage you provide us with who we are. Our best wishes for the holiday season go out to you.
31. Warmest Christmas wishes from our company to you. You must continue to support and patronize us. We hope you a happy and prosperous Christmas and New Year season.
32. Your relationship is important to us, and we hope to strengthen it in the coming year. Our best Christmas wishes and wishes for the holiday season go out to you.
Conclusion
This collection of heartfelt corporate Christmas wishes to clients customers will help you get in the Christmas spirit! Keep your customer relationship strong. Merry Christmas wishes for customers can be written using these Christmas wishes.
---