Event marketing software is the latest buzz in town! Marketers and businessmen are always looking for new and innovative ways to introduce, promote and drive sales for their product. In such cases, events are one of the amazing ways to create an audience for the product or service launch by making a buzz in the market. Events give you the right platform with a focus on your brand.
Events are no longer handled in person by a physical team. Event management teams need to work both in the physical and the online market to generate the right hype and spotlight attention. With more and more events shifting to online marketing, invite management and streaming services, event marketing softwares have become a must for companies today.
Factors to consider while choosing the softwares
1. Ease of use
The top priority for any software user is how easy it is to use the software. The software must have an intuitive UI, with many tools and functions embedded within to ensure that all event related activities are taken care of easily.
2. Attendee survey taking tool
It is important for softwares to include a tool that helps in taking a post event survey to understand how well they could engage with the brand, how well the product or service was introduced and if the attendees were able to engage with the product. It helps in measuring the success and the satisfaction level of customers after the event.
3. Attendee management
The software must be able to send out digital invites, collect invitee details upon confirmation, create a directory, organize essential attendee information for formal invites and also be able to manage the turn out of the event for a post event analysis.
4. Lead generation and management
Leads are the most important reason for which these events are held in the first place. Customers who show preliminary interest in the product are the prospective customer for the product or service that you launched in the event.
5. Digital invite management
The software must be able to communicate with customers on multiple channels and touchpoints and must also be able to track invitations, acceptance, declines and turn out details.
List of top 10 softwares
1. Cvent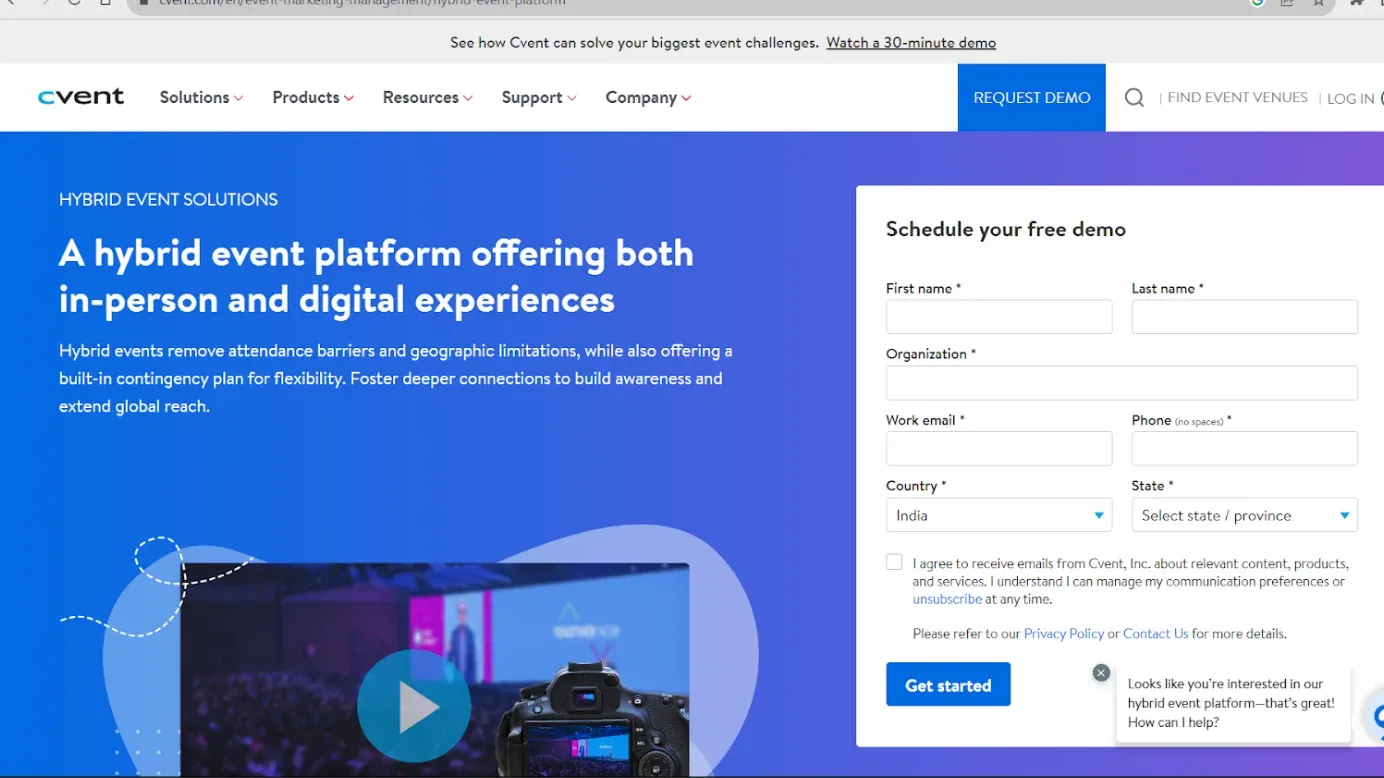 Cvent is an all-in-all platform that helps in not just planning the event but also with communication, branding, scheduling sessions through the event and post event analysis and record management. This software is the only thing you will want if you are looking for something simple, straightforward and yet super effective.
Key features of Cvent:
Cvent includes features such as:
Event page creation
Registration with payment
Email campaigning and automation
Procurement session and event session creation
Agenda and survey tools
Reporting tools
Multiple event management
Cvent has some of the best companies and customers around the world with amazing reviews online. The UI of this software is extremely easy and appealing and comes with tons of tools that make life easy for a marketer or event planner. Coupled with marketing and reporting tools, you can promote and manage and analyze the event post its completion with ease.
Pros of Cvent:
Extremely easy to use for multiple campaigns
Has multiple tools for communication management
Reporting and dashboard tools make it easy to report
Links with payment and allows for mobile based activities for attendees
Includes tools for branding efforts for the product or service
Cons of Cvent:
Lack of customer support
Some users reported failure to load reporting data
Pricing structure:
Free version available
Free trial available
660 USD per annum
Cvent customer case study:
Many companies such as Infosys, TATA Communications, Samsung, Salesforce and other IT companies in the world trust Cvent to handle their event management requirements.
Companies such as EMC Meetings and Events, Meeting Professionals International, FCM Meetings and events, all of them trust CVent for their event planning requirements.
Hospitality companies such as InterContinental company, JW Marriott in Singapore, Melia Hotels International, all of them use Cvent for event planning and management.
Companies using this product:
Walmart
JW Marriott
TATA Communication
Samsung
Siemens
G2 rating: 4.3 out of 5
Capterra rating: 4.4 out of 5
2. EventX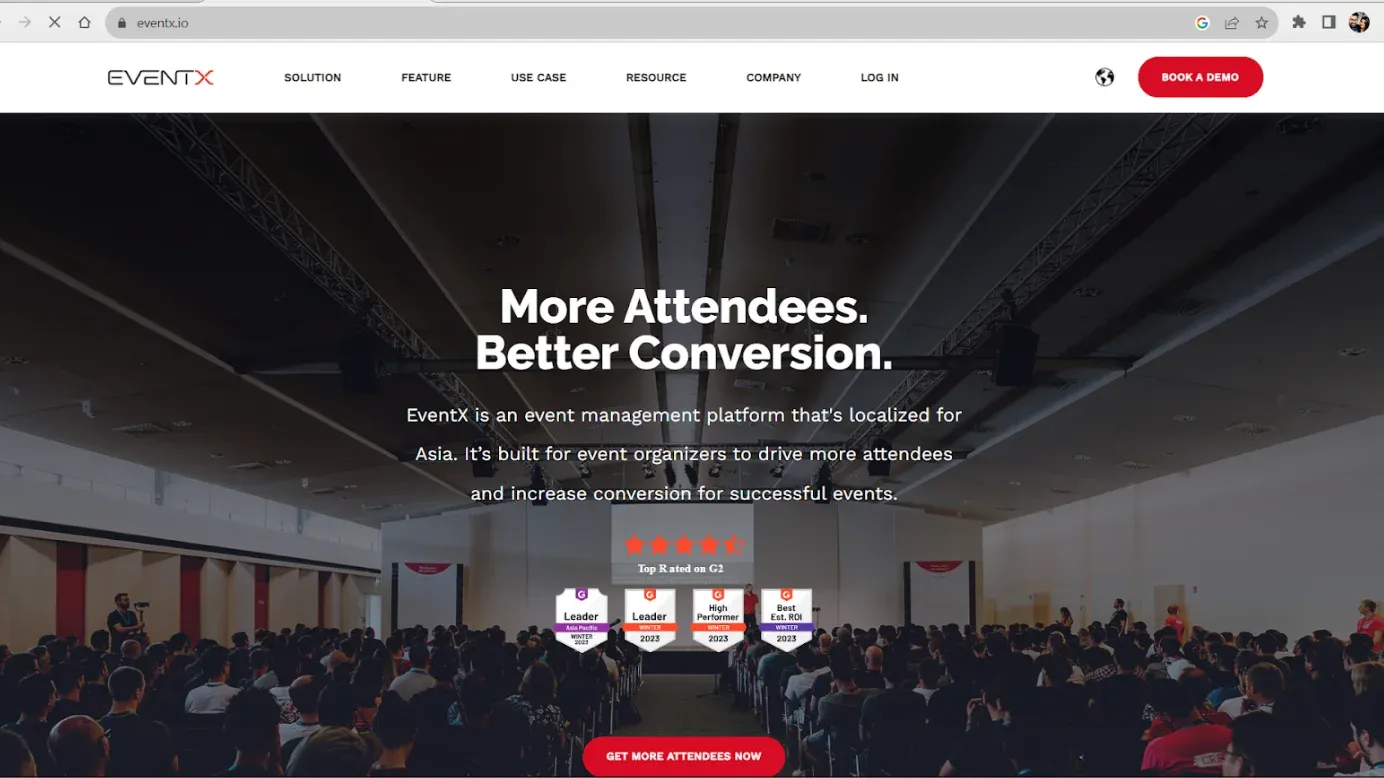 EventX is an amazing web, offline and hybrid event planning and management software that helps people connect using a singular platform for their event based needs. Using the exclusive features available with EventX, marketers and businesses can quickly launch an event page, import contact lists from lead databases and fire away with invites in seconds.
Key features of EventX:
Exclusively made for Asia and China
Use VPN, Direct Streaming and licensed tools to manage your events
Efficient lead capture and retrieval system
Use tools for reporting and dashboard view instantly
Use email automation for invitation management
EventX is focussed on businesses in Asia who need a robust solution for planning and execution of events in countries like Mainland China. EventX has a suite of tools and programs that make planning and crafting events easy.
Invite clients from the database and create a new leads list using lead capture tools. Manage offline and virtual events easily using a hybrid system.
Pros of EventX
Businesses focussing on Asian, especially China can easily plan events using licenses
Suitable for hybrid event planning using several physical and online tools
Use marketing communication channels to invite and manage lead capture
Instantly create websites or event pages for quick check-ins
Instant check-in and registration process
Cons:
Suitable for bigger events rather than smaller
Online networking tools needs more engagement
Pricing structure:
Free package and trial available
Custom pricing based on requirement
EventX customer case studies:
Global Links MP International was able to set up more events using speaker matches and was able to deliver better results using EventX for attendee growth
PPL Networks finds making online events much more easy and robust using EventX thanks to the amazing tools and features that it has.
Reed TradeX was able to bring alive the feel of a real expo with the interactive and engaging platform of EventX.
Companies using this product
HSBC Bank
Sun Life Financial
Spark Labs
Alibaba.com
Splunk
G2 rating: 4.9 out of 5
Capterra rating: 5 on 5
3. Eventbrite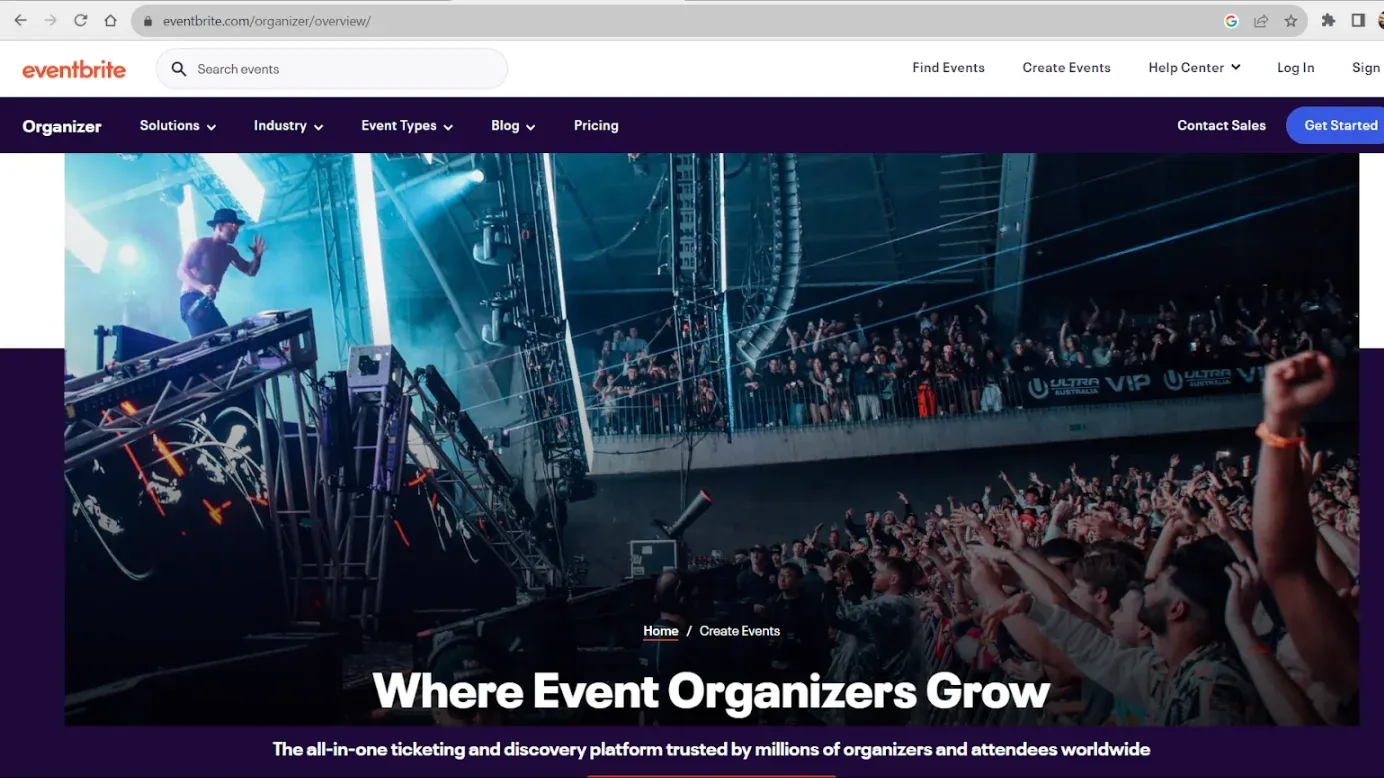 Eventbrite is a global platform for event management and event planning for companies, NGOs, independent event planners or small to medium businesses who are looking to boost their products, services and brand by organizing events.
Eventbrite gives you a global platform both as an event planner and as an attendee looking to participate in events in your location. It is the perfect tool to plan, execute, schedule, promote, manage and analyze events, all at once.
Key features of Eventbrite are:
Create events using pages and website on location basis
Easy registration, sale of ticket process with payment integration
On-site ticketing with mobile check-in for easy tracking
Lead generation and retrieval using lead capture tools
Manage multiple events and use reporting tools for analysis
Eventbrite is one of the few platforms that are budget friendly but with no compromise on quality and features offered. Eventbrite is great not just for large companies but also for small, medium business and independent contractors and event planners who are looking for a functional and effective platform to plan, manage and execute their events.
Pros of Eventbrite:
Affordable, pay per usage policy that is great for all companies
Great features that help attendees find events they are interested in
Create websites and pages and sell tickets faster than ever
Use advanced planning features to track and manage attendees
Use reporting and dashboard tools for multiple events simultaneously
Cons of Eventbrite:
More suited for beginners and smaller events than large events
Some users experienced issue with providing links or addresses to attendees
Pricing structure:
Pay per usage policy for beginner and professional packages.
Customized pricing based on requirement for premium packages
EventBrite customer case studies:
The BeerFest Australia is an annual event that uses EventBrite's exclusive tool Boost to increase their ticket sales by 35%
The Butterfly club in Melbourne hosts 10 shows per day and using Eventbrite, they are now able to increase listing views by 2.5x and 5.4x ROAS
Companies using Eventbrite:
California state university
Therap services
The north face
Blackfriars insurance brokers Ltd
G2 rating: 4.4 out of 5
Capterra rating: 4.6 out of 5
4. BigMarker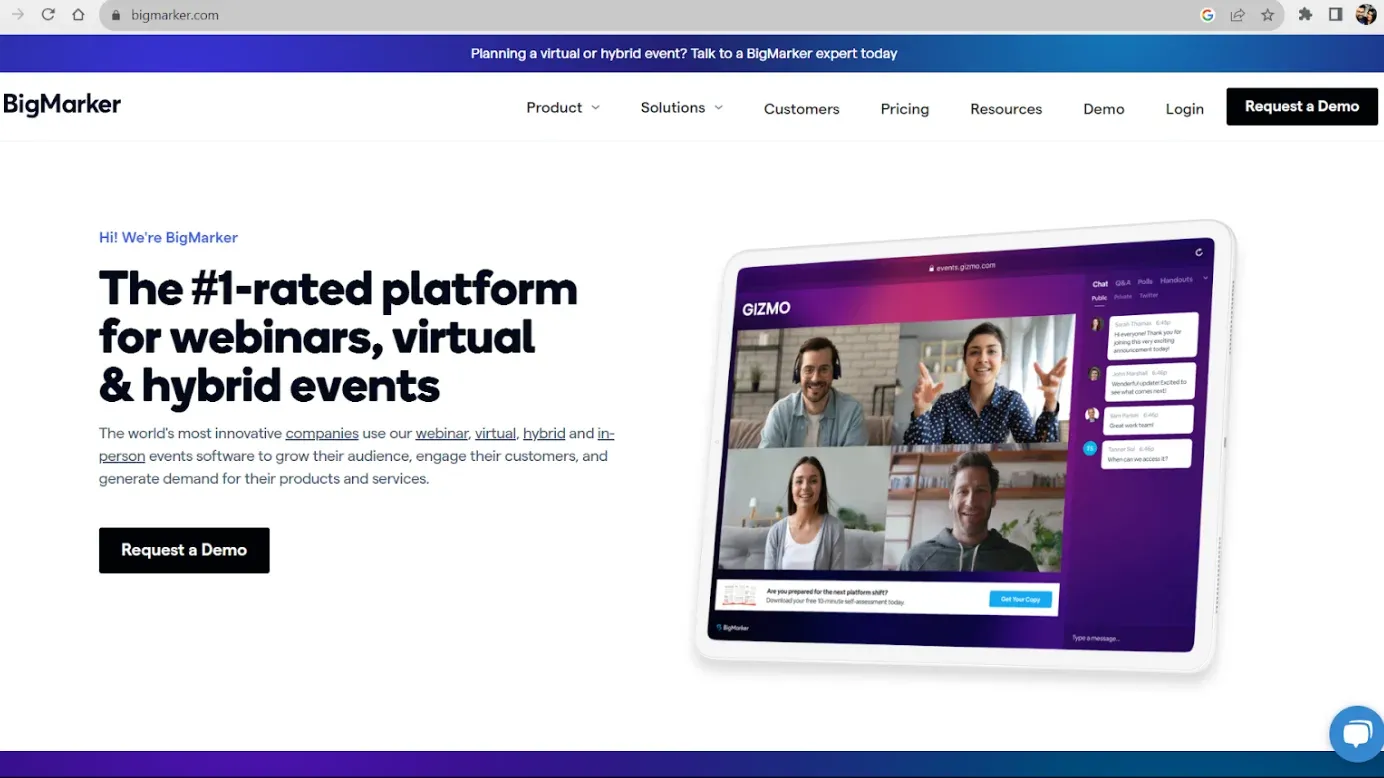 BigMarker is one of the top rated platforms to host a unique and interactive webinar, conference or any event be it in the physical world, online or a combination of both. Marketers and businesses are able to use the unique tools and features provided by BigMarker to customize everything about the event beginning from the marketing to the post event analysis and insights for business. White Labeling and branding is always on point with BigMarker.
Key features of BigMarker:
Create unique and dynamic events on online, offline and hybrid models
Can be used across devices for full accessibility for marketers
Create unique and dynamic agendas for attendees
Many different integrations for webcasting events, webinars and conferences
Screen sharing, scheduling, recording, live chat and many such features for hybrid events
BigMarker is one of the world's most preferred meeting, event and conference providers and is used by many of the top fortune companies around the world. It has been rated highly on all parameters and provides exceptional tools, features and customer service.
It provides tools to access suppliers and vendors for the sessions, easy creation of sessions both offline and online for clients to host events and great tools to analyze the success and insights from your events.
Pros of BigMarker:
Suited for all kinds of businesses and in all industries
Many tools that help in creating interesting and interactive online events
Helps with creating dynamic hybrid events with plenty of features
Easy registration, check-in and payment procedure for attendees
Nominal pricing for larger corporate plans
Cons of BigMarker:
Complicated layout which is not so user friendly
Too many options with less understanding of what they can do, causing confusion.
Pricing structure:
Free trial available
Customisable plans and prices are upon request
3 plans ranging from Basic to Enterprise+
BigMarker customer case studies:
Freshworks uses BigMarker to create global customer conferences streaming from 4 international locations simultaneously and attendees usually involve big names such as NetFlix, Airbnb, Harvard etc.
CNBC has successfully hosted 20,000 virtual events and has crossed a landmark 1 million visitors on their web portal who attended their events.
Companies using BigMarker:
Wall Street Journal
Stanford University
Dell
TED
Pandora
G2 rating: 4.7 out of 5
Capterra rating: 4.9 out of 5
5. Webex Events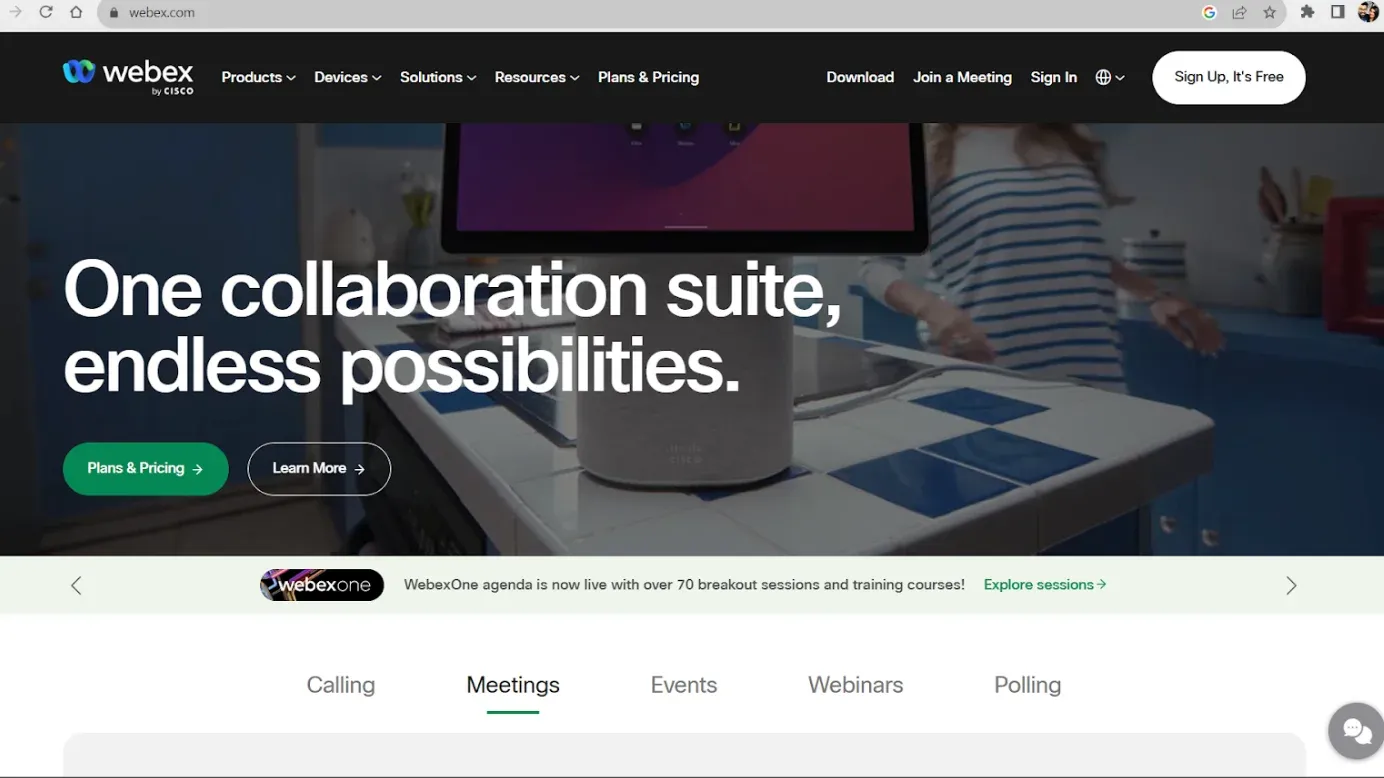 Webex is a product of Cisco and unlike other softwares in this list, this software is not just for events and online meetings, but is more of a complete online business and work module.
It is a program that lets you collaborate with people from work and with clients and customers. One of its many tools is the meeting tool that lets you schedule meetings, events, conferences and hybrid events to gather attendees and promote your products or services.
Key features of Webex Events:
A suite of applications bundled together to help planners and marketers with events
From page creation to registration to post event analysis, get everything done instantly
Business insights from reports such as ROI, Ticket sales, attendee engagement etc
Ability to manage multiple events with multiple agendas
Mobile and on-site solutions that make life of attendees easy and improves satisfaction
Webex from Cisco has been around for many years and is used by some of the top companies. It provides a holistic solution for large and medium sized companies for their online work environment especially if they focus on meetings, events, conferences and hybrid events on a daily basis.
Webex provides a flexible and intuitive platform that lets you manage events easily.
Pros of Webex:
Flexible and dynamic plans that suits all kinds of needs
Unique, one of kind live streaming feature that is best in the industry
White labeling and branding efforts are much easily communicated using this tool
Many tools that help engage the attendees in an interactive and year-round manner
Analytical tools along with dashboard provide full and complete business insight
Cons of Webex:
Free plan does not offer a lot many features
Connectivity and bandwidth issues were noted.
Pricing structure:
Complete custom package - pricing depends on usage and needs
Webex customer case studies:
The Arkansas Publishing group was able to engage and interact efficiently with all their attendees using the innovative tools provided by Webex during their online events.
AFLV was able to achieve 99% mobile event app adoption rate thanks to the robust and innovative platform provided by Webex events.
Companies using Webex:
Meeting Professionals International
Ivy Tech Community College
American Med Spa Association
NASPA
Cognigy
G2 rating: 4.3 out of 5
Capterra rating: 4.4 out of 5
6. vFairs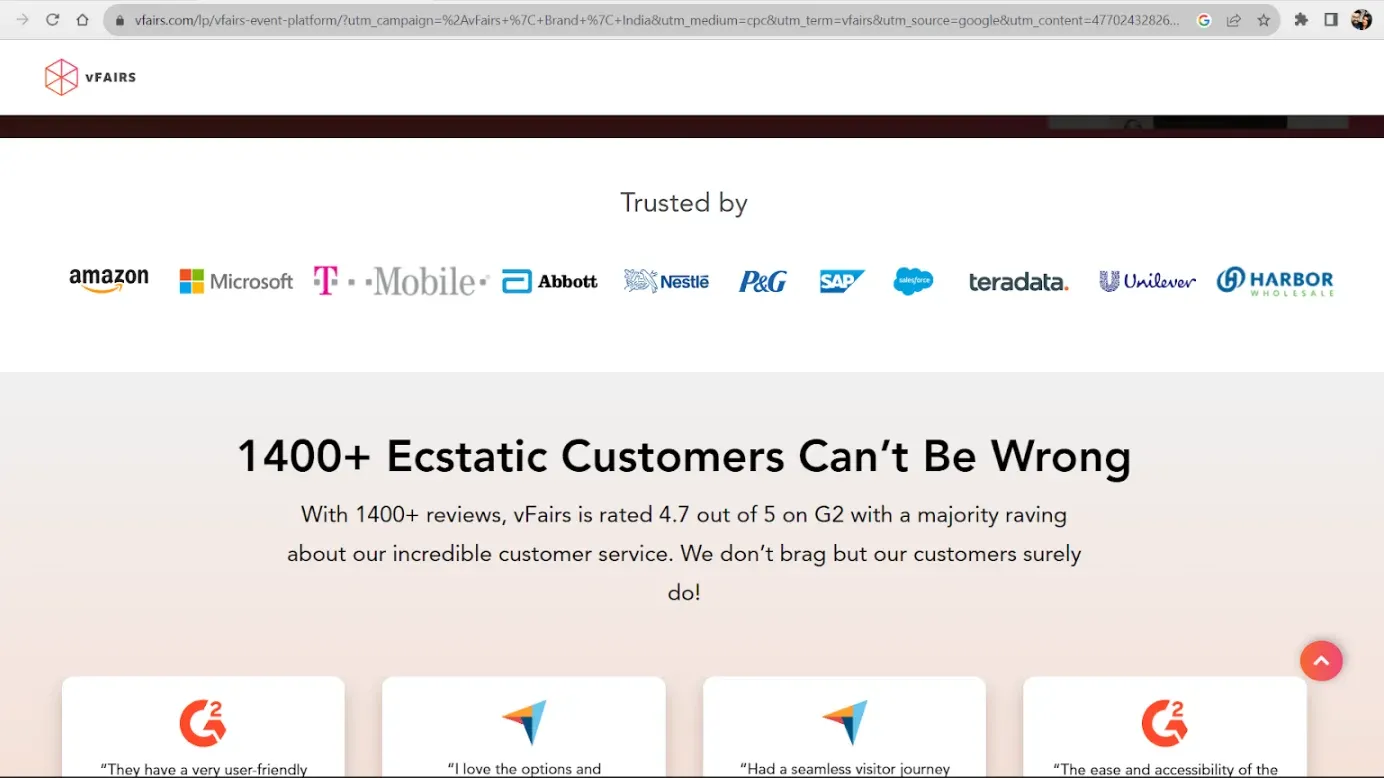 vFairs is an excellent platform that helps people organize events, fairs, conferences and internal meetings all in one single software. The advanced features of vFairs helps event planners and marketers to organize product launches, fairs, trade shows, independent events, conferences etc using mobile apps and on-site technology.
The branding and white labeling features help propel your brand and gather more audience for your events every single time.
Key features of vFairs:
Works on multiple devices to provide a complete ecosystem to manage events
On-site and mobile technology helps instant registration and sign-ups
Analytical tools help in tracking and managing attendees on real time
Print badges and IDs on-site with integrated tech and tools
Capture actual leads and use them whenever you need with ease
vFairs has been rated very well both by G2 and Capterra for its exceptional service and features of the software. With an amazing platform that is built for hybrid events, provide attendees with best quality virtual experience using gamification tools.
The event analytics and dashboard features are well ahead of the competitors and offer realistic and accurate business insights.
Pros of vFairs:
One of the best virtual lobby that engages and excites attendees
Best in class webcasting integration with numerous integrations to choose from
Select and manage speakers and create schedules and sessions on the go
Comes with best in class customer support that is top rated
Helps with branding and white labeling using sites, apps etc
Cons of vFairs:
No free trial or free versions; can be slightly on the pricier side
User-friendliness is slightly on the lower side.
Pricing structure:
Many packages available with different features
All prices are subject to discussion and are on a case-to-case basis.
vFairs customer case studies:
Unilever in Turkey was able to improve their attendee turnout and better quality leads that was easily captured and retrieved in their recruitment drive
American college of cardiology has benefited greatly using vFairs - with easy set up, fully customizable UI, capturing of attendee information and enticing attendee engagement
Companies using vFairs:
Nestle
P&G
Microsoft
TMobile
Amazon
G2 rating: 4.7 out of 5
Capterra rating: 4.8 out of 5
7. EventCreate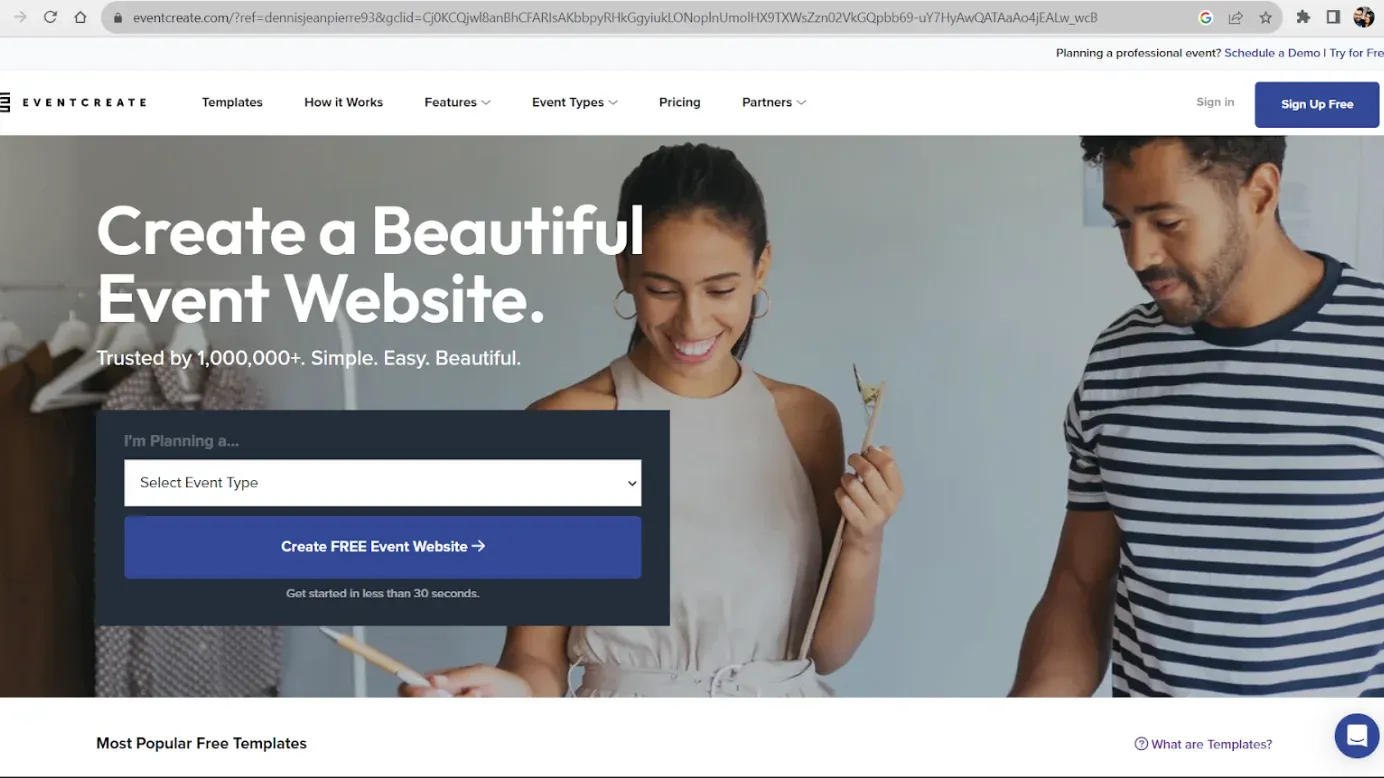 EventCreate was designed by two techies for MIT which then took off as one of the most simplest yet profoundly used event creation platforms today. This software is super easy to use and features top of the class features that helps small businesses and freelancers or independent planners to create unique and dynamic events with minimal resources and budget. Their free plan for life is one of the best features that has attracted many artists and freelance planners who swear by the quality of the software despite its budget friendly pricing.

Key features of EventCreate:
A fully customizable and white label friendly library to choose templates for event pages
Full and complete integration that allows to use many different apps together
Complete set of analytical tools that help track ROI and attendee engagement
On-site tech that allows faster and efficient check-in + mobile check-in
Contact list management along with lead capture and retrieval functions
If you are a small or medium business or a freelancer, solopreneur, independent event planner or contractor, then Event Create is the best option for you.
This amazing software is loaded with features that help you launch your events within seconds by choosing a theme for your website, white labeling everything and putting your brand on focus, inviting and managing attendees and creating a multichannel engagement to make sure that your event reaches maximum audience.
Pros of EventCreate:
Excellent library to select and apply themes for event website or form
Easy editor that helps even the novice planner to build and design online events
Create forms and integrate payments with a functional API for better reach
Multi channel communication with links sent over email, SMS automated campaigns
Top rated software on most software review sites with exceptional customer support
Cons of EventCreate:
Difficult to manage multiple events
Some users preferred the option to edit templates and for the UI to be easier
Pricing structure:
Free starter pack with 1 active event per month
Personal pact at 4 and 8 USD per month (with additional contacts and features)
Business plan at 24 USD per month
Enterprise plan with custom pricing based on business needs
EventCreate customer case studies:
Eventcreate has helped athletic wear brand lululemon cut down planning hours and use tools to effectively popularize their events and help gather more audience.
Companies using EventCreate:
G2 rating: 4.9 out of 5
Capterra rating: 4.9 out of 5
8. Hopin events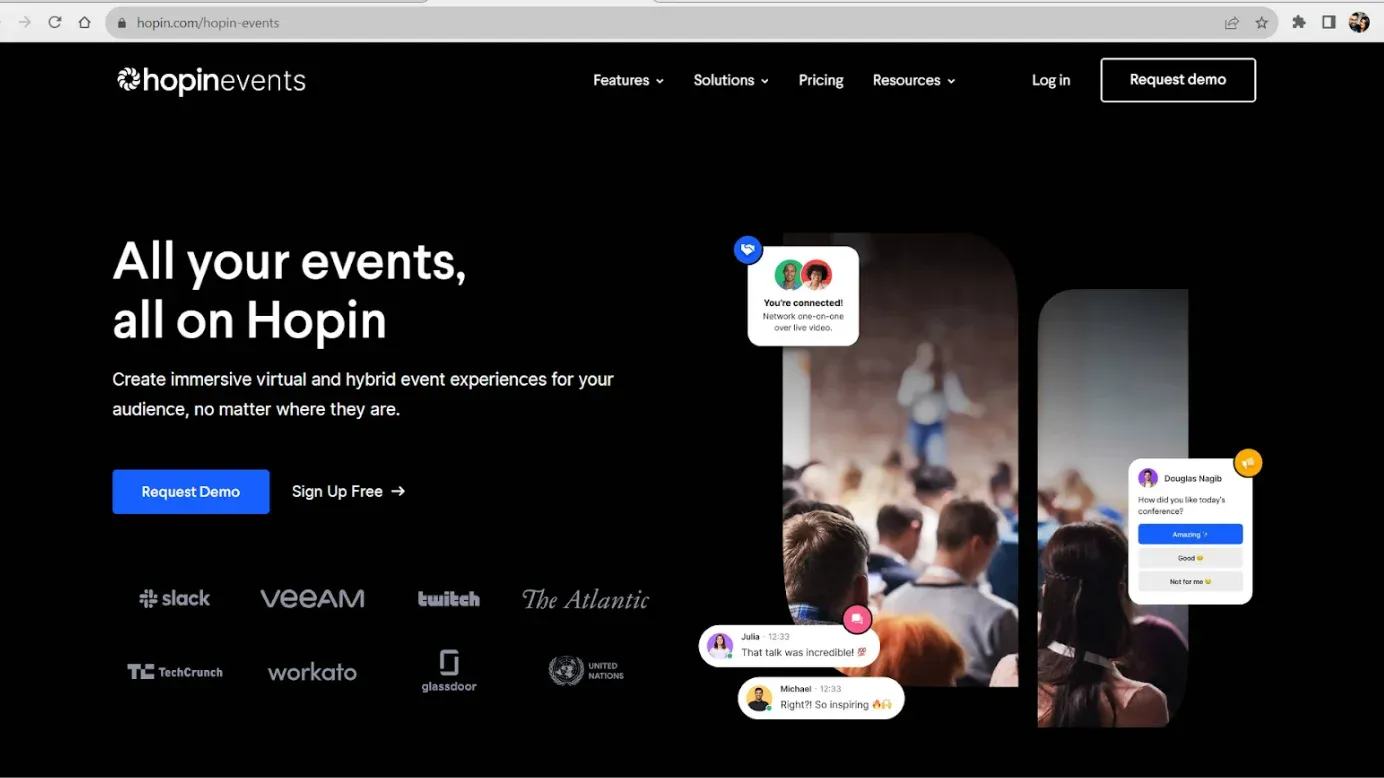 Hopin events is a beautiful and immersive platform for marketers, planners and event managers to plan, schedule, procure, manage and analyze events for their brands and businesses.
Hopin events specializes in all 3 kinds of events - online, offline or hybrid events both within and outside the company. With a suite of virtual event tools, you will be left amused as to how interactive and engaging events can be and how easily they can be managed.
Key features of Hopin events:
Virtual events is one of their exclusive feature with a predefined library of tools
Tools to build engaging hybrid events with simultaneous steam sessions
Combines with award winning apps of Hopin such as StreamYard and marketing suite
Build landing pages and communicate using automated email campaigns
1:1 sessions with built in webcasting tools
Hopin events are made for the ones who want nothing but the best. If you are a business that organizes many different kinds of events such as workshops, trade fairs, webinars, conferences, events and more, then you need more than an average event marketing software. Enter Hopin.
This simple yet sophisticated software integrates with multiple marketing and webcasting applications to provide one of a kind experience to your event attendees.
Pros of Hopin events:
Combines with other programs of hopin such as StreamYard for broadcast tools
Schedule sessions with speaker access and control features
One of the best built in webcasting and webcasting integration tools
Best in class virtual lobby and interactive content for attendee engagement
Use branded and white labeled websites, forms and other communication material.
Cons of hopin events:
Registration process is more cumbersome than competitor products
Requires a high tech machine at the companies end
Pricing structure of hopin:
Free starter pack
Basic pack pricing at 67 USD per month
Business pack pricing starts at 6000 USD
Hopin events customer case studies:
The Atlantic festival was able to garner 3 times their website traffic and 37000 attendees using the powerful platform of hopin events and create a successful milestone
The Armed Forces Alumni Association of the Harvard Business school was able to set up a career expo for their veterans with an interactive expo, chat features, multiple sessions all in their hybrid event with easy registration processes.
Companies using hopin events:
Slack
Twitch
CNBC
Dell
United Nations
G2 rating: 4.5 out of 5
Capterra rating: No reviews
9. Whova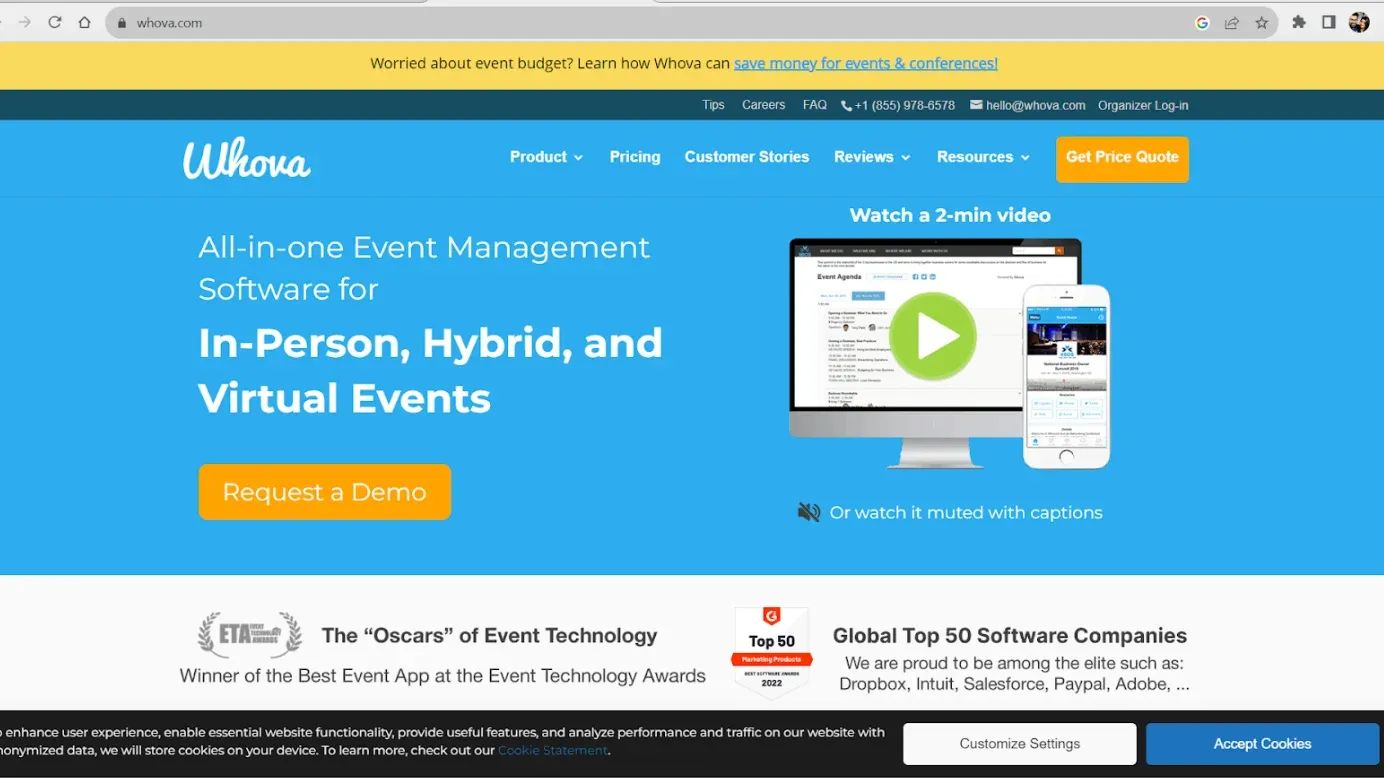 If you are looking for a solution that helps you with effective event management using tools that include not just planning and designing but also execution and scheduling from an operations point of view, then Whova is the software for you.
This global platform helps event planners and business innovators to use multiple integrations for event logistics and the analytical tools they provide is the key to showcase success to your investors, sponsors and collaborators.
Key features of Whova:
Award winning event management app that helps planning and execution of global events across multiple marketing platforms
Schedule sessions, manage speakers, plan and create agendas and use many other executional tools to manage events, fairs, trade shows or exhibitions
Powerful lead generation tools that help capture data with easy retrieval features
Mobile check-in, print visitor tags, scan business cards using specialized on-site tech
Create landing pages, websites, sell tickets, announce brochures and send highlights all using innovative and top tier attendee engagement tools
Whova is an award winning event management and marketing app that can be relied upon for planning, execution and post event analysis. Their platform is extremely useful and easy to navigate even by the novice of event marketers.
It is a trusted software that is used by some of the most popular companies in the world and is already in the Global Top 50 softwares of the world as rated by G2 crowd.
Pros of Whova:
Reliable and trustworthy software that can help all kinds of businesses and independent event planners
Excellent platform to manage and track attendees - use multi channel communication to announce, send communication material for better turnout
Helps with white labeling starting from landing pages, websites, sign up forms, SMS and email automated communication, ads and other brand focussed efforts
Cons of Whova:
No social media focussed marketing
Too many notifications
Pricing structure of Whova:
Personalized package based on company needs
Whova customer case studies:
Whova helped Loreal Paris, one of the biggest cosmetics and lifestyle companies in the world in organizing their Open Manufacturing Day - CM Quality day.
Their challenges with lack of communication, event logistics, networking etc were resolved using technological solutions at Whova such as organizer announcements in-app, virtual agendas, Whova community board interaction etc.
Whova helped organize the 24th annual Viva Las Vegas Rockabilly event and helped them secure 4500 community board posts. 500+ pics shared on social media, 200+ new leads were captured 1C million sponsor impressions were made using tools such as virtual multi agenda tracks, virtual floor maps, meetup attendee engagement etc
Companies using Whova:
US Bank
Ikea
HBO
Harvard university
NASA
G2 rating: 4.8 out of 5
Capterra rating: 4.8 out of 5
10. AllEvents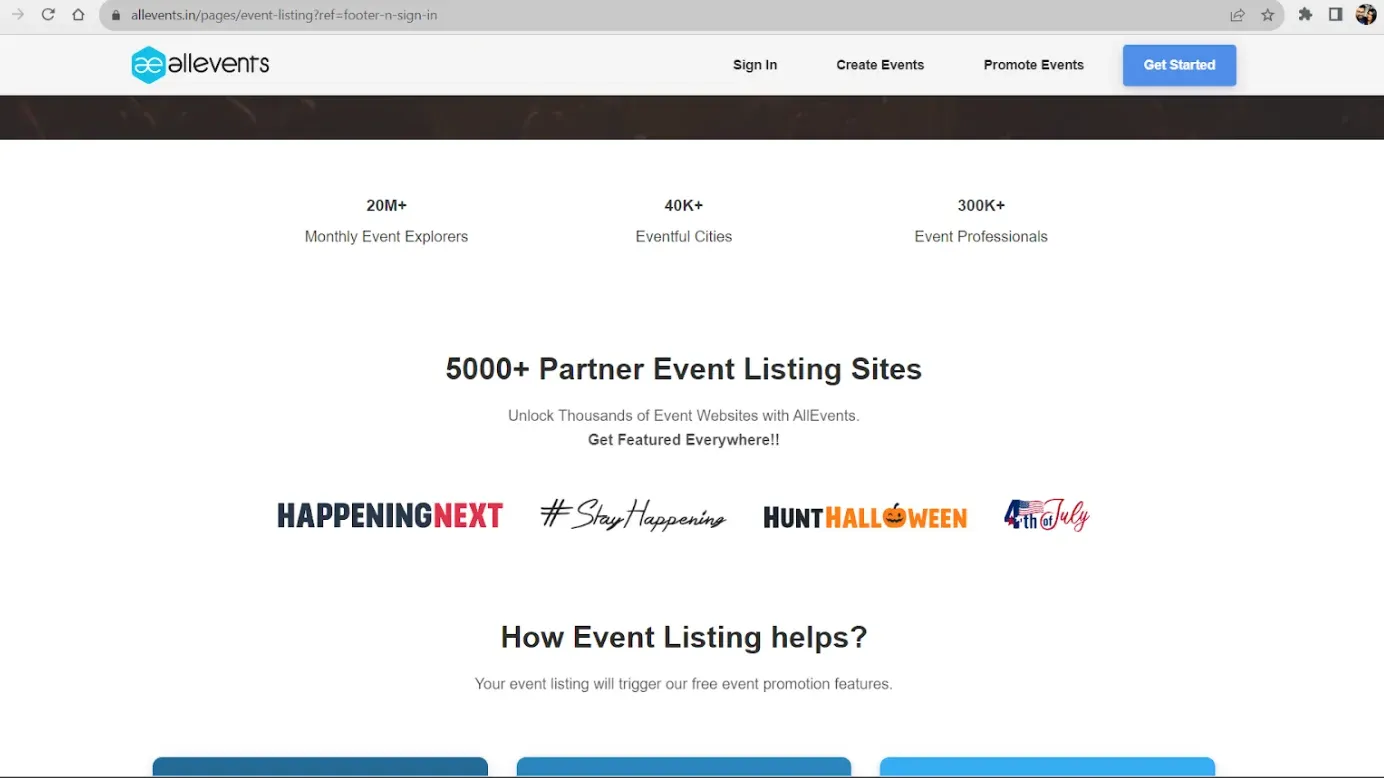 If you are looking for a simple software that takes care of event marketing, promotion, ticket sales and linking payment portals for instant payments, then look no further than Allevents. This simple platform is made especially for businesses that are not looking to burn a hole in their pocket buying expensive softwares that may or may not deliver.
With simplified tools and essential features, Allevents will help you promote your show on their page and garner more audience whilst also allowing  you to sell out faster.
Key features of AllEvents:
A simplified, free platform that helps gain focussed attention on upcoming events as attendees to gather more audience for events
Build websites or forms and promote them using email campaigns using Allevents
Sell tickets faster and collect payments instantly using payment integrations
Local event blasts is an excellent feature that helps promote events to interested attendees based on geographical spread
Real Time analytics for ROI along with UTM tracker
This is a software that is free and is made especially for those who cannot afford to have complicated and sophisticated event marketing softwares. This software helps create events in a simple way that displays on the broadcast where all audiences can view them, thereby improving the visibility and turn out for your event. You also get instant payment for tickets.
Pros of Allevents:
Multi channel announcements - list and promote your events through a global platform
Easy to build event pages and is extremely user friendly even for non technical staff
Audience can find their events using the same platform, linking events with audience
Easy payment integration allows for event planners to earn instantly from different platforms - google ads, social media, mobile ticketing etc
Promotion of the event is locally very effective and is taken care of using broadcast
Cons of Allevents:
Not suitable for large events with exclusive crowd and sponsors/ collabs
UI is plain and lacks features as per some reviews
Pricing structure of AllEvents:
Free starter pack
Essential pack priced at 12 USD per month
Professional pack priced at 60 USD per month
Power corporate pack priced at 200 USD per month
Allevents customer case studies:
Netsavvies Media is an IT firm that wanted to popularize their events and invite more techies which was facilitated by Allevents. Using Allevents platform, the firm was able to build new event domains, attract the right crowd, capture and target the right leads and convert more and all of these at a limited budget. Using video and social media ads, Allevents was able to promote and provide better results and ROI.
Heartfulness, a lifestyle magazine was able to drive more crowd and attendee engagement using the Allevent platform. They were able to clock a milestone audience composed of global audiences from the UK, Denmark, Australia, Canada and France for their online event during New Year.
Companies using AllEvents:
Decathlon
Zoho
Hard Rock Cafe
Tony Robbins
Junoon
G2 rating: 4.5 out of 5
Capterra rating: 4.4 out of 5
---