Diwali gifts for marketing team, a collection designed to show appreciation and celebrate the festive season with your valued employees.
Diwali, the festival of lights and togetherness, offers a wonderful opportunity to express gratitude for their hard work and dedication.
Explore a range of thoughtful and unique Diwali gifts for your marketing team, ensuring that your gesture resonates with their efforts and the spirit of the festival.
Whether it's a personalized touch, a practical present, or a cultural symbol, these Diwali gifts for the marketing team are crafted to convey your appreciation while enhancing their festive celebrations.
Join us as we illuminate the art of corporate gifting during Diwali and how it contributes to nurturing a positive corporate culture.
🎁
Celebrate this Diwali by bringing joy to those in your professional circle. Whether it's your valued client, dedicated colleague, or loyal employee, go the extra mile to bring smiles with
customized corporate Diwali presents
. In the midst of the festive glow, let your gratitude stand out by gifting distinctive and special gift cards that truly shine.
Diwali gifts for marketing team in 2023
Starbucks gift card
Xoxoday gift card
Mugs
Music subscription
Diwali diyas
Xoxoday point based rewards
Scented candles
Escape room adventure
Hotel stay gift card
Noise-canceling headphones
Jewelry pendants
Learning subscription
Entertainment subscription
Indoor plants
Baking kit
Luxury spa kit
Fragrance set
Chocolate hampers
Fashion gift cards
Designer organizer set
Silver coin
Decorative rangoli
Photo frame
Customized merchandise
Copper water bottle
Travel accessories
1. Starbucks gift card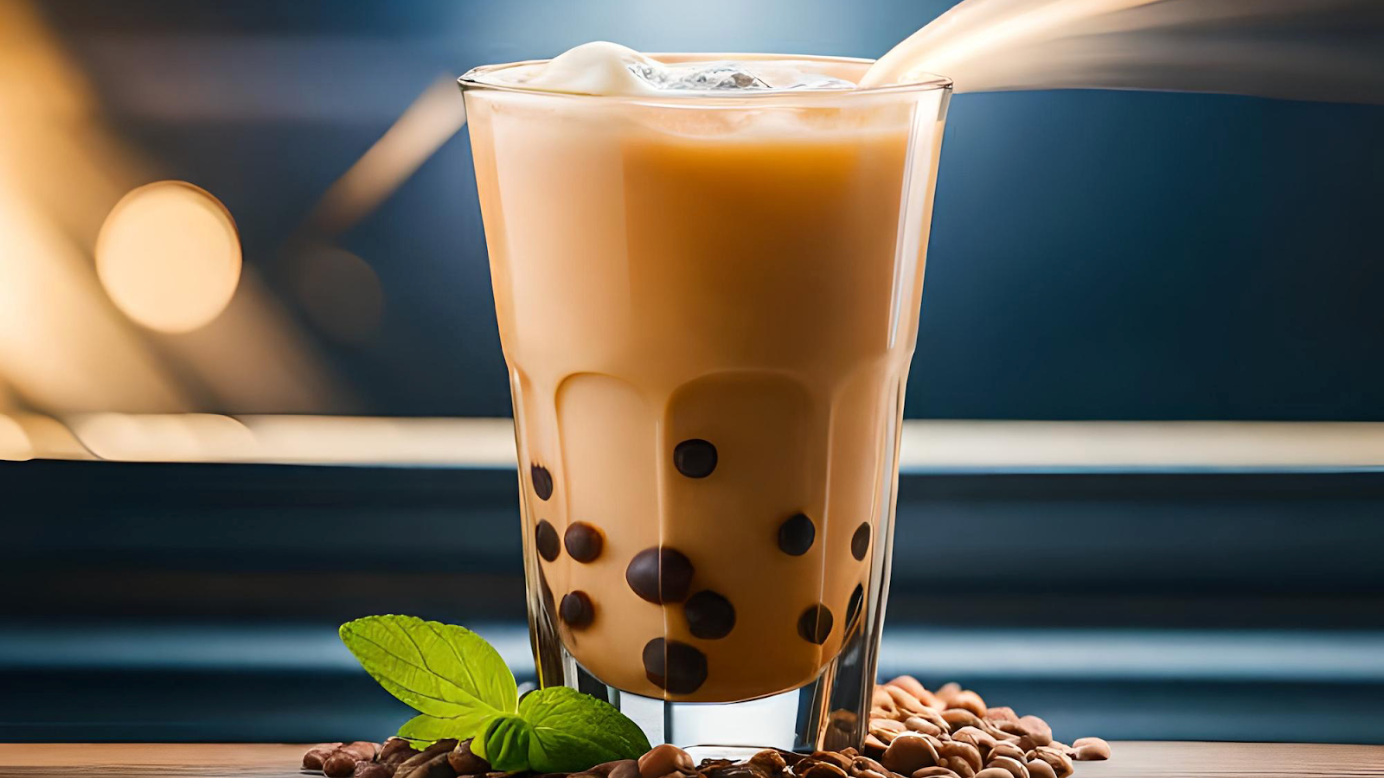 Presenting a Starbucks gift card as a Diwali gift is a delightful choice. This gesture encapsulates the essence of the festival while offering the recipient the chance to savor a variety of beverages, treats, and experiences at Starbucks.
It's a thoughtful way to share the joy of Diwali and provide a moment of relaxation and indulgence during the festivities.
2. Xoxoday gift card
When faced with uncertainty regarding someone's specific tastes, or if you wish to provide them with a broader selection, gift cards emerge as an exceptional choice. These cards might be applicable to various online shops, high-quality dining establishments, relaxing wellness spas, or captivating bookstores.
By presenting gift cards, you empower the recipient with the liberty to pick out a gift that genuinely resonates with them, thus guaranteeing that your thoughtful gesture is valued and cherished.
3. Mugs
Gifting mugs is a wonderful idea for Diwali. Mugs serve as both functional and sentimental presents, offering the recipients a chance to enjoy their favorite beverages while also carrying a touch of festive warmth.
These mugs can be adorned with intricate designs, Diwali motifs, or personalized messages, making them not only practical but also cherished keepsakes that evoke the spirit of the festival with every sip.
✨
Discover the ultimate solution for instantly gifting rewards to your exceptional marketing squad or dedicated employees! Say hello to Xoxoday Links - the epitome of swiftness and simplicity in gift processing. Picture this: handpick a personalized reward, select the lucky recipient, and presto! An instant redemption code is conjured up, ready for them to use and enjoy. Experience the magic of effortless gifting with
Xoxoday Links
today!
4. Music subscription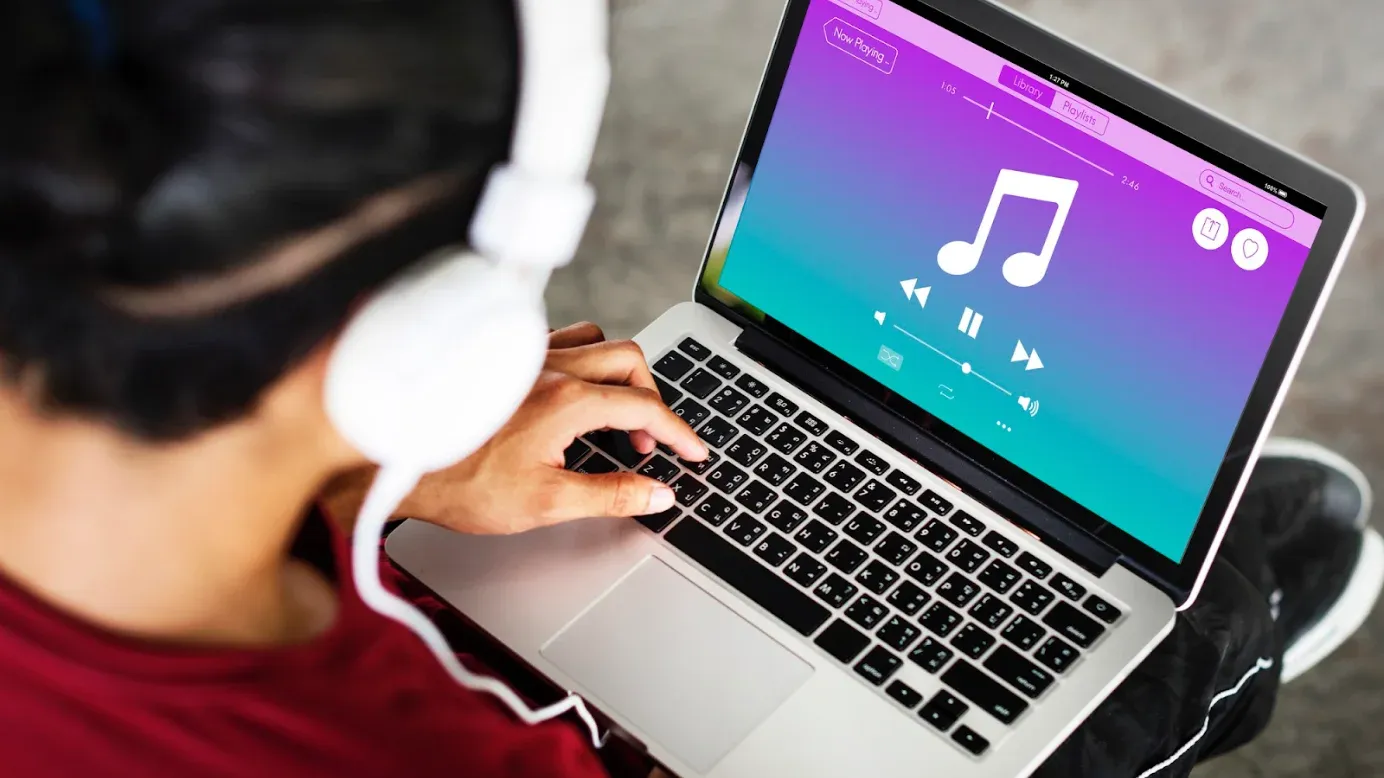 Opting for a music subscription as a Diwali gift is a brilliant choice. This thoughtful gesture provides the recipients with the gift of music, allowing them to explore a wide range of tunes and melodies according to their preferences.
5. Diwali diyas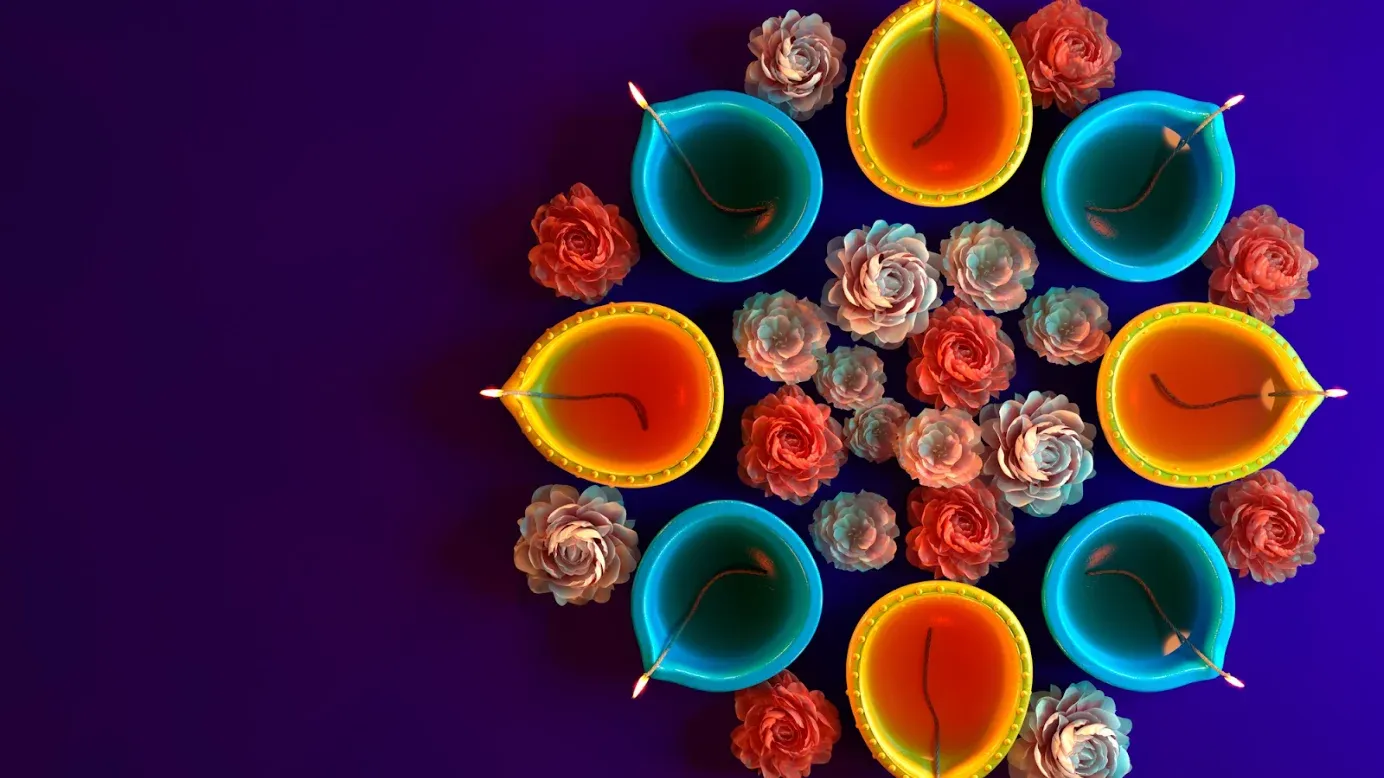 Elevate your Diwali greetings to prospects with a touch of tradition and creativity by considering handcrafted diyas as a heartfelt gift. These artisanal creations not only pay homage to the festival's spirit but also signify the uniqueness of your gesture.
6. Xoxoday point based rewards
Utilizing Xoxoday point-based reward system stands out as a simple and adaptable approach to gifting your employees, regardless of their geographical location. Within this framework, every employee becomes a participant in an employee rewards platform through which the employer or management can allot points as gifts or tokens of recognition.
These accrued points can then be exchanged by employees for the purchase of products or services from a diverse range of e-commerce and physical store brands spanning categories such as merchandise, travel, lifestyle, and more.
7. Scented candles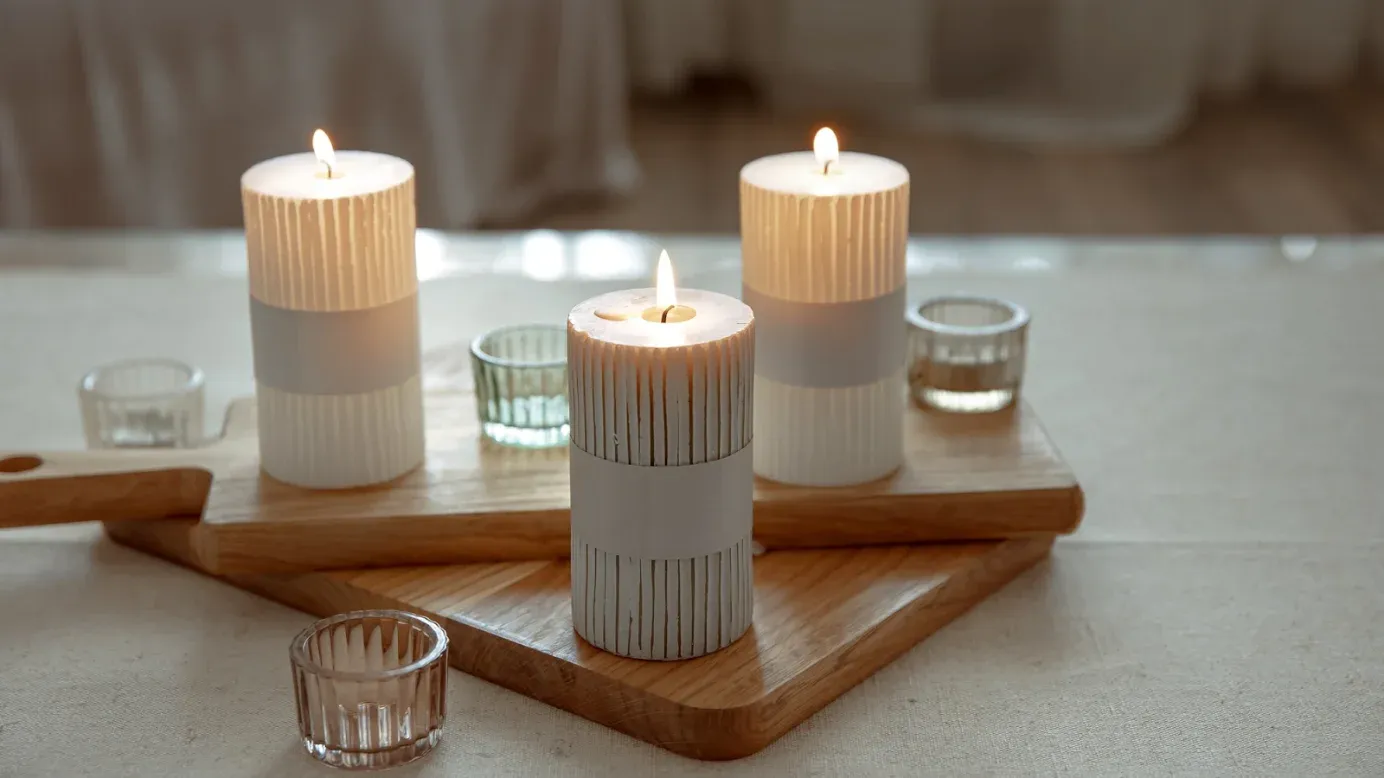 Selecting scented candles as a Diwali gift for marketing team is a splendid idea. Scented candles infuse the festive atmosphere with warmth and aroma, creating a soothing ambiance for the celebrations.
8. Escape room adventure
Opting for an escape room adventure as a Diwali team activity is a fantastic concept. This engaging and immersive experience encourages teamwork, problem-solving, and collaboration among your team members.
By participating in an escape room adventure, your team can bond in a fun and unique way, creating lasting memories and enhancing their camaraderie.
9. Hotel stay gift card
Elevate the festive spirit by gifting the experience of relaxation and indulgence with hotel stays gift vouchers. Hotel stay vouchers provide recipients with the opportunity to unwind, enjoy a change of scenery, and create memorable moments.
10. Noise canceling headphones
Selecting noise-canceling headphones as a Diwali gift is a thoughtful and practical choice. These headphones provide a serene and immersive listening experience, allowing the recipients to enjoy their favorite music, podcasts, or audiobooks without any disruptions from external noise.
Upgrade your gifting experience: Browse Xoxoday gift cards for top-tier tech gadgets from Amazon, Flipkart, Croma, Bose and many more.
11. Jewelry pendants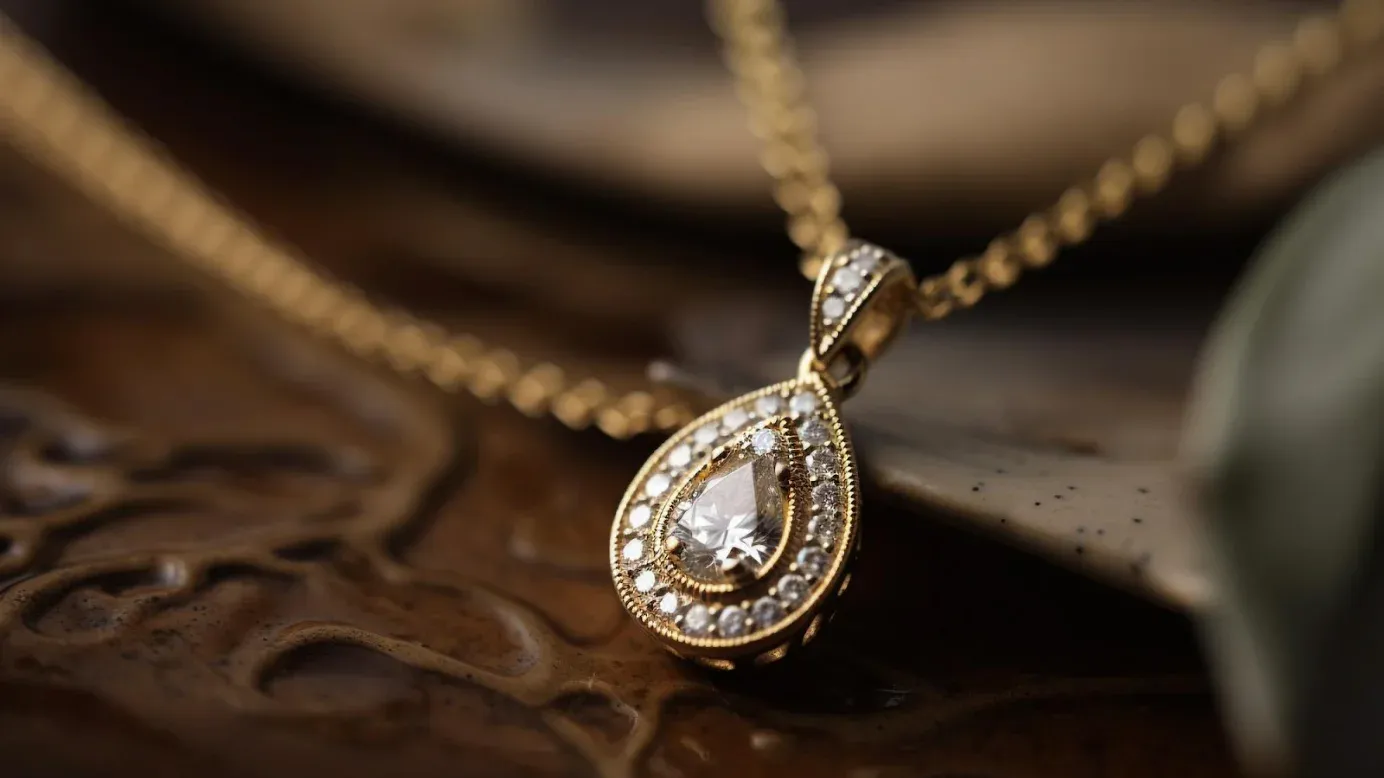 By gifting jewelry pendants, you're expressing your gratitude in a timeless and personal manner, making each team member feel valued and cherished. These pendants can serve as lasting reminders of your team's collective efforts and achievements.
Explore Xoxoday jewelry brand gift cards or vouchers for brands like Giva, Tanishq, Malabar, SWAROVSKI and many more.
12. Learning subscription
Today, employees seek continuous growth within their roles and prioritize employers that nurture their professional development. Prospective job seekers also lean towards companies that prioritize learning initiatives.
The current scenario, with remote work prevalent, presents an ideal chance for employees to enhance their skills. This Diwali, consider gifting tailored online courses from platforms like Skillshare, Udemy, Coursera and Unacademy, aligning with their interests and fostering their career advancement.
13. Entertainment subscription
An innovative yet practical present idea is offering a complimentary subscription. This can encompass magazines, streaming services, courses, and specialized skills training, among others.
Subscriptions cater to nearly every hobby or passion imaginable. Imagine the joy of receiving a six-month free Netflix subscription or a premium Spotify account – a surefire way to uplift your employees' spirits! For more entertainment subscription gift cards Explore Xoxoday!
14. Indoor plants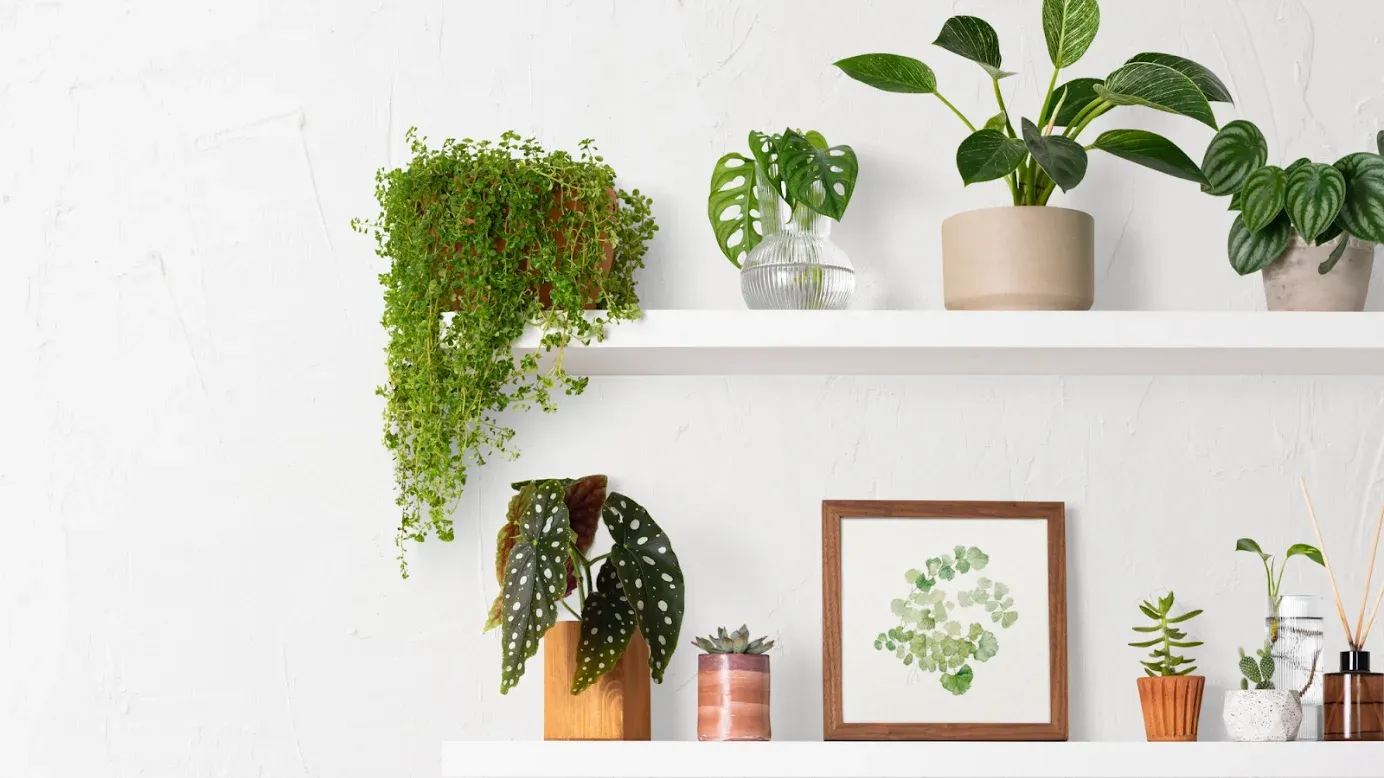 Indoor plants as Diwali gifts for marketing team is a thoughtful and refreshing choice. These green additions not only bring nature's beauty indoors but also symbolize growth and positivity.
✨
Xoxoday offers organizations a wide array of options to give personalized and thoughtful gifts this Diwali: be it through a digital experience, a physical one, or a combination of both!
Download the Diwali gifting catalog now
.
15. Baking kit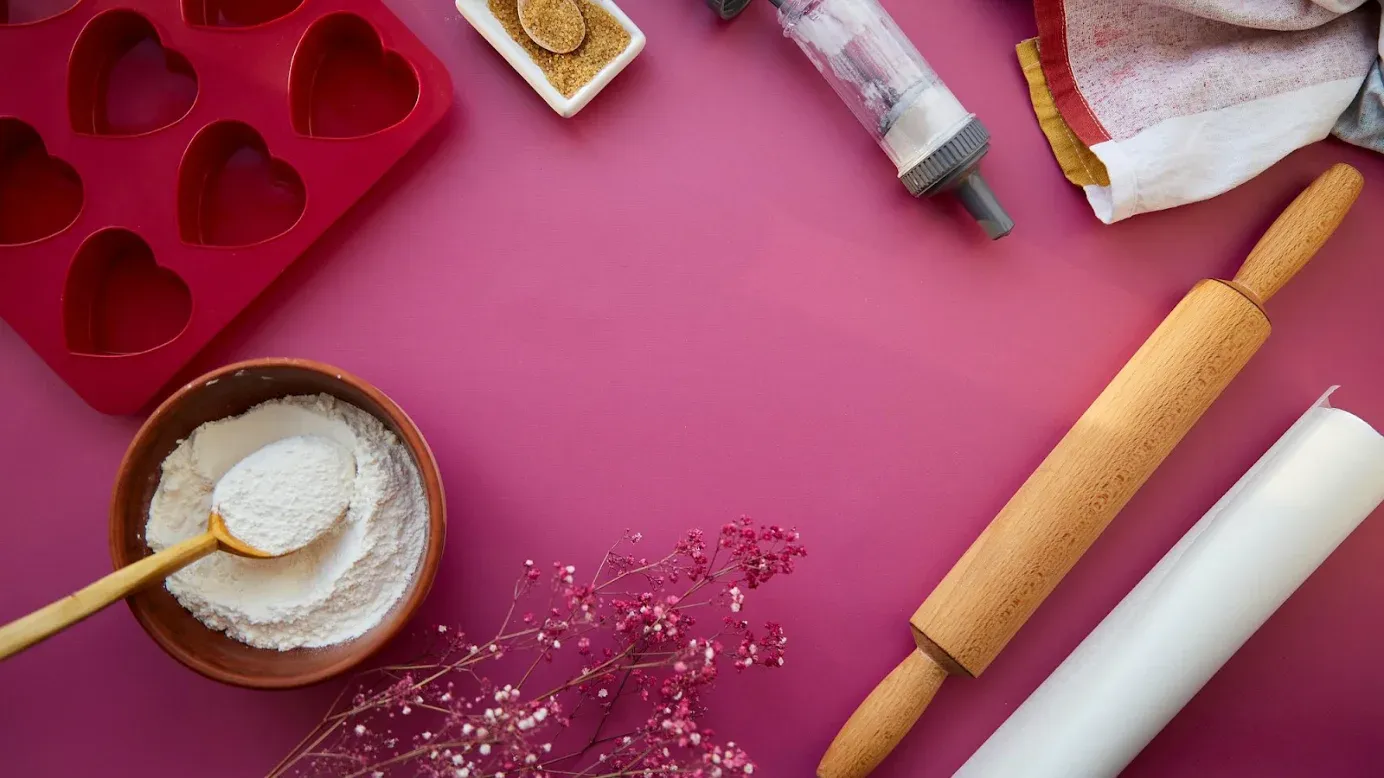 This gesture encourages them to explore their culinary talents and indulge in the joy of baking. The kit can include essential ingredients, tools, and recipes, providing a fun and rewarding activity they can enjoy with family and friends during the festive season.
16. Luxury spa kit
Get a luxurious spa set with high-quality bath and body products that helps calm down and enhance the aura with the fragrance; surprising with soothing essential oils enhances self-care during the festive season.
17. Fragrance set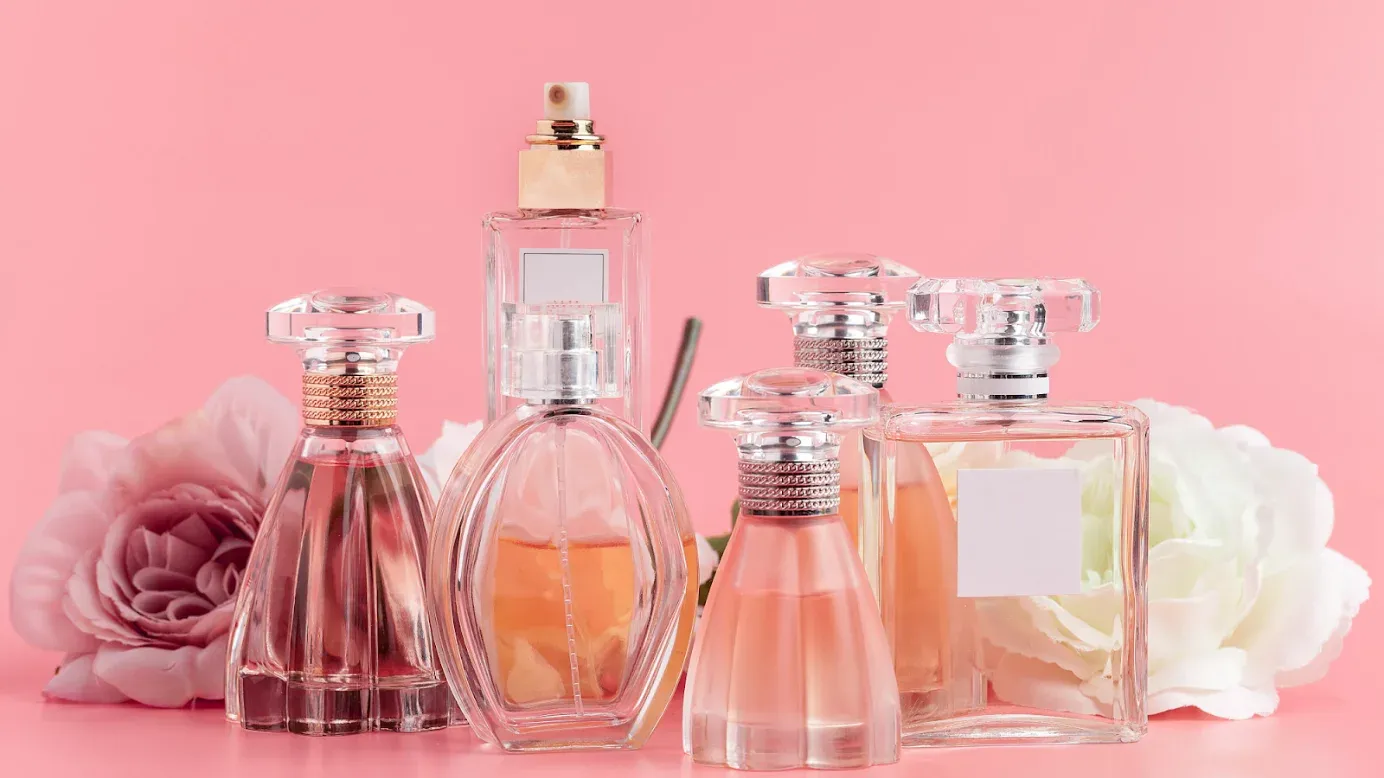 Selecting a fragrance set as a Diwali gift for your marketing team is a thoughtful and sophisticated choice. Fragrances hold the power to evoke emotions, and gifting a set of luxurious scents allows your team members to experience a blend of elegance and personal expression.
18. Chocolate hampers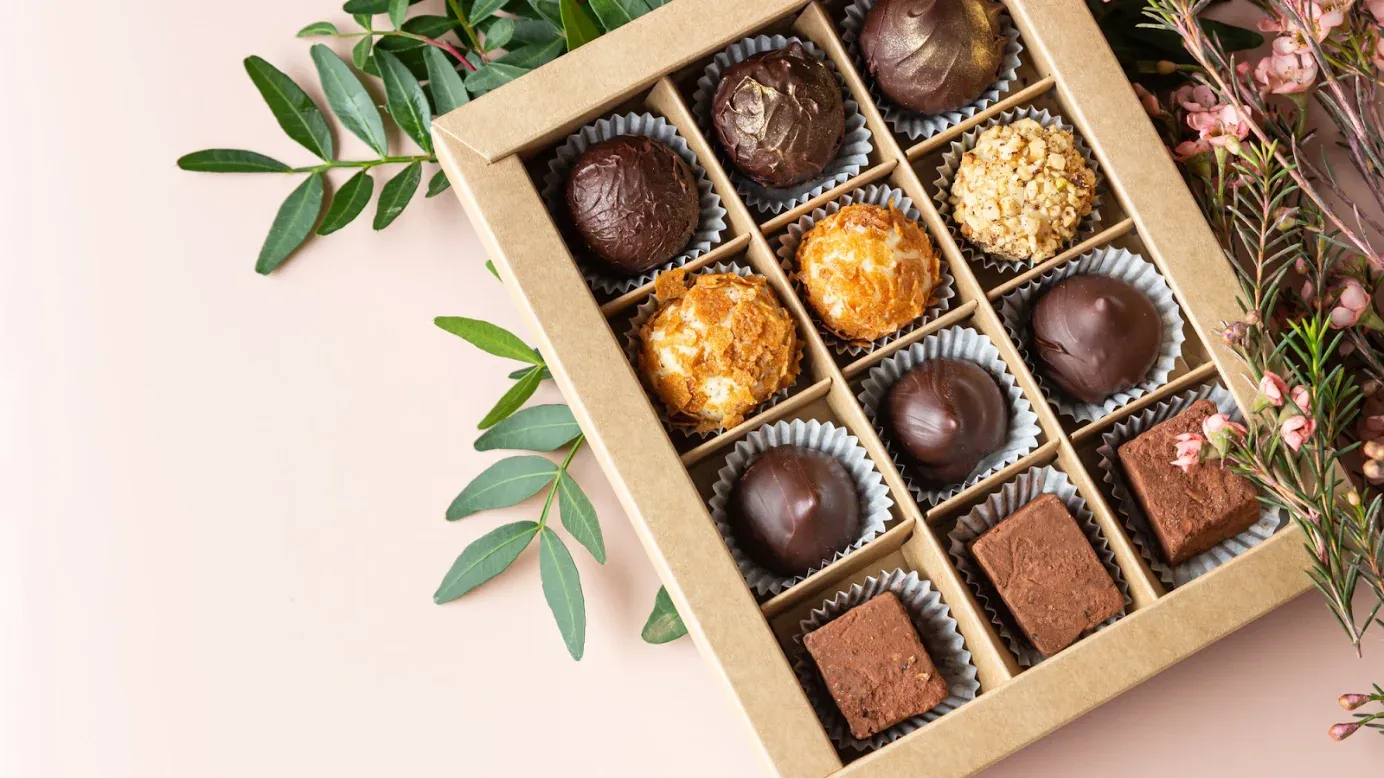 Treat your employees with a luxurious hamper filled with assorted gourmet treats, like exotic teas, premium chocolates, artisanal snacks, and traditional Indian sweets. Diwali hamper can also include a customized recipe book with festive dishes and sweets from various corners of India.
19. Fashion gift cards
Everybody loves fashion and keeping up with the trends sweeping the cultural landscape. Whether it is serious business wear or vacation attire for that perfect Instagram picture, your employees can always use a little more. A fashion and lifestyle gift card from Xoxoday is just the right gift you can give them regardless of the time of the year.
20. Designer organizer set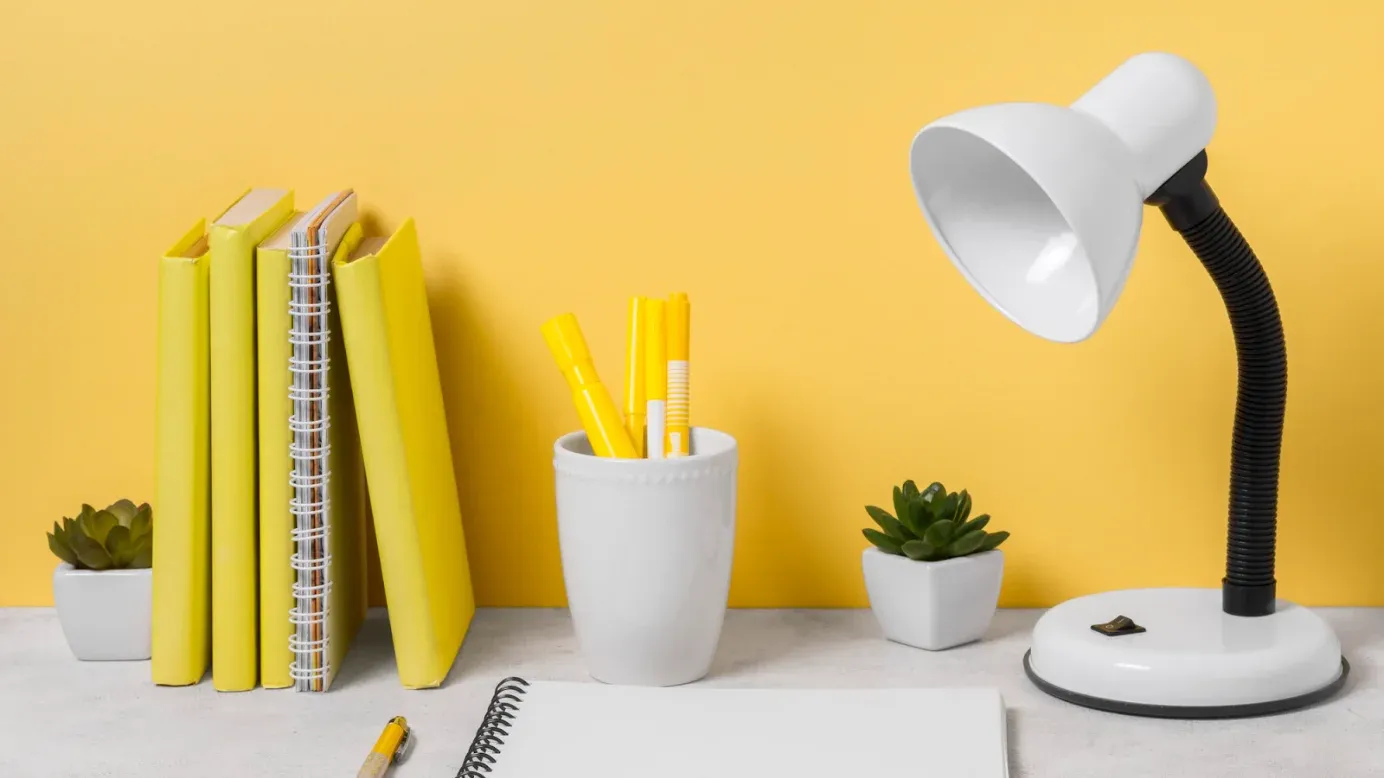 A well-designed organizer set can include items like planners, notebooks, pen holders, and desk accessories, ensuring that each team member can maintain efficiency in a visually appealing manner.
21. Silver coin
The silver coin is a popular Diwali gift, especially in Indian culture. They hold cultural and traditional significance and are often given as auspicious gifts during Diwali. Providing them with beautifully designed packaging in ornate pouches or boxes to enhance their visual appeal.
22. Decorative rangoli
By gifting a decorative rangoli, you're providing them with a beautiful piece of art that adds a touch of tradition and color to their homes. This gesture not only expresses your appreciation but also allows your team members to partake in the festive spirit and create a visually captivating ambiance.
23. Photo frame
Photographs encapsulate a myriad of emotions, and preserving cherished memories is a universal desire. This Diwali, consider gifting your employees digital photo frames. These frames enable them to immortalize their special moments and share them with their dear ones.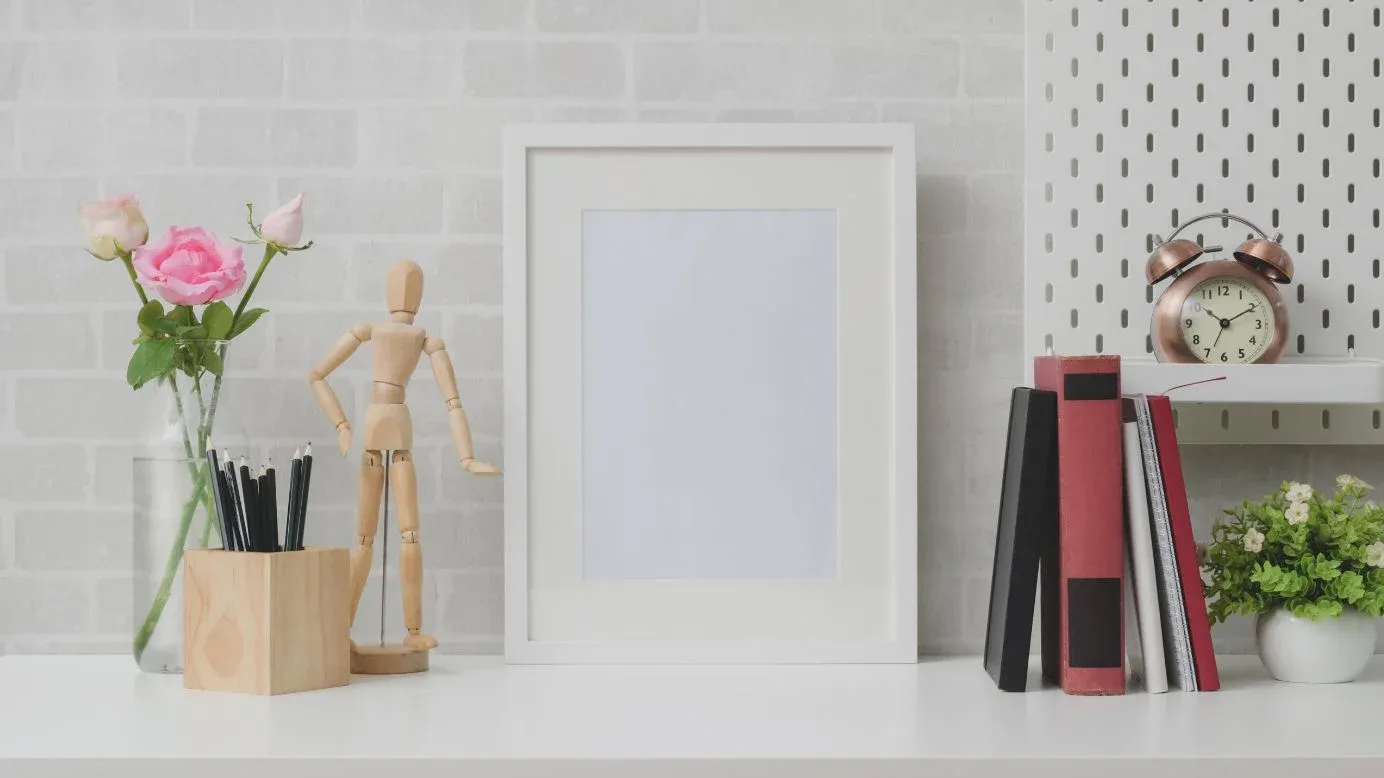 24. Customized merchandise
Customized items, tailored to each employee's preferences or interests, reflect your consideration for their individuality. From personalized mugs and notebooks to clothing and accessories, customized merchandise offers a unique touch that goes beyond traditional gifting.
25. Copper water bottle
Copper water bottles have been a part of traditional practices for their potential health benefits. Copper is believed to have antimicrobial properties and can help improve water quality.
26. Travel accessories
Gifting a travel wallet that includes compartments for passports, tickets and cards adds craftsmanship and functional design. Choose a designer passport holder that adds a touch of luxury to your boss's travel experience.
Corporate Diwali gift box by Xoxoday Plum
On Xoxoday Plum there are varied gifting options with 8 themes (such as Indian culture theme, holiday packaging, Diwali theme, jewellery theme, etc.) that can make your gifting memorable with elegant packaging options such as Youforia packaging which contains items like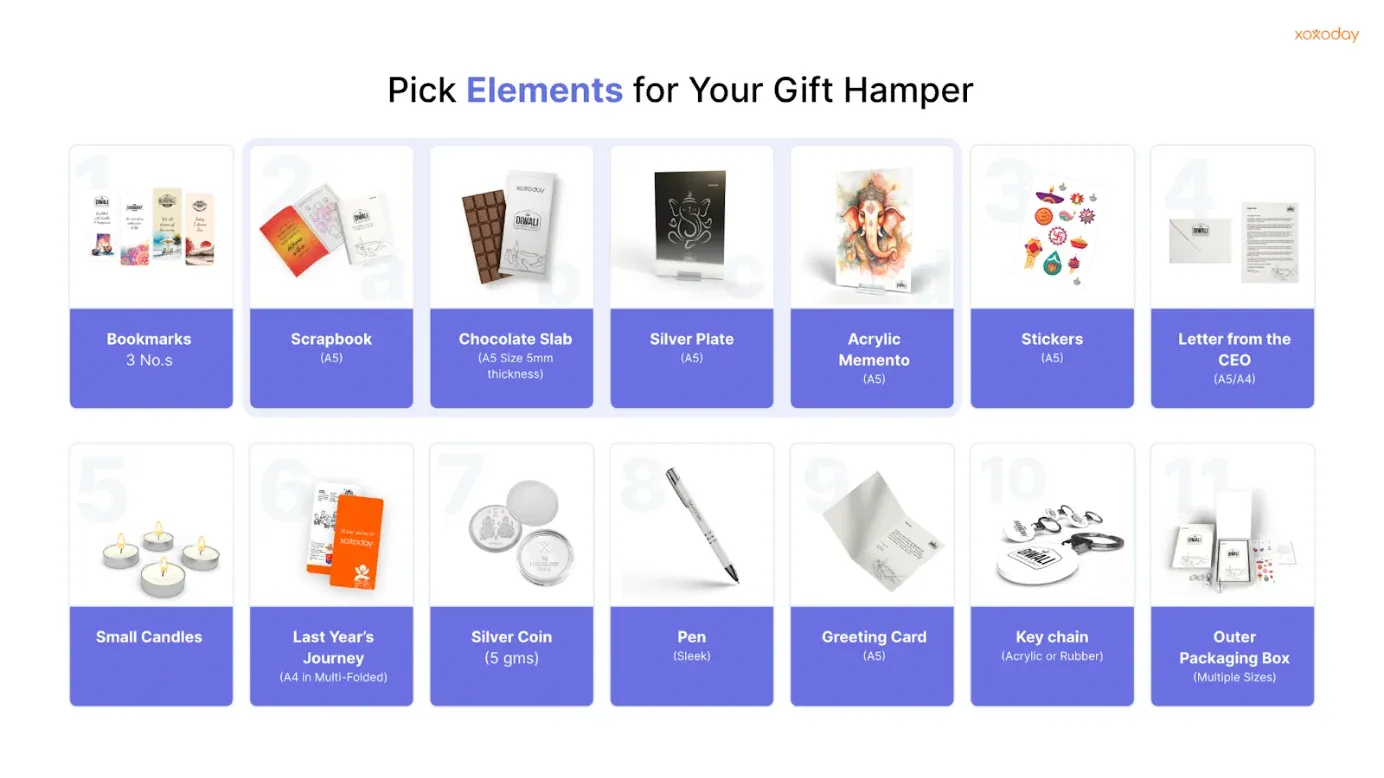 1. Gift vouchers from various brands from basic to luxury be it fashion, accessories, restaurants and many more.
2. Goodies (Scrapbook, Silver plate, Chocolate slab, Acrylic memento)
3. Stickers: Stickers serve as an excellent method for showcasing special occasions, personal values, and enjoyment. They can be affixed to laptops, stationery, or desks.
4. Keychains: An enduring and fashionable keychain acts as an ongoing memory of their acknowledgment and can be fastened to their keys, bag, or even utilized as an ornamental add-on.
5. Candles: Small candles are a delightful way to show the power of light and prosperity. These compact candles can be scented with soothing fragrances, creating a cozy and relaxing ambiance.
6. Letter from CEO: A personalized note from the CEO is a meaningful way to acknowledge people. The note can be a brief but heartfelt message expressing gratitude for their contributions. It can highlight specific achievements or milestones.
7. Bookmarks: Every person  uses either a notebook or diary to write and/or would like to read books. A customized bookmark with your company logo is a great addition to the Gift.
8. Silver coins: This small silver coin can be engraved with the employee's name, the company logo, or a special message to commemorate their dedication and contributions.
9. Last year's journey book: Creating a condensed collage to illustrate your company's past year's journey presents an imaginative approach to conveying enthusiasm about your business. This mini collage can showcase a handful of carefully chosen photos and keepsakes that symbolize important achievements throughout the year.
10. Diary & pen: A high-quality, customized pen and diary is a classic and practical gift, that can be engraved with their name, initials, or a meaningful message, serving as a symbol of professionalism and success.
Show your people you care this Diwali with a gift hamper from Youforia's Corporate Diwali Gift Box collection. Choose from a range of luxury hampers and gift boxes, all of which can be personalized with your corporate logo.
Conclusion
In conclusion, as you embark on the journey of selecting Diwali gifts for marketing team, remember that your thoughtful gesture goes beyond mere presents. It's a chance to express your gratitude, foster a sense of unity, and align with the festive spirit that Diwali brings.
Each gift you choose carries the potential to brighten their day, strengthen team bonds, and make them feel valued. Whether it's personalized, practical, or symbolic, the Diwali gifts for your marketing team are a reflection of your appreciation for their hard work and dedication.
As the festival of lights illuminates our lives, let these gifts shine a light on the meaningful relationships you've built within your team.
Happy Diwali!
---