Diwali chocolate box for a moment in the organizations to express their appreciation to clients, employees, and managers who contribute to their success throughout the year. And what better way to convey these sentiments than through the universal language of sweetness – chocolate.
Diwali, known as the Festival of Lights, is celebrated with fervor and enthusiasm across India and various parts of the world. It's a time when homes are adorned with diyas (oil lamps), rangoli patterns grace doorsteps, and families come together to share laughter, love, and gifts.
Among these cherished gifts, a Diwali chocolate box stands out as an elegant and delectable choice that encapsulates the spirit of the occasion.
In this blog, we delve into the art of selecting the perfect Diwali chocolate box for clients, employees, and managers. We'll explore a diverse range of ideas, from classic favorites to innovative creations, ensuring that your gesture of gifting resonates with each recipient.
Whether it's an elegant box of truffles for clients, a thoughtful assortment for employees, or a premium selection for managers, we've got you covered.
Join us on this journey as we unwrap the myriad possibilities that Diwali chocolate boxes offer. From the careful consideration of flavors and packaging to the profound impact a well-chosen gift can have on relationships, this blog aims to inspire you to make this Diwali truly exceptional for those who matter most to your business.
So, let's embark on a delightful exploration of Diwali chocolate box ideas that go beyond the ordinary, celebrating the sweetness of the season in every sense.
12 Diwali Chocolates Gifts for clients, employees and managers at work
Assorted chocolate boxes
Luxury chocolate truffles
Customized chocolates Diwali gifts
Protein chocolates
Ethnic fusion Diwali chocolate box
Chocolate- dipped strawberries
Chocolate-coated biscuits
Chocolate dipped marshmallows
Artisanal single-origin chocolate
Chocolate covered dry-fruits
Sugar free or vegan chocolates
Chocolate-covered caramel treats
1. Assorted chocolate boxes
Assorted chocolate Diwali boxes are like treasure chests filled with a delightful mix of various chocolate treats. Imagine a box brimming with a variety of chocolates in different flavors, shapes, and sizes.
From creamy milk chocolate to rich dark chocolate, and maybe even some exciting surprises like nut-filled or caramel-filled chocolates. These boxes are perfect for gifting during the Diwali festivities, adding a touch of sweetness and joy to the celebrations.
It's a wonderful way to share the love and happiness of the festival with a tempting assortment of chocolates that cater to everyone's taste buds.
2. Luxury chocolate truffles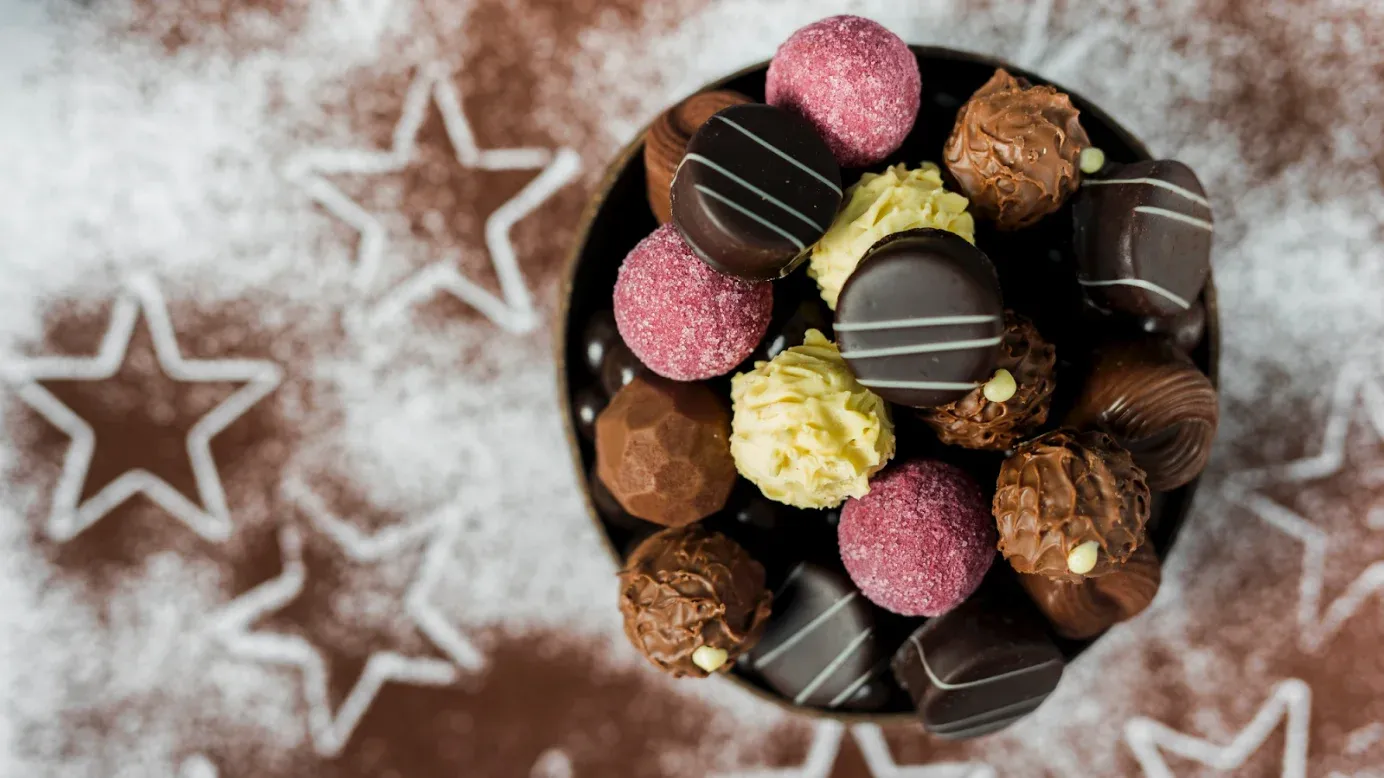 Indulge in the opulent world of luxury chocolate truffles this Diwali, where each assorted Diwali gift chocolate box becomes a precious trove of chocolate delights. Picture opening a box that unveils a symphony of flavors, a carnival of shapes, and a tapestry of sizes—all meticulously crafted to enchant your senses.
Within these splendid boxes, you'll uncover a treasure trove of taste experiences. Immerse yourself in the velvety embrace of milk chocolate, its creamy allure offering a sense of comfort and familiarity.
3. Customized chocolates Diwali gifts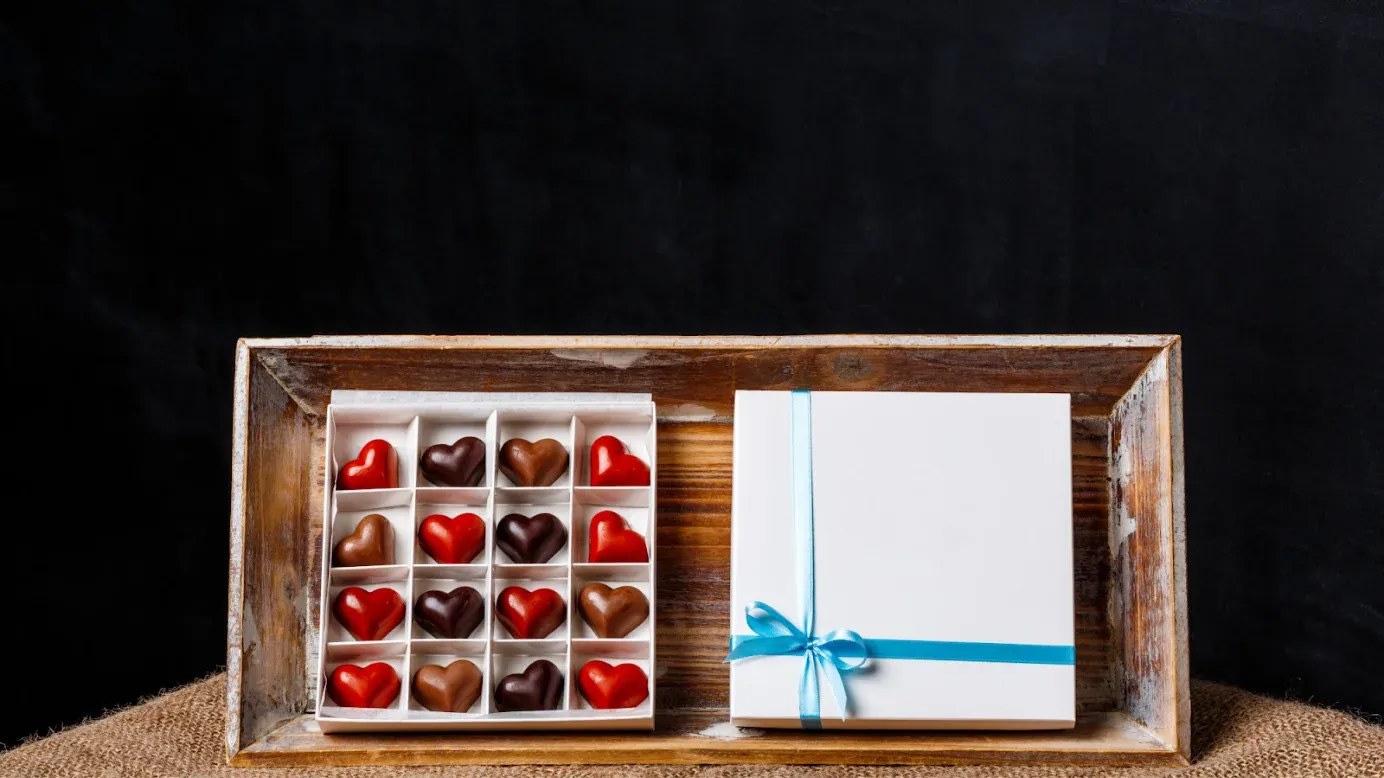 Customized chocolate Diwali gifts offer a delectable and personalized way to delight your loved ones. Imagine the joy of presenting someone with a chocolate bar that not only satisfies their sweet cravings but also bears a unique touch that speaks to their individuality. These bespoke treats are a fusion of craftsmanship and creativity, transforming a simple chocolate bar into a heartfelt gesture.
4. Protein chocolates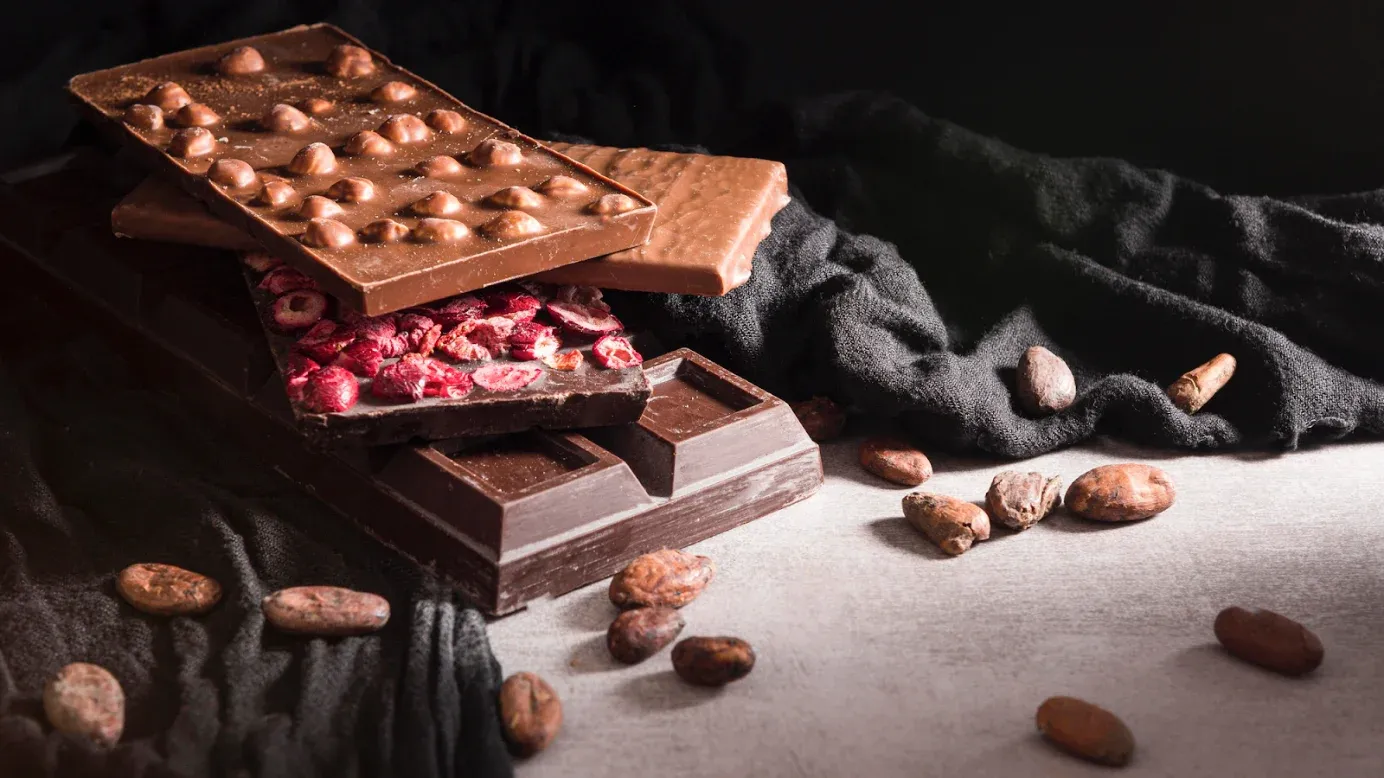 Diwali is a time of sharing love and joy, and what better way to do so than with a gift that celebrates both taste and well-being? These protein-packed chocolates are not only a delightful treat but also a thoughtful choice for health-conscious friends and family. Embrace the spirit of the festival with these artisanal protein chocolates, where each bite embodies the essence of a prosperous and nourishing Diwali.
5. Ethnic fusion Diwali chocolate box
Present your loved ones with an exquisite Ethnic Fusion Diwali chocolate box, a meticulously adorned hamper brimming with delectable chocolates.
This thoughtful gift is poised to captivate the hearts of your recipients, as it combines the joy of indulgence with the divine blessings of the almighty.
Additionally, a selection of candles or scented candles accompanies the ensemble, serving as alluring home embellishments that illuminate the festive aura of Diwali. This presentation promises to enhance their Diwali celebrations, encapsulating both the pleasures of delectable indulgence and the radiance of divine light.
6. Chocolate- dipped strawberries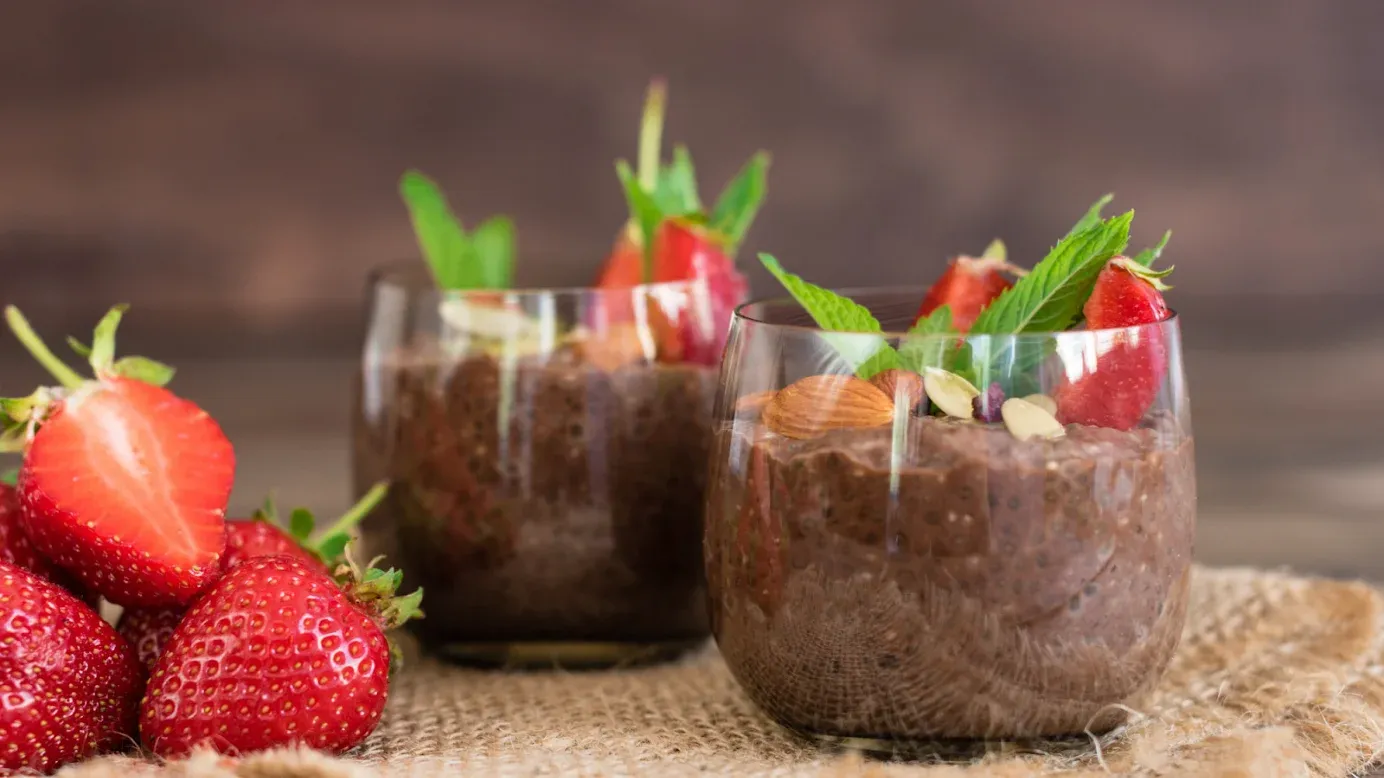 This remarkable gift is ideal for both colleagues and friends alike. Juicy strawberries are enveloped in a delectable blend of milk, dark, and white chocolate, adorned with an extra drizzle of sweet chocolate, culminating in a truly delightful variety.
While your recipient might feel the urge to share these delectable treats, they'll find it hard to resist indulging in the entire ensemble themselves!
7. Chocolate-coated biscuits
Presenting chocolate-coated biscuits as a Diwali gift is a delightful choice that combines the joy of traditional festivities with a modern twist. These delectable treats offer a harmonious blend of familiar flavors and a touch of indulgence, making them an appealing gift for friends and family.
The crispness of the biscuits harmonizing with the lusciousness of chocolate forms a delightful contrast that mirrors the diversity celebrated during Diwali. Sharing these treats can create moments of togetherness and celebration, making them a thoughtful addition to the festive season.
8. Chocolate dipped marshmallows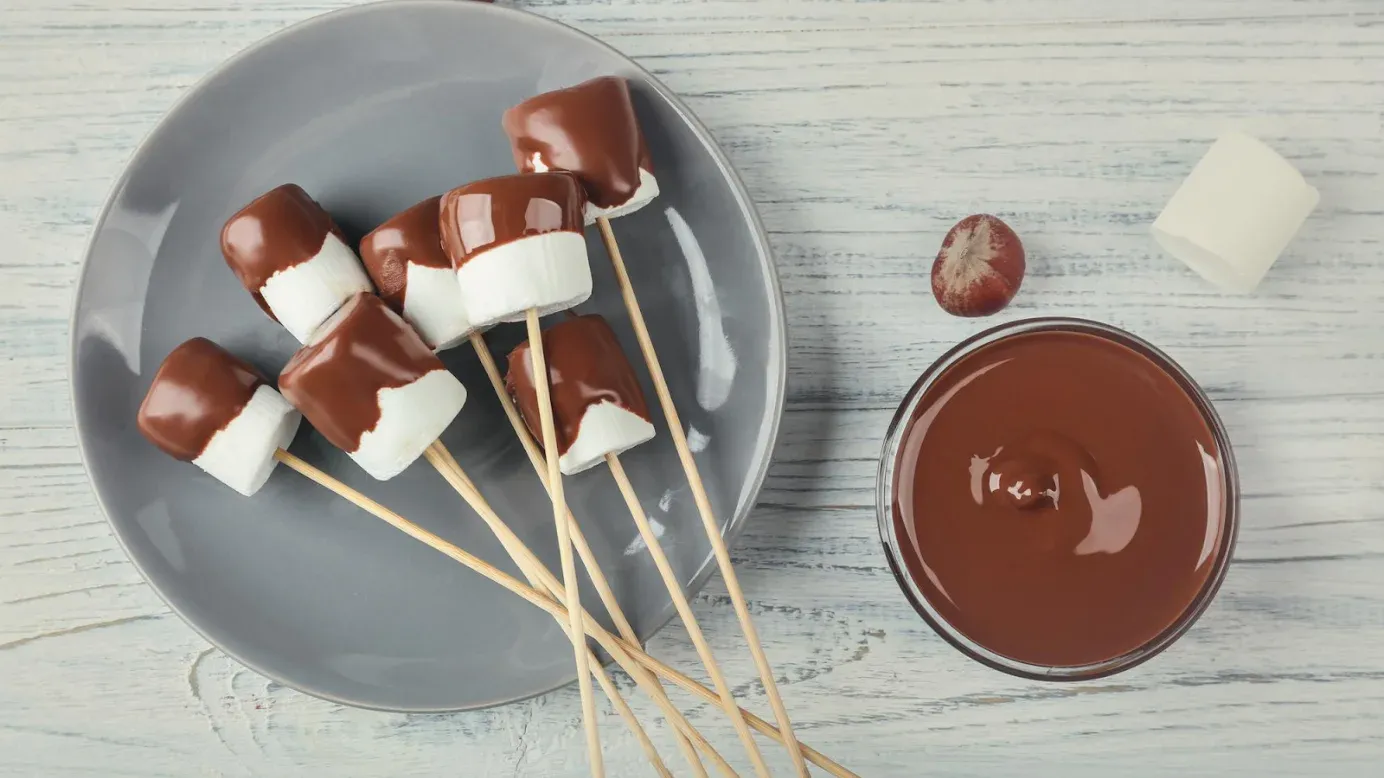 Offering chocolate-dipped marshmallows as a Diwali gift is a creative choice. These delectable treats offer a harmonious blend of soft marshmallows enveloped in a rich layer of decadent chocolate, creating a sweet symphony of flavors and textures. The contrast between the smooth chocolate and the fluffy marshmallows makes for a delightful sensory experience, perfect for adding a touch of whimsy to the festive celebrations.
9. Artisanal single-origin chocolate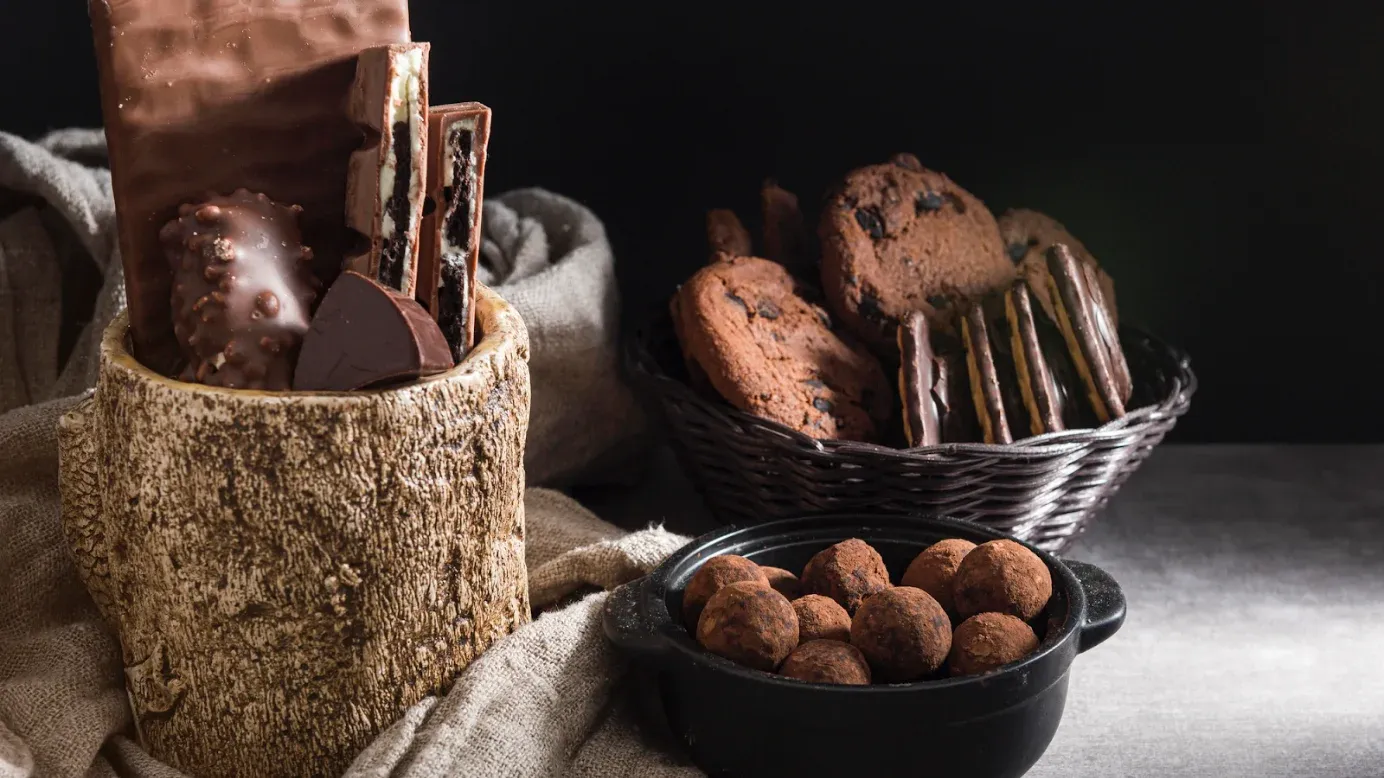 Elevate your Diwali gifting for corporate associates with the exquisite touch of artisanal single-origin chocolate. This sophisticated choice goes beyond the ordinary, offering a refined indulgence sourced from specific regions, highlighting the unique flavors of the cocoa beans.
The richness of the chocolate parallels the richness of your professional connections, making this gift a tasteful gesture that resonates on both personal and professional levels.
10. Chocolate covered dry-fruits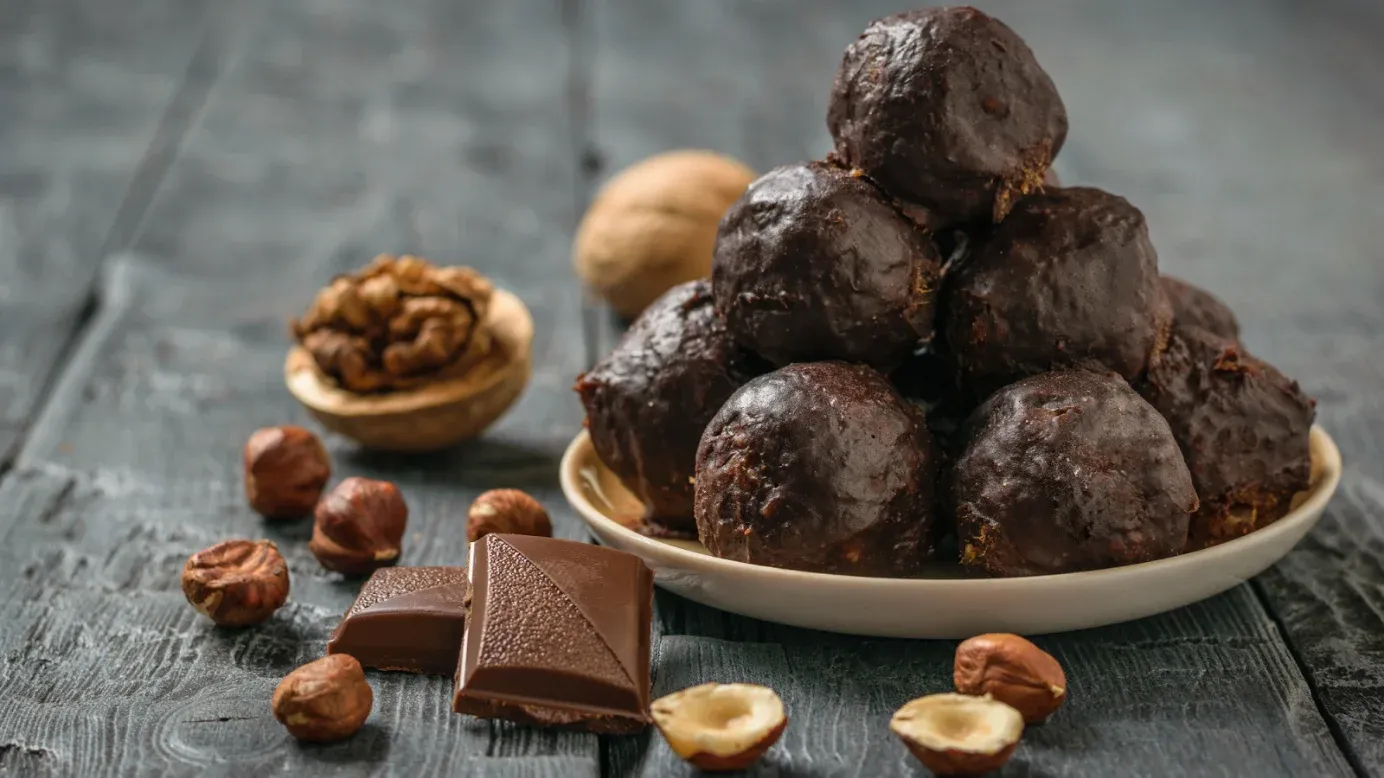 Elevate your Diwali gifting for corporate associates with a touch of sophistication by offering them exquisite chocolate-covered dry fruits. These luxurious treats combine the goodness of premium dry fruits with the indulgence of fine chocolate, creating a harmonious blend of flavors and textures.
The fusion of healthful nuts and the sweetness of chocolate mirrors the essence of Diwali, a time of celebrating prosperity and well-being.
11. Sugar free or vegan chocolates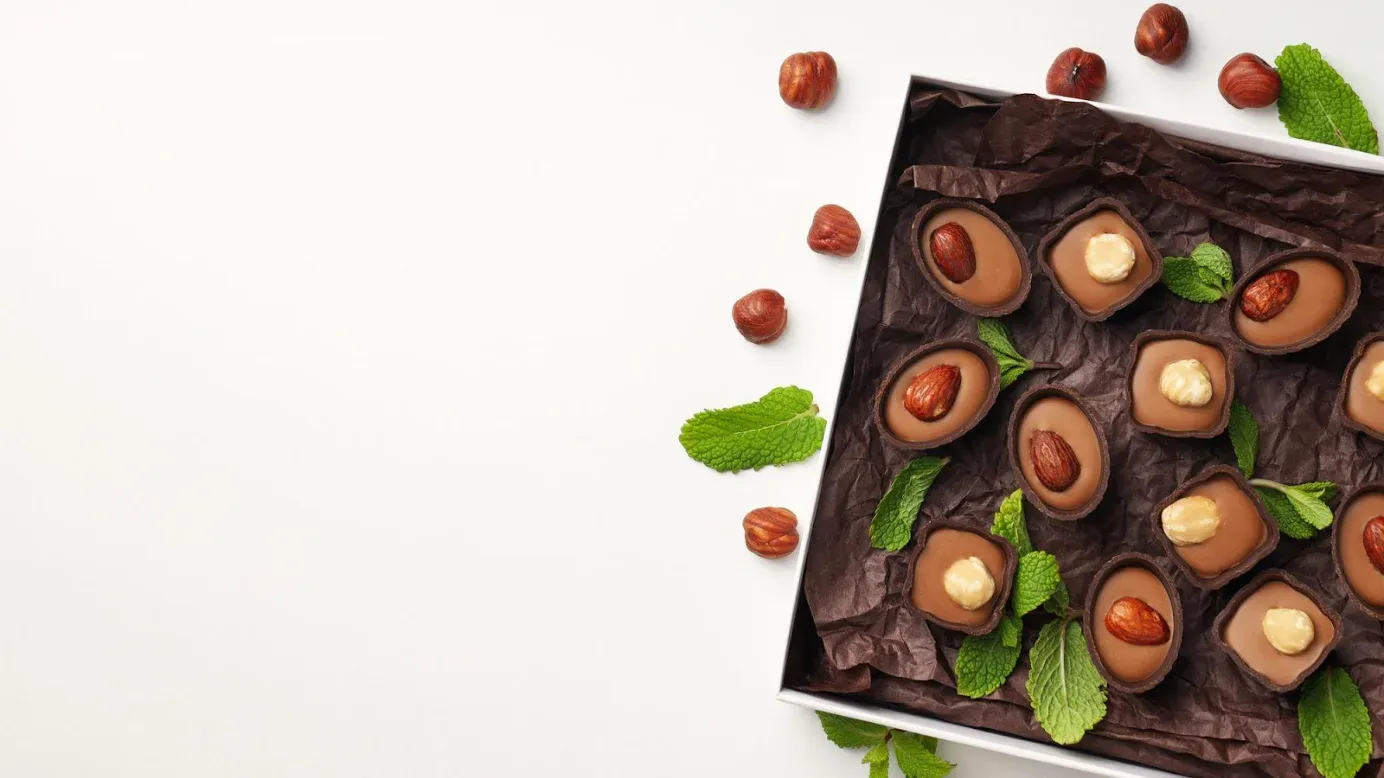 Offering sugar-free or vegan chocolates as a Diwali gift to corporate individuals is a thoughtful gesture that caters to various dietary preferences and health-conscious choices. These specialized chocolates embody the spirit of inclusivity and well-being, allowing recipients to indulge in the festive joy without compromising on their dietary requirements.
With their luscious flavors and ethical ingredients, sugar-free or vegan chocolates convey a message of respect for individual choices while still celebrating the essence of Diwali.
12. Chocolate-covered caramel treats
Elevate your Diwali gifting for corporate connections with the exquisite allure of chocolate-covered caramel treats. These indulgent delicacies blend the rich warmth of caramel with the luxurious embrace of chocolate, creating a refined symphony of flavors that resonate perfectly with the spirit of celebration.
Thoughtfully presented, Diwali gift chocolate box treats embody the essence of sophistication, making them a distinctive and cherished gift for esteemed colleagues and business associates.
10 Diwali chocolate hampers vouchers or gift cards
Here are Diwali chocolate hampers vouchers and gift cards:
Cadbury gift card
Nestlé gift card
Lindt gift card
Smytten gift card
Ferrero Rocher gift card
Toblerone gift card
Leonidas gift card
Fazer gift card
Hershey's gift card
Chocolate Naive gift card
1. Cadbury gift card
Opting for a Cadbury gift card this Diwali diwali celebration chocolate hamper is a clever choice that allows your recipients to savor their favorite chocolate delights. This versatile gift offers them the freedom to choose from Cadbury's wide range of delectable treats, ensuring a personalized and satisfying experience.
Whether they prefer classic Dairy Milk, tempting Silk, or any other Cadbury delight, this gift card brings a touch of sweetness to the festivities, allowing them to celebrate Diwali with the flavors they love most.
2. Nestlé gift card
Selecting a Nestlé gift card for Diwali is a thoughtful way to offer a versatile treat to your loved ones. This gift card provides them the opportunity to explore Nestlé's diverse range of products, from chocolates and confections to beverages and culinary essentials.
By presenting this gift card, you're giving them the chance to curate their own Diwali experience, indulging in the flavors and comforts that resonate with their preferences.
3. Lindt gift card
Opting for a Lindt gift card this Diwali is a gesture of refined indulgence. Lindt's premium chocolate offerings are synonymous with luxury and quality, making this gift card a sophisticated choice for the festive season.
By presenting a Lindt gift card, you're inviting your recipients to experience the artistry of Swiss chocolate craftsmanship firsthand.
4. Smytten gift card
Smytten gift card this Diwali opens the doors to a world of curated luxury experiences. Smytten's unique platform offers a variety of premium products and services, ranging from beauty and wellness to lifestyle and gourmet treats.
By gifting a Smytten gift card, you're presenting your recipients with the opportunity to explore and choose from a diverse collection of high-quality offerings.
5. Ferrero Rocher gift card
Choosing a Ferrero Rocher gift card for Diwali is like presenting a golden ticket to a world of exquisite indulgence. Ferrero Rocher's iconic hazelnut chocolates are a symbol of luxury and sophistication, making this gift card a perfect way to share that delight. With this gift card, you're granting your recipients access to the irresistible pleasure of Ferrero Rocher's delicate layers of chocolate and crunchy hazelnuts.


6. Toblerone gift card
Opting for a Toblerone gift card this Diwali is like gifting a journey of delightful discovery. Toblerone's distinctive triangular chocolate bars have been a beloved treat for generations, known for their unique blend of Swiss milk chocolate and crunchy almond nougat. By presenting a Toblerone gift card, you're inviting your recipients to experience the nostalgia and indulgence that these iconic chocolates bring.

7. Leonidas gift card
Selecting a Leonidas gift card for Diwali is an invitation to savor the artistry of Belgian chocolate craftsmanship. Leonidas is renowned for its exquisite pralines and confections, meticulously handcrafted to perfection.
By presenting a Leonidas gift card, you're offering your recipients the chance to explore the world of rich flavors, delicate textures, and premium ingredients that define Leonidas chocolates.
8. Fazer gift card
Opting for a Fazer gift card this Diwali is like extending an invitation to experience the enchantment of Finnish confectionery. Fazer is renowned for its exceptional chocolate creations, crafted with precision and passion.
By presenting a Fazer gift card, gifting a journey through a world of delectable flavors and innovative combinations. From smooth milk chocolate to intriguing Nordic-inspired ingredients, Fazer's range offers a unique fusion of tradition and innovation.
9. Hershey's gift card
Choosing a Hershey's gift card for Diwali is like giving the gift of American chocolate nostalgia. Hershey's is synonymous with iconic treats that have delighted generations. By presenting a Hershey's gift card, you're offering your recipients the opportunity to relish the familiar sweetness of classic Hershey's chocolate bars, kisses, and more.
Whether they enjoy the comforting simplicity of milk chocolate or the playful variety of flavors, this gift card allows them to create their own delightful assortment.
10. Chocolate Naive gift card
Selecting a Chocolate Naive gift card for Diwali is akin to gifting an expedition into the realm of artisanal chocolate craftsmanship. Chocolate Naive is renowned for its commitment to using ethically sourced, high-quality ingredients to create exquisite chocolate creations.
By presenting a Chocolate Naive gift card, you're granting your recipients the opportunity to experience the refined flavors and innovative combinations that define this brand.
Conclusion
In the spirit of Diwali, the festival of lights and togetherness, the art of gifting takes center stage, allowing us to express gratitude and appreciation for the relationships we hold dear. As we navigate the corporate landscape, the act of presenting thoughtfully curated Diwali chocolate boxes to clients, employees, and managers becomes a powerful way to bridge professional connections with the warmth of festive sentiment.
From luxurious chocolate truffles that exude elegance to the creative fusion of flavors in ethnic-inspired assortments, these Diwali chocolate box ideas go beyond mere gifts. They're tokens of recognition, symbols of shared successes, and avenues for building lasting rapport within the professional sphere.
The choice of chocolate diwali gift—be it the richness of renowned brands like Lindt, the irresistible allure of Ferrero Rocher, or the artisanal charm of bespoke confections—speaks volumes about the care and thought invested in each gesture.
The amalgamation of tradition and innovation in these chocolate boxes reflects the essence of the festival itself, as we honor the past while embracing the future. The inclusion of revered deities' idols, scented candles, and other festive adornments further infuses these gifts with the blessings and the radiance that Diwali symbolizes.
As the chocolate boxes are unwrapped and the delectable contents are enjoyed, a sense of unity is fostered—a reminder that, irrespective of titles or roles, we are all part of a shared celebration. The genuine joy that accompanies these gestures extends beyond mere pleasantries, fostering an environment of positivity and camaraderie that transcends the corporate setting.
---