American Airlines is a perfect example that has shown the world that when a customer loyalty program is well-executed, it can do wonders for a brand. AAdvantage, the most admired loyalty program or frequent flyer program of American Airlines has always been in the limelight and for valid reasons. They recorded a whopping revenue of $5.6 billion in 2019.
Launched in 1981, AAdvantage still stands as one of the world's largest loyalty programs with 115+ million memberships. Today, this loyalty program is valued between $19.5 and $31.5 billion. (Source: Forbes)
---
A classic example of how customer loyalty programs not only have the potential to retain customers but attract new ones as well, American Airlines has pulled more than just one rabbit out of its proverbial hat.
They clearly knew that most travelers will go the extra mile in the name of loyalty. While some will book itineraries with extended travel times, others will want to be a part of the elite status—so, everything is planned to get customers to stick to their favorite airline.
This clearly proves that loyalty is a big business strategy and no matter how sliced it is, customer loyalty programs can turn out to be a remarkable contributor to a business's bottom lines.
With that being said, let's understand loyalty in detail and further, help you choose a successful customer loyalty rewards software for your brand.
But first, the basics!
What is a Customer Loyalty Program?
According to
Salesforce
, a customer loyalty program is a well-structured marketing strategy that a brand implements to get customers (associated with the program) to continue to use their products or services for added benefits in return.
The key focus of this program is to reward customers who engage or purchase from a brand frequently. A brand can distribute perks or points, and graduate its customers to a higher level of loyalty with more purchases.
The loyalty benefits that a brand decides to deliver to its customer can be in the form of free products, rebates, discounts, or any other promotions.
Today, these programs are seen in almost all kinds of commerce with varying rewards schemes and features, even including banks, hospitality, retail, travel, e-commerce, entertainment, and many more.
When you dig down to the roots of it, customer loyalty is nothing but an emotional relationship between a brand and its customers. A loyal customer often chooses to use your service even when offered a sweeter deal and such a customer deserves to be treated well. This is how customer loyalty programs are born.
How Do Customer Loyalty Programs Work?
Customer loyalty programs simply work because people love to be loyal subconsciously. When such a customer is offered rewards for purchasing products from a brand on a recurring basis, he or she gets incentivized, feels special, and probably deletes competitor apps as well.
With that said, the incentives offered must carry strong benefits to keep loyal customers tuned in.
Loyalty is the byproduct of customers' positive experience with a brand and works further to build trust.
Loyalty programs have several goals: increase business, improve sales, strengthen the relationship between the customers and the business, and keep the customers coming back on a regular basis.
One important element of meeting these goals is ensuring the program has a benefit to the customer. If the rewards of the program are unattractive or uninteresting to the customers, the program may see little success. However, if the benefits are enticing, the program can help increase sales and encourage customers to return for their next purchase.
Let's understand this with a simple example.
Imagine you own a small corner grocery store. Your store offers a nice selection of common products, and you attract good business from local residents.
However, a larger grocery store is only two miles away, and you worry that the store may take business away from your market. As you consider options, you decide one of the most immediate and easy actions you can take is to implement a customer loyalty program.
How Effective are Customer Loyalty Programs for Businesses?
Statistics say that it costs 5 times more to obtain new customers than it takes to retain existing ones and existing customers are 50% more likely to use your new products as opposed to just 31% of new ones. (
Source:
Forbes
)
With such clear-as-day statistics that point out how evidently loyalty programs work, retaining customers is apparently five times more crucial than acquiring new ones.
Here's a brilliant example from the banking sector that proves that if a customer loyalty program is implemented right, it can be fruitful for a business.
😃 CitiBank's "thankyou" program has ticked all the right boxes with its incredible ideation, execution, and success. In fact, this loyalty program is used as a case study even today.
Reverberating way beyond the banking industry, CitiBank made it as simple as child's play to collect and spend its "thankyou" loyalty points. 😃
Emphasizing and promoting customer engagement, activity, and retention, the "thankyou" program was designed to reward customers for using various offerings and services.
A program that seamlessly works across its services like the ATMs, mobile app, checking accounts, and others, customers were enabled with the freedom to redeem these points to travel, avail offers, and even purchase products.
The program was ingeniously devised to encourage customers to use & utilize more services than they normally did. Increasing the usage of a plethora of other services as well, Citibank certainly enjoyed a substantial rise in RoI with this idea.
CitiBank was so humble, sure, and committed to rewarding loyalty that it bought the domain "thankyou.com" and made the program a permanent part of its banking legacy.
On the hind side, customer acquisition cost (CAC) is constantly higher than a company's marketing budget to ideate and execute a successful loyalty program for existing customers.
Now that you have a fundamental understanding of and workings of loyalty programs, let us take a look at the various types.
Types of Loyalty Programs with Examples
Over the years, these are the different tried and tested loyalty programs that have worked like a charm for many businesses across the world.
Point programs
Spend-Based programs
Tiered programs
Paid programs
Value-based programs
Game programs
Partnered programs
Hybrid programs
There are a handful of customer loyalty programs that are tried & tested to work efficiently as well as effortlessly. Not to mention, there are newer ideas that work just as well.
In the realm of loyalty programs, you can choose the program based on the industry, customer engagement, strong/weak suits of your company, and other criteria.
While most companies stick to one or two kinds of loyalty programs, many try a combination of more than two programs to appreciate and incentivize loyal customers.
Listed below are the most widely used loyalty programs:
1. Point programs
As the self-explanatory name suggests, a point program is when a company offers points for frequent purchases. Available both online websites and the app, customers can accumulate points for each purchase and redeem on a later date for a product or a significant discount.
One of the most widely used loyalty programs, the point program is known to gradually increase the average order value, and encourage customers to remain loyal to the brand.
Example: Walmart's reward card sign-up bonus is based on a point-based program. Tying up with Capital One, Walmart is rewarding loyalty where you can earn 5 points for every dollar spent on purchasing goods using the Walmart app or the website.
The grocery giant also offers 2 points for every dollar spent during in-store Walmart and Murphy USA gas stations. It is needless to say, this method of loyalty program works wonders when the number 1 Fortune 500 company is utilizing it.
2. Spend-based loyalty program
As the name entails, a spend-based loyalty program allows customers to accumulate loyalty credits (in the form of stars or coins or stamps) based on their spends. This type of customer loyalty program is easy to create, understand, and maintain.
Mostly used to increase amounts whilst reducing churn rates, spend-based loyalty programs are easy to create, maintain, and understand as well. For instance, $10 = 1 loyalty star.
Example: Starbucks is a good example of how spend-based loyalty programs can be implemented in a business.
With Starbucks, you earn Stars for every activity that a customer does. The type of activity defines the 'Stars' that you can earn out of that program, which isa  brilliant move from them because as a customer, you'll always have an urge to earn extra points. With the average American adult spending $20 per month at coffee shops, customers can earn a lot of 'Stars' through their spend-based loyalty program.
This emotion is similar when you play a game. These stars then add up to their rewards program. So this way a customer is and will always want to be associated with the brand for longer.
3. Tiered programs
A program that encourages customers to ascend to higher levels of loyalty, tiered programs are used to bring about a balance between attainability & desirability.
With the freedom to earn more points with each purchase, customers generally tend to compete with themselves to attain a higher level in the tier. The said tier program is usually based on how frequently customers purchase from a brand, points they earn, and other engagement stats.
Example: A good example of tiered loyalty programs is "Uber," where they have cleverly laid their perks into various levels while the highest tier boasting the most lucrative perks. This makes it genuinely tempting for customers to not only rack points but also to be engaged with Uber instead of their competitors.
With Uber rewards, a customer is eligible for the 1st tier 'Blue' without points whereas the 2nd tier 'Gold' has decent benefits such as flexible cancellation, priority support, etc. and the 3rd tier 'Platinum' has some additions when compared to Gold. Finally, the highest tier 'Diamond' includes all types of desirable rewards like priority pickups at airports.
4. Paid Programs
A loyalty program that allows brands to establish a strong relationship with current customers and also attract newer ones, paid programs to work better than you initially imagine.
A recurring membership fee is paid by the customer to the brand for which they receive perks and benefits. Benefits like early access, express delivery, goodies, 24/7 helpline, and others retain customers coaxing them to remain loyal to the brand.
Quick Fact:
A
Mckinsey
survey found that customers who paid and enrolled in loyalty programs are 60% more likely to spend on the brand once subscribed. This statistic reassures how impactful loyalty reward ideas are and how they simply work!
Example: When you scour the internet for examples of the best-paid loyalty programs, Barnes & Noble's B&N Membership sticks out.
At a price of $25 a year, Barnes & Noble provides exclusive store & online offers, free shipping, early access, 40% off of hardcover bestsellers, and the being one of the biggest retail outlets for books in the United States, the brand is setting wonderful precedence for others to follow.
5. Value-based programs
This is a tricky one. A loyalty program that rewards customers by not rewarding them directly, value-based programs appeal to the customers on a much deeper level. Collecting reward points like any other loyalty program, customers are then usually given a choice to donate the earned points to charities.
Brands choose if all the earned points can be donated or some of it, customers often love to be involved in charity work where they don't directly spend their hard-earned money.
Brands often curate & customize the charities to appeal to the specific customer as opposed to lining up general charities. A rewards program that is known to build lasting relationships with customers, value-based programs also increase the loyalty index substantially.
6. Game programs
Spin the wheel, slot machines, and quick engaging games of all kinds are known for their game-based loyalty programs. Studied to have increased customer retention and loyalty significantly, these loyalty programs attract new customers, repeat customers, and daily users that make the most of the coupon codes by playing games.
Example: One of the best examples of gamification programs was deployed by Volkswagen and Porsche Austria titled BONEO. On the BONEO app, new customers were greeted with points, their own avatars, and won rewards right away before the registration process.
The customers were asked to register after a few minutes of being engaged with the welcoming game, and this case study sets a great example of how to retain new customer attention & interaction.
7. Partnered Programs
Regardless of the product or the services industry, partnered programs and collaboration are finding the impetus in the last few years. A cohesive collaborative effort where customers reap the benefits from more than one platform receives a resounding welcome, and companies of all sizes are making the most of it.
Finding a brand that is relatively connected to your own will do the trick but sometimes, polar opposite brands collaborate to bring out mind-blowing loyalty programs, making the industry's head turn.
Also called a coalition loyalty program, the idea is ideal when you operate multiple endeavors and bring attention from one to the other.
Example: Priceline Pharmacy's "SISTERCLUB" is an ideal example to notice partnered programs working like a charm.
Priceline has and is constantly collaborating with companies such as 'Pet Circle', 'nib', 'Readly', and many more to provide loyalty services that were unheard of before.
8. Hybrid loyalty programs
A hybrid loyalty program works vaguely similar to the partnered program but within the company. When two loyalty programs are combined to heighten the reward given to the customer, hybrid loyalty programs are born and these are known to work across industries of all verticals.
When increasing loyalty index from customers is on the mind, brands choose more than one program that works best for them.
For example, when fee-based programs are combined with tier loyalty programs, the outcome is often stupendous, likewise, VIP programs are named Bronze, Gold, Elite, Pro, etc, and added with gamification to encourage customer participation.
Example: The hybridization of CVS ExtraCare and CVS CarePass loyalty programs.
CVS ExtraCare is a free loyalty program that attracts customers to receive cashback, extra savings, and others, and this service is free to sign up for. Once the customer is signed up, CVS CarePass; which provides tremendous more value in the form of offers, comes into the picture.
A CVS CarePass member enjoys benefits such as fast delivery, free shipping, instant discounts, monthly rewards, and many more. CVS has calculated that an average CarePass member spends 3 to 4 times more while shopping as opposed to a person who isn't a member. This clearly shows how effective this method loyalty reward program is.
Now that you have a fair understanding of the types of customer loyalty programs, let's get into the core details.
What does a Customer Loyalty Program Look Like?
A customer loyalty program is anything that systematically cultivates satisfied, repeat business.
This can be as simple as a butcher giving free samples to his favorite customers or the local coffee shop's stamp card, where every seventh cup is on the house.
Pretty much all big chain stores and restaurants have some loyalty card and app program, with varying levels of benefits, ranging from special discounts to early access to new releases to random fan fun like Target's Cartwheel.
One of the oldest and most-used loyalty programs is airline miles, which can be turned into future purchases. This leads to passengers often choosing a higher-priced ticket to keep contributing to the same mileage pool. Not all customer loyalty programs come with discounts. Another incentive is to make your customers' lives easier, especially making it easier to buy your product.
Starbucks Rewards is one of the most emblematic programs that went from a card scheme to an app that works anywhere in the world. Customers collect stars for each purchase made (multiple cups on one purchase is still just one star), and on the 15th cup, they get a free one.
The Starbucks Rewards app takes a lot more purchases than its competitors to reach a giveaway, but there are other ways it makes you a repeat customer. The app has a gamified user experience, allows you to skip the queue and order ahead, pay in-store, and even offers exclusive music playlists.
Of course, nearly no one holds back from paying up to $100 a year for Amazon Prime. Amazon trades us shipping and increased access to customer service because it becomes our go-to place to "Buy-with-1-click" and often get it delivered to our door the next day.
Plus, like all gift card schemes, there's a strong presumption that, once you get them in the door (or app), they will always spend more than the value of the free item. Whatever you can do to get them back to your store or restaurant or on your website is extremely valuable.
Since the invention of smartphones, customer recognition has grown so much that it's not just a bonus to your customers but pretty much an expectation that they'll be rewarded for choosing you.
How to Build Customer Loyalty?
To build customer loyalty, you first need to know which type you want to implement:
Transactional customer loyalty
Emotional customer loyalty
Let's understand these two types of customer loyalty in detail.
1. Transactional customer loyalty
This loyalty type is "rational" in nature —meaning, customers see if the program is in their interest and then decide to stick with the brand based on past experiences.

Say, for instance, customers might believe that a brand is most convenient, the least expensive, or less risky option. Popular brands that have created their business via transactional loyalty are CVS and Walgreens. In fact, a few industries like gas stations, grocery stores, and pharmacies primarily compete on transactional loyalty.

There are various ways to generate transactional loyalty, which include:

Loss aversion: Consumers value loss more than gains. By incorporating exclusive bonuses, rewards, and points, you can actually influence your customers to keep shopping with your brand. This also creates FOMO (Fear of Missing Out) and with that, most of them jump on the bandwagon and even do impulse purchases.
Recency Bias: Consumers overweigh the things that have happened recently. This is an amazing advantage that brands can make use of. They can introduce daily deals or some other strategies to boost this opportunity.
Reciprocity: This is a well-admired social norm where people respond to positive actions. Brands can build transactional loyalty through value like credit or gift card, spurring customers to actually respond.
2. Emotional customer loyalty
This loyalty is "emotional" in nature. The emotional connection takes the form of one's status, where the brand becomes an integral part of the customer's identity, or at least, the brand is used to express the customer's identity.

Due to this, customers are less likely to be carried away by other competing offers. This is when brands might start to enjoy a high price elasticity too. Some of the most popular brands that have set an amazing example of emotional loyalty are Disney, Apple, Coke, Pepsi, and Starbucks.

Again, for emotional loyalty to work effectively, a brand must keep a few things in mind:

Surprise and delight: No human will say that they hate surprises or don't like receiving gifts. That's why surprise and delight strategy still works like a charm and will continue to.  When brands show value to their customers beyond product offerings or service, they have an amazing potential to form deep emotional connections. A free product, free dining, small gift, or discount coupon is a perfect way to thank your loyal customers.
Demonstrate relevance: Most customers prefer personalized experiences. Don't believe us? Then, have a look at what the Salesforce's report says. Surprisingly, 70% of the customers say that a brand's understanding of their needs highly influences their loyalty. With the help of data gathered in multichannel loyalty programs, a brand can effectively engage consumers in relevant and meaningful ways to build a positive experience.
Deliver unique experiences: Customers like it when they are rewarded for being loyal. From special events to elite rankings, it is crucial for a brand to deliver one-of-a-kind rewards and incredible customer experiences if they want to make their loyal members feel valued, appreciated, and special.
Did you know?
🎁 Loyalty programs that deliver one-of-a-kind / exclusive rewards such as a beautifully-designed invitation to a member-only / VIP event can make customers feel on top of the world and create that 'excitement and engagement' to be a part of a special community.
Alternatively, offering early access to limited-edition rewards or exclusive deals can make your customers feel valued and appreciated. It builds an emotional connection to your brand. Amazon's invite-only luxury fashion shopping is a perfect example of this.
(
Source:
Vogue
)
Initially, Amazon's luxury store wasn't accessible to everyone. It was an invite-only program to selective Prime members. This was indeed a masterstroke from Amazon that smartly instilled the emotion of FOMO (Fear of Missing Out) in other Amazon shoppers. However, after it created that 'buzz,' they made it open for everyone to shop.

How the Loyalty Loop has Replaced the Marketing Funnel
When it comes to marketing, businesses have religiously followed the funnel model where they are broken down into 3 important stages:
Awareness
Consideration
Conversion
Most of them add "loyalty and advocacy" at the bottom of the funnel.
The funnel is wider on the top and becomes narrower as potential customers pass through different stages.
For decades, businesses have based their marketing strategies around the funnel—and it has worked like charm. But there's a huge problem with the funnel model, which makes it fail in the current business scenarios.
The digital era has changed the way customers shop today. In fact, there has been a drastic change in their overall buying behaviors. Customers these days are much more knowledgeable, skeptical, and have higher expectations. They expect businesses to care for them more than their transactions.
That's why the relevancy of the marketing funnel has died out slowly, leaving room for a fresh, digitally-informed tactic to take its place.
Meet the flywheel—a model that HubSpot adopted to elucidate the momentum one gains when aligning the entire business around delivering an excellent customer experience.
What is the Flywheel model?
The major reason for the typical funnel model to fail is the inability to focus on what happens to customers after they are converted into sales. That's where the flywheel model turns out to be a more powerful business model.
The flywheel model puts a customer at the centre of the business strategy to deliver a fantastic and consistent customer experience.
This means that brands that align their business strategies with customers as key focus, not only grow, but also build loyalty, love, and happiness from the people that matter the most.
Stages of the Flywheel Model:
✅ Attract stage: This is the first phase of the flywheel where brands grab a visitor's attention with right and relevant information. This could be an attractive offer or deal, a free downloadable white paper or case study. The idea is to show something to your customers, but never force it.
✅ Engage stage: This is the phase where a lead/prospect shops and buys from a brand. This stage is vital for a sales team where the focus should be more about paving the way to build relationships and not closing deals. A brand can keep the flywheel's momentum going through email personalization, well-crafted website page, marketing automation, database segmentation, lead nurturing, communication (phone, chat, email, messaging, push-to-talk (PTT)), lead scoring, sales automation, and even try-before-you-buy programs.
✅ Delight stage: This is the phase where you support, help, and empower the customers to accomplish their goals through a winning customer experience. Also, 'delight' is the ideal phase to build loyalty programs.
💥 The Flywheel's Advantage

Let's get real. The flywheel model isn't going to magically generate quarterly quotas. However, it can ease the overall friction of losing the momentum with the prospects that aren't ready to be converted as a sale.

The key to keep your target audience engaged despite being uncertain is through positive interaction and attractive content.

So how can you bring the element of attraction here?
Simple, it's through rewards and gifts. 🎁


How Rewards Help in Creating Loyalty?
Rewards can and do build customers' loyalty, and most companies now appreciate how valuable that loyalty can be.
When people buy services or products, they are also purchasing an experience. Now, this 'experience' does not have to be massive or groundbreaking—it can be extremely simple, which gives customers the convenience and joy of placing an order with your brand online.
According to Oracle's study report, 86% of customers pay more for better customer experiences.

In short, expectation is the key. Today's digital customers expect their favorite brands to:

Fulfill their wants
Meet their individual needs

And when brands start to understand, listen, and deliver to their customers consistently, they are rewarded with long-lasting loyalty.

Companies that know how their customers 'behave and act' at each phase of the consumer journey are the ones that deliver great experiences. Such brands don't just retaliate to issues as they occur but rather, anticipate and mitigate those issues prior to their occurrence. They build a brand which people can trust on and that's the exact essence required to foster customer loyalty.

Believe it or not, loyalty pays
A brand benefits when its customers are happy.
Loyal customers give amazing business benefits. Customer acquisition is expensive, HBR says. In today's time, it costs 5 - 25 times more to acquire new customers than to retain existing ones.

That's where the whole loyalty game comes in. By building loyalty, you not only spend less money, time, and efforts but also make the most for added perks.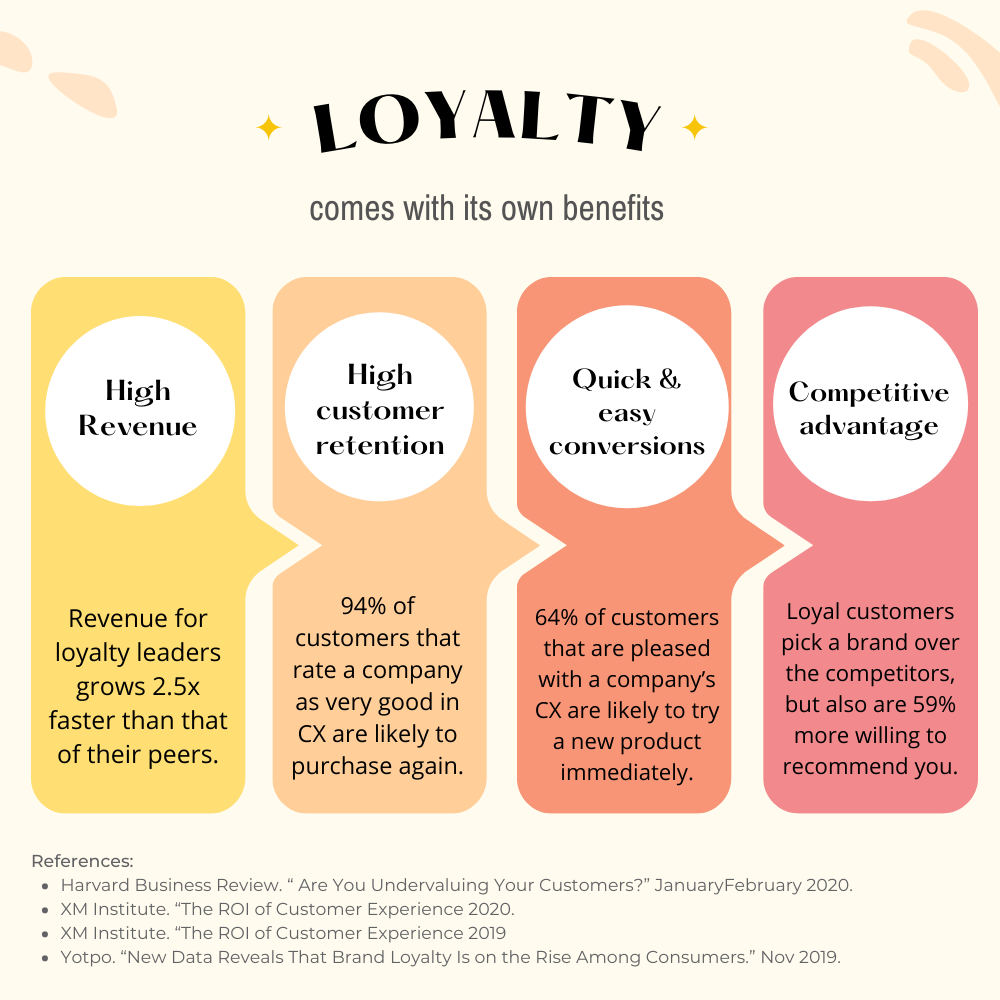 As a brand you might think that original, effective, and exceptional loyalty programs are easier said than done, right?

Well, no! The truth is that creating a good loyalty program is not as complicated as it sounds. Build them around unique, personalized rewards that create value for both customers and businesses.
"Loyal customers are not found. Brands make them." — 👍 And the way to create them and keep them enticed is through rewards.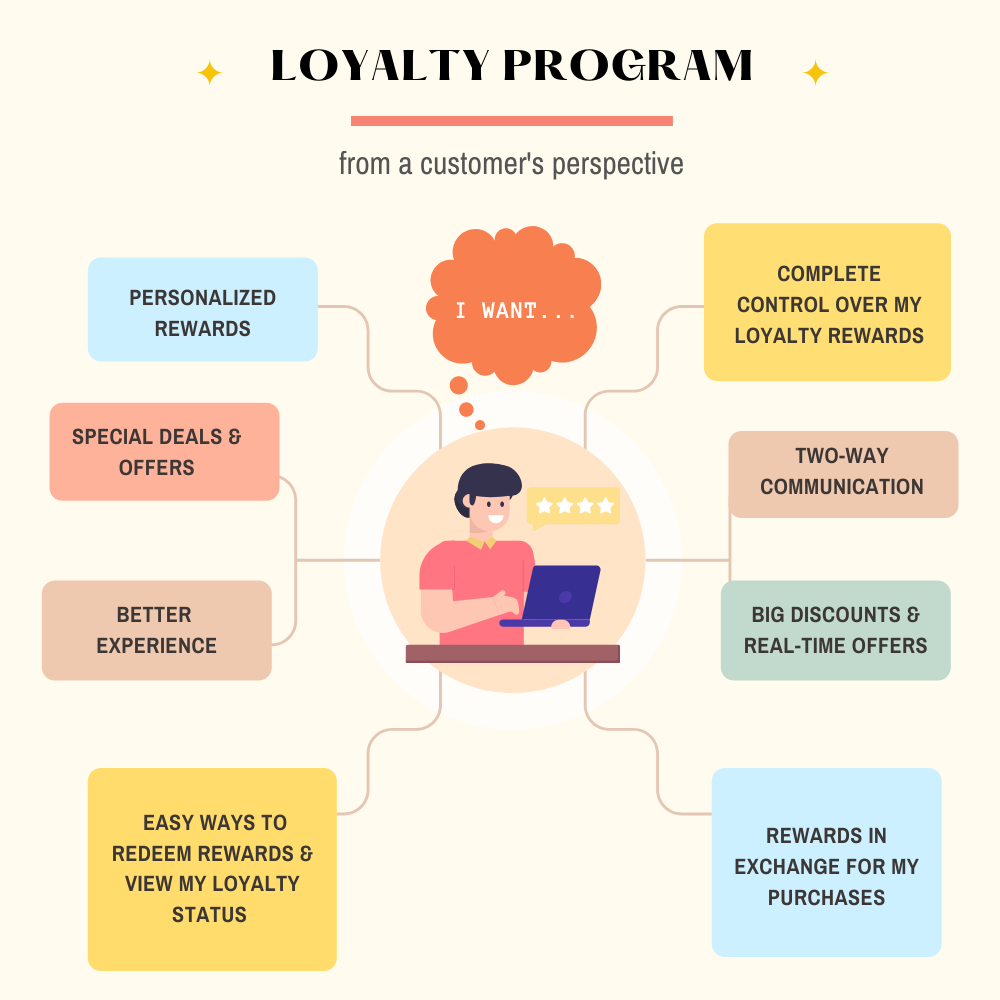 Rewards help accelerate the entire loyalty lifecycle, inspiring the first and second-year consumers to behave like a brand's tenth-year customers.
This is possible if things are planned and executed as a part of the loyalty management tactic. A company should be able to find ways to create value for their customers in order to build loyalty. The objective is to develop a proper system through which the customers are educated continually about the brand's loyalty rewards, encouraging them to take action and earn.
What Type of Loyalty Rewards Work the Best for Customers?
Speaking of loyalty rewards, it is no longer about transactions. Rather, it's about creating memorable experiences that trigger new touchpoints.
Brands pursue both experiences and content to:
Drive engagement
Get customers to be connected with the brand (daily / weekly basis)
A loyalty program that balances monetary rewards with interesting experiential offerings (like special events, unique discoveries, adventures, or early access) provide more value by making it appealing to their customer's heart and head.
Having said that, here are some interesting loyalty reward ideas that brands can go about:
1. Give special deals in exchange for reward points
Point-based reward program or loyalty points program, however you call it, is a proven tactic and we all have been a part of it somewhere in the real world.
Besides the available offers on your website (that's accessible to all customers), think of creating exclusive offers which only members are able to take advantage of in exchange for loyalty points 🏆.
Make sure to offer this exclusively to loyalty reward program's members. This will not only be a gamechanger but also encourages members to spend more (of course, gaining additional loyalty points in return).
2. Celebrate customers' birthdays with coupons or gift cards
Have you seen those pop-ups from different brands reaching your inbox or through SMS on your birthdays 🥳? If you have observed them, you will notice that those offers are exclusively to you. So why does this happen? Well, brands do this as a part of their loyalty strategy to make you feel special.
Sending these tailor-made, well-curated, personalized gifts during birthdays for customers is super easy. It can be in the form of gift cards, vouchers, discounts, free shipping, ebooks, etc.
3. Send special rewards or bonus for referrals
Referrals are a great way for brands to acquire new customers and boost sales. It's a type of loyalty program which allows customers to accumulate reward points or gifts by referring their peers to their favorite brand. This helps the brand to acquire new consumers and purchase the brand's products/services at good deals.
This is a win-win loyalty program for both customers and businesses. And all it takes is sending a simple message to your loyal customers, asking them to refer your brand to their friends and family in exchange for rewards, coupon codes, gift vouchers, or points.
How to Measure Customer Loyalty?
When consumers become brand evangelists, you can be certain that loyalty exists. What exactly does this mean? Loyalty is a strong emotion that drives clients to become advocates and repeat buyers. So, how can you quantify consumer loyalty? It's simple.
You only need these experience and operation metrics to understand loyal behavior:
1. Net promoter Score (NPS)
NPS is commonly utilized in all types of firms to guide marketing strategy and track customer service and satisfaction. One of its main advantages is that most people understand what it is and what comprises a good score. This makes it extremely useful for keeping conversations consistent.
The Net Promoter Score is easy to obtain since all you need to ask is a few brief questions like "on a scale of one to ten, how likely are you to tell your friends about us?" The solution you're searching for is hidden in the figure that shows you how loyal a customer is likely to be.
2. Customer churn rate
The churn rate, also known as the rate of attrition or customer churn, is the frequency at which consumers discontinue doing business with a business. It is most usually represented as the proportion of service users that cancel their memberships within a specified time frame.
3. Interactions across touchpoints
Although your company may have several touchpoints, are you paying attention to traffic, product evaluations, and social interactions? If you haven't already, you should do so right away. What does the engagement metric unveil?
If the product or service is causing a stir and whether customers feel heard. Brand engagement indicators are not the only ones that can be used to measure loyalty.
In other circumstances, loyal customers are people who have purchased several times without taking the time to write reviews. As a result, brand engagement, in conjunction with other indicators, will be able to tell you more about loyalty.
4. Customer retention rate
If you've chosen a high-growth strategy, you'll need customer retention analytics to see whether your top customers are staying longer. Even smaller firms understand that the best client is always the one they're actively servicing since they're a lot less expensive to keep than bringing in new prospects. Existing customers drive success by becoming word-of-mouth referrals.
While other metrics tell you who your top customers are, the CRR shows you how to cultivate a loyal client. As a result, it is as important as other indicators in determining customer loyalty.
5. Repurchasing levels
Repurchasing levels are another important statistic for measuring client loyalty. It is a count of customers who have returned to your store to place another order. Accounting new and recurring consumers over time allows you to accurately observe the rise and fall of customer retention.
Instead of absolute figures, these values must be computed as a total average percentage. This is mostly due to the fact that absolute values can produce perplexing outcomes when sales grow and fall.
6. Multiple product purchases
What's great in terms of customer loyalty is when a customer reorders the same product or service. This shows that your customer retention is healthy.
What's even better is the same customer being receptive to cross-selling solicitations and ordering other products from your inventory. Eventually, multiple product purchases tell how well your customer loyalty is performing. It's a great show of trust when customers are more than willing to repurchase from the same brand where they placed the first order.
Multiple product purchases indicate they not only have a fondness for the product, but also the experience. Intelligent marketers should keep a close watch on how many customers are extending their buying range.
7. Customer Loyalty Index (CSI)
While similar to NPS, the loyalty index is based on customer surveys. It reveals a customer's purchasing proclivity as well as their affinity for your brand.
However, unlike NPS, it also takes into account two more factors:
Numerous purchases
Repeat transactions
Though it may appear to be an extension, the customer loyalty index is not a full substitute for NPS because the former reflects consumer intent for the future but not actual behaviour. The picture is completed by quantifying the customer's purpose across a lifetime.
Final Words…
Customer loyalty is all about providing amazing experiences and keeping the audience delighted to stick to your brand for longer. It is directly associated with your business's growth, retention, and the ability to scale.
While loyalty programs do take a bit of work and planning, they are certainly worth implementing and will help ensure future business success.

If you have satisfied and happy customers, nothing can stop your business from flourishing. And the way to bring joy and smile to your customer's face is through 'rewards.' That's the hook for your loyalty programs to work like a charm and getting your customers to buy more from you.
In the long run, these customers become your brand advocates. So stop spending on new acquisitions because that's costly. Start creating loyalty programs for existing ones to keep them entertained while you enjoy repeat purchases.
---