Table of Contents
Coffee Day—arguably one of the most beloved days in office culture. It's that special occasion where we tip our mugs to the elixir that powers our early mornings, late-night brainstorming sessions, and everything in between.
As employers, Coffee Day provides an excellent opportunity to acknowledge our employees' hard work and dedication while celebrating a universal favourite.
Choosing the right Coffee Day gift for your team demonstrates your appreciation and underscores your understanding of their daily rituals and preferences.
It's about more than just gifting a mug or a bag of beans; it's about acknowledging the shared moments, the coffee breaks turned into brainstorming sessions, and the camaraderie forged over shared espresso shots.
In this blog, we'll explore a bevvy of Coffee Day gift ideas tailored specifically for employees. Whether they're coffee connoisseurs or just enjoy the occasional cup, there's something here to make every team member's day a little brighter and more caffeinated.
So, let's turn the daily grind into a delightful brew and find the perfect gifts to say 'thanks' to those who help your organization thrive.
But before that let's get some quick information about Coffee Day.
When is Coffee Day?
Coffee Day, more commonly called "International Coffee Day," is celebrated on October 1st each year.
The day aims to promote and celebrate coffee as a beverage and raise awareness about coffee growers' plight to ensure the coffee industry's sustainability. Many coffee shops and businesses worldwide offer promotions or events in recognition of this day.
Why is Coffee Day celebrated?
International Coffee Day holds multifaceted significance. Here is why it is celebrated.
Celebration of coffee: at its core, the day is a global celebration of coffee, a beverage cherished by many. It's an occasion for enthusiasts to come together, share their love for the drink, and explore its diverse flavours and preparations.
Recognition of growers and labourers: coffee day brings to the forefront the labor and dedication of millions of coffee farmers worldwide. By celebrating this day, there's an acknowledgement of their hard work, often carried out under challenging conditions.
Advocacy for fair trade: the day promotes fair trade practices in the coffee industry. This involves ensuring that coffee growers and laborers receive fair compensation for their produce and work, fostering ethical consumerism.
Sustainability awareness: the coffee industry faces several sustainability challenges, including environmental issues and the impacts of climate change. International coffee day serves as a platform to discuss these challenges and promote sustainable coffee-growing and trading practices.
Highlighting economic importance: coffee is a vital export for many countries, especially in the developing world. The day underscores its economic significance and the necessity to support the livelihoods dependent on it.
Appreciation of coffee cultures: coffee is not just a drink; it's a cultural phenomenon. Different regions have unique coffee-related rituals, traditions, and histories. Coffee day is a moment to explore, share, and celebrate these diverse coffee cultures.
International Coffee Day is more than just about sipping a cup of joe; it's a day that encompasses the holistic journey of coffee, from the fields to our mugs, emphasizing its social, economic, and cultural impact.
20 Coffee Day gift cards to give your coffee lover employee
If you're looking to give gift cards from famous coffee brands to your employees on Coffee Day, here are some of the most recognized and widely appreciated options
1. Starbucks gift card
Starbucks is a global coffee giant with locations in numerous countries. A Starbucks gift card allows the recipient to choose from a wide array of drinks, baked goods, and other products.
Plus, they have a user-friendly mobile app where the gift card can be easily added.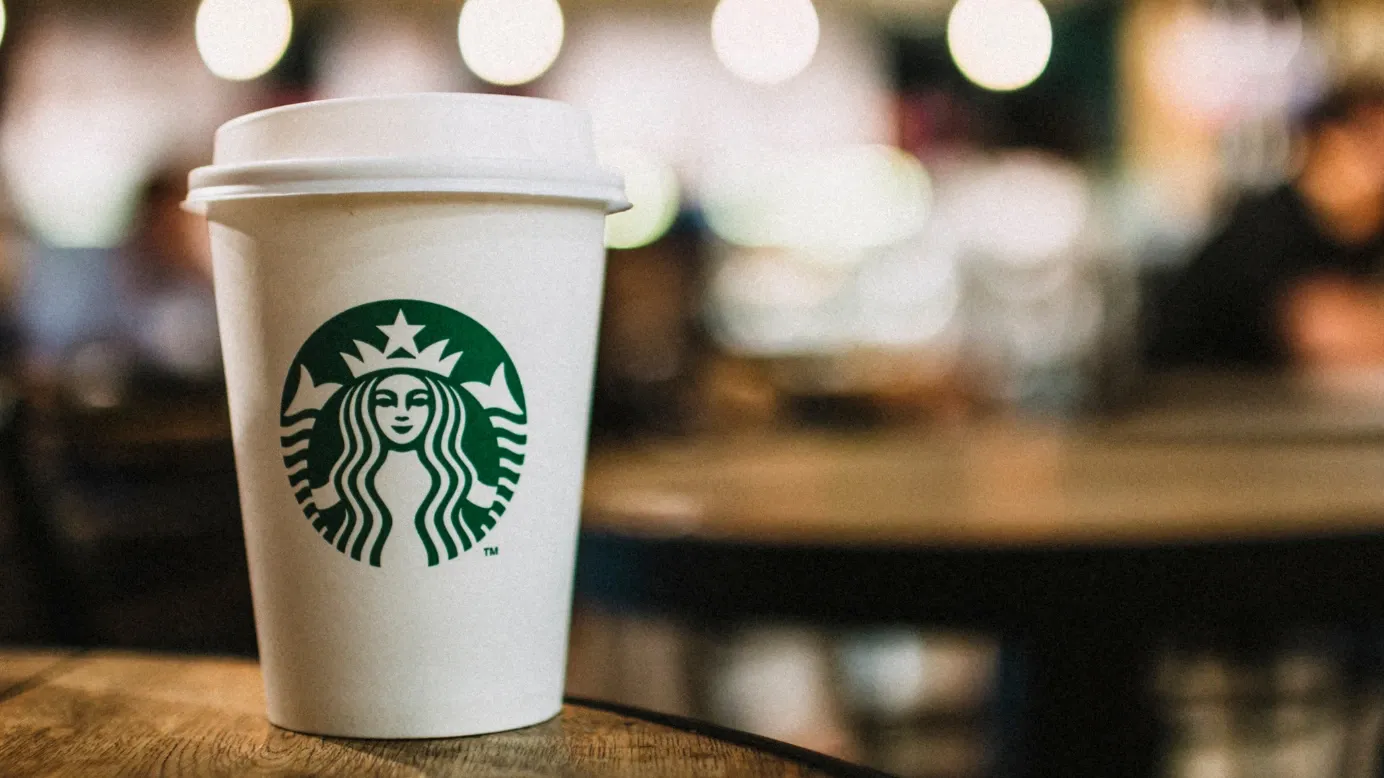 2. Dunkin' gift card
Formerly known as Dunkin' Donuts, this brand is particularly popular in the U.S. and offers not just coffee but also donuts, breakfast sandwiches, and more.
A gift card from Dunkin' would give your employees the flexibility to grab a quick breakfast along with their favorite brew.
3. Tim Hortons gift card
Especially popular in Canada but also with a presence in the U.S. and other countries, Tim Hortons offers coffee, donuts, and a range of other fast-food items. A gift card from Tim Hortons would be appreciated by many for a warm cup of Timmies coffee and a snack.
4. Costa Coffee gift card
Originating in the UK and having expanded internationally, Costa Coffee is one of the world's leading coffee chains. With a vast range of coffee and snack options, a gift card from Costa would be a delightful treat for employees.
5. Peet's Coffee & Tea gift card
Based in the U.S. but recognized by coffee enthusiasts everywhere, Peet's is known for its strong commitment to high-quality coffee beans and brews.
Peet's Coffee gift card can be used for an array of beverages, fresh pastries, and even coffee beans.
6. Caribou Coffee gift card
Another popular U.S.-based coffee chain with an international presence, Caribou Coffee prides itself on its handcrafted beverages and warm, community-based atmosphere.
A gift card from Caribou offers a variety of choices, from classic coffee drinks to teas and delicious baked goods.
7. Nescafé gift card
Nescafé, under the umbrella of Nestlé, is one of the world's most recognized instant coffee brands. While traditionally known for their in-home coffee products, they also have Nescafé cafes in select locations around the world.
A Nescafé gift card could be used to purchase a variety of their coffee products, allowing recipients to enjoy a quick and delicious cup of coffee at home or on-the-go.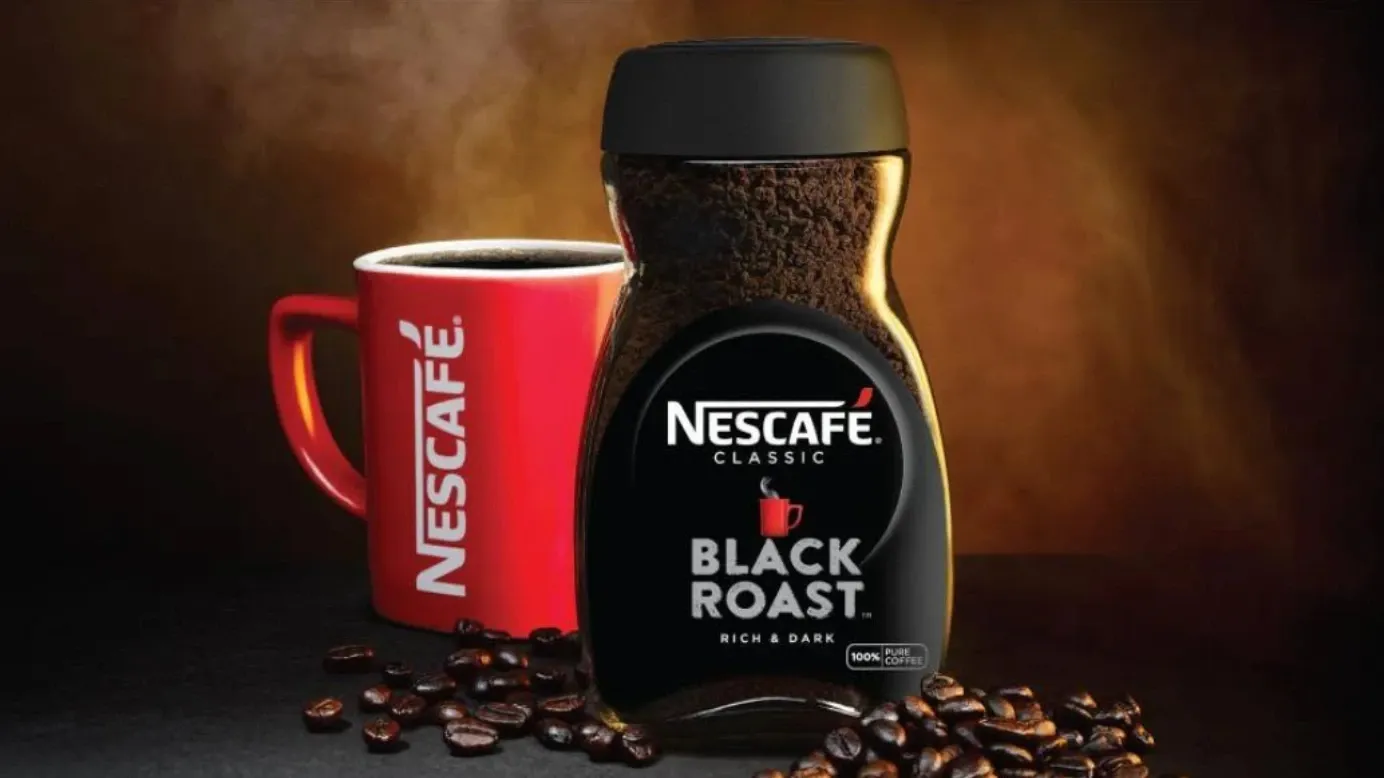 8. New England Coffee gift card
As one of the oldest and most respected coffee roasters in the United States, New England Coffee offers a variety of blends inspired by the region.
A New England Coffee gift card would allow the recipient to explore a range of grounded or whole bean coffees, ensuring a freshly brewed, flavourful experience with every cup.
9. Stumptown Coffee gift card
Born in Portland, Oregon, Stumptown Coffee Roasters is celebrated for its commitment to sourcing the best coffee beans and its meticulous roasting process. Their cafes are known for artisanal brews and a hip ambience.
A Stumptown Coffee gift card would be a treat for true coffee connoisseurs, allowing them to indulge in some of the best-handcrafted coffee experiences.
10. illy Coffee gift card
A renowned Italian brand illy is synonymous with espresso excellence. Known for its rich and bold flavours, illy has cafes and shops globally.
A gift card from illy offers recipients the chance to enjoy premium Italian coffee, be it in the form of a freshly brewed cup at one of their cafes or purchasing their signature coffee blends for home brewing.
11. La Colombe gift card
Originating in Philadelphia, La Colombe is a premier coffee roaster known for its commitment to sustainability and direct trade practices.
With stylish cafes scattered across major cities, a La Colombe gift card would be perfect for someone who appreciates an artisanal cup of coffee in a chic ambiance. They're also known for their Draft Latte, a unique canned coffee experience.
12. Folgers Coffee gift card
A household name in the U.S., Folgers is synonymous with classic American coffee. While they're best known for their in-home coffee products, a Folger's gift card can offer recipients the flexibility to choose from a variety of their beloved blends, ensuring a comforting and familiar coffee experience every morning.
13. Cafe Bustelo gift card
Cafe Bustelo stands out with its vibrant yellow packaging and bold espresso-style coffee. Rooted in Cuban coffee traditions, this brand is a favourite among those who love a strong and flavourful brew.
A Cafe Bustelo gift card would be a delightful treat for those who want to infuse a bit of Latin flair into their coffee routine.
14. Wide Awake Coffee Co. gift card
Known for their catchy, owl-themed packaging and a variety of flavourful blends, Wide Awake Coffee Co. provides a contemporary twist on classic coffee.
A gift card from Wide Awake Coffee Co. will surely excite those who enjoy exploring different flavours, from mellow to bold roasts.
15. McCafé (McDonald's) gift card
McDonald's coffee brand, McCafé, has become increasingly popular over the years. Offering a range of coffees, lattes, and other drinks, a McCafé gift card can be a convenient option, especially given the widespread locations of McDonald's outlets.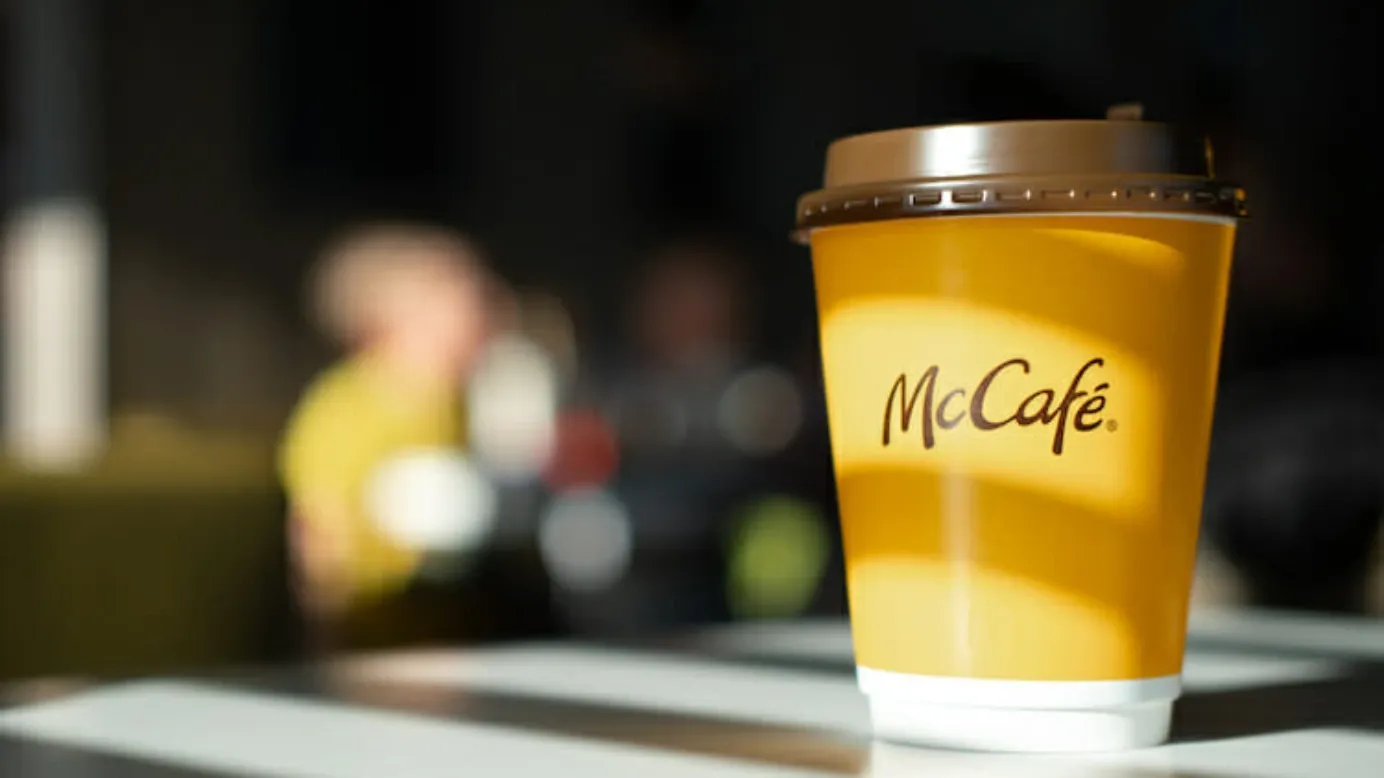 16. Gloria Jean's Coffee gift card
Originating in Australia and with a presence in many countries, Gloria Jean's offers a diverse menu of gourmet coffees, teas, and specialty drinks.
Gloria Jeans's gift card would be a treat for employees who appreciate a quality coffee experience.
17. Caffè Nero gift card
A European coffeehouse brand with a significant presence in the UK and other parts of the world, Caffè Nero is known for its Italian-style coffee and cozy ambience. Caffè Nero gift card would provide a touch of European flair to Coffee Day celebrations.
18. Cafe Coffee Day (CCD) gift card
Based in India, Cafe Coffee Day is one of the country's leading coffee chains with a significant international presence.
Known for its inviting ambiance and diverse menu of coffee drinks, teas, and snacks, a gift card from CCD would be cherished by those familiar with or eager to try Indian-style coffee and treats.
19. Lavazza gift card
An iconic Italian brand, Lavazza is synonymous with quality espresso. Although primarily known for its coffee products sold in supermarkets and other retailers, Lavazza also has cafes in various parts of the world.
A gift card here would appeal to lovers of authentic Italian espresso and coffee blends.
20. Seattle's Best Coffee gift card
Originating in Seattle, this brand is a subsidiary of Nestle but has its own distinct identity and flavour profiles.
Seattle's Best has a rich history and offers a variety of coffee blends and products. A gift card for Seattle's Best Coffee would be a delightful treat for those who appreciate the coffee culture rooted in the Pacific Northwest.
21 Allegro Coffee gift card
Housed under the Whole Foods Market umbrella, Allegro Coffee is a brand recognized for its focus on organic, sustainable, and high-quality beans.
Gifting an Allegro Coffee gift card would be ideal for the eco-conscious coffee lover, offering them a range of choices from light to dark roasts, all responsibly sourced.
Each of these brands has its own unique offerings, but all are centred around the shared love of coffee, making them ideal choices for Coffee Day gifts.
21 Evergreen Coffee Day gift ideas for your employees
Here are 21 Coffee Day gift ideas for your employees.
1. Customized coffee blend
Collaborate with a local roastery to craft a special blend for your gifting person. You can have the blend named after them or based on flavours they love. Package it in a personalized bag, complete with custom labels and descriptions about the flavour profile.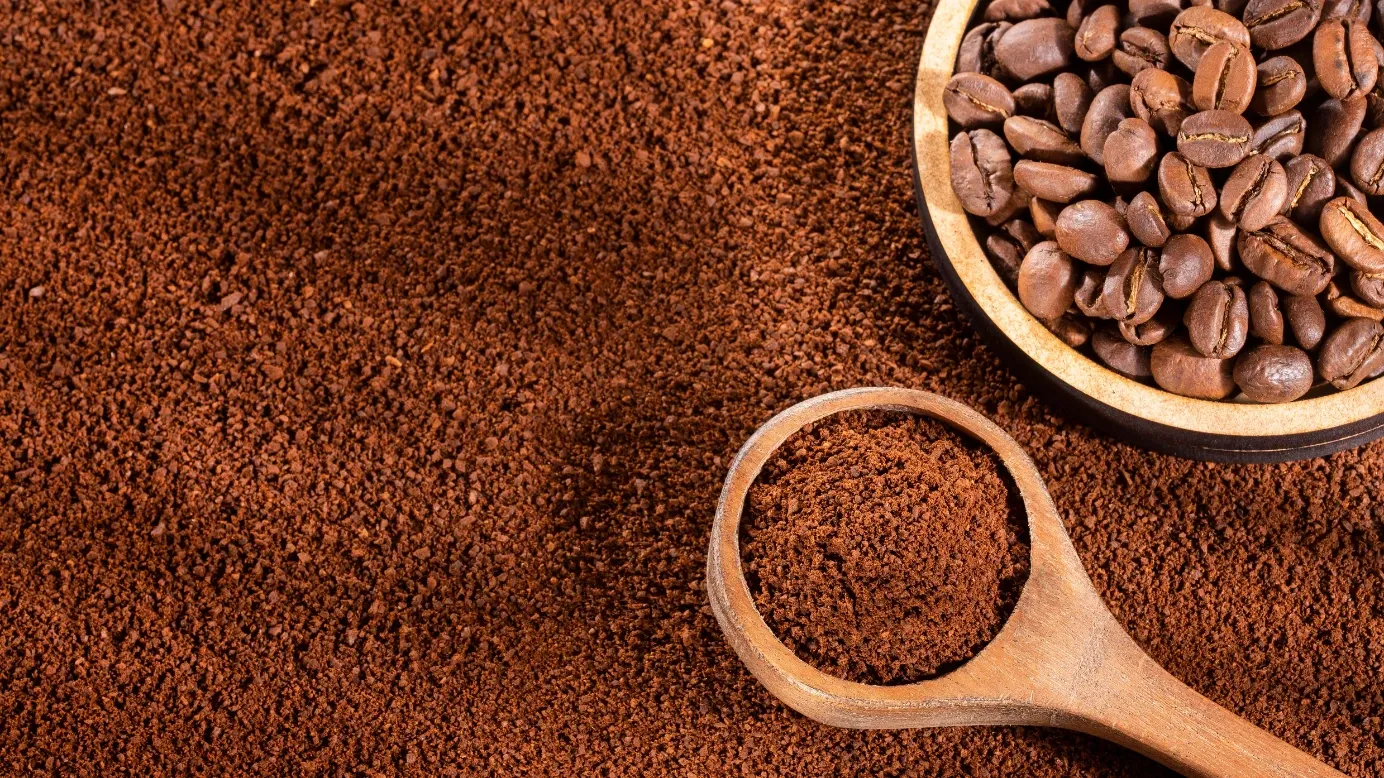 2. Coffee subscription box
Sign them up for a monthly coffee subscription box that delivers beans or grounds from different parts of the world. Each month, they can explore a new region's coffee, expanding their palate and knowledge.
3. Personalized coffee art
Commission an artist or illustrator to create a unique piece of art based on their love for coffee.
This could be anything from a stylized portrait of them with their favorite coffee cup to an intricate piece featuring coffee beans, mugs, and more.
4. Coffee experience day
Curate a day of coffee experiences. This could include a visit to a local coffee farm (if available), a barista workshop where they can learn latte art or brewing techniques, and a coffee-tasting session at a high-end café. Finish it off with a dinner at a restaurant that offers coffee-infused dishes.
5. Innovative coffee gadgets
For the tech-savvy coffee lover, consider gadgets that take their coffee game to the next level.
This could be a smart coffee mug that keeps their brew at the perfect temperature, a portable espresso maker for on-the-go, or even a coffee bean roaster for those who want to dive deep into the world of coffee making.
6. Coffee-infused skincare
Coffee isn't just for drinking. There are various skincare products, like coffee body scrubs, lotions, or lip balms, that harness the rejuvenating properties of caffeine. A basket of coffee-themed skincare could be a delightful treat.
7. Interactive coffee book
There are beautiful coffee table books that not only detail the history and culture of coffee but also include interactive features such as scratch-and-sniff pages, pop-up sections, or pockets with sample beans from around the world.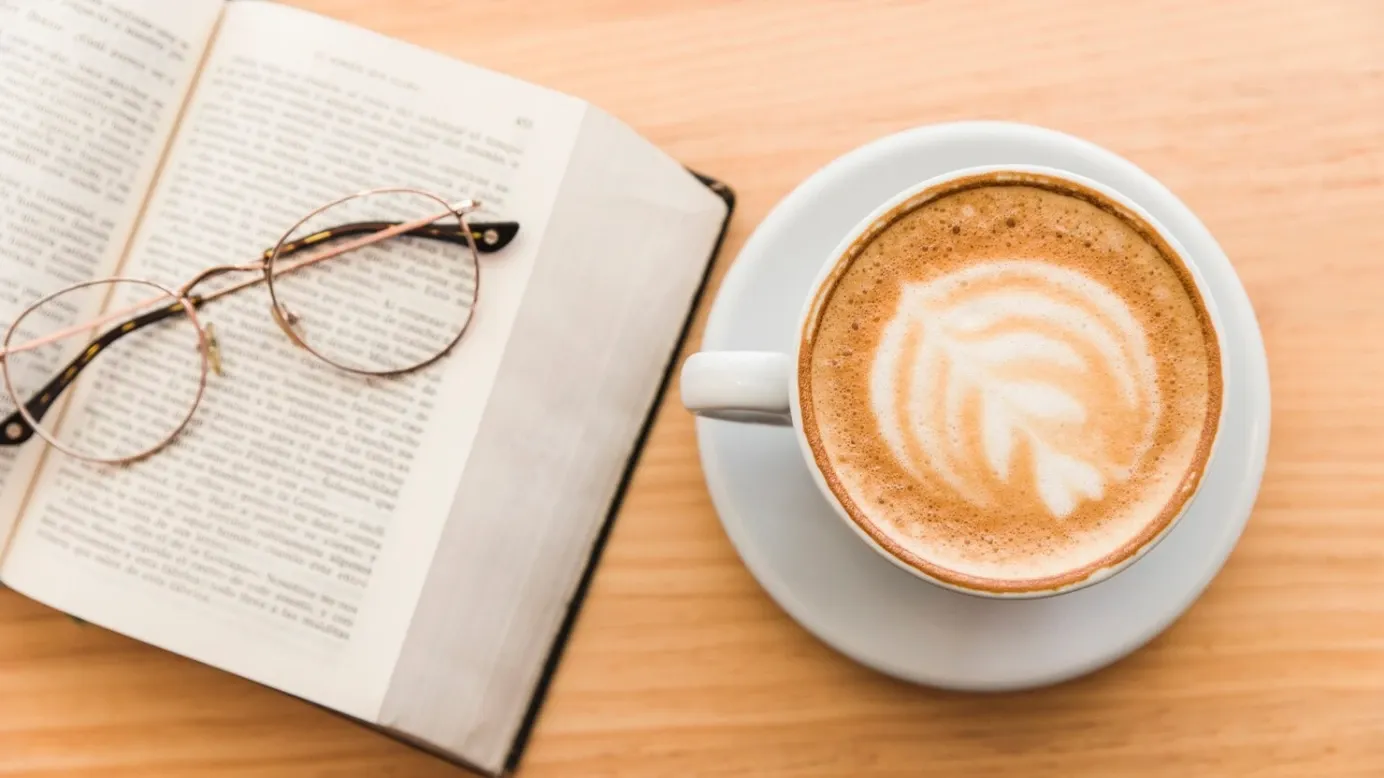 8. Handmade coffee coasters
Look for artisans who craft unique coffee-themed coasters. These can be made from a variety of materials, including ceramic, wood, or even recycled coffee grounds. They're not only functional but also a piece of art.
9. Coffee plant
Give the gift of a live coffee plant! It's a great way for coffee lovers to connect even deeper with their favorite beverage.
While it's a long journey from plant to cup and requires specific conditions to bear fruit, having a coffee plant can be a delightful and educational experience. Accompany the gift with care instructions and perhaps a small book on the lifecycle of the coffee bean.
10. Coffee-scented candles
A beautifully crafted candle that captures freshly brewed coffee's rich and comforting aroma can transform any space. Perfect for cosy evenings or to light up in the morning as they brew their coffee.
11. Specialty coffee syrups set
A collection of gourmet syrups can elevate the coffee experience. Consider flavours like lavender, salted caramel, vanilla bean, or even more exotic ones like rose or cardamom. Pair it with a guide on how to craft specialty drinks at home.
12. Coffee-inspired artisanal chocolate
Look for high-quality, artisanal chocolates that incorporate coffee flavours. Coffee-infused chocolate bars, truffles, or even chocolate-covered coffee beans make for a delicious and thoughtful gift.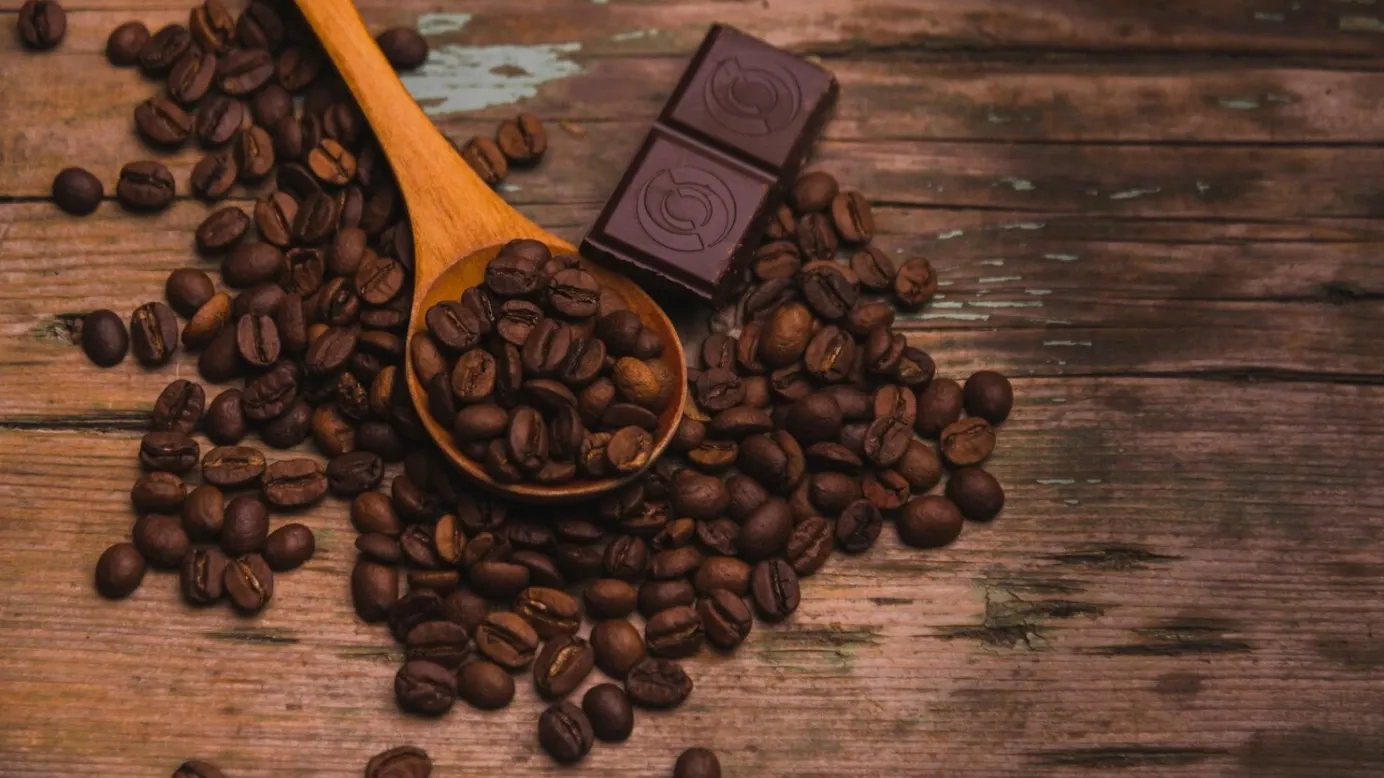 13. Coffee-themed music playlist
Curate a playlist of songs related to coffee or that create the perfect ambiance for a coffee-sipping afternoon.
You can then share it with the gift recipient on a music streaming platform or even create a decorative physical playlist card with QR codes that link to each song.
14. Travel coffee journal
Gift a specially designed journal where they can jot down their coffee experiences from different places, whether they're traveling the world or just trying out local coffee shops.
It can have sections for them to describe the flavour, ambiance of the place, or even stick photos or coffee labels.
15. Bespoke coffee cup sleeve
Commission a handcrafted, reusable coffee cup sleeve made from leather, fabric, or even knitted material. It could be personalized with their name or a special design, and it's eco-friendly, reducing the use of disposable cardboard sleeves.
16. Travel coffee journal
For the adventurer who loves trying different coffee from around the world, a dedicated coffee journal can be a treasure. They can jot down notes about each coffee's flavour profile, origin, and their personal experience.
17. Coffee-themed apparel
Explore a wide range of coffee-themed clothing and accessories. T-shirts, hoodies, socks, or aprons with coffee-related designs or witty coffee quotes can be a stylish and playful gifts.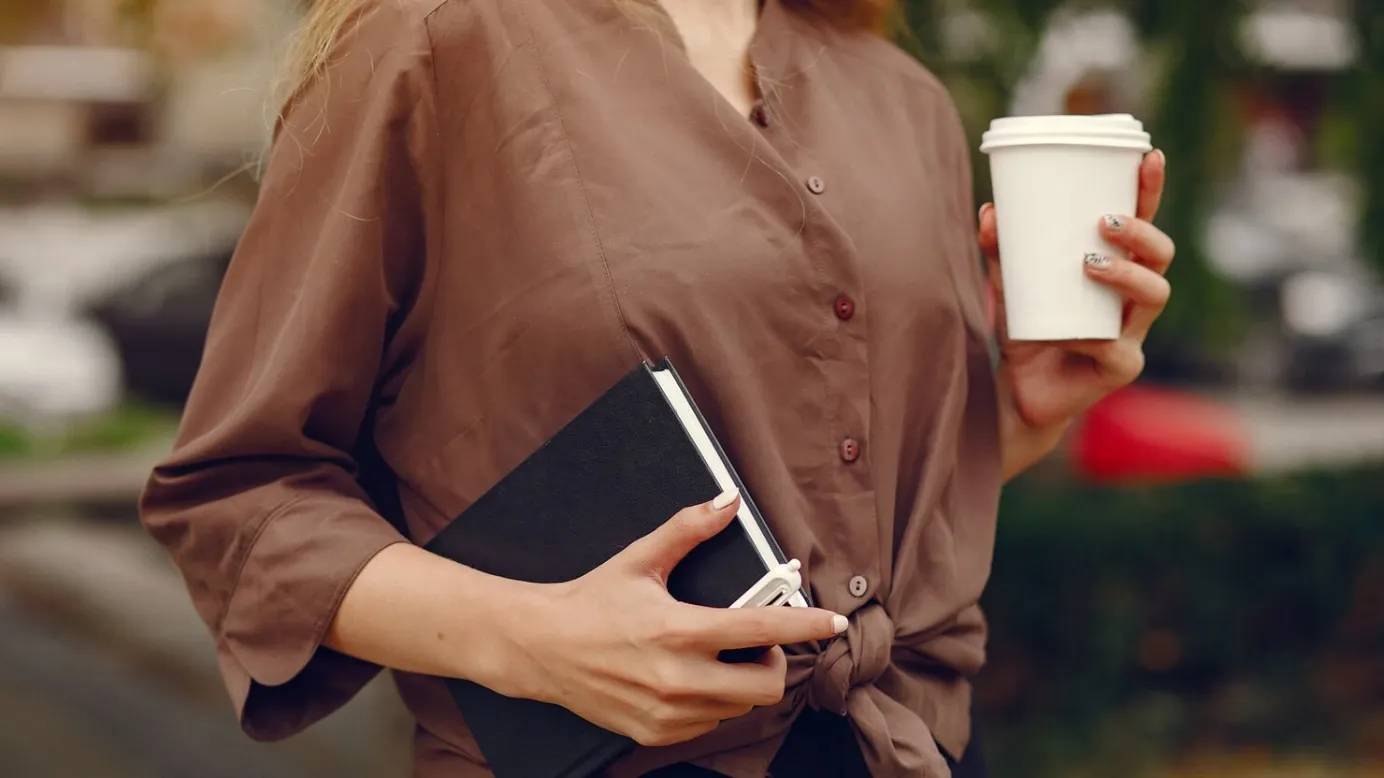 18. Coffee bean gift set
A Coffee Bean Gift Set is an elegant and delightful way to introduce your employees to a myriad of global flavours. This curated collection usually showcases beans from various origins, roasts, and flavour profiles.
The allure lies in the journey of discovery it offers, letting employees embark on a sensory exploration right from the comfort of their homes. Consider including a guidebook or a set of descriptive cards to elevate this gift.
These can detail the origin, roast level, and tasting notes for each bean variety, making the experience both educational and enjoyable.
19. DIY coffee gifts
There's an undeniable charm in DIY gifts; they radiate thoughtfulness and personal touch.
For Coffee Day, options like homemade coffee syrups or coffee-infused scrubs can be a delightful treat. Imagine your employees pampering themselves with a luxurious DIY coffee scrub or enhancing their morning brew with a homemade vanilla or caramel syrup.
Label your DIY creations with ingredients, usage instructions, and suggested pairings to amplify the thoughtfulness. If it's a handcrafted booklet of coffee recipes, infuse it with personal anecdotes or memories associated with each recipe, making it a keepsake.
20. Coffee mug gift
A mug is more than just a vessel for coffee; it's a daily companion that witnesses countless moments of relaxation, contemplation, and rejuvenation.
Gifting a unique coffee mug, whether adorned with the company logo or featuring an inspiring quote, is both practical and thoughtful.
For employees working remotely or in the office, this is a gift that seamlessly integrates into their daily routine. To add a special touch, fill the mug with a few treats – perhaps a small bag of gourmet coffee beans or a few chocolates.
A handwritten note inside can convey appreciation and warmth, making the gift even more memorable.
21. Coffee gift hampers
For those looking to make a grand gesture, coffee gift hampers are the pinnacle of luxury and thoughtfulness.
These hampers can be a trove of coffee treasures: premium beans, a sleek grinder, aromatic flavoured syrups, decadent chocolate-coated coffee beans, and even brewing equipment like a French press.
Such a hamper caters to a broad spectrum of coffee enthusiasts, from the novices to the connoisseurs. To enhance this already lavish gift, consider adding a personalized card that details the hamper's contents and perhaps shares a special coffee recipe or brewing tips.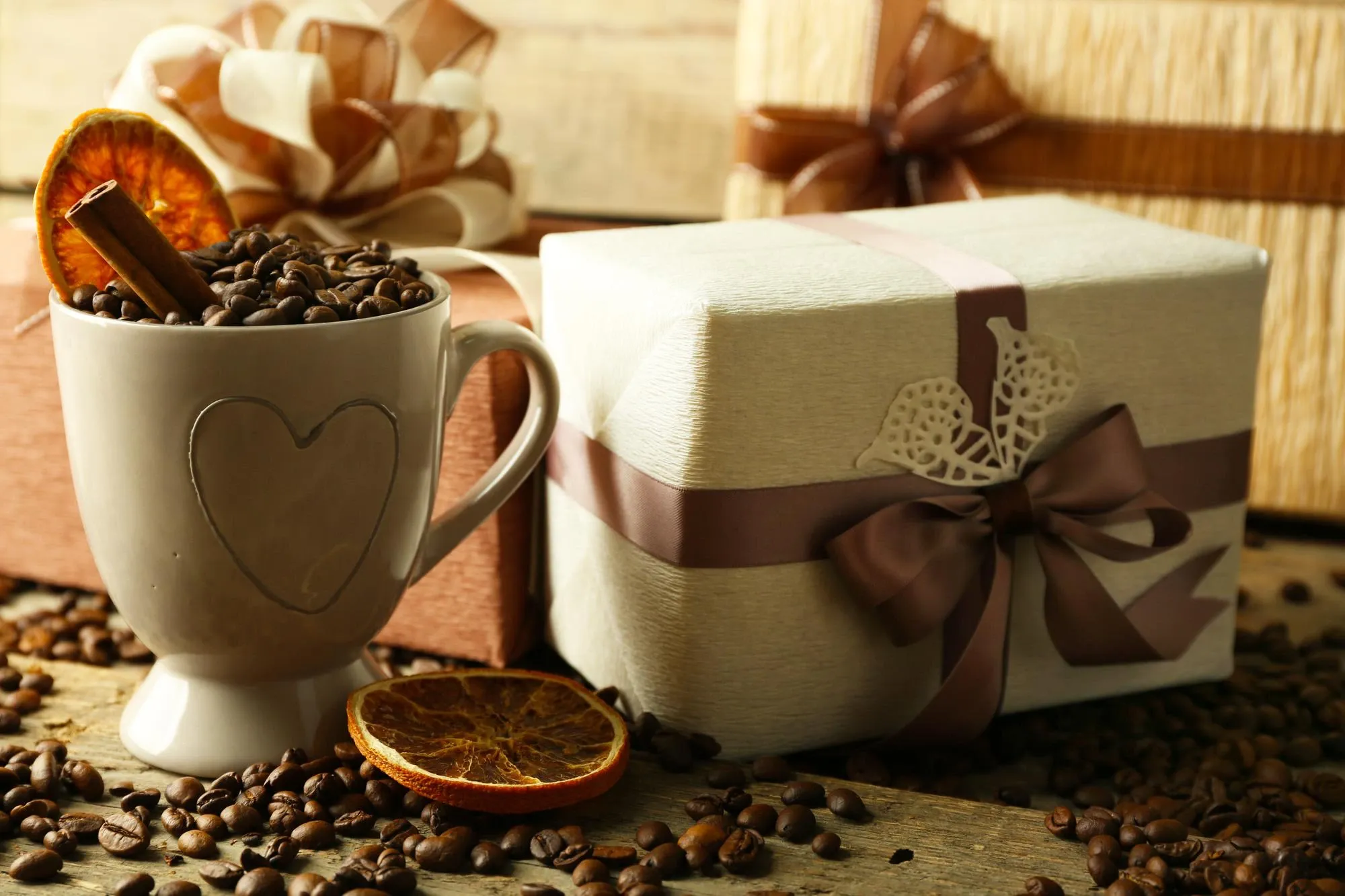 Conclusion
The universal appeal of coffee offers a unique opportunity to recognize and celebrate our hardworking employees. The blend of 42 physical and digital gifts curated for Coffee Day is a testament to the diverse ways we can express gratitude and camaraderie.
Whether it's a tangible coffee-themed treat or a digital gesture, each gift serves as a warm 'thank you' for the dedication and passion employees bring daily.
Here's to making Coffee Day 2023 a memorable brew of appreciation for all!
---