Which marketing tactic do you think gives the maximum ROI? Is it email campaigns? Inbound marketing? Or PPC ads? Well, the reality is: there's a clear winner which can never be touched by other methods.
And that's referrals.
Sales made from referrals require little to no major financial investments, but they drive valuable leads. Unfortunately, most businesses get referrals all wrong. The reason is apparent: not implementing the right referral marketing strategies.
We will tell you about the ideal ways to drive referrals. But before we do that, let's talk about a brand that has witnessed immense success doing it.
With that said, we will look at the story of a high-growth company like 'Slack' today — throwing light on their early days and the underlying strategy to world domination.
Take any successful business and you'll notice that they would have executed three important factors in their lifetime:
And that's what Slack did.
The whole brand was built on the most fundamental idea: a product that people love. When you build something that people love, they will pass it to their friends, peers, and colleagues about it. Not just that, Slack's referral program helped them grow from 15,000 to 1.7 million daily active users in a span of four years.
This tweet shows how WOMM (Word of Mouth Marketing) drove Slack's growth in their initial six months.
Here are some of the ways 'Slack' grew its customers through its referral program:
Incentivized users to refer others: In 2015, Slack offered a generous incentive for users who referred others to the platform. For every person a user referred to Slack who then signed up, the user received a $100 credit towards their own account. This incentivized users to refer others and helped to spread the word about Slack.
Made it easy to refer others: Slack made it easy for users to refer others by providing a simple referral link that users could share with their colleagues and friends. The referral link was easy to find within the app, and users could quickly and easily share it via email, social media, or other channels.
Built-in sharing options: Slack included built-in sharing options within the platform itself, making it easy for users to share the referral link with their team members directly within the tool.
Targeted emails: Slack also sent targeted emails to users who had referred others, providing them with updates on the status of their referrals and encouraging them to refer more people.
Leveraged social proof: As the referral program gained traction, Slack leveraged social proof to encourage more users to participate. They highlighted the success stories of users who had referred others and received credit towards their own accounts.
Slack indeed built an incredible referral program where their customers started preaching the gospel of their brand to others. And if they could do it, even you can, which is what our next segment is all about. So, keep reading.
7 Referral marketing strategies that can drive valuable leads
Now, here's the big question: How to create a referral program that creates a spark and gets the fire going while fostering customer engagement. Well, it starts and ends with implementing the right referral marketing strategies. And below are a few to make a note of.
1. Send targeted, personalized emails
Targeted emails are more relevant to the recipient, increasing the likelihood of taking an action. By tailoring your message to their interests and needs, you can make your referral program more appealing and encourage them to share it with their network.
📙
Tip: Make sure to include a clear CTA (Call to Action) that encourages the recipients to refer to their friends and family. Provide a link or a referral code that they can easily share, as this makes the process of referring to new business quick and easy.
2. Set up a great rewards program
A good rewards program has the power to get your existing, current, and potential customers to tell others about your business. To drive referrals and conversions, make sure that your program aligns with your goals, brand, and customer needs.
Before doing so, ask yourself these questions:
Who are my most valuable or top spending customers?
What type of rewards would get customers to tell others about my brand?
How to spur my referred customers to utilize referral opportunities?
Should we offer rewards to both referrers and referees?
What rewards would they like to receive?
How to take advantage of my rewards program to upsell other products or services?
📙
Tip: Pay attention to how your referral campaign will look like, the kind of messaging that would spark attention, and if your rewards program can enhance customer retention. Also, make it super easy for your customers to refer to other people because no one wants to jump through hoops just to complete a simple action.

Conduct proper research to find out what is the right incentive for your repeat customers. Keep in mind, the bigger the reward size, the higher the chances of acquiring more referrals.
Offering the right rewards and incentives is the perfect way to cover your bases. According to a few research scientists at Yale, incentives can lessen reluctance amongst prospective referees.
Tiered rewards or incentives tend to perform better for referrals. Start by giving small cash prizes, branded e-gift cards, or simple swag when a customer starts his or her referral marketing journey. Eventually, increase the stakes by offering bumper prizes for top performers.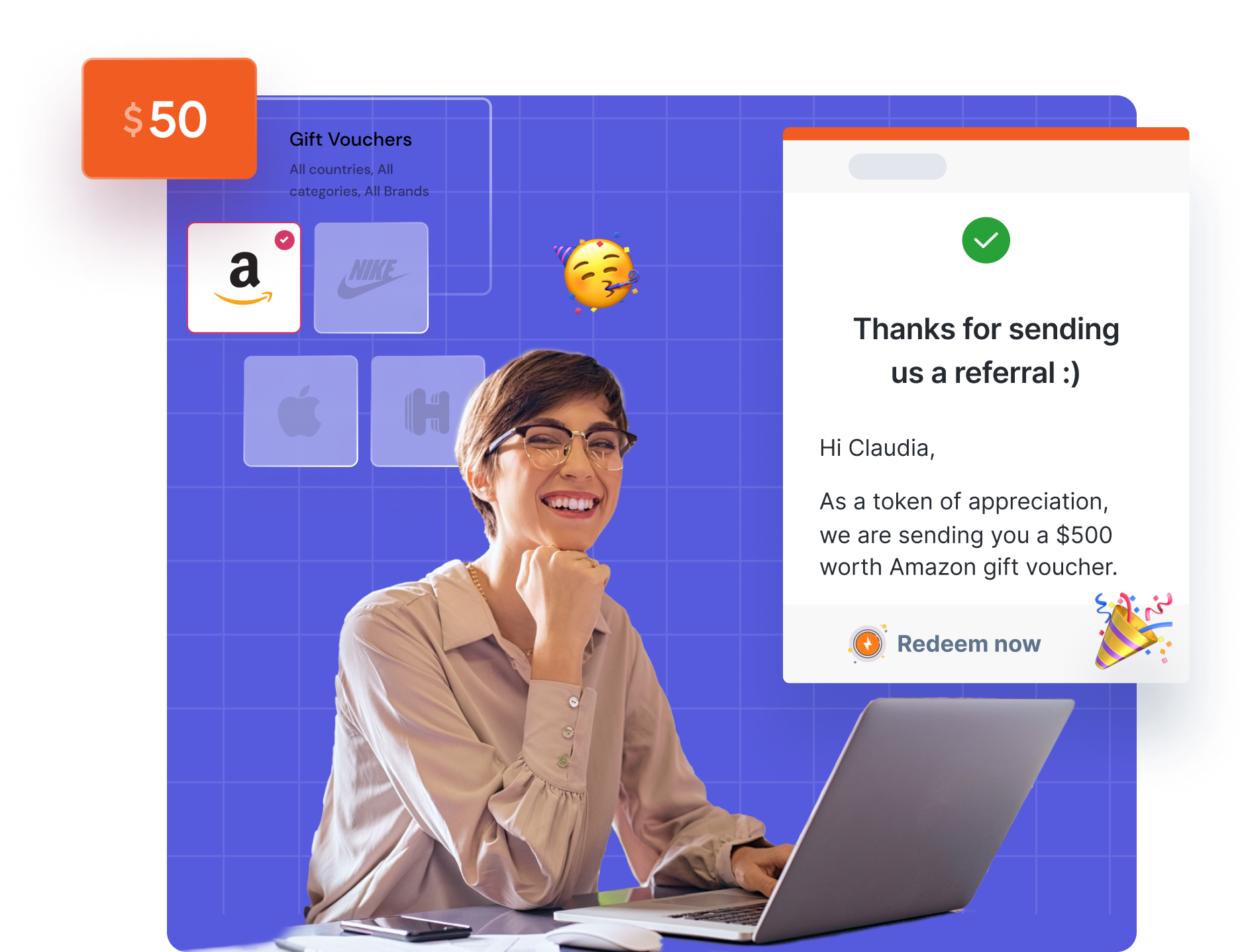 Save hours of manual work by automating your referral rewards program in minutes.
Ditch the headache of dealing with multiple brands to get them onboarded. Our reward marketplace has it all. Featuring 22000+ gift options from 5000+ global brands, our platform lets you curate and send rewards that your referrers and referees won't stop raving about.
Start free trial
3. Offer double-sided incentives
Double-sided rewards create a win-win situation for both parties. The referrer receives a reward for their referral, and the referred person receives a reward for trying out your product or service. This can help to build positive relationships with both parties and increase loyalty to your business.
An example of double-sided rewards is Dropbox's referral program. The company offers both the referrer and the referred person 500 MB of extra storage space on every successful referral.
This creates a win-win situation, as the referrer receives additional storage space for their referral while the referred person receives additional storage space for trying out Dropbox's service. This incentivizes both parties to participate in the referral program, driving more referrals and growth rate.
4. Time your referral campaign properly
"Strategy and timing are the Himalayas of marketing. Everything else is the Catskills." — Al Ries, an American marketing pro and author
Even if you have a terrific marketing plan and the greatest minds executing it, things can still go wrong if your timing is terrible. That's why finding the precise moments to pitch your referral program in the user journey is important.
Timing your referral program can also help you to test and optimize the program over time. By launching the program at different times and tracking participation and referral rates, you can identify the most effective timing for the program and make adjustments as needed.
📙
Ideally, the right time to ask for referrals is when customers make a purchase, which then follows with a nice, thank you message. Alternatively, try pitching referrals to customers when they make regular purchases or engage positively with your brand (subscribing to your newsletter, sharing your products on social platforms, etc.)
4. Make the participation process seamless
Will you like a web page that hangs or gets stuck when claiming your rewards? Or a web page that's fast, seamless, and keeps you away from manual, mundane processes to claim your referral rewards? The answer is obvious, right?
On the other hand, your referral program shouldn't add on the pile of tasks your team already has on a day-to-day basis. Imagine, checking and approving the reward winners one by one? That's why it's essential to keep the entire process easy and intuitive.
📙
Tip: Make sure to keep your CTAs prominently visible. Utilize automation in every step of the program. Reducing friction for participants makes it more likely for them to complete the referral process. This helps increase the success of your referral program, driving new customers and growth for your business.
5. Leverage templates to design your referral landing page
When a user clicks on the referral link, he/she is redirected to a referral landing page that outlines everything about the program. A landing page lets users go into more details like terms & conditions, rewards being offered, the benefits, and so on.
Hence, keeping it distinctive and attractive is crucial. The page must aim to persuade the visitors in signing up for your referral program, helping them become referrers or brand advocates.
📙
Tip: A simple and straightforward design is key for a referral page. Avoid cluttering the page with too much information, and focus on highlighting the key benefits and rewards of your referral program.
6. Promote the program on social media
Promoting your referral program on social media is a great way to reach a wider audience and increase participation in the program. Create social media posts that highlight the key benefits of your referral program.
Use eye-catching visuals and engaging captions to grab your followers' attention and encourage them to participate. Also, use relevant hashtags in your social media posts to increase visibility.
📙
Tip: Partner with influencers in your industry to promote your referral program. This could involve offering them special rewards or incentives for participating in the program and sharing it with their followers. Or you can even run targeted social ads to specific audiences. This helps increase awareness of your program and drive more referrals.
7. Use chatbots to get the word out
Chatbots can send automated reminders or invitations to keep your customers aware of your referral program while encouraging them to refer their friends.
Chatbots can easily discuss the benefits of your referral program that brand advocates can receive. Unlike referral emails and website ads, bots keep things simple. Their conversational nature enables them to market in an effortless, non-intrusive manner.
Uber's chatbot is a perfect example of this.
Credit: Uber
Once the account is set up, it not only informs customers to request rides but also gives referees a $20 ride credit if they recommend Uber to their friends.
📙
Tip: Use gamification techniques in chatbots, such as offering badges or points for successful referrals, to incentivize customers to participate in the program. This can increase customer engagement and make the referral process more fun and rewarding.
In summary
Referral marketing programs can be extremely effective when executed correctly. In fact, customers acquired through referrals tend to be more valuable, loyal, and have a higher lifetime value than non-referred customers. Not just that, they are a cost-effective way to acquire new customers compared to traditional marketing channels.
While these referral marketing strategies will help you drive more leads, make sure to have a strong customer base, great customer support, and product that's worth sharing.
Not sure how to set up a rewards program and what incentives to pick? We got you covered.
From setting up your referral rewards program to enabling you to curate attractive rewards to redeeming it, our platform ensures a seamless experience for both — the referrer and the referee.
See what we offer
---