Table of Contents
In an age where every business is vying for attention, customer loyalty is gold. While most of us are familiar with loyalty programs aimed at consumers – think frequent flyer miles or coffee shop stamp cards – there's another type of loyalty programs that's equally impactful yet often less discussed: Business-to-Business (B2B) loyalty programs.
In this article, we'll learn how a well-structured B2B loyalty program with the right rewards can be a game-changer in engaging your customers. By understanding the unique needs of B2B customers and offering rewards that genuinely add value, your business can foster strong relationships, drive repeat purchases, increase retention, and bolster your bottom line.
Let's dive in!
What is a B2B loyalty program?
A B2B (Business-to-Business) loyalty program is a strategic initiative designed by businesses to encourage and reward other businesses for their continued patronage, partnership, or collaboration.
Unlike B2C (Business-to-Consumer) loyalty programs, which are targeted at individual consumers, B2B loyalty programs are aimed at other businesses, typically clients, partners, or distributors.
A B2B loyalty program is defined by its objectives. In a B2B context, a loyalty program is key to:
Identifying a firm's best customers
Stimulating sales growth
Increasing market share
Building the switching costs
Acting as a barrier to customers switching to competitors
In the book Do B2B Better, Jim Tincher, the author of the book talks about leveraging a powerful model called CX loyalty flywheel to improve customer experience strategy.
Jim's book recognizes Nancy Flowers, a celebrated customer experience leader from a multinational insurance company, Hagerty, as a change maker. Hagerty boasts an 88% customer retention rate! Thanks to their emotional north star - happiness.
As a B2B2C company, Hagerty places great emphasis on keeping their agents and policyholders happy, a concept introduced by Nancy when designing their customer experience.
Nancy shares a story about Hagerty's roadside assistance program for classic car drivers. When the roadside assistance partners changed, customer satisfaction declined due to a lack of empathy from the new partners.
Realizing the importance of empathetic emotional experiences for drivers, Nancy and her team worked with the partners to restore previous customer satisfaction levels and increase revenue.
To create a superior customer experience, Nancy motivated her staff with client video feedback, showing "the good, the bad, and the ugly side of customer experience" in executive meetings.
Why are B2B loyalty programs important?
A curated B2B loyalty program can enhance customer experience by providing personalized and meaningful rewards, exclusive access to promotions and events, and expressing gratitude and recognition for the customer's loyalty.
This, in turn, leads to increased customer satisfaction, retention, and advocacy. When combined with change-makers efforts, B2B loyalty programs can ensure excellence in customer experience.
Here's how:
1. Increases top-line sales via repeat business
While a positive customer experience is essential for encouraging repeat business, a well-designed loyalty program can take it to the next level.
2. Boosts a customer's LTV (Lifetime Value)
B2B loyalty programs can increase customer LTV by incentivizing customers to make repeat purchases and rewarding them for loyalty.
3. Influences purchasing and selling behaviors
Understanding your customers' purchasing patterns allows you to promote specific products and services through your B2B loyalty program and influences their buying behavior too. The motivation to get the reward faster (time) and more often (frequency) incentivizes customers to spend more.
4. Reduces the overall cost of loyalty
B2B loyalty programs can reduce the overall cost of loyalty by:
Encouraging repeat business and increasing customer retention through rewards and incentives
Increasing the lifetime value of customers
Reducing the cost of acquiring new customers that come through referrals from loyal clients
Providing valuable data on customer behavior and preferences, allowing companies to tailor their marketing strategies for better ROI
5. Improves brand awareness and referral opportunities
In the B2B space, referrals play a significant role in driving business growth. A great customer experience can lead to positive word-of-mouth marketing, bringing in new customers and helping build brand awareness.
When a customer has an exceptional experience with a B2B company, it creates a story they are likely to share with their colleagues, peers, and industry networks. This helps build trust and credibility for the brand, increasing its visibility and creating new business opportunities.
Types of B2B loyalty programs
Depending on the type of your business and the goals you are aiming for, there are a variety of B2B loyalty programs you can opt for.
1. Perks program
A perks program is like an exclusive club for customers, with all benefits given upfront instead of gradually. While lucrative benefits encourage enrollment, purchase requirements ensure retention. Plus, a perks program is a proven revenue driver.
📙
The IBM Business Club
, a perks program that IBM offers to its B2B customers, serves as a perfect example. Members get access to the IBM business community, free trials of their top-notch tools, special discounts, and more.
2. Tiered program
A tiered loyalty program rewards customers based on their spending levels, with increasing benefits as they move up tiers. Customers can be upgraded or downgraded based on their next order, while large deals result in direct placement on a higher tier.
📙
The
Bank of America's Preferred Rewards for Business
is an ideal example of a tiered B2B loyalty program. Customers level up through five tiers: Gold, Platinum, Platinum Honors, Diamond, and Diamond Honors, as the business's combined balance in the bank grows. With higher levels come better rewards and benefits.
3. Points program
A point-based loyalty system (or earn and burn) is not driven by spending. Instead, customers get points for other tasks like taking surveys, training, referring your business to their acquaintances, etc. Upon task completion, they can redeem through discounts on future purchases, added benefits on existing services, upskilling benefits, etc.
📙
Remeha, a leading commercial heating solutions provider, rewards installers with points when they: register in the
My Remeha program
, opt-in for newsletters, fill out surveys, etc. The points earned further be redeemed in their gift shop to avail discounts on purchases, access learning resources, and much more.
4. Cashback program
Cashback programs offer direct financial benefits, returning a percentage of the purchase amount to customers in monetary or reward form. The value should be substantial yet profitable for the business.
📙
Celebrity Rewards
, a travel agent loyalty program by Celebrity Cruises, rewards agents with points, which can be converted into cash every time they make a sale. This cash is redeemed into a reloadable Celebrity Rewards Mastercard, which can be used like any other bank card. The value of the sale determines the number of points.
5. Experiential programs
Experiential loyalty programs create emotional connections by offering unique experiences like special events, games, movie nights, adventure sports, etc. However, to be impactful, these programs must be well thought-out, relevant to the customer, and must go beyond monetary value.
📙
The Marriott Bonvoy Events program
is an excellent example of this. It rewards planners for booking meetings and events at any hotels or resorts Marriott has partnered with. The planners are rewarded with points that can be redeemed against experiences like culinary tours, attending sports events and concerts, etc.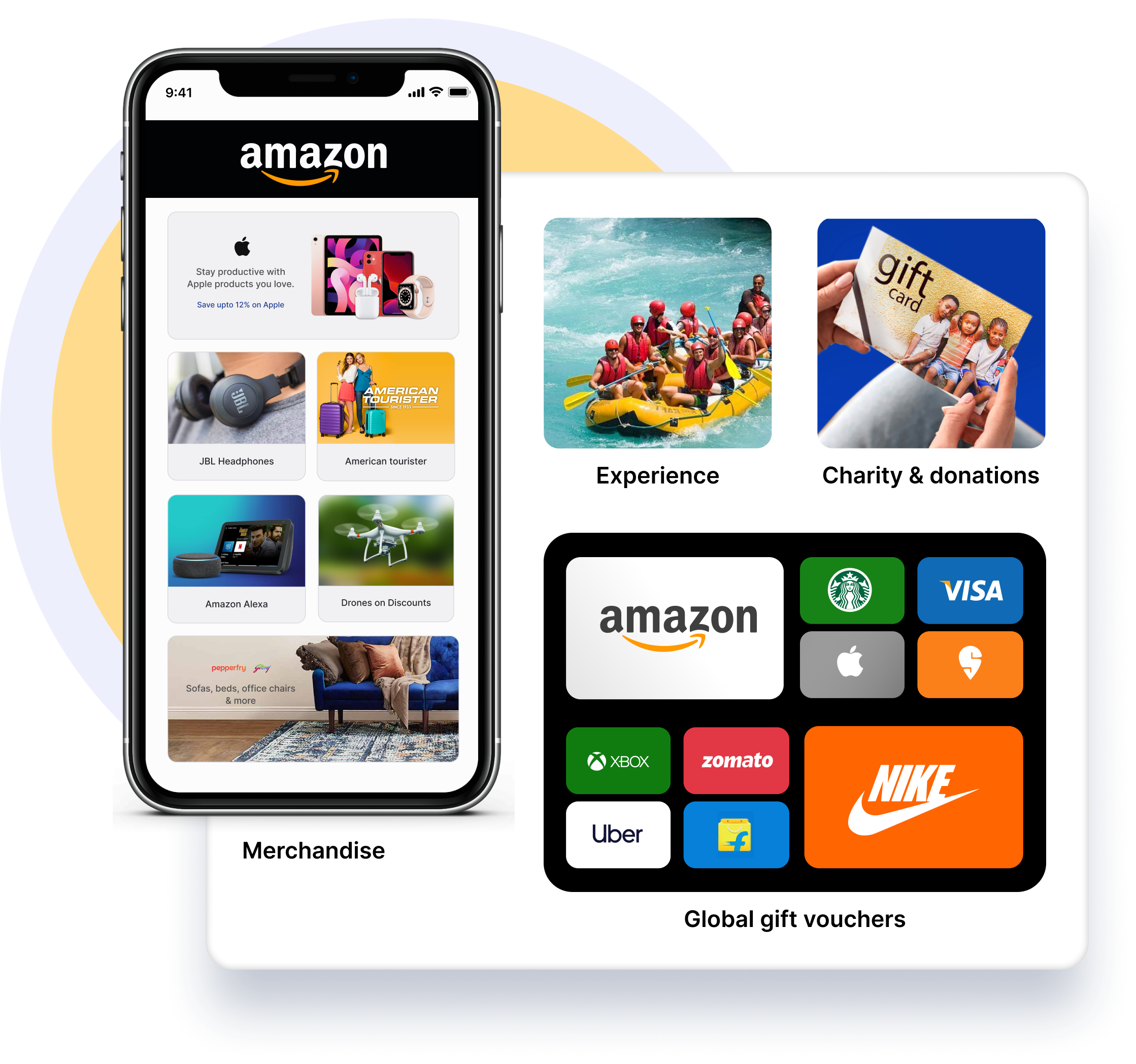 Give your loyalty programs a new makeover with Attractive Rewards
Explore our global catalog of well-curated branded e-gift cards, virtual reward prepaid cards, and experiential gifts ranging from sightseeing, hiking, music concerts, river rafting, spa, and much more. Manage your loyalty rewards better while giving a new twist to your retention marketing strategies.
Explore our marketplace
Difference between B2B and B2C loyalty programs
This table provides a general overview of the differences between B2B and B2C loyalty programs, but it's important to note that the exact nature of loyalty programs can vary based on the industry, region, and specific goals of the company implementing the program.
B2B Loyalty programs: Challenges and solutions
Loyalty programs have long been a cornerstone of B2C marketing strategies, with companies enticing consumers with rewards, discounts, and other incentives to retain their business.
In B2B, though the concept is catching on, it comes with its unique challenges. Recognizing and addressing these challenges is essential for creating a successful B2B loyalty program. Let's delve into the most common challenges B2Bs face and their befitting solutions.
1. Failure to collect and analyze customer data
Problem: One of the most significant oversights in many B2B loyalty programs is the failure to gather meaningful customer data. Without this data, it's challenging to understand customer behavior, preferences, and needs.
✅
Solution: Implement a robust CRM tool to capture, process, and analyze customer data. This will allow your business to segment customers, tailor offers based on their behavior, and predict future purchasing patterns.
2. Dilemma in deciding the right rewards
Problem: Knowing what rewards resonate with your B2B clients can be tricky. Unlike B2C, where preferences can be more generalized, B2B clients might have specific needs and preferences.
✅
Solution: Implement a digital rewards platform that will automate this job for you. Instead of guessing the type of gifts your clients would like, send them a set of options to pick from. But make sure the rewards platform you choose integrates with your CRM, making the job easier.
3. Inability to deliver rewards across geographies
Problem: If your business has global clients, offering rewards can be a logistical nightmare. It's expensive and becomes burdensome.
✅
Solution: Consider digital rewards, such as e-gift cards, which are universally accessible and don't require physical delivery. Partner with a digital rewards service provider that also solves the currency conversion issue.
4. Complicated redemption process
Problem: A cumbersome redemption process can deter your clients from using the loyalty program. Currency conversion issues further complicate this.
✅
Solution: Streamline the redemption process with a user-friendly interface. For currency conversion, integrate real-time currency conversion tools or offer standardized rewards across currencies, like points-based systems.
5. Lack of insight into how your loyalty program is doing
Problem: Proper tracking makes it easier to know if your loyalty program is effective or if your clients are engaged.
✅
Solution: Have a robust rewards platform with a tracking system that monitors real-time redemption status, engagement levels, and amount spent. This will give your business a clear picture of program performance and areas of improvement.
6. Lack of personalization makes the loyalty program less exciting
Problem: A generic loyalty program can get lost in the shuffle, failing to excite clients or reinforce brand identity.
✅
Solution: White label suggests a two-pronged approach: personalizing the program for each client based on their preferences while ensuring the program's branding aligns with your company's identity. This creates a unique and memorable experience for your clients.
7. Issues with technology (high development cost) and integration (inability to link with existing CRMs)
Problem: Developing a loyalty program can be costly, and integrating it with existing systems can be technically challenging.
✅
Solution: Instead of building from scratch, consider leveraging white-label reward platforms that can be customized for your needs. These platforms often have built-in integrations for popular CRMs, reducing the technical hurdles and costs.
B2B Loyalty program examples
All the above things considered, let's have a look at three B2B loyalty programs that have proven how customer engagement in the loyalty program fuels business growth:
1. Lenovo's Leap Loyalty Program
The Lenovo Expert Achievers Program (LEAP) was born out of necessity when IBM sold its System X86 server division to Lenovo. IBM asked its business partners in 60 countries to switch to Lenovo's distribution channel to sell these servers. Lenovo was not a big name in the server business and had to convince these business partners to remain in the distribution. It also had to establish its name in the server business, for which not losing out on the business partners was crucial.
The loyalty program had two key components:
'Learn and Earn,' provided incentives for educational and learning behavior. The educational tools provided in this component helped business partners sell Lenovo products more effectively.
'Sell and Earn,' rewarded these business partners for selling Lenovo server products and solutions.
Outcome:
LEAP doubled the active user base of the former IBM business partner channel that had migrated to Lenovo.
The revenue was 40% over the target.
In 2015, LEAP participants sold seven times more Lenovo products than non-participants.
Key takeaways:
A well-curated loyalty program can:
Influence customer behavior that leads to better business outcomes.
Contribute to brand building with the right triggers.
2. IKEA Business Network
The IKEA Business Network is a loyalty club for small businesses in the furnishing, residential construction, retail, and hospitality industries. The loyalty program offers these small businesses a  variety of benefits that are usually provided to corporates. These include training programs, perks, discounts, space solutions, etc.
Outcome:
The IKEA Business Network has over 300,000 members in the UK, Japan, and Spain markets.
The targets were exceeded by 29% in the UK, 250% in Spain, and 108% in Japan, within six months of launching the loyalty program.
Key takeaways:
Providing small businesses with benefits usually reserved for corporates can help build long-term loyalty and trust.
Offering a wide range of benefits, such as training programs, perks, discounts, and solutions tailored to the industry, can appeal to a broad customer base.
Careful market research and customization of the loyalty program can lead to successful adoption and engagement by customers.
Measuring the loyalty program's success against specific targets can refine the program and improve its effectiveness.
3. Help for Hospitality by Brakes
Help for Hospitality is a loyalty program started by Brakes, one of the UK's biggest B2B hospitality companies. It was started during the pandemic to counter the instability and uncertainty among its customers. Brakes offered them up to a 10% cash back on purchases of more than 3500 products, which allowed the customers to save a lot during the pandemic.
By offering customers the option to donate their cashback rewards to charities, Brakes not only improved their brand perception but also demonstrated their commitment to corporate social responsibility. Companies that prioritize social responsibility and sustainability over just maximizing profits are perceived as more valuable and trustworthy.
Outcome:
The customers who participated in the Help for Hospitality loyalty program accounted for 60% of Brakes' sales revenue.
Customer engagement increased by 61% as compared to participation in previous promotions.
10% of the spend by the customers in Help for Hospitality was in new categories where they had not previously traded.
Key takeaways:
Supporting your customers during hard times goes a long way. For example, helping the entire hospitality sector of the UK stay strong during the pandemic has brought Brakes into the limelight. This keeps its existing customers loyal and brings in new customers.
B2B Loyalty programs strategies and best practices
B2B relationships are just as crucial, if not more so, than B2C relationships. With longer sales cycles, larger transaction values, and the significance of repeat business, as a B2B company, you need to establish strong bonds with your partners.
Loyalty programs can be the perfect vehicle for this. However, B2B loyalty program strategies differ from those for B2C. Let's explore some of the best practices and strategies to make your B2B loyalty program successful.
1. Create a buyer persona
Why it matters: Understanding your customer is the cornerstone of any marketing strategy. In the context of B2B, this translates to understanding not just your clients but the key decision-makers within them.
Best Practice: Develop a detailed buyer persona that includes demographics, job responsibilities, pain points, and goals. You can tailor your loyalty program to offer real value by understanding their challenges and needs.
2. Measure the crucial metrics
Why it matters: With measurable outcomes, you will know if your loyalty program is succeeding or needs adjustment.
Best Practice: Focus on metrics like customer retention rate, customer lifetime value (CLV), and Net Promoter Score (NPS) to gauge the effectiveness of your program. Regularly reviewing and acting on these metrics ensures the program's ongoing success.
3. Choose the right rewards
Why it matters: The B2B loyalty rewards need to offer tangible value that aligns with your client's business needs.
Best Practice: To grab customer attention, offer branded e-gift cards, virtual prepaid cards, or experiential gifts. The goal is to provide rewards that cater to the specific needs of B2B clients.
4. Personalize your messaging
Why it matters: Generic messaging can appear insincere and may not resonate with your audience.
Best Practice: Tailor your communication and use the data you've gathered about your clients. Personalized reward messages based on their purchase history, industry, or challenges can make your program more engaging and relevant.
5. Don't make it too salesy
Why it matters: Your B2B clients seek genuine partnerships, not just transactional ones.
Best Practice: Focus on building trust and offering value. Instead of constantly pushing for a sale, provide resources, insights, and support to help your clients succeed.
6. Give early access to new features and releases
Why it matters: Exclusive access makes clients feel valued and offers them a competitive edge.
Best Practice: Use your loyalty program as a platform to offer loyal clients a first look at new products, features, or services. This strengthens the bond and provides valuable feedback before a full-scale launch.
7. Align program goals with sales and marketing goals
Why it matters: A disjointed strategy can dilute the effectiveness of your loyalty program.
Best Practice: Ensure that your loyalty program goals, whether it's client retention, upselling, or gathering feedback, align with the broader goals of your sales and marketing teams. This creates a cohesive strategy that amplifies the impact of each component.
B2B Loyalty program reward ideas
The B2B loyalty rewards you choose should be based on the value and needs of your customers, your company's capabilities, and the perceived value of the reward to the customer. Always ensure that the rewards are meaningful and relevant to the customer's business and industry.
Here are a few B2B loyalty reward ideas to make a note of:
Conclusion
A well-structured B2B loyalty program with the right rewards can be a game-changer in customer engagement. By understanding the unique needs of B2B customers and offering rewards that genuinely add value, businesses can foster deeper relationships, drive repeat purchases, and bolster their bottom line.
In the end, it's not just about offering rewards; it's about demonstrating a commitment to the customer's success. And when businesses get it right, the results can be transformative.
---