Table of Contents
According to recent research conducted by
Accenture
, 77% of partners stated that they have more choices of providers than they had three years ago.
With rapid technological progress, the business world has seen a significant power shift between large technology suppliers and strategic partners, with the latter now having more alternatives.
The two main reasons for this are:
Rising customer expectations for personalized solutions
A broad set of providers/vendors with different offerings to satisfy customer needs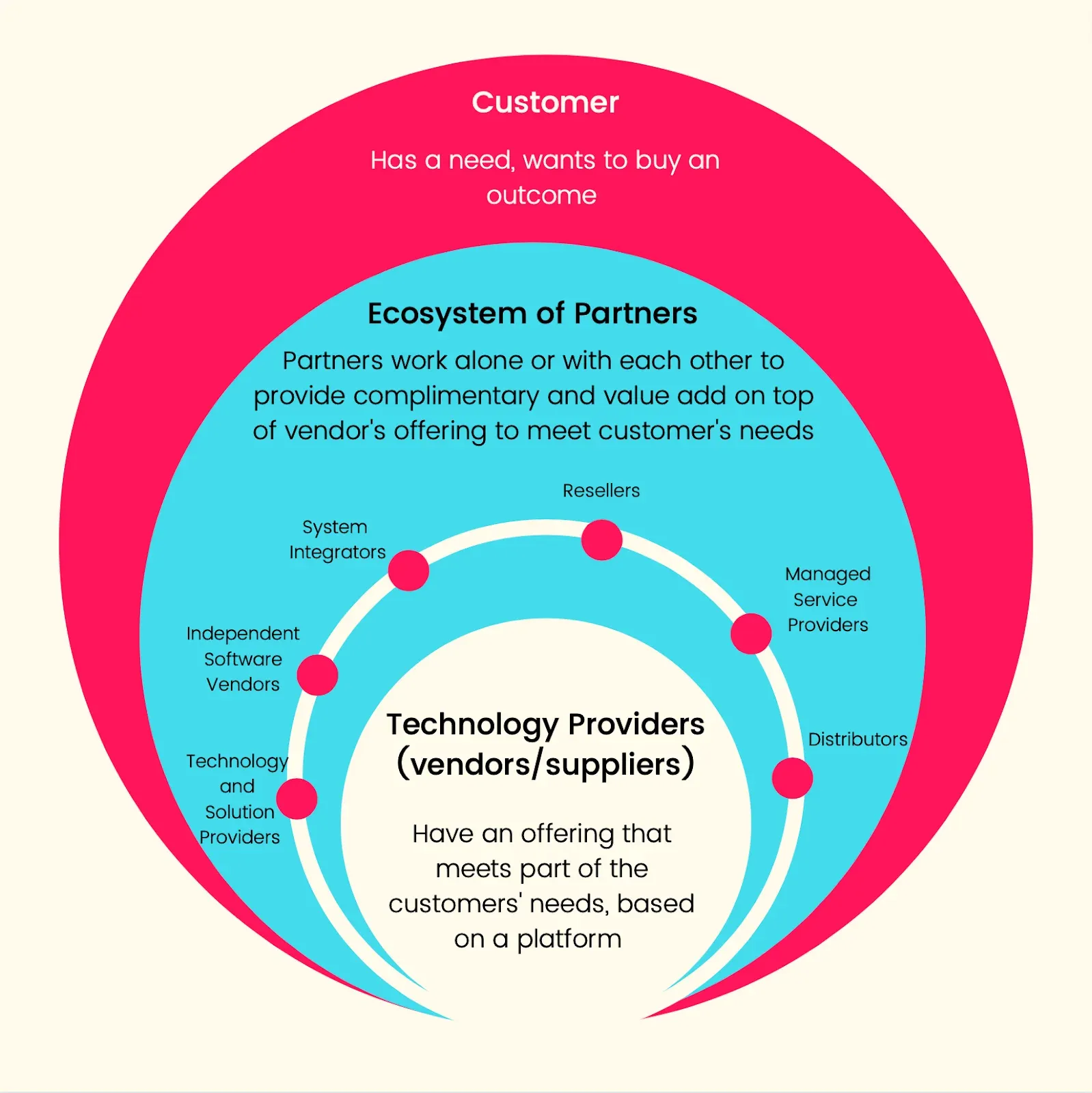 To generate the most from the partner program, providers must go beyond transactional partnership models and focus on the competency areas and moments that matter to the partner.
Businesses/vendors must orchestrate an ecosystem of 3C's to attract partners:

Co-innovation: Explore co-innovation opportunities with partners using Solution funding, developer toolkit, and solution marketplaces.
Co-investment: Rethink the co-investment approach. Think about how partner and provider contributions are assessed and tracked. Incentivize partners for meeting sales targets generating leads and referrals.
Collaboration: Achieve cooperative relationships with partners across multiple channels by providing them training about your product and values, inviting them to webinars or events, etc.
12 Types of Channels Incentive Programs with Examples
Here is a list of 12 types of channel incentive programs that can help you create a meaningful partner strategy.
1. Value-added reseller (VAR)
According to
HubSpot
, value-added resellers specialize in purchasing and reselling technology products with additional software or features that are above and beyond the standalone features of the product.
For example, a VAR can develop an application for a particular hardware platform and then sell that combination as a turnkey service or tool. So if you want your VAR sales reps to push harder, reward them for their effort. According to research conducted by Ariyh, such incentive programs can increase your total sales by 6% to 9%.
Benefits
Increase market reach: Manufacturers and distributors can use VAR incentive programs to broaden their reach and market penetration.
Handle complex IT projects: VARs can be incredibly valuable in handling complex IT projects that are too demanding or time-consuming for in-house employees.
Challenges
Trust issues: Many vendors find it challenging to trust VARs, as they are another company.
The intermediary role of VAR: Businesses are not happy with the profits enjoyed by VARs because of their role as intermediaries. VARs might also not share customer ownership and contact.
Example
Cisco's Channel Partner Program is a good example of this. This award-winning program provides solutions, training, tools, and support to value-added resellers (VARs) to help them accelerate profitability and grow their businesses along with Cisco. In addition, the resellers can reinvest in their business using their rewards from selling targeted technologies.
VARs frequently collaborate with third parties to deliver a complete solution to suit the needs of their clients. These are often independent businesses that provide specialized software and expertise. These Independent Software Vendors (ISVs) typically have long-standing working partnerships with VARs.

For example, HP's ISV partner program runs two tracks for ISVs—the virtual reality track and a retail track.

➼ Under the virtual reality track, HP wants its ISV partners to leverage HP's massive product line of VR-ready devices and sell immersive solutions to the end customers.

➼ Under retail track, HP aims to boost sales for its purpose-built retail platforms, which includes tablets, mobile, convertible, and fixed position solutions.

HP incentivizes its partners with marketing, sales, and technical support. As a result, it becomes a win-win situation for both HP and ISV partners.
Occasionally small and medium-sized businesses (SMBs), nonprofits, and government agencies also hire managed service providers (MSPs), which are third-party companies, to remotely control their information technology (IT) infrastructure and end-user systems. These services may include network and infrastructure management, security, and monitoring.
A perfect example of incentivizing these MSPs is Google Cloud's partner program. Market research found that for every $1 of Google Cloud technology sold in 2020, partners are likely to generate $5.32 through their offerings, services, and IP globally.
2. Sales performance incentive funds (SPIFs)
SPIFs are intended to motivate your channel partner's sales team since these incentives are given to the salesperson (rather than the partner). Therefore, SPIFs are a fantastic way to generate short-term growth or enhance sales by motivating your channel partners, especially during off-seasons or slower periods.
Since SPIFs are focused on incentives, your prize selection is crucial in developing a successful strategy. If your participants aren't excited about your offer, they may be less inclined to perform.
There are several ways to recognize and reward sales performance. It all boils down to developing a customizable incentive scheme to keep the sales team motivated and pushing for improved results.
Benefits
Helps target key individuals: This allows you to target key individuals in the partner community to promote desirable behaviors in line with vendor goals.
Counter competitors: Helps you respond quickly to a new competitor's program and maintain market share.
Increases sales momentum: A SPIF is a well-known motivating tool for increasing sales momentum among your channel partners.
Challenges
Response to unforeseen circumstances: SPIFs are often planned reactively to unpredictable market or organizational dynamics. However, poor planning or execution might have a detrimental long-term impact.
Unclear Incentives: When sales staff can't clearly understand how they're going toward the SPIF, they won't be consistently encouraged to pursue it, limiting the impact of SPIFs.
Example
The Vonage Channel Partner Program creates a holistic partnership experience with immense income opportunities to motivate its partners. As a Vonage channel partner, you have access to speedy in-house customer and technical assistance. Training and certifications (both live and on-demand), sale promotions funds (SPIFFs), and many more incentives.
From a SPIF perspective, Vonage allows earning up to 8X MRR (Monthly) based on the duration of the contract and the number of deals closed.
3. Market development funds (MDFs)
MDFs are resources you make available to your channel partners to help them with their sales and marketing efforts. These incentives might be monetary or educational.
Though marketers use MDFs in their channel partner teams for several initiatives, they often intend to increase local brand recognition. For example, partners can use MDF to acquire radio ads, fund webinars, purchase exhibit space at a trade show, or conduct a marketing event.
Benefits
Leverage partner market knowledge and power: No one understands your channel partners' markets and account bases better than they do. MDF provides a formal mechanism for vendors and partners to co-invest in activities that maximize partner strengths and offer the maximum potential profits for all parties.
Generate a measurable return: MDF enables you to have a quantifiable quantity of potential new customers reached, leads produced, or lead conversions to finished agreements.
Challenges
"Use it or lose it" deadlines: The most prevalent issue among partners regarding MDF is that they cannot effectively prepare to exploit a vendor's MDF because the offers only last a quarter or, worse, 30 days.
Stringent terms and conditions: To counteract fraud and MDF misuse, several vendors have developed strict rules restricting even the tiniest components of a solution provider's MDF-backed advertising or marketing campaign. This makes it difficult for resellers to develop creative activities, and if they violate the regulations, they are not rewarded.
Example
The AWS Partner Network (APN) program enables partners to engage with AWS to drive successful customers and build their businesses. In exchange, they get access to incentives and discounts such as Marketing Development Funds (MDF) and Partner Opportunity Acceleration Funds, among others.
4. Cooperative funding (CO-OP funding)
Cooperative funding (also known as CO-OP funding) is a way for businesses to assist channel partners in meeting their marketing objectives. In addition, CO-OP incentives are gained, rewarding your partners for their loyalty and continued purchases from you.
CO-OP funds were traditionally distributed as account credits. However, many manufacturers have discovered that credits do not always generate mental satisfaction for partners. Thus, a more recent solution to distribute the Co-Op funds is as part of a rewards and loyalty program.
Benefits
More money, more ads: Co-op enables partners with more ability to spend in areas like larger ad space and longer runtimes that they would not be able to afford otherwise. It also provides the corporate brand with a degree of local presence that they could not attain independently. It's a win-win situation.
Opens doors to new ways of marketing: With the financial assistance of corporate co-op funds, partners will be more willing to test new marketing strategies and experiment with innovative marketing concepts.
Challenges
Small business, small budget: Day-to-day operations of small businesses do not have the cash to pay for Co-op marketing campaigns in advance of reimbursement.
Put a strain on your marketing/sales team: In general, co-op finances are simply another obligation added to your marketing or sales team. Instead, a dedicated team should be working on your through-channel marketing campaign to guarantee that your co-op cash or market development funds are spent efficiently.
Example
Microsoft's channel incentive program supports channel partners in earning cooperative marketing (co-op) funds by claiming reimbursement for activities that promote Microsoft products.
5. Deal registration incentives
A deal registration program incentivizes channel partners for bringing new leads to a vendor by providing them with an exclusive way to promote the registered lead.
Typically, the deal is recorded online, and the vendor then examines the lead against specified criteria before approving or rejecting it. If accepted, the partner has a certain amount of time to close the deal before losing its incentive. During this period, it's usual for vendors to offer support to partners to help them clinch the deal.
Benefits
Enhanced efficiency: It prevents excessive resources from being squandered on a single lead; by spreading your attention, you will acquire more leads.
Increased partner satisfaction: If your direct sales team steals leads from your partners, you will lose trust and maybe lose partners. Deal protection demonstrates to your partners that you appreciate their contribution to your sales process and guarantees that they are compensated for their efforts.
Challenges
Transaction complexity: Deal registration programs provide a level of transaction complexity, inconsistency in terms of adherence to registration regulations, and technical issues with deal registration websites.
Example
Dell Technologies Partner Program accelerates growth opportunities for channel partners by incentivizing them with several benefits like deal registration incentives, proposal-based marketing funds, valuable product & solution training, etc.
6. Enablement and training incentives
Sales enablement and training incentives, also termed behavioral incentives, are programs designed to provide sales reps with the necessary tools to progress to the ultimate end goal, closed deals. Each step of the way, reps can be rewarded for activities like certifications, participation in trade shows, quizzes, seminars, webinars, demos, proposals, etc.
Representing a brand for a parent business requires a thorough understanding of its products and services because channel partners do not work for the firms they sell for. Instead, it is the parent companies' responsibility to train them. Why? Because partners often sell things they are most familiar with. This is especially significant when partners sell a variety of brands.
Benefits
Lower support costs: A well-trained partner does not require regular assistance when things do not go as planned. They are knowledgeable enough to figure things out on their own. It lowers the cost of the support resources you would typically supply in such scenarios.
New revenue stream: You can create a new revenue stream when you teach your partners. You can sell certification training programs in which channel partners can enrol.
Challenges
Exclusion: As channel partners are not your employees, they may feel alienated from your company's culture and values. It may also cause a rift in how your organization and its partners see business objectives and demands.
Cultural issues: Partners are generally distributed around the globe. Cultural differences, including language and beliefs, might impede a productive working connection.
Example
'Gem Club,' HP's Blue Carpet incentive program is truly a gem of a program that rewards partner sales representatives for selling across the HP portfolio and providing solutions to customers.
Individual partners who sign up for Blue Carpet are rewarded with digital gems, as they complete various pre-sales and post-sales activities like demos, surveys, training, etc. The reps also compete for 'elite' status in the GEM club.
After completing the one-year program, the top ten performing delegates from the United States and Canada receive a three-night trip to an exclusive island retreat 1 in the Bahamas in appreciation for their participation in the program.
7. Loyalty incentives and partner retention
Brands run channel loyalty programs that focus closely on their high performing partners like VARs, ISVs, MSPs etc. Incentives used to strengthen the partner relationships besides time and care are called loyalty incentives.
Besides sales volume, companies should also focus on the long-term aim of sustaining the relationships they have established. They say, "you must spend money to create money." Staying true to this statement, you can incentivize your top-performing partners once they reach their sales targets. Incentive programs can pivot from rewarding growth to retaining the talents that you can't afford to lose.
To keep them, reward their commitment. Else, your competition might poach them.
Benefits
Increases partner retention: Loyalty programs make partners feel valued, encouraging them to continue doing business with you.
Attract new partners: A well-designed loyalty program may assist a company in attracting new partners. New partners can quickly join your partner program with points or discounts, helping you boost sales.
Challenges
Market saturation: Many firms use comparable loyalty programs, making it challenging to retain your top partners. Developing a unique loyalty program based on competitive advantage is difficult.
No control over partner leaving: Despite giving incentives, partners may want to leave because of circumstances that aren't under your control. For example, they might be getting a better opportunity, network expansion, etc.
Example
Dell's partner program rewards resellers for their purchases with benefits such as a loyalty program which provides an opportunity to earn marks (points) that they can exchange for e-vouchers against future Dell orders or co-branded marketing materials.
Implementing a point-based reward system may seem like a daunting task, but with Xoxoday it's a cakewalk. Xoxoday integrates with a variety of performance tracking systems for enabling rewards and incentives. Explore Xoxoday integrations today!
8. Rebates incentives
Channel rebate incentives are designed to increase demand and sway customer preferences. They are frequently volume-based, which means that your partner must sell a certain number of products to earn their incentive. They then pass on the savings to their clients.
You can also utilize channel rebates to gather data of potential customers that including obligatory form fills.
Benefits
Sales growth: This encourages your channel partners to sell your products more.
Building a consumer base: It is an excellent approach to building your brand, which, when executed right, can turn your happy customers into brand ambassadors.
Challenges
Limited bandwidth for internal implementation: It may be challenging to determine how many employees should be assigned to manage this program.
Complexity: It might be tough to establish a rebate program with different processes to receive money back while also ensuring that customers benefit.

Do you spend way too much time planning and tracking your rebate programs? It's time to automate your rebates program using Xoxoday's robust reward engine.
Example
Salesforce engages and rewards channel partners smartly through an ecosystem designed to optimize incentives. They increase rebate program attainment by automating rebate calculations, accruals, and payouts and provide sales teams and channel partners with improved visibility into threshold achievement.
AWS's partner program is another example of a goal-driven rebate program. This new initiative aims to transfer ISV application workloads to the platform. In addition, each cloud migration must produce at least $36,000 in annual recurring revenue for AWS within a year.
In turn, AWS will spend up to 15% of the post-migration income to assist customers in reducing expenses, with the amount dependent on workload and the complexity of the migration project.
9. Referral incentives
Referral partners are business associates who can bring massive value to a business with their strong referral network. They recommend a particular company and its services to potential customers, helping brands reach corners of the market they may not get otherwise. Incentives given to these partners to reward referrals are called referral incentives.
A growing trend that IT companies tend to notice these days is the way channel partners are influencing and introducing opportunities to them, broadening their overall reach.
Typically, referral partners recommend eligible buyers to your company. In exchange, you reward partners with increased deal registration and opportunity identification. (In most cases, a portion of whatever sales they make).
Points-based awards, gift cards, debit cards, and incentive travel programs are all forms of referral incentives. You may also give these quarterly or annually to encourage your partners to compete for the main prize.
Benefits
Clear result visibility: It is a systematic channel incentive approach since you can see your results.
Win-win situation: It's simple to justify the investment in rewarding partners because you don't pay out until the deal is closed, making it a win-win situation.
Challenges
New approach: This is a relatively new approach to rewarding channel partners, and many vendors are unsure how to manage a referral program or how much they should pay out to partners.
High costs: Referral commissions can be higher than those offered in an affiliate program.
Example
Trello incentivizes partners by giving them credit for referrals. What makes Trello's referral program so effective is its encouraging messages ("adding collaborators to your boards" and "start collecting free gold") that speak the language of their users.
10. Influencer Channel
65% of B2B buyers said they prefer credible content from industry influencers?
You can reach out to any influencers and ask them to evaluate your software on their social media platforms. Influencers then spread the word about your product or service in their networks. They advertise, suggest, and refer using their capacity to influence potential people.
If anyone in their network uses their code to purchase, you can send the incentive to that specific influencer.
Benefits
Brand awareness: It can shorten your sales cycle and increase brand awareness.
Network: You can expand your network manifold.
Challenges
High demand for influencers: Due to the high demand for influencers, you might have to incentivize them more frequently and with high value.
Example
Canva runs an affiliate program to incentivize partners to earn up to $36 for each new Canva Pro subscriber that signs up with their unique referral link. So any influencer on social media can share their unique affiliate links with the audience on any social media platform. Whenever someone buys a pro subscription using the affiliate link, Canva gives the influencer their promised incentive.

11. Solution development funds
If you sell a product that needs demonstrations by your channel partners, you can consider establishing a solution development fund. Using this fund, you may reward partners for creating creative solutions that use your product as a foundation.
Solution Development Funds help support demonstrations, proofs-of-concept (POCs), and product launches. This increases the likelihood that your partners will sell your goods and stay with your firm in the long run.
Benefits
Aid in planning marketing: Partners may efficiently align their marketing plans to launch, raise awareness, and build demand for the co-developed solution.
Effective for complex products: It is an effective channel incentive for products and services that have a lengthy and complex development and sales cycle.
Challenges
Unattractive incentive program: If partners do not find the solution development fund appealing enough to drive them, the incentive program may fail.
Complex processes: Partners may find it difficult to engage if the regulations, lengthy approvals, and claim processes are cumbersome.
Example
IBM has invested USD 1 billion in incentivizing its channel partners with many benefits like no cost to the Software Access Catalog for new partners, incentives for Proof-of-Concept (POC), etc.
12. Staffing or embedded headcount
Staffing/Embedded Headcount incentives are a type of enablement and training incentives. A full-time employee is embedded in a partner organization to teach partners and promote the product in the partners' businesses.
Benefits
Improved channel partner performance: Training provides channel partners with product expertise, allowing them to effectively communicate the advantages and values your product offers to buyers.
Brand growth: Trained, authorized, and long-standing partners contribute to brand growth.
Challenges
Cultural differences: Because partners are often distributed over the world, the issue of cultural differences, including language and values, might deter a productive working connection.
Example
Usually, partners starting afresh need an expert from the vendor's side to catch up faster in the program. Nebulon adds internal headcount to ensure OEM partners could be brought up to speed with the programme, with the resellers that qualify for rewards identified. This gives partners an additional motivation to better engage with incentive programs.
Channel Incentives that Boost Growth
Many businesses have taken significant steps to accomplish growth in this changing and demanding selling environment, such as establishing new digital channels, including specialized roles, and adopting team-based selling.
Optimizing the balance of incentives, targets, promotions, and bonuses for channel partners may be a growth engine. Smart compensation model tweaks have been discovered to have a 50% greater influence on sales than changes in advertising spending. Creating channel incentives with these five fundamental elements might help you develop a healthy partner relationship.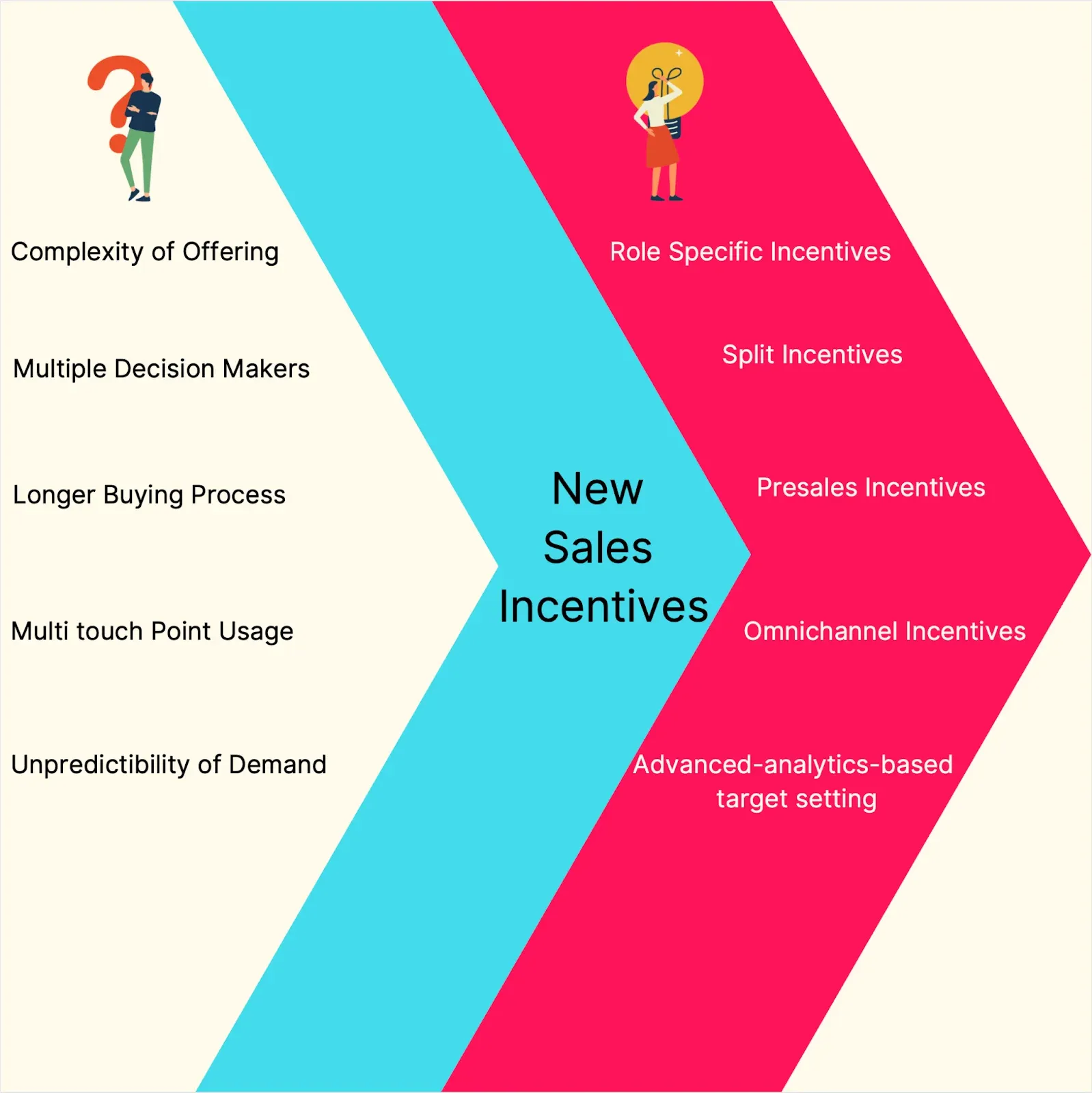 1. Role-Specific Incentives
The concept of a "product" has evolved considerably in the digital age. It is less likely to be a tangible thing and far more likely to be a service that involves a continuing connection with the consumer.
Whether this service is cloud-based software or mobile app capabilities, additional expertise is frequently required to support frontline salespeople in the sales process.
Many businesses, for example, will want solution architects to give technical know-how for digital or otherwise complex goods. These experts have the power to influence buying decisions of end customers. As a vendor, you can keep different incentives for people involved in different roles to accomplish a common goal.
2. Split Incentives
With more salespeople participating in each deal, everyone must collaborate in the most efficient and conflict-free manner possible.
This begins with assigning specific responsibilities to different members of the team. Then, there must be a strategy to reward each individual for their contributions. Finally, there should also be a governance structure to evaluate team members' efforts and resolve possible crediting issues. A situation like this encourages short-term, cross-regional, and cross-functional collaboration.
Many IT businesses, for example, offer incentives to channel partners' salespeople based on different contributions made by different reps in a sales cycle.
3. Presales Incentives
Customers spend more time analyzing options before settling on their best option, resulting in longer sales cycles.
A phased incentive program that supports both short-term and long-term sales cycles can enable the salesforce to stay motivated over such long periods. One method to do this is to reward salespeople for making intermediate progress on long-term transactions by allowing them to receive incentives before the sale's closing and depending on their progress in the sales funnel.
Companies, for example, provide deal registration incentives to channel partners in exchange for giving the lead and then offer them time to close the deal.
4. Omnichannel Incentives
With the growing online presence, customers engage with products and services more on online platforms.
This may result in excluding channel partners/dealers from the process, particularly during the actual transaction. Leading organizations address this by figuring out how to make online or mobile sales an incentive for salespeople or channel partners rather than a threat. One strategy is to compensate sales representatives or channel partners for their participation in online sales.
For example, a cloud-based software firm may offer referral incentives to its channel partners for each purchase made by a consumer using their referral code.
5. Analytics-Driven Incentives
The idea here is to reward reps for the quality of their actions rather than their contribution to sales in terms of dollars. You can use data to develop granular insights on what drives a rep's performance (for instance, using a particular type of demo that resulted in more sales) and then give recommendations to reps for selling actions. You can develop point-based channel incentive programs to reward fruitful selling actions—the ones you gather by analyzing data.
Key Takeaways
Due to increased customer expectations and more provider options, there has been a power shift from a vendor to a partner. Companies must co-innovate, co-invest, and cooperate throughout the channel partner ecosystem to attract partners for future development.
To promote cross-sell, incentivize VARs, ISVs with rewards, gift coupons, trips, etc.
If you want to create a long-lasting relationship with high-performing, in-demand channel partners, excite partners with loyalty incentives.
Businesses also award partners with funds like SPIFs, MDFs, when they meet the sales target and do extensive marketing. If you want your partner to create creative solutions using your product, you can set up a solution development fund.
If you want your partners to be invested equally in the rewards and risks of the business, you can consider setting up Co-ops (Co-operative Marketing Funds).
Motivate influential channel partners with referral incentives, rebates, deal registration incentives, etc.
There is also a trend of intangible incentivization for partners in knowledge sharing sessions, training, certifications, staffing, etc.
Re-engineer your channel incentive structure and reward framework in bold new ways with Xoxoday. Motivate channel reps with personalized gift vouchers or points-based incentives. With Xoxoday enable:
One-click payments by handling geographical payouts in varied formats like bank transfers, gift cards, credit notes, etc.
Multi-type channel incentives like MDF programs, SPIFFs, Rebate, and CO-OP funds through a single environment.
Automation for rewards delivery with custom triggers and workflows.
Error-free incentive distribution by making instant payouts across geographies without worrying about tax implications and compliance.
Explore Xoxoday today!
---