We all love great sales promotions. Whether it is 30% off, Buy one & Get one free, or a Limited period offer, we are all suckers for good deals. The delight of buying something new + the gratification of allowing us to save money is what makes sales promotions highly effective.
No matter how successful a brand is, it needs to boost sales. This could be when sales are super low or when they are trying to build a solid customer base. That's when the need for strategizing effective sales promotion campaigns comes into the picture. Sales promotions are one of the best marketing devices ever designed and one of the most used advertising channels to scale a business.
That's why the market for digital advertising is growing at an incredible pace. The earlier estimates of digital ad spending have surpassed, and the current projections will blow you away. Digital ad space occupies 67.8% of the total media ad spending today.
According to a report published by
emarketer
, digital ad spending is expected to reach a whopping
$645.8 billion
by 2024.
The numbers are staggering. No doubt. This also proves why companies like CRED (7.5 million users), Grab, Dominos, etc., have grown so much. They have inspired other businesses to run rewards-driven consumer and sales promotion campaigns through digital ads.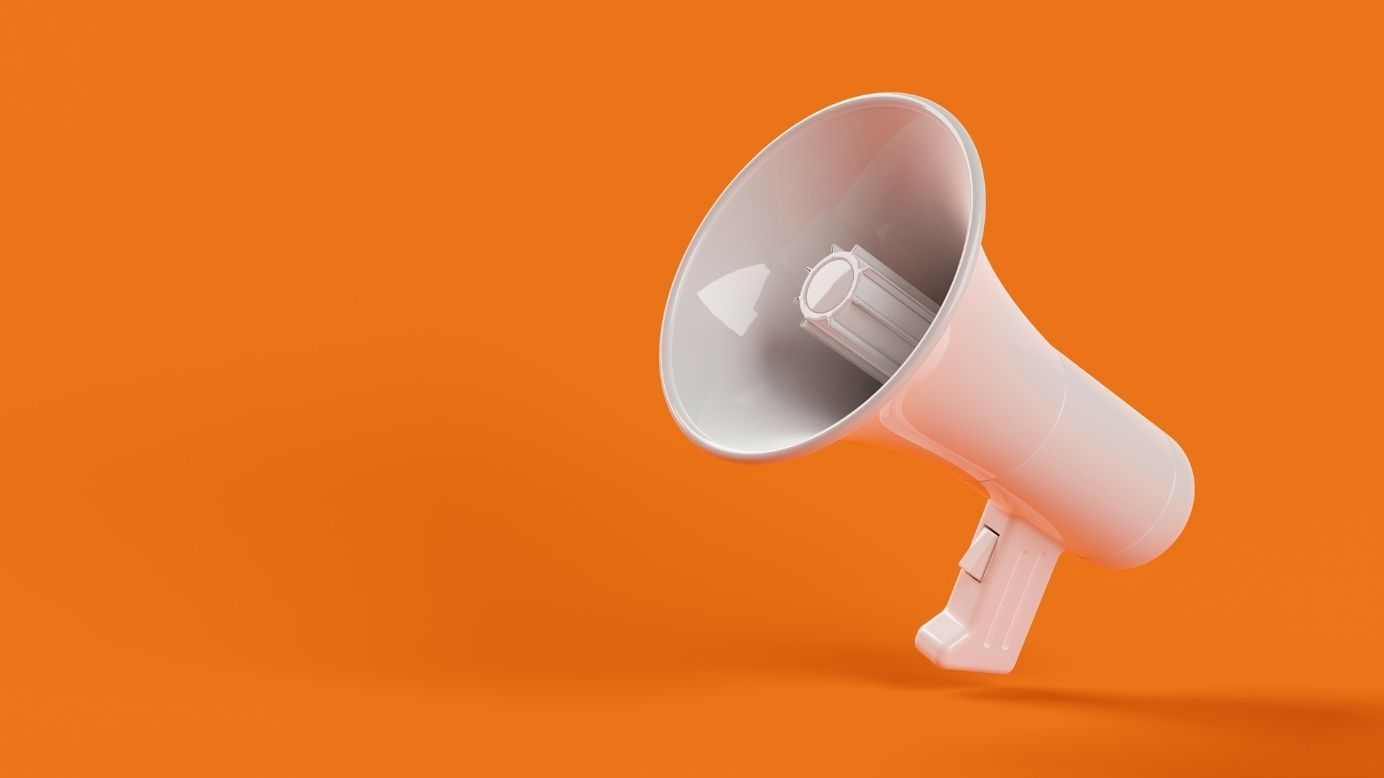 Examples of Sales Promotion Campaigns
Let's see how brands have done it in the past and witnessed success.
1. CRED
Of the many viral promotion campaigns that CRED ran to acquire users—one that gained the most attention was their 'Mega Jackpot Week,' which happened during IPL 2020. All that people had to do was pay their credit card bill via the CRED app and a few lucky users had a chance to win an iPhone, Gold, Harley Davidson bike, etc.
The campaign was a massive hit—it helped CRED raise its app downloads by 700%. More such viral sales promotion campaigns led CRED to where it stands today.
2. Grab
Grab's referral programs are another excellent example of how timely promotions can do wonders for a business. One of their referral programs went viral because it included attractive rewards. The promotion was about getting both referrers & referees onboard and rewarding them with $10. These promotions helped 'Grab' acquire new customers while building customer loyalty.
3. Dominos
Dominos is another brand that saw a 10X incremental return on investment of £113,000—doubling on their targets with 4:1 returns). Through timely sales promotions and personalized digital ad campaigns in the UK, Dominos reached 3.1 million customers.
Coming back to the big question—how to run successful sales promotion campaigns?
The time to plan consumer promotions is enormous. That is when you could be working on your actual product or service and enhancing your consumers' experience. And earning money, of course. If the campaign fails, the possibility of which is considerably high, the loss again is massive.
Your consumer promotion can fail if it doesn't cut through the noise of promotions your target customers are surrounded with. Promotional campaigns can also fail if you are not using the right tools, your audience is not interacting, or simply because you are targeting the wrong audience.
Quick Note: There are two types of sales promotions—Consumer promotions and Trade sales promotions. A sales promotion targets organizational customers, which stimulates immediate sales, while a consumer promotion targets the end-user.
Things to Consider for Running Promotional Sales Campaigns
To ensure a sale is well-received and delivers a high ROI (Return on Investment), every business must follow the best practices listed below.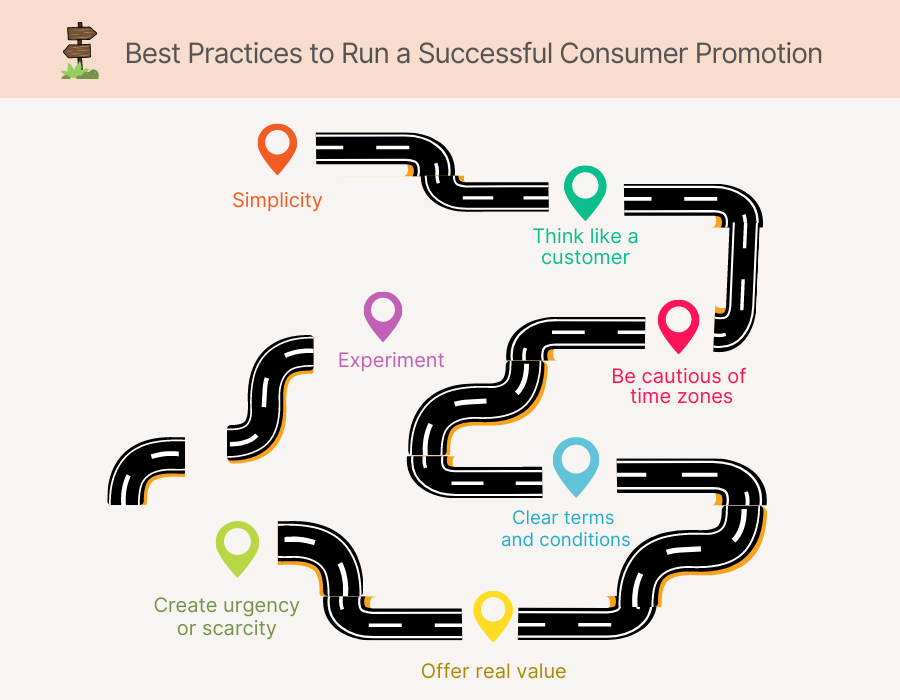 Keep things simple and clear: Stay away from creating anything complicated for your customers to understand. The easier the promotion, the more the interaction. Be it the offer or the design, keep it simple.
Think like a customer: The mindsets of sellers and buyers are different. As a seller, what might seem effective to you might not be appealing to a buyer (or customer). While brainstorming your sales promotion campaigns, put yourself in the customer's shoes.
Be cautious of the time zones: Keeping a check on time zones is crucial if you have customers worldwide. You don't want your promotional emails to reach your customer in the middle of the night. For example, if your target audience is working professionals, the chances are that they won't open your email during work hours. So it's best to send your promotions late evening. Experiment with multiple time schedules to see what works best for you.
Keep your terms and conditions watertight: Before publishing your promotion, make sure there are no loopholes in the terms and conditions. Keep them precise so that you don't face any problems in the future. Moreover, ensure that the terms and conditions are communicated to the customers.
Offer real value: For promotional campaigns to work, they should provide real value. Your customers will invest if they find the offer valuable enough for their time and money.
Create a sense of urgency or scarcity: 'Urgency' is one of the best-selling techniques and creates FOMO (Fear of Missing Out) in a customer. The sense of urgency or limited options makes customers take action instantly. To make a significant impact, generate FOMO. Nike is known for the simplicity and directness of its advertisements.
Test different ways of presenting sales promotions: What might work for someone else might not work for you. The key is experimenting with ideas and coming up with different ways to present your sales promotions better than before.
Let's consider the CRED example again. Their 2020 IPL advertisement campaign Mega Jackpot helped them raise their app downloads by 700%.
Have a look at this Mega Jackpot promotion that CRED ran during the IPL that provided its customers with a chance to win the latest iPhones to gold to even Harley Davidsons: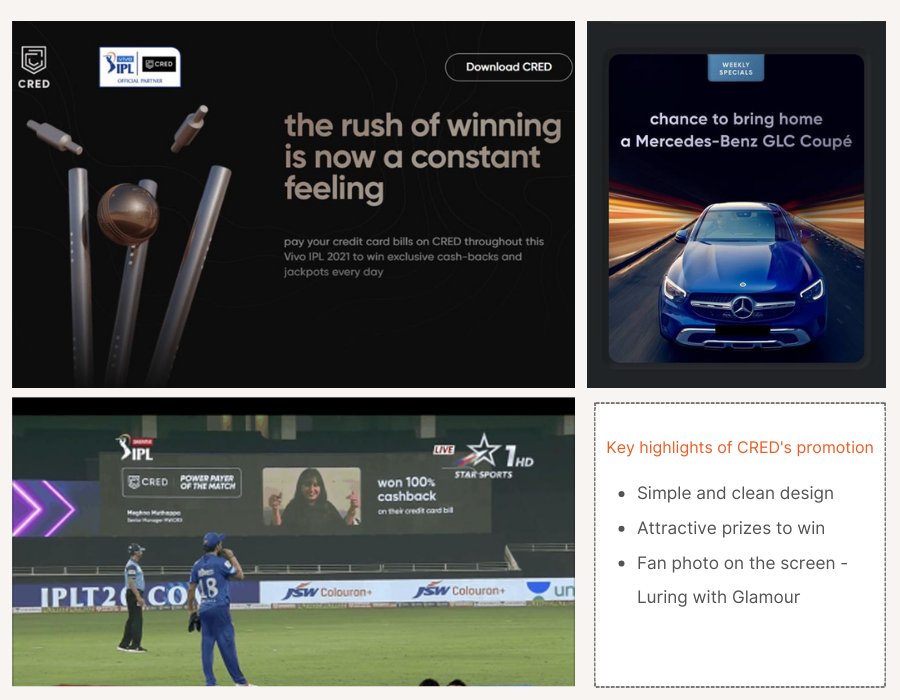 Let's see if CRED's weekly mega jackpot promotion passed the test of best practices:
Analysis of CRED's Mega Jackpot Promotion
Aspect
Done well
How did they do it?
Simplicity
Yes
All that a participant had to do was to pay credit card bills using their CRED app.
Customer as to the key focus
Yes
Since the customers weren't getting anything in return for paying their bills before, they were tempted to use CRED in exchange for rewards.
Time schedules
Yes
They were targeting Indian audiences, and the time interval they chose for the campaign was during IPL matches. Also, the time when social media is flooded with cricket updates.
Clear terms & conditions
Yes
The terms and conditions of CRED's promotion were not only super clear but also easy to understand when it came to the jackpot.
Value-based offers
Yes
The prizes offered in the jackpot promotion were luxury products (of large value).
Create FOMO
Yes
The participants were eligible for the jackpot only if they paid bills in a certain time period.
Clean and neat presentation
Yes
CRED tested a variety of ways to advertise the jackpot—from social media campaigns to hiring celebrities.
CRED's example clearly shows the effectiveness of strong campaigns paired with digital advertisements. The hyper-increased use of social media just adds to it.
5 Mistakes to Avoid while Running Sales Promotion Campaigns
Insufficient research: Before planning anything about your promotion, conduct a thorough research around your customers and your industry. Understand the likes and dislikes of your customers and plan accordingly. Knowing your competitors and their strategies is also equally important and creating competitive battlecards help you identify any gaps between yourself and other players in the market which then allows you to plan accordingly..
Not having a clear goal: Think about what you want from your consumer promotion. Is it more sales? New customers? Or something else? Defining your goals is one of the most crucial steps to making your consumer promotions successful.
Not keeping track of your performance: The idea is to recalibrate the promotion strategy based on each campaign's performance. Tracking the performance shall help you gauge signals about your customers' receptive or aversive to.
Getting stuck with one strategy: A strategy might work brilliantly the first time you use it. It might even work a second or third time. But if you are stuck with it for a more extended period, the growth will decrease. Try new marketing methods, get creative. Experiment with ideas to understand your customer psychology.
Ignoring the power of social media: Social media might not have been a priority ten years back, but it is essential today. Almost the young crowd and a significant part of the rest of the population are hanging out on social media platforms. Having brand awareness on social media can do wonders for your consumer sale promotion campaigns.
How to Run Successful Consumer Sales Promotion Campaigns using Rewards
Consumer promotions are successful only if they are exciting and engaging because these two factors trigger customers to make a purchase.
When done right, consumer promotions help acquire:
👉 New customers
👉 Convert potential customers
👉 Get your current customers to buy more
👉 Boost sales and increase revenue
Your audience is not going to interact until they get something in return. That's why 'rewards' have proven to be the best marketing strategy.
With that said, here are a few tips to be kept in mind to make your promotions effective:
1. Run a flash sale promotion
A flash sale is a marketing campaign that's run for a short time. The idea is to offer discounts that are bigger than the usual sales. Flash promotions are a great way to generate more sales in less time.
They make the audience buy impulsively because of the big discount and the time limit. Most of us have had the 'OMG 70% off for today! I need to avail that offer soon'-moment. All you need is your flash sale to go viral, and you will be swimming in sales and new customers.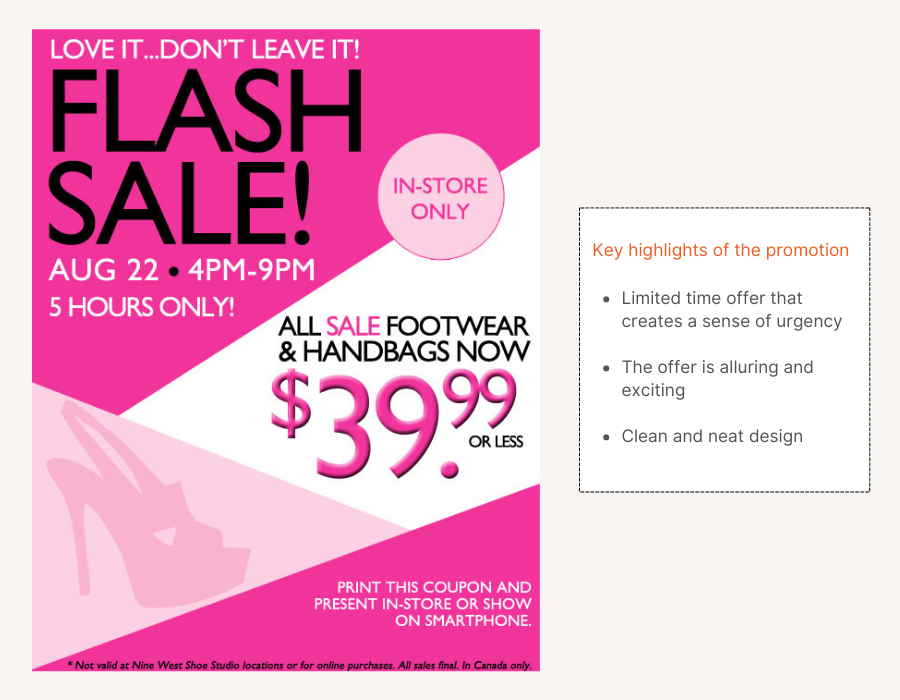 2. Back your loyalty programs with e-gifts
Customer acquisition is expensive. Hence, losing your existing customers can turn out to be a big deal. That's why keeping them delighted is crucial. Your product/service might keep them satisfied, but it might not be enough to retain them for a longer time.
So boost your customer loyalty programs with exciting rewards and e-gifts. This hooks the customers and makes them stay with your brand for a long time.
An excellent example of this is Uber's loyalty program, where they offer their customers reward points every time they ride or use Uber Eats. These points can be redeemed as rewards.
It is a bit tricky to set up a loyalty program that ensures great returns on your investment. Don't worry! We got your back. Here is an actionable guide for you: "The Anatomy of Ideal Reward Points System for Your Customers".
3. Give discounts that your customers can't resist
Our inbox is bombarded with several discounts and offers every single day. They are everywhere. But do you end up buying all of it? Nope. Why? Because timing, the offer itself, the presentation, and the CTA together play a crucial role for a promotion to convert.
No matter how big the discount or promotion is, it has to be appealing. An excellent example of this can be Grammarly, for converting free yet engaged users to convert to paid users: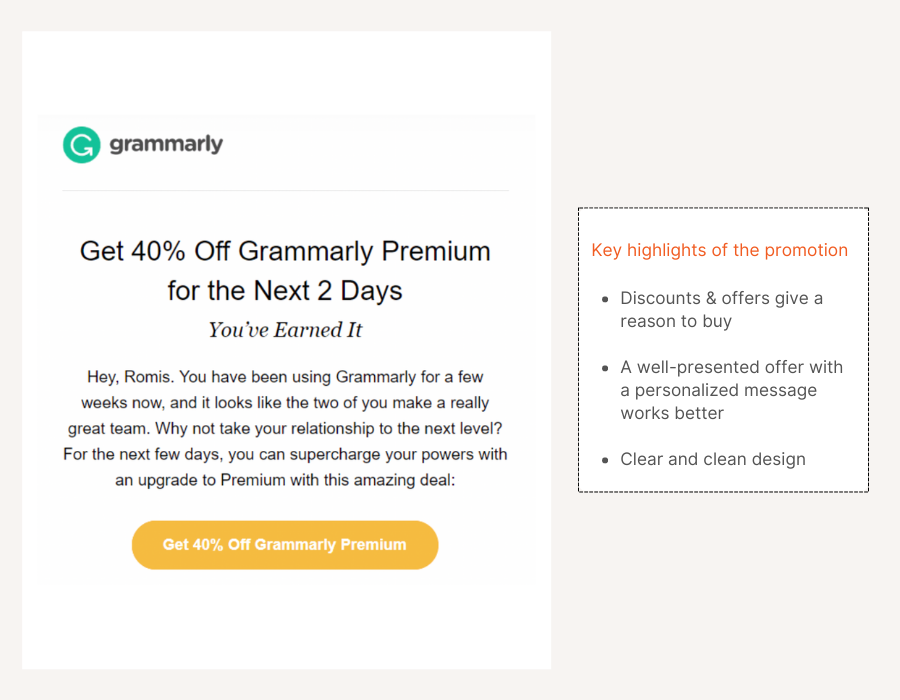 4. Give discount vouchers on purchases to increase future sales
Giving discount vouchers for the next purchase can considerably increase future sales. If a customer knows they are getting something in return while buying, they will keep buying more in the future. It is as simple as that.
To make things exciting, set buying scales. For example, The below gift voucher from Desigual gives $30 off on the next purchase of at least $150. Set time limitations and create FOMO to persuade customers to purchase even if they were not planning to.
5. Give gift vouchers as rewards
Consumer promotions may not always be tied with more sales. Sometimes, there could be indirect benefits associated.
For instance, SaaS companies need a lot of reviews for their products on listing platforms. They can incentivize their users with gift vouchers to write reviews. For example, SEMrush offers a $25 Amazon gift card for an honest review on G2.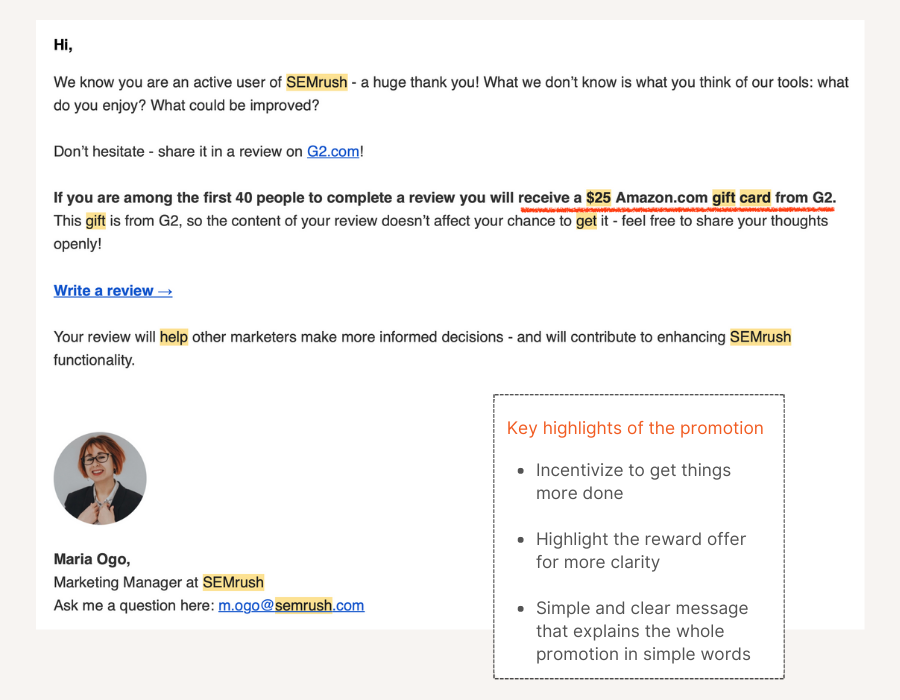 Delight your happy customers by going beyond the traditional monetary perk. Our rewards infrastructure can help you send out points, payouts, benefits, personalized to your customers' needs. Turn your loyal customers into your brand advocates.
6. Give small gift offers
Just like giving vouchers, providing pre-decided gift offers can nudge your customer towards making a purchase. The offer might not play a central role, but it will stay at the back of their minds. It creates excitement. It makes the customers think they are getting more than they are paying for. That small gift is what will differentiate you from your competitors.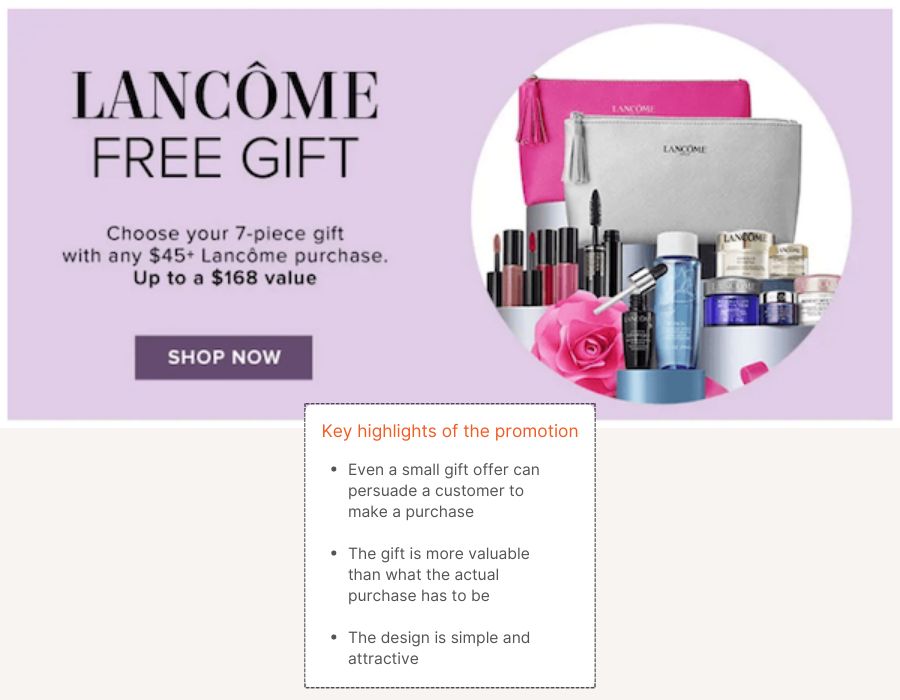 We also recommend that you go digital with rewards and gifts. By the way, digital gifting is not just vouchers. Digital gift vouchers aren't just a piece of paper or a line of code. Here are some experiences gifting ideas that change their perception.
7. Free samples are the key to new customers
How many times have you not purchased something because 'god knows how it might turn out?' Many. It is very often that customers are curious about the product/service but not confident enough actually to buy it.

They need a little nudge that will make them take action. That nudge is a free product/ service. If they like it, they'll buy it. If they love it, they'll buy more of it and probably tell others about it too. Providing free samples is an excellent way of building trust and a new customer base.
8. Organize contests and sweepstakes to generate excitement
Organizing Contests & Sweepstakes are beneficial for increasing brand awareness and generating excitement. Running such promotional offers often keeps your customers bound to you. When they are around for a while, they may end up buying something.
Social media is a great way to reach customers for contests; the interaction is more fluid and easy. Another advantage is that you can ask people to enter their contact details while entering. Doing that will make them more accessible in the future. Next time you send out an email, you'll have a bigger audience, which equals more sales.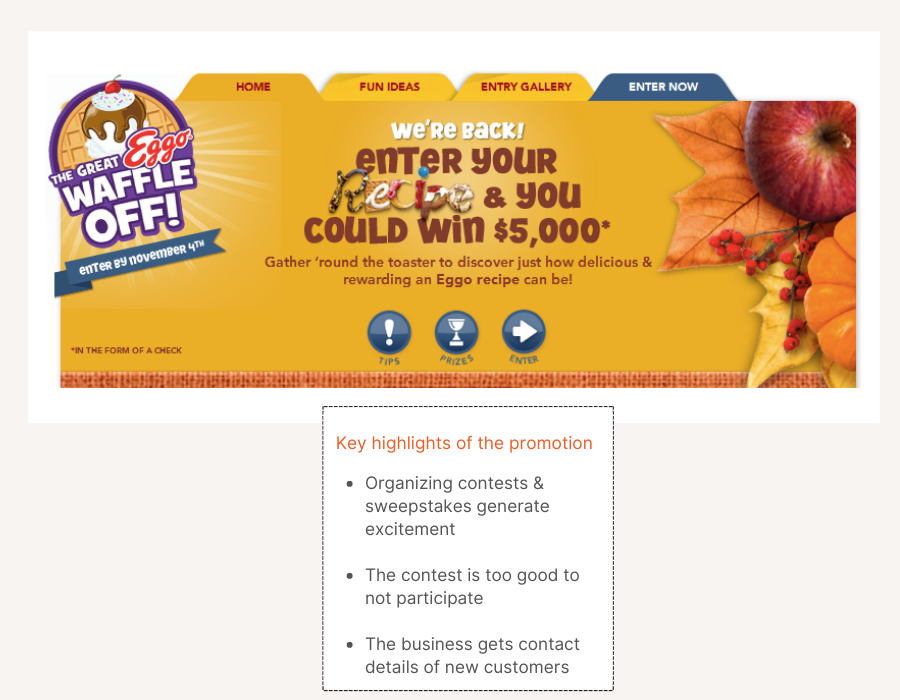 9. Give branded gifts that will make your customers happy
No one wants a gift card from a who-knows-where salon for a free haircut. It isn't exciting enough. If a customer makes a big purchase, show them that it means something to you. Give a branded gift that will make them happy, and they will want to come back. As a brand, this also makes you stand out from the crowd.

Xoxoday has an extensive catalog of branded gift cards that will leave your customers content. They'll be happy and excited to buy from you again.
10. Run seasonal sale offers
Seasonal sales are perhaps the most popular type of sales campaign. Don't we all wait for the end of the year sales or the summer sales to get the best deals? These sales have the power to affect customers' purchasing decisions according to their wishes.
A person wants to buy a TV but then realizes that there is a sale two weeks later, which will give them a heavy discount. Will they buy it? No. They will put the purchase on hold unless there's a dire need. Seasonal offers are the best way to get as many sales as possible.

The customers acquired during this stage will stay with you because they know you keep offering these fantastic seasonal discounts often.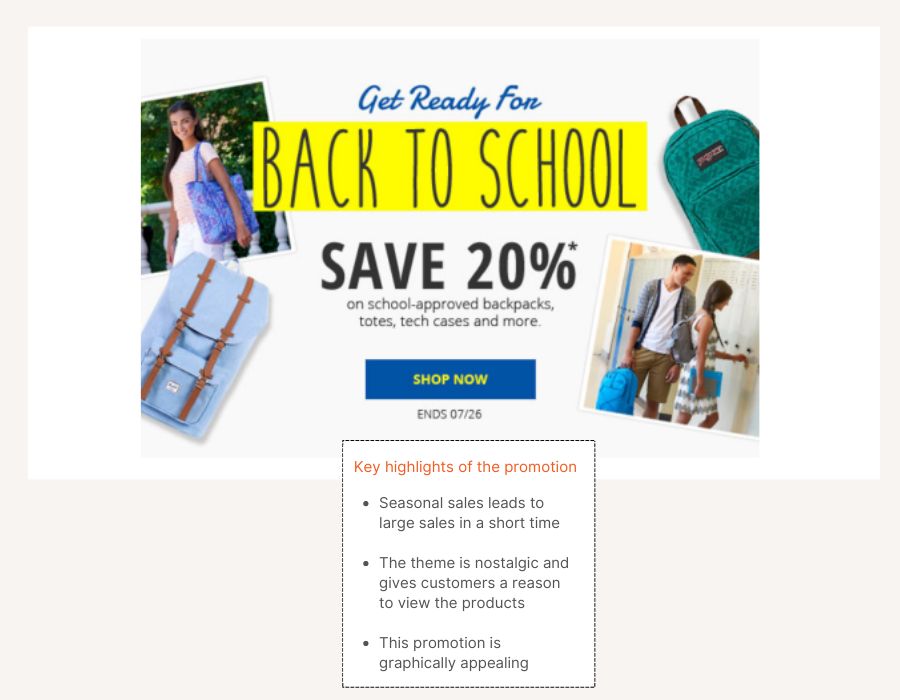 11. Run hyper-targeted sales and promotions
Hyper-targeting is a form of advertising that targets a particular audience. You can select the audience based on their age, niche, place, or other factors that might contribute to more conversion rates.
These promotions are personalized and can be seen only by a selected audience. Running hyper-targeted campaigns means a higher chance of your audience getting converted. Personalization and choosing the right people is the key to success.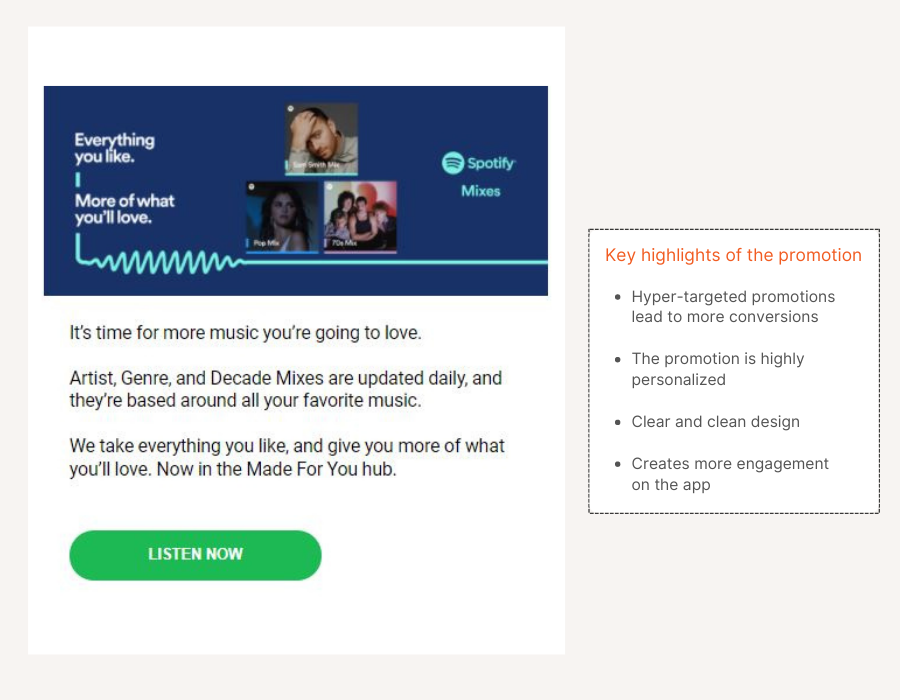 12. Give limited-time promo codes
Nothing is more satisfying than seeing the tag of "price drop" or applying a "discount code" on your favorite products. The person knew the price before, which was higher.

That reduction in the price just before checking out gives a sense of achievement and excitement. Running these promos for a limited time creates a sense of urgency to boost the campaign.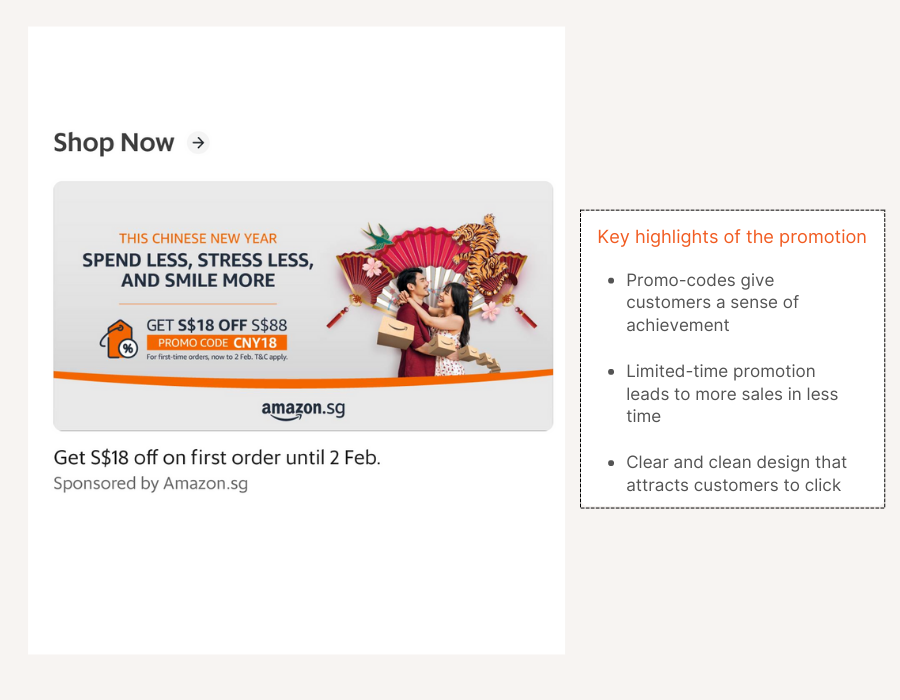 13. Giving a prized promotion (spin the wheel)
No matter how old someone is, the excitement of winning something in a game can't be explained in words. That's why we often see those 'Spin & Win' promotions being used on most shopping websites to evoke the emotion of 'play and win.'
It doesn't matter if a person doesn't want to buy anything from your website; if they see something similar to the Spin-the-Wheel, they will click on it. This serves as a perfect opportunity to impress them. Give them a significant discount or a gift on their purchase, and there's a big chance they'll buy from you then and there.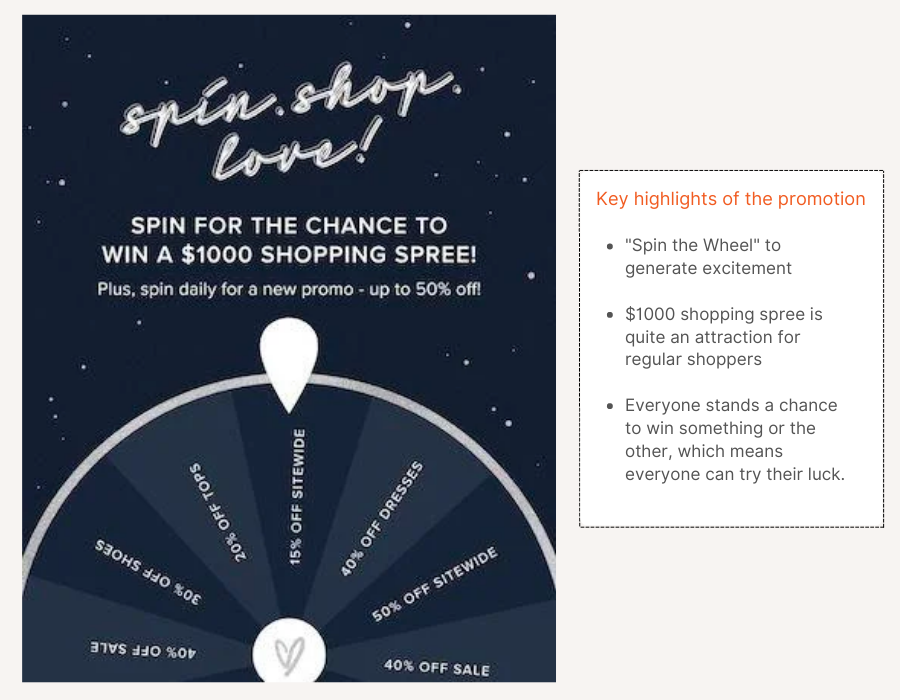 14. Offer rebates
Rebates are another way of making your customers happy. They don't give an immediate discount but rather a payback after a specific time. Even people who might not have wanted to buy your product could purchase it because they'll get the amount back.
Now how is this beneficial for the business? You might get sales because of the rebate, which you wouldn't have obtained otherwise. If they like the product, they'll buy it in the future, even if there is a rebate or not.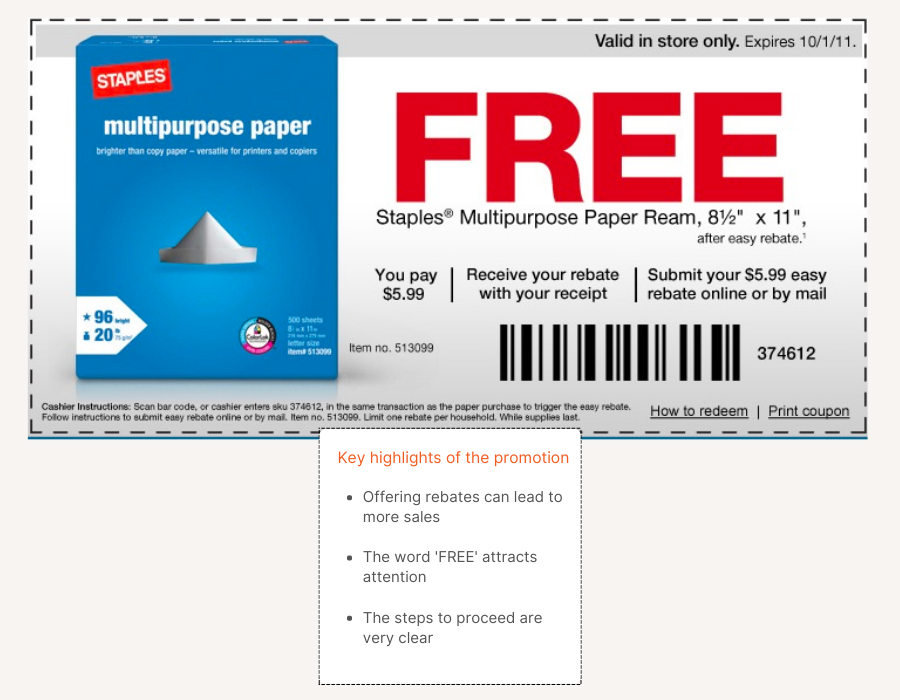 15. Cheer your customers with holiday sale promotions
Like Seasonal Sales, you can boost your sales by organizing unique promotional campaigns for holidays. You can add a special touch by following the holiday theme to get the most out of it. Believe it or not, a customer loves seeing that a brand passes the vibe check. It gives the brand or company a human touch. Plus, the discount is going to attract customers which automatically means more sales.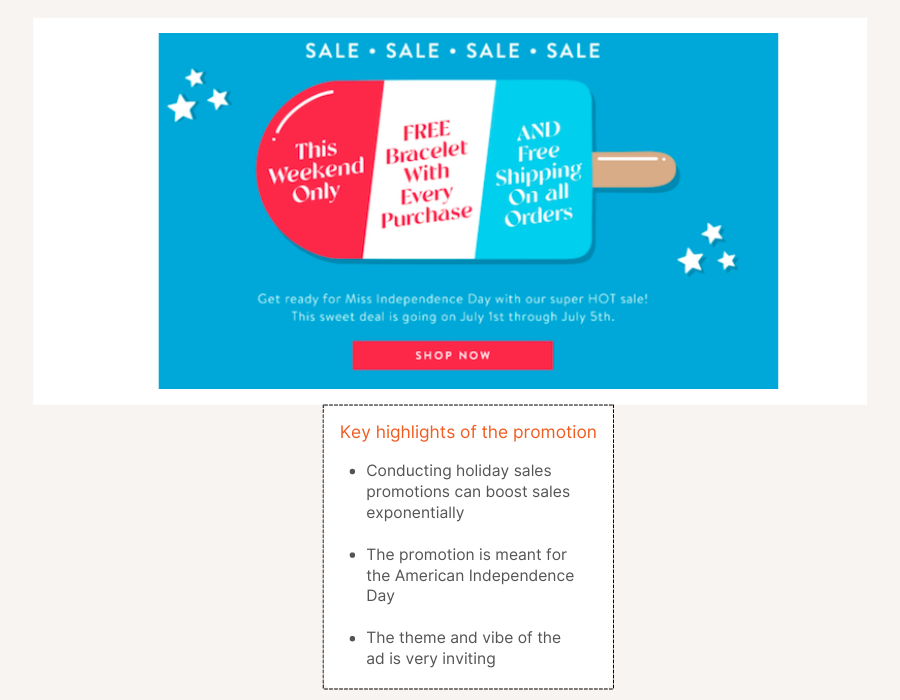 Key Takeaways
Consumer promotion campaigns are vital for a business to scale. You need a solid plan that uses the right techniques and tools. Read about viral consumer sales promotions in your industry, understand their working, and try to implement them in your business, keeping in mind your customer base.
Make sure you are using the right practices so that you don't experience any losses. Analyze your customers' previous campaigns and understand what does and does not appeal to them. Read in detail about mistakes that brands have made in the past to avoid falling into the same trap.
Conduct in-depth research on customer psychology. Understand and implement different strategies and note what's working the best. This might take time but will give you a clear idea of your future growth plan.
Digital advertisements are the future of media ad spending. Utilizing them effectively is the key to growing your consumer base. Equip yourself with the knowledge of digital promotions and keep yourself updated with the latest trends in your industry.
Creating effective sales promotions using rewards can grow your business exponentially. One of the best ways to do this is by running a customer loyalty program.
All of this might seem a lot to take in and work upon. Xoxoday rewards, incentives, benefits, and payouts infrastructure for businesses. We have a wide range of services that help businesses scale rewarding to the next level. Visit Xoxoday to explore our services and catalogs.
---