Table of Contents
It looks like a simple, straightforward proposition: incentivize the customers – who love your brand – to drive in new customers. It's a win-win situation, right? But not necessarily. For example, Worldwide101, a remote virtual assistant platform, stated that their referral program failed not once, but thrice — undermining their brand value while wasting both time and effort.
Their experience isn't uncommon: businesses of all sizes have a hard time creating referral programs that work. While they focus on every little aspect, they forget to pay attention to the core of it, which is referral rewards and incentives.
The psychology of referral rewards is rooted in the concept of social influence and motivation. People are social creatures that are influenced by the opinions and actions of others in their social network. Referral rewards tap into this social influence by providing an incentive for individuals to share their positive experiences with others.
To help you make the most of this referral marketing strategy, we have put together a detailed guide that explains the importance of referral incentives, their significance, best practices, reward ideas for customers, employees, and channel partners, and more.
What are referral rewards?
Referral rewards are incentives or benefits given to individuals for referring others to a product or service. They are designed to encourage people to spread the word about a brand and help businesses acquire new customers through personal recommendations.
Referral incentives can take many forms, including cash bonuses, discounts, free products or services, loyalty points, contest entries, exclusive access to products or events, and charitable donations. The goal of referral incentives is to motivate people to refer others by offering a tangible reward or benefit for their effort.
Referral incentives can benefit both the referrer and the person being referred. The referrer receives a reward for their effort, which can increase their loyalty and engagement with the brand. The person being referred may receive a discount or other incentive to try the product or service, which can increase their likelihood of making a purchase and becoming a loyal customer.
How referral rewards drive engagement?
Referral incentives can be a powerful tool to drive engagement, as they motivate existing users to bring in new users and increase the overall user base.
Here are a few ways incorporating the right referral incentives can drive engagement:
Key elements of a good referral rewards system
A good referral rewards program should be simple, clear, easy to use, and flexible enough to accommodate different types of referrals and reward levels. It should also be transparent, timely, and customizable to encourage continued participation in the program.
Here are some key elements of a referral rewards system:
How to choose referral incentives for your referral program
Would more participants join if you gave them a digital gift card or a discount percentage or a cash payout? What to offer? Is it two-sided incentives or one-sided? The options are just endless.
Here are some steps to consider when choosing rewards incentives for your referral program:
Step 1: Define your goals
Start by identifying your goals for the referral program. Determine what you hope to achieve, such as acquiring new customers, increasing sales, or improving customer loyalty. This will help you determine what type of incentives to offer.
Step 2: Know your audience
Understand your target audience and what they value. Consider factors such as age, gender, income, interests, and lifestyle when selecting rewards incentives.
Step 3: Determine your reward budget
Decide on a budget for your referral program, and consider how much you can afford to spend on rewards incentives. Make sure to factor in the cost of the incentives as well as any associated fees or shipping costs.
Step 4: Decide who gets the reward
Deciding whom to give the referral incentive will help lay the foundation for other components of your referral campaign. Also, knowing your target audience makes it easier to plan the kind of rewards to offer, the type of structure to use, the messaging you want to put, and more.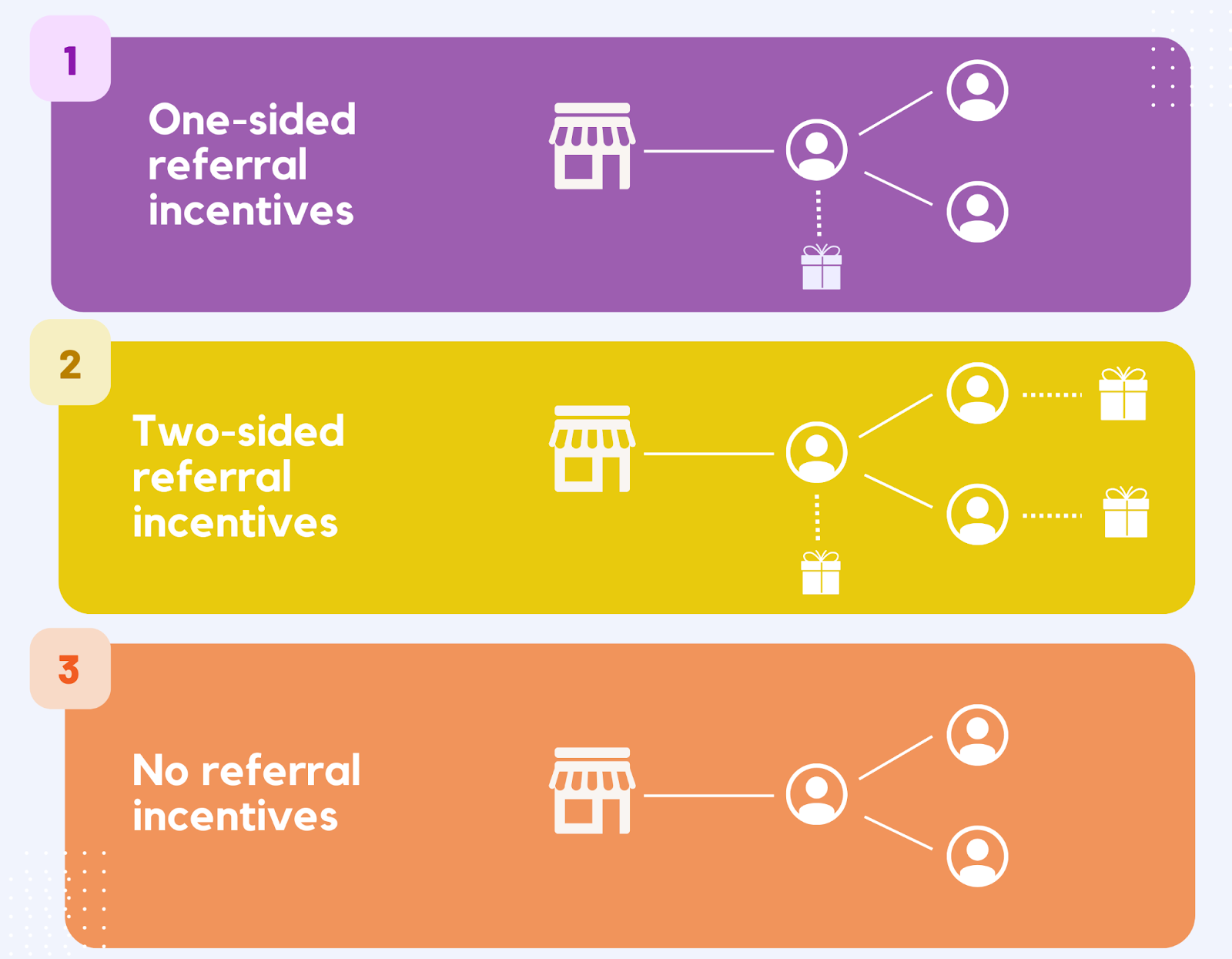 Referral incentives are generally offered through any of these types:
One-sided: A one-sided referral incentive is when only the referrer receives a reward for referring a new customer. This type of incentive is common and can take the form of discounts, cash rewards, or free products or services. One-sided incentives are straightforward and easy to administer but may be less effective in motivating referrals since the referee does not receive anything in return.
Best for: Newbusinesses who want to grow their brand awareness. One-sided incentives encourage users to bring more users to your brand. And with an amalgamation of strong recommendation + reasonably-priced products = the referred user is highly likely to purchase, even without any incentives.
Two-sided or double-sided: A two-sided or double-sided referral incentive is when both the referrer and the referee receive a reward for a successful referral. For example, a company may offer a discount to both the referrer and referee on their next purchase. This type of incentive is often more effective in motivating referrals since both parties benefit. However, it can be more complicated to administer and may be more costly.
Best for: Any business type, but mostly ones with adequate resources to offer referral rewards to both the parties involved. For such businesses, having a good referral rewards software is the better bet, as it helps track all the key metrics and makes it easier to run those referral campaigns.
No incentive: Some businesses choose not to offer any referral incentives at all. Instead, they rely on the goodwill and loyalty of their customers to refer to new business. This approach can be effective if a company has a strong brand reputation and customer base, but it may not be as effective in motivating referrals compared to incentivized programs.
Best for: Businesses without a budget to offer referral rewards, or are just establishing an organic referral rate.
Step 5: Choose the type of referral incentive to offer
Referral incentives are the key drivers of a referral program but know that they aren't one-size-fits-all. Remember, the right reward depends on two things: your business type and customer base.
Here's a table that outlines the commonly used referral incentives across different business types. Feel free to find out which rewards work the best for your business.
Step 6: Try and test different rewards to see what works best
Test different types of referral rewards to determine which ones are most effective. Consider testing a variety of incentives such as discounts, free products, cash rewards, or loyalty points to see what resonates best with your customers.
Step 7: Monitor the performance
Monitor the performance of your referral rewards program to determine which incentives are driving the most referrals. Use this information to refine your program and adjust your incentives as needed.
Referral reward ideas for customers, employees, sales and channel partners
Do you know what makes or breaks a referral program? It's the REWARDS. The worst possible choice you could ever make is to give people something that they dislike, is of no use to them, or fails to resonate with your brand identity.
The prime reason to create a referral marketing program is to drive quality leads. Attractive rewards align ideally with what your brand stands for. The type of referral rewards you choose must boost the relation between your customers with you and should get people to talk about you. We know that this may sound poetic to you, but we got your back.
Here's a section that highlights referral reward ideas for different users so you can find the right one for your audience.
Conclusion
When it comes to creating successful referral programs, rewards are the ultimate deal breaker. The right incentives have the power to encourage participants to take action and engage with the business.
By offering unique and valuable rewards, businesses can stand out in a crowded marketplace and attract more customers or partners. Not just that, the right rewards help build loyalty and repeat business, encouraging users to continue doing business with the company and become advocates for the brand.
Lacklustre rewards = Failed referral programs.
Offering a logoed t-shirt, a bag, or a free pen as referral rewards won't entice your participants to refer. Instead, find a balance with what they like and yet under your budget. Drive insane referrals by incentivizing referrers with rewards that are trendiest in the town.
Ask us how
---