Table of Contents
Marketing through referral programs isn't new. Many brands have done it in the past and succeeded — setting themselves as an example for other businesses to take inspiration from. Before we list you such referral program examples (from both B2B & B2C industries) that grew exponentially, let's start with some stats.
More people are being moved by peer-to-peer talks than by brand evangelists. According to this study, 39% of consumers who discovered a business through a recommendation feel that their peers are more trustworthy than any paid effort.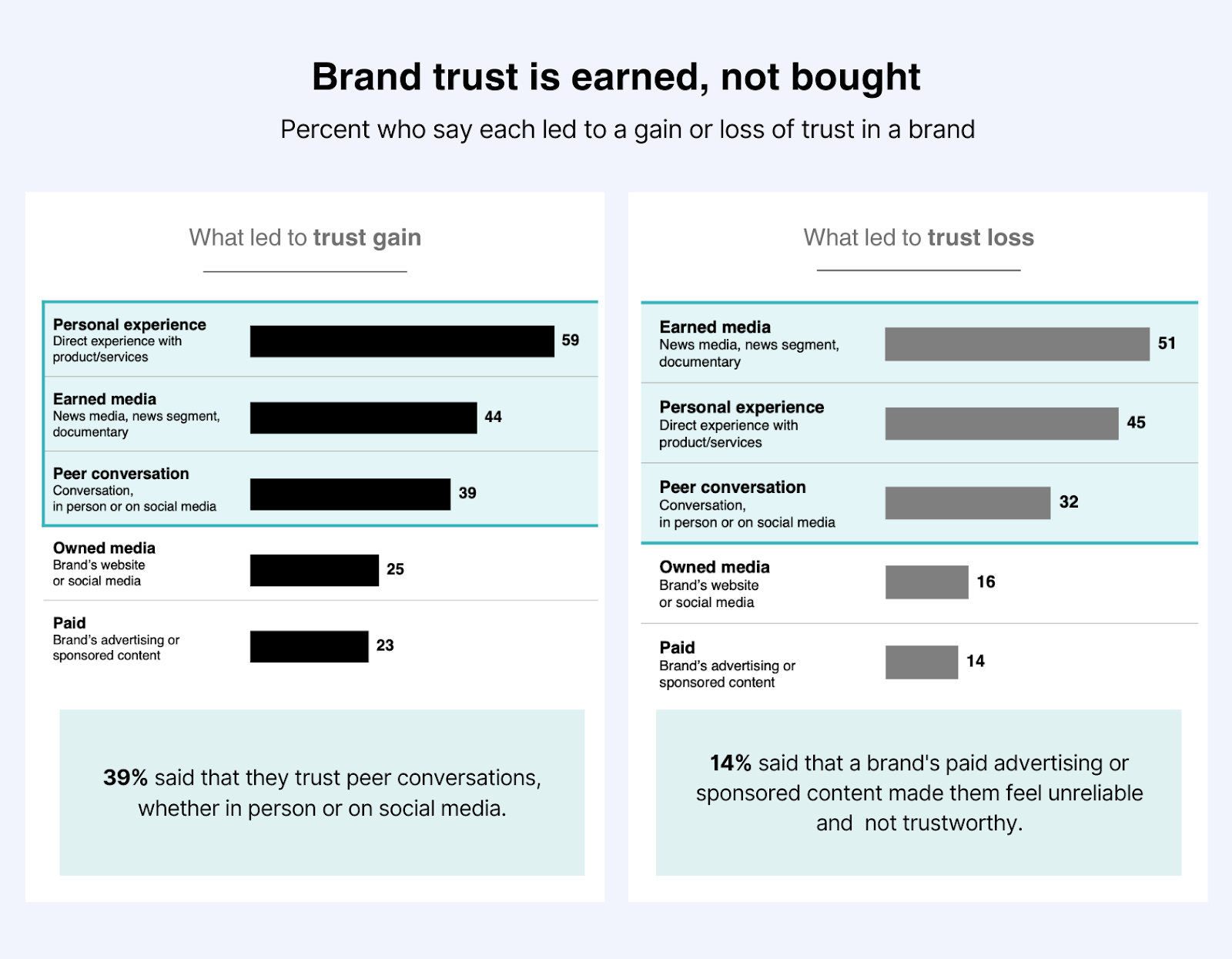 If this is true, then relying just on sales marketing will not yield the desired outcomes. Persuasion at the peer level is required to increase customer loyalty and lead acquisition.
Take, for example, the market landscape during the epidemic. Firms suffered as a result of lockdown and people going on a work-from-home binge.
When it came to reactivating marketing engines soon after the lockdown was lifted, the dominant themes were multichannel, digital-centric, and always-on approaches. But do you know what else was in the spotlight and still is? Marketing through referrals.
Brands recognized its significance more than ever before. Peer advocates were enthusiastically being used by small companies as a low cost growth catalyst.
With that said, we are going to list you some of the brilliant instances of whodunnit and how they benefited from it.
Let's dive in.
5 Best B2B referral program examples
A B2B referral program is a marketing strategy where one business incentivizes its existing customers or network to refer other businesses to their services or products. The goal is to leverage the trust and goodwill established with current customers to generate new business leads and sales.
B2B marketing isn't easy. You'll have to keep up with lengthy sales cycles, determine which decision makers to target, keep CAC (Customer Acquisition Cost) in check, and so on. That's why building strong relationships is an essential part of making a B2B brand.
But before you build those relationships, trust has to be earned. Though that's the hardest part, referral programs can help. After all, customers trust one another more. If you can pull off leveraging that connection effectively, there's nothing like it.
Here are a few examples of such B2B referral programs that not only pulled off customers' trust but also gained immense growth from it.
1. Google Workspace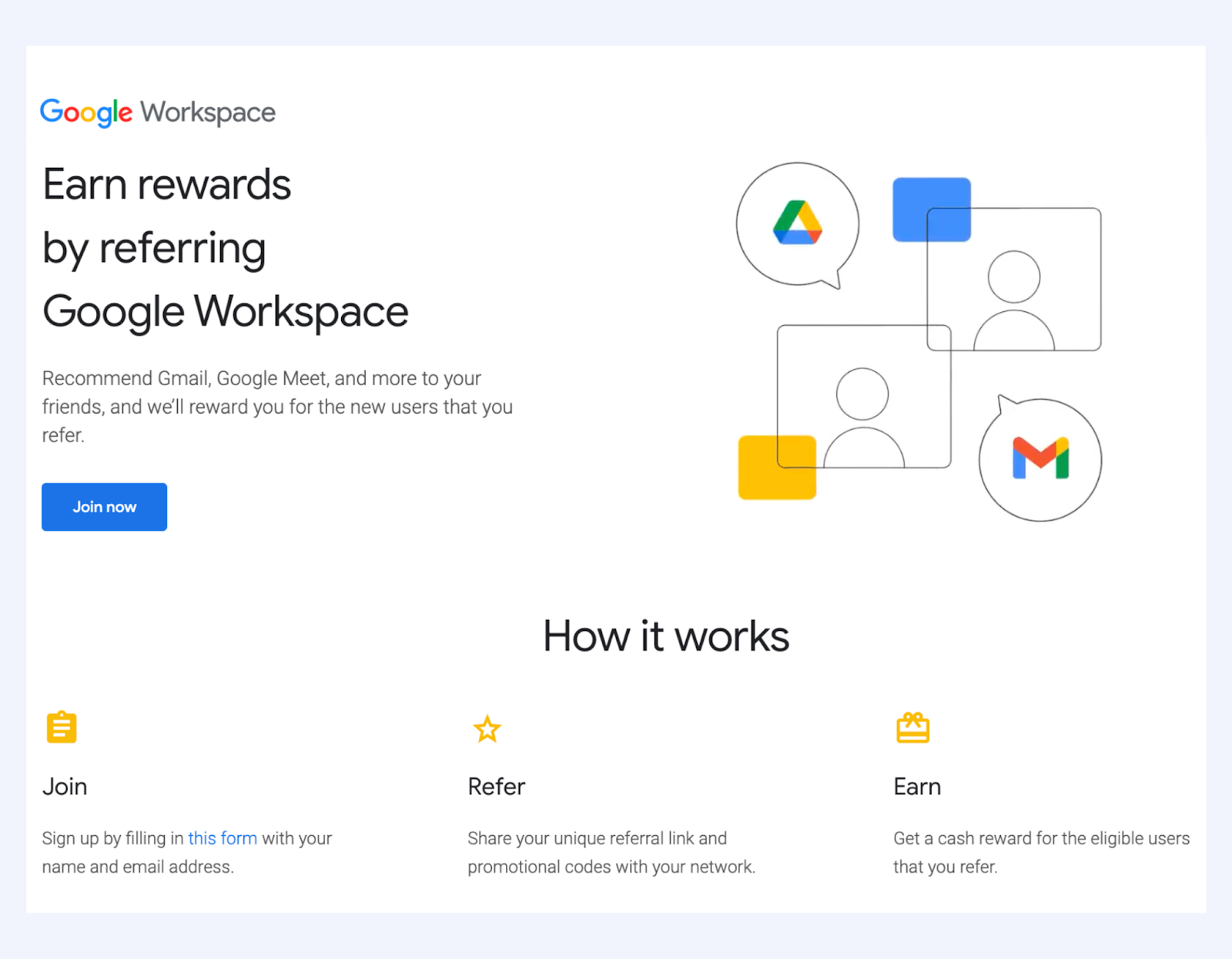 Google is self-explanatory. It is the world's favorite encyclopedia. But consider this: has Google always been influential because of what it is capable of? The answer is 'no.' They became popular as a result of referral marketing. When big groups of individuals discussed their searches, Google was at the front of everyone's thoughts.
Google introduced a work-related app in 2006. They generously provided $15 to everybody who joined up to encourage folks to check it out. In addition, the recommendations had links that they could share with known members. This is a perfect illustration of what referral marketing is and why it is important to both small businesses and large enterprises.
2. Gusto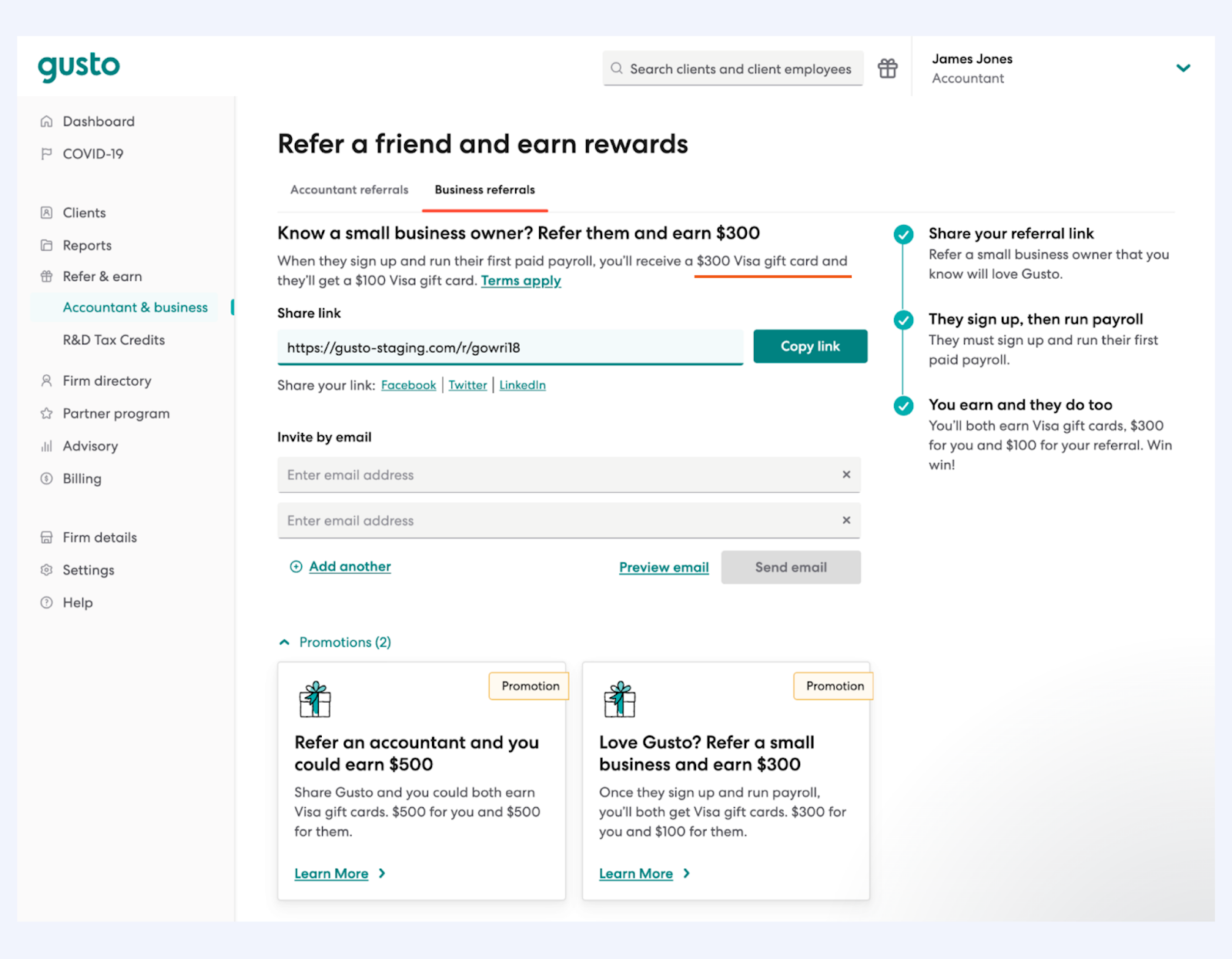 Gusto, a company that provides cloud-based payroll, benefits, and human resource management services, has been successful in growing its customer base through its referral program. The program incentivizes both the referrer and the referred customer by sending them virtual visa gift cards through email.
Gusto got their initial traction via incubators. From there, they managed to build momentum with WOM (word of mouth) from their existing customers and investors. But besides this initial traction, the company still struggled to scale. They found it hard to market to SMBs or educate proprietary owners about their innovative payroll solution.
That's when Gusto took a great move — focusing on their accountants to boost growth. They identified existing accountants as their key influencers, incentivizing them generously with $300 worth virtual visa gift cards to recommend their financial products to other business owners. Soon, they built a scalable, strong partnership program in that channel.
When speed and convenience matters, virtual prepaid reward cards are the best bet — all you need is referrer's and referee's email address.
And that's what Gusto did! If you're looking to do something similar but not sure how to embed virtual prepaid gift cards into your referral program, then we got you covered. Our platform lets you purchase prepaid cards in bulk, enables you to send up to 10K recipients in one go without any currency conversion hassles, and delivers them in multiple modes and channels.
Try us for free
3. Netsuite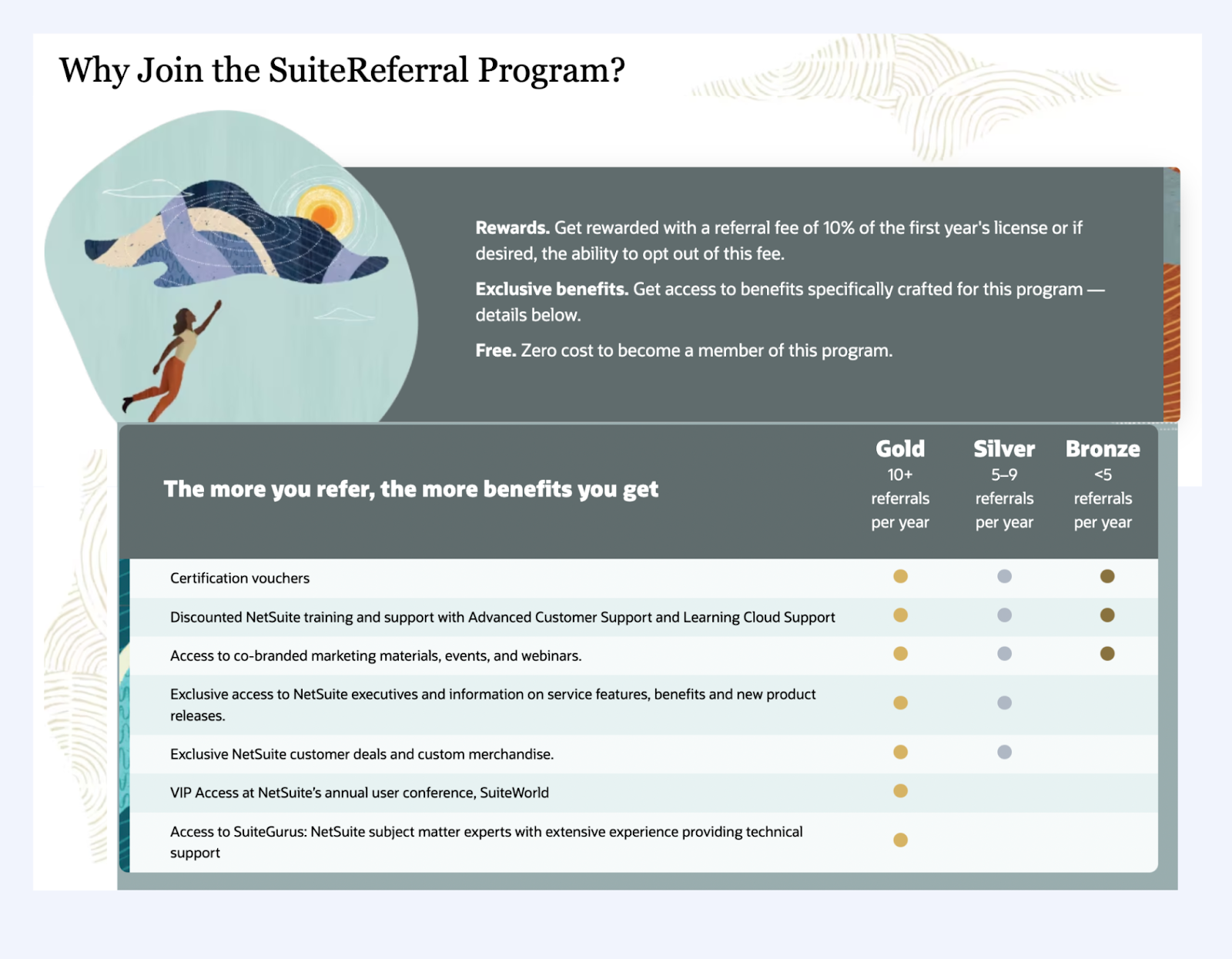 NetSuite needs no introduction. As a cloud-based business management software company, they leveraged multiple growth strategies to become a successful enterprise software provider. But one of the key strategies that helped NetSuite grow tremendously was their referral program.
NetSuite's referral program encouraged existing customers to refer their contacts in exchange for rewards, such as discounts on their subscription, access to exclusive features, and more. This program proved to be successful, as it created a network of loyal customers who were willing to promote NetSuite's products and services.
By leveraging the power of word-of-mouth marketing, NetSuite was able to acquire new customers at a lower cost than traditional marketing channels. The company also provided excellent customer service and maintained a high customer retention rate, which further fueled its growth.
Not just that, their recently revised referral program witnessed a 20% incline in leads than the past years. The program even accounted for a whopping 9% ARR (Annual Recurring Revenue) from new customers during the three-month period. (Source: CIO)
4. Dropbox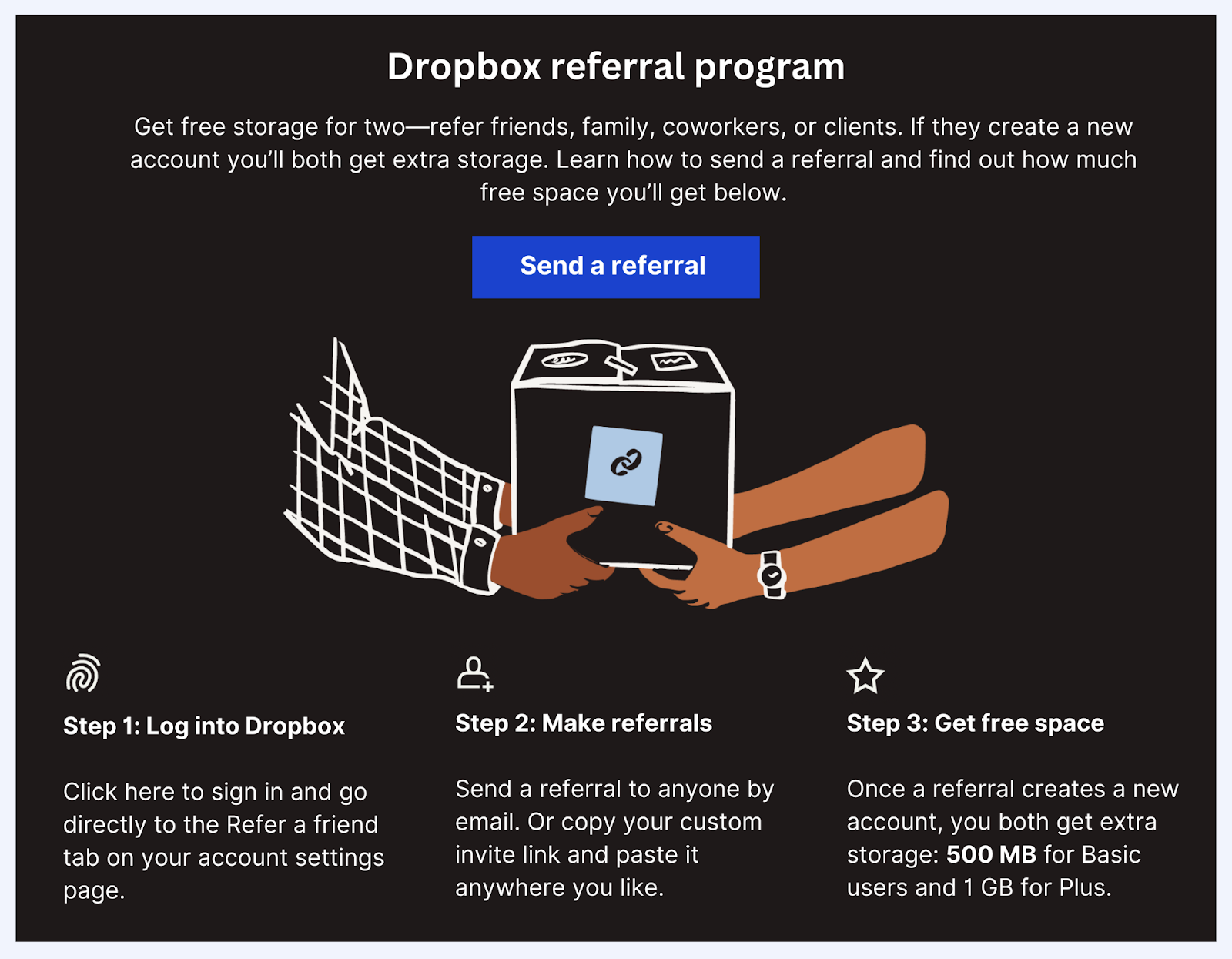 Dropbox is another successful B2B referral program which grabbed a lot of attention in recent years. They used double-sided rewards as their referral strategy, offering both the referrer and the referred friend additional storage space for free.
Dropbox's referral program was highly successful for a number of reasons. Firstly, it offered users a tangible incentive for participating in the program, which motivated them to share Dropbox with their network. Secondly, the referral program was integrated seamlessly into the user experience, making it easy for users to invite others to join the service.
Finally, Dropbox's product was highly viral by nature, as users could easily share files with others, which in turn encouraged more sign-ups. They were able to leverage the power of word-of-mouth marketing to reach new customers, allowing them to scale quickly and efficiently.
This Slideshare presentation highlights how Drew Houston, Cofounder and CEO of Dropbox, used a lean startup approach to grow their business.
These are the numbers Dropbox achieved through their referral program:
September 2008: 100K users
September 2009: 2.2M users
September 2017: 33.9M users
From 2008 to 2010, their user base doubled every three months, which resulted in 2.8 million invites by April 2010.That's an insane 3900% growth in 15+ months! No wonder their referral marketing program is one of the most talked and studied about.
5. DigitalOcean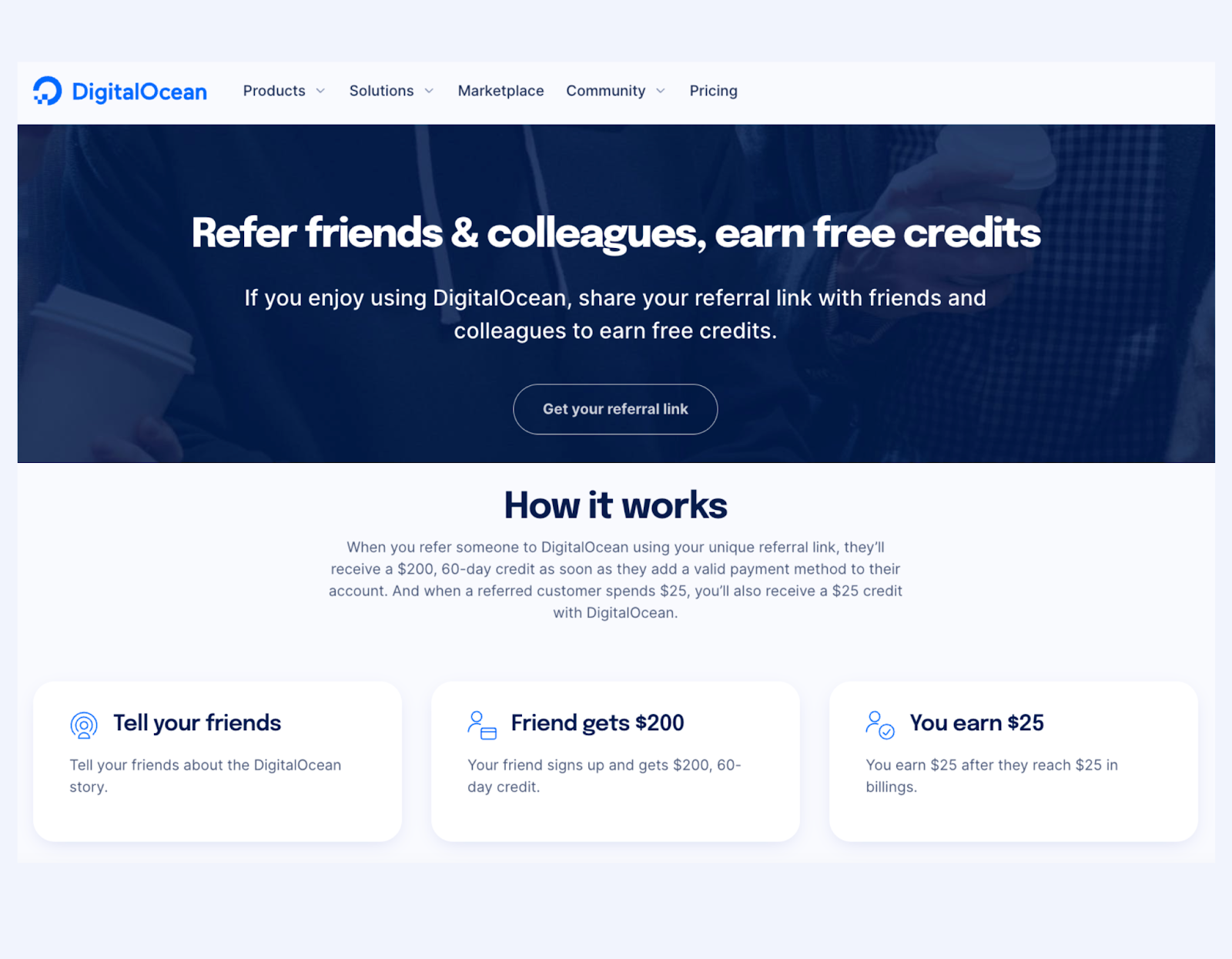 DigitalOcean grew significantly from their referral program after they incentivized their existing users to refer new users to their platform. The referral program offered credits to both the referrer and the referee. This program was very successful because it provided a clear benefit to both parties involved.
Existing users could earn credits towards their own hosting costs, while new users were able to save money on their initial hosting fees. In addition, the referral program helped to create a community of users that were passionate about the platform and willing to spread the word to their own networks.
5 Best B2C referral program examples
A B2C referral program is a marketing strategy that incentivizes existing customers to refer their friends and family to a product or service. The program rewards either the referrer or the referred person (or even both) with some kind of incentive, such as a discount, gift card, or cashback upon successful referrals.
B2C referral programs can be integrated into a company's overall marketing strategy and can be implemented through various channels, such as email marketing, social media, or word of mouth. By leveraging the power of their existing customer base, businesses can increase brand awareness and acquire new customers more efficiently.
Many brands have done it in the past and here are some examples of B2C referral programs that are worth taking inspiration from.
1. Tesla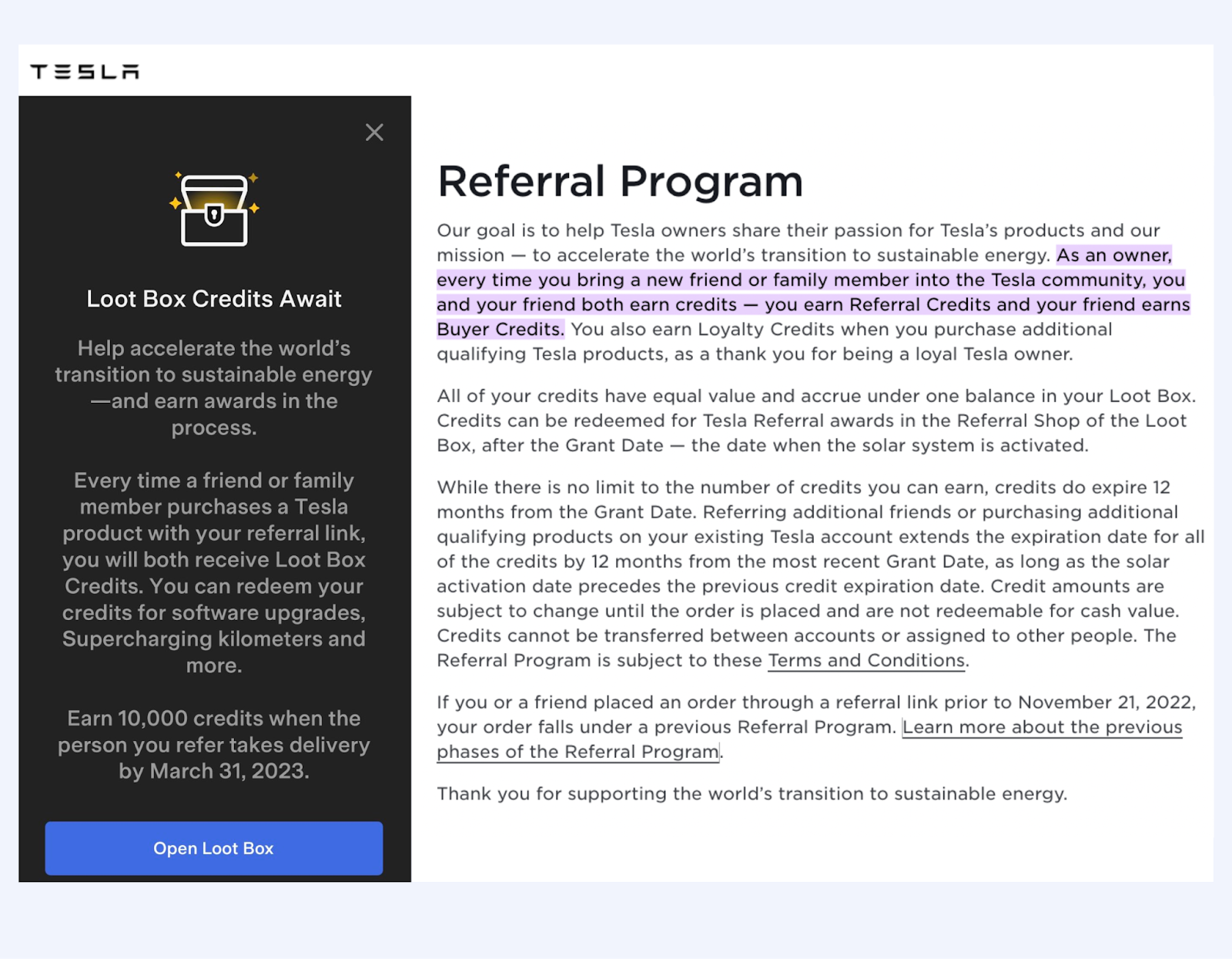 The super-billionaire-owned electric car company went all-in on referral marketing and gained a large number of referral-turned-loyal clients. They were extraordinarily generous in their rewards, even to a point of delivering 80 new roadsters to referrals in addition to discounts. Was it successful? A huge "yes".
People didn't stop talking even after Tesla chose to cancel its referral program, owing to cost constraints. This is also a lesson for those who are wondering how far referral rewards may be taken because excessive benevolence can have a negative impact on revenue.
Later, Tesla's referral program was restricted to 1000 free supercharging miles to both sides of the referral program. It's still a remarkable deal, but it's not as good as it used to be. So, to make things more engaging, they revamped their referral program by offering 10,000 credits and even gamified the campaign. Who could possibly say no to that?
2. Uber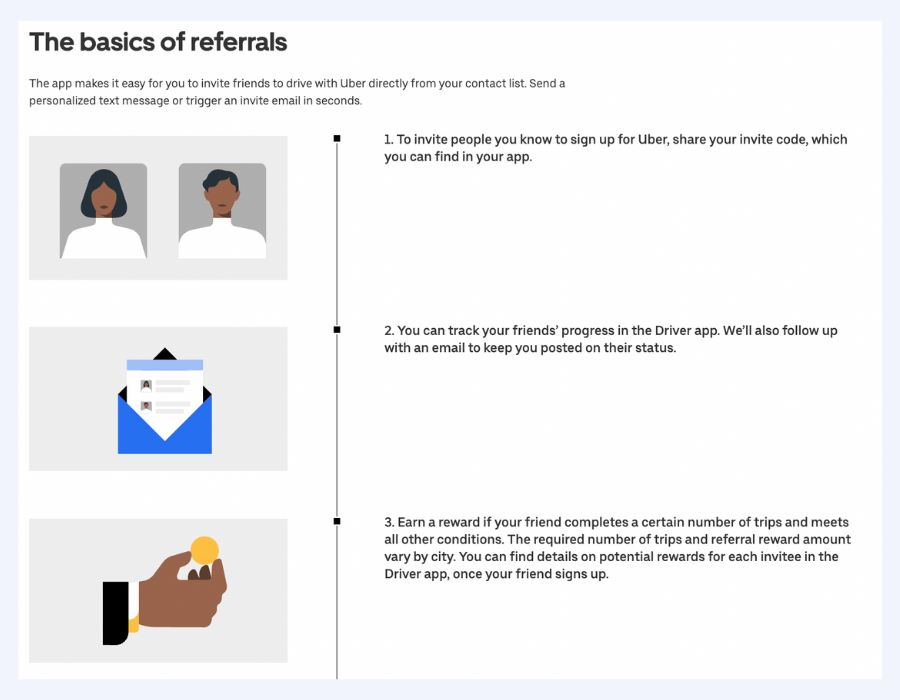 Before uber became the taxi equivalent of iPhone, they wanted to expand fast. For that they choose incentivising not just ride hailers, but also drivers.
At the outset, Uber's referral reward excited the market and resulted in high-volume sign ups. Cabbies were more than willing to ditch their former employers to join Uber while passenger's too were receiving lucrative deals.
Discounts on first rides and free tips to referred members made people rave about the brand on social media. Soon the hype catapulted Uber's popularity and their referral traffic.
Uber offers various referral rewards to both the referrer and the referred person as part of its referral program. The specific rewards may vary depending on the country and city. Earlier, Uber offered cash rewards to the referrer when someone they referred signed up on Uber and completed a certain number of trips.
The cash reward amount varied depending on the city and ranged from $5 to $10 or more. On the other hand, the referred person was awarded a discount on their first ride. Along with that, they gave a bonus for completing a certain number of referrals. For example, a referrer might receive an additional $100 bonus if they successfully referred 10 new riders within a certain timeframe.
3. Marriott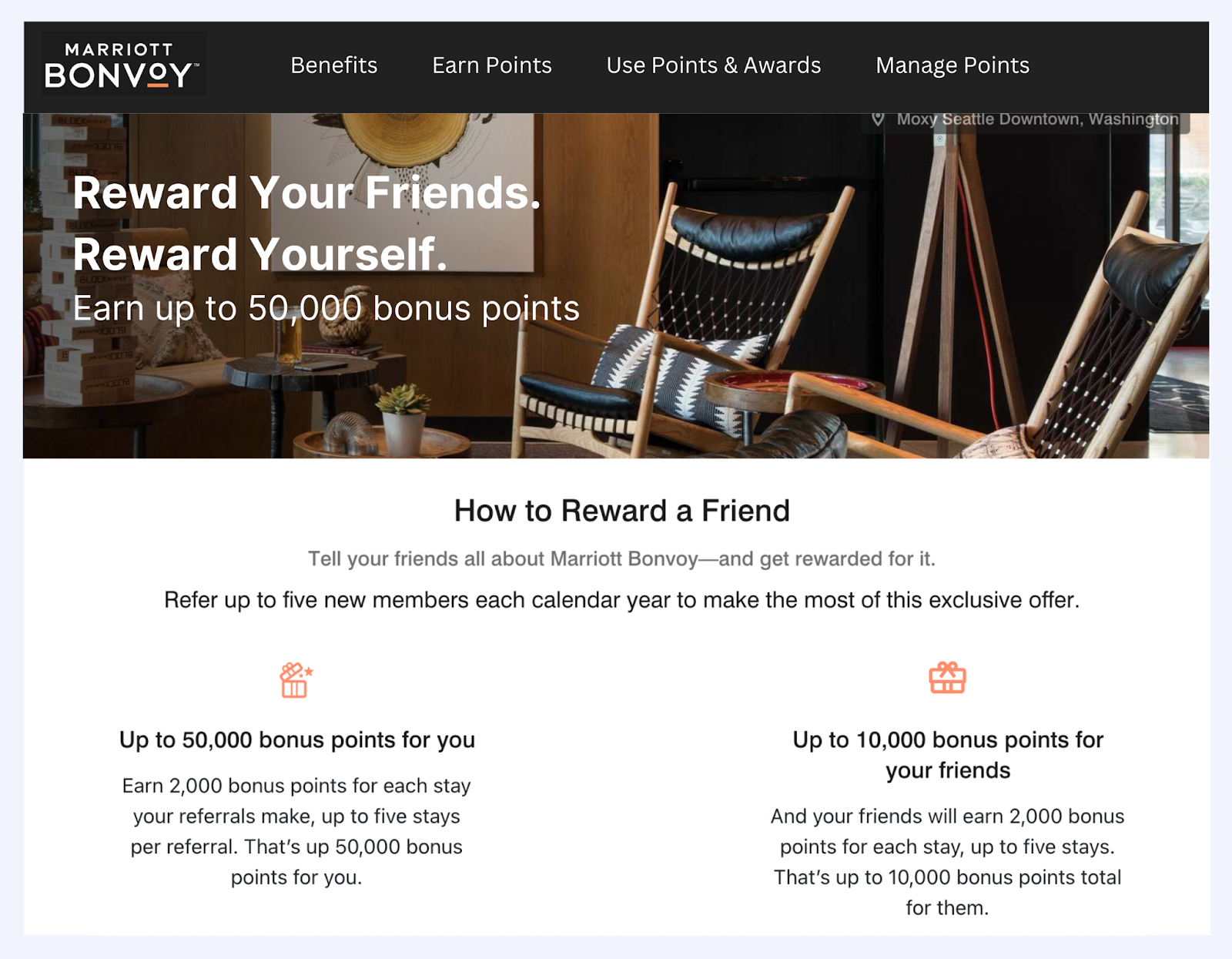 Marriott's Bonvoy Brilliant referral program is another excellent example of B2C referral programs, which allows its existing Bonvoy members to refer their friends and family to become new Marriott Bonvoy members.
The person referred will receive an email inviting them to join Marriott Bonvoy and if they sign up using the unique referral link provided in the email, they earn 10,000 points after they complete their first qualifying stay at a participating Marriott property. The referrer will also earn 50,000 bonus points for each new member they refer.
4. Costco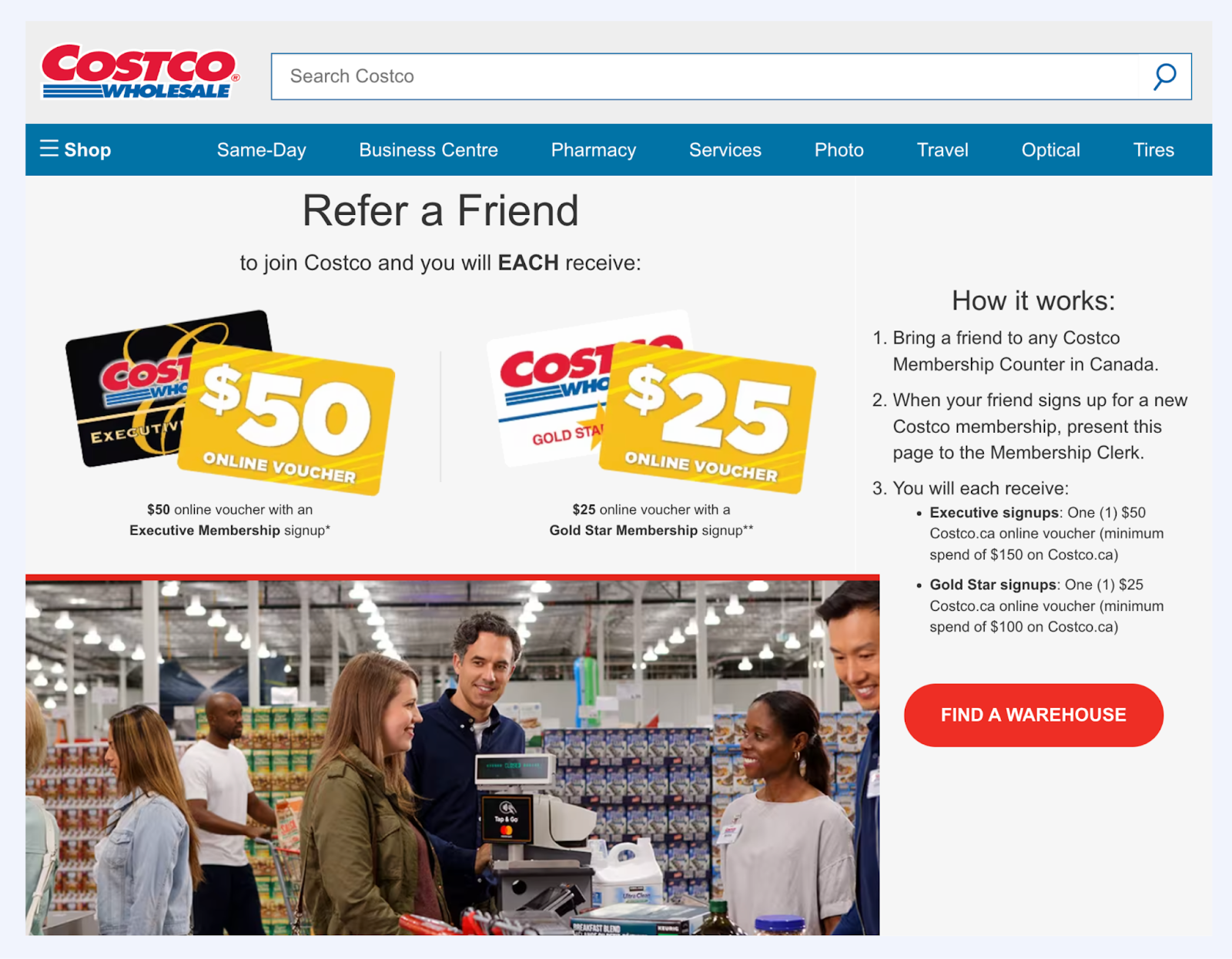 To drive more customers, Costco Canada came up with their referral program where they incentivized both the referrer and the friend with $25 and $50 worth online vouchers, depending on the membership program they are referring to. The referral program has also encouraged existing members to remain engaged with the brand and continue to purchase from the store.
To convert your passive customers into super sharers, send them gifts they will love and not what's imposed. And branded e-gift cards are the best bet.
And that's what Costco did. Sending both the referrer and the referred friend their own online vouchers was a masterstroke. If you're looking to do something similar but not sure how to embed digital gift cards into your referral program, then we are here to help.
Just ask us how
5. Virgin Red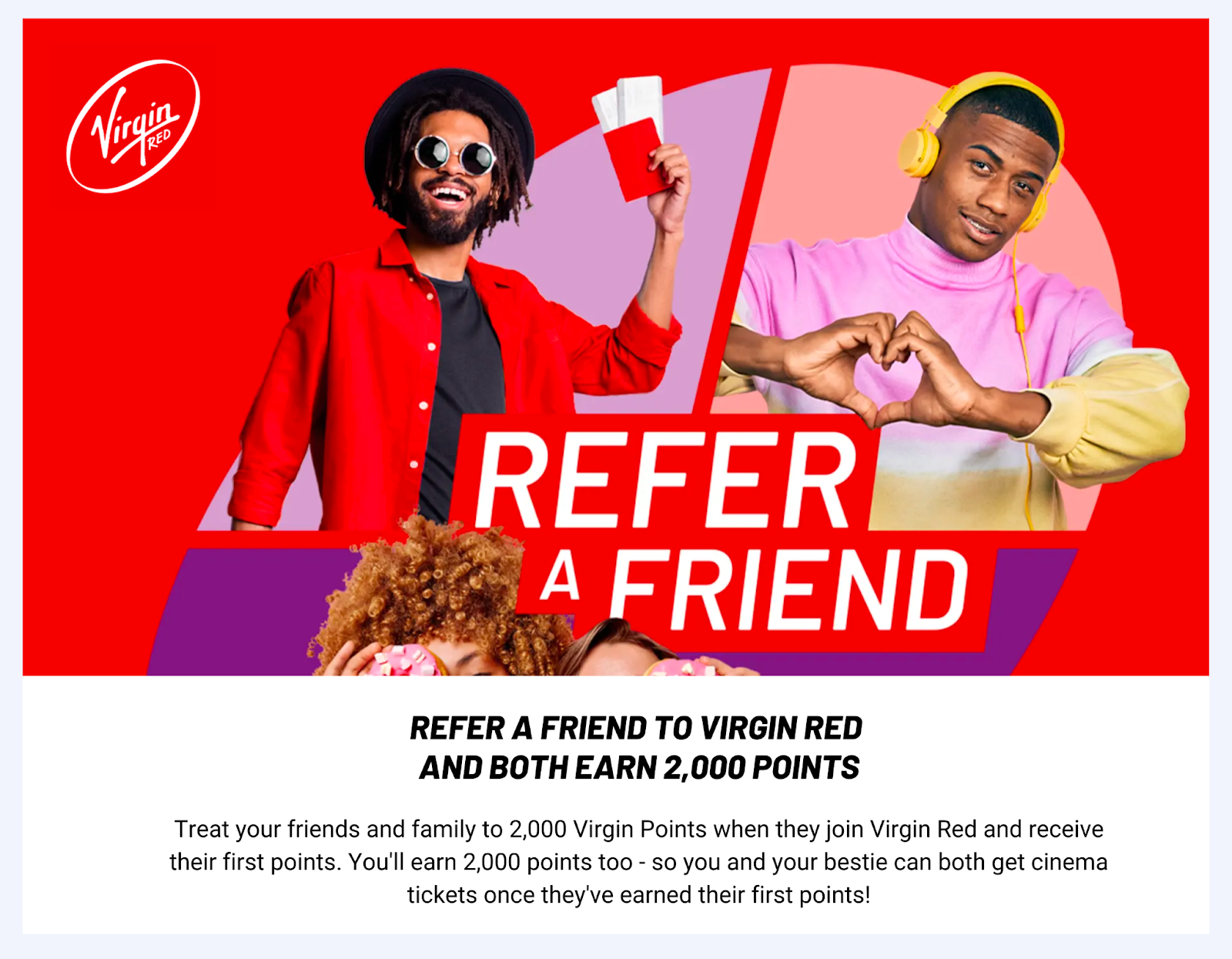 Virgin Red is a loyalty program offered by Virgin Group that allows members to earn and redeem points for rewards and experiences across a range of Virgin companies and partners. Virgin Red also offers a referral program called "Refer a Friend," which allows members to earn bonus points by referring friends and family to join the program.
Once these bonus points are accrued, it can be spent on cinema tickets, charity donations, food, and much more. Even better, the earned referral points can be saved towards luxury escapes, VIP concerts, flights, etc.
---