Table of Contents
From a cave-dwelling man giving a small shiny piece of unique rock to a woman to the ultra-modern modus operandi of digital presents, the tradition of gifting—the most beautiful expression of displaying gratitude, love, and respect to other human beings—has traversed a long path.
And like a rule of concomitance, corporate gifting hasn't been left untouched by it. In fact, one needs to acquire special blindness to ignore the growing sway that digital gifts have on the current world, both personal and professional.

This utterance can be staunchly backed by numbers, the holy grail that every mathematician and statistician swear by.
💡
Currently, virtual gifts are around 10% of the overall gift card market but are growing at an incredible
200% rate
, year by year.
Data from the
survey
has emphatically proved that:
➼ 71% of the people surveyed intend to purchase at least one
gift card
from an online website or mobile website/app this holiday season, while 74% agree that they are likely to purchase at least one digital gift card.
➼ 85% of respondents between 18-35 agree that they're likely to purchase at least one digital gift card this holiday season.
➼ 53% of total respondents and 79% of those between 18-35 are interested in storing and using gift cards on their phones.
➼ Nearly 23% of those who have purchased gift cards from online websites or mobile websites/apps purchase 5-10 cards annually.
When you compare this mind-boggling acceptance and growth of digital presents to physical gift cards — a steady 6%, even the slightest doubt about the former's supreme rein will vanish as quickly as vapor. Now, the moot question is, what is making digital gift cards so popular among corporates and non-corporates alike?
Well, before going into the details and intricacies of digital gift cards and the reasons for their popularity, it's important to know that they have been in presence since early 2000. However, their seemingly swift march was untimely aborted by the technological deficit of that time.
These gift cards had to be printed out, and dynamic QR codes were seemingly uncommon in the teething days of digital gift cards.
It directly implied that digital gift cards, delivering the digital presents, had to be entered manually at registers — making them very inconvenient for both the sender and receiver. Consequently, HRs' didn't want to send gift cards that guzzled up a long time to redeem, leaving a sour taste in the overall palate of the gifting experience.
However, with the metamorphic arrival of smartphones and the increasingly connected digital world, digital presents got a jab of fresh blood. The new dawn of the interconnected world empowered receivers to receive and redeem digital gift cards directly from their phones.
The incomparable transportability and ease of phones bequeathed upon receivers the freedom of choice through two highly desirable riders: redeeming the gift of their choice ANYTIME and ANYWHERE.
Corporate gifters, thus, were not wrong in seeing a silhouette of a Midas touch in these quick-to-send and quick to redeem digital presents.
🎁
Want to know what to gift your employees, clients, or channel partners? Explore our collection of
corporate gift cards
now.
What is a Digital Gift Card?
A digital gift card, also known as an electronic, virtual, or mobile gift card, is a virtual gift option that enables one to redeem the gift of choice on electronic platforms. It can be in the form of codes or reward-based links and sent to the recipient via phone or email.
A digital gift card works just like regular gift cards. Depending on the card merchandiser, you can use this code online and in the store. Note that it's a valid alternative to cash.
Apart from the ease of sending and receiving, digital gift cards bring momentous value to both the sender (companies) and receivers (employees, customers, partners.) The following value attributes are just the tip of the iceberg.
Physical vs. Digital Gift Cards: The difference
Physical gift cards are more common because they have been around longer. Arguably, physical gift cards generate a higher level of emotion because they feel more like a gift, but they are not the easiest to get across to people, especially when time is of the essence.
Besides that, physical gift cards are easy to misplace and even perish. On the other hand, digital gift cards are straightforward to send globally. They are retrievable and, thus, can never be lost.
They may not be as 'emotional' or as tangible as a 'gift,' but digital gift cards are far more convenient with today's remote work culture and employees across borders. Also, they come with an added advantage of instant gratification!
Digital gift cards, the new age alternative, align better with modern recipients and evolving technology. Also known as e-gift Cards, they are more popular, easy to buy, and seamless to send across geographies. The recipient can redeem them online or in physical stores, thus offering flexibility and freedom of choice.
Traditional Incentives Just don't Cut it Anymore!
Traditional incentives are not only less effective for the receiver but also for the giver. Here's a comparative chart of how traditional incentives fare against gift cards for the receiver:
If that didn't convince you enough, here's a comparative chart of how traditional incentives fare against gift cards for the sender/giver:
Why are Digital Gifts Better than Physical Gifts?
Here are ten reasons that justifies why digital gifts are better than physical gifts:
1. Enormous scope for personalization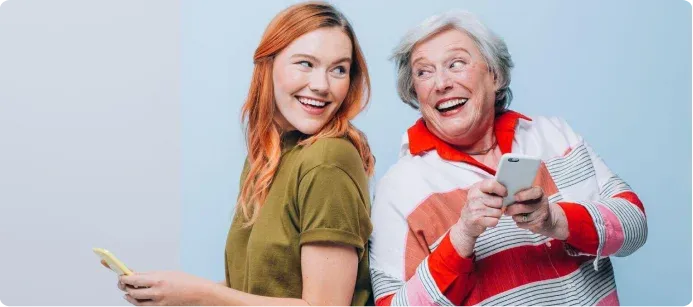 Personalization is to gifting what the mainstay is to ship - undoubtedly unavoidable. The perceived value of the gift generates deeply from the personal connection that it evokes and countless studies staunchly support it.
Clearly, companies cannot miss on this all-too-important cog in the gifting wheel, and that's where digital presents and digital gift cards bath in special importance.
With the freedom to set their denominations and not having to stick to a predetermined amount, modify all the elements of the gift card from the face to a ceremonial bowtie to "unwrap" the card, senders can achieve the most conceivable level of personalization with virtual gifts.
2. Instant gratification renders geographical barriers insignificant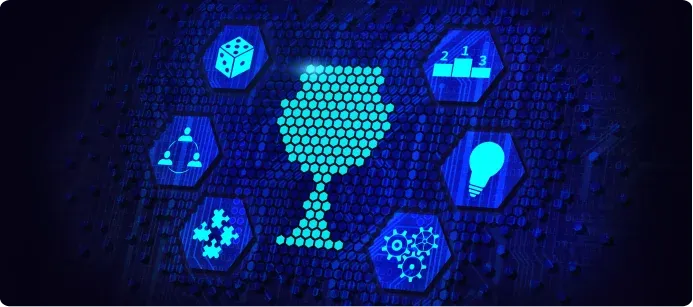 Digital gift cards are sent to the receiver through SMS, email, or specialized gifting apps. It guarantees instant, immediate delivery — making digital gift cards the best choice if your employees or clients are living in a different country or continent.
Note that it is not just saving you from the delays that cross-boundary issues might trigger. You are also weeding out the need for your employees and clients to go to the store and stand in long serpentine queues to redeem the gift.
All they need is a few clicks, and the gift of their choice is on its way. Also, digital gifting platforms like Plum offer multilingual services, letting you craft a personalized gift and message without the fear of it getting mistranslated.
3. Low on cost, high on effect prospect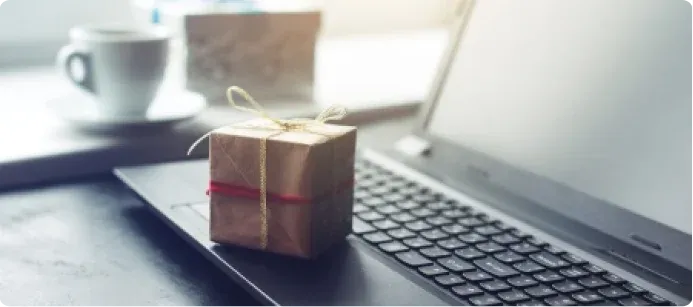 Imagine sending a thousand physical gifts to thousands of employees/clients located at different locations?
Starting from acquiring gifts that suit each and every persona to putting it in inventory; and from ensuring the right last-mile delivery through third-party delivery partners to handling the return of gifts in case the address is wrong or non-updated, the cost is written everywhere.
The size of recipients, on the contrary, is an ineffectual aspect for the sender of digital presents. He just needs to send codes or links to the recipients, costing zilch to the company.
Similarly, it's much cheaper than replacing the wrong email id in the system than to face the extra ride due to the wrong physical address. This cost-effectiveness forms the kernel of the
study
, which shows digital gift card adoption is projected to grow 23% by 2025—more than 2.5X faster than overall gift card sales.
4. Idea for last-minute gifts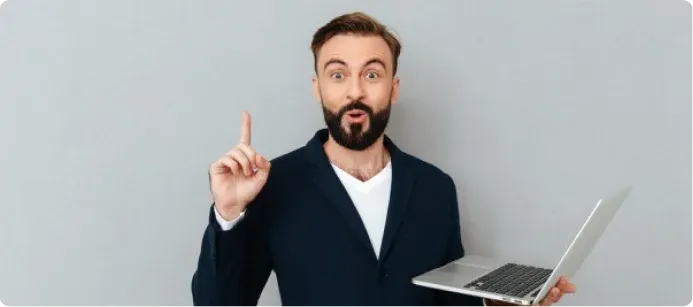 However immaculately planned your corporate gifting program with all the recipients' names and usual suspects of events is, a need for last-minute gifts can prop up from blue.
Your sales team might have ballparked a handsome sum from a not-so-bright warm lead, or your esteemed client's company might have been at the podium for the reception of a glorious business award.
These achievements are, by all stretch of the imagination, worthy of a gift from you. But the caveat is that you hadn't roped in this possibility in your gifting planning, putting you on the verge of missing out on a really deserving gifting opportunity.
Digital gift cards are the actual savior, in the rightest possible meaning of the word, in this crisis-like situation. Where traditional gift cards get delivered within 6 to 8 days, digital gift cards land in the digital premise of receivers within 24 hours.
Also, through a scheduler, they steer you out of the disaster of missing out on key gift-worthy events.
5. No possibility of misplacing them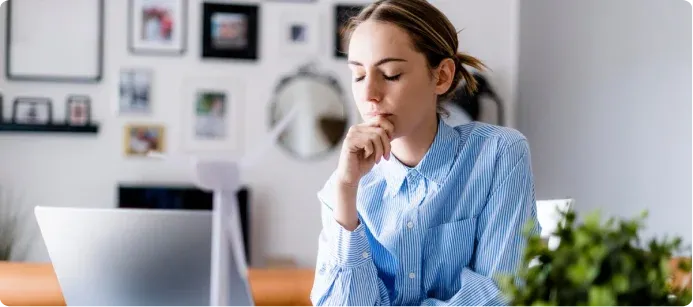 One of the best things about digital gift cards is they are unlosable. They stay permanently in your email and message. It's a great relief to your employees/clients who are worried about misplacing their cards or cash.
Note that 40% of 18 to 29-year-olds agreed to losing their physical gift cards right before they wanted to spend it.
Jeanine Skowronski, a credit card analyst for Bankrate.com, puts it in exact words:
"Electronic gift cards are definitely harder to lose. It can exist in your email, as opposed to a piece of plastic that may or may not make it into your wallet."
6. Easy to scale up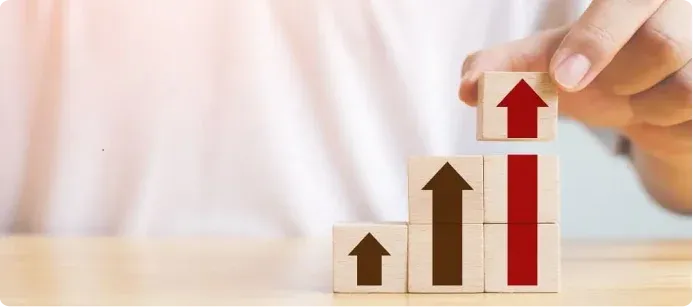 Since most digital gift platforms are API-based, adding a whole new category of gifts and their respective vendors is less time-consuming and money minting. The developer and system technicians can bring in integration within a few days, reducing your go-to-market time.
The greatest advantage of this time efficiency is it lets you grasp the pulse of gifting trends, what your employees/customers want as a corporate gift, and make the changes in your gifts profile. This makes your gifting endeavor more relevant and highly desirable to the recipients.
7. Lower risk of scams and misuse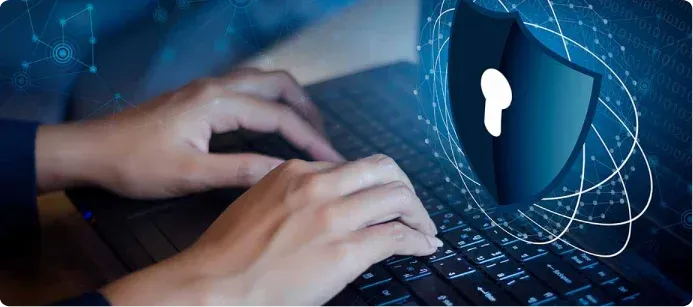 As the information on digital gift cards gets generated at the time of purchase and sent directly to you or the recipient, you are less likely to be a victim of popular gift card scams, namely gift card skimming.
Moreover, you pay only for the gifts that have been redeemed - and all these transactions are available to you in real-time. If you notice any discrepancy of any type, you can connect with the digital gift platform's customer service and get the doubts ironed out.
8. They are eco-friendly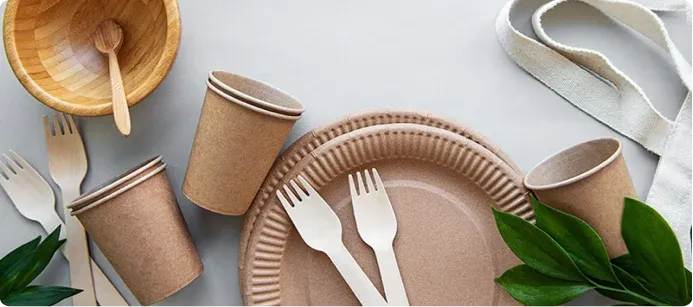 Where climate change is becoming a reality rather than fiction, and natural catastrophes are hitting us with the regularity of a pendulum, preserving the natural resources is key to our planet's sustenance.
Physical gift cards are antithetical to it since:
They demand cutting down valuable trees for the creation of a plastic card, which functions as a one-time voucher.
Shipping gifts physically pollutes the world compared to their digital counterparts.
Digital gifts cards don't have to be printed on plastic or paper, avoiding sinful wastage of natural resources.
With a microscopic consideration of these climate requirements, the benefits guaranteed by digital gift cards can't be highlighted more pinpointedly.
How to Send a Digital Gift Card
Sending a digital gift card, under any circumstances, wouldn't take more than a minute. Here are the steps to send an egift card.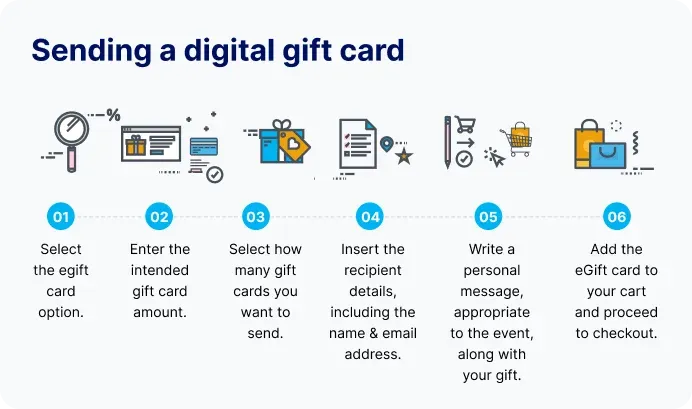 6 Best Practices to Follow While Sending a Digital Gift Card
When it comes to gift cards, it can broadly vary from the typical customer journey, particularly when you're offering digital gift vouchers. So here are some best practices to keeping in mind while sending one:
1. Decide on the voucher's theme

Senders can easily make the gifting process fun-filled and relevant by imbibing popular and interesting themes. A few to name are Black Friday, New Year, Christmas, Halloween, Mother and Father day.
Senders can also select images for their cards based on their tastes and branding preferences.
2. Determine the gift card value

Once the card theme is fixed, define the value of gift vouchers you want to have. Generally, there are two options for you: One is a list of fixed prices, and the other is a custom field box that allows you to enter desired prices.
3. Provide required information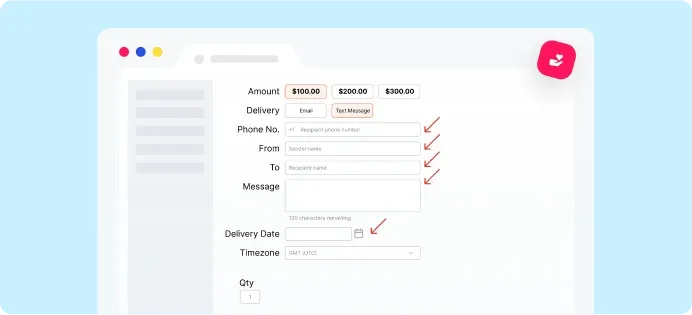 Generally, there are two ways to deliver a digital gift card, namely email, text message.
If you decide to send gifts via email, you have to provide the recipient's email id. Besides, you can attach a personalized message and decide the delivery date and time by filling in the Delivery Date.
4. Text message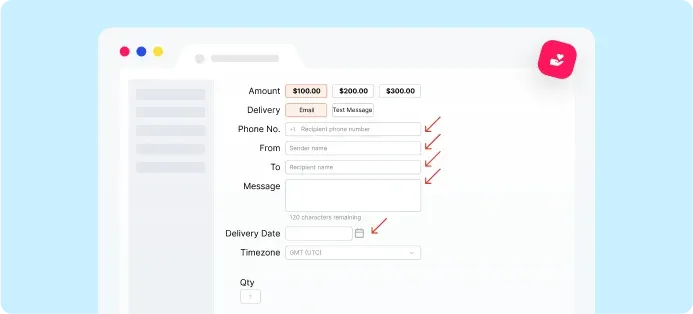 If you want to choose text mode, put in the phone number of the recipient. Just like its email counterpart, this dispatch method allows you to write messages to receivers along with the time that gift cards will be sent.
5. Decide the quantity of gift cards purchased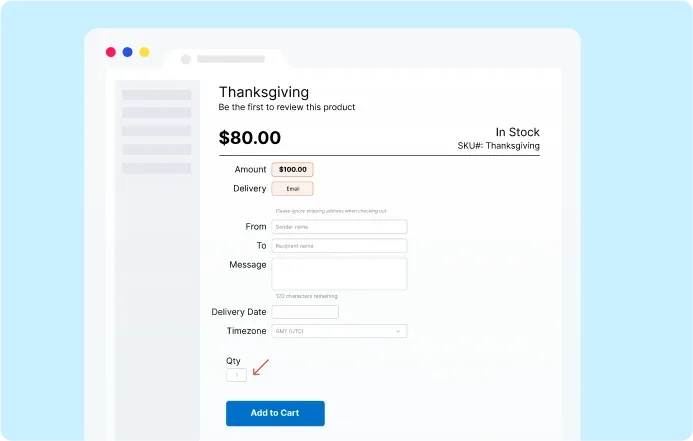 Once the information gets filled up, gift vouchers, along with details about buyers, receivers, and a delivery email, get listed.
The value of the card decided by you will get transferred into the base currency of the online merchant once redeemers want to check out.
Before finishing this step, you can see how the gift card looks and think of any last-moment changes. Finally, select the quantity.
6. Send gift cards to recipients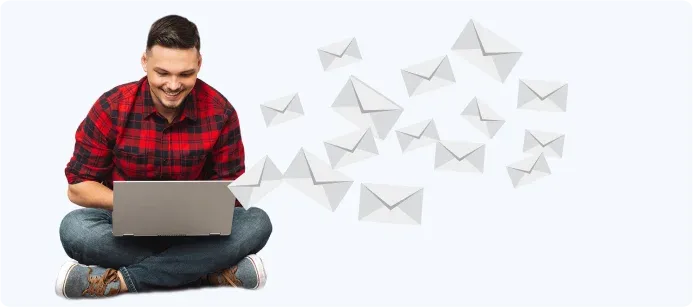 Depending on the delivery methods that you have chosen, gift vouchers will be sent to receivers. An email with a gift card code/link, the name of the sender, and a message will be sent to the receiver. Once the gift is dispatched to the receiver, an SMS notification will be sent to him.
How your recipients can redeem Electronic Gift Cards
Online: Depending on the retailer, receivers can either put the gift card code or link on the payment screen during checking out or place the gift card amount to their respective accounts.

In-Store: Your receivers can show the egift card on a digital device to the counter and get it redeemed. Though it is not advisable, simply from the environmental point of view, they can take a printout of it and show it at the counter.
The Conundrum: Stunning Adoption Rate Amidst some Hesitancy
The ease of giving and managing, opening up of a bountiful array of gifting options, and high scalability have impressed upon the organizations the multi-pronged and measurable impact of digital presents and egifts.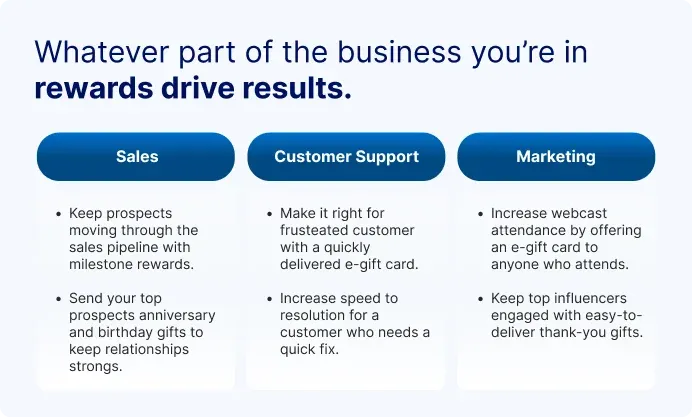 However, being the most recent form of gifts, digital gifting has stirred the hornet's nest.
Their conceivable lack of physical touch, the lingering fear of online frauds, the perceived not-so-tech savvy boomer generation of clients and employees have conjured up a heavy and thick mist of misconceptions.
Here are some of them, along with the reasons for their insubstantiality.
1. Digital gift cards are boring and monotonous
It is believed that digital gift vouchers are boring, as they come with limited template designs or card materials. This cannot be further than the truth, as modern digital gifting platforms come with all the avant-garde extensions, letting you design the egift card as per your wish, need, and demand.
Moreover, besides the pre-made card templates, organizations can add their brand images, logos, special event engravings on egift cards - making them more mission-critical and fun-filled to send.
2. The older generation of employees and clients don't prefer digital presents
It's a half-truth that the older generation has a low adoption rate of technology. The other half of the truth is its connection with technology is growing at a rapid pace.
Research carried out by Pew research center has shown that four-in-ten seniors have smartphones today. Similarly, social media usage among this group is also seeing an upward trend.
What strikes is 45% of seniors who are over 65 are planning to give digital gift cards within the next 3 months, according to the National Retail Federation Gift Card Spending Survey.
Clearly, it's an overwhelming indication of how at-ease the older generation is starting to feel with virtual gifts - throwing cold water over the doubts about their digital non-nativity.
3. Egift cards are popular among western countries only
The all-palpable cultural and socio-psychological difference between east and west might press many to believe that the heart-first and deeply traditional approach of Asians may not welcome egifts, as they cannot greet the person and convey the emotions in the right way.
Though the Western world leads when it comes to digital gifting, pandemic and ever-increasing internet access is making Asia more fertile for the penetration of digital gifting.

💡
In fact,
reports
are numerically suggesting how e-gifting is seeing the biggest spike across regions, with sales the highest in Europe, followed by East Asia.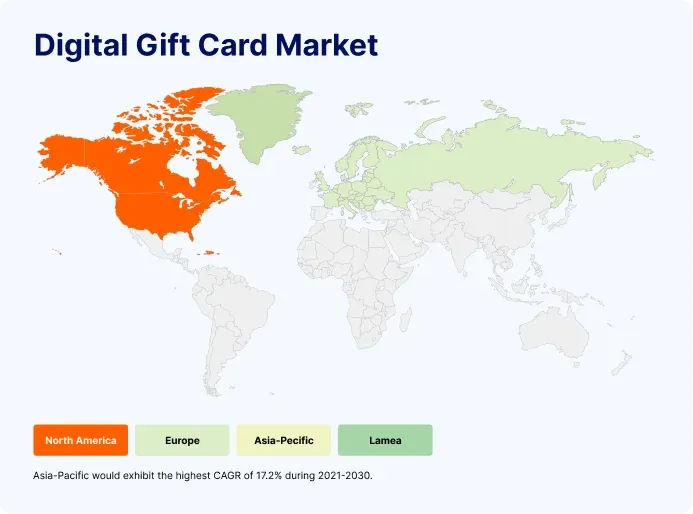 A finding that Southeast Asia has added 70 million online shoppers since the beginning of the pandemic, thus, logically accords with the growing Asian adaptability for digital gift cards.
4. Digital gift cards are popular among men
From the stereotyped and cliched assumption that women are less digitally literate and fervently believe in in-person buying, it's a general conception that digital gift vouchers amuse them less than their male counterparts.
National Retail Federation Gift Card gives toss to these grapevines with a finding that 70% of women planned on e-gifting within the next 3 months, compared with 50% of men. Besides, it also asserted that virtual cards are the most-desired gifts for females. For males, it acquired third place.
5. Egifts are restricted by geographical boundaries
The sweeping growth of globalization has made organizations globetrotters with super-enhanced geographical footprints, forcing them to bring in a multi-linguistic and cross-border approach into their gifting endeavor. And many believe that digital gifting will fall short of it.
The truth is digital gifting platforms are more than aware of it, and much to the relief of gifters, they are equipped with technological brilliance to bring that awareness into practice.
The programing genius doesn't just let you select the currency and denominations of the respective country but language (in some cases even dialects) as well, empowering you in piecing together a gift and gifting messaging that is seeped in local values and culture.
6. Digital gifts come with shipping fees
Unlike physical gifts, digital gifts don't travel in the tangible world. As their only mode of transfer is electronic via an email or a phone message, they are conceived to operate and expire in the realms of the virtual world. It automatically implies that apart from a few personal confirmations, they incur no shipping fees.
7. Redemption is online-only
Due to the online-only nature of digital gift cards, the myth that they get redeemed only through online avenues has achieved a crusty concreteness. It's a definite false, as most of the digital cards are omnichannel.
Depending upon preferences, choices, and availability of modes, receivers can redeem their virtual gift cards in online or physical stores.

This online-only nature has also made people believe that organizations can buy digital gift cards through MasterCard only. But since digital gift cards are considered normal products, organizations can buy them through cash as well.
8. Digital gift cards are complicated to handle
Many people find long, safety-prone redemption codes of digital gift cards hard to remember. Organizations fear that this complexity of memorizing the code will halt the redemption efforts of their receivers and thereby the overall response rate of their corporate gifting program.

It must be noted that as soon as a virtual card is issued, this prepaid money gets stored in the database system.
Redeemers don't need to bring any receipt to purchase the product, nor do they need to carry long-tailing codes.
Even if you can't find your evoucher in the digital chaos of a mobile or laptop, card providers will grant a replacement balance as per the records immediately. Egifts cards, thus, aren't just safe. They are incredibly handy.
These initial hesitations, which inevitably come with anything that is pioneering trailblazing, will vanish away slowly with the advent of better technology, payment modes, deeper penetration of smartphones and the internet, and scientific study of what employers, customers, and clients really want as corporate gifts—enshrining digital gift cards into the de-facto choice of gift-givers.
💡
Tell-tale signs are already there:
The global
digital gift card market size
was valued at $ 258.34 billion in 2020 and is projected to reach $ 1,101.03 billion by 2030, growing at a CAGR of 15.8% from 2021 to 2030.
And along with traditional retailers, corporates will have the lion's share in it, indicating the overall sway digital gifting will have on the corporate gifting ecosystem.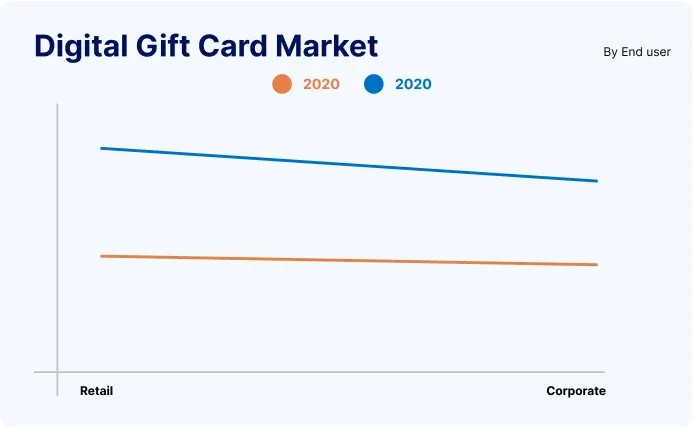 It's Time to Go Digital
Kantar, one of our clients, a data insights and consultancy company, encouraged survey participation by offering digital gift vouchers.
Participants could choose from over 21000 reward options across 100 countries on survey completion. In three months,
the company delivered rewards worth over 3.32 million USD.
Xoxoday's digital reward platform helped Kantar eliminate the inefficiencies of a manual reward process and automate its digital rewards.
Read the complete Kantar Case Study.
In a nutshell
Though physical gifts have the eponymous benefit of being physical and thereby facilitating face-to-face interaction with the receiver, digital gifts sit atop by ticking all other business-critical parameters - highly economical, distinguishingly personalizable, easily scalable, and perfect for a zero hour are a few to name.
It's very much in tune with the current times as everything from education to corporate tasks is looping into the realm of digitalization. Platforms like Xoxoday are further deepening the adoption rate of digital gifts among corporate honchos.
---