When it comes to the workplace, nothing beats the interns. They are young and energetic individuals who are a crucial part of any team they are in. They provide a fresh perspective on the company's daily business and procedures. Being tech-savvy, they also apply their technical skills to bring innovative and nuanced social media marketing or engagement ideas.
Interns are often considered as the first step towards becoming a full-time new hire, and their contributions to the team are an excellent way to gauge their potential fit within the company culture.
So, it is only justifiable to express your gratitude for their invaluable contributions, and what is the best day to honour them giving a gift on National Interns Day is an awesome start.
How did National Interns Day come into the picture?
It was in 2017 when WayUp founded National Interns Day to encourage companies to commemorate and appreciate interns. It is celebrated in July, on the last Thursday. Employers can celebrate this day in several ways.
By hosting a virtual luncheon
By honouring both past and present interns
Highlighting successful intern-generated ideas
Developing new strategies for internships
Why is it important to celebrate National Interns Day?
Interns form a crucial part of a team, who help introduce innovative ideas to help create better strategies for efficiently tackling commercial problems. They may work in the shadows but execute the task with hard work and dedication.
For them, National Interns Day is celebrated. There are various reasons to celebrate this day. Let's take a look at them.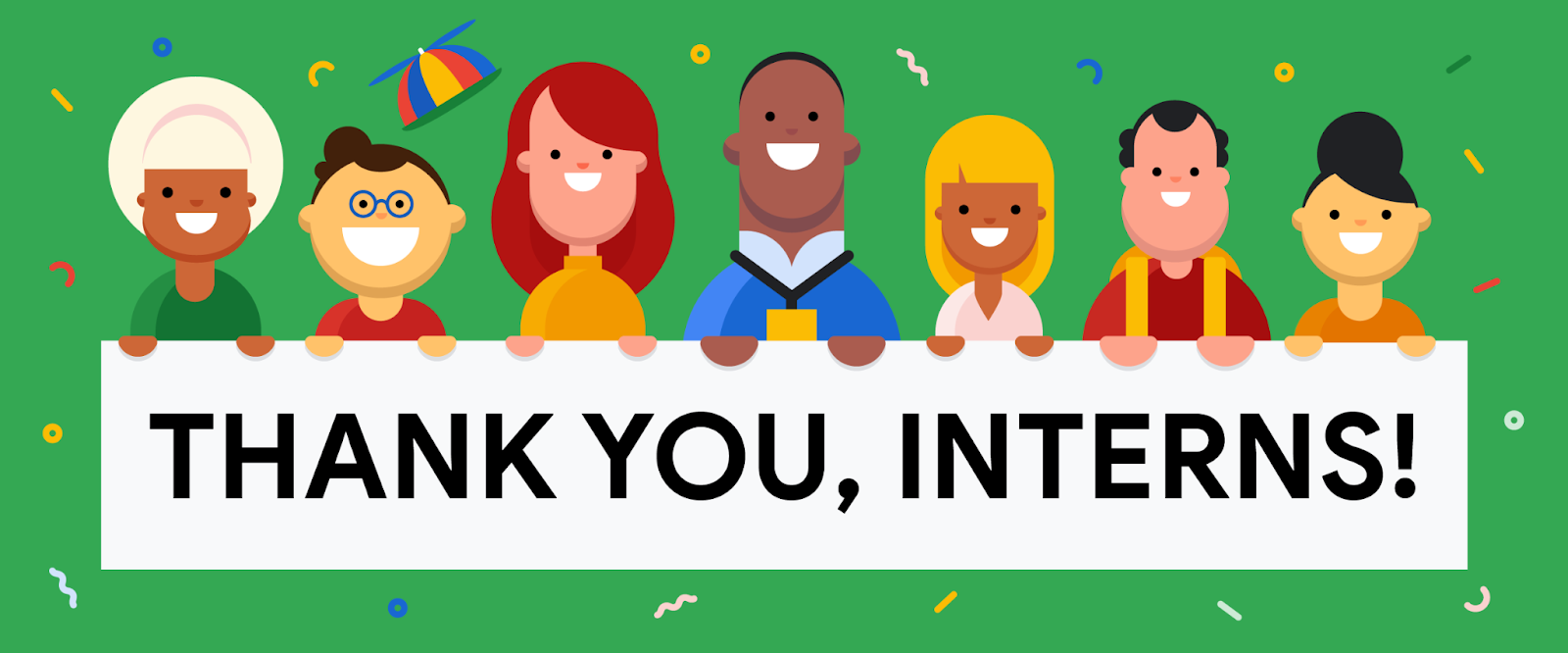 1. To show appreciation
Small efforts are crucial in the grand scheme. Such is the case with interns. Though they are assigned minor tasks, their contribution is essential in ensuring the smooth flow of operations.
So, it becomes necessary to appreciate them to show that you care. It motivates them to work even harder to give it all. The National Interns Day is the best way to do so.
2. To strengthen the workplace bond
Gifts carry a lot of emotional weightage (in a positive sense) to the one who receives them. That's why when you give a gift to someone, it reflects sincerity and a sense of concern.
So, when employers gift interns, it leaves a deeply warm impression on their minds. They feel safe and welcomed at the workplace, which helps them open up to others. This opening up strengthens the bond between the interns and the employee, thereby increasing the company's overall performance.
3. It boosts business culture
Brilliant products and services are necessary, but these are not the only reasons that help the company's overall image and reputation. There is one more crucial thing to it. It is the business culture, i.e., how well the company treats its employees and others. Celebrating National Interns Day helps boost the business culture, thereby boosting the company's overall image.
Now that we have discussed National Interns' Day and its importance in the work culture, let's now look at some of the best gift ideas that you, as an employer, can give to the interns to express your appreciation.

25+ Gift ideas for interns for National Interns Day
For your convenience, here's a list of gift ideas to help you decide on the gift you can give your interns. These are:
1. Mouse pad with wrist rest
Since most interns are tech-savvy, they work long hours on the computers. As a result, their wrist might become tired and stiff. Therefore, a mouse pad with wrist rest becomes a perfect gift to show you care about them.
2. Spiral notebook
Another simple yet thoughtful gift to give to your intern is a spiral notebook. It will motivate them to take notes and write down ideas. It comes with 140 dotted pages, metal wire-o branding, and covers with soft touch coating. Now, whenever your intern opens the notebook, they will never forget your generosity.
3. Laptop sleeve
A laptop sleeve is a befitting gift for an intern who likes to keep their laptop close. It is a lightweight and form-fitting laptop sleeve. It has a padded zipper binding to prevent scratches, and the interior is lined with faux fur. Furthermore, it's made from water-resistant and scratch-proof material.
4. White glossy mug 11oz
During a busy office day, all your intern needs is a cup of coffee to provide the much-needed refreshment. So, gifting them a white ceramic mug is a thoughtful option. Your small gesture will prove to go a long way in your intern's mind.
5. Bambowie bamboo gift set
An eco-friendly Bambowie bamboo gift set will be an excellent addition to your National Interns Day gift ideas. It consists of a Bowie Ballpoint Pen and Bowie Bamboo mechanical pencil. Both are made of eco-friendly and a hundred per cent renewable bamboo and are packaged in an attractive Recycled Kraft paper box.
6. Popgrip
A pop grip is the best gift for tech-savvy interns who like to keep their Kindle close, as it makes long-term reading much more comfortable.
7. Rechargeable lamp
A rechargeable lamp comes in handy on the nights when the reading is extended and the sleep away. Now, you can read your favourite book in the comfort of your bed without needing to switch off the light.
8. Bookmark
It may seem not much, but a bookmark holds a special place for book lovers. It helps the reader keep track of the book's progress and keeps the book clean.
9. Garrett mix and CaramelCrisp bundle
Popcorn is a must for having a quick munch between tasks. So, give your munchy intern this Garret Mix and CaramelCrisp Bundle of goodies. It comes in a classic tin of Garret Mix paired with a container of CaramelCrisp. What's more, it's gluten-free too.
10. Intern appreciation box
This specially curated box is filled with a variety of snacks and beverages that the intern in your life will be sure to love. The box features delicious savory and sweet snacks such as chips, granola bites, cookies, protein bars, sparkling waters, iced coffees, and more.
The unique tasty flavors combined with top-of-the-line ingredients make these snacks and beverages perfect for anyone with various dietary needs and preferences.
11. Miami fruit large variety box
This large variety box of Miami Fruit will be a viable option for interns who are into healthy eating. The package contains a variety of eight to ten pounds of in-season fruit.
12. Fitness gift box
For interns who are gym freaks, Bigsmall's curated fitness gift box is a must-have. The gift box consists of a UCB gym bag, a muscle mug, Pebble earpods neo buds, a muscle mug, and a pack of Eat Better sweet, crunchy nut mix. Give this gift box to help maintain your interns' lifestyle.
13. Sweatpants
Men's Atlas sweatpants make a perfect National Interns Day gift if your intern likes to jog a round or two every morning. These are breathable and insulating, which makes the experience even more soothing. In addition, it comprises organic cotton and recycled polyester, which helps maintain a sustainable environment.
14. Yoga is the way
Yoga has become a new trend now. Restore Yoga Bag and Mat will be the best option if your intern is smitten by the same. This yoga bundle has a unique roll top and zipper opening to put your mat in the bag quickly.
Furthermore, it comes with adjustable 44" shoulder straps. The mat is a 6mm thick and durable mat with a textured surface on one side and a smooth one on the other. It has an elastic band for easy rolling up and packing.
15. Tunezie wireless earbud beanie
For interns who love their outdoor activities with a touch of beats, Tunezie wireless earbud beanie is a sound choice. Earbuds are integrated into the hat itself, so there is no fear of losing them on the move, while controls are embedded into a leather patch sewn on the cap for easy access. The earbuds have playtime of up to eight hours, and you can even take calls. The beanie, too, is made up of premium knit material.
16. Mini portable bluetooth speaker
Minuet's mini portable Bluetooth speaker is a boon for interns who habitually blast off music in the comfort of their homes. It is rich in audio quality and packs a punchy bass. It comes with a playtime of more than 6 hours. In addition, it comes with TWS Technology that supports surround mode, and the Bluetooth connectivity range is 30 feet.
17. Bluetooth headphones
Some prefer Bluetooth headphones while listening to music. For them, Skullcandy Cassette Bluetooth Headphones are good National Interns Day gifts. These headphones come with fast-charge technology and can deliver playback of up to 2.5 after 10 minutes and 22 hours of playback after being fully charged. You can also take calls!
18. Trekker vest
This Streamlined ThermoBall trekker vest is a perfect choice for interns who are avid fans of trekking. It is tailored to fit your body and maintains core warmth in cold and wet weather. They have secure-zip hand pockets and are stowed in the left-hand pocket.
19. Sherpa blanket
The Field & Co. Sherpa Blanket is a cozy gift to give this National Interns Day. It features a classic look with a timeless style. It is comfortable, super soft, and provides perfect luxurious comfort. In addition, it consists of vintage branding elements and details.
20. Fleece pullover hoodie
If your intern is into hoodies, Nike's hoodie is the right choice. This hoodie sports classic Nike style with comfortable brushed-back fleece. It is a jersey-lined 3-panel hood with dyed-to-match drawstrings that offers adjustable coverage. In addition, it comes in embroidery or printed options.
21. Caffeinated experience
The interns who don't shy away from their daily dose of caffeine, this specially curated coffee-themed box is a must. It consists of country bean vanilla and caramel-flavoured coffee. In addition, it comes with a certified coffee lover badge, a coffee mug, cookies, chocolates, a coffee frother, and wooden coasters.
22. Feels like home
To some, coffee brings alertness, while to some, it brings memories. The 'Feels Like Home' coffee box from Tribal Brew Coffee is curated only for those who enjoy comfort with a pinch of nostalgia.
Each box has a selection of artisanal sweets and treats, authentic brass brewing equipment, cut and aware, and an exceptional Chikmagalur coffee to provide an exceptional and indulgent experience.
23. Caffeine cocktail
For coffee lovers who prefer variety and taste, Nature's Basket's coffee box is an experience worth sipping. It combines a unique blend of Colombian coffee, Davidoff, Cohoma, and Sleepy. For people with classic taste, Italy's crema e gusto is included. What's more, it also has Beanies vanilla.
24. Branded digital experience
Here, you can customize the menu with the artwork of your preference. Include logo, message, or custom graphics.
25. Custom printed note
Now add a touch of warmth while thanking WFH employees, work-from-anywhere employees and others by adding a custom printed note. Write your heart out and show everyone how much you care.
26. Organizer video message
Add a video message with your swag kits. The video will appear in the invitation email and the recipient's landing page.
27. Branded swag stickers
With branded swag stickers, you can customize the outside of the box with your logo, patterns, or custom graphics to enhance your brand image. Click here to know more.
28. Branded notecard
You can also include a branded notecard with your customized swag kits.
29. It's in the name
Show your interns how much you care by giving them an ultra-personalized hamper. The box contains a personalized wooden binder, magnet, keychain, Astro phone, and pen holder.
30. Work an inch away
This on-the-go office pack is a beautiful addition for interns working from anywhere. It includes a dairy with a pen, a personalized thermal flask, a metal keychain, a personalized stainless steel flask mug, incense sticks, incense cones, a chocolate sweet ball, and a reusable tote bag.
31. Improving feedback
Feedback is essential to an individual or team's growth and success. Teambuild offers a specialized course on leveraging neuroscience to improve feedback. The system has three duration options; 60 miniature keynotes, half-day and full-day workshops.
32. Hack the change
Interns are at a phase when their life is going through an immense change. Therefore, it becomes imperative to learn to accept the difference for the betterment of the self. This course teaches you to hack neuroscience to benefit from the change. This also comes with three duration options; 60 miniature keynotes, a half-day, and full-day workshops.
So, what are you waiting for? Make your interns' National Interns Day special with our handpicked gift options.
---