Table of Contents
I suppose you must have come in search of information, be it Lead generation tools or LinkedIn automation tools. Just to make sure this will be a worthwhile read and not just another tech blog, let's not only talk about tools and features; instead, let me take you through the journey of how I came across these tools, what made me choose/reject them, when or when not one should opt for these tools.
Effective all-in-one lead generation tools are a rare find, particularly when it comes to B2B lead generation tools, most marketers will need a combination of several resources to meet their goals.
These tools come primarily in the form of apps and software that help automate everything from content creation, website design, social media management to SEO. These tools not only make lead generation an easy task but also enhance the funnel flow.
It all started a year back for us. We are a product based company where we need to generate a lot of inbound leads daily. We want to capture our incoming website traffic and use email list building tools to do so, but there is more to it – and many more channels to prospect on. We need to get information like contact emails, LinkedIn, company name, contact number, and other related details.
We did extensive research and created a list of all the tools that we needed to evaluate to solve your problem.
In this blog we will cover:
17 Best lead generation tools
Hunter
Skrapp
LeadLeaper
SalesQL
Aeroleads
Lusha
Seamless.Ai
ClearBit
Leadworx
Finder.io
D&B HOOVER
Xoxoday Plum
Snov.io
Full Contact
Zoominfo
DiscoveryOrg
SalesIntel
Minelead
VoilaNorbert
Clearout
Adapt.io
3 Best LinkedIn automation tools
Linked Helper
LeadsConnect
Dux-Soup
17 Best lead generation tools in 2024
Lead generation tools are crucial for any business looking to drive growth. Here are the 20 best lead generation and automation tools to streamline your marketing efforts and increase your conversion rates today.
1. Hunter
So what comes to your mind when you hear the word Hunter, one who hunts others? Exactly this is what Hunter.io does, hunt the contact details for you. We found it during the research only. Web-based email search and verification tool that helps find and verify professional email addresses from companies and domains.
Features
Provides Email addresses to generate new leads. The option of Domain search is also available.
An Additional advantage it has over other tools is that it provides email address verification so that the bounce rate could be decreased.
A/B testing, Spam compliance, and subscriber management are also some of the additional features.
When to use: Recommended tool for generating email addresses, and email verification, also provides the sources it has been scrapping domain search.
When not to use: Doesn't provide any insight or analytics on data management, costlier than other tools. Bulk email scraping becomes a tedious task sometimes.
2. Skrapp
As the name suggests Skrapp is used for fetching data. It is indeed powerful and extensively useful. Finding new business leads is the essential value add of Skrapp, and it helps in B2B lead generation in every category and supports over 30 countries. A free trial of Skrapp is available for Windows and Mac OS.
‍Features
It provides a chrome extension for lead generation work. It can be used directly on the website (Linkedin, Google) to extract the profile information on the page.
Automated scraping can be done through Sales Navigator.
It provides useful insights in terms of email, phone number, company size, employee size, and so on.
Great for lead sourcing, database creation, and leads segmentation.
When to use: You can use this tool when huge scrapping has to be done, and the bounce rate of the email address is not a significant criterion. The tool is particularly useful in cases when employee headcount, country, and designation are under consideration.
When not to use: We didn't go for the tool as scrapping cannot be done at once for all the result pages on Sales Navigator, and the bounce rate we are getting for the scrapped emails was high.
3. LeadLeaper
Another tool that we took for testing is LeadLeaper. It helps us in generating email addresses on LinkedIn contact groups lead tracking.
One has to go on the profiles and then get the details from the chrome extension which Leadleaper provides, and the database contains all the vital information that is required.
Features
We used the Lead Bot to integrate with LinkedIn Sales Navigator for automatically capturing new leads based on geographical region, role, company, industry, and more.
Managers can receive notifications about opened emails, add custom signatures in marketing emails, and utilize the search functionality to retrieve details of specific leads from the list.
It also helps users view the prospect's email history and track click-through rates (CTR) to monitor the performance of sales campaigns.
When to use: When selected contact information needs to be collected, it can be a useful tool as it is present as a side tool on LinkedIn itself so no need to hover anywhere.
When not to use: Bulk contact extraction can be a tedious task using this tool, and no automation is provided at that front.
4. SalesQL
Bulk scrapping is still a problem for us; we need to solve it. Skrapp is undoubtedly a solution to it but the accuracy of the details it provides in terms of the email address is something we are worried about. The next tool exploration that we undertook is SalesQL.
Features
It provides a chrome extension for lead generation work. It can be used directly on the website(LinkedIn, Google)
Automated scraping can be done through Sales Navigator.
It provides useful insight in terms of email, phone number, company size, employee size, and so on.
Automated scraping of result pages on the sales navigator, which saves a lot of manual time.
Creating a list is an interesting thing one gets in SalesQL as one can segregate different lists in the dashboard.
‍When to use: Bulk scrapping needs to be, automated page visiting. The bounce rate is comparably low. Easy to use, the list can be created for better understanding. Database is large
When not to use: When the contact number is essential as provides a general number as desk/company rather than POCs.
5. Aeroleads
We kept looking into better b2b lead generation tools even after we found the right perspective in terms of SalesQL. We thrive on making this process more comfortable and automated to reduce the time consumed. Aeroleads is one such tool that helps you do so. Aeroleads helps you to find an email address and build an email list in real time for your business.
Features
Prospect and lead generation
Integration to CRM which means it can be used to export profile details to CRM.
Company and Individual profiling
Lead building in terms of Email and phone number search.
Possibility of Team Collaboration is also there.
When to use: Bulk scrapping needs to be, automated page visiting. Bounce rate is comparably low. Easy to use, the list can be created for better understanding. The database is large and has an additional advantage over Hunter, with team collaboration and CRM integration.
When not to use: Lead Nurturing is something missing out in Aeroleads.Import/export of databases facility is also not available.
After we figure out how to get an email address, we still need to figure out how to get the contact number of the leads we are generating. It has to be something which can be easily used on LinkedIn itself. That's when we discovered Lusha.
Features
The features that pursued me in taking the trial of this tool.
It provides a chrome extension for the lead generation work. It can be used directly on the website(LinkedIn, Google)
They are mainly used for the Phone number and Email address.
Provides Integration with Salesforce and HubSpot and can be used to sync the data and modify them on need basis
Data offered tends to be 60-70% accurate.
When to use: Phone number is the primary concern. Have accuracy in terms of providing data—a handy tool for companies looking for selected contacts to reach out.
When not to use: Specific LinkedIn accounts have to be visited personally, and data is scrapped which is a time taking task, comparatively costly than other such tools.
Another tool that we came across during this research period of us is Seamless.Ai, another powerful b2b lead generation tool. It comes with the Sales Navigator like dashboard which has somewhat filtered the same as the navigator and thus makes the search process more manageable.
Features
Lead Builder, Data Cleaning/Enrichment.
Integration to CRM/Marketing Automation, Data Segmentation/Filtering.
Search, News/People Alerts.
Chrome Extension for hassle free searching over LinkedIn.
When to use: As the name suggests, it is undoubtedly seamless when it comes to database creation.Can be used both ways with or without a Sales navigator. The bounce rate is low as compared to many such tools.
When not to use: The accuracy in terms of phone numbers is some of the disadvantages.
Our data enrichment problem has not been solved yet; it's still a long way to go in terms of exploration. The next tool we hit is ClearBit.
ClearBit comes with extensive features as Data Enrichment, B2B audience targeting and many more.
Features
Advertising B2B audience targeting for Facebook Ads and Google Re-marketing.
Unmask anonymous web traffic to personalize for target accounts.
Enrichment, turn any email or domain into a full person or company profile.
Discover your ideal accounts and leads with complete contact info, Alerts.
The lead building, Data Segmentation, Data Filtering.
When to use: If you are looking for accuracy and reliability in terms of Data Enrichment, Lead generation, web traffic tracking. Easy integration with many CRM like HubSpot, Salesforce, Fresh contacts etc
When not to use: The one disadvantage which I find while exploring clear bit is its price which is relatively high in its segment. Moreover, Zoominfo by discovery org has an upper hand contact details availability.
Leadworx
Many people will wonder why Leadworkx is here, but it can be a handy tool in terms of lead generation from web traffic. User behaviour can be studied using this tool, what they are looking for when they visit the website. A lot of filtering can be done in terms of incoming traffic. For example, any company that visits my pricing page from the United States has more than 1000 employees attach their email to the HubSpot or salesforce.
Features
The number of visitors is a vanity metric. Know the companies your visitors are from and what they looked at on your website.
Define your ideal customer and let Leadworx filter unqualified leads as well as exclude your existing customers
Work on your pitch while Leadworx finds the right people and gets their validated emails and social profiles.
Build workflows and automatically feed all your systems with lead data because nobody should spend time doing that manually.
When to use: This can be a useful tool when one has to track the audience who are visiting the website, give a good insight into the traffic sources so that time distribution can be done properly. The user interface is smooth, well-considered, and easy on the eyes. Most software programs struggle with the balance of form and function, especially those with heavy data reliance. But Leadworx has done a beautiful job striking the right balance between the two.
When not to use: The company domain which Leadworx provides many a time makes it a problem to target the right audience. Even the integration with CRMs and other lead-generation tools is limited.
Finder.io is an email finder and verifier tool that offers a unique approach to email verification. It employs a monthly updated database of over 430 million email addresses to discover and validate leads. Businesses trying to grow their email lists and launch outreach efforts may find this to be a useful tool.

Features
Email Finder: Find emails seamlessly.
Email Verifier: Verify email addresses.
Bulk Support: Find email in bulk.
Find email from any domain.
Integration of CRM: Link to your preferred CRM.
When to use
This tool works well for searching, verifying, and checking business email addresses. Small and medium-sized enterprises can access more than 500 million emails by using this email checker. Imagine what it would be like to find such a large amount all at once. One can completely respond to this email lookup tool, which has special lead creation features, to generate B2B sales.
When not to use
There are certain situations where it may not be appropriate to use this service. Here are some scenarios where it is not advisable to use Finder.io:
Email spamming
Stalking or harassment
Violating privacy laws
Targeting vulnerable individuals
Another lead generation tool we discovered during this phase is Hoovers.D&B Hoovers is a sales acceleration solution that provides a path from prospect to a profitable relationship by leveraging data and analytics. B2B sales professionals can engage with customers to grow their business.D&B Hoovers combines commercial databases from Dun & Bradstreet with analytics to deliver a sales intelligence solution packed with insight.
Features
Target More Strategically access comprehensive intelligence on more than 120 million business records
Enable Informed Conversations, deliver intelligence and insight into the tools where your sellers and marketers work every day
Enhances sales productivity, has an intuitive interface and automated workflow features including triggers, alerts, smart lists and conceptual search
D&B Hoovers offers dynamic search and list-building capabilities, real-time trigger alerts, comprehensive company profiles, and valuable research and technology reports.
When to use: Structure of database and Company Data points are good. I can use Hoovers to build a client profile by looking up customers. I can use this to analyse past customers and make a list of "good fit" for future prospects. Estimated data points are average at best (sales revenue, number of employees, square footage).
Overall the database and data structure of a company's profile is one of the best out there. The ability to see data before exporting is incredible, it gives you a great preview before spending purchased credits. Overall, I am confident, from my use and experience, they have the majority of midsize-large businesses in the United States.
When not to use: contacts are average at best. Some data is old and without a phone number where a simple google search brings up a phone number. Cannot remove companies within the same building (suite or floor numbers). The ability to append data through a website would be a great feature that is currently missing. The list match feature requires a lot of info to get a match. Some small companies are missing.
Integration between HubSpot Marketing hub and Xoxoday helps you improve your campaign response rate by engaging prospects and customers with personalised rewards, incentives, gift cards, etc. The seamless integration between the two platforms allows you to analyse and track details like the number of campaigns running, the number of gift coupons sent, etc. from either platform, without having to juggle between the two.
Features
Sales lead nurturing, Referral marketing programs via personalised gifting on integration with CRM like HubSpot, Freshdesk, Zoho people, SAP SuccessFactor, to name a few. Several more integration is possible through integration via Zapier in no time.
Influencer marketing campaigns
Surveys and contests (NPS Survey, Product surveys, Pulse Surveys, etc.)
Webinars /training / other online sessions, customer advocacy programs.
HubSpot Contact Owner Recognition (Sales champion who closed a massive deal, changed deal statuses faster than expected, etc.)
The chrome extension can be used directly on LinkedIn where we can generate coupon code using the Xoxoday in real-time and attach to any message to convert it from a generic message to a personalised message in no time.
How to Get Started with Integration.
Go to Hubspot App Marketplace → App Directory → Search for Xoxoday Plum.
Click on the "Request to Connect" button to connect with Xoxoday Plum. After this, you will be redirected to the Xoxoday app registration process.
You will then be asked to login/ register to Xoxoday and authorise HubSpot.
Once on the Plum login page, you will be asked to enter your email address and Company Name.
A one time password will be sent to verify the email address that you have provided.
On verifying your email address, you will be led through a series of guided steps to set-up your Plum account.
Our next focus is to get the data enriched from time to time and also to increase lead generation. Process and also decrease the time taken in the process. We tried 4-5 tools for the same purpose. The first tool is Snov.io.
Feature
The in-built database provides results using a filter, then redirects to LinkedIn, google for the search, and the extension can be used for scrapping the result.
Used for Email drip campaigns and planned to follow up similar to what we are doing using HubSpot
Emails can be verified so decrease the bounce rate.
Monitor Campaign performance- We are doing it in HubSpot.
Integration is directly possible to HubSpot.
When to use: Direct domain search can be done, Works independent without the need for third-party tools as we need SalesQL for Lusha, technographic features which allow us to find which company is using what in terms of technology.
When not to use: Lack features like Calendar management, Social media integration, Task Management which one find in tools in this range.
I got to know about Full contact on the recommendation of one of the colleagues at work. It helps in gaining unparalleled recognition and insights by mapping fragmented identities into a persistent Person ID with our person-first identity graph.
Features
Energies your first-party data. Rapidly manage digital activation. Engage each person wherever they are online.
Add multiple identifiers to your target audience. Reach people wherever they engage by leveraging Mobile Ad IDs, hashed emails, postal addresses, phone numbers, and more.
Deliver a meaningful brand experience and drive higher conversions by understanding the whole person behind a single identifier in real-time.
When to use: One of the best tools for data enrichment, integration is easy to CRM likes HubSpot, Salesforce, etc., to keep updating both contact and company details. Email verification is also present.
When not to use: Data enrichment in terms of contact properties such as social media profiles(LinkedIn, Facebook) is still on a case to case basis and not a proper solution is there.
Another tool I took an interest in regarding solving the given problem is Zoominfo.
Features
Data enrichment is one of the key features.
On integration with HubSpot, it will automatically keep enriching the data, i.e. updating if someone has left the company, or someone joined
Scoops features to give an insight into our target companies for the monitoring purpose.
Inbuilt database to generate the lead from the platform itself.
An extension is present if some information needs to be scrapped from LinkedIn.
When to use: Cloud-based lead generation platform that helps businesses of all sizes streamline workflow processes and improve marketing operations with database administration, task assignment and more. Have an advantage over Snov.io in terms of data enrichment in CRM as well as scoops which are insightful to track potential buyers.
When not to use: Cannot be used when lead nurturing, lead verification, lead validation is the use case.
Data enrichment is still something we have found a satisfactory result. We are looking for something that appends and updates existing and incoming prospect data in real-time to ensure information stored within your applications is always current and accurate.
Features
Have a human-verified section which is 90%verified
Primary data in Email and Phone number
Data enrichment feature is there, auto removal of non-existing employees
It comes with technographic features as the above two. Human verified is added here which is a plus point
Have a feature of Contact rating in terms of decision making which can be useful.
Another tool I'd like to talk about is SalesIntel, though it has limited presence but some features make it a stand out tool.
Features

In-build databases for the regions (USA, Canada, Australia)
A built-in popular list like Top 50 startup, leading start-ups and so on
Technographics features which allow us to track in the companies which are using our competitor product. IT can be a useful insight
A highly accurate Human verified data set which automatically decreases the bounce rates provides genuine phone nos of the POCs
‍When to use: Need competitors' insight as to which company is using your competitors' product, and want an independent tool which can be used to generate data without third-party tools like sales navigator.

When not to use: Presence is limited so won't recommend people who have TGs in a location other than the US, Canada.
Minelead is a powerful platform designed to generate email addresses and verify their authenticity. With Minelead, you can effortlessly generate targeted email addresses, ensure their validity through verification, and access valuable information about the domains they originate from. Experience the convenience and efficiency of Minelead as you streamline your email marketing efforts.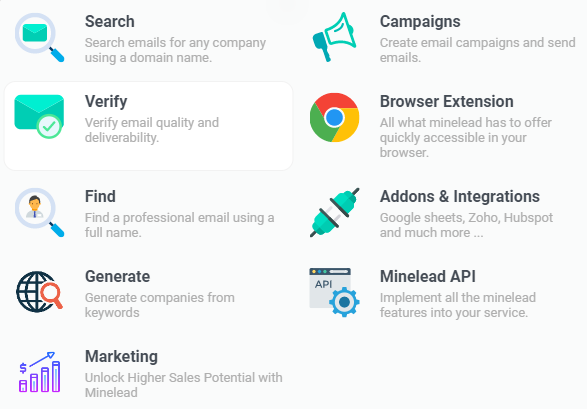 Features
Real-Time Email Finder
The Most Cost-Effective Option in the Market
User-Friendly Interface
Individual or Bulk Email Finder, Verifier and Searcher
When to use: Minelead is the perfect solution for various situations where you need to generate, verify, and explore email addresses. Whether you are an email marketer looking to build targeted campaigns, a sales professional searching for leads, or a researcher in need of accurate contact information, Minelead offers valuable tools to streamline your efforts.

When not to use: When using Minelead to scrape emails from LinkedIn profiles, it is important to note that specific LinkedIn accounts must be visited individually, and the process needs to be done manually.
VoilaNorbert helps you find any email address, manage your leads and save a lot of time otherwise spent on creating an email list. It allows you to find leads, email addresses and contact information on any websites simply by clicking on a button. All your leads can then be exported, added into custom-made lists and/or contacted directly from Norbert with advanced tracking tools to know if they opened or even clicked on your emails.
Features

- email finding and verifying in bulk
- email enrichment
- lead generation and lead management
- first 50 searches are free
When to use: Easy to use, user-friendly interface. It always runs the found email address through an email verification process to validate its accuracy. Each email is then equipped with a "certainty score" that tells you how sure Norbert is that he found the right email address for you.
When not to use: Rarely Norbert can't find an accurate email address, so it doesn't suggest you any.
Clearout
When you think of Clearout, imagine it as your must-have tool for generating potential leads from LinkedIn and LinkedIn Sales Navigator. It has its LinkedIn Email Finder Chrome extension to make the linkedin lead generation trouble-free. It captures verified contact details of prospects who align with your Ideal Customer Profile.
Features
It acquires the prospect's business email addresses, personal email addresses, phone numbers, and much more.
It provides you the verified contact details, eliminating the need of manual verification.
It also provides an In-app search feature to find leads off the LinkedIn platform.
In addition, it can be used for email verification and finding email addresses using name and domain/company name.
When to use:
Clearout is recommended for instant or bulk email verification, prospecting on and off LinkedIn platform , as well as for finding email addresses.
When not to use:
Lacks email campaigns and leads nurturing support.
Adapt.io

Lead generation is often seen as a challenging and resource-intensive task for businesses. However, Adapt transforms this experience, offering a prospecting platform that effortlessly amplifies cold prospecting productivity and accelerates lead generation. With Adapt, businesses can streamline and multiply their efforts, making the entire process more efficient and results-driven.

Features-

Provides advanced filters like company name, industry, revenue, technology, and more to search and find the ideal buyers at scale

Has email finder Chrome extension, CRM enrichment, real-time data verification, and data alerts

Email deliverability percentage to qualify the right lead to reduce bounce rate.

Streamlines the sales process seamlessly with popular CRMs like Hubspot, Salesforce, Zoho, and Marketo.

When to use: This tool can be used to find B2B email addresses and phone numbers on a large scale in just a few clicks, with the bounce rate being less of a worry.

When not to use: When looking for personal email addresses of people.
Price comparison || Features‍

LinkedIn Automation Tools
Who doesn't use LinkedIn these days? So let me directly dive into the automation related to LinkedIn. We do a lot of stuff on LinkedIn - send invites, connect, build valuable connections, so why not to decrease the manual work and automate it completely. Our next research is based on this.

One of the powerful social media tools in today's time is LinkedIn; hence LinkedIn automation is one of the top priorities for me. When I talk about automation, I talk about automation in terms of connects, invites, messages, group posting. The first tool I explored is Linked Helper. ‍

‍Features

Automated 2nd and 3rd connect in terms of invites.
Automated 1st message to the recently joined connection
Message to group members to which one is added.
Allow time setting to match LinkedIn guidelines; thus not lead to any problem to the account.
Automate group message. The limit is 15 messages per month.
When to use: I highly recommend this tool for all kinds of LinkedIn automation as it is cheap as compared to other tools with the same or fewer features. Deliver almost everything that it claims.

When not to use: Bulk automation shouldn't be done using these tools as this may hamper one's LinkedIn account, may lead to restriction.

Precaution: 25-50 new connect/messages should be done per day.

Linkedin Automation in terms of connects, invites, group messages,1st message. The only advantage over linked helper is it allows triggered messages as in if someone accepts the connect request you can trigger the first message after x amount of time according to your preference.

Features

Automated 1st message to the recently joined connection
Message to group members to which one is added.
Allow time setting to match LinkedIn guidelines; thus not lead to any problem to the account.
Automate group message. The limit is 15 messages per month.
When to use: Triggered Messaging is when required, it can be an excellent tool, i.e. messaging as soon as someone accepts the connection, it need not be automated again.

When not to use: The tools come with a hefty price as compared to Linked Helper and deliver almost the same as it except one additional feature which I talked about.

Another powerful linkedin automation tool which we found while seeking a solution for linkedin automation is Dux-Soup.An easy to use tool, Dux-Soup, makes finding leads, nurturing them, and getting them close to conversion, seem like a smoothly streamlined exercise.Communicating with your prospects on LinkedIn becomes a more organized and chaos-free task with Dux-Soup.
Features

Auto visiting profiles,auto invite to 2nd/3rd connections.
Automation of personalised messaging to 1st connection and recently added contacts.
Auto in-mail and endorsement features are also added in the latest version.
Export option of visited profiles for lead building.
Customized filters like profiles visited in the last Y days being one of the many customizable filters.
When to use:Setting up a drip campaign for LinkedIn is very easy compared to others, using Dux Soup. These campaigns automatically when your prospects respond.Their support team is a fantastic bunch. They also provide live chat support during EU and US business hours, which is an impressive effort towards faster and better customer query resolution.

When not to use: Your device might slow down when you install Dux Soup as a chrome extension, and your LinkedIn account will load very slowly. This makes the overall experience bad.The interface is clunky and not intuitive. It takes time to learn how to use the tool properly.

These are our thoughts over the different lead generation tools which we discovered. Do let us know if we have missed something or should have tried some other fantastic tools in the market.
---