Table of Contents
Hoover orchestrated the worst promotion in history. Failure to roll out rewards, losses in millions, and a loss of reputation. Don't be like Hoover. Read on to know how you can nail consumer promotions.
The promotion
2 free (round trip) international flights with every purchase worth £100
The cheapest Hoover product
A vacuum cleaner - £120
Hoover's profits on the cheapest vacuum cleaner
£30
The cost of 2 flights (as in 1992)
£600
Roughly 300k persons became eligible. The promotion failed. They failed to give out a single flight ticket. By the end of 1993, Hoover was posting £23.6m in losses on £390m in sales.
Here's a (non-exhaustive) list of what they did wrong:
They pulled off an overly dramatic promotion just to get rid of excess inventory.
They didn't think through the promotion.
They failed miserably to budget and look at the big picture.
They promised (much) more than they could deliver.  
What are Consumer Promotions?
The
Cambridge Dictionary
defines Consumer Promotions as activities intended to advertise a product and increase sales to customers. The Longman Business Dictionary says that these are activities that last for a short time, such as price reductions or free offers, intended to persuade people to buy a product.
Consumer promotion is a marketing strategy designed to entice customers to buy more. But you already probably know that. We are here to tell you how to put it to the best use. The purpose of consumer sales promotion is twofold - to spread brand awareness in the market and build brand loyalty among current consumers and, consequently,  to drive sales and conversions.
Even simple things like offers and rewards can help establish recall value and create loyalty. For instance, offer free shipping or courier service., when there's a pizza brand that offers a free pizza for every pizza you buy two days a week, you're more likely to get pizza on those two days of the week from that brand! But needless to say, the pizza better be good!
Consumer promotions are a great way to get new customers and keep existing ones coming back for more. As a marketer, it's essential to know how to make these promotions work. This article will help you understand the mentality of your target market and help promote your sales.
The Three R's of Consumer Promotions
Choosing the kind of sales promotion you should run depends upon the type of business you have and your target audience. Apply the three R's of Consumer Sales Promotion to help you choose the right sort of promotion to run.
1. Risk Aversion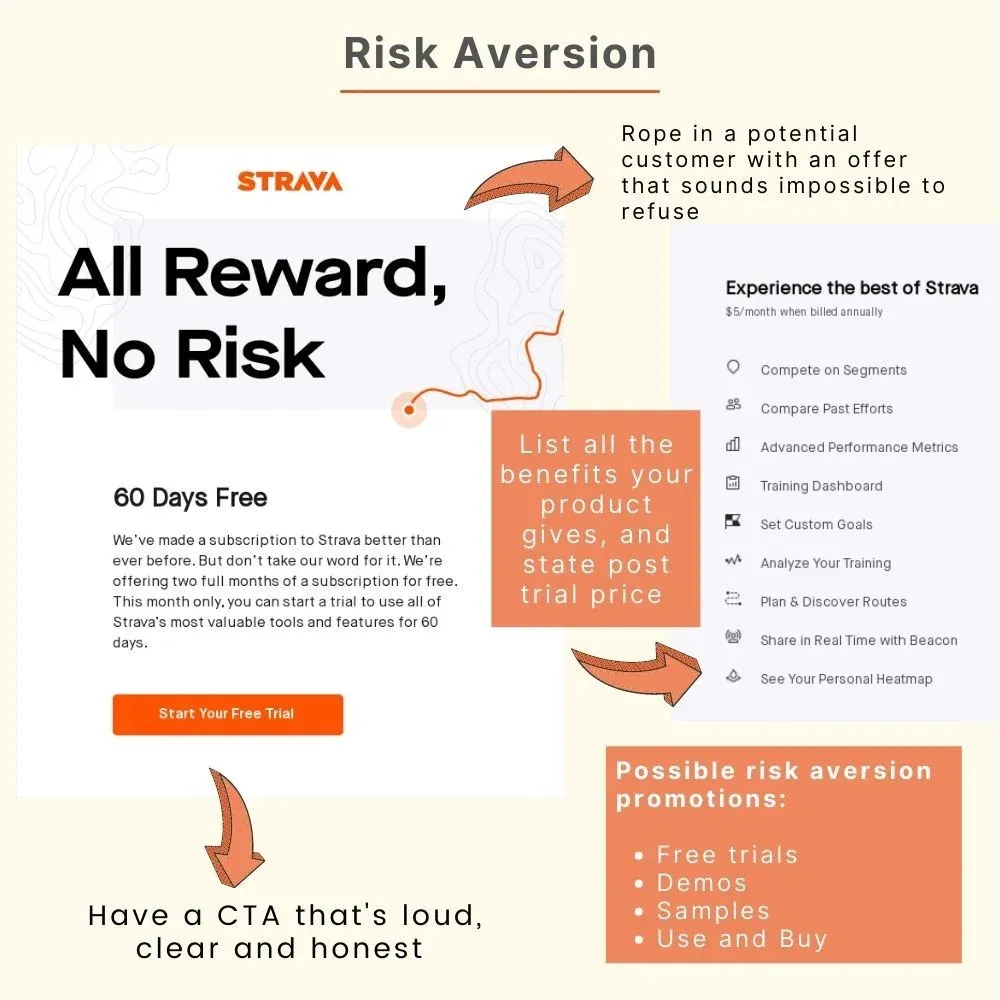 Who: New Customers
If you as a business can give customers a chance to experience your product before they choose to invest in it, the chances of them sticking around as regular buyers will be much higher.
When: Launch or release of a new product
Launching a new product is an excellent time to promote a risk aversion sales promotion. Your customers may be aware of the quality of products you supply, but a new product may slightly throw them off. Giving them a taste of it (literally or figuratively) increases their buying possibility.
What: Samples, Demos, Free Trials
Saying it doesn't have the same impact as showing it. This is where consumer promotions become advertisements on steroids. If you find yourself in either of the two situations we've discussed above, run a promotion where you give away free samples of your new product or offer a free demo or trial.
2. Reciprocity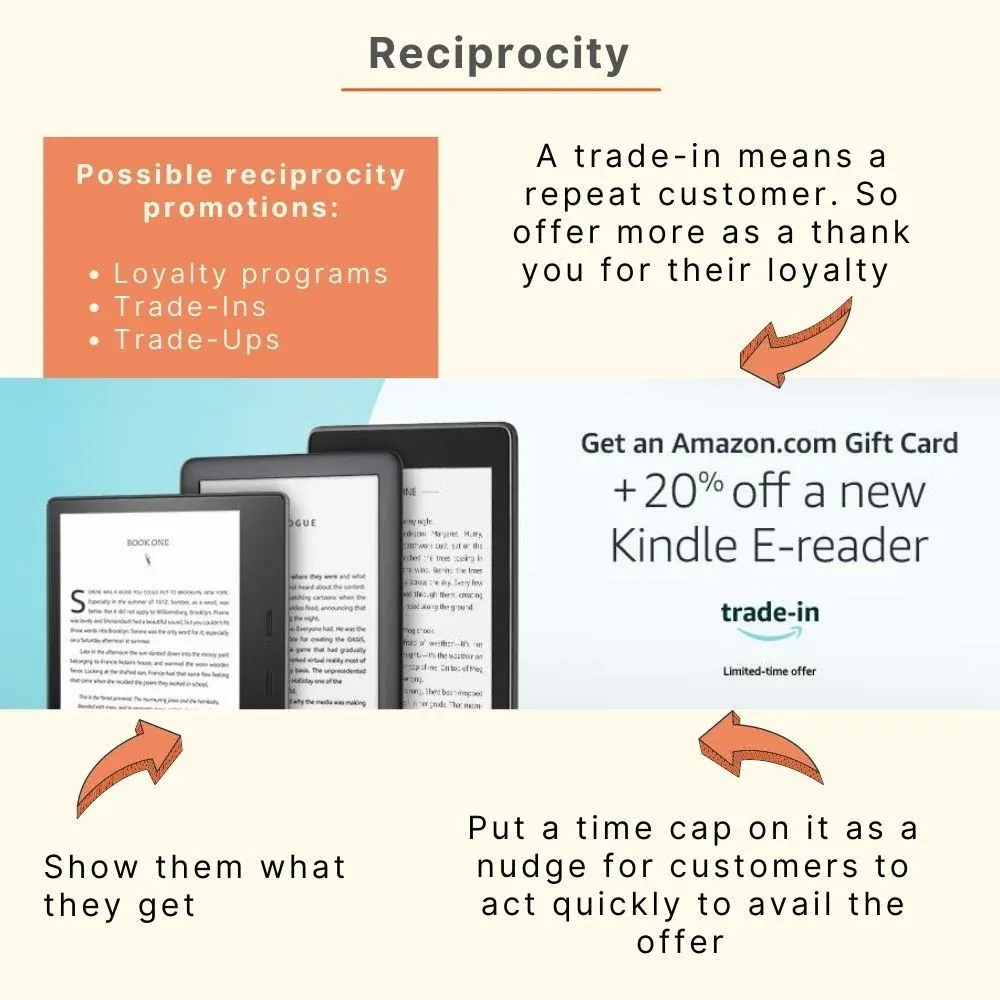 Who: Loyal customers or existing customer base
The relationship between a brand and customer is one of giving and taking. It's ideal when there is a win-win situation set up at all times. Planning consumer promotions around this sentiment of reciprocity is a way to create a win-win situation. Do it right, and you will have customers buying more than they wanted to.
When: All the time, but more particularly, when there's a dip in sales and numbers
Constant market competition will entice customers and make them want to switch brands. To avoid that, you must, as a business, give back to customers who are repeat buyers of your products.
What: Incentivised loyalty programs, trade-ups
Strong customer loyalty programs (see Starbucks) and offers for trade-ups (see Kindle on Prime Day) are small but effective ways of giving back to customers. When a customer feels like he's getting more than just the product he paid for, the chances of retention are much higher.
3. Rewards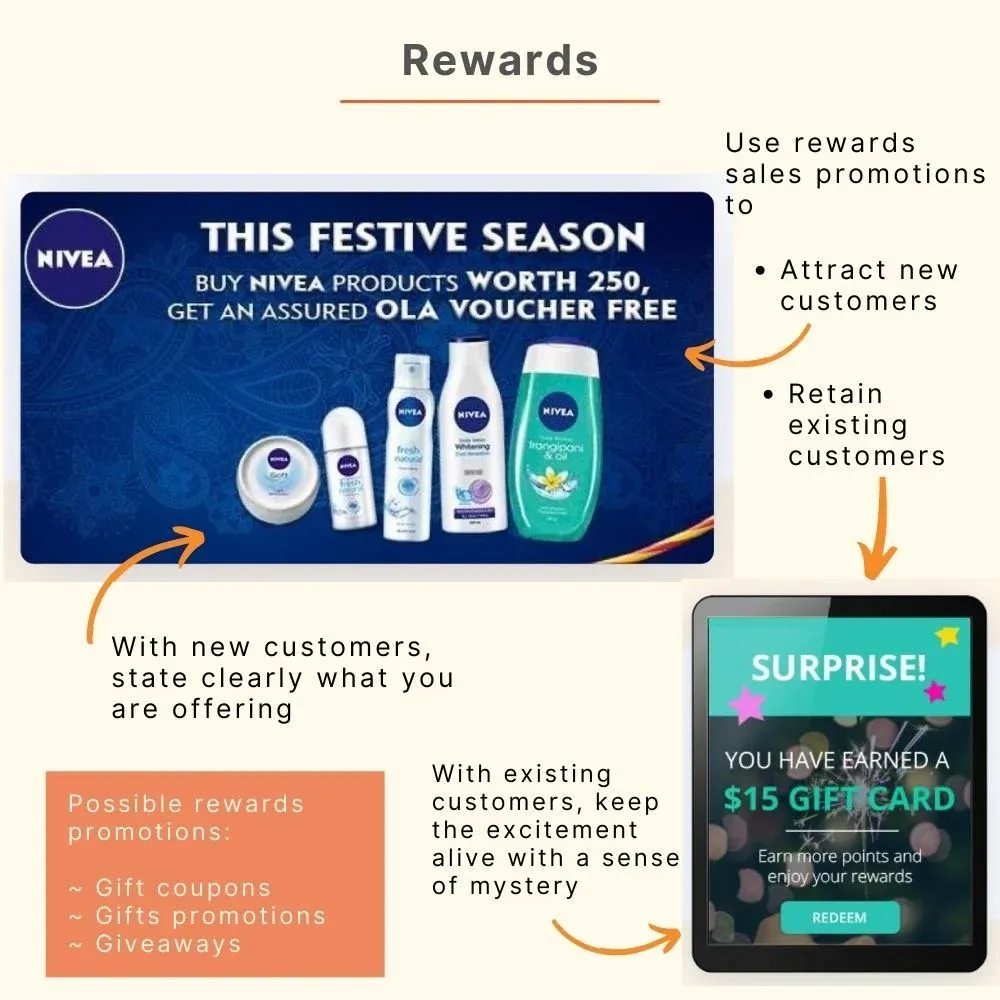 Who: Anyone, at any time, provided you have the budget
New customers or old - everyone loves freebies, gifts, and rewards. It's always all about giving more than what your customer can get elsewhere, and rewards are a great way to add to a customer's experience with your brand.
When: You are looking to increase brand awareness or establish brand value
People flock to places that offer deals, discounts, and freebies. They're like crowd magnets. So a rewards program can serve to increase brand awareness in the market and establish value and loyalty among your customers.
What: Gift coupons, Gifts, Promotions, and Giveaways
Reward rollouts can happen in different ways - through coupons, promotions, giveaways, and more. Thinking of novel ideas for rewards is another way of setting your brand apart from the rest. Besides 'things', did you know you could also reward customers with experiences?
Types of Consumer Promotions
Customer consumer promotions come in many forms, each having its differences. While some are better than others, all of them can benefit both the business and its customers. Here are some of the most common types of customer consumer promotions:
1. Trade-in & trade-up plans
A trade-in is when a customer wants to give up his old product for a new one from a brand he's always wanted to be associated with. For instance, trading in your old phone for an iPhone. This usually happens cross-brand.
A trade-up is a customer's desire to pay more for a better or higher quality product from a brand that he has an emotional attachment or a sense of loyalty towards, or a brand that gives them a sense of luxury or matches their aspirations. Trade-ups are usually loyal customers moving to the next rung of the product hierarchy.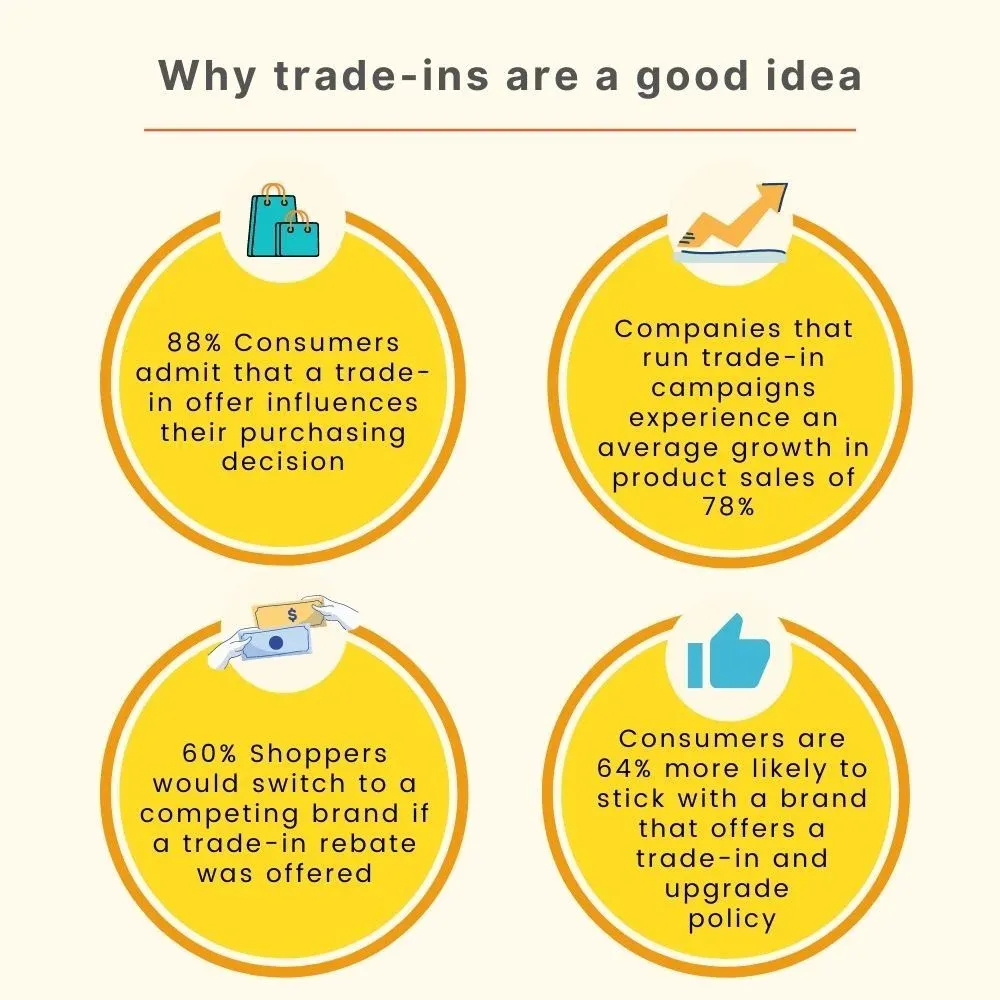 How do you as a marketer evoke that sense of loyalty or market a new version of your product to existing customers or encourage trade-ups?
When you target new customers in your marketplace, you give them more than what other brands in the same space offer - whether by better prices, quality, value, or experiences. On the other hand, when you're trying to get existing customers to trade up, you need to focus on strong messaging and sales & marketing alignment. Also, understanding what your customers need and how your newer product can meet those will help you craft the perfect strategy.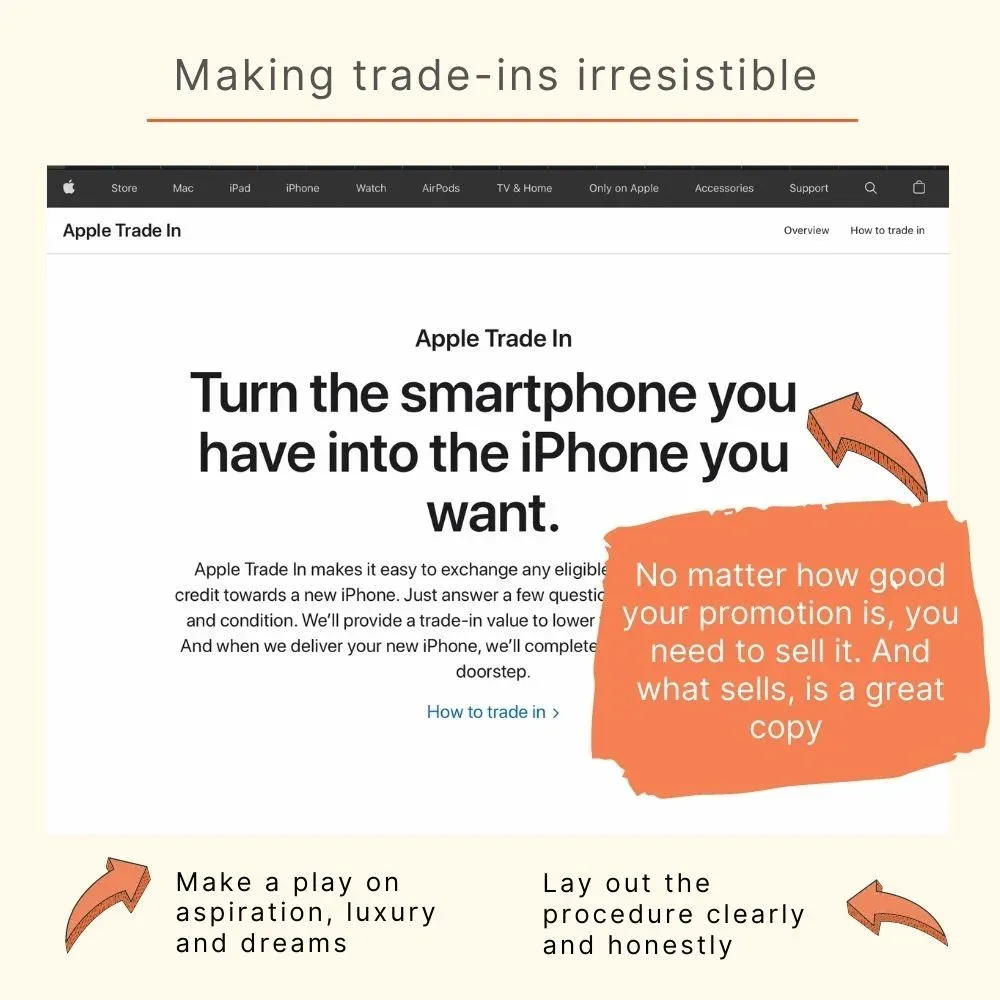 Turn the smartphone you have into the iPhone you want. That's how Apple advertises its trade-in promotions. Smart copy makes for aspiration sounding affordable.
2. Cashbacks
Cashback promotions are a more sophisticated alternative to discount promotions. While they may have the same impact on your budget, wouldn't you prefer a cashback over a discount as a consumer? A ka-ching in your bank feels a lot better than money being debited, even if you're buying discounted goods, right?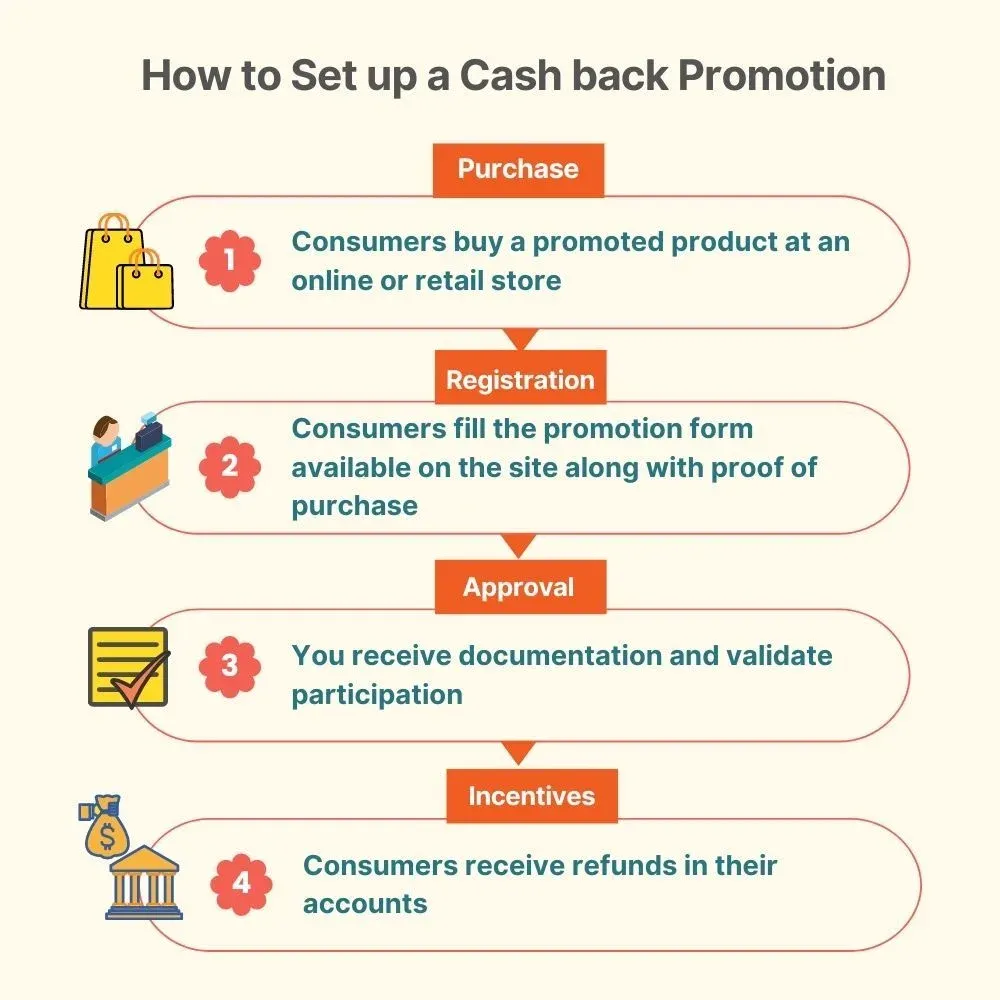 Creating a cashback program is a way to develop customer loyalty. The more your customers purchase from you, the more you incentivize their cashback. Set up an offer customers must register for. Make it feel exclusive and reward brand support.
3. Loyalty programs
Loyalty programs are another mode of customer retention. Rewarding customers for purchasing with you encourage more purchases. Companies with solid loyalty marketing programs grow revenues 2.5 times faster than their competitors. Though loyalty programs, at first glance, may seem like a bleed to you as a marketer, it gives more than it takes from the business.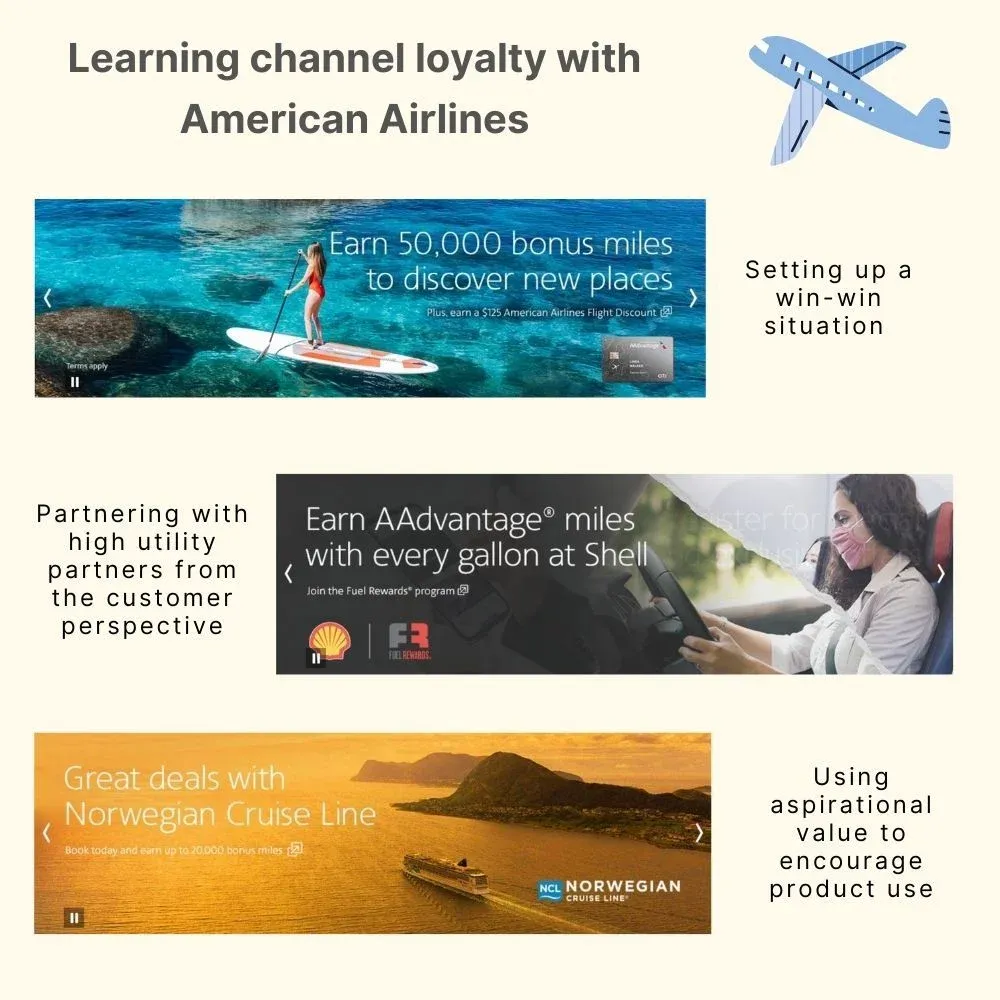 The American Airlines AAdvantage Program was one of the first (if not THE first) frequent flyer programs. It's been about 40 years since it was first conceptualized and is still running. American Airlines realized early that they were selling more than just airline tickets - they were creating brand loyalty, perks, and mileage currency. Over the years, they've partnered with other airlines and businesses to develop a mutually beneficial loyalty program that has customer satisfaction at its core.
4. Try and buy
Try and Buy is one of the oldest tricks in the consumer promotions book. As old as trial rooms in clothing retail stores! Over the years, we've seen kiosks being set up and departmental stores so customers can try and buy foodstuff. Today, most software, SaaS, apps, and other online services allow the same facility. The most significant advantage of try-and-buy promotions is allowing your product to do the talking. People are more likely to buy something once they have experienced it first hand.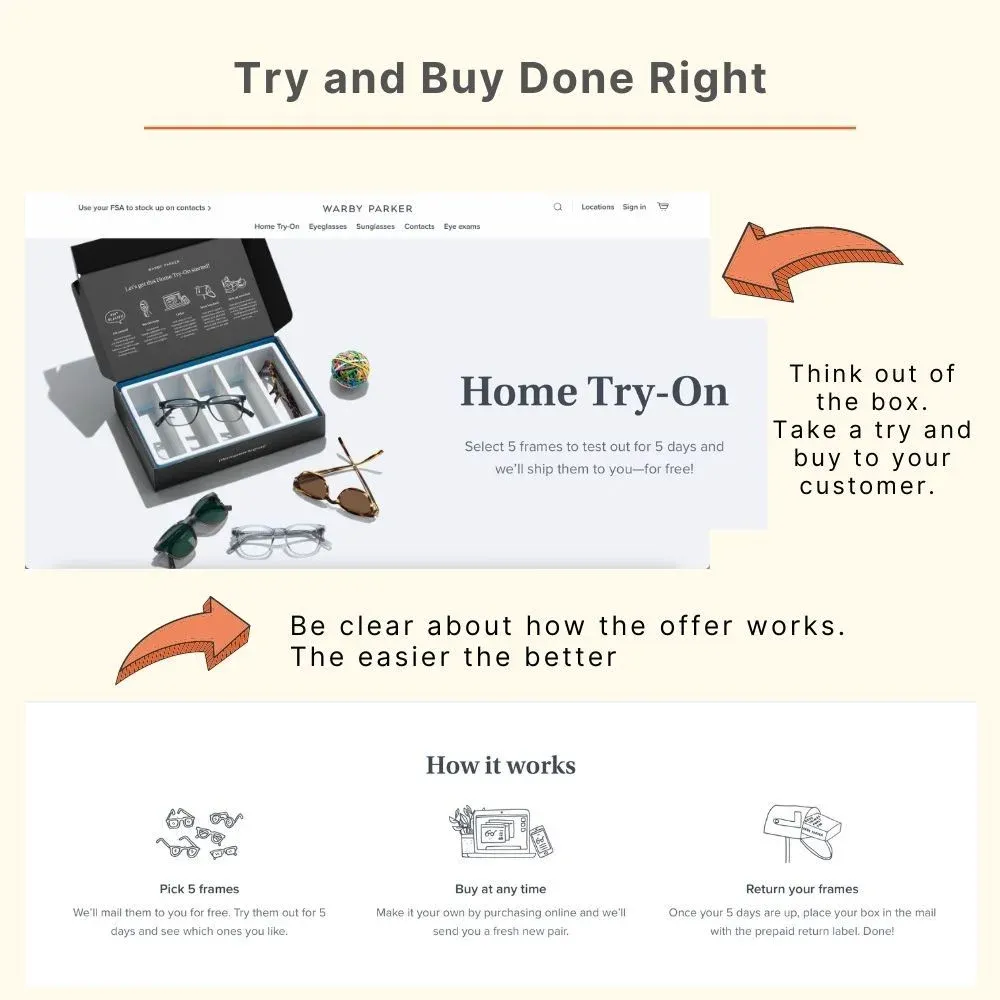 Warby Parker has a program called Home Try-On. They send you five pairs of glasses made to order. We mean prescription glasses made just for you. You can try them on for five days and ship them right back. Choose the pair you like most, and you'll be sent a fresh pair. Would I use this service? Yes, please!
5. Free product samples
It's no secret. We all love free stuff. It's not surprising that 82% of people have a more favorable impression of a brand after receiving a promotional product. Have an advertising budget but not a killer idea for an ad? Give out free product samples instead. Let your product be your advertisement.
Did you know that 90% of people who receive a promotional product can recall the brand's name? Use those stats to your advantage and let your product bring you more customers.
6. Contests / competitions
Creating a contest around your product is a way to show that you are listening to your customers. It is a way to wear your heart on your sleeve and say that you are open to innovating and developing newer, better versions of your product aligned with what the market wants. It's also a great way to spread brand awareness and advertise.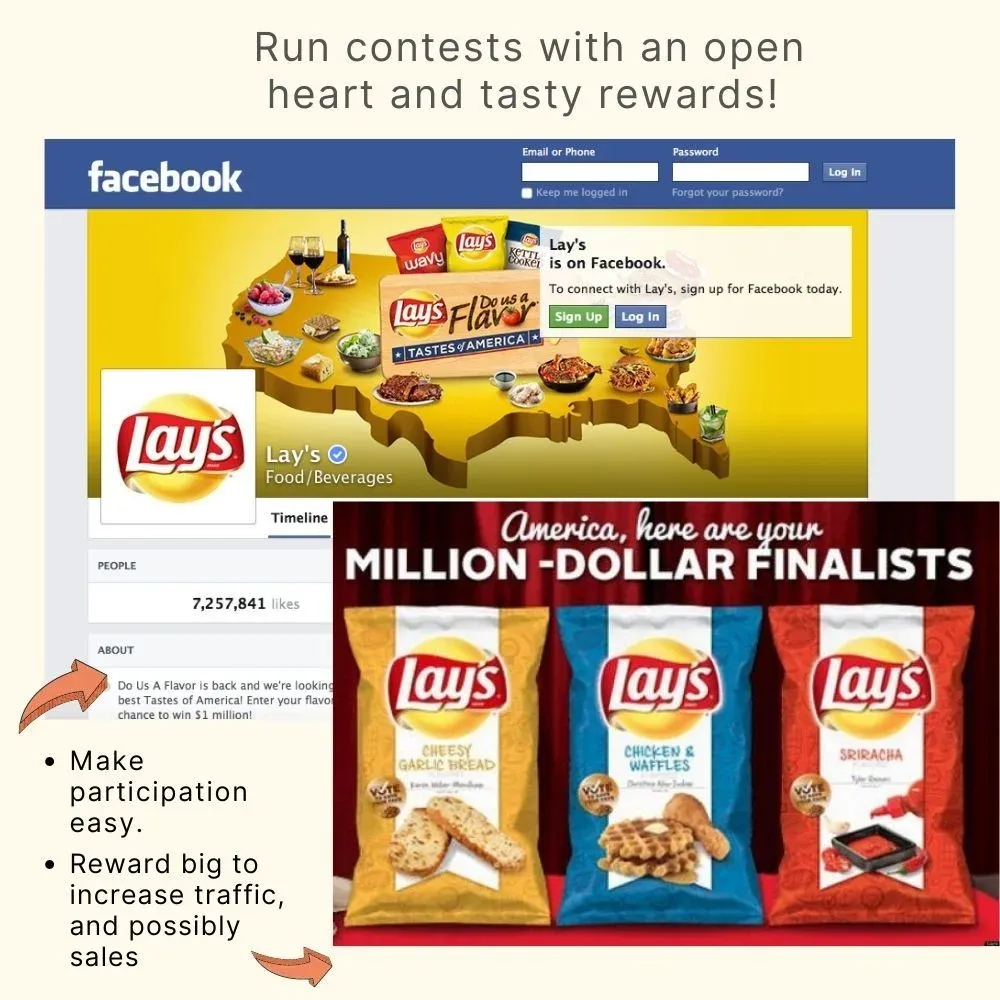 In 2012, Lay's turned 75. To connect better as a brand with younger generations and stay relevant, they launched a contest called "Do Us A Flavour." Yes, we love the name too! 😍 It was a ten-month campaign run on social media with the winner (by popular vote) being awarded a million dollars or 1% in profits from the sale of their created flavor. Pop-up stores were set up where flavors could be tried and voted for, and a Facebook collaboration happened, and Facebook customized the like button for the campaign to become - "I'd eat that!".
Lay's managed to increase its sales by 8% following the contest, and of course, generated unreal customer reach and participation.
7. Scratch and win
Scratch and Win can be called a reward subset. In essence, Scratch and Win is a way to gamify your rewards. It's also a great way to attract new customers and convert potential into leads. Adding an element of fun and excitement to your brand makes customers want to be involved with you somehow.
Digital scratch and win campaigns are a great way to reach more people, especially with the internet market opening up to give businesses many opportunities!
Sounds exciting but don't know how to integrate this with your business or struggling to find best-suited rewards? Are you worried about roll-outs and implementation? Don't worry. Xoxoday has you covered!
8. Referrals
Referrals are a great way to reward loyal customers and gain new customers in the process. 83% of Americans say that recommendations from friends or family members make them more likely to purchase that product or service.
By setting up a referral program, you can increase your customer base manifold while continuing to hold on to your already existing and loyal customers. Best kind of win-win situation!
9. Bundling
You can choose to use a bundling strategy for a variety of reasons. Maybe you're overstocked on a product. Selling them as a bundle for a discounted rate may be a good way to get them off your shelves and make them seem like a better deal for customers.
When you bundle, you could also curate bundles of different products from your repertoire and nudge customers towards trying things that they may not usually buy. Be wary of these promotions, though. You must balance value carefully, ensuring that you don't compromise on image or quality in the marketplace.
The Happy Meal is the most iconic example of product bundling. It needs no explanation or description, but I must tell you this. In 2017, Happy Meals contributed $10 Million a day to McDonald's sales. Let that sink in.
10. Treasure Hunt
For treasure hunt kind of promotions, you mark certain batches of eligible products for the contest. Say, 30 or 100 are marked with a special image for eligibility. You can use codes for enabling such contests.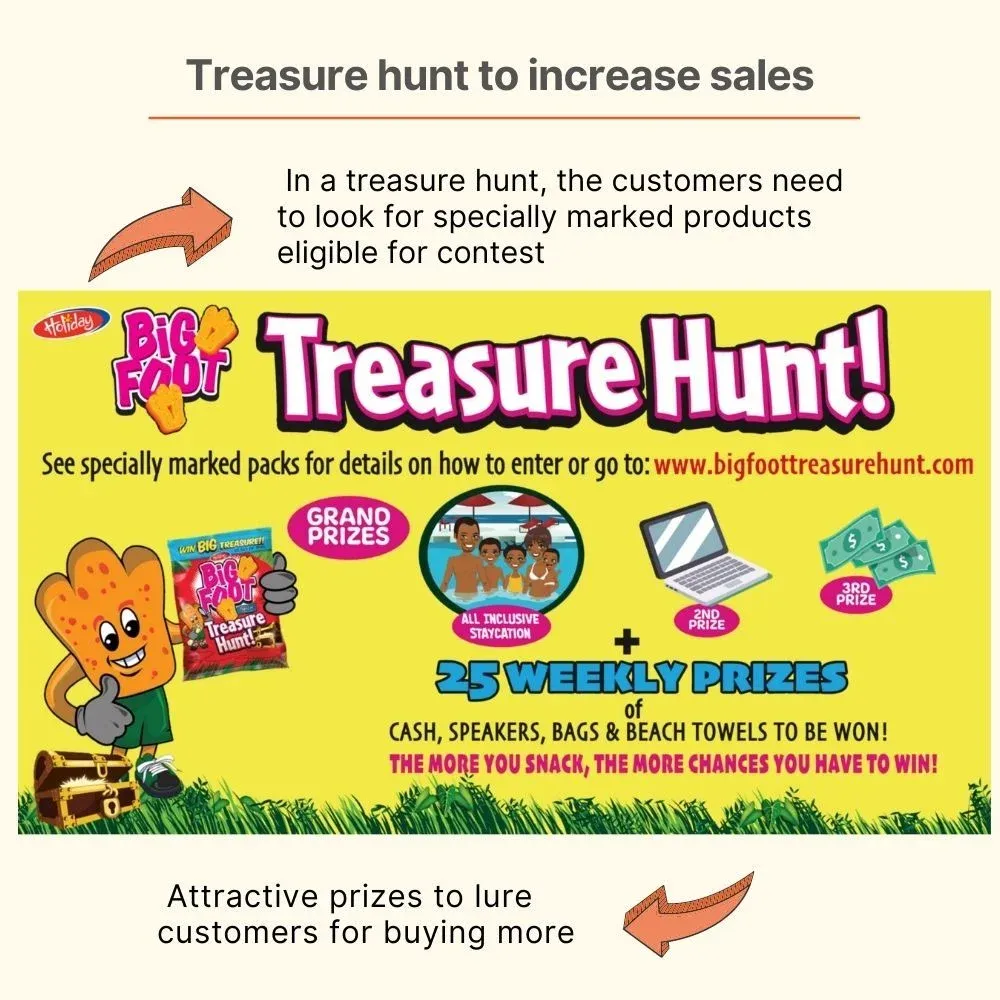 Benefits of Consumer Promotions
Brand image, awareness, and loyalty translate into more sales and revenue for the business. Consumer promotions are an excellent way to achieve all of these goals. Not only does running promotions help you tick off your goal list, but it's also an intelligent way to analyze your market, see what customers want and how much they are willing to spend and for you to collect data for future campaigns.
Here are some things that consumer promotions help to do:
🤝 Build stronger, lasting relationships
Adding value to customer experiences makes them memorable. Let me tell you about a pizza chain that runs a BOGO (Buy One Get One) offer - twice a week. I happened to try the pizza they had to offer. Found it to be not just great value for money, but the pizzas tasted pretty darn good! Today, when I think of pizza, I always think of this brand and always time my pizza orders to avail that BOGO offer.
🤩 Generate excitement
A campaign like Coca-Cola's Share a Coke is an excellent example of a campaign that created a good buzz around the brand and the product. The campaign facilitated coke cans with names of people printed on them. Imagine getting a coke can with your name on it. Exciting, isn't it?
🏷 Gauge price sensitivity
Sales and discounts are promotions to help brands understand what customers are willing to pay for their products. Ever seen something at a store you loved but didn't have the heart to buy it at the price it was available for but then found it on sale later and decided it was just right? Now imagine that at scale and how it can act as a tool to help brands price their products.
🚀 Boost sales
Needless to say, this is the first and foremost advantage of sales promotions. That is probably why most brands run them! We recently helped a famous detergent brand called Fena conduct a scratch and win the contest for their products. The prizes to be won were vouchers for Amazon Pay, Paytm, UPI, etc. And the response from customers was excellent. Do you know why? Because, as a customer, if I see a few detergent brands that work almost the same and cost roughly the same, I would prefer to pick one that allows me to win something.
📈 Increase new customers & encourage more purchases from repeat customers
Exciting offers are a magnet for new customers. Tying promotions with products is a proven way to encourage repeat purchases and keep your existing customer base happy.
🆕 Successfully launched new products
Market testing is an essential component of a product launch. Using a sales promotion is like cushioning for new customers and you as a brand when launching a new product. For instance, a free sample of a product is an opportunity to get customers to try new products and get hooked on repeat purchases.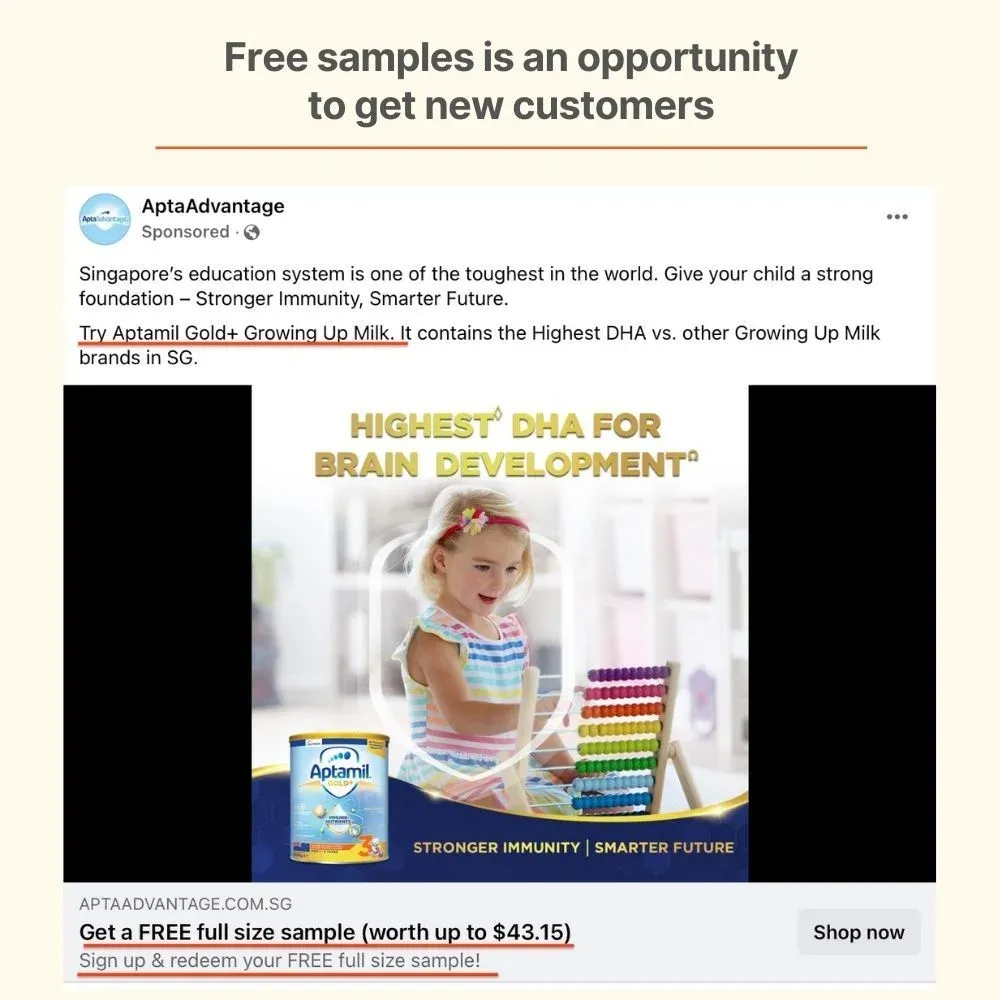 🏁 Grow brand awareness
Promotion campaigns need to be promoted too. And in doing so, you're making your brand more visible. The medium could be any for such promotions - digital ads, product packaging, billboards, etc.
💥 Build a better public image
When you give, you're remembered as being the nice guy. Carefully crafted promotions can help your brand become known and recognized. Slowly, with consistent quality, you can build a better public brand image too.
🗂 Create a comprehensive consumer database
Data is an asset to any business today. When you run consumer promotions, you have a chance to create a customer database that records customer preferences, purchase power, and of course, all the basic information that you need to create a customer profile. This will help you with future product development, launches, and more sales campaigns you may wish to run in the future.
Consumer Promotions Tips
Consumer promotions aim primarily to capture customer interest and convert that interest into business.
Here are a few tips that will help you work your promotions like a charm!
🎯 Select the right target audience
To get the best results from your promotions, tailor them to the right audience. Use surveys to understand your customers' wants. Incentivize participation with rewards. Use this data to build a strategy.
📏 Set measurable goals
It's great to dream big. But you are more likely to achieve smaller, specific goals than you are to succeed. Set out the objectives of your promotion. Is it customer retention? Increased sales? Changing buying patterns? Or capturing a market? Begin with the end in mind, and you will see more success.
📣 Promote your promotions
You must let people know that you're running a promotion. It's crucial, therefore, to advertise and promote your promotions through marketing channels that work best for your target audience. Run targeted social media ads email campaigns, and use your online and offline presence to reach out to clients to tell them how much there is to gain. Get creative and work in tandem with your advertising team. Leverage social media, Instagram, email, WhatsApp marketing and on-ground events to get the word out about your promotions.
⏰  Make it a limited edition
To encourage consumer demand, run your promotion for a short period or a limited number of customers. FOMO is what you must play on. Most people (especially those who are genuinely interested) are more likely to claim an offer that makes them feel exclusive and vital. It's only human!
💰 Provide real value
Remember, you are not the only brand running promotions. Your competition is too. So why should customers choose you? The answer is simple. When you provide real value, it becomes hard to look past that. A good promotion balances what your customers want with what your business can afford. Real value can lie in the simplest of things. For instance, offer free shipping.
📑 Review and monitor results
There's no point in running promotions without understanding what they are doing for your business. After every promotion you run, you must sit back and analyze how successful it was for the company.
Did it tick off the goals you listed?
Did it drain your resources or work well for you?
What could you have done differently?
Answers to these questions will help you plan better promotions in the future.
Measuring Success of Consumer Promotions Campaigns
When it comes to measuring the success of a promotion, while it is essential to focus on whether the purpose you set out with has been achieved, it is also important to understand the impact that promotion has had in its entirety. As a business, you must constantly study the big picture.
We've said it before every consumer sales promotional campaign must be data-driven. So, at the start of each campaign, you must remember to note these metrics and then compare them to after running the promotion.
Key Takeaways
You can build your promotions around three foundation stones - Risk Aversion, Reciprocity, and Rewards.
Promotions must be data-driven. It's important to study data focused on the kind of promotions you want to run. Promotions must align with the company's marketing, advertising, and values.
List out the goals of your promotion before you launch a campaign. Begin with the end in mind for best results.
Promotions must create win-win situations. Always balance what your customer wants with what works for your company. The best promotions are when the needle is close to the balanced center.
The Right Partner for Running Successful Consumer Promotions
Having the right partner to help you run consumer promotions is a must. You may have brilliant ideas, but they are only successful on paper if you don't have the right means to execute those ideas. Here is where Xoxoday comes in.
A platform and service trusted by thousands of brands worldwide, Xoxoday integrates with several CRM platforms, including Hubspot, MailChimp, and Salesforce. Reward ideas, roll-outs, and other incentives for all that and more, book a demo today!
---