If you were given an option to choose between money and gifts as a reward, what would you prefer? At least, a majority of them will go with option #1 — Money!
Speaking of rewards, though gift cards have been a popular choice in different verticals, businesses worldwide have witnessed prepaid cards stepping up the game altogether.
Prepaid cards, an alternate banking card, enable a receiver to spend money on anything and everything up to the amount that's loaded onto the card.
This convenience also makes prepaid cards a popular choice when it comes to receiving a reward or an incentive.
Not just that—prepaid cards also offer the ease of use, the simplicity, and the convenience of highly-desired rewards. They are equivalent to cash, can deliver instant gratification, are easy to use, customizable based on your business needs, secured, and versatile.
Whether it is acquiring new customers, motivating employees, or persuading sales channels, prepaid cards serve as an innovative way for businesses to keep their audience engaged.
Interestingly, according to
Allied Market Research
, the global prepaid card market size is anticipated to reach $6.87 trillion by 2030, with a CAGR growth of 18.2%.
Prepaid cards have replaced cheques, cash, and other payment cards where businesses or consumers want to use an electronic mode of payment, without linking the payments to a debit or credit account.
With that being said, here are other major reasons that make prepaid cards a better alternative to cash when rewarding or incentivizing someone.
Prepaid Cards vs. Cash as Incentives
100% secured. Prepaid cards come completely sealed with a unique PIN and can be activated only by the respective recipient. Everyone can access prepaid cards. There is no credit check or bank account required.
Cash is not secured. They are open to theft and misuse. Also, making a direct deposit requires the recipient's bank account details. The bank serves as an intermediary.
Distribution can be in the form of a plastic card or a virtual prepaid card (for contactless delivery)
Distribution can only be in the form of a direct deposit or handing it out to the recipient physically.
Usage of prepaid cards can be tracked.
Usage of cash cannot be tracked.
Easy to enable or disable a prepaid card.
No such options available.
Cash flow is more organized and better. Money can be loaded and managed as per the requirements.
Cash flow isn't organized and can't be managed easily.
Provides protection against frauds.
Doesn't provide any protection against fraud.
Personalization is possible with prepaid cards. You can add your brand name, logo, and colors before delivering it to your target audience to give it a personal touch. This makes your brand name more memorable.
With cash, personalization or customization is not possible. By just handing money out, you lose the opportunity of branding or adding a personal touch to your gift.
Disbursal is easy. Prepaid cards can be instantly delivered via email despite the receiver's location.
With cash, disbursal is not easy. In fact, they are much more complicated if the recipient is located in a remote location.
Currency conversions are easy, hassle-free, and automatic. The denomination can be set in any currency that you prefer. They can be localized.
Currency conversions are a hassle with cash. It becomes even more complicated when you want to deliver a cash reward value of $50 to a recipient while sitting in the UK.
Deliver funds in an impactful, cost-effective and quick way.
With cash, delivery isn't fast and it isn't cost-effective either.
Enables you to meet your requirements by letting you choose the card type, load type, and expiry.
No such options are available with cash.
Enables you to meet your requirements by letting you choose the card type, load type, and expiry.
No such options are available with cash.
Setting up an incentive program with a prepaid card is easy. Also, access to different metrics helps you analyze the reward program's performance effortlessly.
Has no track of data, which loses out on the opportunity to know if the recipient has utilized it or not. Also, it's impossible with cash.
Provides flexibility with spending. They can be redeemed everywhere, be it online or offline.
Doesn't provide any spending flexibilities. In addition, using it at any online store is not feasible.
Cards can either be single-loaded (for one-time use) or reloadable multiple times, as per your rewarding needs.
No such options available. Once delivered, it's done.
Money can be loaded in advance.
No option to load in advance.
Option to control the receiver's spending limits.
No option to control the receiver's spending limits.
Saves on cost.
Doesn't save on cost.
Usage of prepaid cards can be tracked.
Usage of cash cannot be tracked.
Ability to send them to different recipients in bulk, which saves you time.
Can't be sent in a single go. Every recipient has to be sent cash separately, which makes it highly time-consuming.
The Hurdles of Global Rewarding and How Prepaid Cards Can Help
Sending rewards globally is hard. Ever handled international marketing campaigns or surveys to acquire new customers? Or persuaded sales channels to buy a product? At least, tried engaging remote employees? If you have, then you probably know the challenges of rewarding your global participants already.
Sending cash is complicated and nearly impossible. No doubt. Okay, this begs to an important question— why not use digital rewards then? Well, they do eliminate the hassle of shipping issues (as the delivery mode is instant and via email) but e-gift cards from popular brands like Amazon, Walmart, or Starbucks have their own limitations.
A majority of them are accepted only in a few countries or maybe, only in countries where they are issued. Take Amazon gift cards for example. When it comes to international flexibility, no one can outrank them but still you don't have the perk to redeem an amazon.com's gift card at amazon.de or Amazon Germany's marketplace.
So imagine rewarding a US-based amazon e-gift card to someone sitting in Germany? Will that work? Even worse, let's say that the receiver isn't an Amazon customer at all. He/she prefers Walmart instead. Then, your reward makes no sense at all.
That's why businesses prefer prepaid cards as a mode of reward. As digital incentives, prepaid cards (like Visa or MasterCard) serve as an incredible reward solution.
Again prepaid cards, as an incentive, can be delivered in two ways:
Physical prepaid cards
Virtual prepaid cards
While there is a thrill to receive and hold a plastic prepaid card as a reward, people these days prefer the convenience of mobile or online transactions. Virtual prepaid cards not only meet this expectation but also make reward distribution tamper-proof and instantaneous. Though the outcome of using them is the same, the benefits of sending virtually prepaid outweigh physical prepaid cards.
Benefits of virtual prepaid cards to reward or incentivize your recipients:
Instant delivery
Less expensive
Issued & received faster
Redeemed faster
More flexible
Accepted in-store or online
Automatic currency conversions
Available worldwide
Global coverage
Sending a virtual Mastercard or Visa prepaid card is a perfect and hassle-free way to reward or incentivize recipients globally. They are accepted in 150+ countries, with automatic conversions to the corresponding local currency.

Most importantly, prepaid cards give phenomenal power to merchants and companies to understand a user's purchase behavior.
For instance, a market researcher sitting in the U.S. can buy virtual visa prepaid cards worth $50 (in USD) and send them to multiple survey respondents located in Australia, India, and Canada. The recipient can use the loaded currency of $50 to AUD, INR, and CAD to make local purchases.
Types of Prepaid Cards to Choose From
Ideal for all types of incentive programs—be it small or large—prepaid cards from renowned networks enable your program's participants to have the liberty to choose the way they want to spend on their reward.

This is undeniably a huge leap forward from just getting them to select from a mere catalog of options with pre-selected merchandise.
Prepaid cards come in various forms and they can be utilized based on the objective of the incentive program:
1. Open-loop prepaid cards
This is one of the most flexible types of prepaid cards and offers the widest appeal. Unlike gift cards, open-loop prepaid cards aren't tied to a specific brand or a store. It gives cardholders the flexibility to redeem it for anything they want to.
These types of cards are:
Accepted universally (wherever the issuing card's network is accepted).
Generally, these cards are identified by a Mastercard or Visa logo and can be used wherever card payments are accepted.
2. Digital open-loop prepaid cards
These are the digital version of the open-loop prepaid cards, which provides the flexibility and aesthetics of physical cards, but with extra benefits of digital convenience and instant delivery.
These types of cards can be:
Delivered faster because they are virtual in nature
Received instantly by the recipient because they can be easily sent through email
Redeemed quicker by the recipient on anything that they would like to spend on
3. Multi-merchant prepaid cards
Popularly known as network-branded cards, these allow the cardholder to spend the reward on a certain category or a specific group of merchants. Say, for instance, you may send "Health & Wellness" themed multi-merchant prepaid cards to your participants, which can be redeemed at different spas, gyms, and other healthcare retailers.
These types of cards let you:
Curate multiple options to choose from
Give a creative latitude
There's no doubt that prepaid cards are always a better and safer alternative to cash incentives. When prepaid cards are used for incentive programs, you get much more than just a plastic product.
FAQs
✅  1. Why should you choose virtual prepaid gift cards?
Prepaid gift cards are dynamic in nature. They can be used anywhere, either on anything or can be limited to specific spend types. They support  both repeat incentives and one-time rewards, which can help drive loyalty. Be it rewarding customer behavior to increase frequent purchases or incentivizing your employees or channel partners for performance-based initiatives, prepaid cards drive engagement.
✅  2. Can prepaid cards be personalized?
Yes. branding a prepaid gift card with your logo and brand name is 100% possible. In fact, branding is an excellent way to create awareness and influence customer behavior. All you need is a good reward payout solution provider to not only help fulfill your card requirements but also enable you to create unique incentives schemes for rewarding your target audience.
✅  3. How do recipients receive a virtual Visa/Mastercard?
The process involves 3 simple steps:
Step 1: Recipients receive an email, which includes the reward payment, option to register their prepaid card, and a link to claim the loaded currency.
Step 2: Once the prepaid card registration completes, their Mastercard or Visa​ prepaid card number is all set for immediate use.
Step 3: Recipients also have an option to create digital wallets to easily access and secure their Mastercard or Visa number.
✅  4. Do prepaid cards come with expiration dates?
Yes, both physical and virtual prepaid cards (like Visa or Mastercards) come with an expiry date. However, this also depends on the type of Mastercard or Visa card you choose. Most of them have an expiry of 6 - 12 months from the issued date.
✅  5. Should you use a Mastercard or a Visa prepaid card?
All Mastercard and Visa prepaid cards work the same way. However, your choice largely depends on the currency in which you want the reward to be issued. Talk to our expert and figure out the best way to do this.
✅  6. What is the global coverage of Mastercard and Visa prepaid like?

Speaking of country coverage, Visa is accepted in 200+ countries and territories whereas Mastercard is accepted in 210 countries. As far as the global acceptance is concerned, Visa is on the higher side at 56.7 million than Mastercard which is at 47.7 million. Overall, both Visa and Mastercard have similar global acceptance.
Final words
Typically, prepaid cards are integrated with different financial instruments as well as tracking tools, which are exclusively developed to help solve business issues.
To conclude, the choice to receive a reward or incentive has changed. The digital era has faded cash transactions. They are no longer preferred. Virtual prepaid cards have taken over because they are a much more efficient and tangible way to deliver a reward. Not just that, it is easier to distribute globally and promises to offer real choices.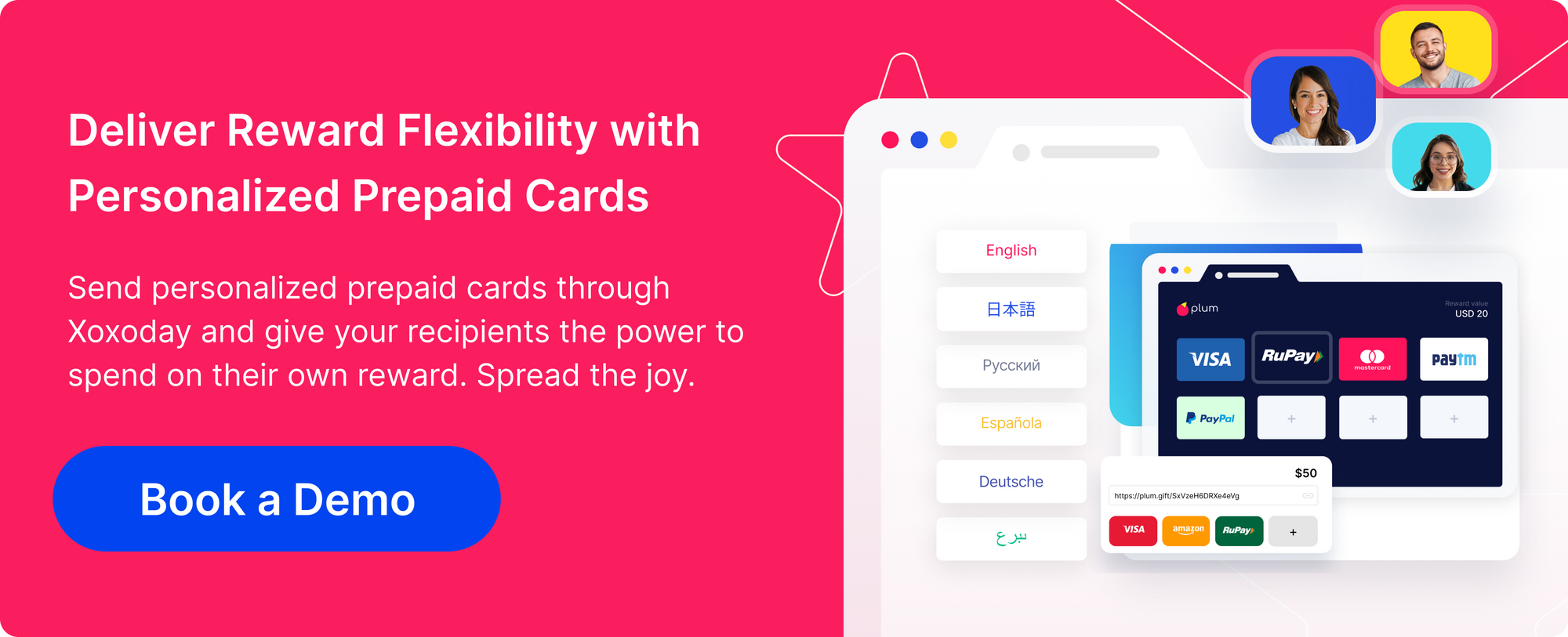 ---