Have you ever tried setting up corporate gifting campaigns manually? If yes, then you already know the struggle. Curating gift options, contacting multiple vendors, negotiating prices, handling packaging, and coordinating deliveries can feel overwhelming.
Things don't stop there. As your business expands to new horizons and scales, dealing with currencies (of multiple countries) and managing the gifting process manually becomes intricate.
That's why 68% of businesses use a corporate gifting platform to recognize and reward their employees, customers, and partners, as per a survey conducted by
Incentive Research Foundation
. Not just that, a good corporate gifting platform streamlines the end-to-end process - from gift selection to delivery to monitoring campaign performance.
This blog we deep dive into the challenges businesses face with corporate gifting and how having a corporate gifting platform can be a game-changer in simplifying a business's gifting process.

So, let's get started!
What is a corporate gifting platform?
A corporate gifting platform is a solution that facilitates the process of sending corporate gifts end-to-end. It is a centralized platform businesses can use to curate, personalize, and send gifts to their recipients (employees, customers, sales partners, or other stakeholders).
A corporate gifting platform offers businesses a convenient, efficient, and scalable solution for managing their gifting activities. It saves time, enables personalization, streamlines operations, and provides better control and visibility of the entire gifting process.
Not all corporate gifting platforms are created the same. Each may have slightly different features, but in general, this is how they work:
Account creation: To use any corporate gifting platform, you must register an account. This involves providing necessary information such as company details, contact information, and other requirements.
Campaign set up: On the dashboard, you'll have options to create your gift campaigns, enabling you to add the list of recipients to whom you want to send gifts, along with the currency details.
Gift selection: Once your campaign is set up, you can browse through the platform's catalog or marketplace to explore the available gift options. You can filter gifts based on price range, categories, country, and much more.
Personalization: After curating your gifts, you'll often have the option to customize them. By this, we mean adding your company's branding elements such as logos, colors, or custom messages. Some platforms allow you to choose from a range of predefined templates to add a personal touch.
Reporting and Analytics: Once your gift campaign is complete, a good corporate gifting platform often provides reporting and analytics features. It allows you to access data and insights on engagement, delivery mode, delivery success rate, redemption tracking, recipient details, and overall campaign performance.
When to choose a corporate gifting platform?
Here are some signs that indicate it's time for your business to start using a corporate gifting platform: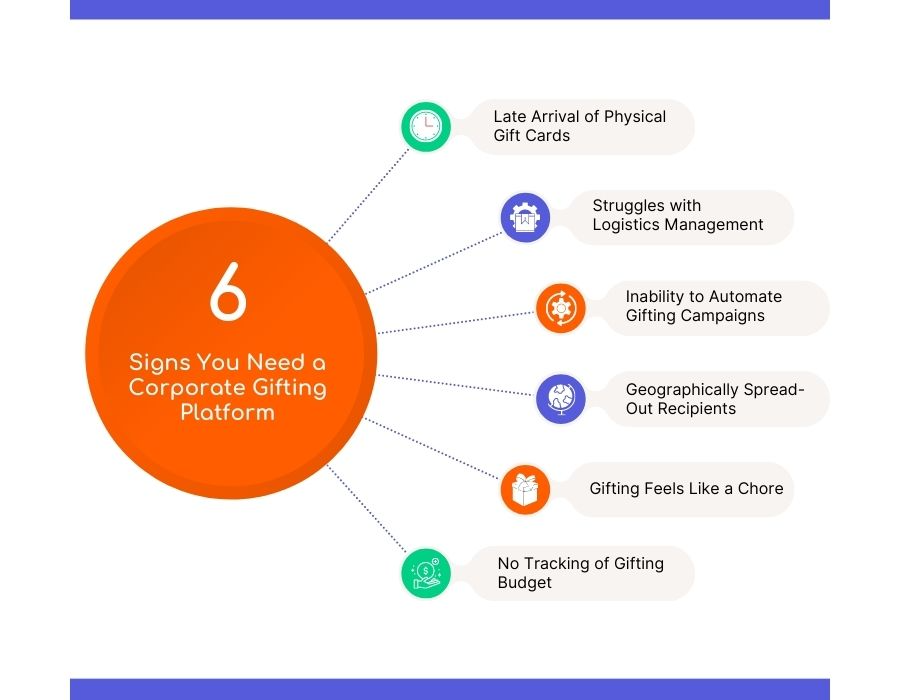 1. Late arrival of physical gift cards
Have you ever experienced that awkward moment when you send a gift to someone and it arrives days after the intended date? That's a clear sign that your corporate gifting strategy needs an upgrade.
Physical gift cards often arrive late or get lost in the mail, and that's not the impression you want to make. Instead of relying on snail mail, a corporate gifting platform can instantly deliver your gifts to your recipients' email inboxes.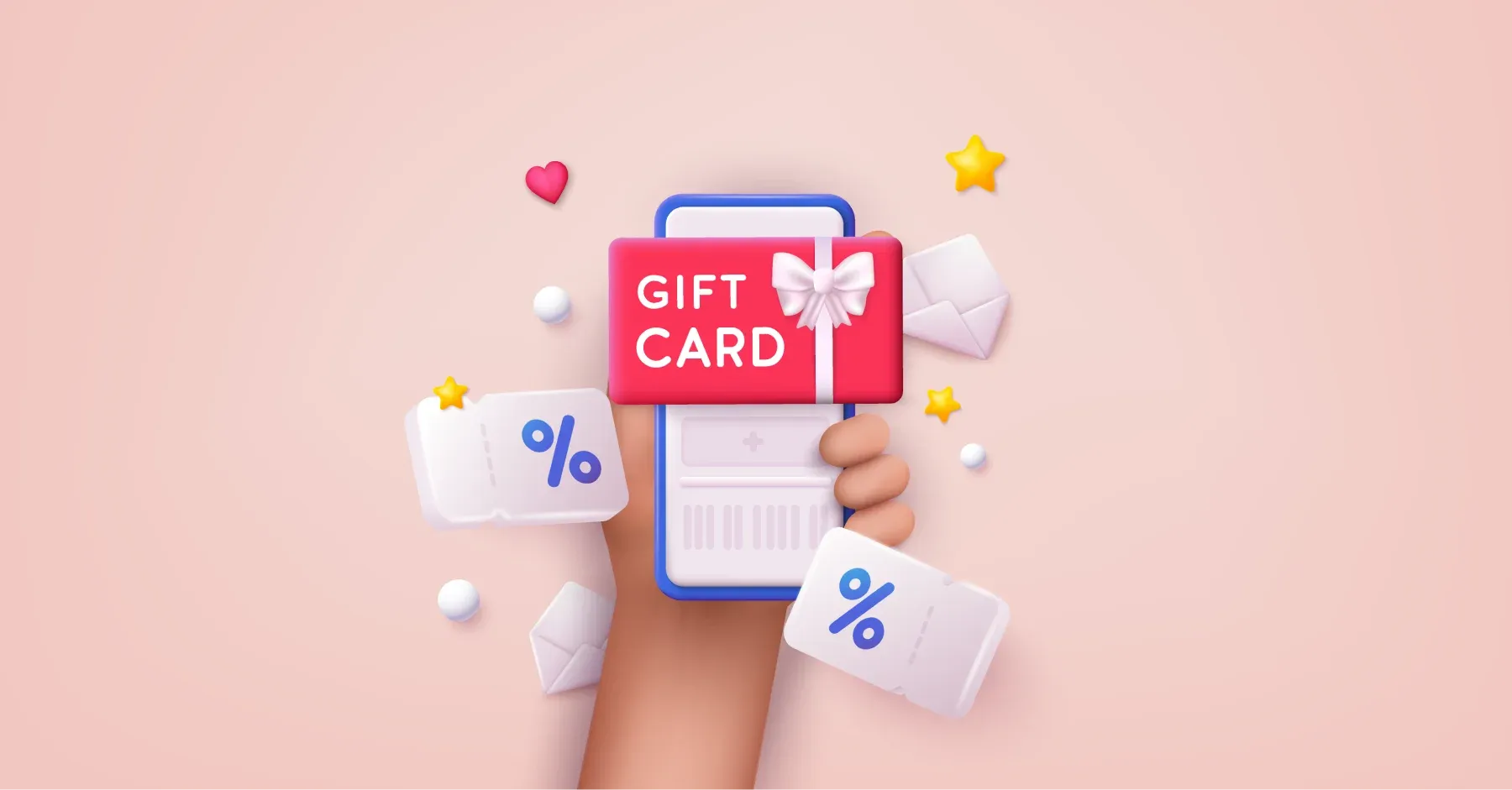 2. Struggling to keep up with the logistics
If your team is struggling to manage logistics, shipping and delivery, tracking gifts in transit, ensuring timely arrival, and managing shipping costs - It's a sign that your business needs a corporate gifting platform.
See how Capgemini rewarded their employees, vendors, and clients with goodie options, trophies, gift vouchers, and award certificates from various brands and aggregators without any logistic hassles.
Read case study
3. Inability to automate your gift campaigns
Gift-giving is fun, but let's be real. Finalizing gifts for each person, meticulously wrapping them, and shipping them can suck the joy of gift-giving. If you can relate to this, try a corporate gifting platform. It automates your gifting campaigns while effortlessly allowing you to send gifts to numerous recipients in a few clicks. It's like having a gifting genie - it makes the entire process smooth and hassle-free.
4. You have recipients spread across geographies
What's more challenging than selecting thoughtful gifts and shipping them to globally-distributed recipients? It's managing conversions.
A good tool won't just have country-based, branded e-gift card options but also will have a robust system in place to manage currency conversions automatically. This makes it easy for you to send e-gifts to recipients who are located in far-off geographies. It's like waving a wand and spreading joy across the miles!
5. Gifting now feels like a heavy chore
Picture this: You're sitting down with your team, brainstorming ideas for the perfect gifts. It's a fun and collaborative process, but you quickly realize it's overwhelming once you start delving into the logistics of finding, purchasing, wrapping, and shipping those gifts.
That's when you know it's time to switch to a corporate gifting platform, helping your business take care of the entire gifting process so that you have enough time to focus on other tasks.
6. You lose track of your gifting budget
When you choose gifts, it's easy to get carried away. You end up overspending before you know it. That's where a corporate gifting platform puts you back in control. It lets you recharge your account with a specific amount and enables you to utilize funds appropriately. This ensures that you don't go overboard and stick to the budget.
Gifting Manually vs. Using a corporate gift platform
Let's make one thing clear: Manual gifting isn't bad. It's still a good option for companies (especially startups) whose gifting activities are more occasional, or they consider them to be ad-hoc. But for SMBs and large enterprises, maintaining strong relationships is essential for business growth, so gifting must be an ongoing activity.
With that said, here's a table highlighting the differences between the two, based on various factors:
Benefits of using a corporate gifting platform
With a corporate gifting platform, you can automate everything from start to finish. This means you'll save time and effort while enjoying benefits like streamlined gifting campaigns, better budget control, and exceptional recipient experiences.
Plus, you'll have access to personalization capabilities, robust reporting and analytics, and privacy features that will take your gifting game to the next level.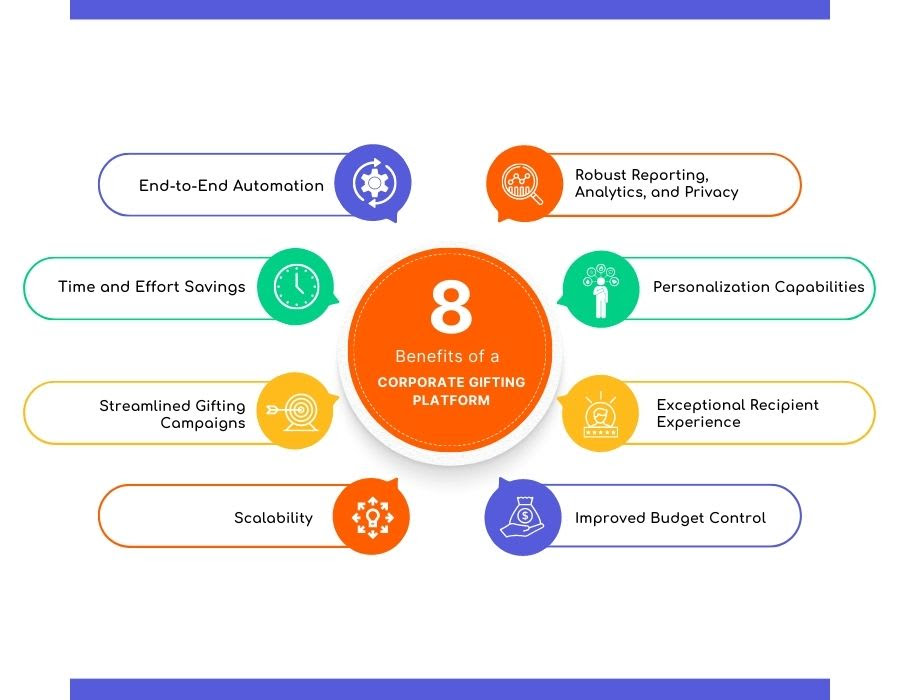 1. End-to-End automation
Picture this: you've - a big team of employees, a list of promising prospects, a network of channel partners, and a loyal customer base. It can be daunting to select and send gifts to each group manually. That's when the automation offered by a corporate gifting platform saves the day!
A corporate gifting platform will help you integrate with CRM, HRMS, LMS, and help you create customized workflows to offer personalized gifts based on predefined actions.  This means you can automatically send a monthly gift to your top-performing employees, a welcome gift to new customers, and a thank-you gift to your valued channel partners.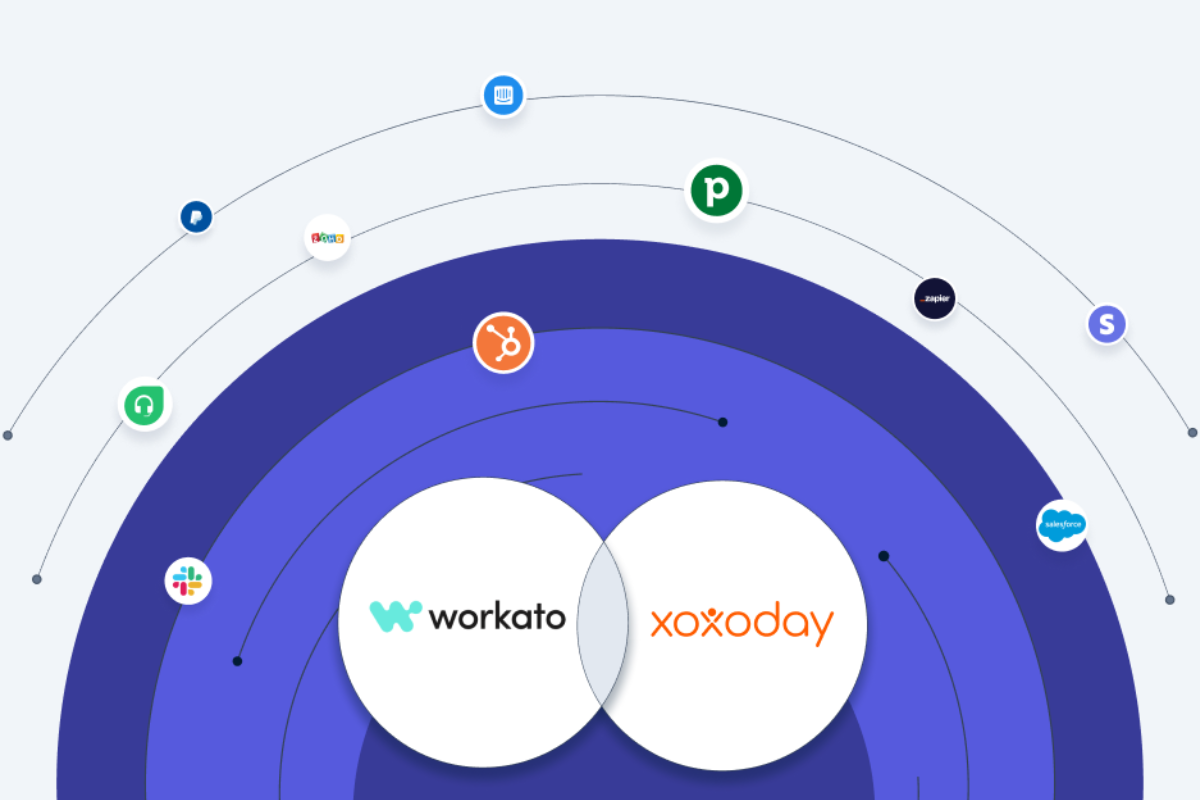 Connect our rewards platform to any of your existing tools in just a click.
Our gifting platform connects with your favorite tools and enables you to send e-gifts seamlessly. Integration is quick, effortless, and as easy as a single click.
Explore integrations
2. Time and effort savings
A corporate gifting program can help you conduct thorough research and handle currency exchange for a global group of recipients. Explore how Ottum automated its survey rewards system, thereby increasing the survey responses by five times, saving 12 hours of manual labor and $1000 in campaign costs.
3. Streamlined gifting campaigns
Corporate gifting platforms provide a centralized platform to manage gift-giving campaigns, track inventory, and create personalized gift catalogs. This feature is particularly useful for companies that want to run targeted gift-giving campaigns for different customer segments.
For instance, A global accounting software platform, Xero, saw an uptick of 25% in conversion rates by automating rewards for their customer referral program.
4. Ability to scale
​​Imagine this - the HR department in your office is gearing up for the holiday season. Naturally, they want to show their employees some love and appreciation, but everyone has a different taste and preference, so finding the perfect gift becomes daunting. A corporate gifting platform offers the freedom of choice to recipients and saves administrative hassles for HR teams.
For instance, A leading data analytics and brand consulting firm, Kantar, distributed over $3 million in rewards in just a quarter.
5. Better budget control
A corporate gifting program offers better budget control by providing a centralized platform for managing all gifting activities. This allows companies to set specific budgets for different campaigns or events and track expenses in real-time.
The platform can also provide cost analysis and optimization tools, allowing businesses to identify areas where they can save money without compromising the quality of gifts or recipient experience.
Additionally, a corporate gifting program can offer options for bulk ordering and discounted pricing, which can help companies save costs on larger orders.Overall, these features enable businesses to manage their gifting budgets more effectively and efficiently while ensuring they can provide high-quality gifts to their clients, employees, and partners.
6. Incredible recipient experience
The purpose of sending gifts is defeated if your recipients have a bad experience while receiving them. Late arrival or unwanted gifts are a few reasons that ruin their experience, which is never the case with a corporate gifting platform.
A gifting platform offers a wide range of gift options. You personalize gifts for the recipients to give them a fulfilling experience. This feature strengthens your business relationships with your customers or employees.
7. Enables personalization
Does every client of yours receive the same gift with a generic message? If that's the case, they may toss your gift aside, thinking it's just a bulk delivery by your company. You can make the gifts special by adding a personalized note.
That's when the recipients truly recognize your efforts. Corporate gifting platforms allow you to add personalized messages, logos, and branding to your gifts. Here's where our comprehensive sales playbook on strategic gifting can help you accelerate your sales pipeline.
8. Reporting, Analytics, and Privacy
Corporate gifting platforms track engagement rates, conversion rates, and other metrics to evaluate the success of their campaigns. This data can help businesses refine their strategies and optimize future campaigns.
In addition, many corporate gifting platforms have strict privacy policies to protect both the business and the recipient's information. They keep your sensitive information like names and addresses confidential.
The benefits of a corporate gifting platform are immense. Various companies use them to increase engagement with their customers and boost productivity.
Find the complete list and strategies of companies that successfully achieved the benefits of corporate gifting in our latest ebook.
How to choose a corporate gifting platform?
Gifting becomes easy when you have the right corporate gifting platform. But the question is, with so many tools in the market, how to choose the one that meets your business needs?

To help you narrow your search, here's a list of factors to pay close attention to: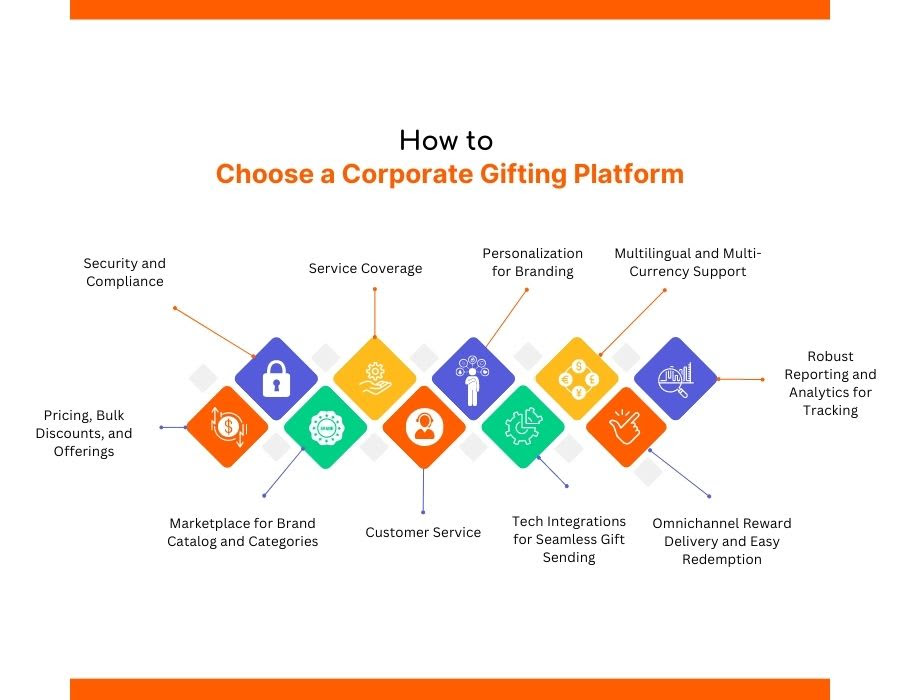 1. Look at the pricing and offerings
Choose a platform that fits your budget and offers discounts for placing large-volume orders. Check their pricing plans, gift offerings, and capabilities to see if it meets your unique needs.
2. Check for security and compliance
Make sure that the corporate gifting platform is secure and compliant, and adhering to all data protection laws. See if it provides strong security measures, such as two-factor authentication and encryption of personal information. For example, if you send gifts to European clients, ensure the platform is GDPR compliant.
3. Check for a marketplace with numerous options
See how diverse the brand catalog is, as this will help you search and curate gifts based on your recipients' interests. For example, if you send gifts to a group of tech enthusiasts, look for a platform offering a wide range of technology-related gifts.
4. Understand the service coverage
Choose a platform with broad service coverage to help you easily send gifts to your recipients from different countries. Also, check if the platform offers international shipping and supports multiple currencies and languages.
5. Make sure the support is impeccable
Choose a platform that provides excellent customer service and resolves issues quickly. See if it has a proactive, dedicated team that offers 24/7 support. For example, if you encounter any problems with gift delivery or customization, you should be able to quickly reach out to the platform's customer service team for a solution.
6. Pay attention to personalization features
See if the platform has special features for branding. This includes elements like your logo, brand colours, and the ability to personalize your gift message. It reinforces your brand and makes the gift more memorable for the recipient.
7. See if it integrates with your favorite tools
Whether it's CRM, HRMS, LMS, Survey platforms, or any other tools that you use, make sure that the platform can integrate with them.
8. Ensure it supports multiple currencies and languages
These two features are a must, especially if your business has people from different geographies. It enables you to send gifts without worrying about language or currency barriers.
For example, if you have clients in Europe and Asia, look for a platform that supports multiple languages and currencies for easy gift sending across different regions.
9. Omnichannel reward delivery and ease of redemption
Look at the different modes of gift delivery. For example, email, SMS, Whatsapp, etc. It makes it convenient for recipients to redeem their rewards. Also, see how simple the redemption process is.
10. Has reports and analytics for better campaign tracking
Metrics matter, so see if the platform you choose has advanced analytics and reporting tools to track the impact of your gifting initiatives. It helps you make data-driven decisions for your future campaigns. Having detailed reports handy lets you optimize your gifting strategy further and achieve better ROI.
FAQs
1. Should the platform allow businesses to send gifts in bulk?
Sending gifts to one person at a time is not the best idea. It's slow and inconvenient. Instead, make sure the corporate gifting platform allows you to send gifts in bulk. With this feature, you can speed up the gifting process without repeating the same steps for each recipient.
2. How quick should be the rewards redemption process?
What if you send a gift in December for Christmas, and the recipients receive it in February? A 'Merry Christmas' gift won't make much sense then, and your efforts will go to waste. Instead, carefully check the speed of redemption in the corporate gifting platform. You can plan your gifting process accordingly once you know how fast it is.
3. Does the corporate gifting software company charge any hidden fees?
Some companies charge extra fees for holding gift inventory or handling gifts. We've also seen platforms charge an additional margin on sent gifts. Get crystal clear information about all fees involved throughout the gifting process. Find a fixed amount required to send each gift. Otherwise, don't be shocked if you see some extra hundred dollars in your platform fees.
4. Ask what support is available - Chat, Phone, Email?
Ensure maximum support through chat, phone, and email so you can call them whenever needed. Check response times and customer feedback on support calls.
5. What is the expiration duration of e-gift cards once purchased?
You don't want to give short deadlines to your recipients to avail of your gift cards. Or worse, the gift reaches way after the expiration of the gift card. Pretty embarrassing, right? It's better to check expiration policies beforehand.
6. See if the business can track its recipients' reward email open rate?
Imagine sending many gifts and being in the dark about who opened them. This feeling is worse. Check if you can track the recipients' redemption data. It helps you ensure they receive your gift in time and are ready to enjoy it.
7. Ask if you get charged for unclaimed rewards too?
Let's be honest; not everyone may claim their gifts. However, you don't want to be paying for gifts sitting unopened in some virtual corner. So, clarify the platform's policy on unopened gifts and how it affects your budget.
8. What are the different modes available for reward distribution?
Distribution modes encapsulate the "how and where" of sending gifts. Make sure you understand all modes available for reward distribution. Whether it's email or physical delivery, make sure the platform policies align with your gifting strategy.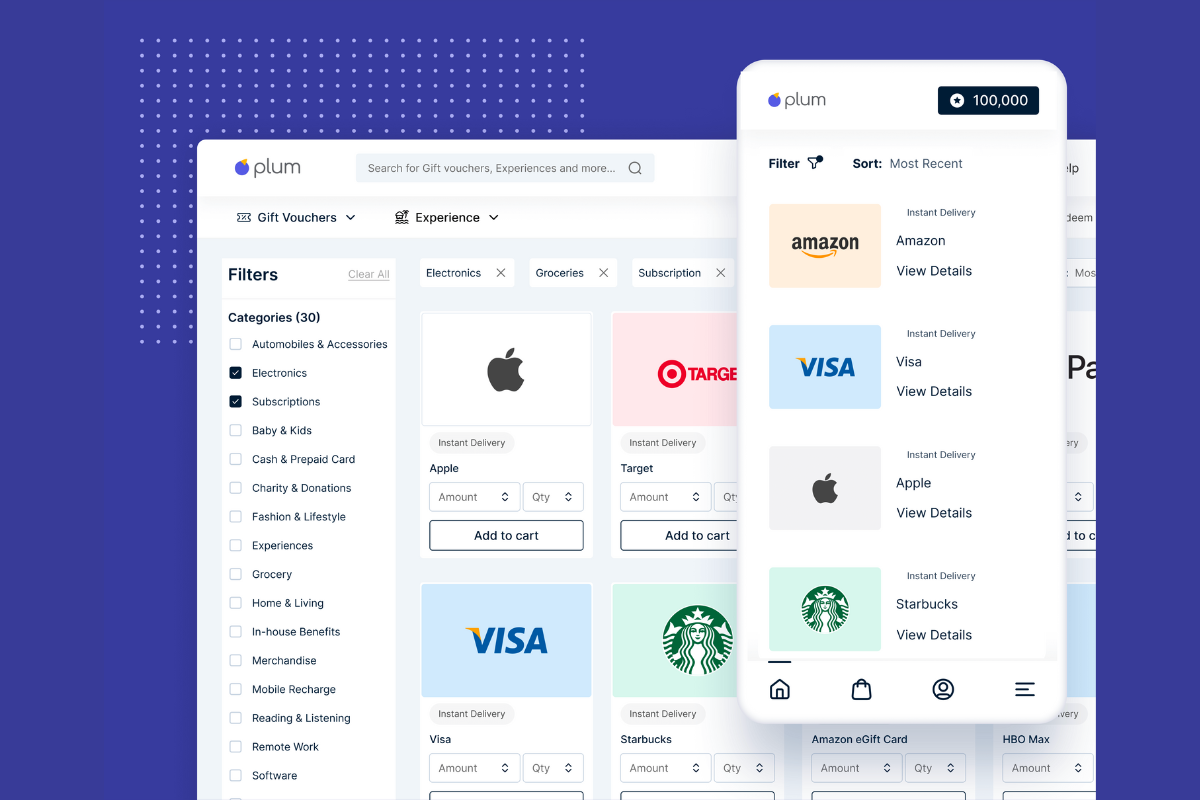 Go beyond ordinary. Elevate your corporate gifting with the right platform.
Say goodbye to complex processes! With our intuitive corporate gifting platform, adding rewards to your referral program is as easy as a few clicks. Unleash the power of incentives and watch your referrals soar.
Start a free trial
---