World Breastfeeding Week, from 1st August to 7th August every year, is an auspicious occasion for new mothers to showcase their love for their newborns.
The event focuses on highlighting the importance of breastfeeding. Established by the World Alliance for Breastfeeding Action (WABA) in 1992, World Breastfeeding Week aims to spread awareness and promote breastfeeding.  
According to the Centers for Disease Control and Prevention (CDC), 80% of babies begin their day with breastfeeding. And 24.9% of babies breastfeed within the first six months of birth. Comparing the two rates, we notice a good increase in breastfeeding rates.
World Breastfeeding Week 2023 - Theme
This year's World Breastfeeding Week theme is "Enabling Breastfeeding - Making a Difference for working parents".
The theme looks into the impact of workplace support, paid leave, and growing breastfeeding-related parenting norms.
The World Alliance for Breastfeeding Action (WABA) have formed four major objectives - inform, anchor, engage, and galvanize. Each objective looks into themes created for World Breastfeeding Week every year.
World Breastfeeding Week - Ways to create workplace-friendly environment for new moms
Being a new mom feels like you're on cloud nine.
The employer's responsibility is to welcome the new mom into their heaven (workplace).
First and foremost, they are resuming work after a very long time; considering the same, providing a workplace-friendly environment motivates the mother to bring back renewed energy.
This World Breastfeeding Week, let's focus on helping new moms settle down in their respective workstations;
Check out these pointers for more!
1. Provide a hybrid working environment
Tweaking this hybrid model a bit, as employers, you can provide part-time or work-from-home facilities.
This process helps new moms to balance personal and professional commitments. Moreover, making this change in your hybrid work policy for the mothers will help in retaining employees.
2. Understand the thought process of the new mom
Working moms often stubble under work pressure, preventing them from providing proper care to their newborn.
Re-check on the employee whether they have any anxiety due to work stress; they may not confront the situation upfront with you; as a gesture, take away the workload from the employee and take ownership of the same.
By doing this, you aren't only providing a safe environment but also promoting employee well-being.
3. Offer helpful resources and extend your support
Ensuring working moms feel comfortable is very important. Considering the same, the organization can provide helpful books related to parenting and daycare options or guidance on ways to resume work.
Sharing the personal experiences of employees who have been through the journey will help the new mom balance their lifestyle.
4. Form workplace policies for new moms
Develop workplace policies that support new moms, helping in promoting gender equality and an inclusive work environment.
Paid parental leave, flexible work arrangements, and lactation rooms are some new workplace policies we can provide to new moms.
5. Build a quality workplace environment for moms
According to Supriya Paul, CEO of Josh Talks, "Organizations should find new roles for moms which align with personal and professional goals".
Offering a voice to showcase opinions is the need of the hour; new mothers' portray skills like multitasking and improved communication need management's hearing. As mothers feel they are prioritized, they tend to stay for longer.
Supriya Paul adds, "If the mom-to-be is on maternity leave, provide a proper plan to reintegrate them into the job; before leaving. In this process, you'll find the new mom to be more comfortable while settling back into work.
6. Rewards and recognition
Once you get the "Good News", send a sweet message. You can go a step further by rewarding the new mom with gift cards.
Get in touch with Xoxoday, one of the best rewards marketplaces. The organization provides reward points for employees, which you can redeem and purchase your favorite products.
30 Best Gift Ideas for New Moms
On the occasion of World Breastfeeding Week, help the new mom with helpful gifts to take care of the child.
We have categorized this section into 3 sections
Gift Ideas for Breastfeeding Mothers
The journey of nursing mothers starts with providing quality breastfeeding milk. To help the new mom, here's presenting some of the best gifts for breastfeeding moms.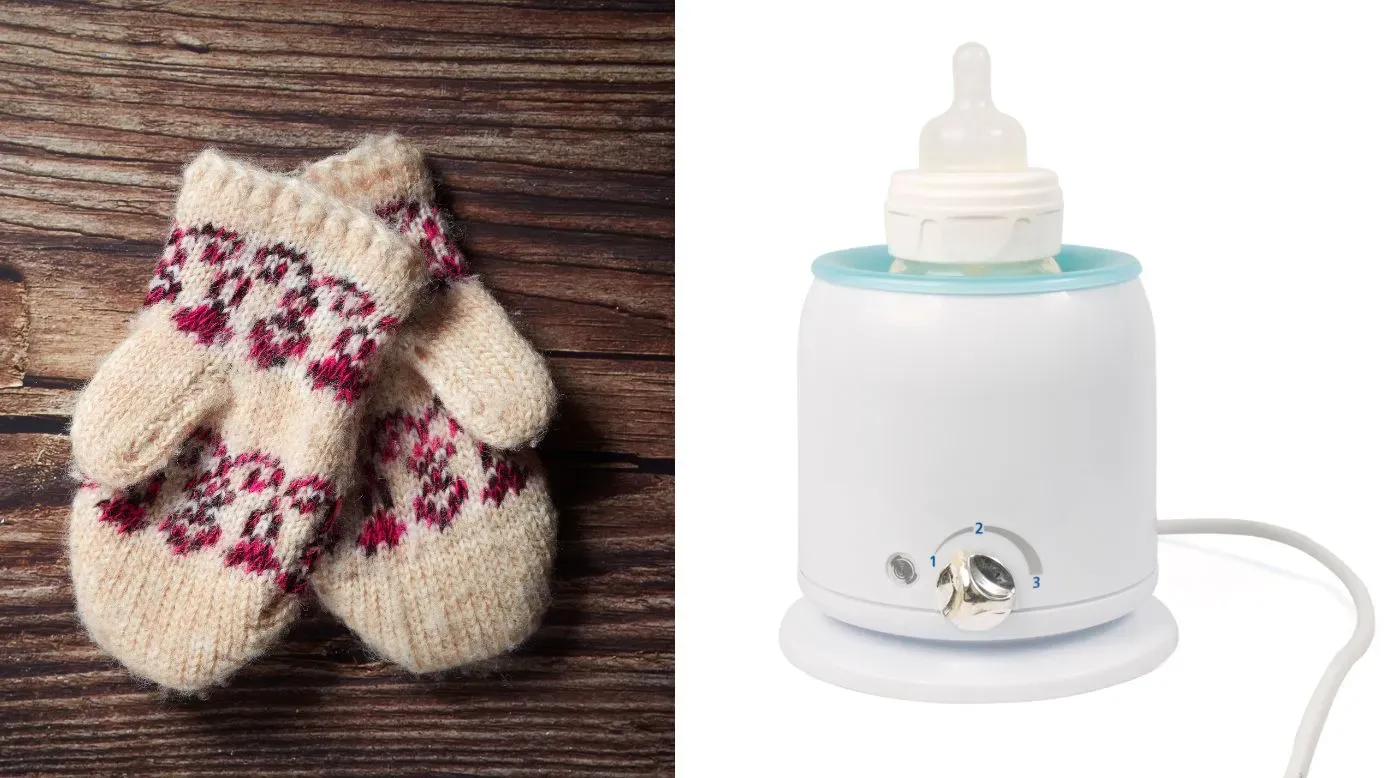 Diaper belt bags.
Breastfeeding-friendly clothing
Washable nursing pads
Nipple balm
Portable bottle warmer
Lactation protein powder
Lactation cookies
Streamlining service or e-reader gift cards
Baby mittens
Breastfeeding course
1. Diaper belt bags
Diaper belt bags are one of the best gift ideas for mothers. They come with shorter versions of the normal diaper belt bag, holding key essentials like wipes, diapers, snacks, phones, and other must-haves.
The new moms can comfortably place them on their hips, allowing opportunities for a hands-free environment.
2. Breastfeeding-friendly clothing
Aligning with the principles of World Breastfeeding Week, let's spread the word for quality, healthy living for the child.
To start with, help the new mom by providing breastfeeding-friendly clothing. This includes nursing pyjamas, nursing tanks, cardigans, jackets, and more.
3. Washable nursing pads
Washable nursing pads are highly recommended; within the first couple of weeks. They are very comfortable which come in various sizes and shapes; the best one is the heart-shaped.
Breastfeeding moms need to promote these products on World Breastfeeding Week.
4. Nipple balm
Nipple balms are good gift ideas for mothers. They help overhaul the tender and sore nipple skin that is chapped, sensitive and irritated due to breastfeeding.
This product helps breastfeeding mothers feel comfortable while breastfeeding. Enriched with botanical ingredients, this must-have product helps relieve dryness, itching, and irritation.
Consisting of plant butters and natural oils, this nipple balm enhances the skin elasticity.
5. Portable bottle warmer
Gone are the days when mothers need to heat their little ones' milk bottle; this portable bottle warmer does the trick. Its benefits include:
Providing constant temperature.
Heat preservation.
Being suitable for night feeding.
Being easy to carry.
Now, your baby can enjoy an intimate milk-drinking experience anywhere and anytime.
6. Lactation protein powder
Formulated with natural galactagogues, this lactation protein powder improves breast milk production by increasing prolactin. The benefits of the protein powder include increasing immunity and strong bone development.
Start with a mug of cold milk, add two heaped scoops of protein powder, and stir well. Moreover, breastfeeding moms should participate in World Breastfeeding Week events in your area, helping in promoting breastfeeding.
7. Lactation cookies
Milk and cookies are a magical combination; for nursing parents; they're effective for breastmilk production. Not to mention, munching cookies releases stress; a hurdle in breast milk supply.
Some of the best lactation cookies include chocolate chip, gluten-free, and low-calorie cookies.
8. Streamlining service or e-reader gift cards
During the early days of breastfeeding, you'll never feel like leaving the couch. At this, it's important to keep the new mother engaged. Consider helping her tune into OTT apps like Amazon Prime.
Apart from this, send her e-reader gift cards; creating a sound environment.
9. Baby mittens
Baby hands are very small and soft. Post birth, doctors advice new moms to protect their little ones' hands with adorable baby mittens.
10. Breastfeeding course
As a mother cherishes the feeling of being a mother, the next step would be to provide quality care for the little one.
To prepare the new mom on this journey, consider sharing a few breastfeeding courses online; you'll find a few on Coursera and Udemy.
On World Breastfeeding Week, let's help breastfeeding moms upskill themselves with quality breastfeeding courses.
Mother-baby Gift Ideas
Let's strengthen the bond between mother-baby with unique gift ideas.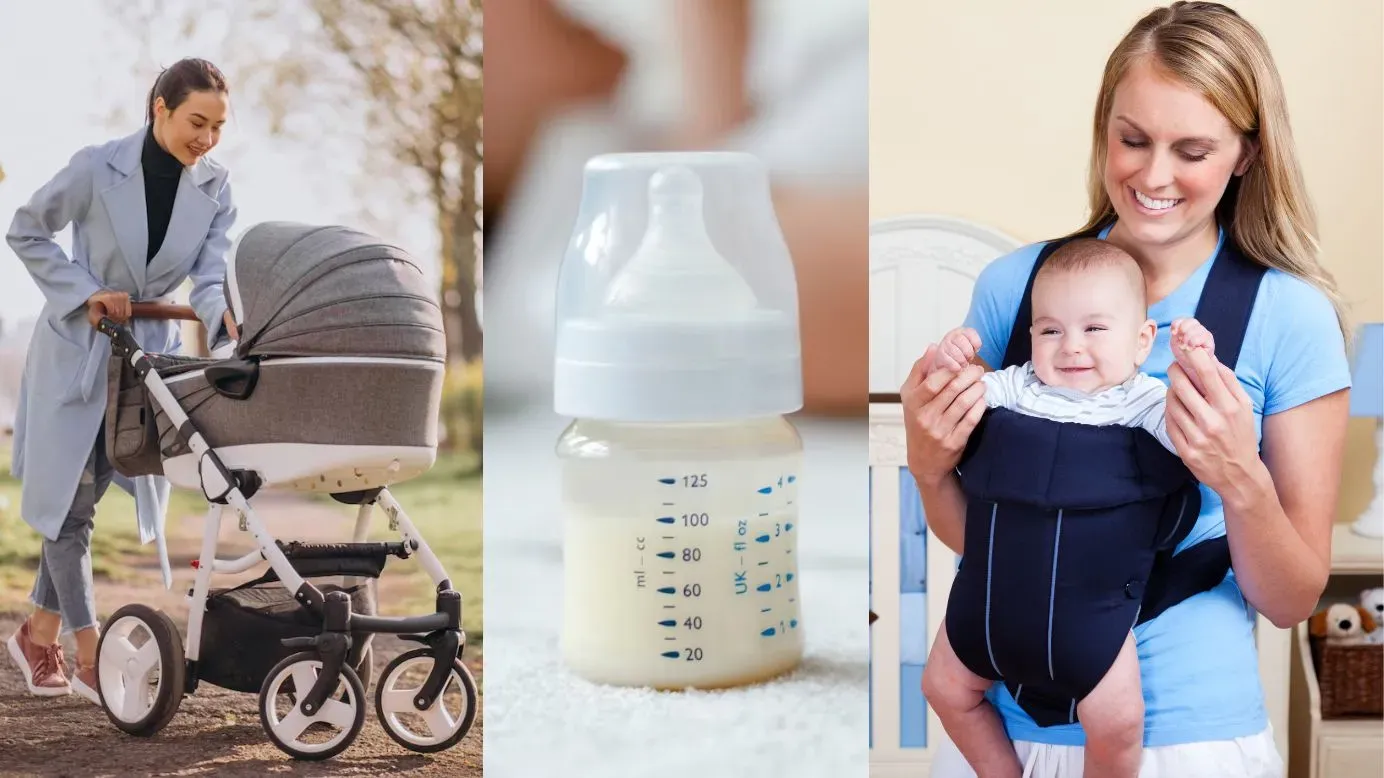 Milk bottle for the newborn
Breastfeeding-friendly Baby carrier bag
Baby sleeping bag
Baby trolley
Night light
Gift vouchers
Slippers
Baby clothes
Baby lotion
Baby toys
1. Milk bottle for the newborn
Milk bottles are quite common gift ideas for mothers. They are one of the first items which we buy for the little one. A cute yet quality milk bottle is the best for the baby.
2. Breastfeeding-friendly Baby carrier bag
Carrying the baby for long hours can strain the new moms' back. To release your concerns, this breastfeeding-friendly baby carrier helps you carry your baby hands-free.
3. Baby sleeping bag
Babies take a nap within the first-half of the day. Hence, it is essential for the new mom to have a sleeping baby. Gifting this adorable sleeping bag helps the new mom' stress vanish away.
4. Baby trolley
Oh! Haven't you forgotten something!
Of course! A baby trolley for the newborn. Traveling becomes an essential, especially if you are a working mom. This baby trolley helps to take your traveling experiences in a smooth manner.  
5. Night light
Babies are known to start crying right when it's time for the new mom to have a nap. On the other hand, the new mom needs to wake up from her sleep and attend to her loved one. This process might lead to others of the family getting disturbed.
To ease your stress, this night light can come in very handy while breastfeeding during the night.
6. Gift vouchers
Being a new mom isn't as easy as we think, right?
Only the mom understands what it's like to have a baby. During this time, the new mom is away from any kind of entertainment. To give them this space, you can provide gift vouchers from Xoxoday, one of the best rewards marketplace.
The company provides redeemable points for you to buy your favorite items.  
7. Slippers
New moms oftenly walk around the house for quite a long time. The dusty surfaces in the floor might be unsafe for the mom. Gift these quality slippers and watch the mom shine.
8. Baby clothes
Coming to the best part of the gift ideas for mothers category, we have cute-looking baby clothes.
You can gift these clothes during the baby shower or at the time of the babies' birth.
9. Baby lotion
During the initial stages of the babies' birth, it is very important to provide healthy looking skin for the newborn. This baby lotion have all the requirements to ensure that your baby stay cute and fluffy.
10. Baby toys
Oh! How could we forget baby toys?
These toys are perfect for babies to have a cheerful yet happy lifestyle.
Gift ideas for nursing mothers
To support the World Breastfeeding Week event, here are good gift ideas for mothers who can showcase at this event.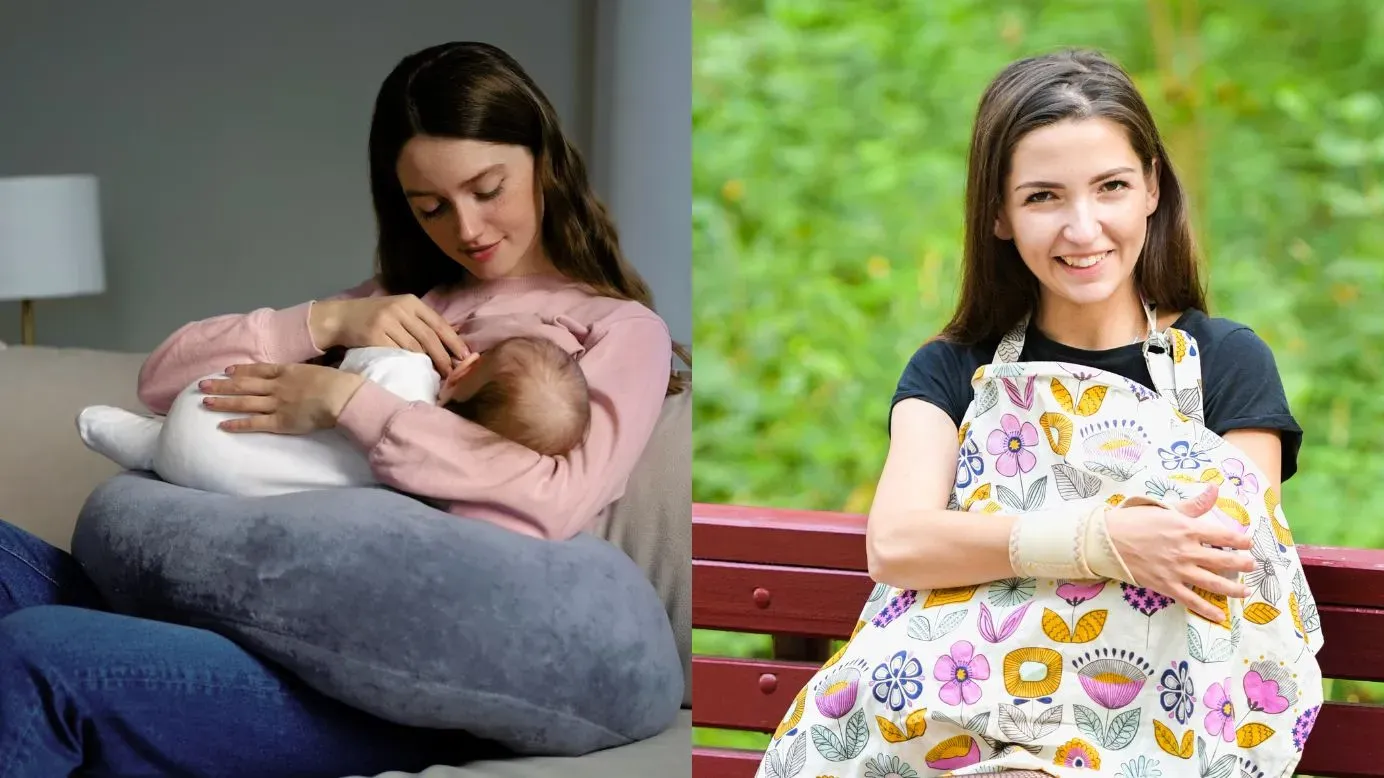 Nursing covers for breastfeeding.
Breastfeeding door sign.
Breastfeeding pump
Nursing stool.
Lactation massager.
Breastfeeding monitor.
Breastfeeding pillow.
Lactation cookbook.
Baby tracking journal.
Breast milk storage gift set.
1. Nursing covers for Breastfeeding Mothers
Nursing covers for breastfeeding mothers are breathable yet comfortable maternity wear. They are soft for babies' skin and the new mom. Moreover, they are multi-functional; used for nursing, and covering baby's stroller cover. The product protects your baby from sunlight, wind, and summer heat.
2. Breastfeeding door sign
This is a valuable gift idea for mothers; considering people enter a breastfeeding room without knowledge.
The new mom can place this door sign in the front, letting the guests know that the mother is breastfeeding.
3. Breastfeeding pump
Breastfeeding pumps are useful gifts for mothers, helping in increasing their milk supply.
They come in different types namely; closed system breast pump, open system breast pump, manual and electric breast pump. Moreover, this product helps in promoting World Breastfeeding Week.
4. Nursing stool
A nursing stool for breastfeeding moms is a very helpful gift idea. The product helps in minimizing lower back, neck, and shoulder; helping in maintaining a comfortable position while breastfeeding.  The new mom can comfortably feel relaxed during breastfeeding.
5. Lactation massager
A lactation massager brings a positive environment for your breastfeeding routine. It helps in improved milk flow, faster breast emptying, and softens the breast. Moreover, the product addresses and prevents clogged ducts.
Gift this product to the new mom before World Breastfeeding Week; the mom must share this product during the event.
6. Breastfeeding monitor
On World Breastfeeding Week, it is important to check how much the little one is swallowing breastfeeding milk. This product offers benefits like tracking how long the baby feeds and checking how many ounces are taken.
7. Breastfeeding pillow
Wrapped in pure cotton fabric, the breastfeeding mom can use this pillow for multi-purpose uses like nursing and breasting. Moreover, it supports the baby on the lap while traveling.
8. Lactation cookbook
Lactation cookbooks offer quality lactation recipes which help in naturally boosting your milk supply. Each recipe in this cookbook is easy to prepare with nourishing foods.
9. Baby tracking journal
A baby tracking journal is one of the best gift ideas for mothers and breastfeeding moms. It helps you analyze the day-to-activities of the baby, food intake, quantity of breastfeeding milk, and much more.
10. Breastfeeding milk storage gift set
Moms often forget to store milk in the right containers. Not to worry! This breastfeeding milk storage gift set helps new moms to place the milk containers to the proper places.
Conclusion
On World Breastfeeding Week, let's spread awareness about the importance of breastfeeding. The event which happens for a week, calls for having a healthy breastfeeding lifestyle for new moms.
The above-mentioned gift ideas for mothers help breastfeeding moms to explore a quality breastfeeding environment.
During this campaign, all the new moms can come together and share their breastfeeding experiences with each other; helping in promoting World Breastfeeding Week.
FAQ
1. When is World Breastfeeding Week being celebrated?

World Breastfeeding Week is celebrated from 1st August to 7th August every year.
2. What is the theme of World Breastfeeding Week 2023?

"Enabling breastfeeding: making a difference for working parents".
---