Table of Contents
With remote work becoming more prevalent than ever, the need for virtual meeting platforms has increased. These platforms enable teams to meet, collaborate, and discuss work.
Today, there are multiple tools available in the market, and while some of them are free, some are paid. If you are looking for a reliable virtual meeting platform that can help your team collaborate seamlessly, then this article is for you.
After trying and testing multiple products in the market and exploring their features, we have curated this list. Let us learn how to choose the best virtual platform and explore the top 10 of them in this article.
How to choose a virtual meeting platform?
With so many options in the market, it is not easy to pinpoint one particular platform and go for it. However, there are some factors that are non-negotiable, and you must consider them before opting for any virtual meeting platform.
Features and functionality: Different platforms offer various features, such as video conferencing, screen sharing, chat, recording, breakout rooms, and more. Assess your needs, and prioritize the features that are essential for your virtual meetings.
User-friendliness: Look for a platform that is easy to use and has an intuitive interface. A complicated platform can lead to confusion and frustration among participants.
Compatibility: Ensure the platform works well on different devices and operating systems, such as Windows, macOS, Android, and iOS. Compatibility is crucial to accommodate all participants.
Participant limit: Check the participant limit of the platform to ensure it can handle the number of attendees you expect for your meetings. Some platforms have limitations on the number of participants in a single session.
Security and privacy: Security is critical for virtual meetings, especially if you discuss sensitive or confidential information. Look for platforms that offer encryption and other security measures to protect your data.
Integration and connectivity: Consider whether the platform integrates with other tools you use, such as calendars, project management software, or messaging apps. Integration can streamline your workflow and enhance productivity.
Cost: Evaluate the pricing structure of the platform and consider whether it fits your budget. Some platforms offer free plans with limited features, while others require a subscription.
Customer support: Look for platforms that provide reliable customer support. In case you encounter issues during your meetings, having access to prompt and helpful support can be invaluable.
Video and audio quality: The quality of video and audio can significantly impact the overall meeting experience. Test the platform's audio and video capabilities to ensure they meet your standards.
Recording and storage: If you need to record your meetings for future reference, check if the platform allows you to do so and consider the storage options for those recordings.
Accessibility and inclusivity: Consider the accessibility features of the platform, such as closed captioning and screen reader compatibility, to ensure all participants can fully engage in the meetings.
Trial period: Many virtual meeting platforms offer trial periods or free versions. Take advantage of these to test the platform's suitability for your needs before committing to a long-term subscription.
Top 10 virtual meeting platforms
Now that you are aware of the things you need to consider in virtual meeting platforms, it is time for you to explore the 10 best virtual meeting platforms.
1. Microsoft Teams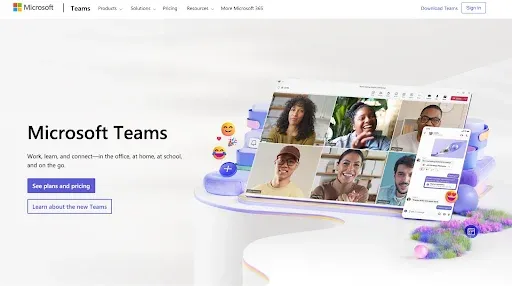 Microsoft Teams is one of the most popular and biggest virtual meeting platforms in the market. The tool comes with a clean interface and is easy to use, even for laypersons. It also has file storage, chat, and voice call options.
The best part about Microsoft Teams is its integration with various other Microsoft tools, like PowerPoint, Word, Excel, etc. The tool comes with free and paid plans. The free plan is sufficient for virtual meetings among small teams without any hassle.
Notable features:
Guest access
Screen sharing
Virtual meetings with up to 300 members
Web, Android, and iOS versions
Pricing
Microsoft Teams has different plans available for personal and business uses. The plans are as follows:
For Home:
Free
Microsoft 365 Personal — ₹ 489.00 /month or ₹ 4899.00 /year
Microsoft 365 Family — ₹ 619.00 /month or ₹ 6199.00 /year
For Businesses:
Microsoft Teams Essentials — ₹ 110.00 user/month + GST
For the plans, Microsoft 365 Business Basic and Microsoft 365 Business Standard, there is a one-month free trial available for each of the plans. Pricing will be decided once you add the plan to the cart.
2. Zoom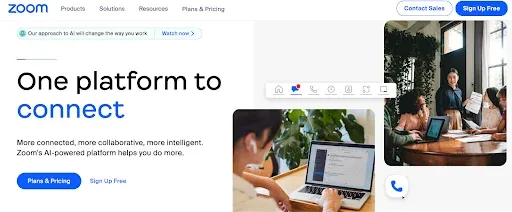 Zoom is another amazing virtual meeting platform to host meetings and classes online. It is used by many organizations and educational institutions for multiple purposes. Zoom generates a unique link for every meeting hosted on their platform, and the users will be notified about it.
Notable features:
Whiteboard
Screen sharing
Video and voice calls
Unlimited number of meetings
Chat and messaging
Meeting record
Instant or scheduled meetings
Pricing
Zoom offers various pricing plans for personal, business, and industry uses.
For Personal & Businesses:
Basic — Free
Pro — ₹1,300/month/user
Business — ₹1,800./month/user
There is another plan called "Business Plus." You need to contact their sales team to know more details about pricing.
For Industry:
Various plans are available for the education, healthcare, and developer platform industries. Customers have the flexibility to choose from various products they offer, which are either billed monthly or annually.
3. Google Meet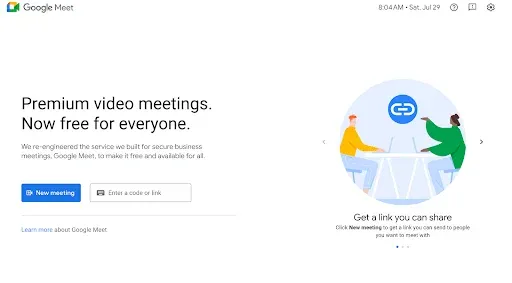 Google Meet is part of the G-Suite productivity software. This tool can be integrated with multiple Google tools without any limitations. With a great user interface, simple setup, and amazing features, Google Meet has become a go-to option for virtual meetings in many organizations.
Anyone with a Google account could host a meeting for one hour. Post that one hour, they will have to create another meeting. The tool includes a paid feature that allows live-streaming to 100,000 viewers within the domain.
Notable features:
Easy to join meetings
Screen sharing
People can join from any device
Virtual whiteboard
Pricing
Google Meet offers both free and paid versions. The free version is limited to a maximum of 100 participants, and the maximum session duration is 1 hour.
Whereas, Google Meet in Google Workspace offers way more features than the free version. Google Workspace offers 4 different plans, to meet your business requirements.
Business Starter
Business Standard
Business Plus
Enterprise
4. GoToMeeting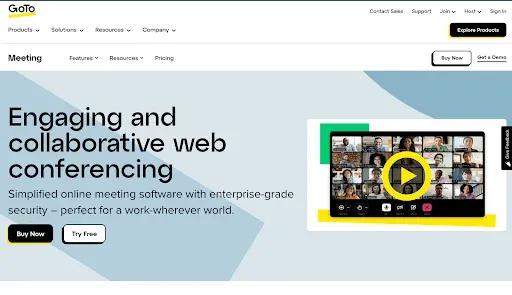 GoToMeeting has dominated the video conferencing space for a long time. Although it isn't widespread now, some features make it a popular option. It comes with a user-friendly interface along with polling, and hand-raising features. It allows unlimited video meetings and secures them with end-to-end encryption.
Notable features:
HD video
24×7 customer care
Screen sharing
Unlimited meetings
Messaging
Web voice calls
Security
Pricing
GoToMeeting has three different plans to choose from.
Professional – $14.00/organizer /month, billed annually with 150 participants
Business – $16.00/organizer /month, billed annually with 250 participants
Enterprise — With up to 250 participants, custom packages are tailored that fit all your company's needs. Please contact the sales team to know more information.
5. Starleaf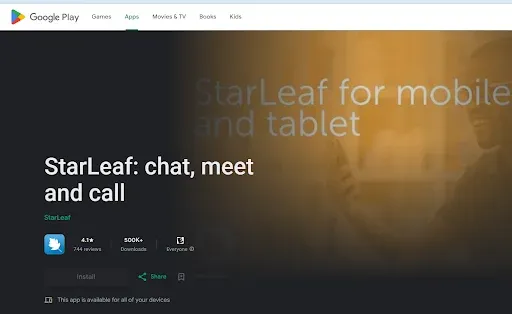 Starleaf comes with its own API, allowing users to customize their conferences. It provides upgrades and integrations like Slack or Skype for businesses. The app is available on both iOS and Android. If you don't want to spend a hefty amount on other video conferencing services and yet want to enjoy a myriad of features, then Starleaf can be your go-to option.
Notable features:
Global voice calling
Unlimited guest invitations
Calendar integrations
Pricing
StarLeaf app offers 4 different plans.
Basic — Free
Pro — $10.99 Per host per month
Business — $14.99 Per host per month
Enterprise — $14.99 Per host per month
6. ezTalks Meeting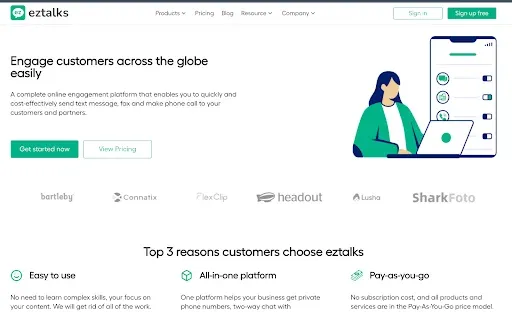 ezTalks Meeting provides continuous technological updates for its users. The developers always try to incorporate one or the other cutting-edge feature to make it stand out.
With a straightforward interface, even first-time users won't face any hassle. The tool is widely adopted in different industries, like healthcare, education, etc.
Notable features:
Instant or scheduled meetings
HD video and audio
Whiteboards
Screen sharing
Private and group chat
Unlimited number of meetings
Pricing
EzTalks is another app that allows you to pick from their three different pricing plans.
Starter Plan — Free
Professional Plan — $12.99 per host per month
Enterprise Plan — can be customized according to your business needs
7. Cisco Webex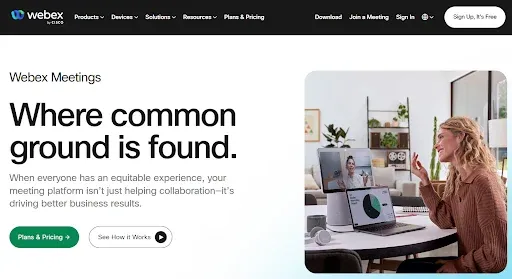 Cisco Webex is a perfect video collaboration tool for online training, remote support, and webinars. The tool is best for businesses that are worried about security concerns. The tool can be integrated with Outlook seamlessly.
Notable features:
HD video
Screen sharing
Cloud recording
Unlimited meetings
Phone support
Pricing
It offers 4 pricing plans, each having an option to bill annually or monthly.
Webex Free — ₹0/license/mo
Webex Starter — ₹555/license/mo
Webex Business — ₹955/license/mo
Webex Enterprise — contact sales team to know more pricing details of this plan.
8. ClickUp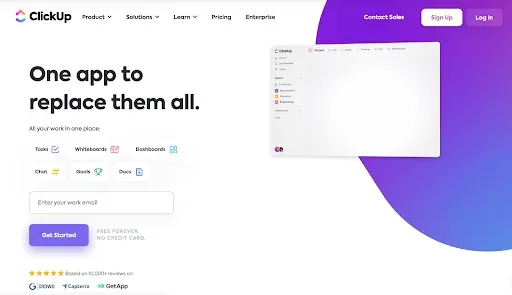 ClickUp is a great meeting place that offers many features, like task tracking, team management, and performance review, in one place. The clean user interface makes it a great option for even first-timers.
Notable features:
Compile notes while the meeting is going on
Assign tasks right during the meeting
Has Android, iOS, and Windows versions
Great security
Pricing
free forever — 0$
Unlimited — $10 per member per month
Business — $19 per member per month
Enterprise — contact their sales to know more pricing details for this plan
9. Fellow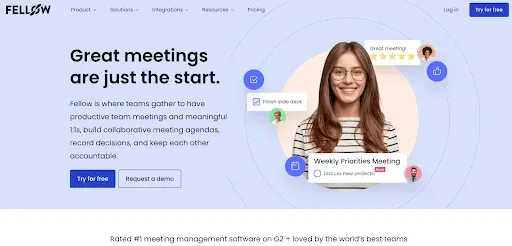 Fellow is a tool that aims at cultivating a healthy and productive video conference meeting culture within your team. You will have the power to streamline different types of meetings without any limitations. Fellow allows you to track different action items, assign tasks, and much more.
Notable features:
Automatic reminders
Share, collaborate, and sync notes across the team
Provides pre-designed templates for effective meeting
Pricing
Free — $0
Pro — $9/per user/per month billed monthly
Business — $8/per user/per month billed annually
Enterprise — For the pricing details of this plan, contact their sales team
10. Lattice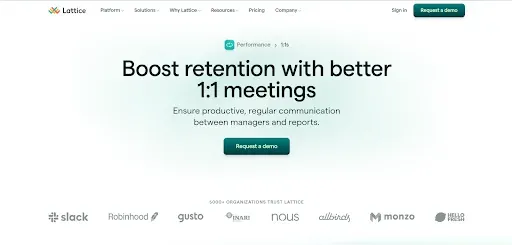 Lattice is another great video conferencing option that you would find in the market. You will be able to streamline your 1-on-1 meetings with multiple people. The tool comes with a feedback feature as well.
Notable features:
Set, track, and manage goals across your teams
Gather insights into employee satisfaction
HD video and audio
Security
Pricing
Performance Management + OKRs & Goals — $11 person/month
Engagement — +$4 person/month
Grow — +$4 person/month
Compensation — +$6 person/month
Conclusion
These are the top amazing virtual meeting tools that you would find in the market. All of them come with different sets of features that would align with different businesses. You can analyze the functionality of each of these tools and pick one that is compatible with your requirements.
---