How to Vacation Like an Instagram Celeb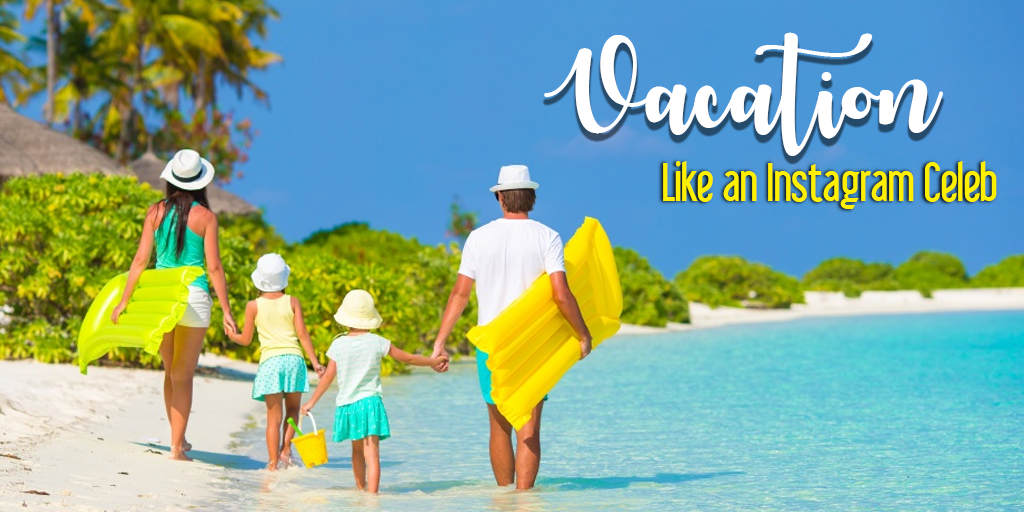 It seems like Instagram celebs are always on the go, always showing off costly leggings in a tropical location while in wheel pose, and basically living their best life. How do they do it? The rare few actually do make a lucrative living via Instagram, getting paid to show off brands. However, for the vast majority of them, they're regular folks just like anyone else—often making it worth with a tight budget but serious frugality. If you just want to vacation like an Instagram celeb without the pressure of going full Instamodel and making that your sole source of income, you're in luck. It's actually a lot easier to do than you may think. All it takes is some planning, deal hunting, and, of course, the right filter.
First, remember that the carefully cultivated image you see probably isn't reality. That ocean they're frolicking in might actually be freezing (fortunately, you can make goosebumps disappear with the right edits). Everything they post has been poked, prodded, and shifted to make it look better than it is. Getting real with what's actually happening is your first step towards making Instagram glitz and glamour a reality.
Start by figuring out exactly what it is you want out of a vacation. Is it really just likes and comments? Probably not. After all, you can chase likes without ever leaving your house. Ask yourself what it is about these Instagram celeb accounts that actually appeals to you. It's probably not the high number of likes that drew you to the account. Instead, it's the lifestyle they're portraying. It looks like they're always having a blast, eating new and exciting foods, doing adrenaline-packed activities, all while still taking time to zen out while on vacation. Make a list of what it is you envy about these accounts. This will help guide exactly what kind of vacation to plan. You'll likely find that you're drawn towards accounts with certain themes. It might be tropical, it might be chic and European, or maybe you love how they balance being a yogi with wholesome eating. All of these things are very achievable. Here's how.
Vacation Like an Instagram Celeb
Create a budget and stick to it. Well, that doesn't sound very interesting, but it's absolutely vital to making your Instagram dreams a reality. Anyone can travel, and travel well, on nearly any budget (or lack thereof). The challenge is don't break down and put everything on a credit card or empty your bank account. Consider your monthly income, expenses, and vacation fund (if you don't have one start). Create a budget that's doable for your financial situation, not based on where you want to go and what you want to do. Your vacation should be created around your budget, not the other way around. You might have to save, take up a side gig (driving an Uber is completely legit) or ditch some daily indulgences such as coffee or a Netflix subscription to make this happen.
Travel during the off-season. If you dream of going tropical, this is especially important. Many destinations have steep discounts during off-seasons. This doesn't mean you'll be miserable in the cold—quite the contrary. The off-season is often a little cooler, but that's perfect if you don't particularly like stifling heat. You'll be able to get cheaper airline tickets, cheaper hotels, cheaper experiences, and there will be less crowds. Fewer crowds mean fewer people to crop out of your perfect 'grams.
Travel on standby. If you haven't tried standby before, it can be an experience in itself. The only caveat is that you have to have some flexibility in travel. However, as long as you're not traveling during peak travel times (like Thanksgiving weekend), you'll almost certainly get on a flight within 48 hours of your ideal time. Every airline is different, and it's best to either call them or—better yet—show up at a ticket counter and ask about their standby procedures. Flying standby is often one of the best ways to get bumped to first class. It's always a good idea to allow for some buffer time around the start and end of your vacation anyway. Best case scenario is you get a little more time to enjoy your destination and de-compress after you return. Worse case scenario is you spend a little more time at the airport. That's fine—bring your laptop and work on editing those packing images into Instagram gold.
Start planning your vacation prioritizing what will photograph well. Yes, you should absolutely plan a vacation based on what you'd like to do, see, and experience. However, these often overlap with what looks fabulous on Instagram. It can include landmarks as well as restaurants known for wildly imaginative plating. However, if you're going for a destination, remember that "magic hour" is dawn and dusk. This is when photographs are best, and you'll notice that in the vast majority of movies there's at least one scene filmed during this time. Aim for dawn (if you're a night owl, this can be tough, but worth it). Get up super early if you'll be in the photograph to primp. Right when the sun comes up, even the most famous of landmarks and destinations are often deserted. Think of getting a shot on the Charles Bridge at dawn with nobody around. Timing really is everything.
Think outside the box. You've probably noticed how some accounts rack up tons of likes even when it seems like what the person is doing isn't that exciting. How do they do it? They look beyond the obvious. They're trendsetters, or they notice beauty and interest in things that are otherwise mundane. Open your eyes. Look around. Look away from the screen and truly immerse yourself in the adventure of your vacation. This can sound counterintuitive to someone interested in modeling a vacation after Instagram, but here's the deal: A lot of people fall in love with certain Instagram accounts because it looks like the person doesn't live on their phone. Follow that example (even though the person probably is glued to the screen most of the time!)
Put the experience before the photograph. If you really want to enjoy a vacation, you can't document everything. Not everything needs to be photographed or put on Snapchat. You might have noticed that some of the most successful accounts are run by people who don't even post once a day. Not even the Kardashians post every consecutive day (though sometimes they do). All you need is one really good photo and it can nourish your like cravings for a day or more. When on vacation, choose one activity that's gram-worthy every day. Also, be open to surprise opportunities, but don't make them a priority. Beyond that, immerse yourself in the experience. Actually living the vacation of your dreams is so much more important than making it look like you did.
Go off the beaten path. Stay safe, but also seek out things to do that aren't in the guide books. The best way to do this is to ask a local. You can also visit chat rooms that focus on an area beforehand and talk to locals or ex-pats who know the area well. It's great to get that selfie by the Eiffel Tower, but what about the hot air balloon festival in a field in Metz, just a short train ride away from Paris?
An Instagram-worthy vacation doesn't have to evolve around your camera phone. In fact, it shouldn't. Also, remember that you don't need to edit and filter right away. Here's a challenge: Don't post until you return. You can spend time on the plane home editing to your heart's content. That's how you actually live an Instagram vacation.
Tags
Comments