Top 10 Adventurous Places for Trekking Near Pune!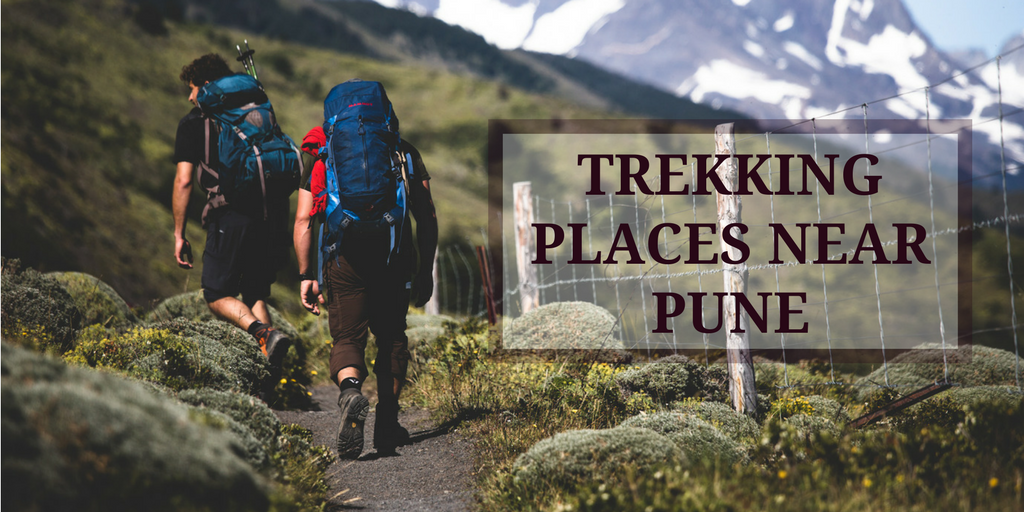 Pune, the land of Marathas has a lot of places to explore and this place is known for its beautiful places for trekking near Pune. Pune is not only for its scenic beauty but also for its amazing nightlife.
Right from the Deccan Gymkhana, the food street and the Halwai Ganapathi Temple this place is truly a fabulous one to visit and also explore. Along with all these one of the most haunted places in India ruled by the Peshwa Baji Rao is also situated in Pune.
From the famous Bhakarwadis to street side yummy Pav Bhaji, the outskirts of Pune are very tourist friendly. The most happening Lonavala and the ancient Karla and Bajra caves are also close to Pune and are a must-visit tourist destinations.
Pune is also famous for its amazing hill stations for trekking near Pune and trekking through the ancient forts is one of the popular things a lot of hiking enthusiasts would love to do while in Pune.
With the lengthy and green trails trekking near Pune can be an amazing experience and some of these trekking destinations are a must-visit during the monsoons because of the lush greenery and scenic vistas.
Listed below are some of the major places for trekking near Pune in and around Maharashtra and these are some of the places every trekking enthusiast has to go.
Matheran Trekking near Pune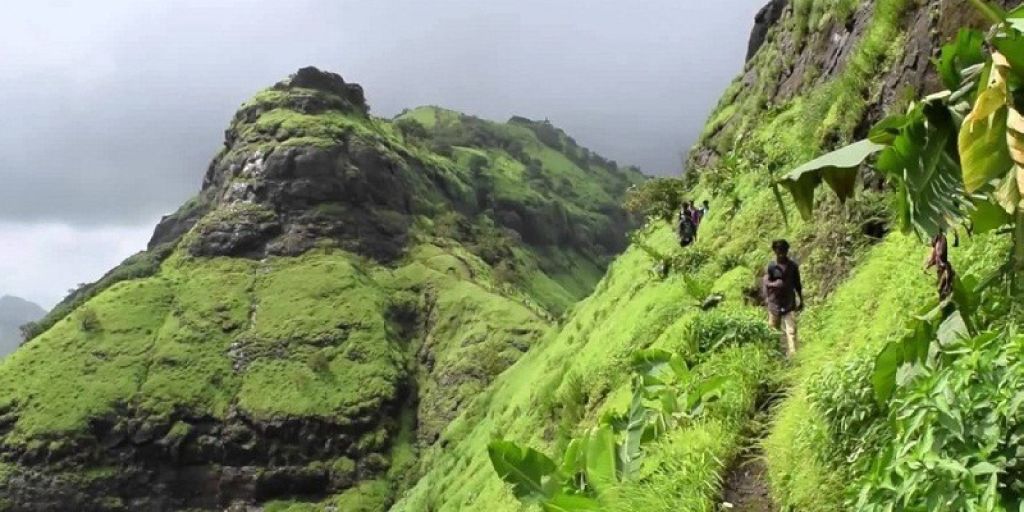 Matheran is one of the most picturesque places in Maharashtra and attracts a lot of travel enthusiasts. At a distance of 125 km from Pune, Garbett Point at Matheran is one of the loveliest places to be asked for and Garbett Point has been visited by a lot of trekkers.
With the lush green plateau of Garbett, there are a lot of other places to visit and also trek along with Garbett Point. One Tree Hill is also part of this circuit; one could also cover the Chanderi caves which can add to the overall adventure.
This is a medium level trek and it would take one complete day to enjoy the trek thoroughly.
Kalsubai Peak Trekking near Pune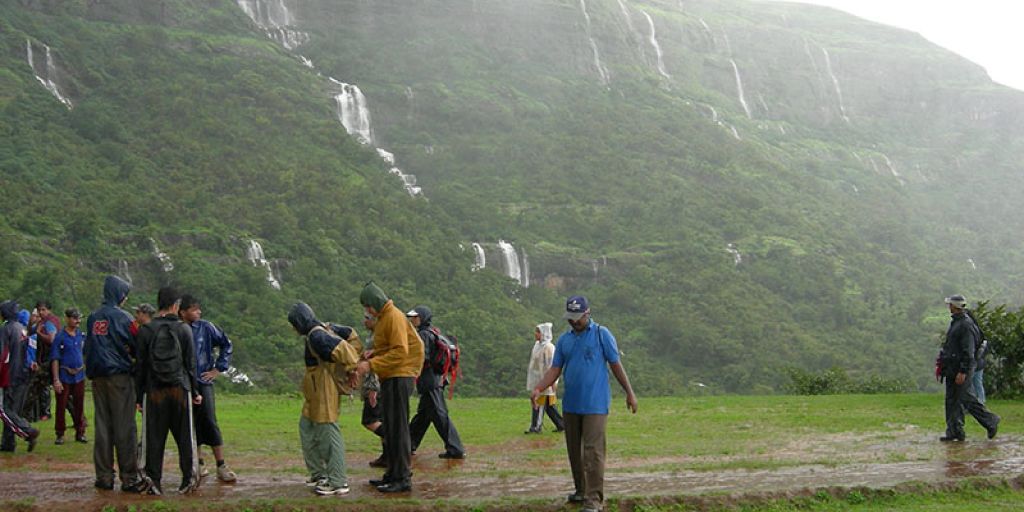 Kalsubai Peak trek is meant to be done during June to September. This peak is at a distance of 180km from Pune and it is a medium to difficult level trek. It requires a minimum of 2 days to finish this trek successfully and this is one of the best trekking places near Pune.
This is one of the tallest peaks in the Sahydari ranges and walking amidst the clouds with the cool breeze hitting the face. Looking around the charming panoramic views especially during the rainy season is a feast to the pair of eyes.
It rejuvenates the soul and leaves everyone enthralled; it is part of the Kalsubai Harishchandragad Wildlife Sanctuary and during this trek, one can spot a lot of other places like Saptashringi Mata which is also one of the Shaktipeethas.
Rajmachi Trek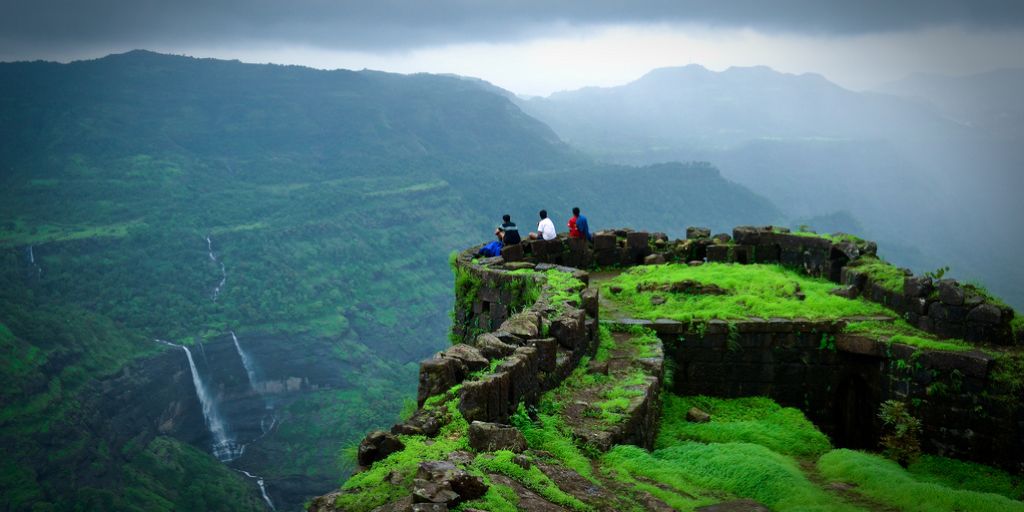 This trekking destination is one of the most popular trekking destinations in Pune for almost all the trekkers and this has been a favorite target of all the trekkers in India. Preferable to be visited during monsoons, Rajmachi Trek has been considered the best of all because of its trail.
The trail is filled with dense forests on either sides and this makes it a lovely track to trek because of the two forts viz Shrivardhan and Manaranjan.
This also apparently was once a historical trade route and the pleasing beauty rejuvenates every cell and keeps the trekking enthusiasm alive until the trek is completed.
Rajmachi Trek is around 15km away from Lonavala and it has been one of the best trekking trails of Maharashtra.
Peb Vikatghad Trek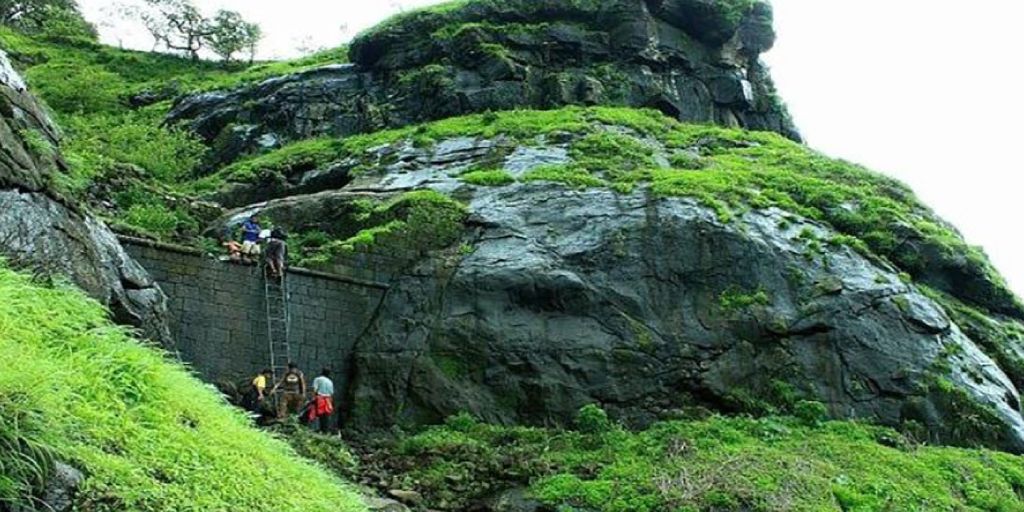 This is also a leading trekking trail of Maharashtra which is in Karjat. This was once used by the ruler Shivaji to store grains and the place derives the name from goddess Pebi.
This place is near Neral in Matheran and to the northeast of Panvel and is considered to be the best trekking in Pune. Though the place gets the name from the goddess due its resemblance to Lord Ganapati, the place gets the name as Vikatghad.
This is considered to be a one day outing place for trekking in Pune with medium level difficulty and this place can be trekked throughout the year.
Raigad Fort Trek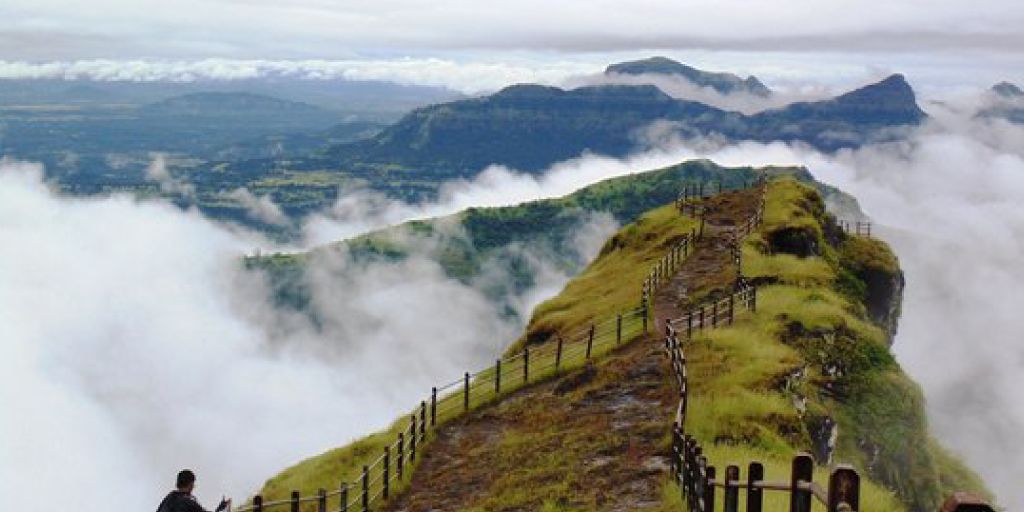 This fortress is one of the legendary and quaint places for locals to spend their time. The steps inside the fortress are something that makes it the best trekking place in Pune. There are close to 1500 steps approximately and to climb these it takes a lot of effort.
The fort is surrounded by dense jungle and this is what makes it more exciting to trek to this place. The beautiful architecture of the fortress makes it special and this was once the queen's quarters.
Known as the medium level trekking, this can be completed in a day and it is easy to trek this place.
Irshalgad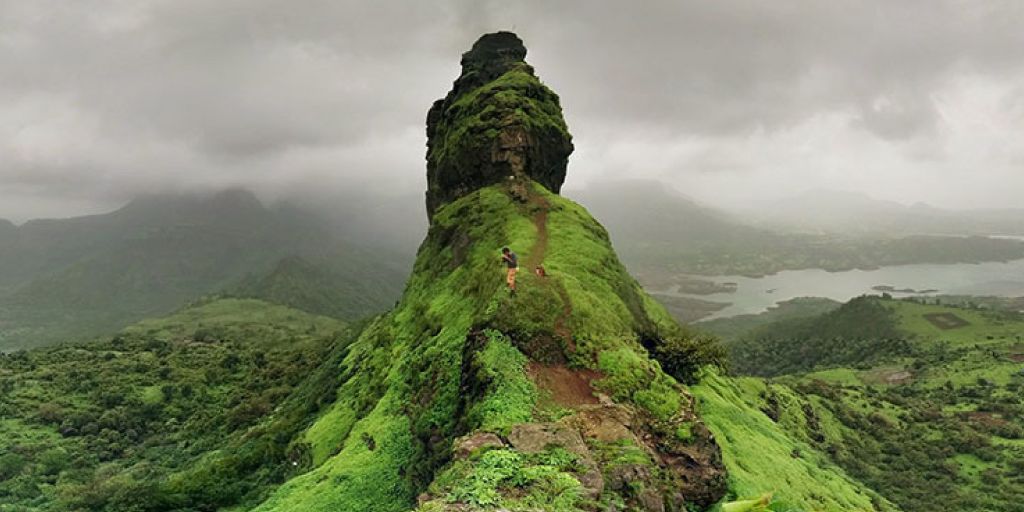 Located at a distance of 115km from Pune, Irshalgad is also one of the most frequented trekking places of Pune. This is one of the easiest treks and can be covered in about 2 hours approximately and has to be started from Karja village from the railway station.
The entire trek distance is about 11km and 3km inside the fort. The trek becomes steep and it requires a lot of ascending and later from Irshalwadi village the trek becomes quite simple.
Ratangad Fort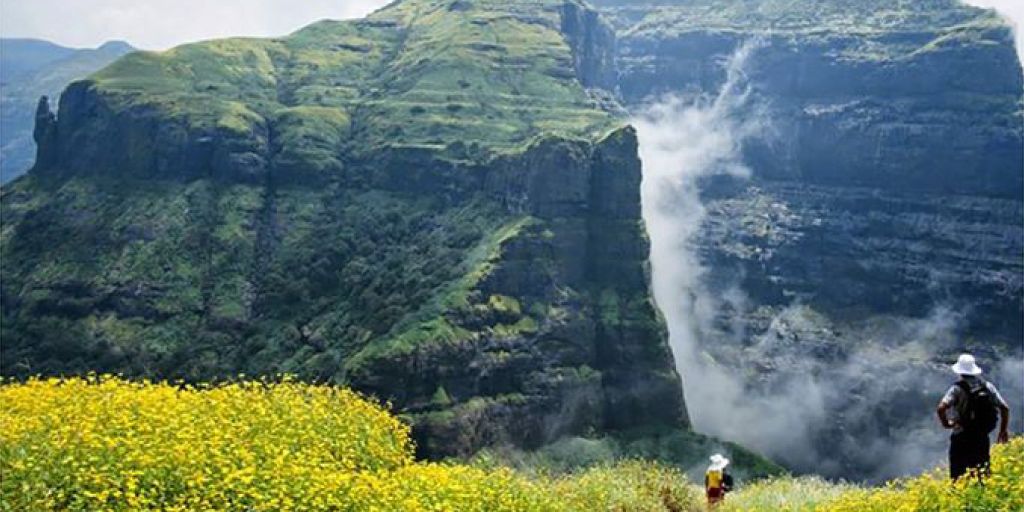 As Maharashtra is filled with a lot of forts, fort trekking in Pune is pretty famous. At a distance f 183 km from Pune, this place is popularly called as the Needle of the peak which is a cavity and it is formed by a natural rock.
This is a place known for its heritage and with the rule of Mughals it makes it all the richer in its history and tradition. There are also a couple of caves to be explored during this trek.
The specialty of this place is the wells which are carved beautifully and the river Parvara originates here and it is also called by the name Amrutavahini.
The amazing scenes of Sahyadri mountain ranges are to be seen and experienced first-hand than expressed in words. Trekking this trail is one of the most fantastic experiences as there are a couple of other caves to be explored as well.
Ratangad trekking trail is pretty easy and this can be attempted by even the amateur trekkers as well.
Sinhagad Fort Trek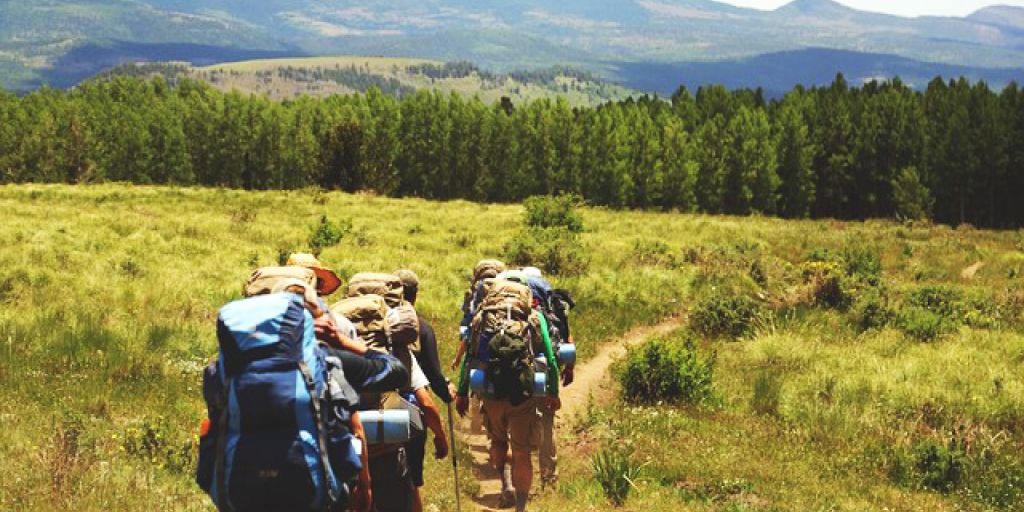 Known as the Lion Fortress, Sinhagad Fort is located in the Southwest of Pune and is at a distance of 32 km. This is one of the as well. This fort was renamed by Chatrapathi Shivaji after he conquered it from the other Maratha ruler.
With its popular history and its strategic location this fort is one of the major trekking spot for a lot of top weekend getaways for the local's people and this is also one of the monsoon trekking destinations of Pune and is also considered to be the best monsoon trekking places of Pune.
The trekking trail is not that difficult however, it requires quite a bit of stamina to explore the entire fort.
Dudhsagar Trek

This is a dream of every trekker and it requires a lot of determination to complete this amazing trek. Located on the borders of Goa, Karnataka and Maharashtra; Dudhsagar trek is one of the known treks amongst all the trekkers.
There are two routes for this amazing trek and both the paths are extremely beautiful. With the sight of the amazing waterfalls cascading through lovely mountain ranges, this two day trek would certainly bring back any trekker back to life.
This is one of the treks that has to be tried by every trekker atleast once in their life time and Dudhsagar is known to be a paradise for everyone and that includes the trekker's gang as well.
Rajgad Fort trek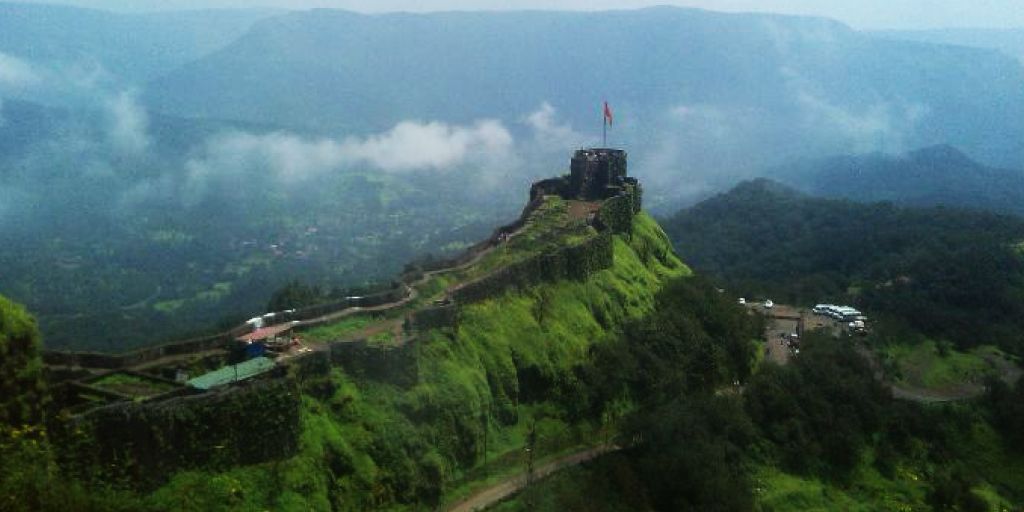 One of the known trekking places in Pune, Rajgad trek has been a chosen spot for trekkers. Filled with different hues of green and shades of brown this place is truly a heavenly abode. The construction of this fort is highly unbeatable to any o the other forts and this trek is divided into four parts and can be covered in a day.
The fort is opened from morning 6 am to 6pm and the trek distance is approximately 3.5 km.
Tips for Trekking near Pune
Lot of these places is monsoon trekking destinations hence, below mentioned things has to be taken care.
Always have a raincoat handy because trekking would be when it is raining.
Keep all the necessary things like torches, precautions for leeches handy in case there are some on the way.
Carry enough food on the way as some of the trekking spots may not have any shops until the base camp.
Carry necessary clothing and first aid kit that are needed during the time of trekking.
Pune has a lot of other tourist places as well and popular hill stations for Trekking near Pune can be quite exciting as there is a lot of history attached to them. We have listed the places; it is your responsibility to visit them.
Tags
Comments