19 Most Popular Spots for Adventure Trekking in Coorg!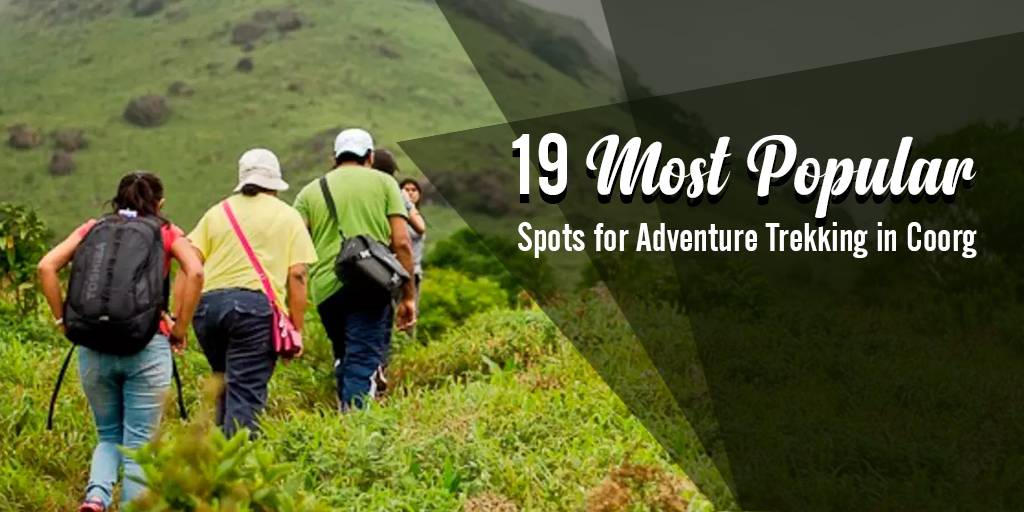 Coorg often called as the 'Scotland of Karnataka', is undoubtedly one of the sought after tourist attractions of South India. Located amidst the majestic hills of Karnataka, this picturesque hill station is a paradise for the adventure enthusiasts and nature lovers. Being surrounded by misty landscapes, serene valleys, lush greeneries and spectacular waterfalls, Coorg is well known for its pleasant climate, aromatic coffee, warm-hearted people and great traditional hues. In addition, trekking in Coorg is more adventurous than you being a tourist can experience.  It is also considered to be one of the most popular weekend getaways from Bangalore which is located at a distance of 265 kilometres. 
Every year, thousands of tourists and travelers visit Coorg to explore this heavenly land for a quick rejuvenation. The peace-seekers end up being here to experience a blissful luxury homestay while the adventure enthusiasts head to various trekking destinations that are located in close proximity. A number of people also love to visit here to savour the scrumptious authentic local dishes, especially, the homemade wine and pork curry.
Situated at an altitude of 1530 meters on the Western Ghats, Coorg is home to rich biodiversity and exotic flora & fauna. There are total three wildlife sanctuaries (Talacauvery, Pushpagiri and Brahmagiri) and one national park (Nagarhole National Park) that lie within the Coorg region. Aside from the immense wilderness, the entire area is surrounded by misty hills, lush green forests, vast coffee plantations, cardamom farmsteads and breathtaking waterfalls.
When it comes to trekking places in Coorg, there are plenty of destinations and lots of exciting things to do here that are sure to take your breath away. So if you're planning to visit Coorg or if you're already there, here we present you a list of the top trekking spots in Coorg that you may look out for.
Top Trekking Destinations in Coorg within 25 Km
Trek to Galibeedu Peak
Located close to Madikeri, Galibeedu mountain range is home to a number of trekking trails. Famous for its natural beauty and scenic views, Galibeedu Peak is amongst the top trekking places to visit in Coorg. As you traverse through the thick woods, you will be amazed by the picturesque surroundings. One of the most frequented trails here is Galibeedu to Subramanya trek for which the total length of the trail is around 25 kilometres. Galibeedu peak is also a popular site for wilderness camping and known for trekking in Coorg region.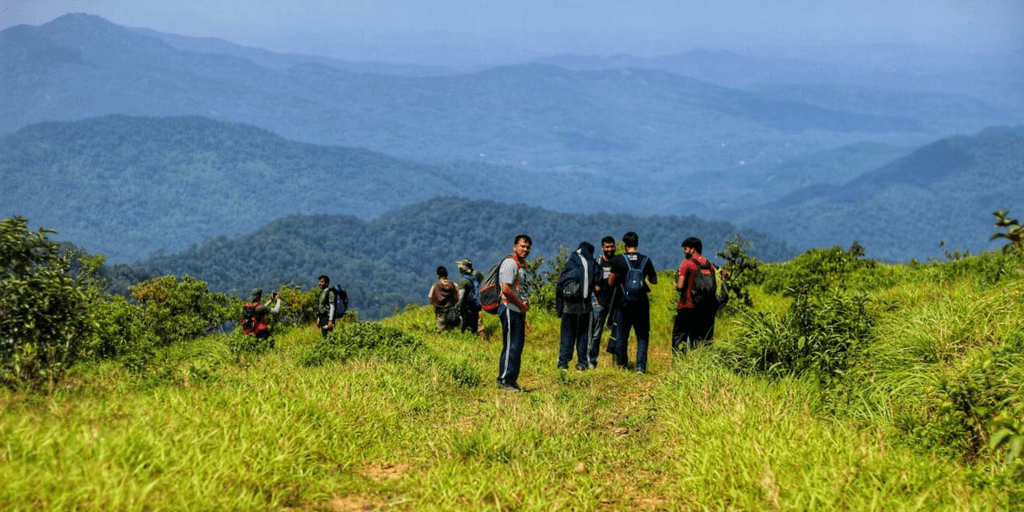 Distance from Coorg: 13 Km
Trek to Madikeri
Nestled peacefully on the hilly slopes of the Western Ghats, trekking in Madikeri is one of the most popular sport activity in Coorg district. Besides being an ideal spot for romantic getaways and honeymoons, Madikeri is also popular for adventure trekking in Coorg region.
The entire trail route is surrounded by awe-inspiring sceneries, lush green hilly terrains and picturesque streams. Heading to the top of the trail, you will get to witness abundant beautiful landscapes and coffee estates all across. Being home to natural as well as historical attractions, this place caters to every kind of tourists and travellers.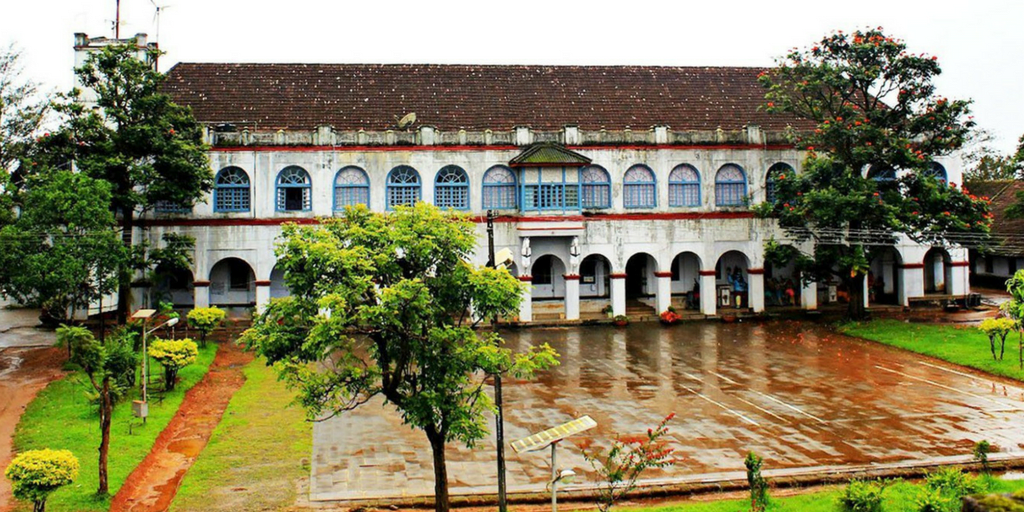 Adventure Camping in Madikeri is another incredible experience that you may opt for. Take short breaks during your trek and click photographs while admiring the scenic views. You may also take a bicycle tour to the rustic lanes of coffee estates to get an insight into the coffee cultivation. Some of the highlights of Madikeri trek are Madikeri Fort, Chingara Waterfalls, Namdroling Monastery, Raja's Seat and Omkareshwar Temple.
Distance from Coorg: 18 Km
Trek to Abbey Waterfalls
Located close proximity to Madikeri, Abbey Falls makes for one of the top trekking places to visit in Coorg. It is amongst the most popular attractions in Coorg to visit in one day. The waterfall is surrounded by wide spice estates and coffee plantations. Admire the mesmerizing beauty where the Cauvery river is falling down on a rock in a cascading form that has turned into the waterfalls. The beauty reveals at its best during the monsoon when the water level rises high.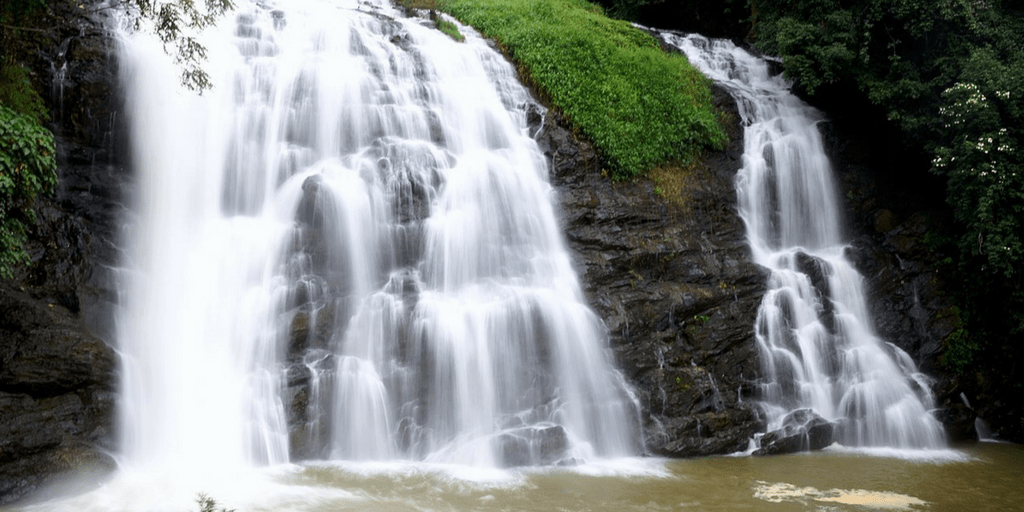 Distance from Coorg: 24 Km
Best Trekking Places in Coorg within 50 Km
Trek To
Chomakund
Coma Kund trekking trail is for all ages and a popular spot for trekking in Coorg. It is an easy trail that is about 5-6 kilometres long. Located close to Tadiandamol peak, it lies near the state border of Karnataka and Kerala. The trail begins from Chelavara waterfalls and goes through mystic lanes of dense deep jungles. The misty hills, pleasant climate and the aroma of Coffee and Cardamom that surround the region make this trail truly amazing.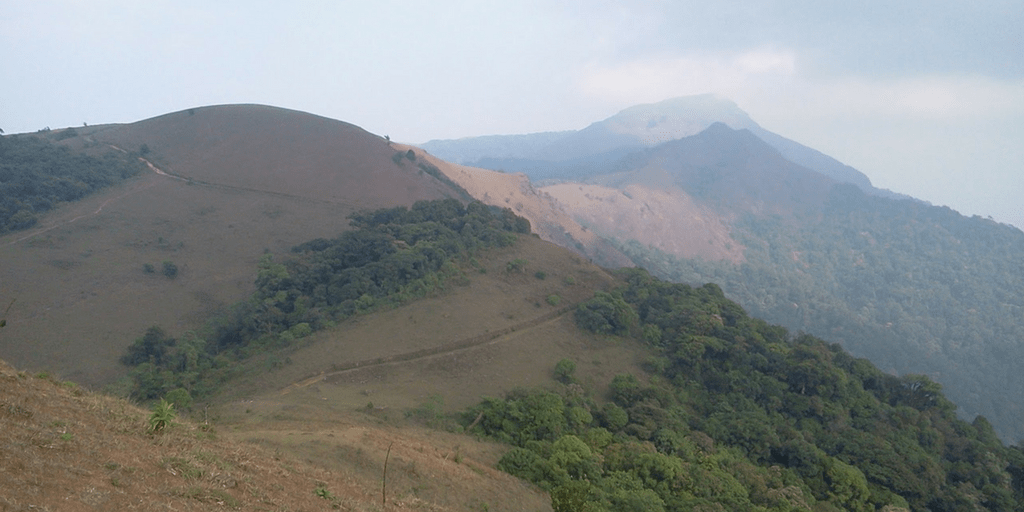 Distance from Coorg: 32 Km
Trek to Kabbe Hills – Chelavara Waterfalls
If you're looking for a real adventure trekking in Coorg, Kabbe Hills trek is the right place for you where you should head to. Located just 30 kilometres away from Madikeri, Kabbe hills can be reached through a romantic jeep drive that will take you through picturesque country roads, scenic villages, pastures, wetlands, coffee estates overlooking the majestic Western Ghats. Meanwhile your journey, you can stop by the stunning Chelavara waterfalls. You may also take a bicycle ride to the waterfall to explore the magnificent view or you can indulge in some adventurous activities like Waterfall Rappelling at Chelavara waterfalls.
Distance from Coorg: 35 Km
Kakkabe Trek
One of the top places for trekking in Coorg, the Kakkabe trail is lying amidst the beautiful Western Ghats. Situated near the Tadiandamol peak, the trail offers wide stretches of lush greenery, dense jungles and stunning waterfalls. Kakabbe village is famous for producing a large amount of honey throughout South East Asia. The trail walk offers ample opportunities for wildlife spotting, bird watching and nature walks. With its unparalleled beauty, charm and tranquillity, it allures every tourists and traveller.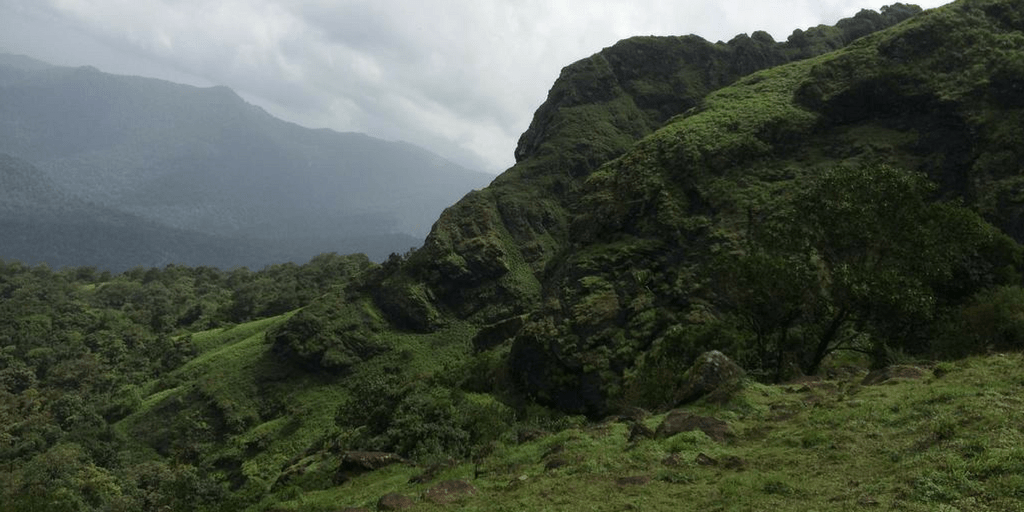 Distance from Coorg: 35 Km
Trek to Mandalpatti
Located at an altitude of 1600 metres from the mean sea level, Mandalpatti is a popular spot for trekking in Coorg. With the misty landscapes, picturesque vistas and exhilarating viewpoints, this place offers a mesmerising trekking trail. To start the expedition, you will have to take a thrilling jeep ride from Madikeri to the starting point of the trail. After a 30 kilometres drive, you have to walk for about five minutes to reach the stunning viewpoint. While you trek through the narrow wooded roads, you will come across the stunning Kote Abbi waterfalls. Enjoy a day trip to Mandalpatti and soak in the natural beauty during your adventurous hike trip.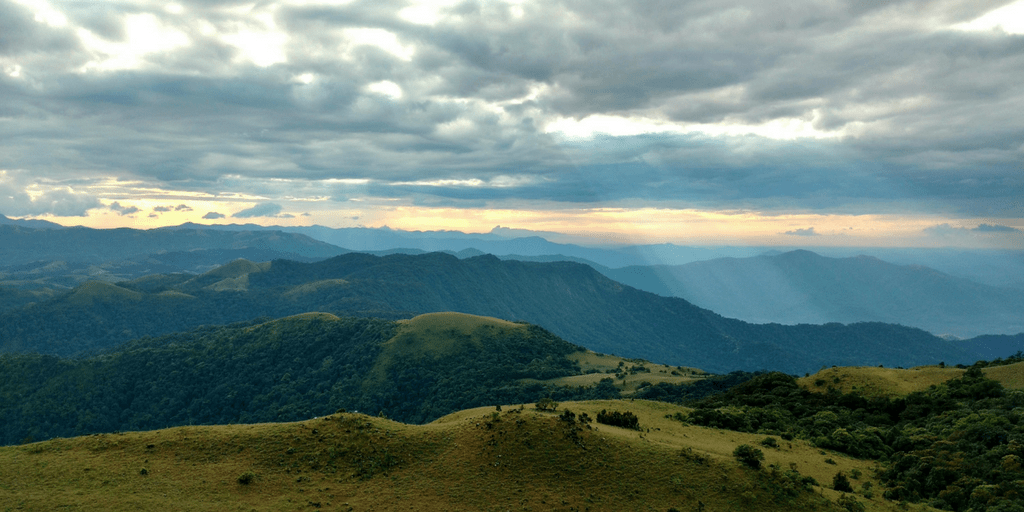 Distance from Coorg: 40 Km
Trek To Karkette Peak
Belonging to the Nishani Betta hills of Western Ghats, Karkette peak is an offbeat trekking destination in Coorg. As you move ahead to the summit point, you will come across beautiful landscapes with lush greeneries stretching all around. The trail route traverse through dense rain forests and open grasslands where only nature will accompany you all the way long. Reaching the top, you will get the entire view of the valley covered with misty clouds. On a clear cloudless day, even the Talakaveri range becomes visible from the Karkette peak. If you are seeking a peaceful getaway around Coorg, it is no doubt a place worth visiting at least once for trekking in Coorg.
Distance from Coorg: 42 Km
Trek to Tadiandamol
Standing tall at an altitude of 5570 feet, Tadiandamol is the highest peak in Coorg region and is one of the top trekking destinations in Coorg. It is an ideal trekking spot for the ones who are looking for a moderately easy trail. The trail starts from Kakkabe village and goes through sloppy hills. As you hike to the highest peak in Coorg, you will be rewarded with some unparalleled beauty with breathtaking views along the velvety green belts. Tadiandamol is also an excellent camping site, with huge boulders obstructing the wind. Certainly, one of the places to visit for trekking in Coorg, Admire the serene sunrise view from the top and take photographs. 
Distance from Coorg: 43 Km
Trek to Nishani Betta Hills
Nishani Betta trek is a popular adventure sport activity in Coorg. Nestled in the Brahmagiri mountain range of Western Ghats, it enthrals every visitor with its charm, best-known places for trekking in Coorg. Being relevantly less known, Nishani peaks are untouched by pollution. One of the most breathtaking trails here is the Nishani Blue Ridge trek that is sure to mesmerize you with its calm and tranquil environ. The entire region is surrounded by lush green vegetations, wide meadows, coffee estates, gurgling streams and paddy fields. The trekking starts from Madenadu village and goes through sloppy terrains. The trail route boasts of diverse flora and fauna. As you climb towards the Blue Ridge peak, the slope may get a bit steeper but your mind will be too occupied with the awe-inspiring natural beauty, hence you won't be able to feel the fatigue.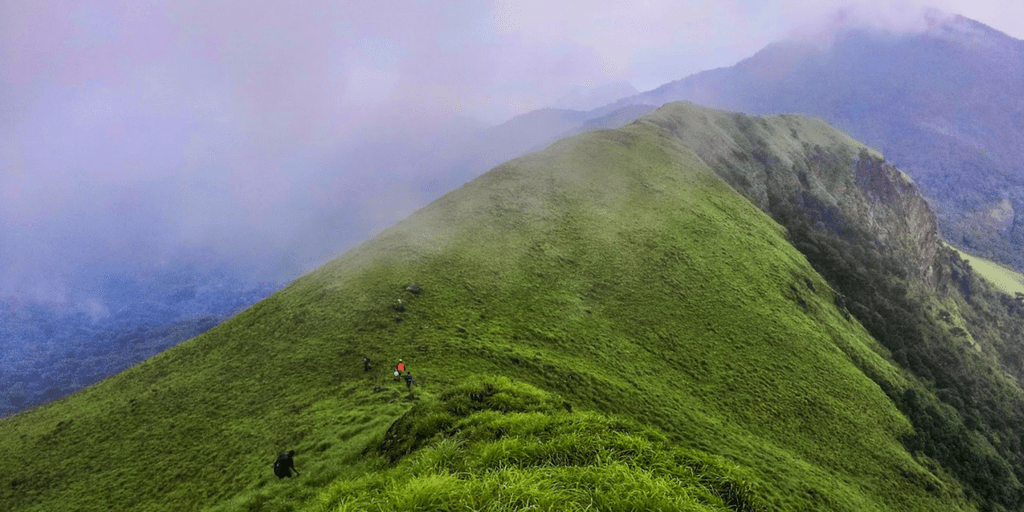 Distance from Coorg: 45 Km
Trek To Kotebetta
In the local language, Kotebetta literally means 'the Fort Hill'. Due to the fort alike appearance of the peak, it is referred to as Kotebetta. After Brahmagiri and Tadiandamol, it is the third highest peak of Coorg district, with an altitude of 1620 meters. With its diverse terrain and scenic views, Kotebetta trek is one of the most popular trekking destinations in Coorg among the travellers. There are a couple of trails here that are surrounded by coffee estates and densely forested covered slopes. The best season to undertake this trail is from October to March.
Distance from Coorg: 50 Km
Popular Trekking Spots in Coorg within 100 Km
Trek to Mallalli Waterfalls
Situated in the foothills of Pushpagiri, Mallalli Waterfall is one of the stunning waterfalls and is amongst the best trekking spots in Coorg. This scenic waterfall has originated from the holy river Kumaradhara. The trail traverse through the dense Pushpagiri Wildlife Sanctuary. You can hire a private vehicle from any nearby town and reach the point from where the trail starts. From the base point, it is only 2.5 kilometres from the waterfalls. The Mallalli waterfalls trekking trail is full of rich biodiversity. The trail becomes more adventurous during the rainy season when nature is at its best.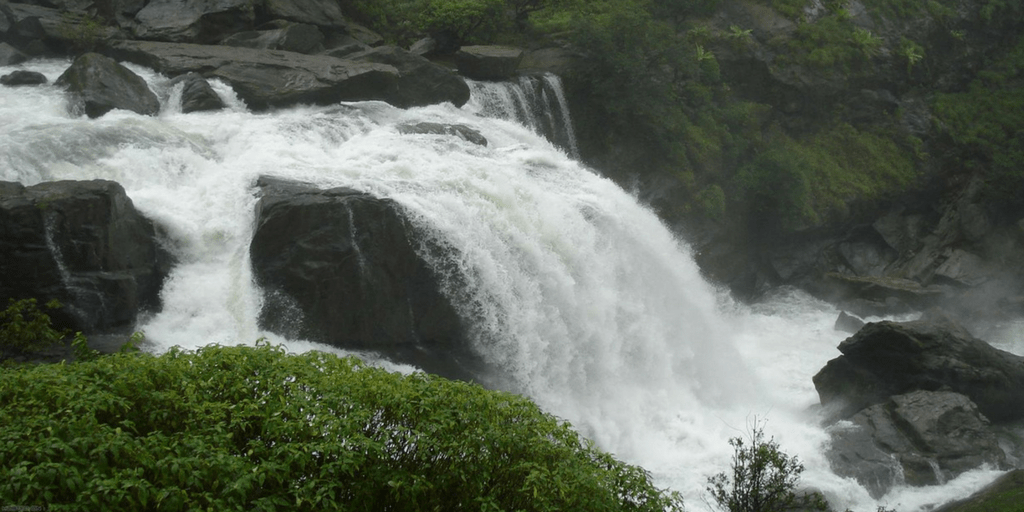 Distance from Coorg: 54 Km
Trek to Talacauvery
Talacauvery is one of the best weekend getaways from Coorg as well as Bangalore and also said to be a popular pilgrimage site for the local people. Situated in the Brahmagiri hills near Bhagamandala in Coorg district, it is considered as the originating place of Cauvery river. There is a temple here that is dedicated to Lord Agastheswara. Besides, another off-beat trail nearby is the Tavor Hills Ridge Trek. On reaching the top of the trail, you can capture a breathtakingly beautiful view of Coorg. Fondly called as Dumchi Guide by the local people, the trail offers a beautiful ridge walk through the dense evergreen jungles. From the peak of Tavor hill, you can spot the Kopatty hill range covered in mist.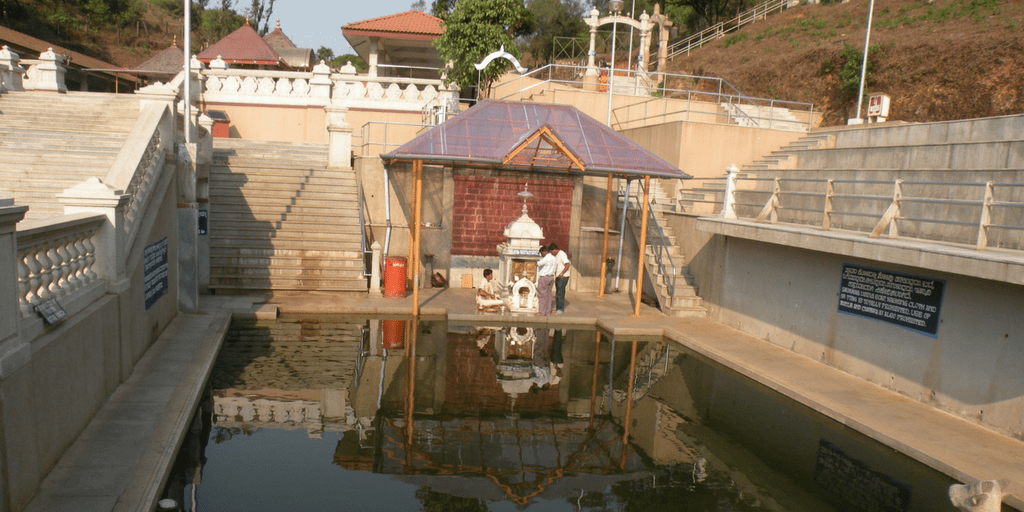 Distance from Coorg: 55 Km
Trek to Iruppu Waterfalls
Gonikoppal is a well-known spot for trekking in Coorg. The major attraction of this trek is the stunning Iruppu Waterfalls. It is certainly a perfect trekking destination for the ones who are looking for a quick refreshing getaway. The camping site is surrounded by deep dense forests and magnificent vistas. Inhale the fresh air and release the stress while admiring the sprawling mountain range of Brahmagiri. It is also one of the best adventurous places to go for camping near Bangalore. Far away from the urban chaos, the serene ambience around the cascading waterfall never fails to the allure. While you're here, indulge in some adventure activities like stream walking, camping, bonfire etc. You may also take a bicycle ride to Iruppu Waterfalls And Tea Estates Of Coorg.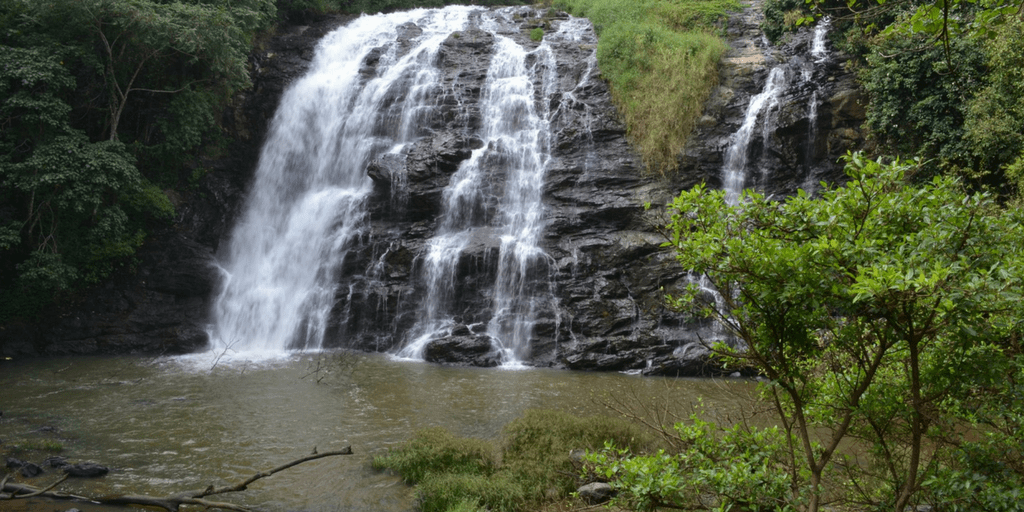 Distance from Coorg: 61 Km
Trek to Nagarhole Wildlife Safari
Trek to Nagarhole Wildlife Sanctuary is one of the most popular destinations for trekking Coorg. Aside from being a renowned National Park, it is one of the tiger reserves in Southern India. Being home to many wildlife animals such as the Bengal tiger, barking deer, striped hyena, four-horned antelope and many more, Nagarhole is now regarded as one of the UNESCO World Heritage Sites. You can also spot various types of reptiles and bird species while traversing the dense jungle. You can opt for various adventurous activities while here; like rainforest walking, rock climbing, zip lining, rappelling, pole walking and lots more. If you're someone who loves nature & wildlife and want to explore it in his own way, you may take a bicycle ride to Nagarhole National Park.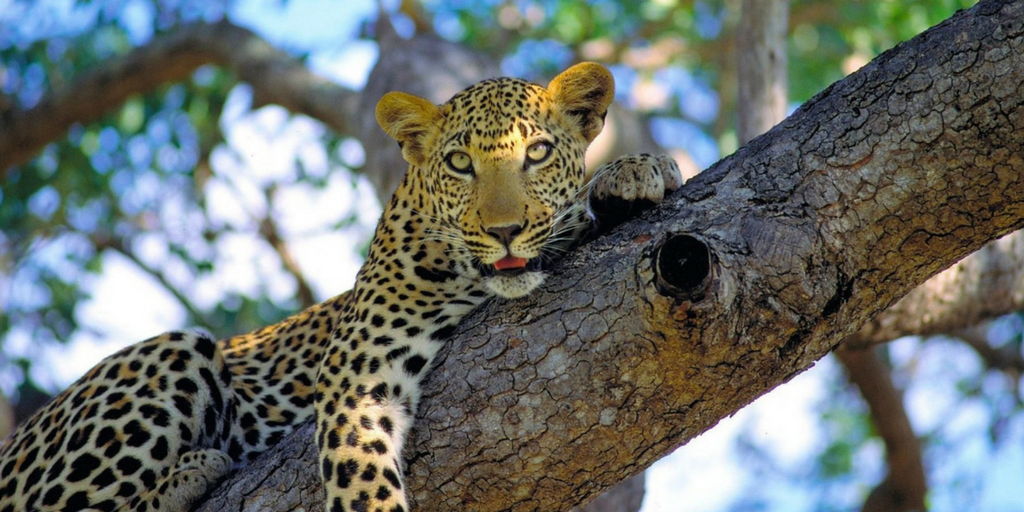 Distance from Coorg: 65 Km
Trek to Kabini Wildlife Sanctuary
Located on the backwaters of Kabini river bank, trek to Kabini Wildlife Sanctuary is a popular tourist attraction as well as one of the most popular trekking destinations around Coorg, which is about 75 kilometres away. Being home to vibrant flora & fauna and lots of wildlife species, this wildlife sanctuary drags a huge number of tourists and travellers from around the globe. Apart from trekking and hiking, some of the exciting things to do in Kabini are wildlife safari, bird-watching, elephant ride, fishing, boating and much more.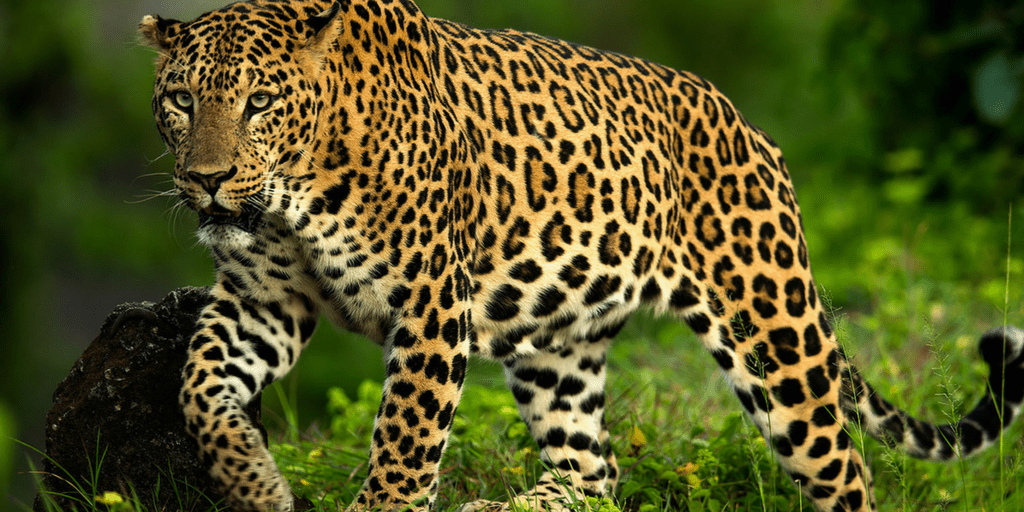 Distance from Coorg: 75 Km
Trek to Pushpagiri Wildlife Sanctuary
With majestic rolling hills, mist-covered peaks, spectacular waterfalls and lush green terrains, trekking to Pushpagiri Wildlife Sanctuary fascinating to every visitor. This scenic hill station is located in the Western Ghats and is amongst the best trekking destinations in Coorg. Fondly known as Kumara Parvatha, it is a well-known trekking trail around Coorg district. As you embark on this hike, you'll be rewarded with some breathtaking sceneries and mesmeric charm. The Kumara Parvatha trail is about 12 kilometres. There are two different routes to reach the summit point (Pushpagiri Peak). Upon your visit, you can explore the diverse wildlife of Pushpagiri within its wide expansion boundary. Pushpagiri Wildlife Sanctuary is also a popular camping site.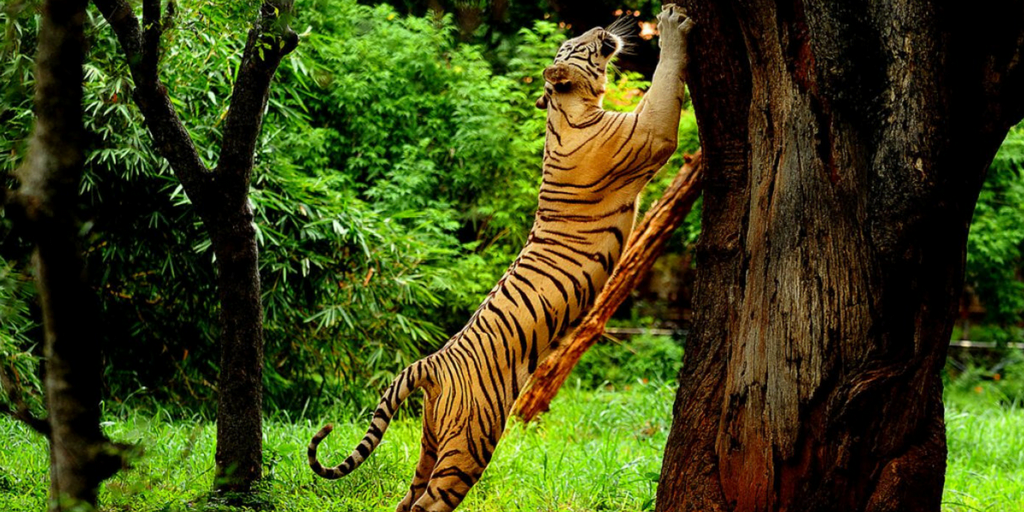 Distance from Coorg: 81 Km
Trek to the Brahmagiri Peaks
Brahmagiri wildlife sanctuary is home to a number of trekking trails. Lying on the Karnataka-Kerala border, it is one of the most popular spots for trekking in Coorg. Standing tall at an altitude of 5,270 feet, the Brahmagiri is also a famous camping site which is frequented by many travel enthusiasts throughout the year. As you walk through the forested woods along the misty hilly slopes, you will come across verdant meadows, gushing springs, vivid flora, and richly carpeted greeneries. Walking through the sanctuary, you may get the opportunity to spot wildlife species such as Lion-tailed Macaque, Spotted Deer, Giant Flying Squirrel, Nilgiri Langur and much more. Brahmagiri is certainly a good option for you if you're looking for some adventure loaded trails along with wilderness camping, bird watching and photography.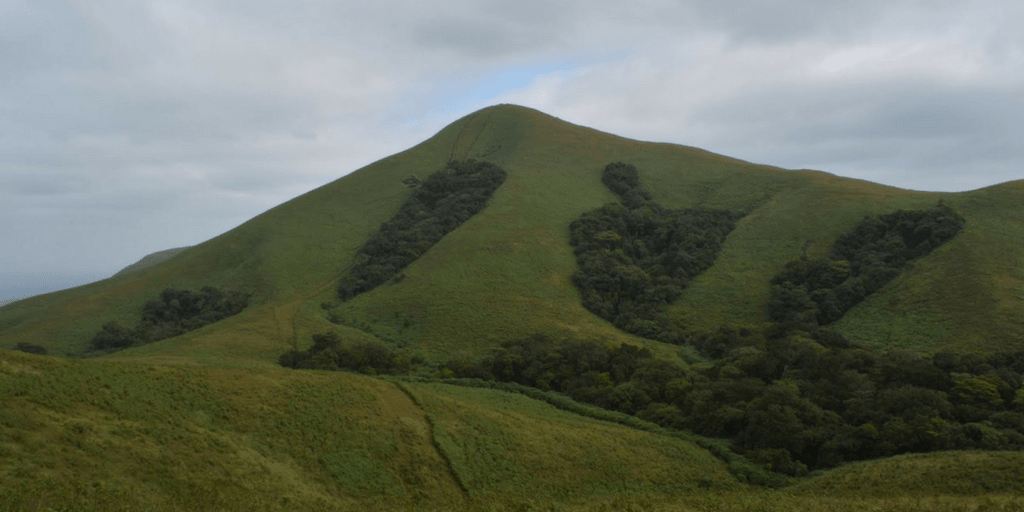 Distance from Coorg: 89 Km
Trek To Abbailu
A part of Brahmagiri wildlife sanctuary, Abbailu trek is yet another adventure activity in Coorg. It is a 6 kilometres long trekking trail that traverses the majestic wildlife of Brahmagiri. The Iruppu waterfall is the trek base from where the trail begins. As you walk through the sprawling evergreen terrains, you will be amazed by the splendid panoramic views. The trail route consists of a number of forest streams and waterfalls, where you can take a short break and take snaps.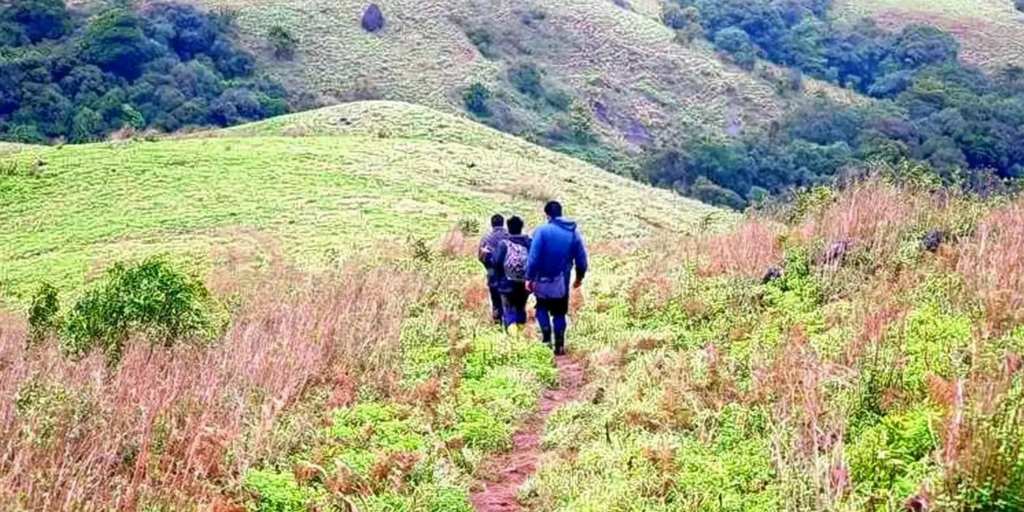 Distance from Coorg: 90 Km
Things that you may try while trekking in Coorg
Nestled in the lap of Western Ghats, Coorg is a quaint hill station where you can wind up and rejuvenate yourself. From trekking trails to adventure activities, biosphere reserves to wildlife sanctuaries, open meadows to wide riverfronts – this region has lots to offer for every kind of traveller. The misty surroundings have transformed the entire region into a paradise. And you simply cannot help yourself from being spellbound! With a pleasant atmosphere, lush green mountains and picturesque landscapes on all sides, Coorg is sure to take your breath away!
If you're planning a weekend getaway to Coorg for either trekking or family outing, there are plenty of amazing things that you can opt for. Aside from the above-mentioned trekking destinations, you can indulge in various interesting activities to make your holiday unforgettable. You can explore the beauty of Coorg in a sightseeing day tour or go on a Coffee plantation trail. You can also enjoy river rafting along the higher rapids of Cauvery river and indulge in a fun-filled fishing session. While you're trekking in Coorg, either experience a cosy stay at tree house or you may also opt for a lavish homestay.
Tags
Comments