Summer Vacation Programs For Kids In Bangalore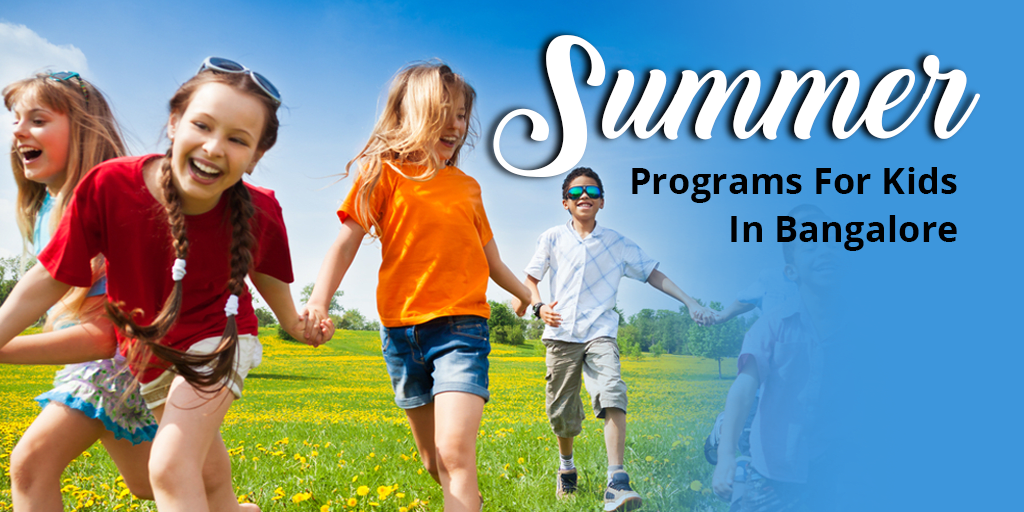 Summer vacation have a spirit of their own that bubbles with energy and fun. Yes, it is vacation again, the time when kids love to unwind by indulging in activities of their choice and also hone their skills at various hobbies. For parents too, summer vacations bring in fresh change when the usual school going Summer vacations have a spirit of their own that bubbles with energy and fun.
Yes, it is vacation again, the time when kids love to unwind by indulging in activities of their choice and also hone their skills at various hobbies. For parents too, summer vacations bring in fresh change when the usual school going routine is changed and now there are plenty of options to keep the kid occupied. Bangalore is buzzing with summer camps, activity centers and workshops for kids to spend a fun-filled time while they acquire loads of knowledge.
Let's take a look at the best summer programs in the city.
For Kids Who Love Art:
Is your kid a budding artist? For those who love to play with colors, patterns, shades and craft materials, there is plenty to explore this summer. To hone their drawing skills or to learn a new technique, expert coaching workshops and camps offer the best packages for this summer. Check out-
1. Art Summer Camp
Looking for an exciting Summer camp with curated modules to introduce your kids to authentic and right techniques of Soft Pastel art/ Charcoal Painting, Calligraphy & Typography, Finger Painting in Acrylic, Pointillism, Caricature Drawings, Paper sculptures, Clay Art/ Terracotta coiling and more across 2 weeks. The classes will be conducted in 2 batches (1 batch per week):
Week I – Monday, 16th to Friday, 20th April
Week II – Monday, 23rd to Friday, 27th April
Timings: 10.30 am – 1 pm
Children may be enrolled either for Week I or Week II or both. The content will be different both weeks.
You will get the best training from experts on Soft Pastel art/ Charcoal Painting, Calligraphy & Typography, Finger Painting in Acrylic, Pointillism, Caricature Drawings, Paper sculptures, Clay Art/ Terracotta coiling and more across 2 weeks.
2. Natural Soap Making Workshops
Date of Workshop- 20th April 2018
Eligibility- Kids above 12 years
Join this exciting workshop of soap making from an expert that includes all techniques of soap making in a 5- hours exhaustive session. By the end of the workshop, kids will be skilled enough to make their own soap bars. The workshop helps you to learn all processes regarding the manufacturing of soaps. Kids are sure to enjoy this novel way to spend their time more productively.
The sessions include the following lessons-
• Cold Process Soaps with Infusions – Natural Colorants, Micas, Pigments Hot Process Soaps
• Textured soaps
• Relaxing Body Bars
• Goat Milk Soaps, Glycerin soaps with Bases (VEGAN SOAPS)
• Kids Favorite Bars
• Learn about using Aroma Therapy Oils and Fragrance Oils.
3. Candle Making Workshops
Date of Workshop- 21st April
Eligible For- Kids Above 7 years
Even if your kids are not particularly fascinated with candles, this workshop will definitely love this workshop in which they will make beautiful candles with attractive shapes and sizes. Attend a 3-hour workshop and learn to make 4 different types of candles. They will learn a skill that they can pass on to others or make some pocket money out of it. They will learn how to create attractive and elegant candles using gel and paraffin. Learn how to properly embed the wick, carve beautiful candles and incorporate perfumes, scents, essential oils and color into your candle designs.
Learn to make a variety of shapes and figures from wax-
1. Romantic Rose Ball Candle: The Rose Ball Candle comes in a spherical shape with small beautiful roses inscribed all across the outer spherical shape. We create this candle using many lovely colors like pink, red, cream, etc.
2. Sunflower Floating Candles: Slow-burning floating candles have cotton wicks. The floating candles are made of the highest quality paraffin wax.
3. Gel Candles: Gel candles present Stylish & Designed Decorative Candles, Decorative Candles can be used at Any occasion Festival, Birthday, Wedding, Ceremonies, Casual etc.These candles also make cherished gifts for all occasions.
4. Frosted Cupcake candles: Cupcake Candle is painstakingly handcrafted and intensely scented with a crazy delicious, unbelievably realistic vanilla cupcake scent.
4. Glass Lamps Making Classes
Teenagers also need their fix of unwinding activities. If your teens want a day simply exploring the ways to make the best out of waste at home, then this is a great workshop to learn the rare art of cutting glass bottles and turning them into lamps and beautifully decorated show pieces. Gift your teens this great activity experience that will help them enhance their creativity.
Cutting glass bottles is fun, easy and good for the environment. Kids will learn to upcycle/recycle glass bottles into a beautiful electric lamp that can accessorize your home.
In the workshop, participants will learn to do scoring of bottles and cut the glass bottle eventually. We will learn to smooth the edges. Finally, participants will make lamps from the cut glass bottle.
For Kids Who Love Outings
1. A Summer Camp In The Lap Of Nature
Starts From – 16th April
Eligibility- 8-11 years
Not just a summer camp but a true connection with nature. That's how you would describe this unique summer camp by People for Animals, Bangalore that brings a 3 days-3.5 hours per day summer camp for children in the age group of 8-11 years to reconnect and get involve in the nature. Kids will be exposed to the concept of urban wildlife and their responsibilities in helping nature maintain the balance. Provide timely, specialized veterinary care to injured urban wild animals, rehabilitate them, and then release them into their natural or adoptive habitats. There is a host of activities to enjoy like bird watching, nature walks, making of feeders/ bird baths, understanding rescue situations and habitats of animals through games and a lot more are included in the camp. Yes there is lots to learn and enjoy while your kids interact with animals.
2. Day Outing At Guhantara Cave Resort
Getaways are the best ways to beat the blue and bring in great energy. And how we know kids look forward to vacations for such fun-filled experiences. So what are you planning this vacation in summer to give your kids a dream get away? Let's help you out with some splendid vacation ideas and packages.
3. Day Outing At Urban Valley
Date – 14th April 2018
Eligible for- Kids of all ages
Shed off all your fatigue and usher in new lease of life with a day outing trip that is all about chilling out with family.
What's on the platter? Enjoy fun games that will help you bond with your family members and have a lovely time as you indulge in games and activities like Table Tennis, Chess, Carom, FootBall, Playing Cards, Dart Games. Outdoor Games: Cricket, Football, Volleyball, Badminton, Throw Ball, Basketball.
4. Day Outing At Goldfinch Retreat
Grab your friends and family and head for an exciting day out at Goldfinch resorts for a fun filled day, for you deserve the best getaway experience to escape the monotony of life. Engage in a series of exciting games and activities, both indoor and outdoor, like soccer, cricket, badminton, snooker, table tennis, carom, volley ball, throw ball etc. Chill out in the swimming pool with your buddies and simply relax as you spend a lovely time in the soothing water. We bet this will be a great way to unwind and de-stress.Take some time out from your busy schedule and head to Goldfinch resorts for the weekend!
5. Fun Family Time At Guhantara Cave Resort
Wanna do something exciting with your family this summer? Head to Guhantara cave resort that has a host of activities and exciting games to try out with your near and dear ones.
The resort has the distinction of being the first Underground Cave resort, which is nested peacefully under the surface of the earth. Retelling the story; lifting off feet and transporting to a different world i.e. Guhantara. The luxury resort has a beautiful mixture of rustic and earthy life and the cave theme is wonderfully brought to life. Relish the sumptuous lunch which will be available in the vast spread of buffet and shake a leg to the rain dance and the peppy beats played by the DJ. Try out some of the enjoyable games like Table Tennis, Carom, Chess, Dart. Or if swimming pool is your thing, that enjoy splashing water on your near and dear ones. You can also play Outdoor games like Beach volleyball, Cricket, Cycling, Tug of war, Bow and Arrow. How about indulging in kite flying and Caterpillar here as you enjoy the time with your near and dear ones? All under one roof.
6. Exciting Walking Tours In Bangalore
Bangalore has lots for city dwellers who want to explore the natural and historical trails of the city. If your family loves history and heritage then take this 2.5 hours of walk that focuses on urban planning techniques as well as the construction of heritage homes using technologies which are termed redundant nowadays. "Mal" is for part two of the heritage homes walk in Malleswaram; "gudi" is for Basavanagudi where you are doing part one of this walk. You get to thank the generous owners. Also included are tales about old Basavanagudi of yore, the history of the original builders of these houses, the planning of Basavanagudi, construction techniques of old houses; the way to preserve these homes for future generations. Your walk ends with some nice snacks at a South Indian outlet which is a heritage home with loads of history of its own.
Capture some splendid traces of Bangalore's history in your camera as you take this exciting walk with your family.
7. Water Zorbing With Family
For families that love to activities and let their spirits free to bond with one another, there are a host of wonderful water zorbing activities to enjoy. Join the water zorbing activity at Red rider Sports, which is located in Sarjapur road and is one of the best sports clubs in the state of Karnataka. During the water zorbing activity you will be provided with all the safety equipment and assistance of experienced staff to make sure that you are safe and secure during the activity and can enjoy the activity to the fullest. The approximate duration of the activity will be around 10 minutes. So, enjoy the water zorbing activity with your family to make this vacation a wonderful experience.
8. Exploring Toys Village
One of the best things to do around Bangalore with kids is to explore the wonderful heritage in and around the city. In the city suburbs, there is Channapatna toy village that has a wonderful range of traditional toys which leave the kids intrigued. The toy village gives you hands on experience at toy making and polishing. And of course you can buy them too. Explore the toy village with your family this summer. Do not forget to carry your hats.
If adventure is your family's thing, then explore the best adventure camps near Bangalore. Enjoy an adventurous day out at Shillandra Resort, which is a monumental innovation. Designed considering external beauties of our pride – Belur, Halebidu sculptures and also kingdoms of Chalukkya, Mourya, Hoysala , Kadamba and Chola, Monolithic rock of about 300 feet is the main attraction and itself is a back-drop for the entire Sports; Arts village. 15000 trees have been planted to control the temperature and also mist water sprinkler system has been adapted to keep the cool environment. So, come and spend an amazing day out at Shillandra Resort with your family or friends for some quality time. During your day out, you will enjoy delicious breakfast, lunch, dinner, hi-tea and snacks and access to all the in-house amenities. So chill out this summer with your family trying out best in adventure.
9. Camping Under The Stars
Try out a family camping with a difference. Enjoy an adventurous night camping under the stars in Bangalore. This beautiful camping location is located around 29 km from Bangalore on Bangalore – Mysore Highway, closer to Dodda Alada Mara (The Big Banyan Tree). Surrounded by the lush green and relaxed surroundings, the camping location is a perfect getaway if you are looking for a break from hustle and bustle of city life. This experience package includes comfortable accommodation in tents on sharing basis, mattresses, sleeping bags, veg & non-veg barbecue ingredients and barbecue grill, dinner and breakfast, bonfire in the evening, usage of swimming pool, 2-rope activities, various outdoor and indoor games like chess, carom, volleyball, badminton, cricket and much more. All your needs will be taken care while you chill out with family members. One of the best ways to spend your family time this summer, this camp helps you make wonderful memories.
10. A Day Full Of Fun And Activities
Not too far from the busy city of Bangalore, you can find great time in nature's solitude at Jaladhama, an island like family friendly resort that will cater to all your needs and ensures a well spent day.
Located beautifully amidst backwaters of Cauvery, Jaladhama is surrounded by the unpolluted natural environment on the banks of Kaveri and Kapila river. You can spent peaceful time at the Talakadu Jaladhama Resorts, a perfect peaceful break for couples, families, and corporate events. There are hammocks for you to relax, sit-outs at convenient spots, swings, and special play zones for your kids in the children's play area. For those looking for an exciting dose of fun, there are also various outdoor activities that you can participate in. Enjoy your hi tea and snacks which will be served at river cruise. So, come and spend a great day out at Jaladhama with your family or friends.
Tags
Comments