One thing that makes search engines love a website and boost its ranking is search engine optimization, i.e., SEO. Search engines always strive to make the internet a better place by delivering better information, secure and transparent. If your website aligns with these parameters, the rankings will be better, and SEO helps you with all of this.
Website owners  and marketing departments need to keep their SEO strategies on point to attract search engines and boost traffic. While SEO plays a very important role in attracting visitors towards a website, the ever-changing algorithms of search engines complicate it, and marketers need to understand these algorithms from time to time.

In order to simplify such algorithms and understand what to do, there are various tools in the market. The number of tools may overwhelm you. This is the reason why we have curated a list of the top 20 essential SEO tools that are important to analyze and optimize your website performance.
20 best SEO tools for your website
Here is the list of the 20 best SEO tools, most of them have a free and premium version that you can opt for as per your requirement.
1. Google Analytics for in-depth reporting
This particular tool comes from Google and it has both paid and free versions. The best part about this tool is that you will be able to manage your website's SEO very effectively with its free version alone. You can pair Google Analytics with Search Console to have all of your website data consolidated and available on one platform.
Google Analytics helps you to:
Get some important details like site content and user experience.
Provides in-depth reporting,
Analyzes pages, keywords that are performing better, etc.
2. Google Search Console for complete optimization
Google has provided another important tool to help businesses optimize their search engine. Earlier known as Google Webmaster, Google Search Console helps you in figuring out how the search engine is viewing your website. This unique perspective is very important and gives you a clear understanding of your site.
Google Search Console helps you to:
Search for any weak spots, quick fixes.
Recommends any improvements
Optimize your website to the fullest.
3. Semrush for keywords research & assessing competitors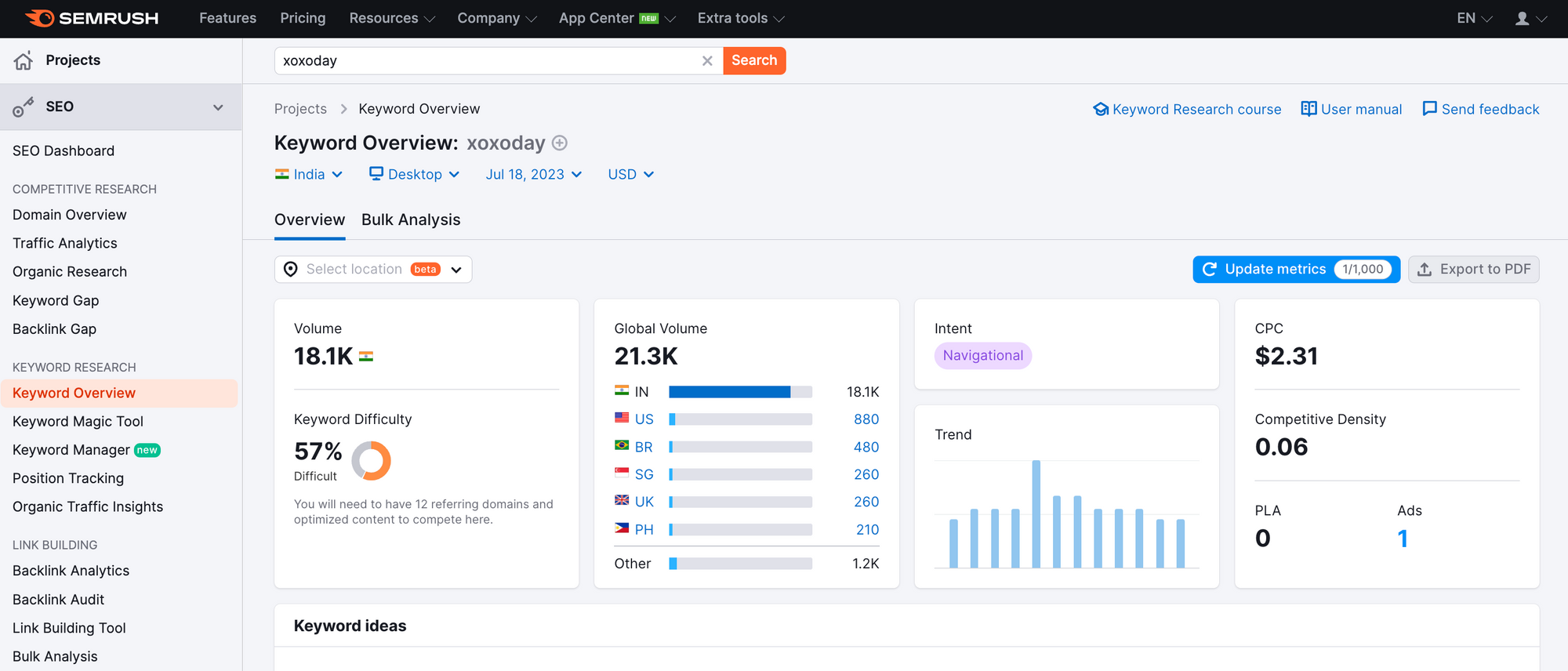 Knowing what your competitors are doing in the field is important in determining what you are supposed to do or not do. This is where SEMRush can help you. The tool fills in different gaps and gives you a clear idea of how your site is performing and the areas for improvement.
Semrush helps you to:
Assess keywords and domain names and compare them with the competitors
Conduct complete website audits and understand different aspects like traffic, pages that are performing better, etc.
4. Ahrefs backlink checker for extensive website audit
Ahrefs management has always touted their tool as one of the best optimization tools in the market. The tool is capable of running an extensive audit on your website to give you a clear understanding of how it is performing and what it is lacking.
Ahrefs helps you to:
Checks the content quality, HTML tags, social tags, link performances.
Does the keyword analysis and provides relevant keywords that you can use in the web and blog pages.
5. Moz Pro for data-driven insights
Moz is an all-in-one tool that is capable of helping your business to scale to new heights. Most marketers need clarification about ever-changing Google algorithms, and this keeps messing up with their SEO plan. This is where Moz Pro can come in handy. The tool keeps up with different trends related to SEO and suggests to you what to do next.
Moz Pro helps you to:
Understand different keywords that you need to include in your website and their difficulty score.
Provides in-depth insights to understand your website performance.

The tool is completely data-driven and is one of the best SEO tools present in the market right now.
6. Screaming Frog helps in SEO analysis
Screaming Frog is another free and fast SEO analysis tool in the market. The tool is quite quick in running an audit and helps you fix any kind of issues that are present on the website. It conducts a very deep analysis of your website and gives you the details divided into different sections.
Screaming Frog helps you to:
Find the broken links
Extract data with Xpath.
Analyze the page titles, meta titles, descriptions and many more.
7. UberSuggest for overall optimization
UberSuggest is an SEO analysis tool developed by Neil Patel. One of the key features of UberSuggest is keyword research. Users can enter a seed keyword or a URL and obtain a list of keyword suggestions. This feature provides information such as search volume, CPC (Cost-Per-Click), competition level, and keyword trends. It helps users identify valuable keywords to target in their content.

UberSuggest also includes a keyword difficulty feature that assesses the competitiveness of keywords. It considers factors like domain authority, backlinks, and content quality to estimate how difficult it would be to rank for a particular keyword. This feature assists users in choosing keywords with the right balance of search volume and competition.
UberSuggest helps you to:
Conduct a competitor analysis. Users can enter a competitor's domain and gain insights into their organic keywords, top-performing pages, and backlinks. This information helps users understand their competitors' strategies and identify opportunities for improvement in their own SEO efforts.
Topic research for the blogs and articles that you can publish on your website.

8. Yoast for SEO friendly blogs
Yoast gives you concentrated SEO suggestions that can help improve your blogpost rankings on the search engines like Google and Bing. You can run your blog post on Yoast to check whether it has all the necessary keywords if the meta description is present, or if you need to add it and various other aspects.

If the blog post score on Yoast  is good, your blog is properly optimized and can fetch better results with proper off-page SEO activities.
Yoast SEO helps you to:
Assess the meta titles and description.
Suggests the changes that need to be made to optimize the blog for search engines.
9. Majestic to assess backlinks
Majestic is one of the old tools present in the market. The main focus of this tool is backlinks. Its star feature is Majestic Million, which usually helps users analyze the competitor's website and their backlinks. You could find the relevant and well-performing keywords, track your website's performance and conduct various other activities as per your requirements.
Majestic helps you to:
Suggests referring domains and websites that you can backlink your website to.
Gives you relevant topics that you can write content on.
10. Google Trends lets you know what's trending at the moment
Content plays a very important role in attracting an audience to your website. While website design attracts an audience to the website, the web content makes them stay on the site.

This is why websites need to update their blog posts and other content on the website from time to time.
Google Trends help you to:
Find different trending topics in the market along with the relevant keywords and use them to curate the content on your site.

11. SEOquake for quick website checks
SEOquake is a Google Chrome extension. Once it is added, it will check all the websites that you open in Chrome for SEO parameters.
SEOquake helps you to:
Conduct SEO audits
Does internal and external links check
Real-time comparison of URLs and domains
Data export.
12. Bing Webmaster for insights
Bing Webmaster is a suite of tools and services offered by Microsoft to assist website owners and marketers in optimizing their websites for Bing search engine. It provides valuable insights into a website's performance in Bing's search results, offering data on impressions, clicks, CTRs, and average positions for specific keywords.
Bing Webmaster helps you to:
Conduct keyword research
Crawl control and indexing management
Backlink analysis
SEO reports, and security notifications.

By leveraging Bing Webmaster, you can improve site's visibility, organic traffic, and overall search engine optimization efforts in the Bing search engine.
13. Copyscape to check plagiarism
Copyscape is quite different from the tools mentioned above. You can use this tool to ensure that the content on your website is unique and different from the others already present on the internet. Plagiarised content is a big letdown for any search engine, and it is important to have only original content on your website. You just need to copy and paste the content or enter the required URL for more details.
Copyscape helps you to:
Remove any kind of plagiarism content present on your website and saves you from getting penalized.
14. SEO Site Checkup for website audit
SEO Site Checkup does a comprehensive audit of your website and spots different kinds of errors on your site. The best part is you can use it to get a complete audit of your website and understand the corrections that you need to make.
SEO Site Checkup helps you to:
Understand where your website is lacking
Give you relevant suggestions to improve your website performance and ranking on search engines.
15. BuzzSumo for competitor analysis
BuzzSumo is a powerful content marketing tool that allows users to discover popular and engaging content in their industry. It provides insights into the performance of content across various social media platforms, helping users identify trending topics, influential content creators, and potential content ideas.

By leveraging BuzzSumo, marketers and content creators can gain valuable insights and make data-driven decisions to enhance their content marketing efforts and drive better engagement and reach.

BuzzSumo helps you to:
Conduct competitor analysis
Backlink tracking
Content monitoring, enabling users to stay informed about their industry and optimize their content strategy accordingly.
16. XML Sitemap to create sitemaps
Sitemaps are very important to getting your website indexed by the search engines. If you keep your sitemaps structured and clean, your website will get better indexed. You will have complete control on how the structure will be.
XML Sitemaps help you to:
Create better sitemaps structure.
Get website indexed properly by the search engine.
17. SpyFu to analyze site rankings
SpyFu provides a complete picture of the search engine rankings related to your website. You will get a clear idea of which of the pages are ranking for what keywords and various other details in a clear and concise manner.
SpyFu helps you to:
Discover the keywords that your competitors are ranking for.
Monitor paid rankings with this tool.
18. RankMath for SEO optimization
RankMath is a comprehensive WordPress SEO plugin that helps website owners optimize their content for search engines. It offers a range of features and tools that simplify the process of optimizing on-page SEO elements. With RankMath, you can easily optimize meta titles, meta descriptions, headings, and keyword usage within their content.

Apart from that, it also offers insights and suggestions to improve content readability and keyword targeting, helping users achieve better search engine rankings and organic traffic.
RankMath helps you to:
Generate XML sitemap
Schema markup implementation and redirection management.
19. Website Grader by HubSpot to understand website ranking
This was the first tool by HubSpot, and it has been proven as one of the best SEO tools in the market. It is completely free. You just need to enter the target URL, and it will give you a clear report of all the things that your website is lacking. It suggests improvements you can make to help your website with better ranking.
Website Grader by HubSpot helps you to:
Improve your website performance.
Increases its ranking on the search engine.
20. WooRank for technical SEO
When it comes to website SEO, technicalities are very important. WooRank helps you with this. The tool checks where your website could be more technically and helps address those issues.
WooRank helps you to:
Revamp your mobile SEO, like page loading time, site overall performance, etc.
Gauges your social media performance once you link it to the website.

Wrapping up
With so many tools available in the market, it is not easy to choose the right SEO tools to optimize your website's performance. However, there is no one tool that will cater to all of your requirements.
This is the reason why we have curated a list of SEO tools with different specializations. You can combine multiple tools present in this list and make relevant changes to your website.

Appeasing the search engines is very easy but comes with some complications, as said above. So, having powerful tools like the ones mentioned in this tool will make a huge difference.
---