A Review of the Top 10 SaaS Based HR Tools in India!
13 Min Read | Analytical Software enables you to shift human resources from rote data collection to value added customer service and support where the human touch makes a profound difference – —-Bill Gates…
13
Min Read |
Analytical Software enables you to shift human resources from rote data collection to value added customer service and support where the human touch makes a profound difference – —-Bill Gates
Employees are considered to be an asset to the organization no matter what is the nature and scope of the business. We all are aware of the fact that behind the success of any business is the hard work of its employees that have been hired by the organization. So, it is very important to keep the employees of an organization motivated, happy and satisfied.
For this, a proper HR team needs to be developed as they could aid the organization in various aspects related to the employee such as tracking employee's performance, attendance and a lot more. Several HR Saas based tools have been used across the country to make the job easy for HR.
Rapid advancements in technology and automation have empowered the world to a great extent. This is why enterprise software modules have become an indispensable and cohesive part of any business establishment. Solution to every business problems seems to be 'software'. It can be managing the finance and accounts for your business or calculating the sales turnover, there are enterprise software modules for every aspect of your business. Over the period of time 'Human resource management software has become an important element that aids entrepreneurs to make better business decisions.
What is Human Resource Management Software?
'HR Software is a cluster of systems crafted for efficient, smooth running and systematized functioning of HR tasks in operational areas like staffing, screening, employing, and assessment.' HR Software is used to help HR professionals by letting them track the employee's performance and provides an employee demographic which in turn helps the company to make effectual decisions.
It proposes a range of specific modules such as 'payroll management', 'workforce management', 'attendance, and benefits management'. An admixture of dynamic and smart applications and modern-day technologies helps to reduce time, effort and cost of various business activities especially those related to the HR department as well as allows HR professionals to shift their focus on areas such as 'retention', 'culture' and 'various other highly impactful areas'.
In simple words HR SaaS' is a Human Resource Management Software on the 'Cloud' which makes sure of 'any moment access to data' related to 'HR' for 'management', 'vendors' and 'employees' at the same time.
Some of the common names for Human resources software are 'Human Resources Information Systems (HRIS)', 'Human Capital Management (HCM)' and 'Human Resource Management Systems (HRMS)'.
Key Features of HR Software:
The key features of HR software are divided into 3 parts: i) Core HR ii) Strategic HR and iii) Workforce Management
Core HR
Benefits administration: It handles employee's benefits such as paid time off, insurance policies on medical/life and retirement plans.
Payroll: This system manages employees leaves, healthcare programs, retirement plans, bonus information, calculates taxes and salaries.
Personnel tracking: This system 'centralizes all the information related to the employees' such as 'personal details', 'contact information' as well as 'provides demographic information of each employees' which helps HR professionals and managers to handle daily administrative tasks effortlessly.
Strategic HR
Employee Evaluation: It is popularly known as the performance review software. It is a centralized system where managers, as well as HR professionals, can conduct, observe and evaluate the performance of their employees.
Applicant tracking system:Gives you the option to have a centralized database where recruiters can 'store employment applications' and 'candidate's data'.
Learning and Development:It is a system that provides centralized data to review the training of new employees as well as get insights about the on-going skill development of existing employees
Workforce Management
Time and attendance: It facilitates the HR Professionals to keep a track on the 'employees' attendance and leaves'.
Employee scheduling: For organizations that operate on shift this software allows scheduling and tracking of employees.
Why is Human Resource Management System important for a business establishment?
You cannot mandate productivity; you must provide the tools to let people become their best – Steve Jobs
Enhanced data management: All employee data and information on benefits like enrollment and status changes can be managed through this system.
The self-service concept: It has introduced the 'concept of self- service' as in 'employees' can change their personal details' on their 'own' rather than approaching the HR for a simple task. This helps the HR to 'save a lot of their time' to focus on 'more strategic functions'.
Access data at ease: Since all the data is centrally stored in 'one place' it makes it a lot easier to access compliance records and even makes reporting more efficient. Even 'documents' such as 'safety procedures', 'guidelines', 'employee handbooks etc.' are stored in one place that can be accessed easily rather than running from pillar to post collecting documents and wasting ample time on it.
Displays employee demographics: It can be used to track employee's performance and provides employee's demographics which will help management to "invest in wisely" in employee development programs.
Immediate reporting on request: 'Customized management and executive reporting' can be done just 'by one request.' For Instance: A manager may want to have a look at the employment data by geographical location. This task could be accomplished without approaching the HR. Managers can access information details pertaining to employee development, employee performance improvement wage details etc. just by few clicks in no time.
An excellent time-saver: Automation of HR management leads to 'supreme benefits' such as better talent management and
improved productivity thereby facilitating better financial prospects for the organizations. It provides huge deal of help in various functions such as 'recruitment', 'applicant tracking', 'on-boarding', 'payroll', 'attendance', 'performance reviews', 'learning and development' etc. within the organization.
History of HRMS Software
Today 'HRMS software' is considered a 'rudimentary need' in HR departments not only for HR data management but also for 'areas' related to
employee management. It provides an 'array of options' within its applications with customized solutions depending on the size of an organization that supports all types of HR staffing models.
Important dates that brought about a difference in the HR functions. The emergence of 'digitalized HR management' marked it beginning way back in '1970' when computers were used to print reports such as employee list. 1979 introduced ERP systems which incorporated HR functions. 1987 witnessed the launch of PeopleSoft; an app that was crafted on client-server. Early 1990s introduced us to web-based technology with the extensive use of the internet. 2006 led to launch of cloud-based apps by vendors in order to cut down the cost and provide access to HR data management.
2015 introduced the concept of gamification in organization in order to motivate and enhance employees experience as well as to make operations organized and fun. 2016 saw the introduction of the video hiring concept. Video hiring option was introduced by the vendors to the organizations to aid them in their hiring process. The use of this app cut down on travel time and facilitated the organizations to curb the cost on the interview and hiring process.
Here are the top 10 HR SaaS based tools in India. Below is a small table that will give organizations an option to select the best HR tool for their business.

Below are some of the basic features of HRMS tools and the table below shows a comparison as to which software has different feature from the rest. These features will enable organizations to hunt for only that feature/s that best suits their business requirements.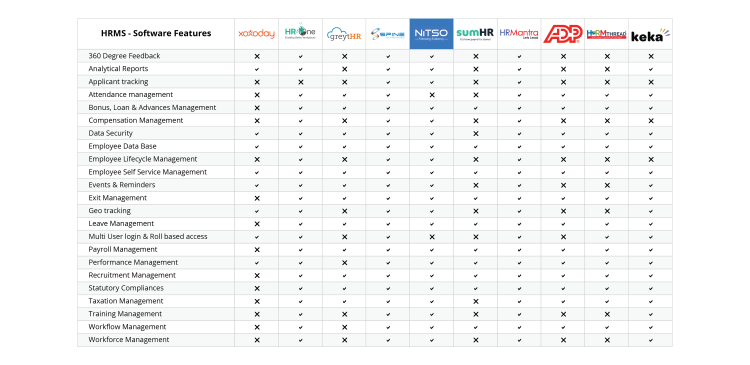 1. Xoxoday: 'Employees' are considered to be an asset to the organization irrespective of the type and scope of business. Hence it is necessary to keep them motivated and happy. "We at Enterprise Xoxoday help enterprises motivate, engage, reward and incentivize their stakeholder like employees, clients, vendors, customers etc." Xoxoday helps you 'drive your Rewards & Recognition systems and strategy' as well as 'facilitate its alignment with your organizational strategy, goals and objectives.'
All about the software: We are a 'cloud-based SaaS platform' that enables employee reward and incentive solution based on the enterprise's requirement. It is the simple and easy to use employee recognition software that enhances employee engagement and team communication. This tool is a self- serve platform that enables one to manage rewards instantly at any time, at any place. We help you appreciate your employees with reward points for various occasions such as Birthdays, anniversary, performance and spot awards etc.
Core features: User management, Polls and surveys, Campaigns, Reminders, Badges, Kudos & greetings, Reporting/ Analytics are a few to name.
Client: Accenture, AirBus, Club Mahindra, Deloitte, Faasos, Flipkart, Amazon.com, HDF Bank, KPMG, Wizcraft and a lot more.
2. HR-One HRMS: It is a brand of Uneecops Workplace Solutions. When business is at its peak; it becomes difficult to manage the growing workforce efficiently. This tool has made the process of tracking and managing all employees at any location very simple. We can consider this software to be a best pal for HR professionals and businesses who "simplifies" every tedious task.
All about the software: This is 'cloud-based software' which is user-friendly and is appropriate for any type of businesses regardless of the nature and scope of the business. It is 'economical' and can also give one the advantage to view any "stats or reports" on their smartphone apart from the desktop. This software is "compatible" on "all devices" like 'desktop', 'iPhones', 'Androids', 'iPads' etc. It can be used by start-ups, agencies, enterprises and SMEs. It can be stated as a one-stop solution to all your HR requirements.
Clients: ManKind, Agarwal Movers Group, Bikanervala, Shyam Group, IIC Technologies and a lot more.
3. GreytHR: This HRMS software is a brand of Greytip. This HRMS software "streamlines and simplified" the HR functionality within an enterprise.
All about the software: It is a 'web-based application' that manages "all HR activities." Every process is automated in this software which helps to save a lot of time and reduces the prospects of making blunders and miscalculations with its accurate and fast results. This software can be used by start-ups, agencies and SMEs.
Clients: Instamojo, Volvo, Toshiba, Dell, Versatiletech, Base, GreenPay, Simpotel and a lot more.
4. Spine HR: This software is a brand of Spine Technologies India Pvt Ltd. 'Business requirements from accounting and managing workflow to managing your workforce all of this is taken care of by this software.'
Client: Metro, KFC, Cello, Aditya Birla Group, Endress+ Hauser, Greenply, L&T Mutual Fund, HDF Home loans and a lot more.
5. Nitso HRMS: This is a brand of Nitso Technologies Pvt. Ltd. It adheres to all your needs pertaining to 'management', 'workflow' and 'accounting employees by providing employee information.'
All about the software: A 'cloud-based HRM and payroll software' that offers easy and user-friendly solutions to "all kinds of businesses." It is designed in such way where all segments of business can stay connected on the same page. It can be used by SMEs, Start-ups and agencies.
Clients: Duet Hotels, Auth Bridge, Exide Industies Ltd. Convergent Technologies, Newsco, Ace Group and many more.
6. SumHR: It is a brand of Sutra Services Pvt. Ltd. It is one of the modern, user-friendly software used by start-ups and SMEs to streamline their HR and payroll processes.
All about the software: It is 'cloud-based software' that has "reduced paper work", "increased productivity" and has given businesses time to "concentrate on real work." It helps you to manage every aspect of human resource management more efficiently without much effort. Added advantage is that you have the option to pay as you grow which means it's easy on your pocket.
Clients: Arkenea, Eduonix, Junglee Game, InteGen IT Services Pvt. Ltd., Multidots, Moojic, Unicorn and many more.
7. HR Mantra: It is a brand of HRMantra Software Pvt. Ltd. It is one of the most techie HR and Payroll software which has rich features.
All about the software: It is available on both 'cloud' and 'on-premise' model. It is user-friendly and saves a lot of time for employee-driven processes. Being a superstore of rich features one can choose and pay for only those features which they would like to have.
Clients: Jockey, Ferrero Rocher, Star Cement, LIC Housing Finance Ltd., Vibgyor, Hamilton Housewares P. Ltd. and many more.
8. ADP Vista HCM: This is a brand of ADP India Pvt. Ltd. It is one of the HR software that helps to streamline payroll process for an establishment and manages the process efficiently.
All about the software: It is 'cloud-based software' that takes care of the entire HR processes. It comes with great "analytical and reporting features." The software is highly customizable and can be integrated easily with other HR modules. It can be used by start-ups, agencies, enterprises and SMEs.
Clients: Union KBC, AMC Pvt. Ltd., ChannelPlay, Quantum Advisors Pvt. Ltd., RB India Pvt. Ltd., and a lot more.
9. HRMTHREAD: It is a brand of Sensys Technologies Pvt. Ltd. One of the best payroll software that makes difficult and complicated task very simple and easy.
All about the software: A 'web-based payroll and HR management software' that caters to all your needs pertaining to accounting and managing of employees' payroll. The software is flexible, easy and user-friendly. This product's has a unique feature that offers businesses user defined earnings and deduction as well as Loan heads and calculation formulae/tables.
Clients: Raymond Ltd., Schlumberger, ICICI Foundation, TATA Petrodyne Ltd., Finolex Plasson Industries Pvt. Ltd. and a lot more.
10. Keka HR & Payroll Software: It is a brand of Keka. It is one of the most efficient HRMS software. It helps in human resource, talent management and payroll process.
All about the software: A 'web-based software' that has a complete timesheet proficiencies. The use of this software gives you "relief" from the "tedious task of payroll." The software handles all statutory needs/deductions such as ESIC, Professional Tax, PF, TDS etc. and helps HR professionals to file the returns in no time with less or paperless work. It can be used by start-ups, agencies, SMEs and enterprises.
Clients: Honda, Chillibreeze, Vedicsoft, Talent Anywhere, ITZone, Cleartax, Dena Bank, Five Spash, Saavn, Godrej and lot more.
Case Study: HDFC Bank NetBanking-DirectPay
Executive Summary:
Post 9th November 2016, India changed its transaction model from cash transaction to digital transaction. This gave an upsurge to all the digital wallets and banks to drive the customer towards digital India. As because of this, net banking also saw a rise in its transactions. Now financial institutions started seeking alliances which could help their customer's stick with them and provide with something unique
The Company:
HDFC Bank, a leading Bank in India with the highest number of net banking users of up to 3 crore+ was looking out for something unique which could engage their Net banking customer's over and above the average offer's which every other partner gives, specifically on shopping, e-buying etc.
Challenges:
Engage the net banking customers with some unique and exclusive offers.
Break the regular approach of offering only on shopping and normal outdoor activity.
Provide the customer some unique local experiences which they would remember for a lifetime.
Our Solutions:
Xoxoday provided them with a self-handled platform exclusively for HDFC Net Banking customers.
The payment method was also restricted to HDFC Net banking.
Page had the top 100 experiences spread across 11 locations in India.
Price offer which was the best in the industry.
HDFC was to market the link https://hdfcbank.xoxoday.com
Result:
The audience got opened up to a completely new world of experiences around them which they were unaware of.
The demand for such experiences rose and brought engagement with the brands.
Reviews:
Landis+gyr: "We wanted to do something very creative and impressive on rewarding our employees. With this objective in mind, we analyzed available reward management solutions in the market. We selected Xoxoday Enterprise because they understood our need and they were very flexible on customizing tool as per our needs in a very cost-effective way. The engagement of our company has changed since we incorporated the Xoxoday Enterprise site. Employees use the system daily and our activity levels are higher than we anticipated. Employees are now even more excited to help out their fellow co-workers, and it's building camaraderie between departments at the same time. Thanks to Xoxoday and their team for helping change the game inside our company."
Infosys: "The redemption portal comes with a simple UI which is customized to Infy needs. The redemption options are quite comprehensive. This significantly enhances our employee experience. Moreover, the analytics report from portal helps us keep a tab on our employee's involvement level in the initiatives. Wish the Xoxoday team all the luck in future endeavors."
Things to consider before investing in SaaS:
Every enterprise has a different requirement based on the scope and nature of the business. The first thing is not to follow your competitors "blindly" but instead, do a little "introspection" on questions like

Is this cloud-based software best for your organization in terms of cost and feature?
Will it be easy to have a long-term business association with the software provider?
Are the applications easy to use?
Can the software streamline your business in a well-organized and synchronized way?

After introspecting on the above questions 'narrow down your needs'. This means you need to take current situation into consideration as well as keep in mind your future goals. For instance: You are planning to increase your manpower in future but at present, you are opting to go for a software based on the current manpower strength which will be a wrong decision and will not be of any use in future.
Now comes in the 'research work'. Try and do research on HR software providers in town. Based on your requirements opt for those providers that provide you "customizable" software solutions that best fit your "requirement" and are "easy on your pockets" too. Quick Tip: Try and opt to go for providers that give you a "free trial" option. This will help to get an understanding as to which software is best suited for your business.
Go for providers with 'excellent customer service.' Before investing on HR software make sure that you check its customer's reviews/feedback as that will give you an idea about the quality of the customer service provided at the peak time of need by the software provider.
The software comes with 'packages like monthly or annually'. Choose the right package as per your need and growth of the business.
Seek software providers that provide 'privacy and data security.' Find out the security processes they use and also check whether they have systems in place to protect your private data.
Make sure that the 'implementation of the software' is "not" done by an external third party as this could be a source through which organizations data privacy could be at stake!
Ensure that the software provides 'data accessibility' to all your staff from 'any geographical area'. Thus go for a provider that offers compatible mobile applications.
How to Implement HR Software in an Organization:
Based on your requirements you have invested on a particular software. Now comes the installation process.
Make sure that the installation is done by an "expert."
'Understand' the 'in-depth functioning of the software from the expert' who has installed it.
Get the members of the 'HR team trained' regarding the 'operation process of the HR Management Software.'
Conclusion:
Developments in HR software have been a continuous process. This 'magic wand' has been an innovation from technology. It presents 'top-notch features' that have aid 'businesses think out of the box which has shifted HR from Traditional functioning to modern approach to HR functions'. Some of the modern trends that are evincing the above statement are as follows:
Gamification: Modern HR professionals give attention to 'rewarding', 'e-learning' and 'outstanding performance.' For this reason, they go for applicant tracking system to assess the progress at the end of the year. This system helps managers to segregate successful top performers from unsuccessful low performers thereby aiding them to make smart decisions for the betterment of the organization.
Mobile HR: Mobile functionality has gained tremendous growth in the recent years. The pace at which it is growing indicates that careers will be completely mobile-optimized and the application process will happen via mobile devices.
Video Communication: HR Software providers are always on the go to simplify things for their clients. Video communication is one such service that is offered by the providers. 'Video communication' has been an 'upcoming and useful trend' especially when it comes to recruitments. This trend has helped recruiter to conduct video interviews which have helped to cut down a lot of cost in terms of 'hiring' as well as has 'saved a lot of time on interviewing applicants.'
We can say that the 'future automated HR processes' will 'save time' and 'enhance productivity.'
Truly the HR SaaS-based tools have been a boon for many organizations and their HR teams!
Tags