A Quick Travel Guide to Bangalore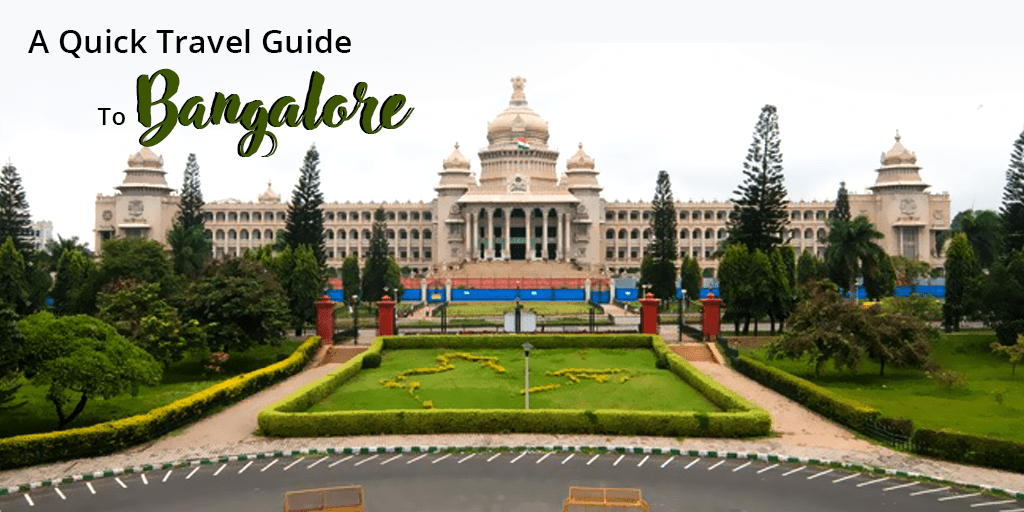 When you decide to visit a place, what are the things that concern you first? Food, Accommodation and Activities, right? If these are sorted, a smooth trip is guaranteed. Well, almost. Here's a quick travel guide to Bangalore to acquaint you with the authentic Bangalorean experiences.
Bangalore, the Silicon Valley of India, being one of the biggest cities in the country is pretty easy to go around. But a little help is always welcome, right? If Bangalore is your next destination, here's an answer to all your basic concerns about what to eat, where to live and what to do.
Food
If you are new to Bangalore, trust us, the foodie in you will sing songs of happiness. The city has, over the years, perfected the balance of food palettes of the entire nation. North, South, East and West, no matter where you hail from, you will find food a piece of home here (pun intended). Bangalore is an amalgamation of the old and the new. For a more traditional South Indian meal you can head to MTR, A2B and Ananda Bhavan, to name a few.
Bangalore is also sprawled with high-end bars and restaurants specialising in different cuisines. Skyy Lounge, 13th Floor, London Curry House, Royal Orchid are some of the fancy places. Is it dining with a twist that you are looking forward to? Try some of the theme restaurants in the city – Ruh, The Black Pearl and Float are few among many. Cafes in Bangalore are also popular among people of all ages. If walking the streets and entering cafes that catch your eye is your thing, well, you are in the right city, friend.
Accommodation
Any travel guide to Bangalore is incomplete with a mention of stay options for people from all stratas of life. Being a cosmopolitan, Bangalore provides stay options for every type of traveller. If you want to experience the luxurious side of the city, all the leading 5-star and 7-star hotel chains, from Taj and Novotel to The Lalit, Marriott have their presence here.
For those who want more affordable options, you will find many budget hotels with the top of the line facilities like Oyo Rooms and Treebo. Since the hostel culture is fast catching up in India, the city has many options for hostels. Backpacker Panda, Social Rehab Hostel, Electric Cats Annexe and Construckt Startup Hostel are some of the many pocket-friendly hostel options in Bangalore. Hostels like Tanzonstel are great options for people in transit; they are cheap and nearer to the airport.
Activities
Are you a food aficionado? A wine lover? Or do you like to explore the night scene in every city you visit? Whatever your preferences are, Bangalore will happily provide you with what you need. Here are few of the many things you can do in Bangalore.
Bangalore is surrounded by vineyards, making it a heaven for wine connoisseurs. Therefore, any travel guide to Bangalore is incomplete without a mention of vineyard tours. If it is a short trip that you have planned in the city, a day trip to a vineyard will not disappoint you. And if you are in the city for a longer time, well, a glass or two of wine never hurt anybody!
Soma Vineyards: Soma is famous for making an experience out of their vineyard and winemaking tours. The property stretches over 100 acres and the wine tasting process will take you to three different locations.
Nandi Valley Winery: For a more fun winemaking tour, head to Nandi Valley Winery. They offer grape stomping opportunity followed by a lunch buffet. The juice stored after stomping is then fermented. You will be given a tour of the vineyard, a step by step tour of the winery to show you the entire process of winemaking and finally taught how to taste wine like a professional.
Heritage Winery: The winery, recently acquired by Sula, is 80 km away from Bangalore. You can enjoy a vineyard tour along with wine tastings.
The city with most numbers of bars and pubs – Bangalore – will be a treat for you, if you like to paint the town red! Pick out any travel guide to Bangalore or things to do in Bangalore list from the internet, newspapers or magazines, and it would mention experiencing the nightlife of Bangalore which is one of the best in the country. Buzzing with energy, the nightlife of Bangalore is one of the most happening in the entire country. With areas like Indiranagar and Koramangala lined with pubs and bars, pub hopping becomes very convenient. Social, Slug, Toit, No Limits Lounge are only some of the places you can go crazy at.
Bangalore has abundant adventure opportunities. If you have time, you can go for nearby treks to places like Kudremuk, Kopatty Hill, Nishani Motte and more. Camping in nearby places like Nandi Hills, Savandurga and Gundibande is a popular activity among Bangaloreans. For daytime adventures, you can enjoy myriad of activities like kayaking on the Cauvery river and parasailing and microlight flying at the Jakkur Aerodrome Premises. Choose your kind of adventure, research on it and go satisfy the thrill seeker in you!
4. Open Air Movie Screenings:
The outdoor movie screening is the new trend that is catching up in Bangalore. Enjoy a night out with friends and family, watching a movie in open with popcorns and drinks. Food trucks, live music, bonfire and more such cool things make these events super fun and take movie watching to another level.
5. Food Trails:
What better way to know a city than through its food! If you aspire to have a 'unique food experience' in Bangalore, a food trail or a food tour is highly suggested. You can book a trail/tour through various vendors in town – Wander Trails, Magic Tour of India, Bangaluru by Foot, to name a few. Or you can venture out on your own with the help of a little research. The food trails can be of many types – street food, dessert tour, authentic local food etc.
The food trail, usually on foot, will start from a particular point where you will meet your guide and the rest of the group. You will, then, be taken to different locations and eateries to try a variety of food. The guide will introduce you to the history of every place. Food trails are a fun way to discover food and its significance in a culture.
While travelling, one doesn't have to stick to a list. You can make your own list and thus your own experiences. But the basics of travelling remain the same. Go, explore and learn what makes Bangalore, the city that has opened its arms to one and all without any abandon, unique.
Do let us know in the comments below if this quick travel guide to Bangalore helped you decide your itinerary for your stay in the city.
Tags
Comments