Top Places to Visit Near Delhi within 300 Kms!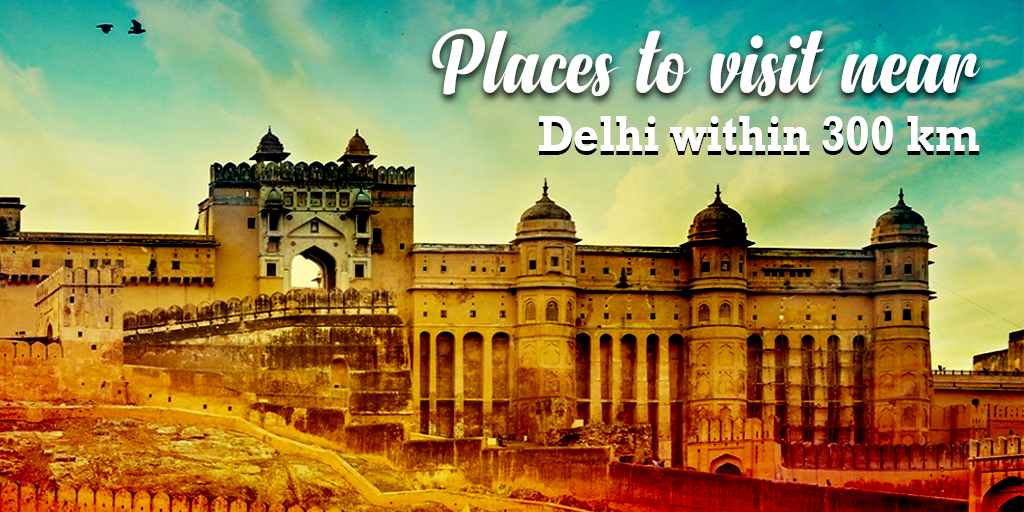 Delhi, the capital city of India, is also a popular tourist hub. The city is ever bustling with energy and joy. Busy and routine life is the main reason Delhites look for weekend gateways quite often. It is the only way to relax, enjoy, and prepare for the upcoming stressful days at work. A trip close to some of the weekend gateway places to visit near Delhi within 300 kms can be great fun. Moreover, a trip close to your home costs less, and you can wrap it up soon. Places you can choose for your next holiday are Agra, Jaipur, Chandigarh, Bhimtal, Paonta Sahib, Mandawa, Missouri, and others. Each of these holiday destinations has their own appeal and charm.
Delhi is one of the most prominent cities that hold political and historical value. The city is also called the heart of India. Wide multiculturalism and variety present in the city show its true value. If you live in Delhi, or you are a tourist, here are the things you can do in this city:
One of the best things about visiting locations close to Delhi is that you need not plan or worry about the distance. From arty and beautiful heritage sites to wildlife and nature, there is a lot to explore. Spend a day amidst the historical lanes of Delhi rather than travelling a thousand miles! Enjoy visiting the magnificent monuments that glorify India and its golden ears, adorned with the modern life and culture.
Whether you are on a budget weekend trip or you simply want to see places you have not visited yet.
Compiled List of the Places to Visit near Delhi within 300 Kms
Agra (219 KM)
Agra is the most popular places to visit near Delhi within 300 kms. The city of the Taj Mahal, one of the Seven Wonders of the World, Agra is beautiful for its significant spots. A two-day trip to Agra from Delhi and Noida is the best weekend gateway you can plan. Agra is the most popular city of Uttar Pradesh and the best heritage site to visit near Delhi. The city is also a part of the golden Triangle tourist circuit, along with Jaipur and Delhi.
Agra is the city of the three most popular UNESCO World Heritage monuments – Taj Mahal, Red Fort and Fatehpur Sikri. Witnessing the marvellous architecture, and listening to interesting tales of the past, will be a new experience.
Popular Places to See: Taj Mahal, Agra Fort, Akbar's Tomb, Fatehpur Sikri, and Itimad-ud-daulah's Tomb
Jaipur (268 Km)
Jaipur is at a distance of approximately 268 km from Delhi. The Pink City, as it is
commonly
known, Jaipur is the capital of Rajasthan. It is one of the top tourist places to visit near Delhi within 300 kms on a weekend gateway. In fact, you can plan a 2-day trip to Jaipur from Delhi or Noida, and have great fun. There are High standard resorts at Jaipur which will make you feel home.
Jaipur has a lot of historical significance. It is woven with tales that unfold as you visit the majestic forts and havelis dotting the city. Hot Air Balloon ride is a must try in Jaipur. The city boasts its decent and vibrant culture, which tourists can feel the moment they land in the city.
Jaipur is also famous for its delectable cuisines and a wide variety of handiwork and handloom products
.
Popular Places to See: Jantar Mantar, Moti Doongri & Birla Temple, Amber Fort, City Palace, Hawa Mahal, Observatory, Albert Hall, Jaigarh Fort, Ram Niwas Bagh & Zoo, Nahargarh Fort, Sisodia Rani Garden, Anokhi Museum of Hand Printing, Vidyadhar Garden
Nainital (300 Km)
Nainital is at a distance of 300 km from Delhi. A popular hill station and tourist destination located in the Lake District of Uttarakhand. This town holds a natural lake, the popular Naini Lake. The vast lake looks magnanimous. Around the lake are the popular hotels and restaurants of Nainital along with coffee shops and shopping destinations. The serene beauty of the hill station and its peaceful environment are the major attractions. You can go for a Bike ride by renting one and ride through this beautiful place
Nainital flanked by the peaks of the Kumaon Hills makes it a very picturesque quaint town. The town also has a popular temple of the Goddess Naina Devi. Camping in Nainital is the most popular activity when where most of the adventure lovers used to go for it.
Popular Places to See: Naini Lake, Aerial Ropeway, Nainital Zoo, Naina Devi Temple, Tiffin Top, The Mall Road
Jim Corbett National Park (260 Km)
If you are a nature and wildlife lover, a trip to the Jim Corbett National Park can be great fun. Located close to Nainital in Uttarakhand, is it one of the oldest national parks in India established in 1936 to protect Bengal tigers. Located in an area famous for unique tigers, this place is a must visit.
The region has abundant flora and fauna in which rare species of endemic fish-eating crocodiles and otters thrive. As the only national park that permits night stay, Corbett is ever wildlife and adventure lover's delight.
Mountains surround The Jin Corbett National Park. it has greenery, a large lake, and beautiful scenery. Tourists enjoy touring the national park on open jeeps or elephant rides. Wildlife Safari is a popular activity here.
Popular Places to Visit: Bijrani Zone, Dhikala Zone, Jhirna Zone, Durga Devi Zone, Dhela Zone and Sitabani Forest Zone
Rishikesh (240 Km)
Rishikesh is a popular city with a contrast of mythological relevance and hippie culture. The Ram Jhula and Laxman Jhula are the two famous sites of the small city that gets over thousands of foreign tourists every year. In fact, the city experiences multiculturalism throughout the year. The confluence of the rivers Chandrabhaga and Ganga makes Rishikesh more beautiful. Adventure sports are famous in Rishikesh owing to the beautiful rivers – white water rafting is a must try. Popular yoga schools are also located in the city.

Visit the beautiful temples, trek around, go river rafting and mountain biking. Enjoy a sip of coffee at any of the iconic coffee shops in Rishikesh. Although Rishikesh is a bit crowded place, there are ample hotels and homestays available for a comfortable weekend gateway close to Delhi.
Popular Places to See: Bharat Mandir, Triveni Bharat, Ram Jhula, Lakshman Jhula, Neelkantha Mahadev Temple, Gita Bhavan, and Swarga Ashram
Mussoorie (276 Km)
Mussoorie is a dreamy hill station, often called the "Queen of Hills." Located 276 km away from Delhi and 35 km from Dehradun, this beautiful hill station witnesses a change in weather every hour.
This beautiful and intriguing hill station attracts thousands and thousands of tourists annually. People come to this lovely hill station to enjoy its scenic and majestic beauty and admire the majestic views of the Shivalik Ranges and Doon Valley. In fact, Mussoorie is a major sightseeing tourist spot located in Uttarakhand and a thriving educational hub as well.
The Mall Road is a very popular tourist spot packed with shoppers and travellers from all corners of the world. It is a beautiful place to walk around, collect souvenirs, and revitalize the old charm of epic establishments like the Municipal Garden and the Tibetan School.
Lal Tibba is the highest peak of Mussoorie, which is a must-see spot to witness the captivating view of the Himalayas. Enjoy a weekend gateway at leisure in Mussoorie.
Popular Places to See: Mussoorie Lake, Kempty Falls, Jharipani Falls, Lal Tibba, Bhatta Falls, Mall Road, and other tourist attractions
Dehradun (245 Km)
Dehradun is
popularly
called the abode of Drona.
A famous hill station situated in the foothills of the Garhwal and Shivalik region, Dehradun is a gifted place
. With streams, perennial rivers, valleys, mountains, and beautiful landscapes.
In fact, Dehradun is a popular tourist hotspot in India.
People flock from every corner of the world
just
to spend a few days in this tranquil and peaceful environment
.
Breathtaking scenic beauty, soothing weather, and the leisure of the hills are
simply
amazing
. Trek to Sanjeevani Parvat is one important adventure in this place, something which shouldn't be missed out.
Dehradun town has got several beautiful gardens, temples and parks attracting a large number of tourists
. Over time, Dehradun tourism has also grown almost tenfold. It attracts various light travellers and backpackers with its wide range of offbeat. Adventurous activities like Trekking, skiing, paragliding, angling, river rafting and for those who love amusement parks Fun Valley will be a treat.
Dehradun is also a gateway to various other hill stations located nearby. There are some ancient ruins
and temples almost 2000 years old, found in and around the town.
Popular Places to See: Clock Tower, Sai Darbar Temple, Chetwode Hall, Chrandrabani Temple, Tibetian Temple, Tapovan, Robber's Cave, Tapkeshwar Temple, Malsi Deer Park
Bharatpur Bird Sanctuary (176 Km)
Bharatpur Bird Sanctuary, also called Keoladeo Ghana National Park is more than 250 years old. It is a protected reverse located in Rajasthan, very close to Delhi. The place derives its name from an ancient Hindu Shiva temple. This vast bird reserve declared as a world heritage site is a major tourist spot in Rajasthan.
The enormous forest reserve boasts its rich flora and fauna. It houses thousands of endangered species of birds. Namely Geese, Pelicans, Eagles, Ducks, Shanks, Hawks, Wagtails, Stints, Wheaters, Warblers, Larks, Flycatchers, Pipits, and Buntings. You may also spot a few migratory birds in the sanctuary, which are rare like Siberian Crane.
The bird sanctuary also has a large lake within the premise, created by extracting soil for construction of the Ajan Dam in 1760. This place is also inhabited by Chital, Sambar, Boar, Nilgai.
Indulge in a wildlife tour or safari.
Major Attractions: Wildlife safari, Bird reserve
Sariska Tiger Reserve (200 Km)
Situated in Alwar District in Rajasthan, 200 Km from Delhi. The Sariska National Park provides nature enthusiasts and tourists the right opportunity to spot Indian leopards, Bengal tigers, and large crocodiles. This park comprises of rocky landscapes, deciduous forests, scrub-thorn forests, and hilly cliffs.
Sariska National Parks has very rich flora and fauna throughout the year. It is a habitat of Bengal Tigers too. It is also the home to breeding tigers, birds, and reptiles. The tiger reserve also offers many attractions like the Kankarwadi Fort, located at the centre of the national park..
Tourists can enjoy a panoramic view of eagles and Egyptian vultures from the top of the Kankarwadi Fort.  The Aravalli Hills at the backdrop of the national park houses the ruins of the ancient medieval temples Garh-Rajor. It belongs to the 10th and 11th centuries.
The park also has a lake, the Siliserh Lake, which is a home to a large number of crocodiles. It is the only tiger reserve located so close to Delhi and Jaipur. In fact, it is one of the best places to visit near Delhi within 300 Kms on a weekend.
Best time to visit: Mid-October to January
Safari Cost: 500 to 600 INR per person
Park timing: 7 AM to 4 PM (October to February)
6:30 AM to 5 PM (other time of the year)
Entry fee: INR 20 for Indians
INR 100 for foreigners
Kasauli (288 Km)
Kasauli is a picturesque hilly cantonment town located on the way to Shimla from Chandigarh, in Himachal Pradesh. It is a perfect hill station to spend a romantic weekend gateway so close to Delhi.
Kasauli still remains a storybook-like destination. nestled amidst the Himalayas and surrounded by woods of Cedar and Pine trees this place is a treat for nature lovers. As such, the hill station looks like a dream. Settlements here date back to the ancient Victorian era as the town has beautiful colonial buildings and structures.
The small town and its beautiful architecture emit the essence of its glorious past. Visitors coming to the hill stations for a few days can indulge themselves in taking uninterrupted long walks upon the lush green rolls.
Kasauli is one of the major attractions for adventure lovers, trekkers, and backpackers. Tea lovers must try the popular Ginger Green Tea
commonly
found in Kasauli.
Popular Places to See: Monkey point, Timber Trail, Sunset Point, Mall Road, Lover's Lane, Baptist Church, Gurudwara Shri Guru Nanakji, Jabli, Manki, Sunset Point
Lansdowne (260 Km)
Lansdowne is a small hill station situated at an altitude of 1706 meter. It is a popular tourist hotspot close to Delhi and a perfect weekend gateway too. If you are looking for a peaceful place to escape and spend a quiet vacation, flock to Lansdowne.
The history of Lansdowne reveals that it was initially a British hill station close to Delhi. It displays the old charm of the British era and still remains relatively untouched compared to the other hill stations nearby. Lansdowne is a home to the cantonment of the Indian Army's Garhwal Rifles.
The region gifted with scenic trails and natural beauty dotted with huge pine and oak trees is amazingly beautiful. During the winter season, the entire hill station get's covered in thick white snow. Couples can enjoy a romantic gateway in winters at in this lovely hill station.
Lansdowne hosts an annual festival, Sharadotsav, which attracts tourists from all parts of the country. The hill station boasts disarming beauty with its amazing surroundings. It is an incredible place to enjoy a perfect vacation if you wish to break away from the regular chaos of city life.
Lansdowne is popular for various activities like sightseeing, mountaineering, jungle safari, and trekking
Popular Places to See: Bhulla Lake, Tip N Top, Bhim Pakora, Darwan Singh Regimental Museum, Tarkeshwar Mahadev Temple
Rajaji National Park (244 Km)
Rajaji National Park located in the state of Uttarakhand is a beauty. It is easily accessible from Delhi, Haridwar and Dehradun. The park boasts an extremely rich fauna and a wide variety of birds, which adds to over 400 species of birds.
Located over a sprawling area of 820 sq km, the national park is dense having 24 km stretch of the Ganga River flowing through the area. The national park houses over 500 elephants, which is unique. In addition, the national park is a home to leopards, tigers, monkeys, sambar deer, barking deer, antelopes, wild deer, and two different species of sloth and Himalayan Beer-Black. You can see and witness the wild habitations very closely here.
In addition, the impressive fauna and natural landscapes of the national park are mesmerizing. It makes a really jubilant and happy vacation.
Fun activities: Wildlife safari, river rafting
Neemrana Town (130 Km)
Neemrana Town is a beautiful place to visit near Delhi within 300 Kms on a weekend. Located in the Alwar district of Rajasthan, the town is famous for its magnificent fort – the Neemrana Fort Palace. Rajput Maharaja Prithviraj Chauhan III built this fort in the year 1464 AD.
The town and its fort have countless stories and folklore to share about the glorious past of the Rajputs. Its heritage and various, tales of valor and heroism, is inspiring. The fort has now been converted into a luxurious heritage hotel.
The old palace has been beautifully restored by blending ethnicity with modernity perfectly. In fact, it is the most sought-after places to visit in Neemrana Town. Tourists visiting the town come here to enjoy some quality time exploring the history, heritage, abundance, and strong walls of the fort. Enjoy seeing the wildlife, swimming, and zip-lining amongst the popular activities here.
Popular Places to see: Neemrana Palace step well, Ziplining above the palace
Haridwar (250 Km)
Haridwar is the doorway to meet gold. Known as the holiest city in the country, Haridwar is located in Uttarakhand, right at the juncture of the Himalayas, where the Ganga River emerges.
A small and congested town nestled in the backdrop of the Himalayas and the pious Ganges. This place witness hordes of pilgrims and tourists throughout the year. A trip to Haridwar from Delhi on a weekend can be a different experience altogether. Not only because it is an unusual trip for cosmopolitan people, but because of the enormous crowd has the town witnessed every year.
Sandhya Aarti at Haridwar is a wonderful attraction to witness during the wee hours of unset. The whole Har-ki-Pauri Ghat riverbank comes alive and the river gets illuminated with multiple offerings of Diya lamps by pilgrims.
Tourists coming to Haridwar can also enjoy ropeway activities, and take a walk through the flea market displaying an array of delectable sweets, snacks and miscellaneous products. Haridwar is also a perfect destination to enjoy meditation and yoga in the lap of nature.
Popular Places to Visit: Har ki Pauri, Mansa Devi Temple, Rajaji National Park, Chanda Devi Temple, Dakshesware Mahadev Temple, Maya Devi Temple
Mandawa (232 Km)
If you want to spend a weekend living royally as you explore the enchanting and magnificent Havelis, Mandawa is the place you must visit. Situated in Rajasthan, Mandawa is a popular holiday destination in the Shekhawati region. This place is mostly known for its majestic forts and Havelis that represent the identity of the Rajput and their prosperity.
Tourists coming to Haridwar can also enjoy ropeway activities. And take a walk through the flea market displaying an array of delectable sweets, snacks and miscellaneous products. Haridwar is also a perfect destination to enjoy meditation and yoga in the lap of nature.
Mandawa is a place for archaeology and history enthusiasts who wish to reminiscent the past and admire such architectural marvels.
Popular Places to Visit: Binsidhr Newatia Haveli, Murmuria Haveli, Lakshmi Narayan Ladia Haveli, Chokhani Double Haveli, Haniman Prasad Goenka Haveli, Goenka Double Haveli, Mohan Lal Saraf Haveli, Harlalka Well
Parwanoo (265 Km)
Parwanoo is a small town located on the border of Himachal Pradesh and Haryana. It still remains a less known place to visit near Delhi within 300 kms, less explored, and beautiful.  A developing industrial town, the place is a perfect gateway for people living nearby, especially for backpackers and trekkers who wish to explore the nature trails surrounded by pine and oak forests.
Dotted with lush apple orchards, the town also produces fruits and fruit products like jams, marmalades and juices. Parwanoo is a pretty place consisting of all the modern amenities for tourists to enjoy a good time. You can see the lakeside temples, ride the cable car, and visit the gardens.
Spending a weekend in this charming little town can give you an enriching experience. The scenic setting and splendid architecture are surely going to win the hearts of tourists. Parwano promises to be an ultimate break from the monotony of city life in the lap of nature.
Places to See: Timber Trail, Kali Mata Temple, Gurkha Fort, Dagshai, Fruit Orchards
Hope you enjoy a perfect holiday in the coming days in any of the beautiful places recommended by Xoxoday!
Tags
Comments