Places to visit in Winter in India: Recommendations for A Cozy Wintry Holiday!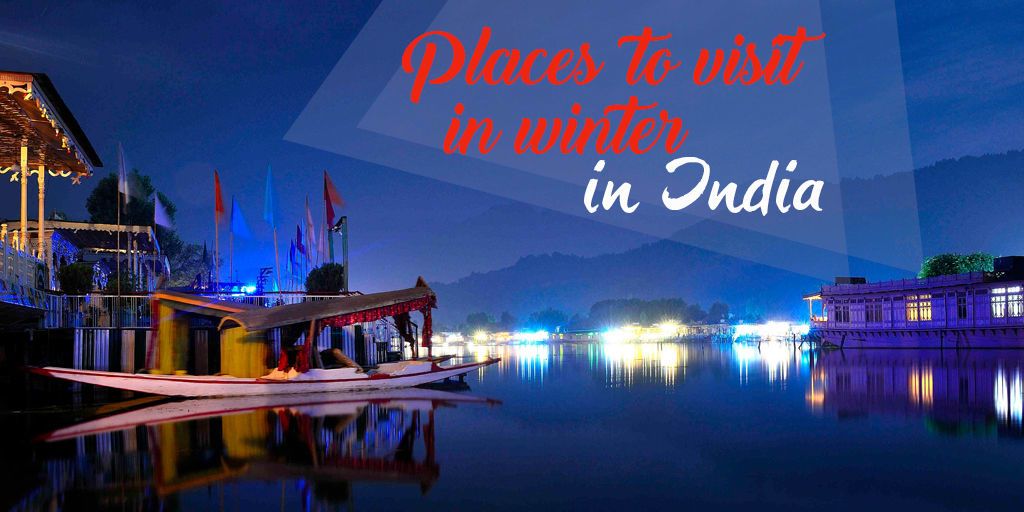 A change in the season's, a tilt of an axis and temperature drop, a thick layer of fog starts covering the lanes which say that winter is on its way. Wondering what winter is about to come and which place to visit in India! Winter season in India is called the "pink" of Indian season. It is the best season for traveling across India. Winters are filled with the string of holidays, the large number of fairs and festivals, and marked by vacations to plan for a dream vacation. So, when it comes to enjoying and making the best out of the colder weather, there are few places to visit in Winters in India that you MUST visit. 
A different place in India have their charm during winters like northern bits are covered by snow, southern part has its own distinct beauty, and plain area people will find an extra layer of cloth for themselves. While most of the people love to have a deep sleep inside their warm blankets, globetrotters are busy planning for their excursions. Some local and international travelers enjoy visiting different places in India in this chilling season.
There are vast options available in India to visit. Starting from "Land of Maharajas" Rajasthan or the "Gods own country" Kerala to "Party Capital" Goa also called land of tropical beaches.  So, if you are one of such persons, who love to travel different places, below are the list of few places in India to spend your vacations in Winter.
Places to Visit in Winters in India
Kerala-Gods own country
With the departure of monsoon, natural beauty of Kerala reaches its zenith. Glittering with its pride and beauty, one of the fabulous coastal destination of India is Kerala. It will heal the broken hearts and shattered souls. Kerala natural beauty will keep you surprised. Vacationing in this incredible place will undoubtedly refresh your body, mind, and soul. In Kerala, you will enjoy rejuvenating places along with many amazing things to get involved in. You may be taken aback to see that Kerala is a part of the list of the best places to visit in Winters in India, but trust us when we say, God's own country has a beautiful charm even during the winters. 
Some of the areas that you should visit in Kerala are as follow:
Trivandrum/Thiruvananthapuram
Trivandrum, the state capital of Kerala, is one of the cleanest cities in India. There are a number of beautiful beaches which you will love to visit, and it helps in smoothening the dry skin that occurs in winter. During the month of December, this city also hosts International Film Festival of Kerala. Then there are some beautiful places to visit in winters like Napier museum, Science and Technology Museum, Thiruvananthapuram Zoo, Akkulam Tourist village and Shanghumukham Beach. When it comes to places to visit in Winter in India, Trivandrum in Kerala is a definite yes. 
Things to do: There are a large number of things you can do and enjoy in Thiruvananthapuram. Start your day by exploring the city and enjoying the aromatic tea or coffee. You can visit a large number of temples and churches. You can enjoy relaxing ayurvedic messages and wildlife in Neyyar Wildlife Sanctuary. Other some activities like Boating in Neyyar Dam, skydiving at AMAS are also the best things you can do while visiting Thiruvananthapuram.
Kozhikode
Kozhikode, which was previously called Calicut is one of the best places to visit in Winters in Kerala. This place offers a large number of beautiful beaches where you can spend quality time with your family and friends and can toast your body under the winter sun. Apart from this, there are also some other beautiful places in Kozhikode like Mananchira square, Sarovaram bio park, Tali temple, Dolphins point, Thusaragiri waterfalls. This place is often as a weekend gateway for peoples living in nearby cities. 
Things to do: In Kozhikode, there are many things to involve yourself in, like if you are a bird lover, then you will enjoy the most in Kadalundi Bird sanctuary where you will get to see a number of local as well as migratory birds. Then you can visit Beypore beach, where you can see ancient city port. Then you can make a visit to Regional Science Center and Planetarium to explore science. Places to visit in Winter in India is only complete when you do these quintessential things. When planning out and deciding the various places to visit in Winters in India, don't miss out on heading to Kozhikode if you're in Kerala.
Kovalam
Though it is a very small place in Kerala, it has earned its name because of beautiful beaches and the beautiful lighthouse. Here you will get ultimate bliss when the calming winds pass through the coconut trees and swing them. Apart from that, it has many other attractive places like Vizhinjam village, famous for ayurvedic centers and many rock-cut temples.  Also, a must visit Valiyathura pier which is 214-meter-long along with Vizhinjam mosque and Karamana river. The gorgeous Kovalam is a beauty beyond words, and the calm wintry winds here make this a great option when it comes to places to visit in Winters in India. 
Things to do: Kovalam visit is just incomplete without bringing indulged in some activities like spending a night in a houseboat, a catamaran ride at Hawah beach, and parasailing at the vibrant lighthouse beach.
Munnar-Tea Lovers Paradise
It is the heart of Kerala, that breathes freshness with the pleasant atmosphere. The trip becomes more fantastic as you enjoy the lovely view from the clean narrow roads that overlooks the beautiful hills in tea estates. As this place is located in the Western Ghats you will get to see a large number of protected areas that houses gorgeous flora and fauna. There are plenty of things to do in Munnar, you can plan a visit to Atuukad waterfalls, Mattupetty Dam, and Marayur. If you're in Kerala during the colder seasons, then one among the many places to visit in Winters in India is Munnar. Don't leave Kerala without visiting this estate filled hill station. Check out the amazing Martial arts, Kalaripayattu or go on an off-roading jeep drive, if you're looking for more adventure, then go to trekking to Lakshmi Hills. If you want something that is more relaxing, then head out on a tea plantation tour in Munnar and explore the places around on your own time.
Thrissur
This is the official cultural capital of Kerala. Known for its number of festivals that are celebrated throughout the year and temples, if you're looking for a cultural extravaganza then this is one of those places to visit in Winters in India. During winters, it has a very pleasant weather to spend the holiday. It is famous for Keralan culture and arts. You can also get a great deal of knowledge about the ancient practice of Ayurveda over here. Some other attractive places here are waterfalls, zoo, dam, gardens, and river.
Uttarakhand
Uttarakhand is also a beautiful destination for a vacation, located on the northern side of India. This is also one of the best places to visit during Winters in India to get incredible inner peace. When you climb the mountains, every turn on the roads will offer excitement, while Himalayan trekking is something that Uttarakhand is very famous for, there are plenty other things you can do when you're here. The most appealing view is when the snowflakes touch the beautiful hills, and a good candle light dinner amidst the snow is something that you would never be able to forget. From trekking in Hemkund Sahib to trekking to Tapovan and Pangarchulla trek and Lamadugh Trek, Uttarakhand is definitely an adventurous getaway.
Some of the places to visit in Uttarakhand during winter season are
Auli
Speaking of places to visit in Winters, this beautiful hill station in the northern Indian state of Uttarakhand. Although, it is not that much populated, recently it has become a favorite spot for skiing, for both national and international tourists. During winters this place gets covered with snow, and with a large number of oak and deodar trees, that all together gives a very spectacular view.
Apart from that, you can enjoy chairlift and ropeway, that will surely give you an adrenaline rush when it goes through slopes and valleys. Best time to visit in January and February.Here you will get a magnificent view of the Himalayan range. Then there is Auli artificial lake that solidifies during winters. In addition, you can get a glimpse of Gorson Bugyal green pastures and you can taste sweet water at Chattrakund. You could trek to Pagarchula peak from Auli.
Roopkund
Roopkund is one of the mountain lakes in Uttarakhand, that is almost solidified. You will get utter peace as you go on a trek to this place. Some of the attractive places to see here are deep virgin forests, meadows, campsites. If you are trekker, then you will get a great adventure taste while climbing 8-16k feet trek.
Goa
Winter is filled with festivals like Christmas and New year eve. Goa is famous for loud night parties, fabulous seafood dishes, beach parties and anything that creates an electrifying atmosphere. So, who will not love to enjoy partying for Christmas and new year in Goa? Some of the places in Goa to visit are:
Old Goa
If you are planning to visit Goa during Christmas, then you are thinking right. Goa just looks dazzling during Christmas and New Year eve, with all local people indulged in complete festivities. Everywhere starting from streets to beaches there is a decoration of light, ribbons, stars with large beautifully decorated Christmas tree.
Anjuna beach
Goa is famous for most of the exciting and vibrant parties. Almost in all beaches, there are overnight parties, but party scene at Anjuna beach is unforgettable and is one of the most happening places in Goa to visit during new year eve. Along with that, there is mind-blowing techno music and beverages and foods.
Clubs, bars, and shacks
Goa is known for its most of the happening bars, pubs and beaches shacks. Almost all the places in Goa like Baga beach, Calangute beach, and Arpora beach is filled with clubs and shacks. This place is the best place for party animals that offers great music, delicious dishes made from seafood and jamming sessions.
Rajasthan
The best time to visit the land of Maharajas is during winter as it is very hot in summer. It is the land of palaces, desserts, forts and colorful outfit. The state experiences cold and pleasant weather during winters. Along with traditional folk dances and the Rajasthani hospitality, you will get amazing experience by visiting the forts and palaces in Rajasthan. It is one of the imperial state and a magical place in India. Some of the places to visit in Winters in Rajasthan are:
Udaipur
Udaipur is the lake city of Rajasthan and one of the romantic place in India. There are many city palaces that you can visit. These palaces have many passageways that open up to beautiful courtyards and enclosures. Then there are many attractive places like Jain temple of Ranakpur, and the Fateh Bagh Palace, which has now turned into a heritage hotel. In Udaipur, you will find many rooftop restaurants like Uday Kothi and Ambary, where you can enjoy your food along with a beautiful twinkling view of the city in the night. When it comes to places to visit in Winters in Rajasthan, Udaipur does not miss the list. While you're there, don't miss out on eating some delicious Rajwada cuisine. If you're wondering where to stay, stay at the Club Mahindra Resort in Udaipur.
Jodhpur
This city of Rajasthan is famous for the Mehrangarh Fort. In the night, view of city's blue tinge houses from the roof is a treat to your eyes. Another palace called Umaid Bhawan Palace is also worth visiting. Don't forget to try out zip-lining in Jodhpur.
Ajmer
Visit this place in the month of December or end of the year and pray for the peaceful coming year in Ajmer and Puskar. Ajmer is famous for Dargah Sharif of Sufi Saint Moinuddin Chisti. Puskar is temple town, where you will find many temples. Here you also get to see the only temple that worships Lord Brahma. In this town, you can also visit Puskar lake which has great religious importance, as it was formed when Lord Brahma dropped Lotus on earth. If a religious vacay is what you're looking for, this one among the many places to visit in Winters in India can be a good choice. If you're in Jaipur and heading out on a holiday to Ajmer, we suggest take a day off and stay at The Tree of Life Resort before heading out to Ajmer. 
Ranthambore
This place is one of the best tiger reserves of India, and it becomes more welcoming in the winters when the temperature drops. Compared to other tiger reserves, here number of tigers can be spotted. It is highly known for rich flora and fauna and the famous Ranthambore Fort. Besides, it also houses many other animal species like wild cats, sloth bears, crocodiles, Indian Foxes. A Desert holiday is a perfect way to explore fun and adventure when it comes to places to visit in Winters in India. 
Bikaner
Best time to visit this city of Rajasthan is during winter. During winters this place is populated because of the camel festival, in a village named Ladera. In this festivals, the camel owners decorate their camel and engage them in some interesting competitions, like camels with the best haircut, best fur cutting, and best milking. This is the charming and hospitable city is a great hit when it comes to places to visit in Winters in Rajasthan.
Himachal Pradesh
The best season to visit Himachal Pradesh is in winters, where you will get a thrilling experience of frozen lakes, mountains covered with snow, and beautiful valleys. Such is the beauty of Himachal Pradesh during winters that words fall short of describing it and the eye that sees can only witness it. In winter, Himachal Pradesh experiences heavy snowfall. It is a heaven for those who have a strong attraction towards the hills and wilderness. Best place for honeymooners and families. Some of the best places to visit in Winters in Himachal Pradesh are-
Manali
One of the best places to visit in Himachal Pradesh in winters is Kullu, that attracts all types of travelers like honeymooners, family members, and solo travelers. In Manali, you will enjoy everything starting from luxurious hotels to ravishing scenic views and lip-smacking foods. The average temperature remains around 10o centigrade that gives a very chilling experience. In Manali, you must plan a visit to Rohtang pass, Hidimba Devi temple, and get involved in some outdoor activities like trekking, paragliding, and skiing in Solang valley.
Shimla
The capital city of Himachal Pradesh, Shimla, is one of the major tourist place. Here you will get to enjoy beautiful sightseeing areas, mind-blowing winter activities and good food. Shimla is a visual treat for all travelers. Then, there is amazing toy train ride where you can enjoy the beautiful landscape. Some other attractive places are Mall road, Christ church, government buildings from the British era, state museum and summer hill.
Kufri and Chail
Kufri is a must visit for those travelers who are accompanied by kids. Children's amusement park present in the hillside has a number of amusing things to offer to kids and adults as well. Similarly, Chail is also an amazing place to visit during winters. Chail has the highest cricketing ground in the world. Besides, this two-small place has astonishing beauty. In a clear weather, you can see the river Sutlej, passing through rocky hills. In the evening, the sight becomes mystical when the light from these towns light up the horizon and the entire scene looks like millions of stars twinkling in the sky. Those who love trekking and jungle camping must pay a visit to Chail.
Kashmir
One of the best honeymoon destination in India is Kashmir. Though people also visit Kashmir in summer but in winters you can enjoy the combined view of snow-capped mountains and lush valleys. It offers sparkling natural beauty and the delicious authentic Kashmiri food that will leave you in a good food coma. It is famous for beautiful Mughal gardens, Dal lake, and eye-catching environments. Some of the best places to visit in Winters in Kashmir are:
Srinagar
It is one of the best places to visit in Winters in Kashmir. A whole lot of things you can enjoy here starting from trekking to bird watching to skiing in water and snow. A stay in houseboat amidst beautiful Dal lake is an added feature.
Gulmarg
Gulmarg is famously known as "meadows of flowers" and is a beautiful treat to the eyes. It is filled with vibrant flowers with snow covered mountains in the background. If you are highly adventurous and love mountain biking, trekking, and skiing, snowmobiling, then this palace is a must visit during winters. In Gulmarg, you can enjoy Gondola ride which will give you the panoramic view of the valley.  This region is definitely a treat to the eyes when it comes to places to visit in Winters in India. 
Sonmarg
Sonmarg is called as "Meadows of Gold." It has countless beautiful flowers with undulated trekking routes. It is a must visit place for those people visiting Kashmir in the cold months because of its mind-blowing aura and mesmerizing views. Here you can indulge yourself in many activities like trekking, skiing in snow, and camping.
Pahalgam
Tranquility and serenity are the two other names of another beautiful place of Kashmir called Pahalgam. The beauty of this town will take away all your stress. This place is very famous for the coniferous forest. Other attractive places to visit in Winters in Pahalgam are Betab and Aru valleys. You can indulge yourself here in some activities like horseback riding and canoeing.
So, just pack up your bags and start your journey to any of this beautiful place to visit in Winters in India.
Tags
Comments