Top 15 Enthralling Places to visit in June in India!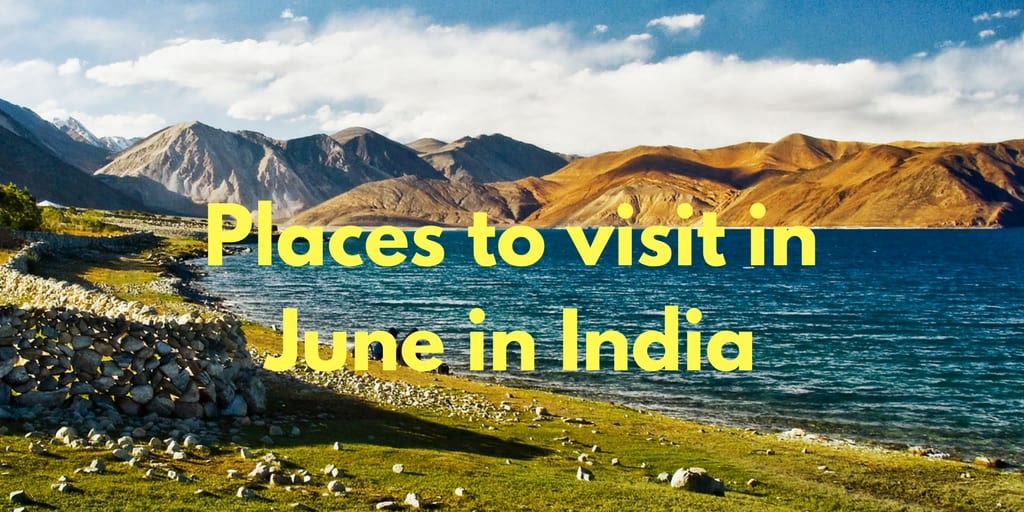 It's March already. Just within a month will be entering the second quarter of the year. The winter has ended and now it is the time to say goodbye to cold freezing winds and embrace the warmth of Summer. Holidays are always associated with tourist destinations and trips. With a little bit of preparation and planning, you can enjoy the last days of your summer holidays this year.
June is the month when the season of Summer richest to its peak. So, we have come up with a list of best places to visit in June in India. Because we know right now that's what you need. From exciting things to do to enchanting places to visit, we have got it all covered for your June holidays. And with these Xoxoday tour packages, your tour will get better and better.
Varanasi 
Mark Twain once wrote, "Benaras is older than history, older than tradition, older even than legend and looks twice as old as all them put together." Varanasi, also known as Banaras or Uttar Kashi, is holy city of India. From being a city to earn Moksha to being home to Banaras Hindu University this city is different in so many ways. One of the main cities where people would go for Pilgrimage Tour.
Varanasi considered as the abode of Lord Shiva is one of the main attractions of our country. Situated on the banks of the Holy river Ganges it is the oldest city in the world. Established 3000 years ago it was famous as the city of temples even then. Though it is an important place for Hindus there is a mosque in Varanasi too. The name of this Mosque is Alamgir mosque.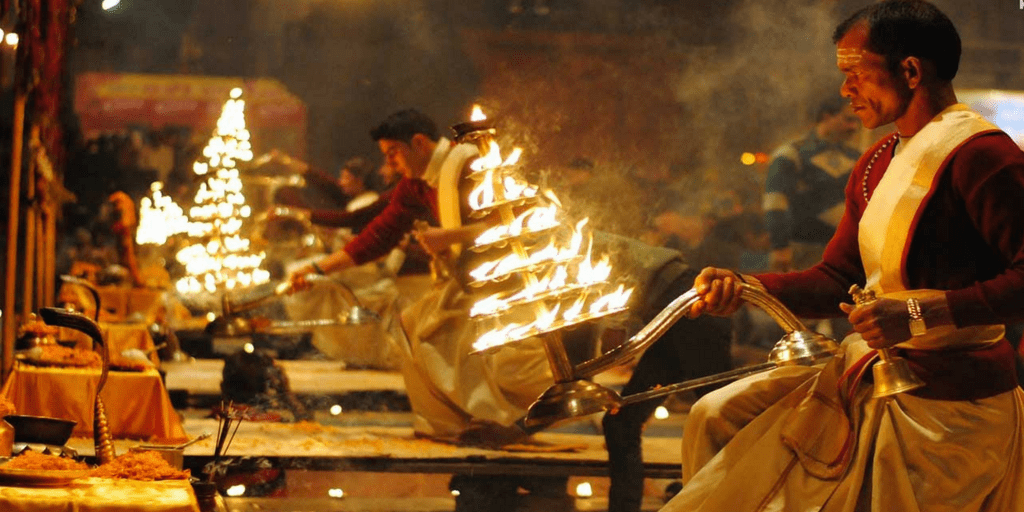 It is one of the Best Places to visit in June in India to experience the Ganga Dusshera. The best thing that Varanasi has to offer to its travellers is the Ganga Aarti. A place which has a rich history, an amazing culture and is a hometown to one of the world's largest universities must be on your bucket list. A Boat Ride to Varanasi Main Ghat from Ramnagar Fort and experience the famous evening aarti than on a boat. No other month than June is better to visit Varanasi, especially this time when Ganga is said to have descended on earth. And during this month a boat ride is a must when you're here.
Ooty
Nested between the Cotton clouds and Misty mountains Ootakamund better known as Ooty is one of the most popular tourist Places to visit in June in India. Ooty is a hill station set at an altitude of 2240 meters above the sea level. It is one of the most preferred Honeymoon spots for newly married couples. The Nilgiri range is also known as blue mountains is one of the most popular attractions here.
Another attraction here is the Ooty lake . Surrounded by Eucalyptus trees this lake covers an area of 65 acres. This is a perfect spot for people who love photography and can capture some of the most beautiful shots. And stay at a beautiful place is something that shouldn't be missed and Ferrnhills Royal Palace is the best answer for that.  If you like bird watching you will enjoy this place as this place has a variety of water Birds along with exotic birds like Paradise-flycatcher. Ooty Botanical Garden,  and Rosegarden or other attractions that are perfect for a family vacation.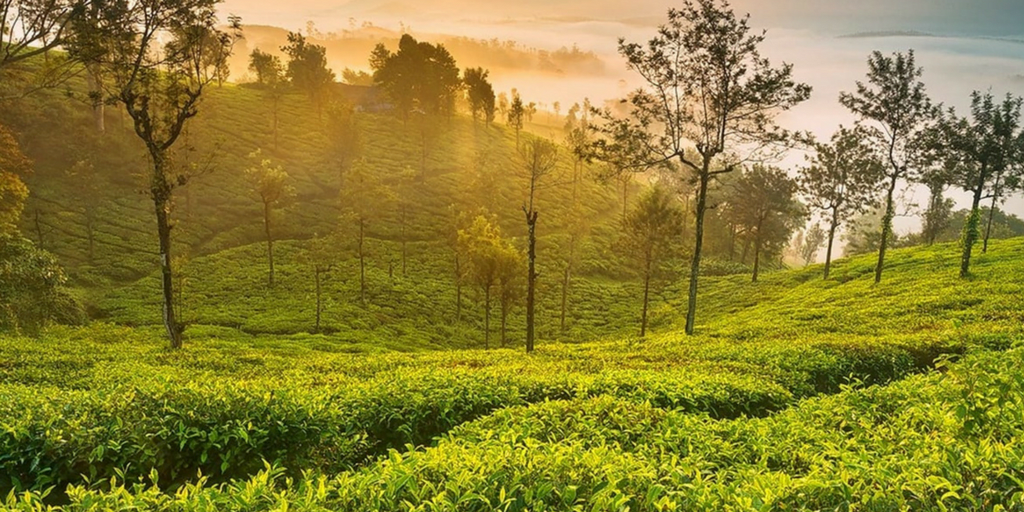 The best time to visit Ooty is during June. Ooty has always remained one of the best destinations in South India. If you haven't had a chance to visit during the May make sure that this hill station is on your list for June. With the best atmosphere and perfect showers of the rain, the hill station will serve you with the perfect sight. Also, explore the tea plantation surrounding that the hill station and amazing home-stay in Sunvalley will also be a wonderful experience.
 Sikkim
Sikkim is one of the most popular Places to visit in June in India. lying at an elevation of 8586 metres from the sea level, this place boasts the third highest peak of the world – Kanchenjunga. It is a small state that is packed with the goodness of nature. Gangtok is the capital of this beautiful state. Almost the entire region is surrounded by the Himalayan mountain ranges and hilly terrain.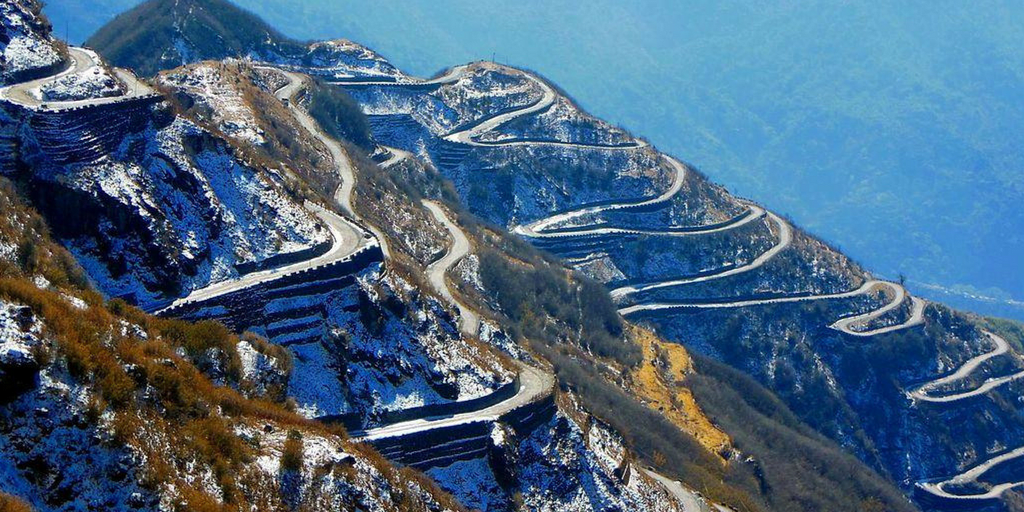 So, what exactly should you expect when you visit Sikkim in June? It's all about fascinating views of Kanchenjunga snow peaks, lovely valleys and meadows and several mountain streams that merge with river Rangeet and river Teesta. Sikkim, especially Gangtok, is a preferred location for adventure sports lovers. One can experience parasailing, river rafting, climbing and valley crossing here. Sikkim also has vivid wildlife. You can see snow leopards, Tibetian wolf and if you are looking you'll also be able to see almost extinct Red Panda as well.
The Namgyal Research Institute of Tibetology is one of the most prestigious research institutes and is one of a kind. It is not only a centre to learn more about Tibetian culture but also to know more about Buddhist philosophy and World religion. Sikkim resides in the northeast of the country and has some of the best views to witness during June. The Himalayas and River Teesta has been some of the best places to visit. You'll be mesmerised with the kind of beauty Sikkim has to offer to you. Explore the state and live in the enchanting and pleasant state. The Buddhist monasteries, caves, lakes, waterfalls and trekking trails will take you to another level of feeling blessed for being able to spend your time here.
Rishikesh
Rishikesh is a small town in the Dehradun district of Uttarakhand. Situated in the foothills of the Himalayas, this city holes deep spiritual and cultural significance for Hindus. Rishikesh is also popularly known as the yoga capital of the world. This place is a beautiful blend of adrenaline pumping activities and spirituality. In the late '60s, popular Western band the Beatles visited Maharishi Mahesh Yogi here. This introduced Rishikesh to The Western world. Since then it has become extremely popular.
Emerging as an adventure capital of India, this place offers plenty of trekking expeditions to various Himalayan peaks and white river rafting as well. SS to visit in June as the weather is beautiful and you can enjoy each adventure sport to the fullest. Every year in February, Rishikesh hosts an international yoga week which attracts yogis and participants from all across the globe.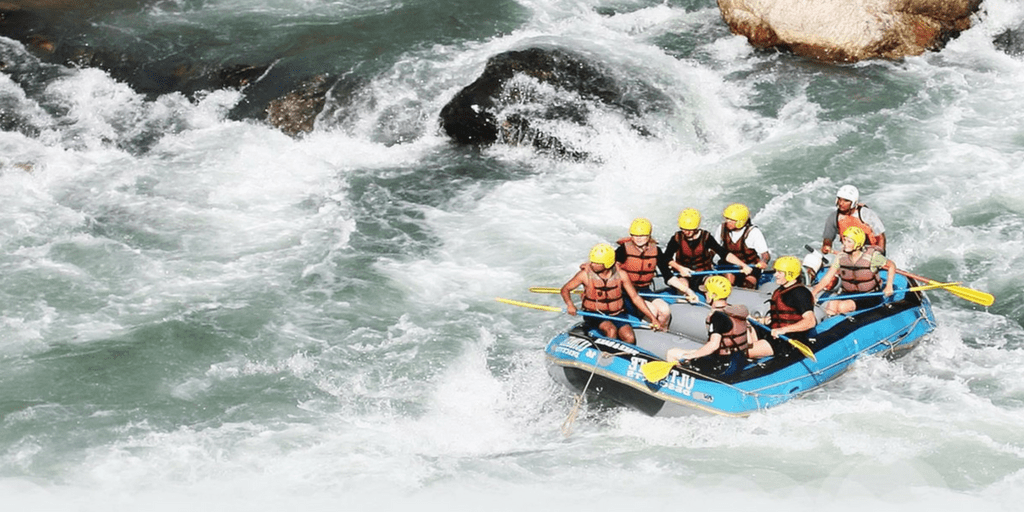 Once you're in the city of Rishikesh you would never want to leave this place. And you will be amazed to see the Unexplored places of Rishikesh and its beauty. You'll be embraced with its quietness, spirituality most of all its adventure sports. Taking a dip in the holy Ganges is one of the most blissful things that you would want to do once you're here. Many water sports like rafting and surfing is famous here. Also, enjoy some hot chai and snacks at a taper during the rains. In short, the things to do in Rishikesh is not to be missed.
Mahabaleshwar
Looking for a Place to visit in June in Maharashtra? Mahabaleshwar is the answer. Hill station in the Western Ghats this place is also known as the land of strawberries. It is a beautiful laid-back town with lush green dense forest, hills, valleys and waterfalls. It is also one of the most beautiful weekend getaways from Mumbai. This queen of hill stations in Maharashtra the existence in the year 1829. It was the summer capital of Bombay Presidency during the British rule. There are plenty of attractions here that you can visit with your family.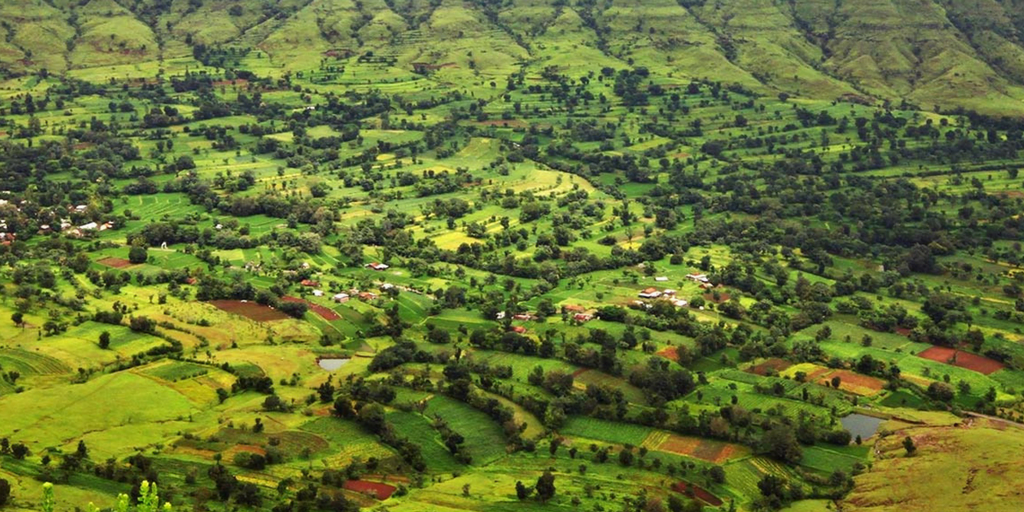 This state is a source of Krishna river that flows across 4 States – Maharashtra, Karnataka, Telangana and lastly Andhra Pradesh. It attracts tourists for its beautiful landscapes, forts, lakes and present temperature. The Government of Maharashtra has strategically created some viewpoints that for you a beautiful panoramic view of the Majestic Sahyadri Valley. Mahabaleshwar is the best Places to visit in June in India with family as it offers plenty of family-friendly activities such as horseback riding, strawberry testing and camping to name a few.
Nothing is better than the waterfalls of Mahabaleshwar  during June. June will provide you with the sight and weather too. The place is justified during this month. Mahabaleshwar is perfect during any month, but June has its own beauty and greenery to relish you in its charm. You'll be enchanted by the beauty of the princely past of the city that will be reflecting in its mansions.
Kodaikanal
Kodaikanal is proper popularly known as the princess of hill stations in South India. It is in the state of Tamil Nadu and is one of the most popular honeymoon places to visit in in June. Kodaikanal is one of the topmost weekend getaways from Bangalore as well. The native residents of Kodaikanal where tribal people. An American Christian Missionary established this place in 1845 to get away from the high temperatures and tropical diseases. The place has plenty of attractions not only for lovers but also for families. Camping in Kodaikanal will be one of the best adventurous experiences in your life and there are several Outing places for Couples in Kodaikanal.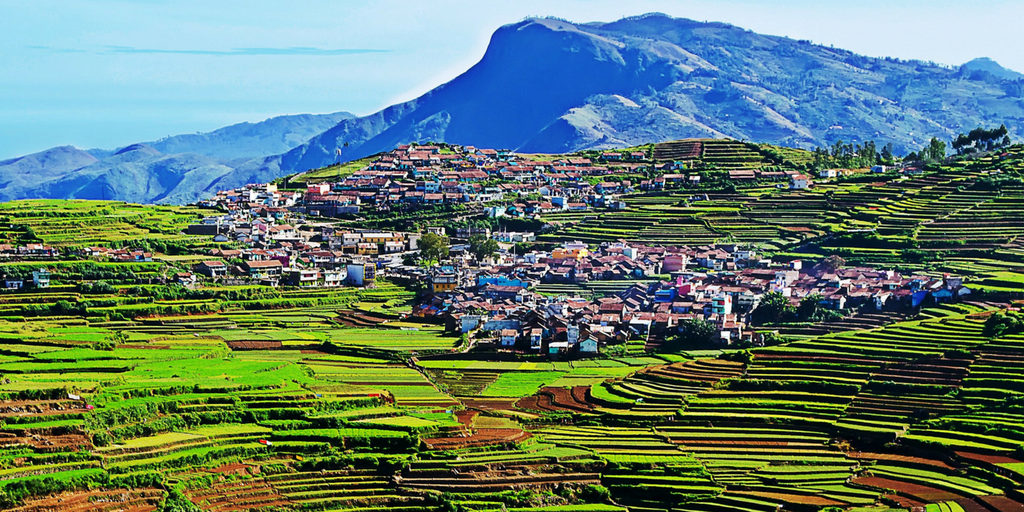 Kodaikanal Lake is spread across 24 hectares. It is a popular lovers' point. You can take a Boat Ride in the lake and enjoy the scenic view of the surroundings. If you are a nature lover, you would love this place. You can see plenty of birds, flowers and Giant squirrels here.
The lush green weather, the perfect shower, meandering road, sightseeing, hills and rains and the utmost things you'd want to be provided with. The best of all is cycling through the mussy roads during the monsoons. And walking and horse riding during the dry period.
Wayanad
Wayanad is one of the topmost tourist Places to visit in June in India. It is in Kerala. The name binary comes from the native language Vayal Nadu which means paddy fields. This picturesque plateau is nestled along the Western Ghats. The culture here is derived from tribal culture. It is surprising that this test it is one of the biggest foreign exchange earners in the country. It exports cash crops like cardamom, tea, coffee and Spices among others.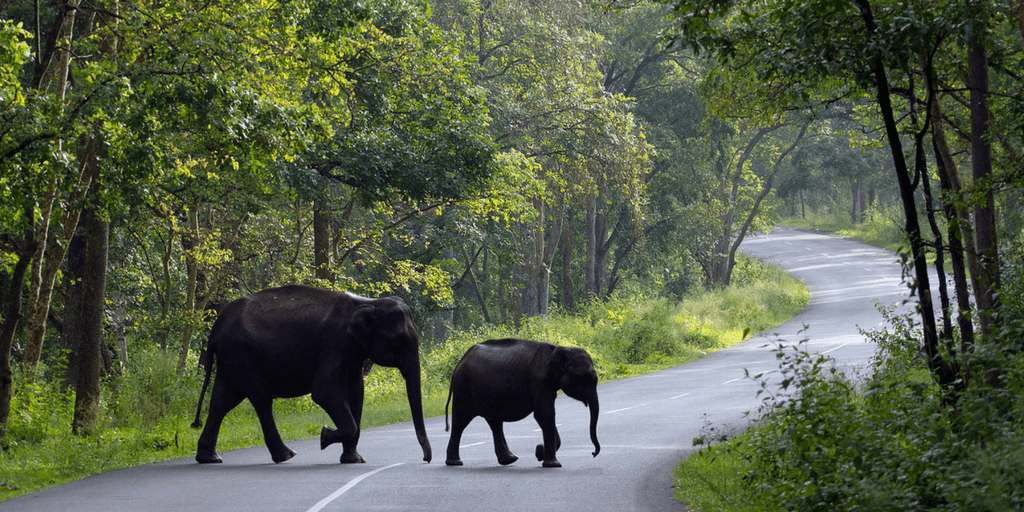 Wayanad has plenty of places to explore. Wayanad shares its borders with Kerala and Tamilnadu. Chembra Peak is a favourite attraction for adventure seekers. The list of Things To Do in Wayanad is something that everyone would look forward to. It is one of the tallest peaks in the region and reaching to the Summit take a lot of physical fitness. You can visit this place with your friends and enjoy the nature. Sleep under the beautiful sky and Camp at this site. You can also visit the largest waterfall in the district of Wayanad with your family. The name of this waterfall is Meenmutty waterfalls. It is easy to kilometre Trek on the Ooty- Wayanad Road.
Wayanad is known as the Green Paradise and is one of the best hill stations in Kerala. Wayanad and June will always be one of the perfect combinations alive. From bird sanctuary to leisure walking this place has it all. Make sure to visit the Wayanad Bird Sanctuary. And also fall in love with the scenic view that's available.
Mount Abu
Our list of Places to visit in June in India will be incomplete without mentioning Mount Abu. Mount Abu is the only hill station in Rajasthan. Located near Sirohi district, it lies in Aravali mountain range. Set at around 1220 m above the sea level, it is a very popular summer retreat for the locals as well as for the tourist. This is one of the Best Places to visit in June in Rajasthan to escape from the scorching heat of the desert. The place also holds importance in Hindu mythology as it is said that this is the place where sage Vashishtha retired.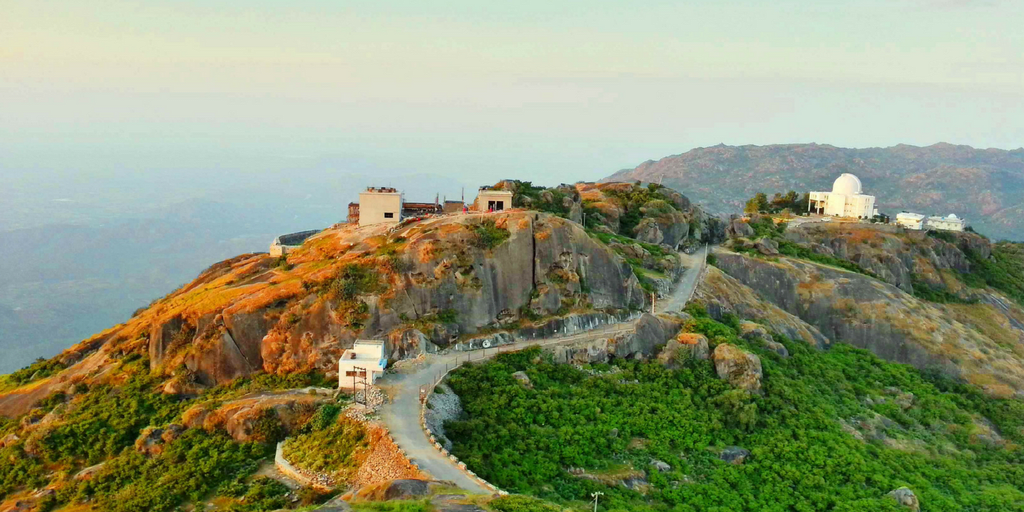 There are plenty of places in Mount Abu that you can visit with your family. Dilwara Jain Temples is one of those attractions. These temples are undoubtedly one of the most stunning pieces of architecture in India. So, what exactly makes this a must visit place in June? It is the brilliant use of white marble in the architecture. Yes, these temples are entirely built in white marble. Marble is a stone that is always cold even in extremely hot weather like Rajasthan's. The temples also have an amazing stone laying technique and beautiful ornamental carvings on it which makes it a pilgrimage spot for Jains all around the globe.
Guru Shikhar is the tallest point in Mount Abu. It is also the highest point in Aravali mountain range. The place offers a panoramic view of the whole Valley and is popular for guru Dattatreya Temple. If you are a shutterbug this enchanting place will leave you mesmerized.
Mussoorie
Mussoorie is a part of Dehradun district of Uttarakhand State. It was established by British army officer in 1820 as a hill station to get relaxed during the scorching summer in India. Set at an elevation of 6170 feet this hill station is popular for awe-inspiring green hills and diversity of flora and fauna. This is one of the most charming Places to visit in June in India. The best time to visit this place is when the monsoon is right around the corner or has just started pouring leaving the petrichor behind.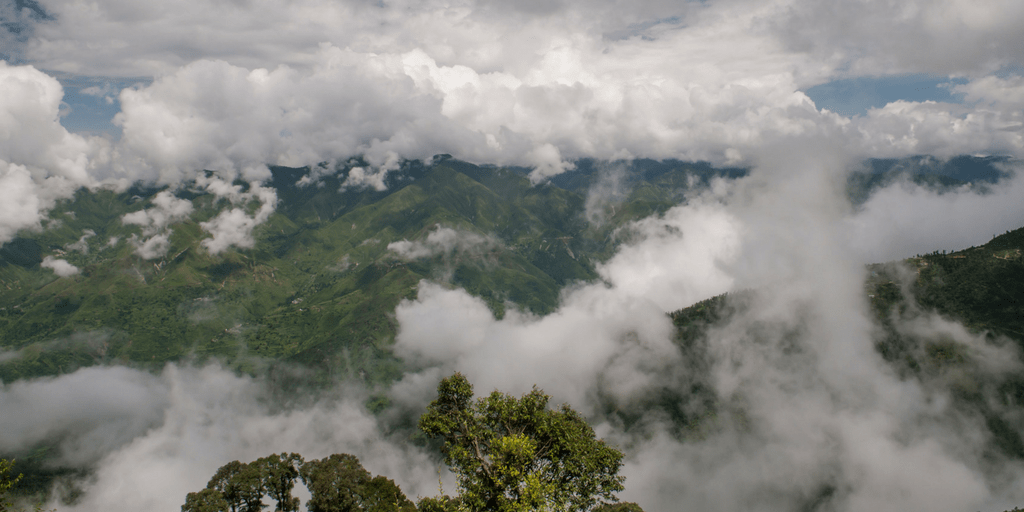 This beautiful town is one of the most picturesque tourist spots in India. This is the place where you can get away from the hustle-bustle of the city and communicate with nature. The glimpses of vintage colonial past often peak through the architecture and cuisine. If you are into adventure sports and like trekking and Mountain Biking, this place is nothing less than a Paradise for you. Mussoorie has got awesome places for couples as well. Clouds end is a place in Mussoorie that marks the end of the town. The area is covered with thick jungle and houses Benog Wildlife Sanctuary. Experience a mesmerizing view of Aglar river valley and you can see clouds floating down. Meaning, you are above the clouds. Now that is something you must experience!
Another major tourist attraction here is Lal Tibba. This is the highest point in this area and is popular for stunning views. Come here you get a panoramic view of Neelkanth peak, Kedarnath and Badrinath peak. The lush greenery and blue sky that this place offers, will quench your thirst for sightseeing for sure.
Ranikhet
Ranikhet is in Almora district of Uttarakhand. Set at an elevation of 1829 metres this place has everything to pacify a city dweller that is looking for peace and serenity. The lush green forests and the perfect view of the flora and fauna Ranikhet have provided its tourist with the best holiday destinations. June has been one of the best seasons to visit Ranikhet because of its perfect view of the Himalayas and the fragrance of the mountain breeze. The Haidakhen temple is a shrine of the city that must be visited. The Tarikhet village and the Majkhali are known for the picturesque view.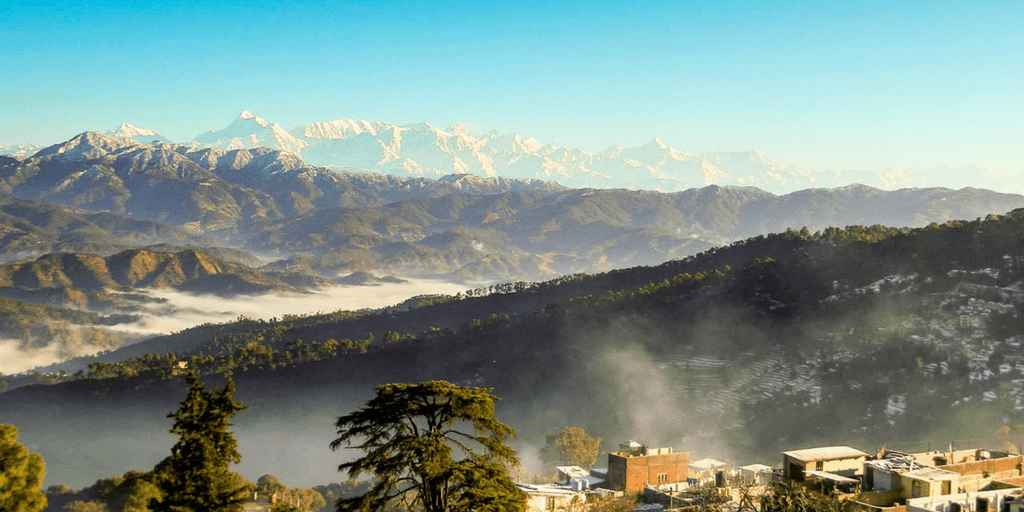 Kullu
The place needs no introduction. It is one of the most popular Places to visit in June in India. Kullu is really cold and we are sure you'd love this place. It is a great place for newly married couples for a honeymoon and indeed one of the best places to be visited during summer. Because of the chill and breezy weather, you'll enjoy riding through the roads. Kullu is a district in Himachal Pradesh and has some of the best greenery views to offer. Rupi Palace and Tirthan Valley are a must visit places in Kullu.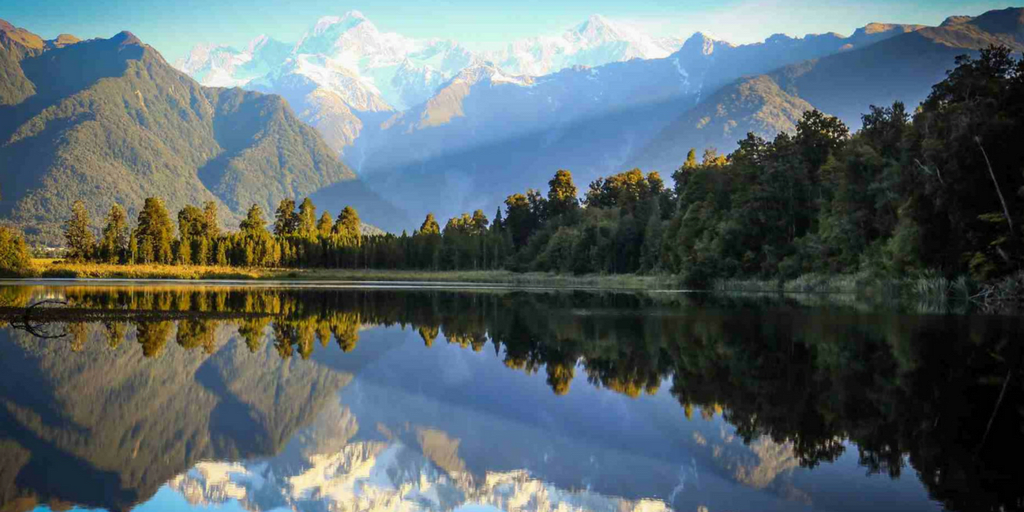 Sonamarg
Sonamarg or the Meadow of Gold is a hill station situated on the banks of Nallah Sindh. It's lying at an altitude of 2800 metres and is towered over by the Himalayan peaks of Jammu and Kashmir. This is a very popular Places to visit in June in India among tourists due to its endless stretch of grassy meadows and slopes dotted with villages and capped with fresh snow. June is a month of perfect chill and end of heat thus enjoy the start of some snow! This place is also popular for tranquil mountain lakes. You can also go for fishing in one of these lakes. This place is good for camping as well so you can visit it along with your family and have fun in chilly weather.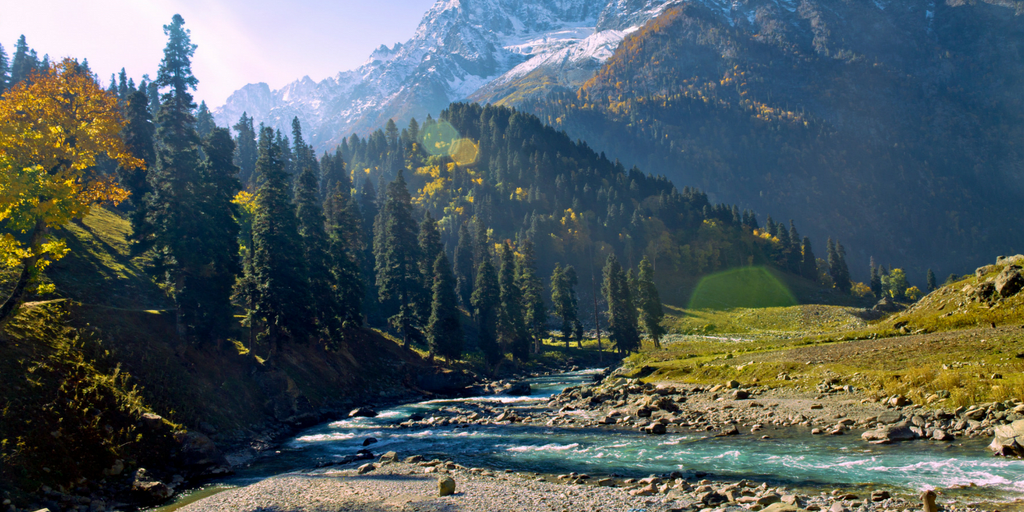 Dharamshala
Home to the Dalai Lama, the spiritual aura surrounding Dharamshala remains uncontested with any other state for June. This has been an escape for many solo travellers and to adventure folks and also cultural enthusiasts. Many tourist heads here to get a taste of the mountains as well as that of the many monasteries. When here, without fail make sure to try out the Tibetan Cuisine. A visit to the Dalai Lama Temple Complex, the HPCA (Himachal Pradesh Cricket Association) stadium and the Kangra Valley, is a must.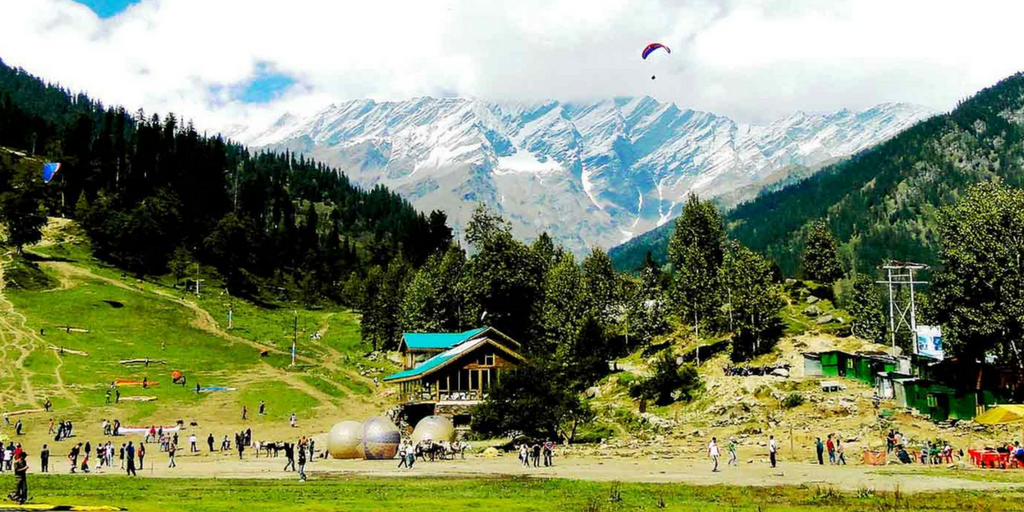 Kerala
Right about the time when the monsoon is around the corner, this place looks like a newly married bride. Stunning and beautiful. And that is what makes it one of the Best Places to visit in June in India. To the unremarkable backwaters and the enchanting green hills, Kerala as a state has been the best place to be around during the Monsoons. It might get rough and untidy sometimes but it has the best view in the start week of June and that's the time no one should be missing out on. Serving as the most romantic month, Kerala helps it to be the best time. Witness the oldest and iconic boat races called the ChampakulamMoolam race.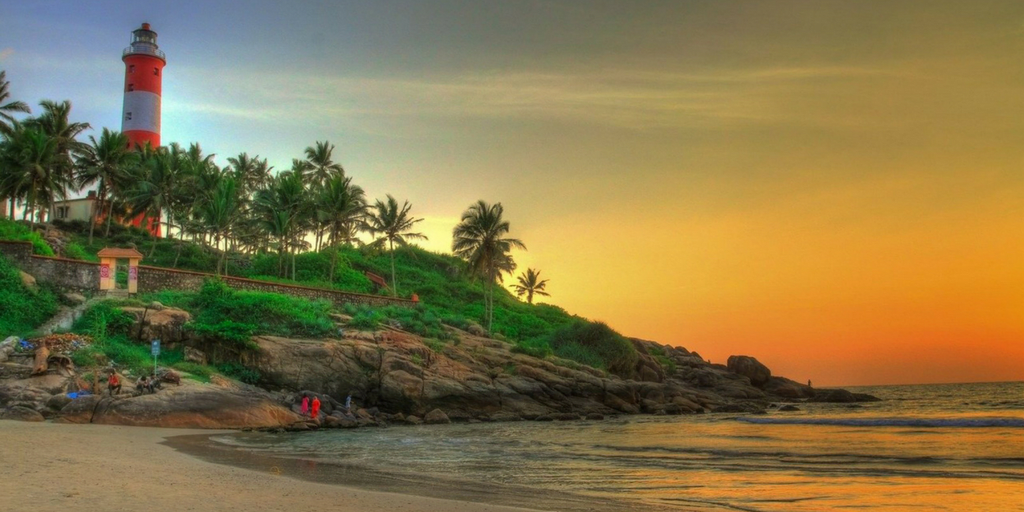 Roopkund
Do you want an exhilarating time? If yes, visit, Roopkund . It's said that great things happen when men and mountains meet. Walk on to the destination that will make you move from head to toe and you'll not want to be back and stay there trekking all your life. It's your best chance to make new friends as well as challenge yourself on a difficult trek. This has been one of the most recommended places in June and we wish why wouldn't it be so?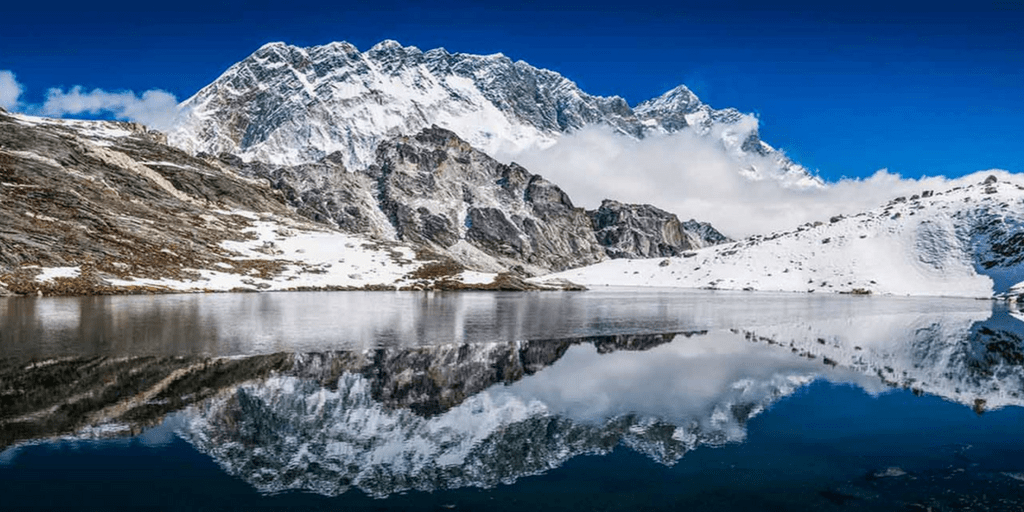 Our marvellous country has plenty of Places to visit in June in India. This is just our list of top 15 places that you must visit in June. Do you think we have missed any major tourist attractions? One of these is your favourite? Let us know in the comments below and also don't forget to share this article with your friends to plan an amazing tour June.
Tags
Comments