16 Offbeat Places to Visit in Bangalore in One Day!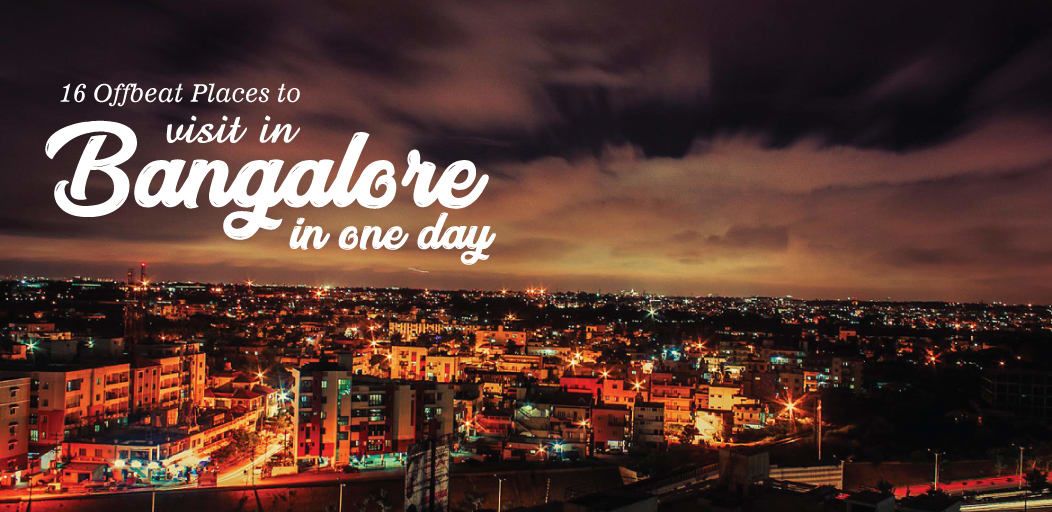 We, humans, are nature loving creatures. And there is no wonder that we get attracted towards nature. Be it just a day, we make sure that we spend that time with special someone. If you are staying at Bangalore, you would know what it means to stay in a concrete jungle and longing to see greenery. But if you feel that to experience something like this and getting close to nature will take you four to five days, think again. Because we know a handful of places to visit in Bangalore in one day.
Some of the city while some are a little far. But driving to all these places is also a refreshing experience. So, if you are a person who doesn't like to plan and hop on the next available ride, these places to visit in Bangalore in one day are just for you. Take a look at some of the most amazing places in and around the Silicon Valley of the country that will get you charged up for upcoming weeks.
Ramnagaram
Ramnagaram is also known as Ramnagaram. Set amidst lush green surroundings and rocky hillocks, this place is a popular weekend gateway from Bangalore. The place has a lot to offer. Along with all the flora and fauna, this place is also popular for granite Hills that makes it a famous tourist spot. Trekking in Ramnagara is so famous among people around Bangalore. It is also known as the Silk city or Silk town of India and holds immense importance for the production of silk. The Silk produced here is popularly known as the Mysore silk.
This place is also popular for the Ramdevarabetta Vulture Sanctuary. Here you will be able to spot endangered species of vulture in their natural habitat.
Along with all these tourist spots, you will recognise this town for a different reason altogether if you are a Bollywood buff
. The shooting of Legendary cult film Sholay took place here. Especially the scenes of Gabbar. And that is another reason why this town is so popular. It is about 50 kilometres away from Bangalore and takes around one and half hour to reach. This place is one of the best picnic spots near Bangalore.
Nandi Hill
Nandi Hills Nandi Betta or Nandi Durg. It is one of the most popular tourist places to visit in Bangalore in one day. A tour to Nandi Hills will give you an amazing day.   This is an ancient hill fortress situated in Chikkabalapur district of Karnataka state. This is also believed to be the origin of Saint Arkavathy river. An ancient Nandi temple situated at the bottom of these Hills is the reason why these Hills got their name. Its name is BhogaNandeeshwara temple. There is a temple at the top of the hill known as Yoga Nandeeshwara Temple. Both these temples have a large statue of Nandi. If you take interest in art you will like intricate designs and carvings on the pillars of these temples. Nandi Hills is 60 kilometres away from Bangalore City.
Tipu Sultan's Fort
Tipu Sultan's Fort is another attraction close to Nandi Hills. Roller before Tipu Sultan, Haider Ali, started building this palace as his home. But Tipu Sultan completed it.  This is one of the best places to visit near Bangalore within 200km. The Fort is also known as Tashk-e-Jannat which ms Heaven's envy. Now you get the idea how beautiful the fort must have been when it was well maintained. The 4th is at the top of Nandi Hill. It has plenty of minarets and five arches that show off the beautiful architecture and art of the ancient era. This fort is also popular for beautiful paintings engraved on the walls and ceilings. This fort was the summer residence of Tipu Sultan.  Another spot here is Tipu's drop. From here you can get to enjoy the panoramic view of the valley. It is among perfect places to visit in Bangalore in one day for people who enjoy trekking.
Savandurga
If you like trekking, you must visit Savandurga. It is a 60 km away from Bangalore. Savandurga one of the largest single Rock formation in Asia. It has two Hills – black hill and white Hill. Savandurga also had the temple at the foothill and a beautiful pond nearby. If you like trekking in the night, there are several trekking groups in Bangalore that arrange treks to this fort. This place is also home to several species of butterflies and endangered Birds like Yellow-throated Bulbul, long-billed vultures and white-backed vultures.
During the night you can also see sloth bear and leopards in the jungle. Savandurga is among the perfect places to visit in Bangalore in one day if you are looking for an offbeat trekking cum rock climbing experience.
Anthargange
This is a rocky Hill range 80 km away from Bangalore. Situated at the height of 4021 feet in Kolar district, it is one of the most popular tourist Places to visit in Bangalore in one day. Anthargange translates to innerspring. A secret spring that flows through the hill located here. A beautiful temple of Lord Shiva situates in the middle of the hill. In order to reach the temple, you need to take an easy walk up the hill for fifteen minutes. This Ancient temple which also has a pool formed by the fresh water of the secret spring. Considered holy people bath in the same.
This place is also popular among trekkers looking for some secret adventure. Antharagange caves are at the top of the hill. One need to complete the easy trek to reach the summit. Some of these caves are also good for camping and you can stay in a tent. So, if you are looking for an adventure weekend Getaway from Bangalore, this place is an option for you. There are no restaurants here. So, if you are travelling with the family, it is better to carry your food and beverages. The best time to visit this place is during and right after the monsoon.
Kolar
 Kolar is a little town at popular for the gold mines. It is about 70 km away from Bangalore, right before Anthargange. It is one of the best places for Camping near Bangalore. Apart from that, it also has several tourist attractions like Kolaramma Temple and Someshwara Temple. Both of these ancient temples hold archaeological importance. Built in the 14th century during Vijayanagara rule, Like all the other South Indian temples, this Temple also has a large tower with integrate carvings. Stepped Temple Tank is another main attraction here that has fresh water running.
On the other hand, Kolaramma Temple also has a rich history. It is the temple of the local deity. There is a belief that the construction of this temple happened in the 5th century. It has several carvings on it depicting stories from the history. This is one of the most historic Places to visit in Bangalore in one day.
Skandagiri
This place is also popularly known as KalavaraDurga in the local language. It is close to Nandi Hills and is 60 km away from Bangalore making it a perfect place to visit in Bangalore in one day. Treck to Skandagiri offers a pretty view of the valley. It is a challenging trek without any guide lights, safety ropes or a clear path to climb. So, it is surely not for beginners.
There are ruins of an ancient fort at the top of the hill. A structure that looks like an arch with carvings and also a temple. The government of Karnataka has recently started charging rupees 450 as a fee to keep the place litter-free and maintain the beauty. A beautiful place to visit during winters and experience the scenic. You can plan an offbeat 'Sunrise experience' with your group. Situated on the hilltop, the place offers a panoramic view of the valley.
Manchinbele
If you get associated with a corporate firm in Bangalore, you may have heard of this place. Manchanabele is a water reservoir. It is 40 kilometres away from Bangalore. This Dam was originally constructed for irrigation purposes.But it is now one of the best watersports spots. This is one of the ideal places to visit in Bangalore in one day. Plenty of Corporate outings and team building activities take place here.
If you are visiting Manchinbele with a group, there are several activities that you can enjoy. An activity like paintball is fun to play and also tests your teams' strengths and weaknesses. But it is not necessary to visit this place with a group. If you are looking out for some adventure, you can experience the thrill of zip lining, rappelling and Burma bridge crossing among plenty of other adventure activities. If these activities are too mainstream for you try your hands at canoeing or kayaking. The organisers provide you with safety jackets and it is adviced that you should keep them on all the time when you are in the water.
Shivanasamudram
Shivanasamudram Waterfalls also known as Kaveri waterfalls are one of the best places to visit in Bangalore in one day. A little separation before the falls, the stream parts into two, framing an island. The two streams tumble down to a similar point and stream downstream. The name of the falls is GaganaChukki and BharaChukki. Goes without saying, the monsoon is the best season to visit this place.
This place is around 135 km away from Bangalore and it takes about 3 hours of drive one way. But it is worth the pain! These two falls are just 2 km apart from each other. The GaganaChukki falls has a Dargah near it. Many pilgrims visit this place. The water stream here is very fast and it is perilous to swim here. Avoid swimming here during monsoon when the waterway is to its fullest. BharaChukki falls is comparatively 'swimming friendly'. If the water level is proper, you can even rappel down the fall and enjoy swimming in the pond along with your family. Yet, make sure that you are safe. There aren't any lifeguards here.
Bheemeshwari
Here's one of the best places to visit in Bangalore in one day for nature lovers. Bheemeshwari is 105 Km away from the Garden City. It is the perfect picnic spot for people who want to enjoy adventure sports and water sports. If you are planning to spend a weekend here, accommodation is available at the fishing camps. Your visit to Bheemeshwari won't be complete until you don't get the glimpses of wild animals like boar, elephants, crocodiles and leopards.
You can also indulge yourself in relaxing 'fishing' therapy where you catch a fish and release it again.This place is a paradise for birdwatchers as well. So, keep your cameras ready because you don't know when an exotic bird will show you it's glimpse and you will capture one of the best shots of your life. Adding to this, if you are seeking for a little more adventure, try your hands at activities like Kayaking, Ziplining and rope walking. This one-day adrenaline rush will boost you up for many weeks to come.
Hogenakkal
As the monsoon reaches its peak, people from Bangalore plan weekend getaway at Hogenakkal. These are one of the most popular waterfalls in India. Thanks to their resemblance with Niagara Falls, they are known as 'Niagara of India'. Hogenakkal falls is just 2 hours away from Bangalore. Hogenakkal is made of two words. Hoge meaning smoke and Kal meaning rock. This refers to the smokey appearance of the water falling on the rocks.
You can only watch the greenery and the falls from a distance during monsoon. But, if you really want to enjoy the water, visit this place during winters when the flow is not strong and you can take a boat ride, admiring the lush greenery and flora and fauna. You can also take a dip at the shallow regions of the pond, at the bottom of the falls. During the peak season, this place is also pretty crowded with aspiring photographers and lovebirds. The local forest department has maintained a small crocodile park and a zoo that will keep your children busy as well. This is one of the 'must visit' places in Bangalore in one day.
Talakadu
Submerged under heaps of fine sand, Talakadu locates on the banks of river Kaveri. This place has a rich history and is popular for a Shiva temple named Vaidyanatheshwara Temple. It is 3 kilometres away from Bengaluru and is one of the most mysterious places to visit in Bangalore in one day. If you are and history buff or a devotee of Lord Shiva, this is an ideal one-day picnic spot for you.
This was once a renowned pilgrimage spot with more than 30 temples. Once popular to house five famous, this place is submerged in the heap of sand now. According to a text from the 16th century, this got buried under sand due to a natural disaster during Wodeyar rule. The temples near our excavated every 12 years for a special religious gathering called 'Panchalinga Darshana'. One of these temples is said to be having mysterious powers. The Shiva Linga in this Temple changes colour according to the time of day. It's red in the morning, black in the afternoon and in the evening, it turns white. If that is true, one must pay a visit to this thermal reactive Shiva Linga.
Makalidurga
Located 60 Km to the outskirts of Bangalore, Makalidurga is one of the most favourite places to visit in Bangalore in one day for adventure or trekking lovers. Being at 4430 feet above the sea level this hill fort offers a magnificent view of the valley. A lake surrounds Makalidurga on the west.
A very Rocky path leads you to the top of the hill from where you can enjoy the sunset. The trek starts at the bottom of Makalidurga Temple. There are no restaurants or Cafe anywhere near Makalidurga fort. Hence it is better if you should carry your own food and beverages. There is no shade at the top of the hill hence it is best to start early and get down by noon or start in the late noon and enjoy the sunset. This trek can be hard for kids and elderly people. But it is one of the most amazing places to visit in Bangalore in one day if you are looking for a group outing with friends.
Avalabetta
If you are looking for peaceful places to visit in Bangalore in one day, Avalabetta is an option that you can try. If you are in Bangalore, you might have already visited Nandi Hills. Avalabetta is as good as a sister hill of Nandi Hills- just a lot more peaceful. It is 100 km away from Bengaluru and offers a pretty beautiful rocky view of the valley. You can take your bike all the way to the top of the hill. There is a temple at the top and plenty of pilgrims worship the local deity.
There are lots of monkeys that create nuisance every now and then so it is better to keep your precious belongings inside the car or in the bags. There is a little pond at the top of the hill. There is an extended part of a rock hanging away from the rest of the hill. People always take pictures here as it offers a great view of the valley. But it is quite risky. The best thing about this place is you can visit it all around the year but it is very hot and humid during the summer.
Gudibande Fort
Bangalore has plenty of small attractions not known to many. Gudibande Fort is one of them. It is a popular fort located about 100 KM from Bangalore. The main attraction here is the hill fort and the lake. Apart from that, there are several small hills that are good if you want to practice rock climbing or rappelling. You can go here to your vehicle and Park it at the foot of the hill. From here you have to take about 1000 steps to reach the top. The steps are well maintained and you can visit this place along with your kids and elderly people in the family.
At the top, you see a very well-maintained Fort. There are no shops or restaurants up there or even at the bottom of the hill. So, you need to carry your food and beverages with you. The view of the lake from the top is magnificent and it looks like India's map. There is a temple dedicated to Lord Shiva at the top as well. Gudibande Fort was built about 400 years back and is one of the most historical places to visit in Bangalore in one day.
Bangalore Palace
We save the best one for the last. Bangalore Palace is famous among architects for its Majestic minarets and marvellous architecture. Built during 1876 this palace has preserved its old-world charm. The palace spreads across 45000 square feet and he is one of the best places to visit in Bangalore in one day. Apart from being a popular tourist spot, several cultural events and rock shows are hosted here.
It is also one of the most popular wedding destinations in Bangalore. Visiting this palace gives you a chance to witness never Splendor of the kings and the elegance. The palace is open for visitors between 10 a.m. to 5:30 p.m. There is a park for kids here that is popular among the locals. Some of the most amazing features of this two-story granite Palace are palace ground, fortified towers, ballroom and other architectural elements. The ceiling of this ballast gets decorated with beautiful paintings. And the entire Palace houses neoclassical and Victorian paintings. Even if you are looking for a 2 day trip to Bangalore, this one is a must visit a place.
This is just our list of places that you can visit in and around Bangalore within one day. There are several other places that may interest you like Devanahalli Fort, ISKCON Temple, Lumbini Gardens, and Bannerghatta National Park to name a few. so, this weekend, pack your bags and get away from the Hustle bustle of the city.
Tags
Comments