Table of Contents
The business landscape has been undergoing rapid changes over the years, and keeping pace with the same is a real challenge for managers. But, it need not be anymore, with a plethora of management training programs available through online and in person modes.
These programs develop qualities essential to face the ever-evolving business environment and engage with the employees to keep their morale higher. This blog lists the top 10 online management programs from reputed universities across the world.
What is a management training program?
It is a professional course directed at existing leaders and aspiring managers, to develop the most essential skills for effective management. The programs are a guide to handle the various factors affecting a business to keep it sailing smoothly. Many top universities offer online management training programs for the benefit of executives who are already working a busy schedule.
Top 10 online management training programs
1. Harvard Business School Executive Education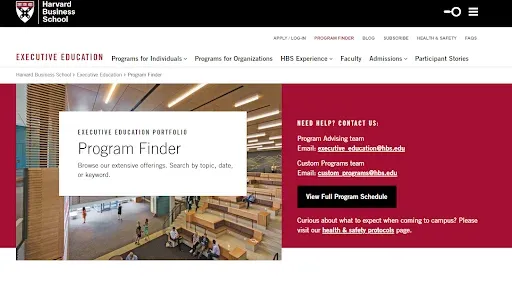 The Management Essentials program from HBS online is an 8-week program for newly appointed, seasoned, and aspiring managers.
It lays emphasis on four major managerial processes like, decision-making, implementation, organizational learning, and change management. On successful completion of the program, participants are awarded a certificate of completion. The syllabus is divided into 4 modules, requiring 35-45 hours of study.
What you will learn:
To influence and shape the decision-making process
The relevant techniques to become effective managers
To lead the learning initiatives for organizations to improve
To differentiate between myths and realities of management
2. Stanford Graduate School of Business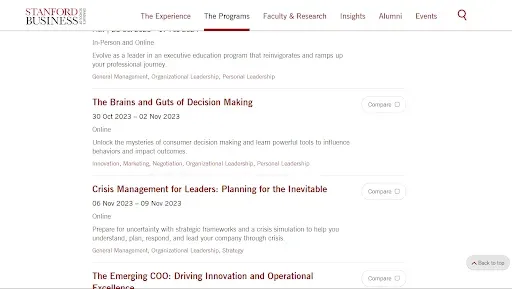 Stanford LEAD is an online business program conducted by Stanford Graduate School. The program delivers the skills required in managers to meet the needs of the evolving business environment.
The faculty for this program is the same as that for Stanford's regular MBA program. The program offers a challenging and innovative curriculum and leadership strategies to improve a candidate's professional impact.
This program is suitable for mid to senior-level professionals and emerging leaders. This flagship online course is for a one-year duration with a commitment of 5–10 hours per week.
What you will learn:
To maximize your potential
To drive innovation and improve personal and professional impact
Fundamental business skills
Broader perspectives of business
3. Wharton Executive Education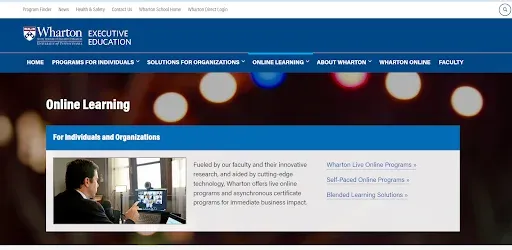 Wharton Executive Education offers several online management programs. Some of them are:
Advanced finance program
Business essentials for executives
General management program
Leadership and Management Certificate program
Management development program
Wharton ESG Executive Certificate for Senior Leaders
Women on Board: Building Exceptional Leaders
All these programs are offered live online. They provide a deeper understanding of core concepts related to management to transform the candidates into decisive leaders.
The MBA faculty of Wharton School are engaged in teaching the online program. The University offers a certificate of completion on successful completion of the program.
What you will learn:
Accelerate learning and stay updated on latest challenges
Intricate understanding of global business environment
Understanding the various aspects of business to lead effectively
To strengthen relationships with customers
4. INSEAD Executive Education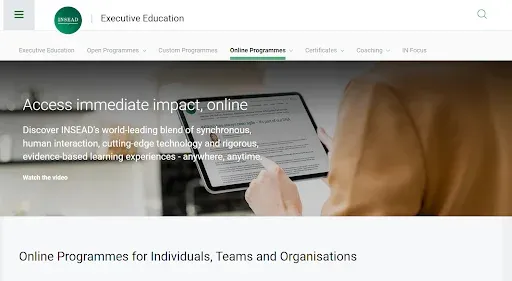 INSEAD offers a 12-month flagship online program to improve the leadership qualities to meet the challenges of the dynamic business world.
The program comprises four compulsory and three elective courses. There will also be a core project that should be completed, and the learnings shared with fellow participants of the program. Toward the end of the program, there will be a 3-day face-to-face workshop.
The program is conducted by senior faculty members with rich experience. Senior executives, mid-level leaders, high-potential managers, and enterprising professionals are eligible to join the program. Candidates are granted the complimentary alumni status, which can be continued by registering as a member.
What you will learn:
To translate theoretical learning into practical experience
To apply ideas to existing business problems
Understand the various challenges faced by senior managers
To transform as a leader
5. London Business School Executive Education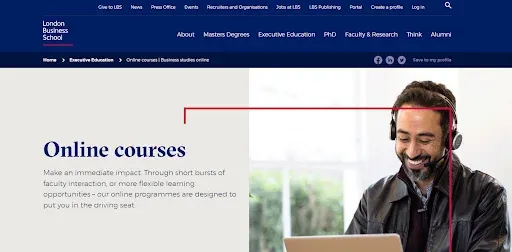 Sustaining Leadership and Corporate Responsibility is the online management program offered by London Business School. It is a 6-week online program that requires 4 – 5 hours of study per week.
This program is for mid to senior-level managers (with 5+ years experience), who are entrusted with developing sustainable practices in the organization.
The program offers engaging digital content through digital classrooms. It facilitates interaction with senior faculty members with whom candidates can track the progress of their studies. There is also a dedicated learning manager available for support at all times. The university offers an E-certificate on completion of the course.
What you will learn:
Strategies to create powerful impact as a leader
To overcome evolving challenges
Sustainable business practices
Practical application of concepts learned
6. Columbia Business School Executive Education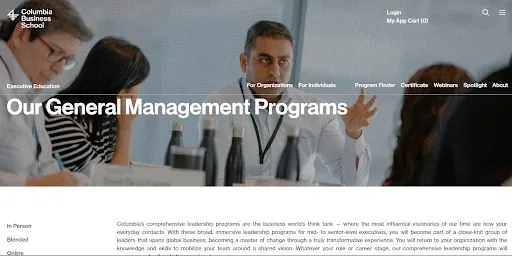 The online Leadership Essentials program at Columbia Business School has been drafted along the same lines as the in-person program. This is a 4-week program for aspiring, new, and mid-level leaders.
The program guides candidates on real-world applications and evidence-based approaches to learning. It seeks to improve team leadership, emotional intelligence, and change management skills. A program facilitator is assigned who connects candidates and the faculty and offers full-time support.
What you will learn:
To solve complex problems surrounding business
Decision-making in challenging circumstances
Customer-centric approach to management
Leading and managing teams effectively
7. MIT Sloan Executive Education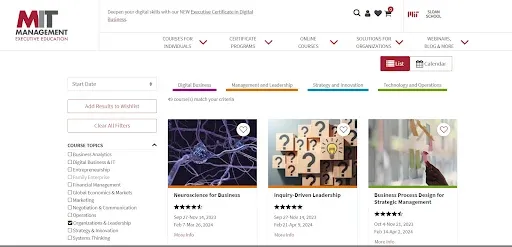 MIT Sloan School offers an online management program with real-time interaction with faculty and peers across the globe.
The course contains modules directed at making effective business leaders. It is conducted by senior faculty members with good experience at the Sloan School of Management.
This course is for executives with more than 10 years of experience, and senior HR leaders. The course is offered for three days with a duration of 5 – 6 hours a day. Upon completion of the course, candidates are given a certificate of completion from the MIT Sloan School.
What you will learn:
Develop and expand leadership abilities to adapt to changes
Understand to communicate better
Practical knowledge to handle complex teams and circumstances
Explore ways to innovate and help in the growth of the organization
8. IMD Business School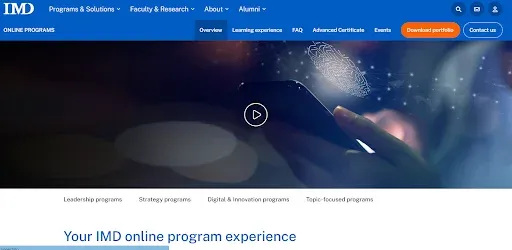 The General Management course from IMD Business School assists executives in developing management qualities to accelerate their careers. With world-class faculty, the course assures personalized coaching. Candidates are given instant feedback as the course progresses.
The course is spread over 17 weeks, with an average of 15 hours of learning per week. The practical assignments enrich the theoretical learning in the course.
The course curriculum has been structured to help candidates adapt to the progressing business environment.
What you will learn:
Skills in digital transformation, sustainability, and governance
Applied learning for real-time implication
Deeper understanding of concepts related to management
To measure and evaluate progress
9. Kellogg Executive Education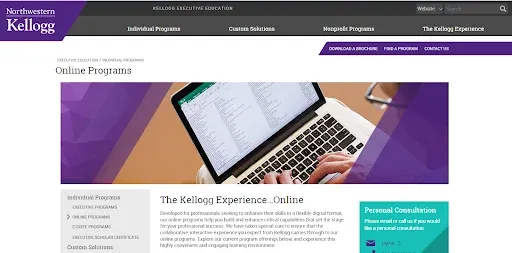 The management program from Kellogg Executive Education is much suited for the dynamic environment, as it prepares leaders to steer the business successfully amidst challenges.

The program, which is for a duration of 7 weeks, is suitable for leaders looking to establish strategies for handling threats and opportunities. With experienced faculty delivering the course, it prepares executives to position their company on the path of growth.
Live webinars through video conferencing mode are part of the program. The participants will be given a digital certificate upon successful completion of the course.
What you will learn:
Strategic approach to management
To develop as agile leaders
Manage hurdles in the way of implementing change
Cases studies to understand real-time impact of concepts
10. Duke Corporate Education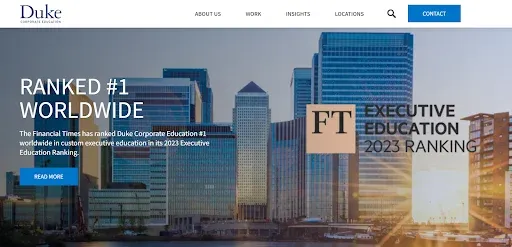 The Transformational Technical Leadership from Duke Corporate Education is a 5-course certificate program designed to create transformational leaders.
When businesses are struggling to adapt to changes in the external environment, this course bridges the skill gap in leaders and makes them prepared.
The program aims to build leadership expertise by imparting strategies for handling evolving challenges. The program offers personalized coaching by experts in the field.
What you will learn:
Unique skills needed to manage people and processes
Application of learning in real-world situations
To become future-ready managers
Mindset, expertise and skillsets required for efficient leadership
Conclusion
Online management training programs are a great help to busy executives who wish to upgrade their managerial skills, but do not have the time to take up an in-person course. These programs are equally competitive as they are offered by institutes of high repute supported by outstanding faculty.
These programs help leaders accelerate their careers and learn to be highly efficient in their roles. Choose the one that matches the requirements of your career and also your personal goals.
---