Table of Contents
Constant learning to keep up with the changing internal and external operational environment of a business is the need of the hour. Management executives, even with experience, need to learn to understand the evolving complexities in the management of a business.
Management training programs are professional courses that offer a deep insight into the skills needed to manage an organization efficiently. It includes skills like communication, listening, delegation, decision-making, change management, crisis management, etc.  
In this blog, you will learn about the top 10 management training programs offered by reputed institutions for in-person learning.
10 offline management training programs
Let us now delve into the offline management training programs available across the globe.
1. Dale Carnegie Training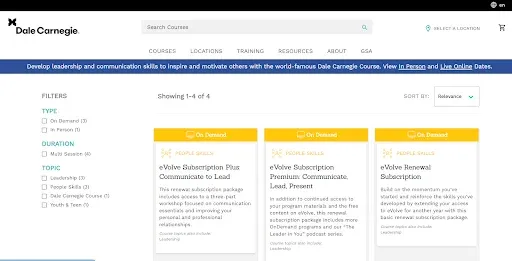 The in-person management training program from Dale Carnegie is for aspiring managers and leaders who want to develop the leadership qualities and skills needed to guide the team toward better performance.
The course is available in two formats: once a week for 7 weeks or 3 consecutive days. Here, candidates learn about the 8-step planning process that drives them toward achieving organizational objectives.
This management course helps leaders develop interpersonal skills, communication, change management, coaching, etc. The program is delivered through a transformational learning program called eVolve.
What will you learn:
To align organizational objectives with strategies
Leadership skills to improve team performance
To master the 8-steps in the planning process
Explore processes to drive innovation
2. FranklinCovey
The 7 Habits for Managers, is the management course by FranklinCovey that covers all aspects that help lead a team effectively. The course includes 14 hours of instructor-led management training. This application-oriented course is conducted for a duration of two consecutive days.
Participants can register online for this course, which is available in both online and in-person modes of teaching. Expert faculties interact with participants to provide the best training.
The course structure is prepared by a dynamic team of experts and is designed to meet the ever-evolving needs of business.
What you will learn:
Seven key habits: proactiveness, planning, prioritization, collaboration, deep understanding of perspectives, synergizing, and improving motivation and energy
Focus on managing self and leading others
Mindset and skill set for leading teams
Application-oriented learning
3. Center for Creative Leadership (CCL)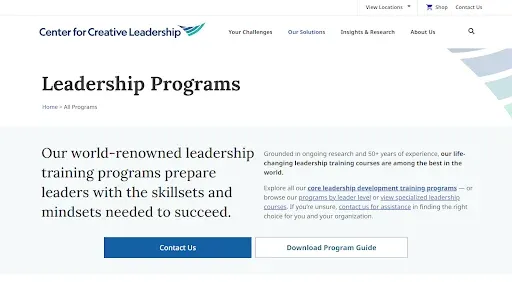 CCL offers core leadership training programs that are world-renowned. There are a wide variety of programs here that cater to managers at different levels in the hierarchy, like, senior leaders, c-suite, mid-level, and first-level managers. CCL also allows customizing the training programs according to the needs of the organization.
Personalized attention, research-based curriculum, peer interaction, expert faculty, holistic approach, ongoing support, and assessment feedback are some of the prominent features that make this course very attractive.
All the programs are tailored to meet the challenges at every level in the organization. A certificate of completion is offered upon successful completion of the course.
What you will learn:
Experiential learning for a better understanding of concepts
Perspectives needed for future leaders
To reflect on lessons learned
To develop agility across people and processes
4. American Management Association (AMA)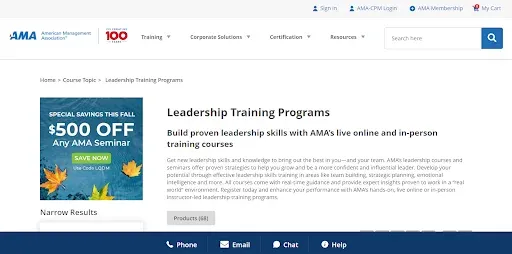 The 5-day MBA certificate program from AMA is for all business professionals who require the requisite skills to manage business in a competitive environment. The program is guided by expert trainers who help participants develop business acumen through intensive training.
The opportunity to interact with peers from different industries helps enhance learning. The course is conducted in person in 11 sessions. Various case studies, exercises, and activities are covered in the curriculum. Guided simulation to apply the learnings with fellow participants is one of the unique features of the course.
Candidates should have three or more years of management experience with knowledge of working accounting.
What you will learn:
To be more effective leaders
To boost competitive advantage
Case studies to understand real world application of skills
Techniques to develop active listening
5. Management Centre Europe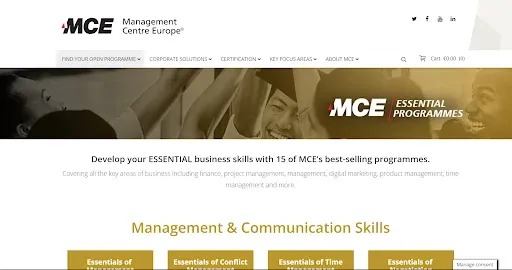 The Management Centre Europe conducts the Essentials of Management course to impart the key business skills needed by a manager. It is an interactive, practical, and business-oriented program that is available for online and offline study.
Candidates in managerial roles for more than 4 years, less than 40 years old, and managing a team of more than 3 members are eligible to take up this course. This course guides candidates on their role as a manager, effective communication, and confronting problem situations.
This course is conducted over 2 days by eminent faculty and on completion a certificate is awarded.
What you will learn:
To apply the key skills of management in practical situations
To delegate, motivate, coach, and communicate
To focus on the latest challenges confronting businesses
To understand barriers to effective communication
6. INSEAD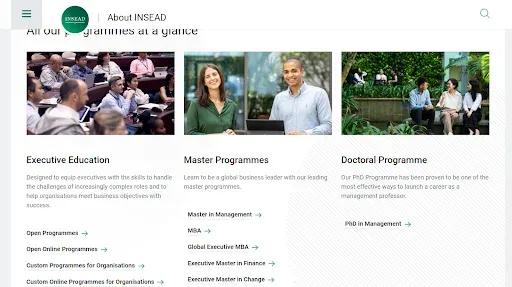 INSEAD's General Management Program features three variations:
Advanced Management Program for the C-suite
Transition to General Management for senior managers
Management Acceleration Program for individuals moving into managerial roles
While the first two are for a period of four weeks, the Acceleration Program is for two months. The institute conducts a webinar as an information session wherein candidates are offered insight into what is in store in these programs.  
These management programs train participants on the latest trends in management. They are designed in such a way that, on completion, the participants will gain confidence to handle complex and evolving situations.
The course is conducted by senior management professionals with rich experience. On successful completion, participants will be given an INSEAD Certificate in Global Management.
What you will learn:
Leadership skills to handle evolving challenges
Gain newer perspectives through exploring real case studies
To develop confidence to tackle tricky situations
To develop strategies and align them with goals
7. London Business School
The London Business School conducts the Masters in Management program, developed in collaboration with the top recruiters. It helps build critical business skills for practical business experience.
The course is for 12–16 months duration and is conducted in person. The program is ranked world number 3 in management programs by Financial Times.
Candidates applying for the course must have graduated within the past two years and must possess a strong undergraduate degree in any discipline with a UK 2:1 or its global equivalent. The program consists of a wide range of core courses and electives to create future-ready managers.
What you will learn:
To explore the real world of international business
Gain expert knowledge in innovative business practices
Develop into transformational leaders
To guide, motivate, and mentor teams
8. Wharton Executive Education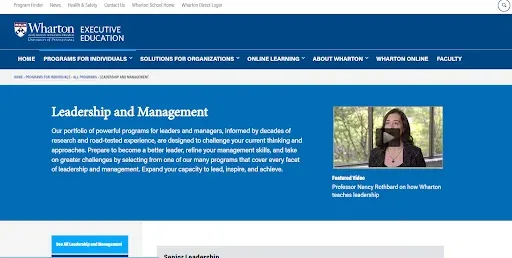 Wharton Executive Education conducts an Advanced Management Program that prepares leaders with essential skills like resilience, agility, positive thinking, emotional intelligence, and more.
The program is conducted for five consecutive weeks on campus. It offers hands-on learning to participants with intensive simulations. The course curriculum is the result of years of research to develop highly informed leaders with a global perspective.
Candidates have the opportunity to build a strong peer network and become a part of Wharton Alumni, which has more than 100,000 members.
What you will learn:
To meet the gaps in skills needed for management
Latest trends and practices in businesses
Develop a global perspective
To lead with a purpose to match goals and strategies
9. Hult International Business School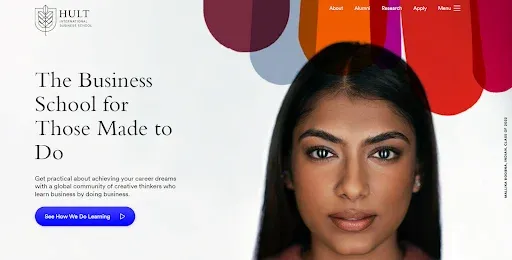 The management program from Hult School is created with relevance to the current business landscape. It inculcates the most in-demand skills of managers globally.
There are two ways of in-person learning here:
Global one-year MBA (full time)
Executive two-year MBA (part-time)
The course curriculum has been designed to impart practical skills and knowledge needed for managers to handle evolving business circumstances and also people management.
What you will learn:
The most in-demand managerial skills
Experience business practices of the world's biggest economies
Real-world problems and strategies to manage them
To steer the growth of business with skills learned
10. IMD Business School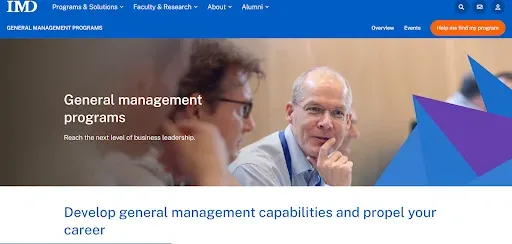 The General Management program of IMD Business School helps accelerate your career with advanced managerial skills. The course develops cross-functional knowledge and develops managers for the future.
With world-class faculty that offer personalized coaching, the course promises the best experience for the participants. Practical assignments make participants ready for managerial roles immediately upon completion of the course.
The institute offers a questionnaire that helps you analyze and pick the best management program suited to you, from the many choices available.
What you will learn:
To develop cross-functional knowledge
Practical knowledge of managerial skills
To communicate and motivate the teams
To establish better relationships with clients in an emerging business landscape
Conclusion
The internal and external business environment is constantly changing, and continuous learning is the only way managers can handle any circumstance.
Management training programs are a part of a leader's path to continuous learning. With the goal of becoming a transformational leader, you can choose the best course that suits your personal and professional growth.
---