Table of Contents
Marketing analytics is a part of marketing functions that has become indispensable today. Marketing analytics insights have driven better sales, better reach, and ultimately better methods to adopt to reach and build the brand among consumers successfully.
Even though the technique has been widely used for many years, the advent and innovation of tools and softwares that have automated this process has taken the industry by storm.
In this blog, we discuss the top 11 best marketing analytics software that has helped companies worldwide to fine-tune their marketing efforts and develop the best methods and ways to reach their target audience and drive better brand image and turnover.
Top 11 marketing analytics softwares of 2023
Marketing analytics softwares and tools can be used by all kinds of marketing-based companies that are into products and services which need to be advertised and promoted amongst consumers to help with the growing competition in the market.
Marketing analytics softwares not only helps in understanding customer trends and patterns but also helps brands to develop unique marketing efforts that can push products and services more effectively.
Here are our recommendations for the top 11 best marketing analytics softwares of 2023:
1. Xoxoday Plum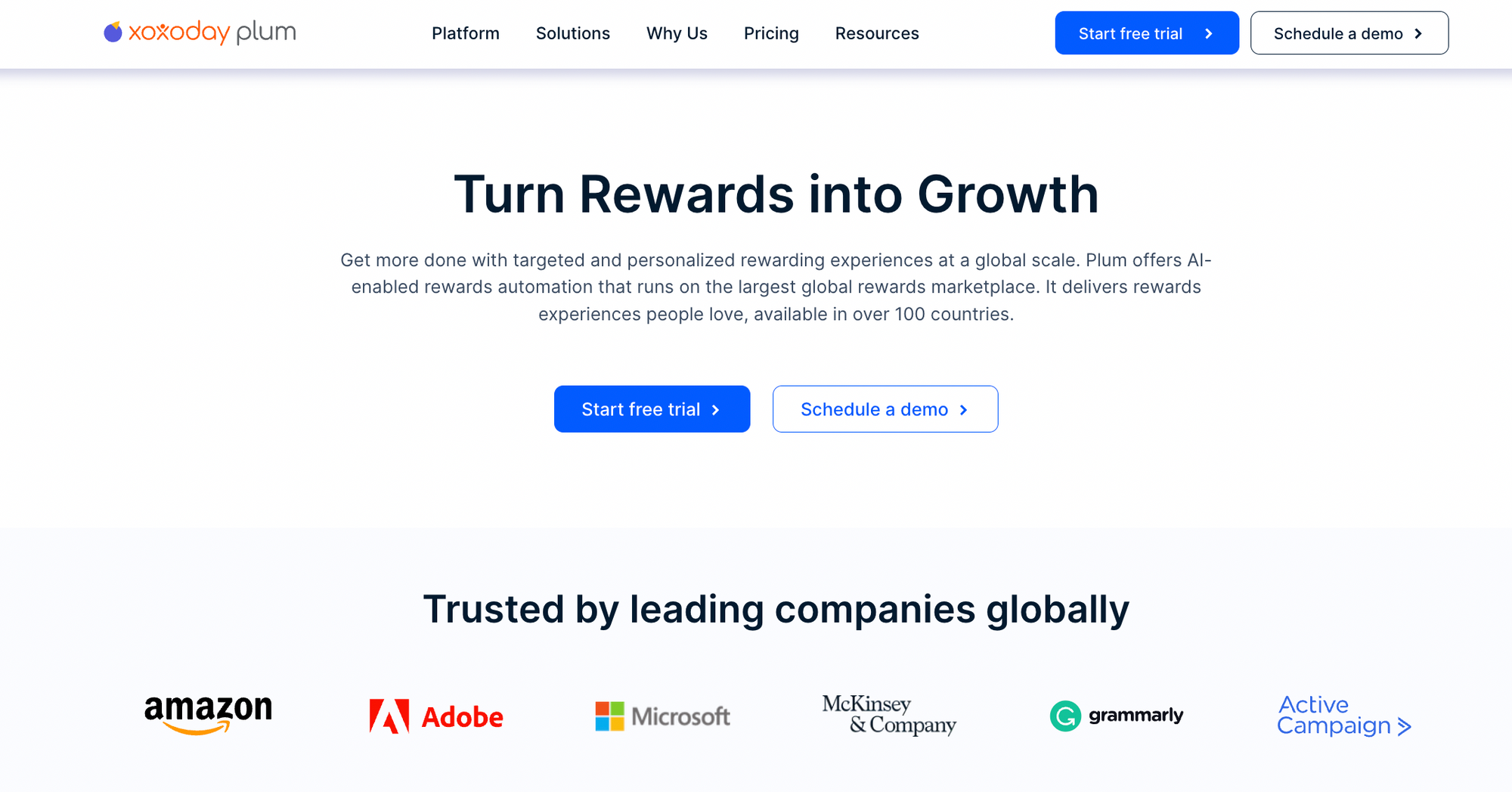 Xoxoday Plum is a robust reward marketing analytics software designed to enable businesses to effortlessly run marketing campaigns with the power of rewards, all without the need for a developer. This platform offers seamless reward workflow automation, a diverse selection of rewards available in over 100 countries, and personalized redemption experiences to create memorable moments for campaign participants.
Whether for employees, customers, or channel partners, Xoxoday Plum simplifies and enhances the rewarding process, allowing businesses to launch unique promotional campaigns globally, gaining a competitive edge while driving swift consumer action.
Key features of Xoxoday Plum:
Seamless Workflow Automation: Xoxoday Plum streamlines the entire process of running marketing campaigns with rewards, reducing manual effort and saving time.
Global Reward Catalog: The platform offers access to a vast array of rewards from more than 100 countries, ensuring businesses can tailor incentives to their diverse audience.
Personalized Redemption Experiences: Campaign participants can enjoy personalized and memorable redemption experiences, enhancing engagement and satisfaction.
Multi-Purpose Rewarding: Xoxoday Plum is versatile, catering to employees, customers, and channel partners, making it a comprehensive solution for various rewarding needs.
Quick Campaign Launch: Businesses can efficiently launch promotional campaigns from start to finish, enabling them to take swift actions and stay ahead of competitors.
Pros:
Ease of Use: Xoxoday Plum is user-friendly, allowing businesses to execute marketing campaigns without needing technical expertise.
Global Reach: With rewards available in over 100 countries, businesses can reach a diverse international audience.
Enhanced Engagement: Personalized redemption experiences contribute to increased participant engagement, resulting in more successful campaigns.
Efficiency: The platform streamlines the entire campaign process, saving time and resources.
Cons:
Users unfamiliar with reward marketing analytics software may experience a learning curve in getting the most out of the platform.
Why is Xoxoday Plum the best?
Xoxoday Plum stands out for its seamless automation and access to a global reward catalog, making it the ideal choice for effortless and diverse reward marketing. With personalized redemption experiences and a multi-purpose rewarding approach, Xoxoday Plum excels in engaging participants and meeting diverse rewarding needs, solidifying its position as the best choice in the market.
Pricing structure: Xoxoday Plum's Pricing structure offers different tiers based on the business's size and requirements. It is advisable to contact Xoxoday directly for a customized quote.
Companies using Xoxoday Plum:
Freshworks
Nielsen
Capgemini
Kantar
H&M
G2 rating: 4.6 out of 5
Capterra rating: 4.4 out of 5
2. MailChimp
MailChimp is one of the most popular marketing analytical tools. The best part about this software is that it is versatile enough for all kinds of business, whether small or big.
It can be used for various features and tools such as analytics, email communication, SMS integration, and integration with other marketing and sales softwares such as Salesforce, Hubspot, Zapier, Shopier, Canva, etc, making it incredibly easy to work on.
It also enables social media marketing for effortless sync with all marketing mediums.
Key features of MailChimp:
Multi-channel marketing: Allows businesses to create campaigns across multiple channels such as email, social media, landing pages, ads, and websites.
One-stop solution: Integrates multiple marketing needs in one platform.
Data-driven recommendations: Provides insights to businesses based on data analytics.
World-class marketing technology: Uses advanced technology to offer a top-notch marketing experience.
Award-winning customer support: Offers exceptional support to its customers.
Why is MailChimp the best?
MailChimp stands out because of its comprehensive marketing suite which integrates various channels. Its vast customer base, which includes renowned brands like TEDTalks and Nikon India, vouches for its efficiency. The platform's emphasis on data-driven insights ensures businesses get actionable recommendations to further their growth.
Pros:
User-friendly: Offers an intuitive interface making it accessible for businesses of all scales.
Wide range of features: From email campaigns to social media marketing, Mailchimp covers a vast array of marketing needs.
Trusted by major brands: Recognized and used by prominent businesses globally.
Cons:
Overwhelming for beginners: With a plethora of features, it might be intimidating for newcomers to the platform.
Integration issues: Some users might find difficulties integrating third-party tools or apps.
Pricing: Plans start at 385 USD for 500 contacts per month and go on to 250K customers with a floating price that can be custom-made. Free plan and trial available.
MailChimp customer case studies:
Steel City Collectibles, established in 2002, leveraged Mailchimp for advanced email marketing and automation, integrating it with their CRM and social media. Their success is attributed to innovation and diversification, recommending prompt action and digital tool utilization for businesses.
MovingWaldo, a Montreal-based platform founded in 2017, streamlines home relocation services. They use Mailchimp for effective email marketing, segmenting, automation, and A/B testing. Integration with QuickBooks helps manage B2B customer data, with plans for more personalized communication as they grow and generate revenue.
Companies using MailChimp:
Glovo
Razorpay
Oxylabs
Paralect
G2 Rating: 4.5 on 5
Capterra Rating: 4.5 on 5
2. HubSpot
The marketing hub feature of HubSpot is everything a marketer can ever dream of. With a host of features and an amazing suite of applications, it helps with providing a full list of applications including marketing communication, analytics tools, integration with other apps, social media sync, CRM application etc.
HubSpot helps in integrating plenty of applications within the marketing function so that a complete analytics can be done on all platforms.
Key features of HubSpot:
All-in-one marketing platform: HubSpot offers a comprehensive suite of marketing tools, including email marketing, social media management, SEO optimization, content management, and analytics, all on a single platform.
Integration with HubSpot CRM: Seamlessly integrate marketing efforts with customer relationship management, ensuring a unified view of customer interactions.
Personalization: Easily create and deliver personalized marketing campaigns to attract and convert the right audience.
Analytics and reporting: Access detailed analytics and reporting to measure campaign performance and make data-driven decisions.
Scalability: HubSpot provides tools to help businesses of all sizes, from startups to enterprises, grow their marketing efforts efficiently.
Why HubSpot is the Best:
HubSpot consolidates all marketing tools into one user-friendly platform, eliminating the need for multiple disjointed solutions.
It offers a seamless connection with HubSpot CRM, fostering better alignment between marketing and sales teams.
HubSpot emphasizes personalization, helping businesses deliver tailored experiences to their customers.
The platform's robust analytics enable marketers to track and optimize their campaigns effectively.
HubSpot's scalability accommodates businesses at various stages of growth.
Pros of HubSpot:
Simplified, all-in-one marketing solution.
Integration with CRM for holistic customer management.
User-friendly interface.
Extensive personalization capabilities.
Rich analytics and reporting features.
Scalability for businesses of all sizes.
Cons of HubSpot:
Pricing may be relatively higher for small businesses.
Advanced features may require additional costs.
Learning curve for users new to the platform's capabilities.
Pricing: Free account available, paid accounts start at 45 USD per month and go on till 3600 USD per month.
HubSpot customer case studies:
WeightWatchers, with a 60-year history in promoting healthy habits, upgraded their enterprise sales using HubSpot's Marketing Hub and Sales Hub. This move streamlined their sales process, enhanced lead qualification, and provided valuable insights. HubSpot's integrations improved efficiency, and their teams embraced the user-friendly platform. The result: improved close ratios and significant revenue growth.
Sandler upgraded its tech stack with HubSpot's Sales Hub, streamlining sales processes, enhancing productivity, and improving forecasting. They plan to expand usage, including AI-assisted selling and growing accounts with sequences.
Companies using HubSpot:
Accenture
Trustpilot
Wing
Airstream
G2 rating: 4.4 on 5
Capterra rating: 4.5 on 5
3. Semrush
Semrush is a pure content marketing software that allows brands and companies to use various tools such as SEO research, content planning and management, competitor research, advertising, market research and many other such features.
Key features of Semrush:
Comprehensive SEO tools: Semrush offers a wide range of SEO tools, including keyword research, site audit, rank tracking, and competitor analysis.
Pay-per-click (PPC) management: It provides tools for managing and optimizing PPC campaigns across various platforms.
Content marketing insights: Semrush helps users discover content ideas, analyze content performance, and track content marketing success.
Social media management: Users can schedule and analyze social media posts, monitor mentions, and analyze social media performance.
Competitive research: Semrush enables businesses to analyze their competitors' strategies, keywords, and backlinks for informed decision-making.
Why Semrush is the best:
Semrush offers an all-in-one solution for online visibility management, making it convenient and efficient for businesses.
It provides extensive data and insights, empowering businesses to make data-driven decisions and improve their online marketing strategies.
Semrush is trusted by a significant number of Fortune 500 companies, highlighting its reliability and effectiveness.
Pros of Semrush:
Comprehensive set of SEO and online marketing tools.
Extensive database of domain profiles, backlinks, and keywords.
User-friendly interface with detailed reports and insights.
Trusted by Fortune 500 companies, indicating its credibility.
Regular updates and improvements to stay competitive.
Cons of Semrush:
Pricing may be relatively high for smaller businesses.
Some advanced features may require additional costs.
Learning curve for users new to SEO and online marketing.
Pricing: Free trial available. Paid plans start at 130 USD to 500 USD per month.
Semrush customer case studies:
In just three years, Tuff, a small marketing agency, grew from one SEO client to over 15 with Semrush's help. Semrush facilitated this growth through traffic analysis, competitive insights, site audits, and backlink strategies, resulting in a 75% success rate in partnership proposals.
The Wix Marketing Blog team used Semrush tools to optimize their "how to" articles. They focused on understanding search intent, confirming rankings, analyzing competitor gaps, optimizing articles for traffic potential, and finding new search terms. This strategy led to a significant increase in clicks and improved their rankings, showcasing the value of Semrush in their content optimization efforts.
Companies using Semrush:
G2 rating: 4.5 on 5
Capterra rating: 4.7 on 5
4. CleverTap
CleverTap is a unique offering to brands and companies that brings together complete automation for an omnichannel communication and marketing platform.
, is used by almost all of the top brands in the world to make clever AI segmented and targeted ads, run analytical software for research and optimization and help in creating brilliant ad copies combined with omnichannel marketing efforts that make for the best marketing campaigns with just a few clicks of the mouse.
Key features of CleverTap:
CleverTap is an all-in-one engagement platform that enables businesses to create personalized customer experiences.
It helps brands retain valuable customers by orchestrating personalized journeys throughout their lifecycle.
CleverTap's unique AI capabilities provide insightful, empathetic, and prescriptive insights to make smarter decisions.
It unifies customer experiences across all touchpoints, leading to enhanced customer engagement.
CleverTap is powered by TesseractDB™, the world's first purpose-built database for customer engagement, offering speed and scalability.
Why CleverTap is the best
CleverTap empowers businesses to maximize customer lifetime value by creating personalized and engaging experiences.
Its AI-driven insights enable businesses to make data-driven decisions and optimize customer interactions.
CleverTap is trusted by a wide range of global brands, demonstrating its effectiveness in delivering results.
Pros of CleverTap:
Personalization: CleverTap enables businesses to create highly personalized customer experiences.
Real-time analytics: The platform offers real-time analytics for measuring and optimizing customer interactions.
AI capabilities: CleverTap's AI capabilities provide valuable insights for making informed decisions.
Scalability: Powered by TesseractDB™, CleverTap offers both speed and scalability for handling large volumes of data.
Trusted by leading brands: The platform is trusted by major brands across various industries.
Cons of CleverTap:
Integration issues: Some users might find difficulties integrating third-party tools or apps.
Customer service: Customer service is not as prompt as that of its competitors.
Pricing: 3 plans with custom profile prices of which are negotiated directly based on brand requirements. Free trial available online.
CleverTap customer case studies:
Simpl, India's top checkout payment network, chose CleverTap to improve user engagement. CleverTap streamlined campaigns, enhanced segmentation, and reduced errors. This improved operational efficiency and boosted customer retention efforts.
Times of India (TOI) used CleverTap to improve user engagement and speed of communication in the digital news industry. With CleverTap's automation and personalization features, TOI achieved over a 100% increase in subscribers and reduced errors, allowing them to stay ahead in the competitive news space.
Companies using CleverTap:
Domino's
PharmEasy
Swiggy
Dream11
G2 rating: 4.6 on 5
Capterra rating: 4.4 on 5
5. SproutLoud
SproutLoud is a global through-channel marketing software that helps mobilize, optimize and analyze the performance of various products and services of a specific brand.
It uses smart campaigns and programs that can convert ideas and programs into dynamic templates that can be used as ad, marketing or communication material in a jiffy.
Key features of SproutLoud are:
Distributed marketing: Enables brands to empower their local resellers, dealers, and partners to execute effective marketing campaigns.
Through channel marketing automation: Offers a comprehensive platform that covers marketing resource management, ad and landing page creation, campaign execution, local SEO, Co-Op Marketing fund management, partner engagement, and marketing analytics.
Brand-to-local marketing: Facilitates seamless communication and collaboration between brands and their local affiliates.
Measurable results: Provides tools for tracking and analyzing marketing campaign performance at the local level.
Why SproutLoud is the best:
SproutLoud is a leader in Distributed Marketing, specializing in helping brands and their local partners succeed in the digital marketing landscape.
Its all-in-one platform simplifies and centralizes marketing efforts, making it easy for brands and local resellers to collaborate and achieve measurable results.
SproutLoud's technology spans a wide range of marketing activities, ensuring comprehensive support for brand-to-local marketing needs.
Pros of SproutLoud:
Streamlines local marketing efforts for brands and their affiliates.
Offers a unified platform for various marketing activities, reducing the need for multiple tools.
Provides data-driven insights and analytics to measure marketing campaign success.
Enhances brand consistency and compliance in local marketing efforts.
Cons of SproutLoud:
While SproutLoud offers a robust solution, its effectiveness depends on the level of adoption and collaboration between brands and local partners.
Some organizations may require time and training to leverage the platform's capabilities fully.
Pricing: Paid plans start at 150 USD. Free demo and subscription services are available.
SproutLoud customer case studies:
Jacuzzi partnered with SproutLoud for their digital marketing needs, addressing challenges such as system compatibility and low dealer adoption. SproutLoud provided an all-in-one platform with features like hyperlocal targeting, simplified ordering, ad building, and analytics. This empowered Jacuzzi to streamline marketing campaigns, Co-Op programs, approval processes, and ROI tracking. The result: improved brand-to-dealer marketing, enhanced dealer engagement, and increased sales.
Allied Air, a leading HVAC manufacturer, partnered with SproutLoud to manage Co-Op Marketing programs and drive growth. Thanks to SproutLoud's solution, Allied Air achieved significant ROI, with each dollar invested yielding thousands in return. Their strategic management of marketing funds and the platform's customization capabilities played a crucial role in their success. Allied Air emphasized the importance of Marketing Development Funds in ensuring distributor success and long-term customer retention in the HVAC industry.
Companies using SproutLoud:

G2 rating: 4.9 on 5
Capterra rating: 4.5 on 5
6. Supermetrics
If you are looking for a program that collates data from various softwares into an analytical tool and provides you with insights so that you can take business decisions as a manager or a business owner, then Supermetrics is for you.
Key features of Supermetrics:
Data integration: Supermetrics supports over 100 sales and marketing platforms, allowing businesses to consolidate data from various sources, including Facebook Ads, Google Analytics, Instagram, and more.
Analytics and reporting: The platform facilitates the seamless data transfer into analytics and reporting tools, enabling marketers to make data-driven decisions easily.
Data visualization: Businesses can connect Supermetrics to their preferred data visualization tools, making it easier to create meaningful visual representations of marketing data.
Improved marketing performance: By providing comprehensive insights, Supermetrics empowers marketers to enhance their strategies and boost marketing performance.
Why Supermetrics is the best:
Ease of use: The platform's user-friendly interface and automation features make it simple for marketers to gather, organize, and utilize their data effectively.
Global adoption: Supermetrics is trusted by over 700,000 marketers in more than 120 countries, indicating its widespread recognition and reliability.
Cost-efficiency: The time and cost savings achieved by automating data integration and reporting processes make Supermetrics a cost-effective solution for businesses.
Pros of Supermetrics:
Wide platform support: Supermetrics covers many marketing and sales platforms, ensuring compatibility with most tools marketers use.
Enhanced insights: Combiningmany data from multiple sources provides deeper insights into marketing performance.
Global user base: Supermetrics' popularity and global user base attest to its effectiveness and reliability.
Versatile integration: Businesses can integrate Supermetrics with various analytics, reporting, and data storage platforms, offering flexibility in data usage.
Cons of Supermetrics:
Cost: While it can save costs in the long run, Supermetrics may have subscription fees that could be a drawback for smaller businesses with limited budgets.
Learning curve: Users new to data integration tools may require some time to fully grasp its capabilities and features.
Pricing: 99 USD flat rate with free plan and free trial; subscription services available.
Supermetrics customer case studies:
Dentsu Finland facilitated client transitions to Google Analytics 4 (GA4) from Universal Analytics, sparking discussions on data strategy. Supermetrics aided in connecting GA4 with external sources, consolidating data, streamlining dashboard transfers, and managing UA data post-sunset. Crucial advice: Thorough planning is paramount for a smooth GA4 transition.
Z21 Studio, an agency emphasizing data-driven strategies, overcame manual reporting challenges with Supermetrics. Previously, they spent up to 8 hours weekly on manual report compilation, hampering growth. Supermetrics streamlined data collection, allowing automation and customized reporting for both internal and external purposes. This improved collaboration between client and data teams, enhancing campaign optimization and creative testing.
Companies that use Supermetrics:
Dyson
Dentsu
Accenture
iProspect
G2 Rating: 4.3 on 5
Capterra Rating: 4.3 on 5
7. MoEngage
If you are a brand that wants to take a customer-centric approach toward marketing analytics and insights, then MoEngage is the program for you.
This clever software helps in growing customers, engaging with customers, and efficiently retaining customers.
By converting analytical data from various communication and engagement channels such as email, SMS, push notifications from mobile or website, app, website, and social media channels, this software can help in creating business analytical reports that help in driving customer growth, better reach and better ROI on marketing spends.
Key features of MoEngage:
Omnichannel engagement: MoEngage offers a comprehensive suite of communication channels, including push notifications, email, social media, messaging platforms (e.g., WhatsApp), website banners, and mobile in-app messages, allowing marketers to engage customers across multiple touchpoints.
Customer, journey, and campaign analytics: Marketers and product owners can map customer journeys, gain insights into behavior, preferences, and interests, and view unified customer profiles for data-driven decision-making.
Advanced segmentation and personalization: MoEngage provides multiple layers of personalization, such as attributes, preferences, behavior, and customer journey data, enabling tailored communications and enhanced customer experiences.
Accurate predictions: Leveraging proprietary AI and ML algorithms, MoEngage predicts customer actions, optimal communication timing, and the most effective channels, optimizing return on investment (ROI).
Why MoEngage is the best:
Trusted by global brands: MoEngage serves over 1,200 global consumer brands, including major names like Samsung, Domino's, and Nestle, highlighting its credibility and effectiveness.
Extensive reach: MoEngage reaches over 1.2 billion customers monthly and sends 3.2 billion daily messages, emphasizing its scalability and ability to handle large-scale operations.
Recognition by industry analysts: MoEngage received recognition as a Customers' Choice Vendor in the 2022 Gartner Peer Insights 'Voice of the Customer' report and was acknowledged as a Strong Performer in the Forrester Wave™: Cross-Channel Marketing Hubs, Q1 2023 Evaluation.
Pros of MoEngage:
Comprehensive analytics: Robust analytics tools empower users to gain deep insights into customer behavior and campaign performance.
Advanced personalization: Multiple layers of personalization help in creating highly relevant and engaging content for customers.
Predictive capabilities: AI and ML-driven predictions enhance the effectiveness of marketing campaigns.
Cons of MoEngage:
Complexity: The wide range of features and capabilities might overwhelm small businesses with limited resources.
Cost: Depending on usage and requirements, MoEngage's pricing can be relatively high for some businesses, especially startups.
Pricing: Free plan available. Premium custom plans can be designed and negotiated based on business requirements.
MoEngage customer case Studies:
OYO Rooms, facing low delivery rates for Xiaomi devices, turned to MoEngage's Push Amplification™ Plus and personalized messaging. Results include a 44% improvement in delivery rates for Xiaomi devices, 15% boost through Push Amplification™ Plus, doubled CTRs with personalized notifications, and a 25% overall push notifications campaign improvement. MoEngage's dynamic messaging and smart push notifications strategy significantly enhanced OYO's customer engagement.
Mamaearth shifted its focus from customer acquisition to retention due to limited data access and rising customer acquisition costs. MoEngage's Push Amplification® Plus technology significantly increased delivery rates by 219%. Implementing personalized push notifications and "post-purchase journeys" led to a 26% increase in repeat customers, with notable improvements in clickthrough rates, including a 90% increase for stylized push notifications.
Companies using MoEngage:
G2 Rating: 4.5 on 5
Capterra Rating: 4.3 on 5
8. CallRail
If you have a product or service-based business that takes in and makes a lot of business calls to connect and engage with customers as a form to grow customers, then CallRail is for you.
CallRail is driven by intelligent AI technology that helps in better conversation by transcribing calls, understanding caller patterns, segmenting customers based on where the lead has been generated, and helping in acquiring, identifying, growing, and converting more customers.
Key features of CallRail:
Call tracking: CallRail provides comprehensive call tracking capabilities, allowing businesses to monitor call volume, trends, and patterns, enabling better decision-making.
Marketing ROI analysis: Users can link inbound calls to specific marketing campaigns, helping to assess the effectiveness of various marketing initiatives and optimize budget allocation.
Customized call routing: CallRail offers a flexible call routing system that ensures callers are directed to the right departments or agents based on their needs, improving customer experience.
Call recording: The platform allows users to record calls, providing valuable insights into team performance and helping address customer service issues effectively.
Why is CallRail the best:
CallRail stands out as a comprehensive call tracking and analytics solution that not only helps businesses understand the source and quality of their leads but also offers features like call recording, customized call routing, and response time optimization.
It bridges the gap between marketing and customer service, enabling users to maximize their marketing ROI and enhance customer experience.
Pros of CallRail:
Data-driven decision-making: CallRail provides valuable data on call sources, campaign effectiveness, and customer interactions, empowering businesses to make informed decisions.
Improved marketing ROI: By tracking calls to specific marketing efforts, CallRail helps users identify successful campaigns and allocate resources more efficiently.
Enhanced customer experience: Customized call routing and prompt response times improve customer service and satisfaction.
Comprehensive insights: Call recording and performance analytics enable businesses to identify areas for improvement and employee training.
Cost savings: Identifying high-ROI marketing channels and optimizing lead response can lead to significant cost savings.
Cons of CallRail:
Learning curve: Users may need time to grasp the platform's features and capabilities fully.
Pricing: Starts at 40 USD per month to 130 USD per month. Free trial available.
CallRail customer case studies:
Black Tie Movers faced high costs and complexity with its call tracking provider. Agile and Co. collaborated with CallRail to streamline call tracking, reducing costs by $40,000. They also integrated AI-powered Conversation Intelligence for real-time insights, improved hiring decisions, and increased conversion rates, ultimately optimizing their operations and marketing strategies.
Top Notch Garage Door, a company servicing up to 45 houses daily, relies on CallRail for tracking calls and improving customer service. With Conversation Intelligence®, they analyze calls, enhance staff coaching, and focus on providing quality service at fair prices while aiming for continuous growth and customer satisfaction.
Companies that use CallRail:
Above the bar
Adria Marble
ClimatePro
Cornerstone foot care
G2 Rating: 4.6 on 5
Capterra Rating: 4.5 on 5
9. Google Cloud BigQuery
Google Cloud's BigQuery offers an insightful and advanced software called the Omni, a multi-cloud analytics solution.
If you are a business that operates on multiple cloud networks, then the serverless Google Cloud BigQuery is the tool for you. It can access data across multiple cloud networks without data movement.
Key features of Google Cloud BigQuery:
Serverless architecture: BigQuery operates as a serverless data warehouse, eliminating the need for infrastructure management and allowing users to focus on data analytics.
Data integration: BigQuery simplifies data integration, making it easier to work with diverse data sources and formats.
Scalability: Cost-effective and secure scaling of analytics is supported, enabling organizations to handle large datasets efficiently.
Built-in business intelligence: It offers built-in features for sharing rich data experiences and insights with stakeholders.
Machine learning integration: Users can easily train and deploy machine learning models using a simple SQL interface, enhancing data-driven decision-making.
Why is BigQuery the best:
Simplified data analytics: BigQuery simplifies the data analytics process, making it accessible to a broader range of users, including those without extensive technical expertise.
Multi-cloud support: Its multi-cloud capabilities provide flexibility and compatibility with various cloud providers, avoiding vendor lock-in.
Integration with Google's data cloud: BigQuery is part of Google's Data Cloud, offering a comprehensive ecosystem for data management and analysis.
Machine learning integration: The integration of machine learning capabilities within a familiar SQL interface empowers organizations to harness the power of AI effortlessly.
Pros of Google Cloud BigQuery:
Serverless: No need for infrastructure management, reducing operational overhead.
High performance: BigQuery offers exceptional query performance, even with massive datasets.
Security: Google's robust security measures are applied to data stored and processed in BigQuery.
Cost-effective: Users pay only for the queries and storage they use, optimizing costs.
Cons of Google Cloud BigQuery:
Learning curve: Advanced features may require some learning for users new to the platform.
Cost management: Without proper monitoring, costs can escalate quickly for extensive use.
Pricing: 2000 USD flat rate. Free trial available. The free plan includes 10 GB of data and 1 TB for queries.
Google Cloud BigQuery customer case studies:
Arabesque AI, a financial technology firm, leverages proprietary AI to predict financial markets and create customizable investment strategies. By migrating to Google Cloud, they achieved scalability, streamlined infrastructure management, and reduced server costs by approximately 75%. Google Kubernetes Engine (GKE), Cloud Run, and BigQuery play pivotal roles in their operations, allowing more focus on research and rapid platform improvement.
Berlin-based music company BMG, a subsidiary of Bertelsmann, manages royalty payments for artists in the digital music era. To handle the growing data volume, BMG migrated to Google Cloud, relying on Dataproc and BigQuery for royalty calculations and reporting. The move has streamlined workflows, empowered teams with self-serve analytics, and allowed BMG to focus on app development and feature enhancements. BMG plans to leverage machine learning with AutoML and advanced analytics for promotional campaigns, increasing profits for artists while maintaining strong client relationships.
Companies that use Google Cloud BigQuery:
Wayfair, Inc
Major league baseball
StubHub
Tchibo
G2 Rating: 4.5 on 5
Capterra Rating: 4.8 on 5
10. Singular
Singular is one of the most powerful cost aggregation and ROI analysis software that helps businesses in analyzing their business spends to attract and retain customers.
Singular helps in analyzing data over various platforms of the business that interacts with customers such as SMS, email, website, apps and forms.
Key features of Singular:
Full user lifecycle tracking: The platform captures the entire user journey, allowing for reporting on both user acquisition and re-engagement across various platforms. It supports deep links, web-to-app tracking, and cross-device attribution.
Best-in-class fraud prevention: Singular offers robust fraud prevention capabilities to protect ad budgets from wasteful spending. It employs multiple detection methods and pre-attribution fraud rejection to ensure accurate reporting.
Streamlined data integration: Marketers can easily load attribution, ad spend, creative data, bids, and ad monetization data directly into popular data warehousing solutions like Redshift, Snowflake, and BigQuery for analysis.
Trusted by industry leaders: Singular is trusted by some of the world's biggest mobile app publishers, including Lyft, Twitter, Rovio, King, and LinkedIn, demonstrating its effectiveness and reliability in the industry.
Why is Singular the best:
Comprehensive marketing ROI: Singular provides a complete view of marketing ROI by offering cross-channel measurement, advanced ROI analysis, and full user lifecycle tracking. This depth of insight empowers marketers to make data-driven decisions.
Integration flexibility: Singular's open integration framework allows seamless integration with various marketing channels and data warehousing solutions, simplifying data management and analysis.
Pros of Singular:
Offers a complete view of marketing ROI across multiple channels.
Granular data analysis allows for precise optimization of marketing campaigns.
Robust fraud prevention ensures ad budgets are protected.
Seamless integration with popular data warehousing solutions.
Trusted by prominent mobile app publishers in the industry.
Cons of Singular:
Pricing information is not provided, making it difficult to assess cost-effectiveness.
Some users may find the platform's advanced features challenging to navigate without adequate training or experience.
Pricing: Free plan available. Free demo available. Premium plans 'growth' and 'enterprise' can be custom-created and negotiated for pricing based on requirements.
Singular customer case studies:
TutoTOONS, a mobile entertainment company for kids' games, faced challenges in hypergrowth, privacy compliance, and user acquisition. They chose Singular as their Mobile Measurement Partner for its all-in-one solution, collaboration on COPPA compliance, and excellent support. With Singular, TutoTOONS achieved an 80% increase in ad spend and 900% growth in new users within eight months. They continue to plan future strategies with Singular's assistance.
Lessmore, a mobile game studio, wanted to boost in-app purchases for their game Eatventure while maintaining ad revenue. Partnering with Moloco and leveraging Singular's data integration, they achieved a significant increase in daily budget scale, exceeding their D7 ROAS goal by 80%. This collaboration allowed for efficient optimization and growth within just two weeks, a notable achievement in the industry.
Companies that use Singular:
Oyo
KukuFM
A thinking ape
Hothead Games
G2 Rating: 4.4 on 5
Capterra Rating: 4.6 on 5
Conclusion
Marketing is an integral part of all brands, and a marketing team's job is to familiarize and popularize the brand's products and services in the market. The marketing team has to employ a range of techniques to achieve this.
Marketing softwares and tools such as marketing analytics tools and marketing communication tools such as digital media, social media, etc, are tools used to improve brand familiarity and reach.
Using the marketing analytics software listed above, companies and brands of all sizes and types can understand how their marketing efforts are panning out and what new measures can be taken appropriately.
Using the insights from the marketing analytics software, the top management can make informed decisions at all stages of marketing and sales.
---