LinkedIn headlines are your virtual first impression, and making them count is crucial in today's professional landscape. In this comprehensive guide, we present 100 LinkedIn headline examples that are carefully crafted to drive profile engagement and ensure you stand out from the crowd.
Whether you're a job seeker, a seasoned industry expert, or a recent graduate, these examples will help you create a headline that gets noticed and opens doors to exciting opportunities.
Let's get started and explore some of the best Linkedin headline examples.
What is a LinkedIn headline?
A LinkedIn headline is a brief, descriptive statement located right below your name on your LinkedIn profile. It's one of the first things people see when they visit your profile and is used to convey your professional identity.
How to write a LinkedIn profile headline?
A good LinkedIn headline follows the below best practices:

Be clear and concise: Your headline should quickly communicate who you are and what you do. Keep it concise and avoid using jargon or overly complex language.
Highlight your value: Focus on the value you bring to your industry or profession. What skills, expertise, or accomplishments make you unique? Showcase what sets you apart from others in your field.
Use keywords: Incorporate relevant keywords related to your industry, job function, and skills. This can help your profile appear in search results when others are looking for specific expertise.
Mention your current role: If you're currently employed, include your current job title and the company you work for. This provides context and credibility.
Customize for your goals: Tailor your headline to align with your career goals. If you're seeking a new job, emphasize your relevant skills and career aspirations. If you're networking, focus on your areas of expertise.
Show personality: Don't be afraid to inject some personality into your headline. This can make you more relatable and memorable. However, maintain a professional tone.
Avoid overused buzzwords: Stay away from generic buzzwords like "results-driven," "dynamic," or "motivated." These terms are overused and don't provide specific information about you.
Include certifications or awards: If you have notable certifications or awards relevant to your field, consider including them in your headline to enhance your credibility.
Highlight industry specializations: If you have specialized knowledge or experience within a particular niche or industry, mention it in your headline.
Test and update: Your LinkedIn headline is not set in stone. You can experiment with different versions to see what works best and update it as your career evolves.
Examples of effective LinkedIn headlines are:
"Digital Marketing Strategist | Helping Brands Grow Online"
"Data Scientist | Machine Learning Enthusiast | AI Researcher"
"Project Manager | Delivering On-Time and On-Budget Solutions"
"Experienced Software Engineer | Passionate about Cloud Technologies"
"Award-Winning Graphic Designer | Transforming Ideas into Visual Masterpieces"
"HR Professional | Employee Engagement Expert | Diversity & Inclusion Advocate"
Remember that your LinkedIn headline is a dynamic tool that should evolve with your career. Regularly review and update it to reflect your current goals and accomplishments. A well-crafted headline can make a significant difference in how others perceive and engage with your LinkedIn profile.
LinkedIn profile headline examples
Here are 5 LinkedIn prifikle headline examples that you must look at to take inspiration
1. "Helping smart managers keep their employees productive and engaged"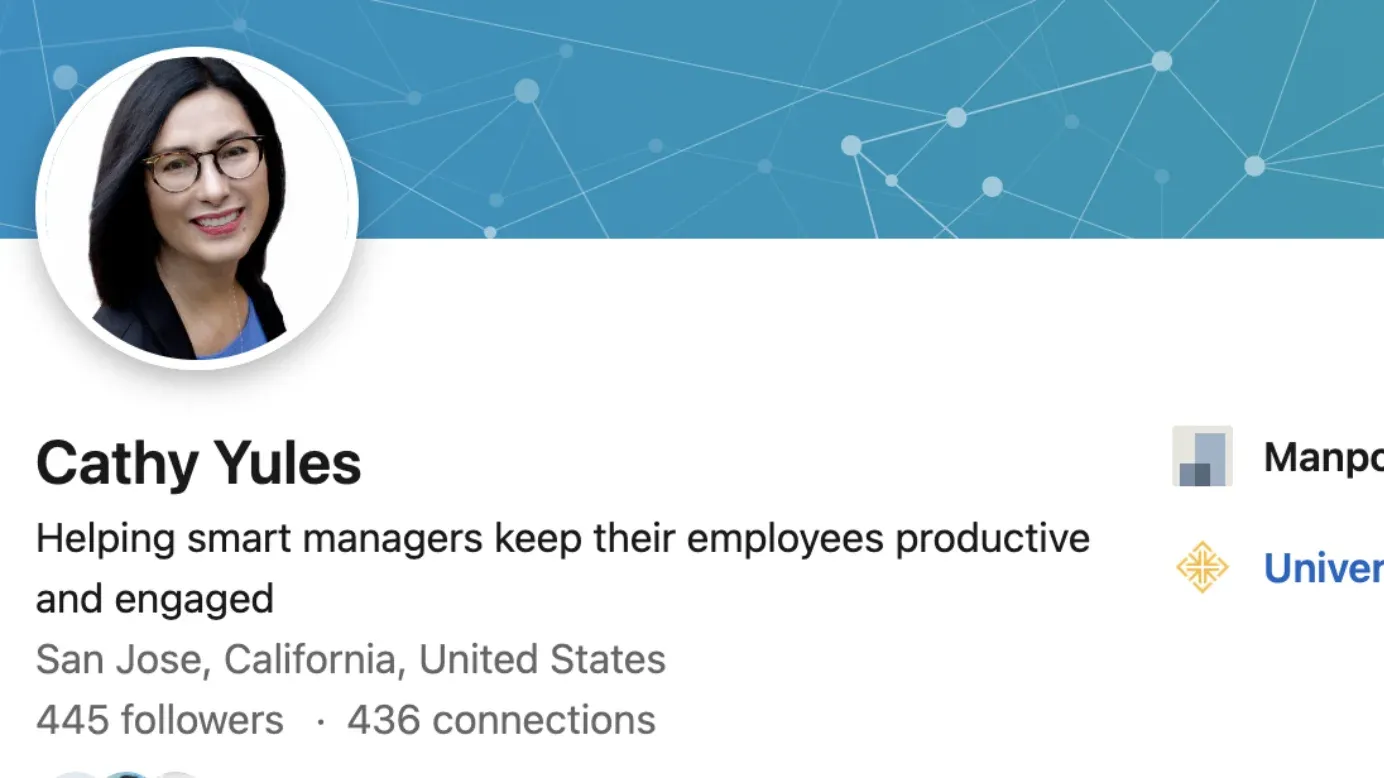 Cathy Yules headline explicitly identifies the target audience as managers and elaborates on the value they bring to both the manager and the manager's employees.
2. VP, global head of people / Mogul top 100 DEI leaders / jumpstart 100 remarkable women in HR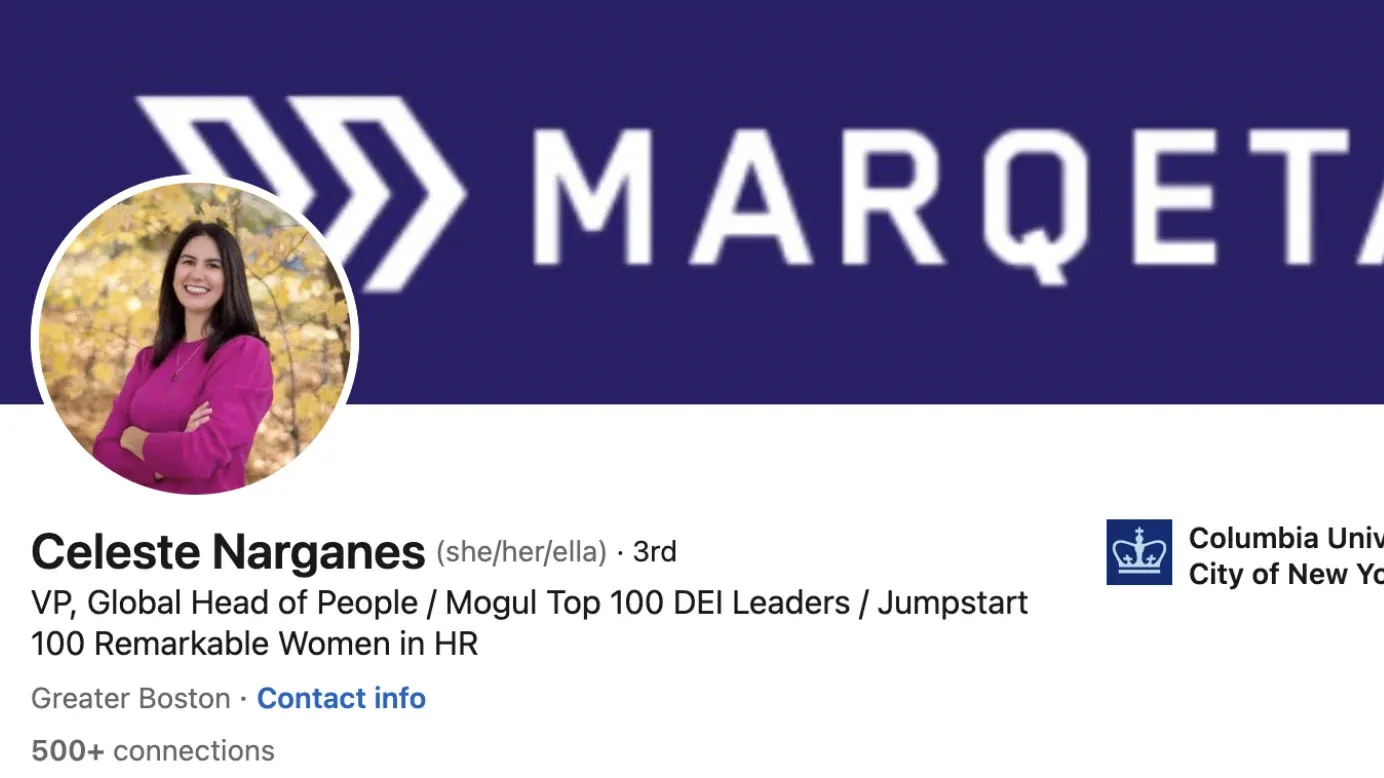 Celeste Narganes' LinkedIn headline features accolades and honors from prominent organizations that endorse her qualifications, expertise, and capabilities, conveying to LinkedIn users that her skills are poised to assist in achieving their objectives.
3. Empowering talent acquisition leaders to achieve higher ROI on heir diversity & Inclusion hiring strategies|author|coach|consultant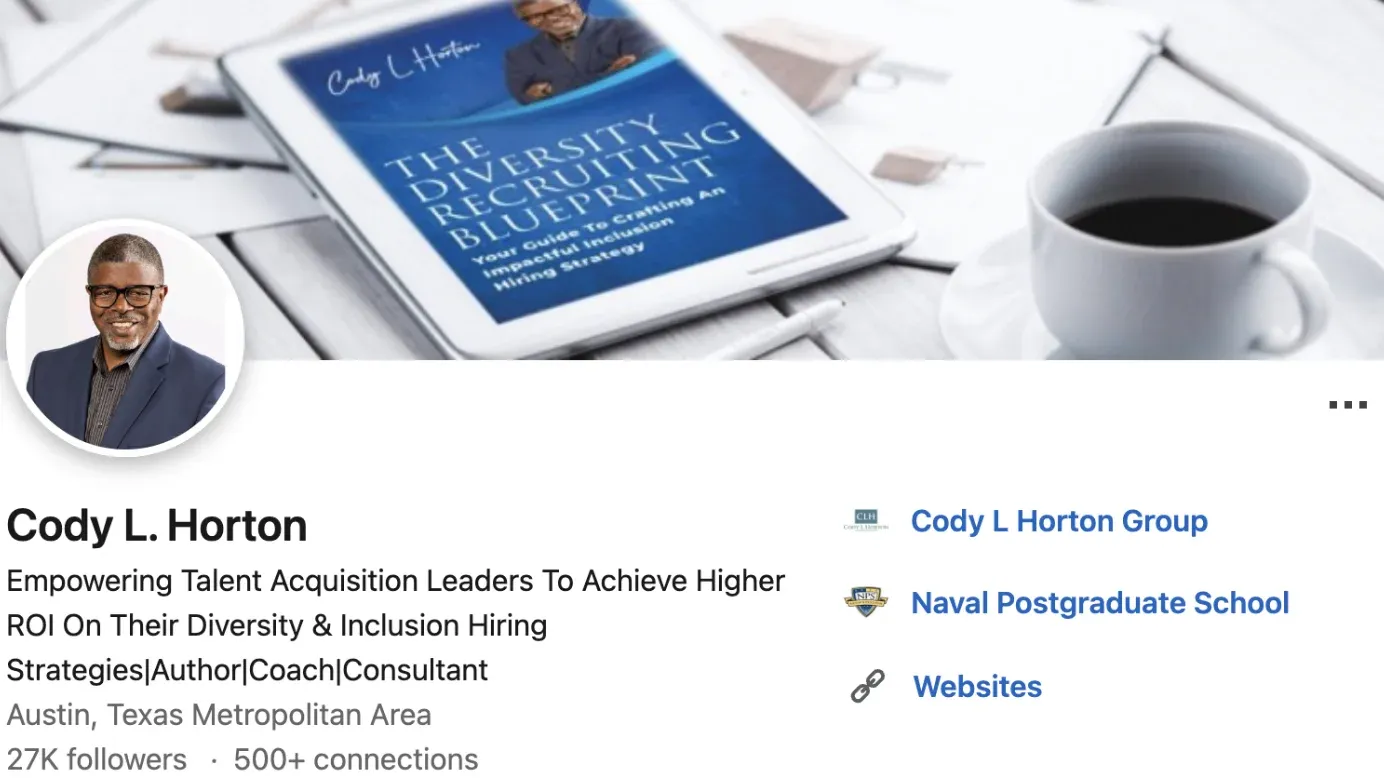 Talent professionals have the power to transform lives, and Cody Horton, the Managing Director of Global Diversity Recruiting at Diverse Recruiting Experts, approaches his role uniquely. In his headline, he emphasizes his dedication to 'Empowering People to Transform Their Lives.'
By shifting the spotlight from himself to the candidates, Cody distinguishes his profile from others. His statement piques curiosity, leaving you intrigued about how he can assist in transforming your life—making a compelling case for connecting with him.
4. Talent director | Ex-DoorDash, Airbnb, Booking.com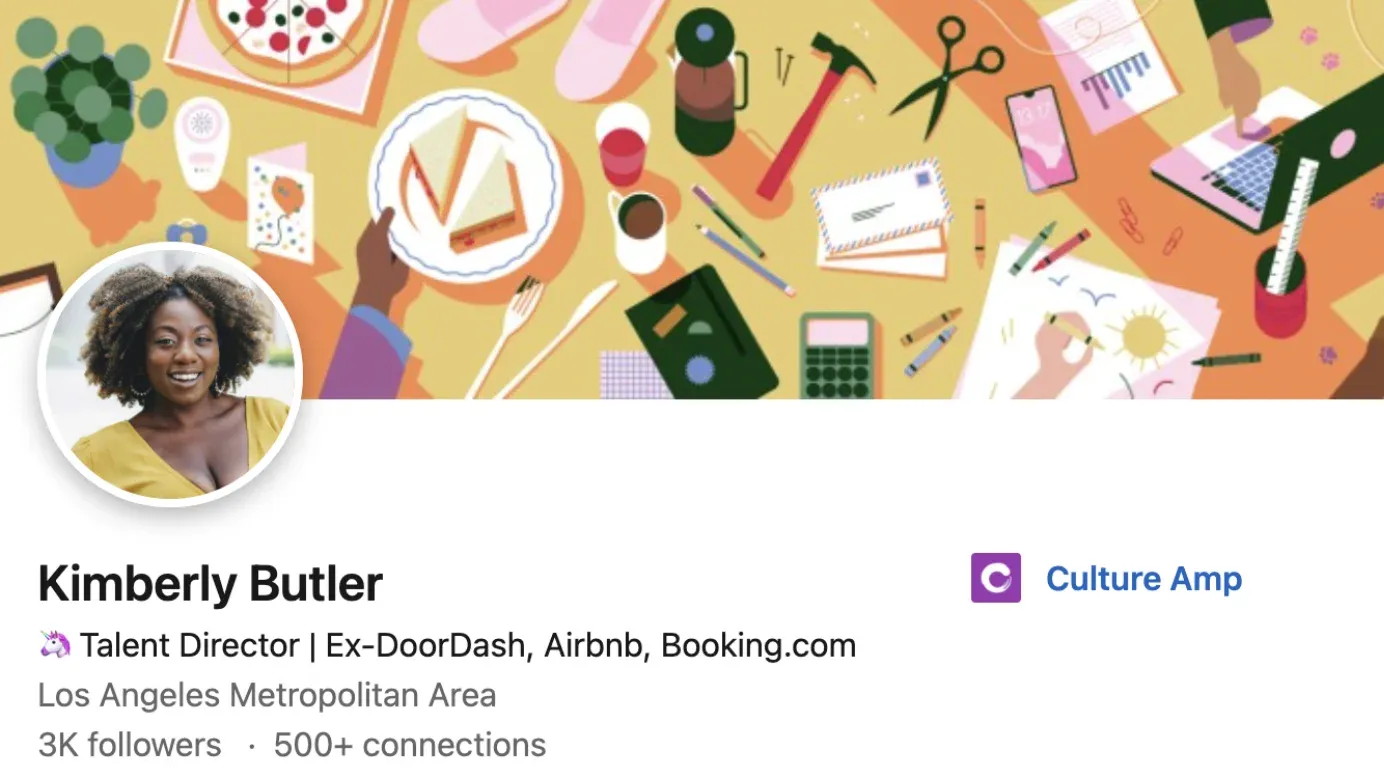 Many recruiters frequently reference 'unicorns' and 'purple squirrels' in their LinkedIn profiles to showcase their ability to secure elusive and ideal hires. Kimberly Butler, a Foundations Recruiter at Airbnb, adds her unique touch to this narrative through her headline. She not only declares herself a 'Unicorn Hunter' but also a 'Career Match-Maker.'
The brilliance of this headline lies in its illustration of her dual role in assisting both companies and candidates. While she actively seeks the coveted unicorn that every company desires, she is equally committed to aiding candidates in discovering careers that are an impeccable match.
5. I don't usually stalk profiles, but when I do I probably have a career opportunity for you. Let's find out!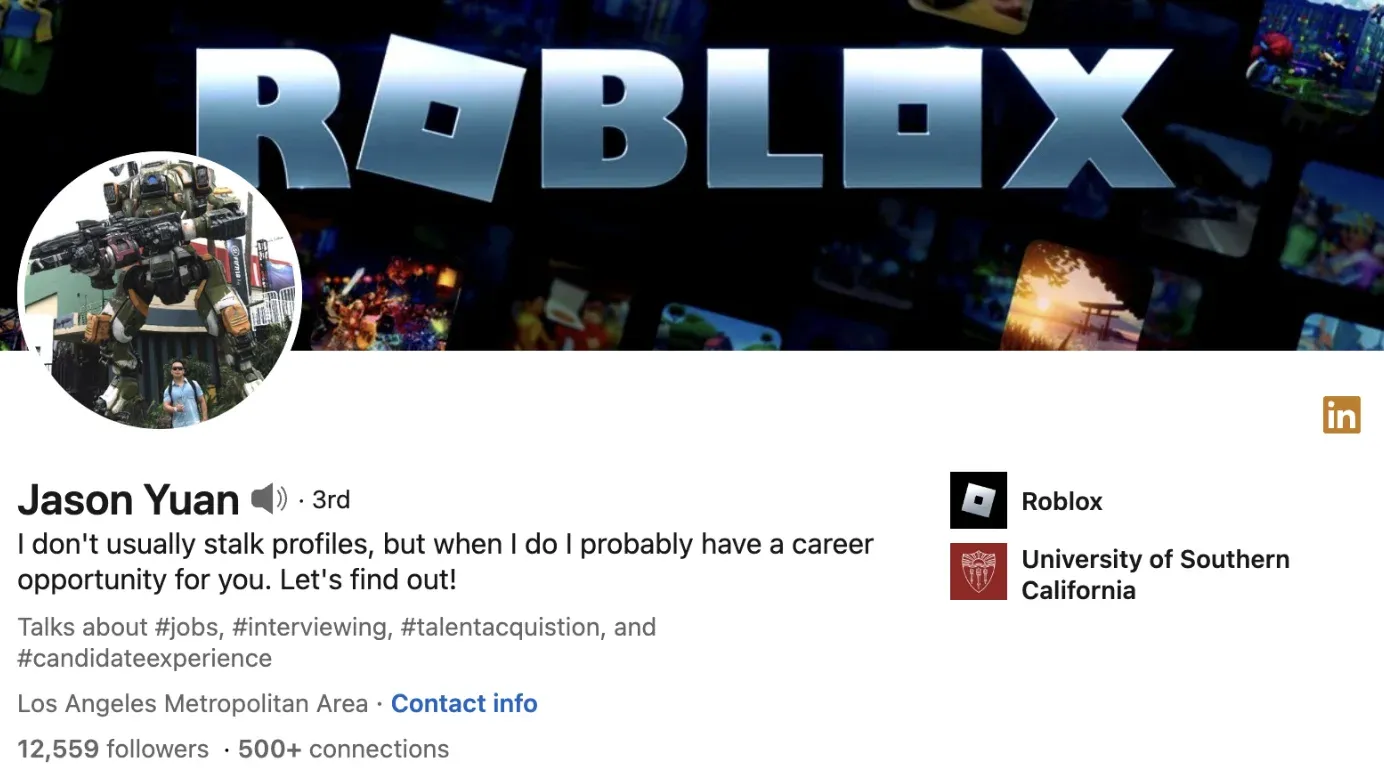 Jason Yuan, who is a relentless talent scout at Electronic Arts, presents a confident message in his headline: "I typically don't browse profiles, but when I do, I likely have a career opportunity for you."
With this concise statement, he instantly captures the attention of potential candidates, inviting them to initiate contact with an open-ended invitation: "Interested in connecting?"
100 LinkedIn headline examples
Here are 100 LinkedIn headline examples for different personas to supercharge your professional profile.
10 LinkedIn headline examples for sales professional
"Sales Director | Driving Revenue Growth and Building High-Performance Teams"
"Sales Specialist | Expert in B2B Sales Strategies and Client Relationship Management"
"Sales Executive | Closing Deals and Nurturing Key Accounts for Success"
"Sales Leader | Transforming Prospects into Loyal Customers"
"Sales Consultant | Providing Tailored Solutions to Drive Business Success"
"Sales Manager | Accelerating Sales Cycles and Achieving Targets"
"Sales Champion | Passionate about Exceeding Sales Goals and Delighting Clients"
"Business Development Manager | Expanding Market Reach and Increasing Profitability"
"Account Executive | Delivering Value and Winning Customer Loyalty"
"Sales and Marketing Strategist | Bridging Sales and Marketing for Business Growth"
10 LinkedIn headline examples for digital marketing specialist
"Digital Marketing Strategist | Crafting ROI-Driven Campaigns for Brands"
"SEO and SEM Expert | Boosting Online Visibility and Conversions"
"Content Marketing Pro | Engaging Audiences with Compelling Content"
"Social Media Maven | Driving Engagement and Building Brand Communities"
"Data-Driven Marketer | Leveraging Analytics for Smart Marketing Decisions"
"Email Marketing Specialist | Nurturing Leads and Enhancing Customer Journeys"
"PPC Guru | Maximizing Ad Campaign Performance for Businesses"
"Inbound Marketing Champion | Attracting, Converting, and Delighting Customers"
"E-commerce Marketing Whiz | Optimizing Online Sales and Customer Experience"
"Digital Advertising Enthusiast | Creating Impactful Ads That Convert"
10 LinkedIn headline examples for industry expert / thought leader
"Industry Thought Leader | Shaping the Future of [Your Industry]"
"Innovation Evangelist | Pioneering Change in [Your Industry]"
"Strategic Advisor | Guiding Businesses with Expert Industry Insights"
"Industry Analyst | Providing In-Depth Analysis and Trends Forecasting"
"Subject Matter Expert | Sharing Knowledge to Inspire Industry Growth"
"Disruptor in [Your Industry] | Leading Transformation and Innovation"
"Trailblazer in [Your Industry] | Defining New Standards and Best Practices"
"Thought Provoker | Provoking Thought and Dialogue in [Your Industry]"
"Industry Futurist | Anticipating Trends and Navigating Change"
"Change Agent | Driving Industry Progress through Bold Ideas"
10 LinkedIn headline examples for job seeker
"Passionate Job Seeker | Eager to Contribute My Skills and Experience"
"Results-Driven Professional Seeking New Opportunities"
"Job Seeker in [Your Field] | Ready to Tackle New Challenges"
"Open to New Opportunities | [Your Skills and Expertise]"
"Seeking [Job Title] Roles | Experienced in [Your Industry]"
"Talent in Transition | Exploring Career Opportunities"
"Proactive Job Seeker | Adaptable and Ready to Excel"
"Job Hunting | [Your Industry] Professional with a Strong Track Record"
"Aspiring [Job Title] | Ready to Make an Impact"
"Eager Job Seeker | Committed to Professional Growth and Success"
10 LinkedIn headline examples for freelance writer
"Freelance Writer | Crafting Compelling Content for Diverse Audiences"
"Content Creator | Turning Ideas into Engaging Narratives"
"Wordsmith for Hire | Bringing Brands to Life through Words"
"Creative Content Writer | Transforming Concepts into Captivating Stories"
"Blogging Expert | Sharing Insights and Stories That Connect"
"Freelance Copywriter | Capturing Brand Voice and Storytelling"
"Content Marketing Specialist | Building Brands with Persuasive Words"
"Freelancer for Hire | Translating Ideas into Persuasive Content"
"Digital Wordsmith | Transforming Complex Ideas into Readable Content"
"Creative Writer for Brands | Telling Stories That Resonate"
10 LinkedIn headline examples for financial analyst
"Financial Analyst | Analyzing Markets for Informed Investment Decisions"
"CFA Candidate | Bridging Financial Strategy with Business Growth"
"Risk Management Specialist | Mitigating Financial Uncertainties"
"Financial Modeling Expert | Turning Data into Strategic Insights"
"Investment Analyst | Identifying Opportunities for Portfolio Growth"
"Quantitative Analyst | Leveraging Data for Profitable Strategies"
"Financial Planner | Creating Wealth Management Solutions"
"Market Researcher | Providing Key Insights for Informed Decisions"
"Financial Strategist | Optimizing Financial Resources for Success"
"Asset Management Professional | Maximizing Returns and Minimizing Risk"
10 LinkedIn headline examples for graphic designer
"Graphic Designer | Creating Visual Magic for Brands"
"UI/UX Designer | Crafting Intuitive and Beautiful User Experiences"
"Visual Artist | Transforming Ideas into Stunning Visuals"
"Creative Designer | Bringing Concepts to Life through Design"
"Illustrator and Designer | Turning Ideas into Visual Masterpieces"
"Brand Identity Creator | Shaping Unique Visual Identities"
"Digital Design Specialist | Merging Art and Technology for Impact"
"Motion Graphics Designer | Adding Motion to Visual Stories"
"Packaging Designer | Enhancing Product Appeal through Design"
"Visual Storyteller | Captivating Audiences through Visual Communication"
10 LinkedIn headline examples for nonprofit professional
"Nonprofit Leader | Driving Social Change and Impact"
"Fundraising Specialist | Mobilizing Resources for Good Causes"
"Nonprofit Advocate | Committed to Community Empowerment"
"Social Impact Strategist | Transforming Lives through Philanthropy"
"Nonprofit Program Manager | Creating Sustainable Solutions"
"Development Director | Fundraising for a Better World"
"Community Organizer | Building Stronger, More Resilient Communities"
"Passionate Changemaker | Championing Causes that Matter"
"Nonprofit Innovator | Leading Initiatives for Positive Change"
"Mission-Driven Professional | Making a Difference Every Day"
10 LinkedIn headline examples for healthcare professional
"Medical Doctor | Dedicated to Improving Lives through Healthcare"
"Registered Nurse | Providing Compassionate Patient-Centered Care"
"Healthcare Administrator | Enhancing Healthcare Delivery Systems"
"Medical Specialist | Focused on Disease Prevention and Treatment"
"Patient Advocate | Ensuring Quality Healthcare Access for All"
"Public Health Expert | Shaping Health Policies for a Safer World"
"Healthcare Educator | Empowering the Next Generation of Professionals"
"Healthcare Strategist | Driving Efficiency and Excellence in Care"
"Clinical Researcher | Advancing Medical Knowledge through Research"
"Telehealth Innovator | Expanding Access to Healthcare Services"
10 LinkedIn headline examples for product marketer
"Product Marketing Manager | Bridging Products and Customer Needs"
"Product Launch Specialist | Turning Ideas into Market Success"
"Strategic Product Marketer | Driving Revenue Growth through Innovation"
"B2B Product Marketing Expert | Creating Value for Businesses"
"Product Evangelist | Promoting Products with Passion and Purpose"
"Market-Driven Product Manager | Navigating Competitive Landscapes"
"UX/Product Designer | Crafting User-Centric Experiences for Products"
"Product Messaging Guru | Articulating Product Value with Impact"
"Data-Driven Product Marketer | Leveraging Insights for Success"
"E-commerce Product Strategist | Optimizing Online Shopping Experiences"
These LinkedIn headline examples can help professionals in various fields create an attention-grabbing and informative profile headline. Remember to tailor your headline to your specific skills, experiences, and career goals to make the best impression on potential employers or connections.
Conclusion
Your LinkedIn headline is a powerful tool for making a memorable impact on your profile visitors. With these 100 headline examples at your disposal, you can now craft a standout introduction that reflects your professional brand and goals.
Don't underestimate the influence of those few words beneath your name; they can be the key to profile engagement, networking success, and career advancement.
Choose your headline wisely, and let it be your gateway to new opportunities in the professional world.
FAQs: LinkedIn headline
Here are some frequently asked questions about LinkedIn headline.
Why is a LinkedIn headline important?
Your LinkedIn headline is crucial because it provides a quick snapshot of your professional identity and can help you make a positive first impression on potential employers, colleagues, or connections. It also impacts your visibility in LinkedIn searches.
How long should my LinkedIn headline be?
LinkedIn headlines have a limit of 220 characters. While you don't have to use the entire space, it's essential to keep your headline concise and focused.
Should I include my current job title in my LinkedIn headline?
It's generally a good practice to include your current job title and company in your headline, as it provides context and credibility. However, you can also choose to emphasize your skills, expertise, or career goals if they are more relevant.
Can I change my LinkedIn headline?
Yes, you can change your LinkedIn headline at any time. In fact, it's a good idea to update it periodically to reflect changes in your career, skills, or goals.
What should I include in my LinkedIn headline?
Your LinkedIn headline should include information that communicates your professional identity and value. This may include your job title, skills, industry, achievements, or aspirations.
How can I make my LinkedIn headline stand out?
To make your headline stand out, be specific about your skills and achievements, use keywords related to your field, and showcase what makes you unique. Avoid generic buzzwords and consider adding a touch of personality.
Is it okay to use humor or creativity in my LinkedIn headline?
Yes, using humor or creativity in your LinkedIn headline can be effective if it aligns with your personal brand and industry. Just ensure that it remains professional and doesn't detract from your credibility.
Should I tailor my LinkedIn headline for different job searches or networking purposes?
Yes, it's a good idea to tailor your LinkedIn headline based on your goals. If you're job hunting, focus on your relevant skills and career aspirations. For networking, highlight your expertise and areas of interest.
Can I include certifications or awards in my LinkedIn headline?
Yes, you can include certifications or awards in your LinkedIn headline to enhance your credibility and showcase your accomplishments.
---