7 Most Popular Offbeat Hill Stations Near Chennai!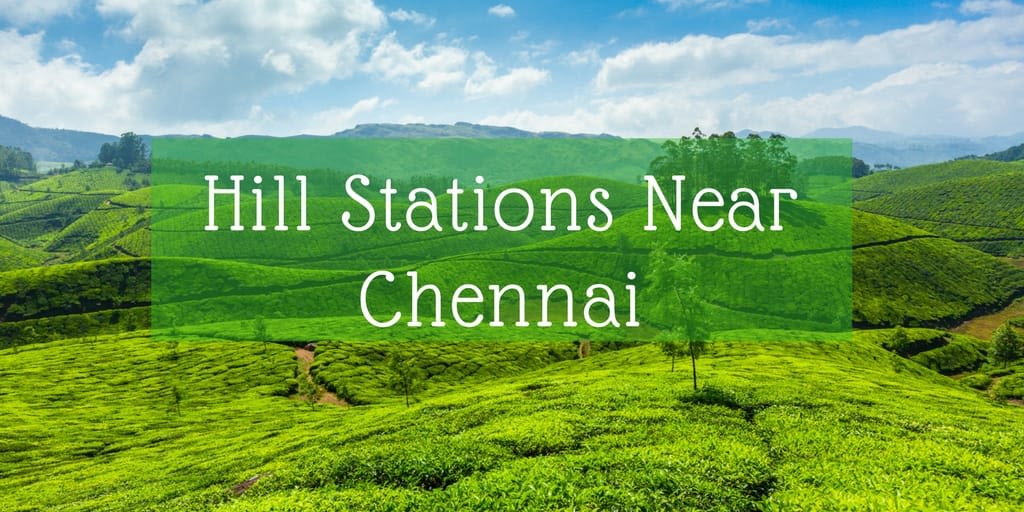 While Chennai is famous for Marina Beach, amazing nightlife and some classic heritage structures, that's not all that it has got. When it comes to Chennai, all we can think of is the hot-humid weather. Hence, November to February is the best season to visit Chennai. It is stunning during winters. With lush green picturesque landscapes, hill stations near Chennai will captivate you. Celebrating Christmas and New Year at an offbeat location, closer to nature has become a new trend among tourists. We have listed some of the best, yet offbeat hill stations near Chennai to visit. These will make your Christmas and new year's evening memorable.
Most Popular Hill Stations Near Chennai
Yelagiri Hills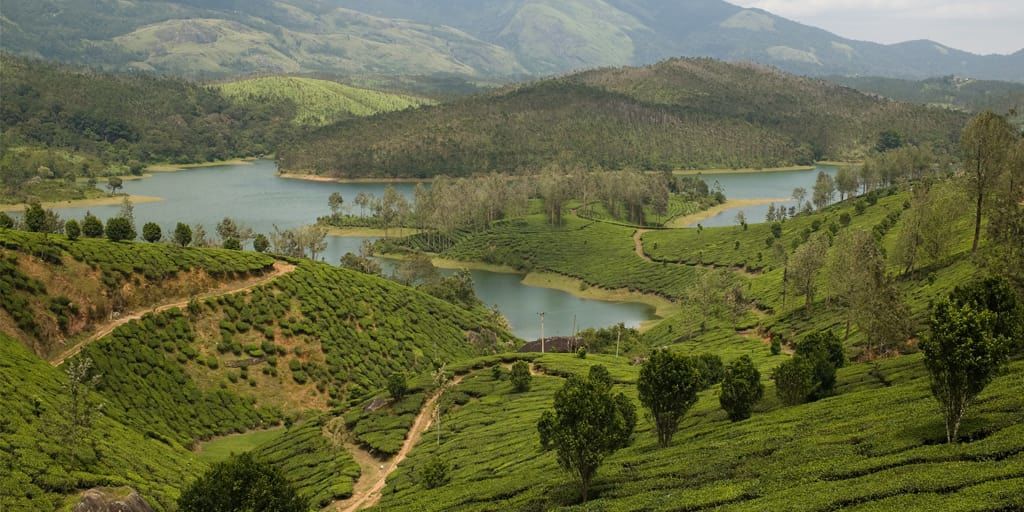 This is one of the most popular hill stations near Chennai. 230 KM away from Chennai and 180 Kms away from Bangalore, this is a hill station in Vellore district of Tamil Nadu. It shares its boundary with the towns of Jolarpettai and Vaniyambadi. This is a perfect place for a short weekend gateway from Chennai. This serene place is at an altitude of 1,110.6 meters above the Sea Level and spread across 30 square Kms.
This place was once a private property belonging to Yelagiri Zamindar family. The Government of India took it over during the early 1950s. You can still visit Yelagiri Zamindar family's ancestor's home at Reddiyur. Yelagiri often spelled and called as Elagiri, experiences rainfall even during the winters. So, if you are planning to visit this place, keep your umbrellas ready along with the sweaters and over-coats.
Yelagiri is well-known amongst trekkers. Swamimalai is the highest point in Yelagiri which stands tall at 4,338 ft. with an astonishing view. It has plenty of trekking trails leading up to the top. Being a tropical forest, it is rich in flora and fauna. Other easier trekking options are Palamathi Hills and Javadi Hills.
Another attraction at Yelagiri is the huge Punganur Lake. This man-made artificial lake is famous for boating and rowing activities. Mughal garden located near the lake that also has rides for kids. If you like seeing waterfalls, Jalagampari waterfalls on river Attaaru is a must visit for you.
Unlike most waterfalls, where you have to admire the beauty of nature from distance, you can take bath under the steady stream of water. There is no entry fee to visit the waterfall and Shiva Temple next to it. Yelagiri also houses Government Silk Farm which can be an offbeat place to visit. It is popular for Mulberry plantation and Silkworm cultivation. The staff here gives you a tour of Mulberry field. They also show you how to get the silk thread from silkworms. It is open from 6 am to 6 pm all the days.
Kolli Hills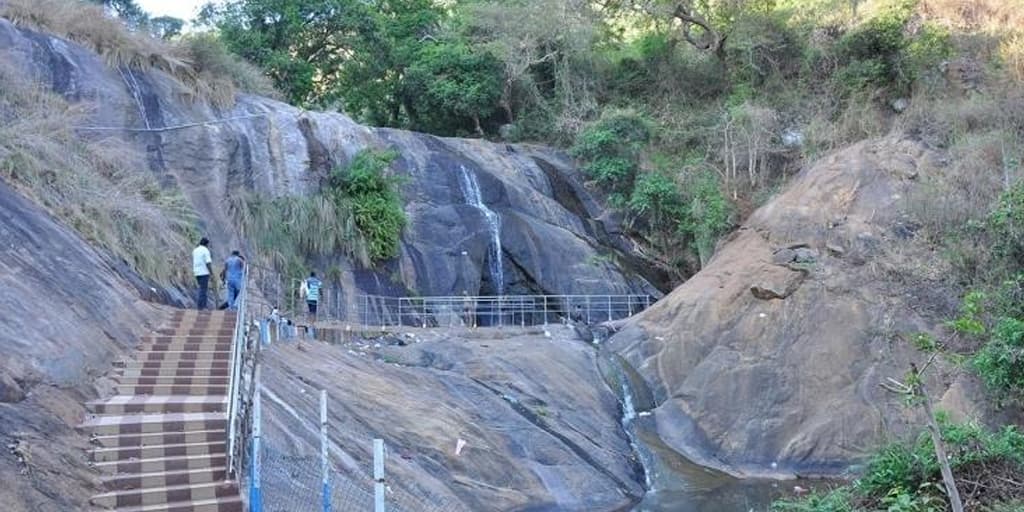 Tamilians have heard of Kolli Hills from literature masterpieces such as Manimekalai, Purananuru, Silappathigaram and Ainkurnuru. It is a group of hills in Namakkal district. Natives here pray goddess Kollipavai also called Ettukkai Amman. A legend says that sages came to Kolli hill area to perform their rituals and Kollipavai kept them safe from the demons. Often, nature lovers and trekkers visit Kolli hills. The area has a dense evergreen forest. One can find trees like coffee, tea, black pepper, pineapple and much more in this jungle. This is one of the most visited hill stations near Chennai.
Kolli Hills are often known as Kolli Malai which means 'Hills of Death'. That's because they are at an altitude of over 10,000 feet and has 70 hairpin bends that take you to the top of the hill. These hills are a part of discontinuous Eastern Ghats. There are three reserves in this area Pulianjolai, Kundur Nadu and Ariyur Solai.
One can experience a great variety of flora and fauna here. If you are fond of visiting caves, Kolli hill area has The Siddhar Caves. Locals here say that the sages used to practice their medicinal rituals here. And there is no doubting that as you can still see the caves surrounded by medicinal herbs. Some caves are so small and narrow that only one person can fit into it.
Another major attraction in this region is Agaya Gangi Waterfalls. It is close to Arapaleeswarar Temple. To reach the waterfall, one must climb more than 1200 stairs. But the view from the top is amazing. These waterfalls are never dry, not even during summers. Hence, the tribal community here considers it a form of God.
If you want to taste organic fruits, the market is the best place that offers a variety of fresh fruits. Jackfruit with raw honey is the traditional dish that you can enjoy. Do visit this hill station near Chennai to buy best quality Coffee and black paper.
Palani Hills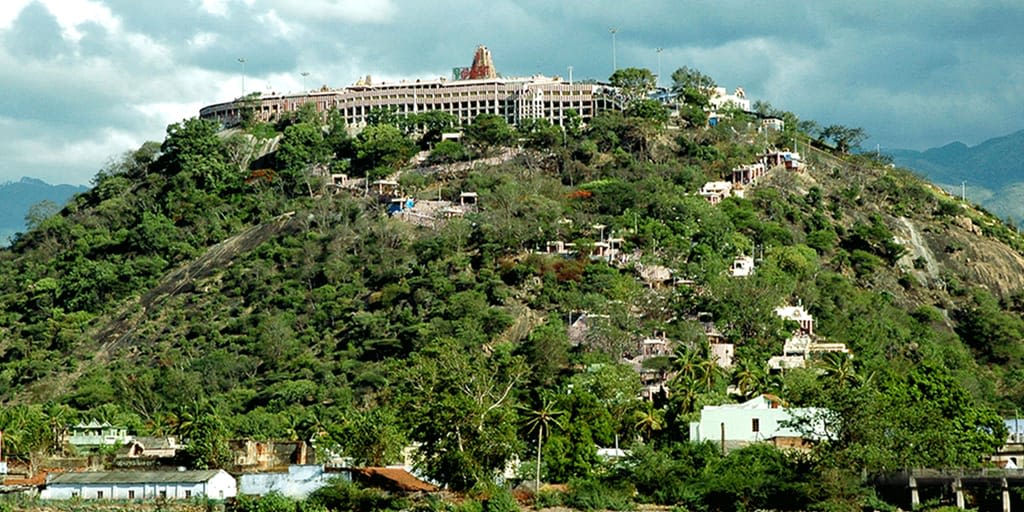 Palani Hills is in the Western Ghats and is a part of Annamalai Hills. It is 530 km. away from Chennai and the nearest railway station is Kodaikanal. Palanm Hills Wildlife Sanctuary is around the Palani Hills. This forest reserve, established by Tamil Nadu Government in 2008 is a protected zone. Palani Hills Wildlife Sanctuary and National Park are well-known for waterfalls and wildlife. Often birdwatchers visit this place too. Many Species of Reptiles, Mammals and Amphibians live in this region and depend on the rich flora and fauna in the forest area.
You can find mammals like Indian Elephant, Wild Ox, Wild Boar, Nilgiri Thar and Giant Squirrel. But tourists usually visit this sanctuary to get the glimpses of The Royal Bengal Tiger. One can find plenty of species of frogs and toads here. Most of them are specific to a tropical forest hence, are only found here in India. All the species of reptiles found here are an epidemic in the Western Ghats. Hence, a lot of herpetologists (people who study reptiles and amphibians) often visit here for study tours.
Palani is at the very end of Western Ghats. The best season to visit this place is from September to March. There are 26 waterfalls in the sanctuary that reach the length of anywhere from 20 meters to five kilometers.
The most famous waterfalls that are also a source of nourishment for the wildlife are Bear Shola Falls and Pambar Falls. Bear Shola Falls got its name as bears quench their thirst at the top of the fall. It is 40 feet tall and the water falls into a pond. It is safe to swim in with proper care, though for kids, swimming without an expert is not advisable. The place is 10 minutes' walk from the main road. The park opens at 7 am and shuts at 6 pm. You should plan a trip to this hill station near Chennai.
Kotagiri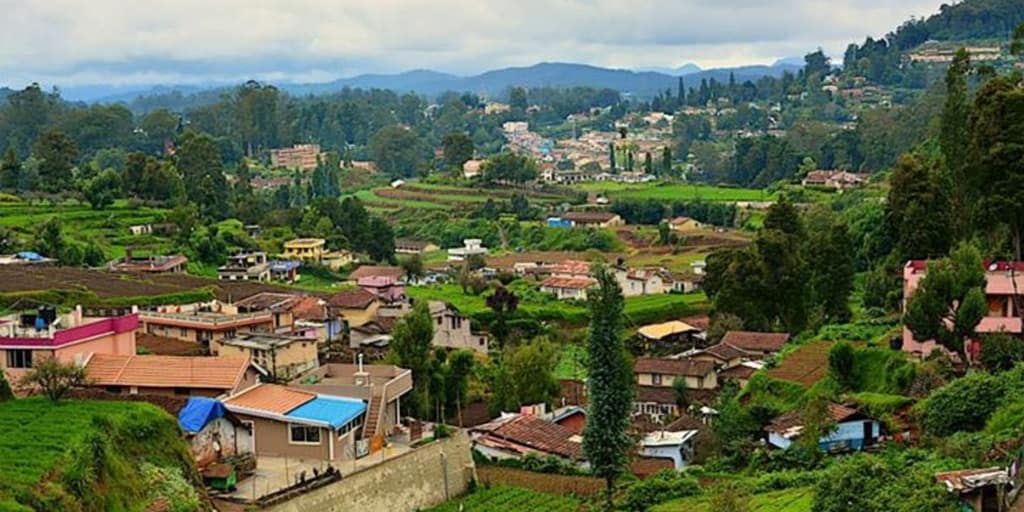 If you are always looking for an offbeat location, you should visit Kotagiri. It is one of the least know, yet beautiful hill stations near Chennai. It is the oldest and the third largest hill stations in the Nilgiris. The name Kotagiri means the lines of houses made of Kota stone. This used to be a place for summer resorts during the British Rule. It is 540 Kms away from Chennai.
Though it is 30 Kms away from Ooty, tourists hardly visit this place. You may want to try traditional cuisine cooked with authentic herbs and spices. Kotagiri is popular for scenic beauty and Tea plantation. The lunch platter here consists of swim jam cakes, pineapple rolls and cupcakes. That does sound delicious. You can book a local tour to know the process of tea plantation to packing.
You may visit the tea plantation sites that are all around the city for their unique ways of picking up the leaves. Needless to say, they also have the best variety of Nilgiri tea. It is world-famous for its strong floral-fruity flavour and soothing, sweet, gentle taste. Being a hill station, it has plenty of points for sightseeing. Kodanand viewpoint is one of them. From here you can enjoy the magnificent view of the sparkling hills, green cropped paddy fields and the beautiful springs in the valley.
The Catherine falls is 8 Kms away from Kotagiri. You cannot cake bath under the fall's water and can't reach it as it is far down in the valley. But the view is picturesque, and the depth of the valley is breath-taking. Elk falls is 7 Km away from Kotagiri and you can enjoy taking bath under its stream.
Long wood shola is a forest reserve, 3 Kms away from Kotagiri. It is a paradise for birdwatchers. Rangaswami peak and pillar is another location that you shouldn't miss. The site is 5,856 feet high from the sea level. If you fear heights, then you should avoid visiting this place. On the north-west side of the peak, there stands 400 feet tall pillar which unclimbable due to its position and height.
Yercaud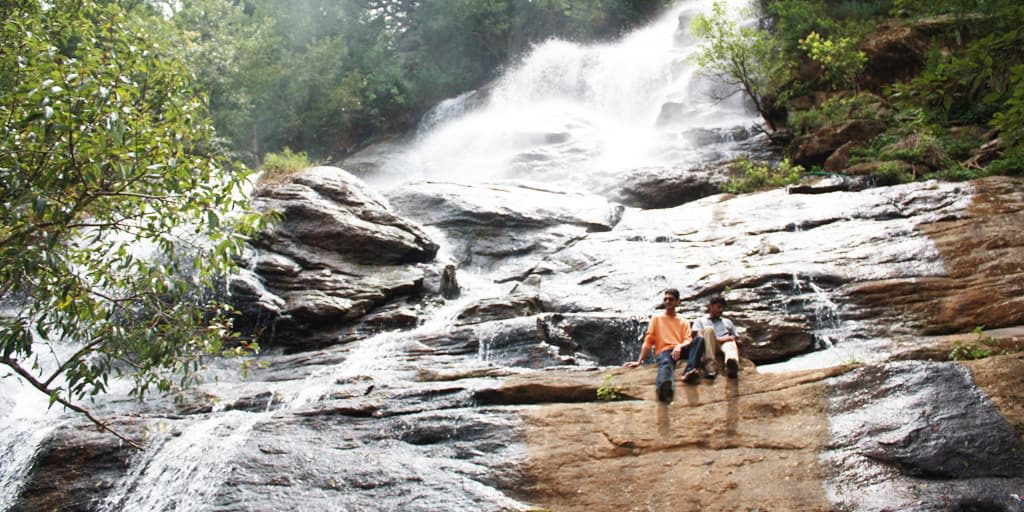 Yercaud is 366 Kms away from Chennai. It is in Salem district and it takes about 6 hours to reach Yercaud from Chennai. This can be a perfect spot for making a day outing in and around Chennai. Yercaud hills are the part of Shevaroy ranges in the Eastern Ghats. It is 1515 meters (4,970 feet) above the sea level. Yercaud is a popular tourist destination and is one of the best hills stations around Chennai. It is also known as The Jewel of The South. Yercaud- the name derives from two Tamil words. Yeri meaning lake and Kaadu meaning forest. This hill station near Chennai has a lake surrounded by a forest. Hence the name means Lake Forest.
Set against the Eastern Ghats, watching the Yercaud Lake is a breath-taking site. It is also known as the Big Lake or Emerald Lake. Since the water of the lake looks more has a green tone to it than blue hues, it looks like an Emerald stone, hence the name is Emerald Lake. It is at the centre of the city. Entry to the lake is free. You can enjoy different varieties of boat rides at minimal cost. But you won't see motorboats here as the sound and the speed is harmful to the underwater ecosystem. While boating along the shore, you see deer park and Anna Park. Both these parks are open for visitors. Along with the deer, you can find peacocks in the Deer Park.
Kiliyur falls is a captivating fall that is in its best beauty during the monsoon. Falling from the height of 300 feet, watching the falls is a picturesque site. The misty fall is a good place to visit with family and kids. It is safe to take bath under the stream or play in the water. The small town of Yercaud has tea and coffee plantation sites. So, if you are looking for some freshly brewed coffee, visiting these coffee plantation sites should be on your checklist.
Thanks to thick rainforest and water reserve, the temperature here never goes below 20 degrees. So, if you are from the hotter part of the country, carrying warm clothes will make your trip easy.
Kodaikanal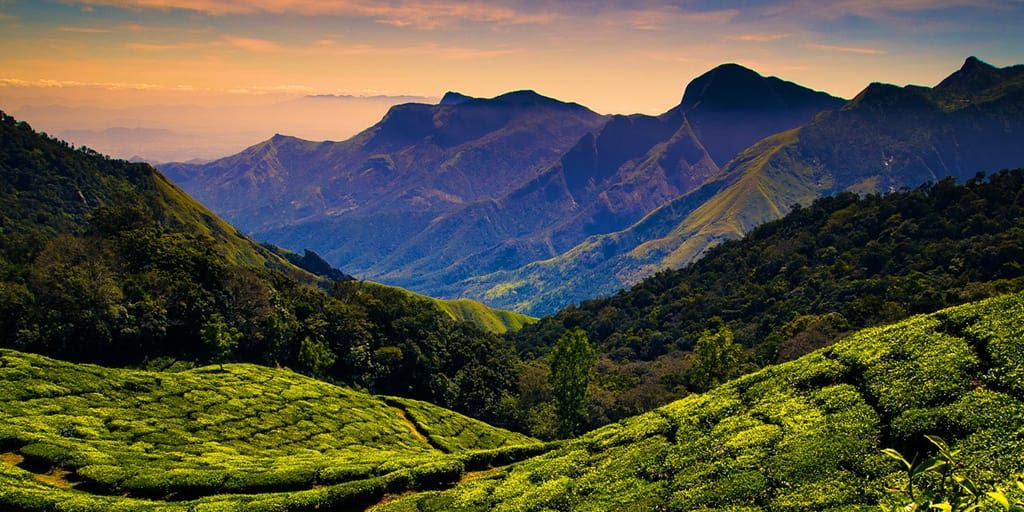 Kodaikanal is 550 Km away from Chennai and is one of the best places to spend your weekend. It is also known as one of the best hill stations near Chennai. It is one of the most popular honeymoon destination too. Standing at 7,200 feet above the sea level, Kodaikanal is in the upper Palani Hills of Western Ghats. It is commonly known as Princes of hill stations near Chennai. And with misty, cool weather, scenic surroundings and heritage constructions, it stands true to its name.
A British Surveyor discovered Kodaikanal in 1821. He was looking for a healthy and clean place to live for foreigner missionaries working in Madurai. The cool weather and tranquil nature with many thing to do in this place made him fall in love with this place. Then the British government developed the city over 50 years.
Some of the magnificent vintage buildings built during the British rule are still standing tall in Kodaikanal and still attract tourists. Churches in Kodaikanal are spectacular. They make you forget about the surroundings and you feel like you're standing in a lavish Church somewhere in the England.
Pillar rocks located around 8 Kms away from Kodaikanal have always captivated tourists. The area has a beautifully developed garden which is best suited for camping. The name Pillar rocks derive from three vertical bouldering rocks standing 400 feet tall. The rocks look like pillars. Another attraction near Pillar rocks is Devil's Kitchen. It is a space between two rocks where they have set up a kitchen. The potato-onion Sabjee served in the kitchen is a must try dish.
The city of Kodaikanal is on the banks of star-shaped Kodai lake. This is a man-made lake that has an average depth of 9 feet. Kodai lake has a unique flowering plant that bears flowers every 12 years. People call it as Kurinji in the local language. The flowers are light blue or lavender in colour. They are the hallmark of Western Ghats. It is possible that Nilgiri ranges got their name from these flowers.
Coonoor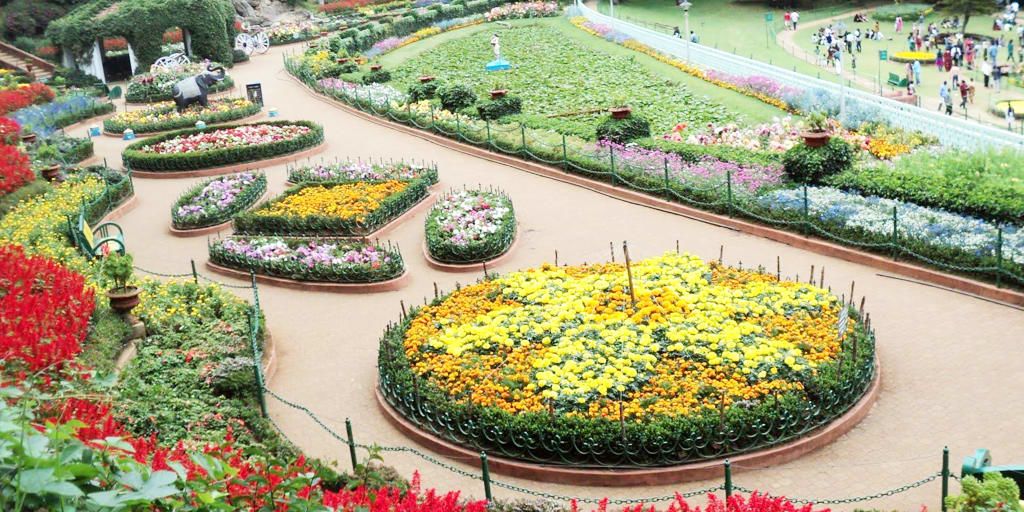 Coonoor is one among the second largest hill stations near Chennai. Located at an elevation of 1,850 meters above sea level, Coonoor is popular among tourists for being tranquil and scenic. It provides you with a scenic panoramic view of lush green tea plantations, the valley and the waterfalls. It is the major producer of Nilgiri tea. Another thing Coonoor is popular for is wildlife and birds.
Sim's park in Coonoor is a very well-maintained botanical garden. Often students studying botonny and horticulture visit the park. The park houses plenty of varieties of plants and flowers that you otherwise cannot see in any other hill station from this region. Sam's park has a huge area of over 12 hectors. It is the starting point for the treks and hikes of the Nilgiri hills. One of the most famous treks that starts from here is Lamb's Rock trek. A little ahead of Lamb's rock is Canning's seat that offers the view of the valley. Birdwatchers often visit Coonoor to have glimpses of thrushes, larks, cuckoos, babblers, robins, eagles, songbirds and Indian vultures who are a critically endangered species.
Another reason why Coonoor is becoming famous among tourists is its sister city Ooty is always flooded with tourists, all around the year. Coonoor celebrates a major fruit and vegetable festival in June, right before the monsoon hits the valley. In January, it hosts the Tea and Tourism festival. Both these festivals attract tourists and tea lovers from all over the world. The best season to visit and stay at Coonoor is from March to June and September-October. So, if you are looking for a weekend gateway, this hill station near Chennai is a must visit.
Apart from the hill stations mentioned above, hill stations like Ooty, Munnar and Horsley Hills from Andhra Pradesh are quite well-known for most of the tourists. All of them share a few things in common. Picturesque views, lush greenery, waterfalls and warm-hearted, welcoming people. If you are looking for various enriching experiences, do book our tours for the hill stations near Chennai and get ready to create some unforgettable memories for your loved ones.
Tags
Comments