Table of Contents
Email communication is one of the standard modes of communication between marketers and consumers all over the world. Email is simple yet effective and rich emails that are laid with hyperlinks, media and videos/ GIFs can engage customers and coerce them to visit company websites or shop in an impulsive manner with attractive discounts and vouchers.
Today, email marketing automation softwares has made it easy for marketers to design attractive campaigns and select content using smart AI technology. Within seconds, marketers can design and send bulk emails from a library of templates ready to go. What more? These tasks can be automated so as to reduce time spent on repetitive mundane tasks.
Top 10 email marketing automation softwares of 2024
Given the benefits of email marketing automation, no wonder the world is turning to these softwares to cut down on the time spent on mechanical tasks and engage them in the more creative aspect of their role. Here are 10 of the most amazing email automation softwares that assists marketers to design and manage email campaigns and communication channels:
1. Brevo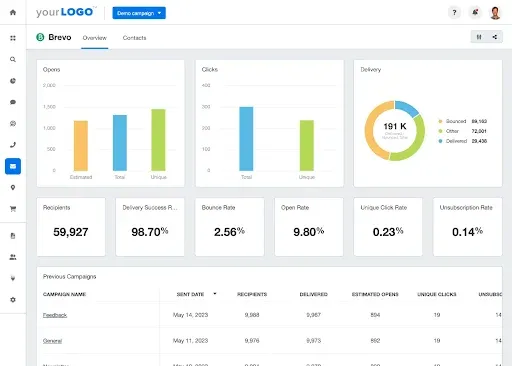 No matter what kind of company or brand you are, you can never go wrong with this brilliant and intuitive marketing automation software! Brevo also offers a Sales platform, chat assistance service and transactional email platform apart from the marketing services for better and bigger impact.

Key features:
Multi-channel marketing: Brevo enables businesses to run marketing campaigns across various channels, including email, WhatsApp, SMS, web push, and Facebook ads.
Transactional capabilities: It offers the ability to trigger transactional emails, SMS, and WhatsApp notifications, enhancing customer engagement.
Marketing automation: Brevo allows for the automation of marketing activities, ensuring that the right message reaches the right audience at the right time.
Sales platform: It offers a Sales Platform for lead tracking, task automation, and scheduling meetings.
Cloud-based phone system: Brevo's cloud-based phone system allows businesses to communicate with customers anytime and anywhere.
Why is Brevo the best?
Integration: Its seamless integration capabilities provide a unified view of customer interactions, streamlining operations.
Automation: Brevo's marketing automation and transactional capabilities save time and ensure timely communication.
Scalability: It is suitable for businesses of all sizes, making it versatile and adaptable to different needs.
Comprehensive toolkit: Brevo offers an all-in-one toolkit that includes marketing, sales, chat, and transactional email services, reducing the need for multiple platforms.
Pros:
Automation: Marketing and transactional automation save time and enhance efficiency.
Integration: Seamless integration with other tools provides a holistic view of customer interactions.
Comprehensive toolkit: It offers a wide range of services in a single platform, simplifying management.
Cons:
Learning curve: Users might need some time to explore and fully utilize all the features and integrations Brevo offers.
Cost: While it's affordable, the pricing structure may not suit extremely budget-conscious businesses.
Pricing: Starts at 25 USD per month for the starter pack and also offers a custom enterprise pack with a floating price. Free plan available. Free trial available.
G2 rating: 4.5 on 5
Capterra rating: 4.5 on 5
2. Hubspot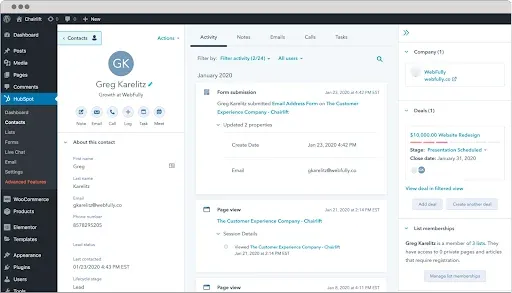 Hubspot is an all-in-all platform that provides not just marketing automation but also CRM and Sales, all of which integrate and work seamlessly together. Using the Hubspot marketing hub makes marketing tasks a breeze. Hubspot also offers many other platforms including CMS (Customer Management Software), Sales software, Operations hub software, Commercial tools for online sales etc.
Key features:
All-in-one platform: HubSpot offers a comprehensive suite of tools, including Marketing Hub, CRM, and Sales Hub, all integrated into a single platform. This streamlines operations and data management for businesses.
Unified customer data: HubSpot provides a central repository for customer data, ensuring that all teams have access to up-to-date and synchronized information.
Email campaign management: Users can easily schedule, manage, and automate email campaigns through a user-friendly interface, enhancing customer engagement.
Campaign organization: HubSpot offers a single dashboard to organize and monitor all marketing campaigns, simplifying campaign management and tracking.
Optimization tools: Marketers can optimize their efforts using robust reporting and analytics tools, allowing for data-driven decision-making.
Landing page and form builder: HubSpot facilitates the creation of customized landing pages and forms, enabling businesses to capture and segment customer data efficiently.
Why is Hubspot the best?
Integration: HubSpot seamlessly integrates marketing, sales, and CRM functionalities, providing a holistic view of the customer journey and enabling businesses to align their teams for improved efficiency.
Comprehensive solutions: HubSpot offers a complete suite of tools, reducing the need for multiple point solutions. This simplifies data management, reduces software clutter, and enhances productivity.
Scalability: HubSpot is designed to grow with your business, offering scalability without adding complexity. This adaptability is crucial for companies looking to expand their marketing efforts.
Pros:
User-friendly: HubSpot's intuitive interface makes it easy for marketers to create, manage, and analyze campaigns without extensive training.
Data-centric: HubSpot's focus on customer data empowers businesses to create highly targeted and effective marketing campaigns.
Comprehensive reporting: The platform offers powerful reporting and analytics tools, providing valuable insights for optimizing marketing strategies.
Cons:
Cost: HubSpot's pricing can be on the higher side, which may not be suitable for small businesses with limited budgets.
Limited customization: Some users may find that the level of customization for certain features is limited compared to more specialized software.
Pricing: Free trial and free plan available. Prices for plans start at 18 USD per month for the starter pack. Enterprise plan starts at 800 USD and can be modified according to requirement.
Customer case studies:
The Knowledge Academy, facing declining sales and engagement challenges, turned to HubSpot's Sales Hub. This led to retraining sales reps, improving lead qualification, and gaining valuable insights, resulting in a 192% increase in sales and closing 125% more deals. HubSpot's AI-powered forecasting also brought accuracy and predictability to their sales processes, revolutionizing their approach to sales and strategic growth.
Fintech start-up Volopay quadrupled revenue post-Series A funding of $29M. They improved efficiency and boosted conversions by 20% using HubSpot's Sales Hub CRM. This saved reps 30% and leaders 40% of their time, while providing actionable data for better decision-making and compliance.
Companies that use Hubspot:
G2 rating: 4.4 on 5
Capterra rating: 4.5 on 5
3. Constant Contact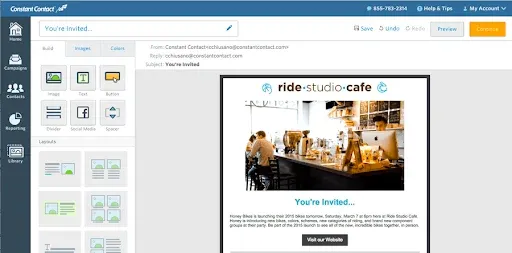 Constant contact is one of the most popular email automation software that allows marketers and business owners to relax while the smart AI and automation features of the software does all the heavy lifting for you!
This software combines the ease of using a full fledged marketing platform along with a robust email marketing tool that helps reach customers efficiently.
Key features:
Email personalization: Constant Contact offers full email personalization capabilities, allowing you to send tailored messages to your audience at the right time.
Social media integration: The software seamlessly integrates with social media platforms, enabling you to expand your reach and engage with your audience across multiple channels.
SMS marketing: You can quickly connect with your audience and capture their attention using SMS marketing, diversifying your communication strategy.
Automation: Create and manage multiple marketing campaigns effortlessly through automation, saving time and ensuring consistent messaging.
Analytics: Constant Contact provides smart analytical tools that offer comprehensive reports, helping you gain insights into the effectiveness of your marketing efforts.
Why is Constant Contact the best?
Efficient audience growth: With features like landing pages and social media lead ads, Constant Contact helps businesses build and expand their customer lists rapidly.
Multi-channel engagement: The platform allows you to connect with your audience via email, text, and social media, all from a single interface, enhancing engagement and results.
Streamlined social media management: Constant Contact simplifies the creation and management of social media posts and ads, promoting brand awareness, lead generation, and growth.
Integration capabilities: It seamlessly integrates with various digital tools you may already use, facilitating business growth and online sales.
Pros:
User-friendly: Constant Contact's intuitive interface makes it accessible to users with varying levels of technical expertise.
Multi-channel marketing: It offers a one-stop solution for email, SMS, and social media marketing, streamlining your marketing efforts.
Customer support: The software offers reliable customer support to assist users with any issues or questions.
Cons:
Limited advanced features: While it covers the essentials, it may lack some advanced features compared to more specialized marketing tools.
Template customization: Advanced customization options for email templates could be more extensive.

Pricing: Plans available from 8 to 80 USD based on the number of contacts available. Enterprise plans can be designed based on requirement. Free trial available.
Customer case studies:
Good Boston Living, a real estate business, adapted to the challenges of remote communication by using video calls and email marketing via Constant Contact. This allowed them to maintain client relationships, sell properties, and uphold their reputation for exceptional customer service.
Lovin' Spoonfuls, a Boston-based nonprofit, utilizes Constant Contact tools to raise awareness, enhance fundraising, and address increased food insecurity during the pandemic, ensuring vital food distribution to families in need.
Companies that use Constant Contact:
Siena farms
A&J king bakery
Blue bunny books and toys
La Provence
G2 rating: 4.0 on 5
Capterra rating: 4.3 on 5
4. MailerLite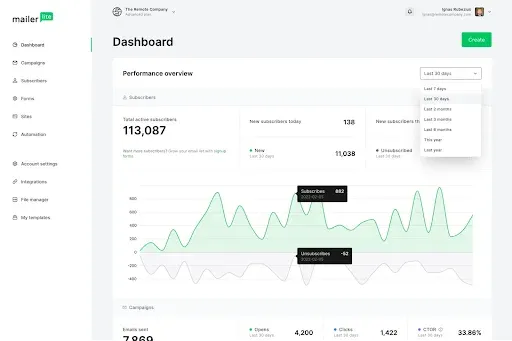 Mailerlite offers one of the most elite email designing platforms. Mailerlite focusses on simple yet effective email builder tools for businesses to design rich and effective emails from scratch and send them effortlessly to customers and manage email campaigns.
Key features:
Email design tools: MailerLite provides effective templates and three different editors for creating personalized, visually appealing emails.
List building: Easily collect customer information to build and manage your contact list using subscription forms, signup forms, apps, and surveys/polls.
A/B testing: Utilize A/B testing and reporting tools to optimize email content and campaigns for better results.
Responsive design: Design responsive newsletters, landing pages, and websites using pre-made templates and an intuitive drag & drop editor with AI assistance.
Advanced features: Engage subscribers and nurture relationships with features like pop-ups, embedded surveys, Facebook custom audiences, and auto resend campaigns.
Segmentation and personalization: Keep your audience engaged by sending personalized and timely email content using segmentation, interest groups, and multi-trigger automation workflows.
Integration: Connect with various tools and platforms through integrations with services like Zapier, Stripe, WooCommerce, Shopify, and more.
Reporting and optimization: Analyze campaign performance with detailed reporting and optimize your strategies using A/B testing.
Why is MailerLite the best?
Efficient email creation: The platform simplifies email creation with its drag & drop editor, AI assistance, and effective templates.
Comprehensive list building: MailerLite provides various tools for collecting and managing customer data, ensuring targeted communication.
Automation and workflow: The automation features help save time and streamline communication, making it easier to engage with subscribers.
Multi-channel integration: It seamlessly integrates with popular platforms and tools, enhancing its versatility and usefulness for businesses.
Pros:
User-friendly: MailerLite is known for its intuitive interface, making it accessible for users of all skill levels.
Segmentation: Robust segmentation options allow for highly targeted and personalized email campaigns.
Affordability: MailerLite is competitively priced, making it suitable for businesses of all sizes, especially startups and small businesses.
Cons:
Limited advanced customization: While it offers user-friendly design tools, it may not provide as much advanced customization as some other email marketing platforms.
Subscriber limitations: Pricing plans may have subscriber limitations that could be a drawback for businesses with large subscriber lists.
Pricing: Starter pack at 9 USD per month for 500 contacts. Advanced pack at 18 USD per month. Enterprise plans can be designed specifically for businesses. Free plan available.
Companies that use MailerLite:
msgFactory
LogicalRetreat
Maroli design services
G2 rating: 4.7 on 5
Capterra rating: 4.7 on 5
5. ActiveCampaign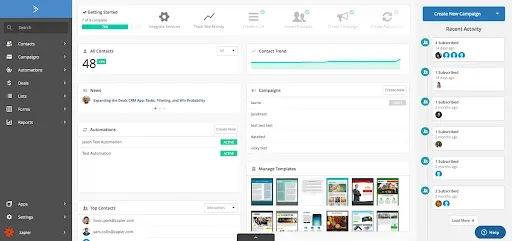 ActiveCampaign is one of the top email marketing automation softwares in the business. ActiveCampaign is made for both the novices and the professionals in the market and is super easy to adapt and bring into your existing ecosystem.
Key features:
Email marketing automation: ActiveCampaign offers a robust email marketing automation platform suitable for both beginners and professionals.
Drag and drop email builder: Users can create emails quickly and easily using the drag and drop feature.
Personalization: Create emails with personalized and conditional content tailored to various contacts.
Contact segmentation: Segment customers using data collected from forms and websites, allowing for targeted communication.
Engagement tools: Engage your audience using features such as landing pages, online forms, and social media posts.
Geotracking: Record customer locations for better content targeting and localization.
Analytics: Generate reports and gain valuable business insights from email marketing campaigns.
Why is ActiveCampaign the best?
Ease of adaptation: It is user-friendly and adaptable to both beginners and seasoned marketers.
Integrated ecosystem: ActiveCampaign seamlessly integrates with various tools and platforms, making it suitable for businesses with existing ecosystems.
Personalization and automation: The platform allows for highly personalized and automated email marketing, enhancing customer engagement.
Comprehensive customer lifecycle engagement: ActiveCampaign enables businesses to engage customers at every stage of the customer lifecycle, ensuring effective, engaging, and memorable marketing efforts.
Pros:
Versatile automation: ActiveCampaign offers automation capabilities that enable personalized experiences and targeted messaging throughout the customer journey.
Deep segmentation: Users can segment contacts based on a wide range of parameters, leading to highly tailored campaigns.
Integrated data: The platform integrates data from various sources to help users choose the best content, send time, and delivery channels for each customer.
Cons:
Pricing: Depending on the features needed, ActiveCampaign's pricing can be relatively higher compared to some other email marketing tools.
Complexity for basic users: Users with simpler email marketing needs may find the platform's extensive capabilities unnecessary and potentially overwhelming.
Pricing: Starter pack at 49 USD and professional plan at 149 USD per month. Enterprise plans can be discussed and created based on specific needs. Free trial available.
Customer case studies:
Paperbell, a coaching platform, chose ActiveCampaign for its advanced automation, segmentation, and integration capabilities. This allowed them to create personalized customer experiences, integrate email functionality via Postmark, and achieve significant growth. ActiveCampaign's pricing and functionality aligned perfectly with Paperbell's needs.
Bodhi Surf + Yoga, a sustainable school in Costa Rica, used ActiveCampaign to automate communication, nurture leads, and educate guests. This led to a 21% revenue increase, 300% contact list growth, and 40-60% email open rates, all while fostering a sustainability-focused community.
Companies that use ActiveCampaign:
UBITS
Wellness support
Ducks unlimited Canada
Alclair
G2 rating: 4.5 on 5
Capterra rating: 4.6 on 5
6. GetResponse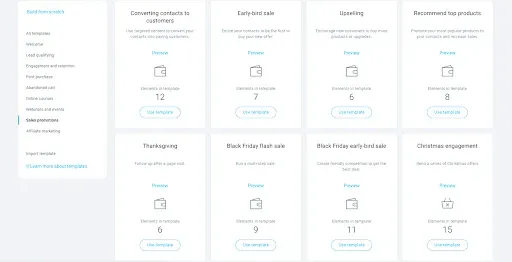 If you are looking for a tool that helps you create enticing emails and powers your content using AI, then GetResponse is the tool for you. GetResponse uses a state of the art GPT powered AI that helps in creating custom content for target audience and helps you connect with customers more efficiently as a brand.

Key features:
AI-powered content: GetResponse utilizes GPT-powered AI to create custom content tailored to the target audience.
Drag and drop email editor: Easily build creative and exemplary emails using a user-friendly editor.
Ecommerce integration: Seamlessly integrates with ecommerce sites to promote discounts and offers to customers.
Multichannel marketing: Provides multichannel communication options for online marketing to expand audience reach.
Analytical reporting: Offers analytical reporting functions to enhance marketing efforts based on buyer behavior.
Email features: Includes autoresponders, bulk email sending, and transactional email capabilities.
Why is GetResponse the best?
GetResponse stands out as a comprehensive email marketing platform with a user-friendly solution, 24/7 customer support, and powerful tools that extend beyond email marketing. It offers automation, list growth, webinars, and live chat features to help businesses build their brand, sell products and services, and foster a community.
Pros:
Analytical tools: Robust analytics help in optimizing marketing strategies based on customer behavior.
User-friendly: Offers a user-friendly interface suitable for small businesses and marketers.
Additional tools: Provides webinars and live chat features for comprehensive customer engagement.
Cons:
Learning curve: Some advanced features may require time for users to fully master.
Pricing: Many different plans available ranging from email marketing, marketing automation and ecommerce marketing for 3 to 24 months ranging from 15.58 USD to 83 USD respectively. Free plan available. Free trial available.
Customer case studies:
GetResponse greatly boosts Sabaton's digital marketing with effective email campaigns, contributing to a 4% revenue increase in their merchandise store. Its automation features save time and money, while its user-friendly interface streamlines newsletter creation.
GetResponse streamlines webinars and email marketing for Matematma, boosting interaction and efficiency. It saves time and money, enhances revenue, and offers quick returns on investment, making it a preferred choice compared to other tools.
Companies that use GetResponse:
G2 rating: 4.2 on 5
Capterra rating: 4.2 on 5
7. Drip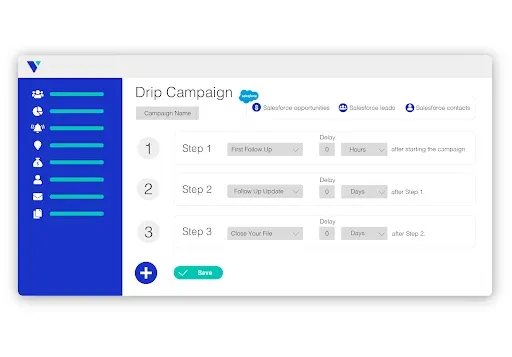 Drip is one of the best softwares for those businesses that have an extensive product or service catalog on an ecommerce website and need a marketing automation software that can communicate with customers on a regular basis using emails.

Key features:
Product block emails: Create engaging emails with product blocks to boost click rates.
A/B testing: Optimize email reach and response by conducting A/B and split testing.
Customizable templates: Design brand-focused email marketing campaigns using unique templates.
Automation tools: Utilize trigger emails, automated workflows, and autoresponders for efficient customer interactions.
Analytical reporting: Measure and manage campaign data through comprehensive analytical reporting.
Why is Drip the best?
Drip stands out as an ideal marketing automation platform for businesses with extensive product catalogs. It seamlessly integrates website data with customer databases and leverages AI-driven insights to enhance email campaigns. With Drip, you can engage customers effectively, drive repeat purchases, and build brand loyalty.
Pros:
Robust A/B testing capabilities
Automation tools for efficient interactions
Detailed analytical reporting
Cons:
Some users may find the interface complex initially.
Pricing: Paid plan starts from 39 USD for 2500 contacts per month and can go upto 10M users. Prices for larger plans can be custom made to suit your needs. Free plan available.
Customer case studies:
Saint Jane Beauty, a luxury skincare brand, adapted to the pandemic by using Drip, an email marketing tool. They navigated challenges, especially in CBD marketing, and grew their brand through Drip's seamless Shopify integration, automated workflows, and welcome email series.
Bite Squad, a food delivery service, used Drip to create a customer loyalty program called Bite Club. Drip enabled deep personalization and boosted email engagement, helping Bite Squad grow its business. Drip's integrations expanded their marketing efforts, and it served as an all-in-one communication hub for customer and internal messages, saving time and money.
Companies that use Drip:
Fiat
Dolfi
Pixel Union
The Spice House
G2 rating: 4.4 on 5
Capterra rating: 4.4 on 5
8. Omnisend
If omnichannel marketing communication is your priority, then Omnisend is the tool to check out. This simple and effective tool comes packaged with a full fledged email marketing communication bundle. With a complete email creation suite to make attractive email from template libraries, improve your click, open and overall response rate.

Key features:
Omnichannel marketing: Engage customers through various channels, including email, SMS, and push notifications.
Analytics and reporting: Utilize campaign click maps and analytics reports for valuable business insights.
Campaign optimization: Improve reach and response rates through campaign boosters and testing methods.
Segmentation: Leverage segmented customer data to send targeted emails.
Ecommerce integration: Link ecommerce data with email marketing automation for responsive campaigns.

Why is Omnisend the best?
One-click integration: Seamlessly integrates with major ecommerce platforms.
Automation: Offers pre-built automation workflows and templates for efficient marketing.
Personalization: Robust segmentation and targeting options enhance customer engagement.
Pros:
Offers a full suite of marketing communication tools.
Provides automation features for cart abandonment, welcome series, and more.
Supports multiple communication channels, including SMS and push notifications.
Offers 24/7 customer support.
Cons:
Specific pricing details may vary based on business needs and size.
Pricing: Starts from 16 USD per month for 500 contacts. Create custom plans for contacts upto 150k using enterprise pricing based on your needs. Free plan and trial available.
Customer case studies:
Omnisend partnered with Organic Aromas for a four-week experiment to boost their contact list and sales. They used different signup forms and strategies, resulting in 661 new leads and 40 extra orders. This demonstrated the effectiveness of Omnisend's tools in optimizing email sign-up strategies.
The Cake Store, a family-run custom cake business, switched to Omnisend for its simplicity and support. Using Omnisend's features, they created automated reminder emails, enhancing customer engagement and streamlining their marketing efforts.
Companies that use Omnisend:
123Presets
Amundsen
SM Global shop
Organic Aromas
G2 rating: 4.5 on 5
Capterra rating: 4.7 on 5
9. MailChimp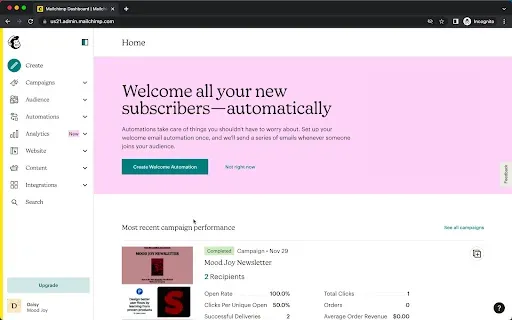 MailChimp is perhaps the most popular email suite on this list and is used by many big and small companies. MailChimp offers a unique AI optimized email marketing tool that improves customer engagement and helps with better click and open rates.

Key features:
Effective email marketing: Mailchimp offers tools to create and send engaging emails, including AI-optimized content.
Multi-channel integration: It integrates with various channels like SMS, phone, and social media for comprehensive marketing.
AI optimization: Use AI to enhance customer interactions and improve campaign performance.
Segmentation and analysis: Analyze customer data to segment and target audiences effectively based on their behavior.
Easy email creation: Build creative emails from scratch with user-friendly templates and tools.
Why is Mailchimp the best?
Mailchimp stands out due to its user-friendly interface, comprehensive multi-channel integration, and AI-driven optimization. It caters to businesses of all sizes and provides data-driven recommendations.
Pros:
User-friendly and suitable for beginners.
Offers a free plan with essential features.
Extensive integrations with other tools.
AI optimization for better engagement.
Robust analytics and segmentation options.
Cons:
Automation features may be limited on the free plan.
Some users may find advanced features complex to set up initially.
Pricing: Plans start at 385 USD for 500 contacts per month and go on to 250K customers with a floating price that can be custom made. Free plan and trial available.
Customer case studies:
Six Barrel Soda used Mailchimp's Shopify integration to boost e-commerce sales. They send educational newsletters to engage their audience and measure ROI effectively, resulting in 1,061 new contacts, 97% from the Shopify integration, and an average revenue of $1,426 (NZD) per email campaign. This saves them time on data management and lets them focus on their products and content.
MovingWaldo improved email marketing results with Mailchimp by segmenting and personalizing campaigns for different audiences, achieving over 1,000 new monthly subscribers, a 1.8x boost in website traffic from email, doubled open rates, and tripled click-through rates. A/B testing refined their strategies, and integrating QuickBooks enhanced data management for future growth.
Companies that use Mailchimp:
Tatale
Steel city collectibles
Honeywell biscuit co
MovingWaldo
G2 rating: 4.3 on 5
Capterra rating: 4.5 on 5
10. EmailOctopus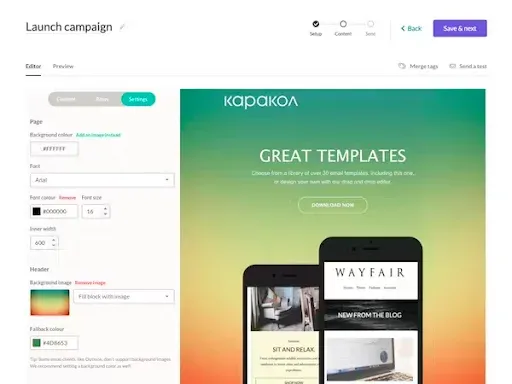 If you are looking for a simple, straight forward email marketing tool that helps you scale your email marketing game and build your audience, then EmailOctopus is the one for you. This simple software effectively helps you build an audience and use customer insights to deliver better results using email campaigns.

Key features:
HTML templates: EmailOctopus offers HTML templates, allowing users to create customized email campaigns tailored to their brand.
Drag-and-drop editor: Users can design emails intuitively with the drag-and-drop editor, making it accessible even to those without coding skills.
Landing page builders: Users can create landing pages to capture customer information and grow their email list.
Form and survey builders: Forms and surveys enable organizations to collect valuable customer data and feedback.
Campaign mapping: Users can access comprehensive analytical data to map their email campaigns and fine-tune their strategies for better results.
Real-time tracking: EmailOctopus provides real-time tracking of email performance, including click rates, open rates, bounces, and unsubscribes.
Why is EmailOctopus the best?
EmailOctopus offers a straightforward and user-friendly email marketing solution with a range of features to help users scale their email marketing efforts. It provides responsive email templates, automation tools, and detailed analytics for optimizing campaigns. Additionally, its integration capabilities, including Zapier connectivity, make it versatile and adaptable for various business needs.
Pros:
Automation tools for efficient campaign management.
Real-time campaign performance tracking.
Integration with over 2,000 platforms via Zapier.
Developer API for deep integration into websites.
Cons:
May lack some advanced features offered by more robust email marketing platforms.
Limited customization options for advanced users.
Pricing: Professional plan starts at 8 USD per month for 500 contacts and can go upto 150k subscribers with a custom enterprise plan based on need. Free plan and trial available.
Customer case studies:
Folksy, a British craft brand, uses EmailOctopus to improve email marketing. They target customers and sellers with distinct emails, experiencing audience growth and maintaining steady open rates. They switched from Mailchimp due to cost-effectiveness and essential features. EmailOctopus' simplicity and support have aided their growth.
Dreamville Records, switched to EmailOctopusfor its one-to-one support, reasonable pricing, and user-friendly platform. The onboarding experience was simple, and they appreciate features like the review page before sending campaigns. They also highlight significant cost savings without compromising performance.
Companies that use EmailOctopus:
No panic
Level39
Zero to Marketing
Folksy
G2 rating: 4.2 on 5
Capterra rating: 4.7 on 5
Conclusion
In the era of high competition and extremely engaging products and services, it can often turn out to be very challenging to stand out from the others. Marketers and managers need to keep up with the trends and think out of the box to nudge customers into their brands.
Marketing automation softwares makes the lives of marketing managers and business owners easier as they can now automate manual tasks and focus on the innovation part.
These 10 email marketing softwares cater to various businesses based on size, contact list size or even budget and users can simply take their pick based on their preference.
---