Table of Contents
Diwali party ideas and games for the employees!
As the vibrant festival of Diwali approaches in 2023, there's a palpable sense of excitement and anticipation in the air. This year, let's elevate the celebrations to new heights by bringing the festive spirit directly into our workplace.
After all, our colleagues and coworkers are like an extended family, and sharing the joy of Diwali with them can create lasting memories and strengthen the bonds that make our professional environment feel like a second home.
In this guide, we'll explore a myriad of engaging Diwali party ideas and games tailored for the workplace, ensuring that this year's festivities are nothing short of spectacular. Let's embark on a journey to light up our offices with the warmth and brilliance of Diwali!
🎁
Bring every bond to light: This Diwali, let
Youforia's corporate gifting
shine as a guiding light in strengthening connections. Whether it's showing thanks for your employees' steadfast commitment, recognizing the trust of your clients, or reinforcing the partnerships that pave your way – our gifts are meaningful gestures of gratitude that echo
What is the significance of celebrating Diwali?
Diwali, also known as the Festival of Lights, holds immense cultural, religious, and social significance in various parts of the world, particularly in India. Here are some of the key significances associated with the celebration of Diwali:
Victory of light over darkness: Diwali symbolizes the victory of light over darkness, good over evil, and knowledge over ignorance. It marks the return of Lord Rama, along with his wife Sita and brother Lakshmana, to Ayodhya after defeating the demon king Ravana.
Religious significance: For Hindus, Diwali is a religious festival that is celebrated to honor various deities depending on regional traditions. In some regions, it marks the goddess Lakshmi's birthday and is dedicated to seeking her blessings for prosperity and wealth.
Celebration of Lord Rama's return: In Northern India, Diwali is primarily associated with the return of Lord Rama after his 14-year exile and his victory over Ravana. People light lamps and decorate their homes to welcome Lord Rama back to Ayodhya.
Goddess Lakshmi's blessings: Diwali is a time when devotees seek the blessings of Goddess Lakshmi, the deity of wealth and prosperity. It is believed that she visits homes that are clean and well-lit, bringing prosperity and fortune to the household.
Honoring Lord Krishna and Govardhan Puja: In some regions, Diwali also coincides with Govardhan Puja, which is celebrated to honor Lord Krishna's lifting of the Govardhan Hill to protect the villagers from Lord Indra's wrath.
Jain Tradition of Nirvana: For Jains, Diwali holds significant importance as it commemorates the spiritual awakening and attainment of Nirvana (liberation) of Lord Mahavira, the 24th Tirthankara.
Sikh observance of Bandi Chhor Divas: For Sikhs, Diwali is celebrated as Bandi Chhor Divas, which marks the release of Guru Hargobind Sahib, the sixth Sikh Guru, along with 52 other kings from imprisonment.
Cultural significance: Diwali is a time of great cultural significance, marked by the exchange of gifts, feasting on special delicacies, wearing new clothes, and decorating homes with lamps, rangolis (decorative designs made with colored powders), and flowers.
Rejuvenating relationships: Diwali is a time when families come together, and old grudges and disputes are set aside. It encourages forgiveness, reconciliation, and the strengthening of family bonds.
A time for charity and giving: It is customary during Diwali for families to engage in acts of charity, including donating to the less fortunate, providing meals to the needy, and offering gifts to friends and relatives.
14 Office diwali party ideas
Here are 14 exciting ideas to make this Diwali celebration a blast for everyone:
1. Dazzling decorations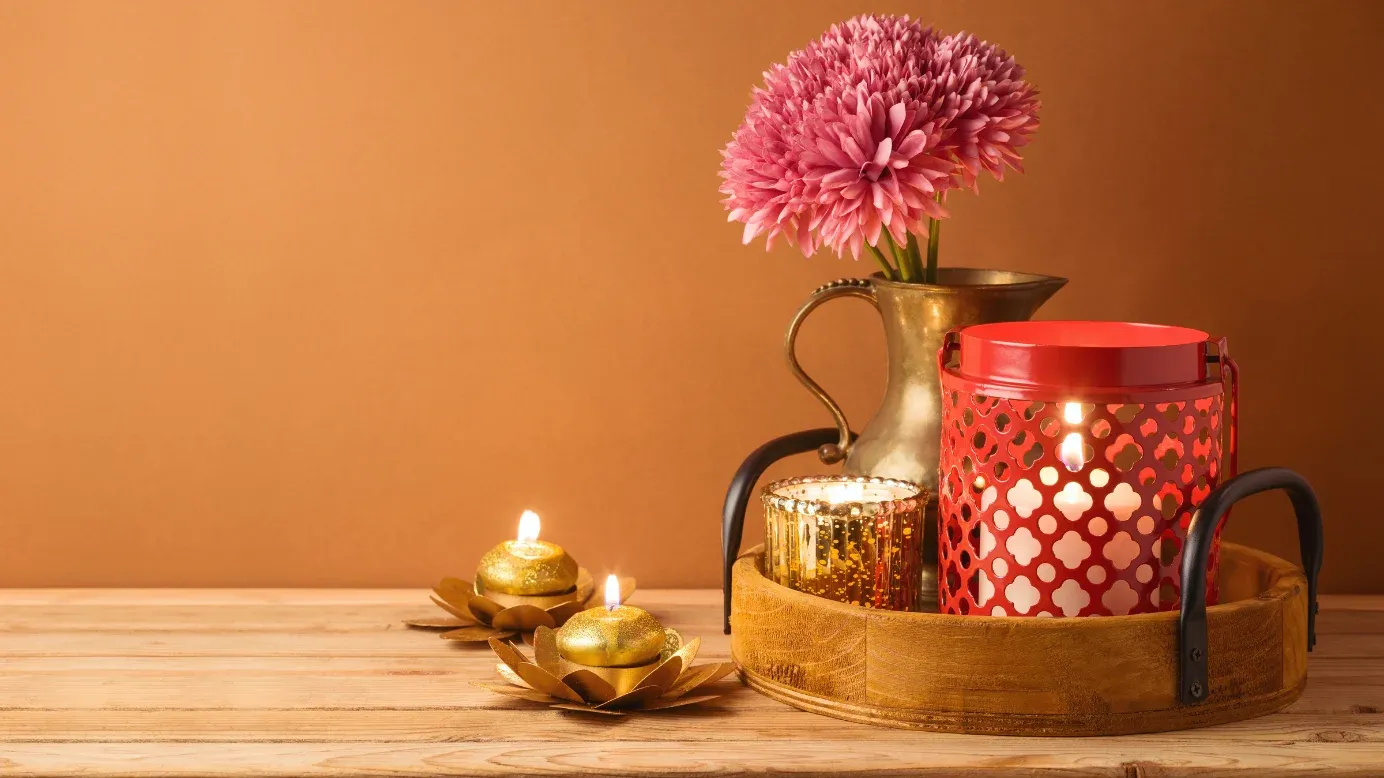 Transform the office into a vibrant wonderland of color with traditional Diwali decor. Think shimmering fairy lights, elegant rangolis, and rows of radiant diyas. The moment your employees step in, they'll be transported into the heart of the festival.
2. Dress in desi style
Encourage your team to deck out in dazzling Indian attire. Sarees, sherwanis, kurtas, and turbans - they'll add a touch of elegance and authenticity to the occasion.
3. Diwali-licious delights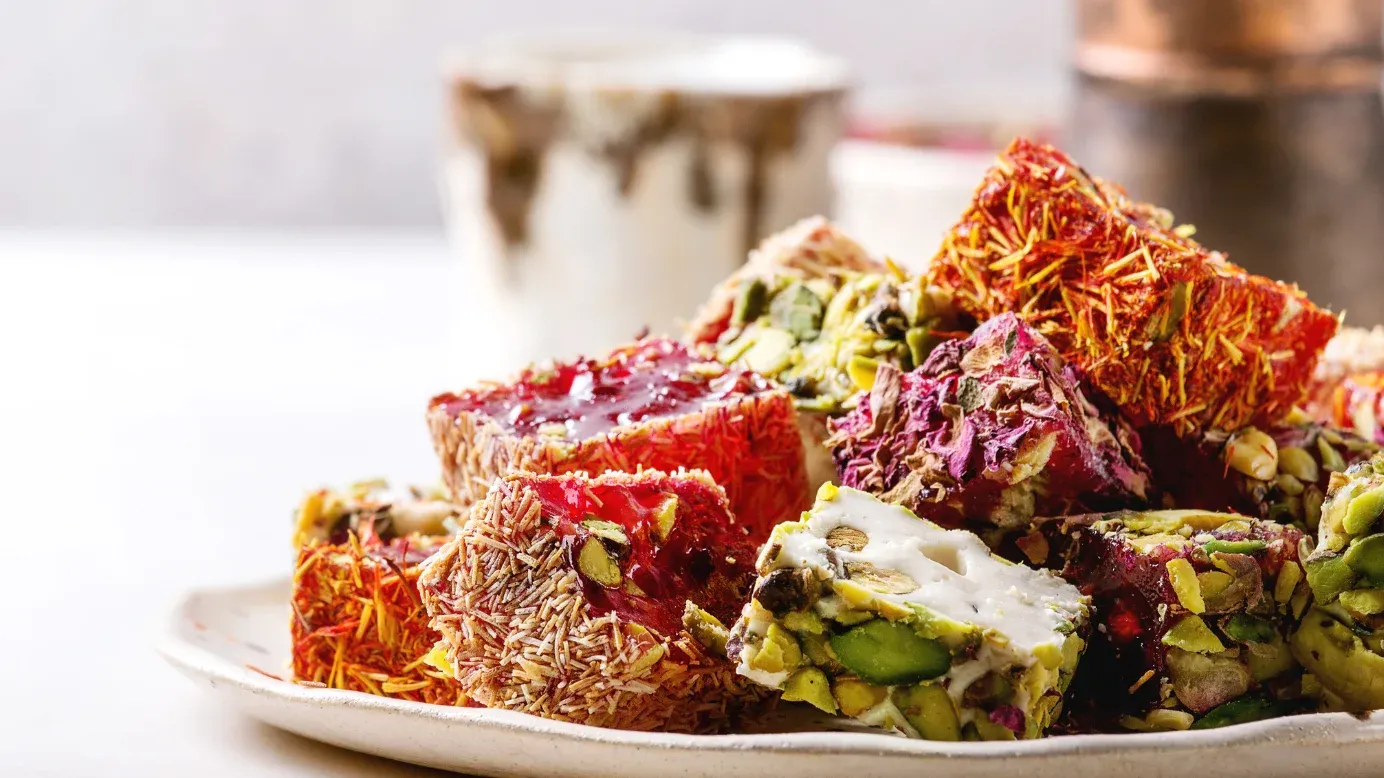 Treat your taste buds to an array of mouthwatering dishes. A diverse buffet featuring traditional Indian sweets like gulab jamun, jalebi, and mouthwatering savories is a surefire hit.
4. Cultural extravaganza
Arrange for captivating cultural performances - dances, music, or even a themed skit. Watching colleagues showcase their talents or professional artists performing will infuse the air with joy and enthusiasm.
5. Diwali games galore
From Tambola (Housie) with exciting prizes to a Diwali-themed quiz, and even a Diya painting competition, the games will ensure everyone's spirits are high.
6. Capture memories
Set up a Diwali-themed photo booth complete with props and backdrops. This will serve as a cherished memory-maker, with employees taking home delightful pictures.
7. Diya lighting ceremony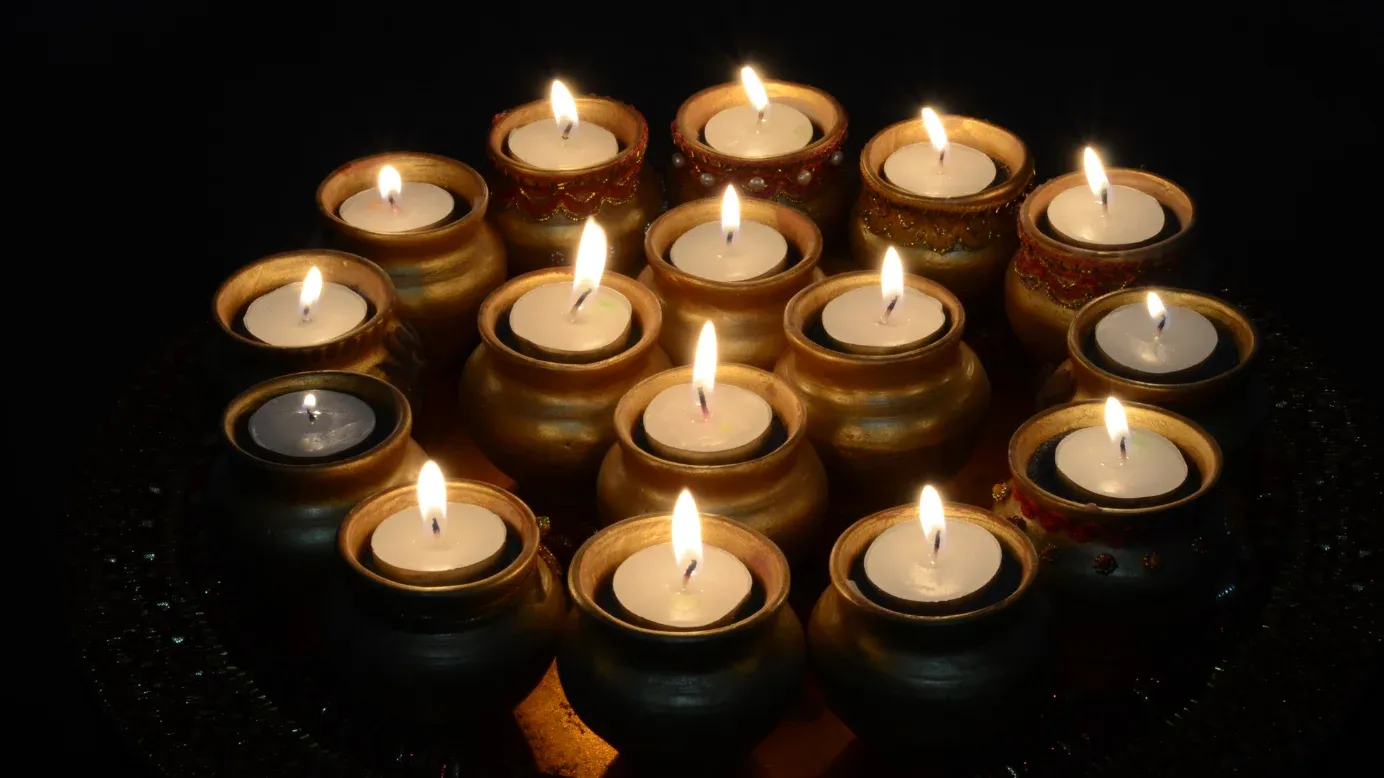 Commence the festivities with a collective diya lighting ceremony. The symbolism of dispelling darkness with light will set a profound and positive tone
8. Magical music and dance floor
Let the rhythm of traditional and contemporary tunes guide you to the dance floor. A DJ or even a live band can keep the celebrations going till late.
9. Lucky draws and prizes
The thrill of anticipation and excitement can be heightened with a lucky draw featuring tempting prizes. It's all about the luck of the draw!
10. Crafty corner
Create a fun Diwali craft corner where employees can get creative. From making colorful lanterns to intricate Rangoli designs, the possibilities are endless.
11. Spread joy with charity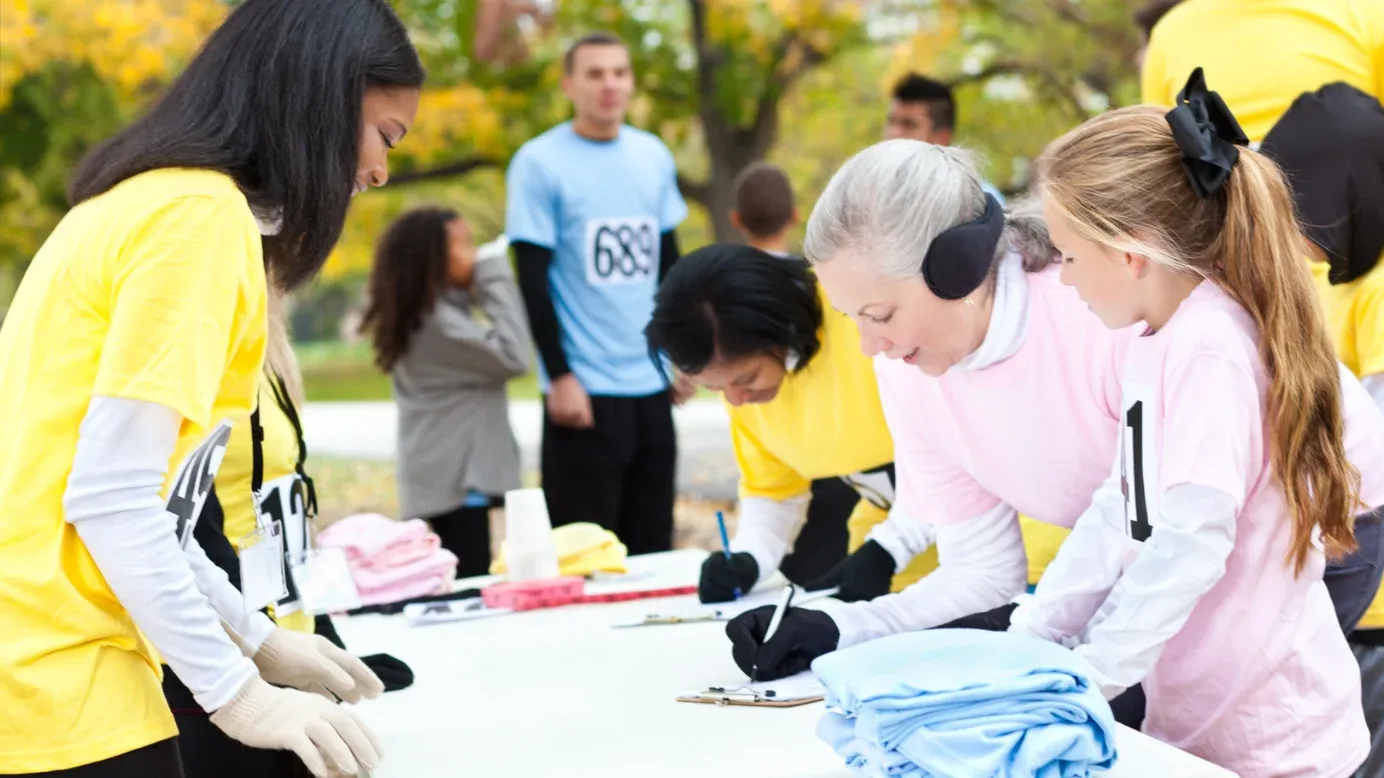 In the spirit of giving, organize a charity drive or collection for a noble cause. This will not only enhance the sense of community but also bring warmth to the hearts of all.
12. Heartfelt thank you and recognition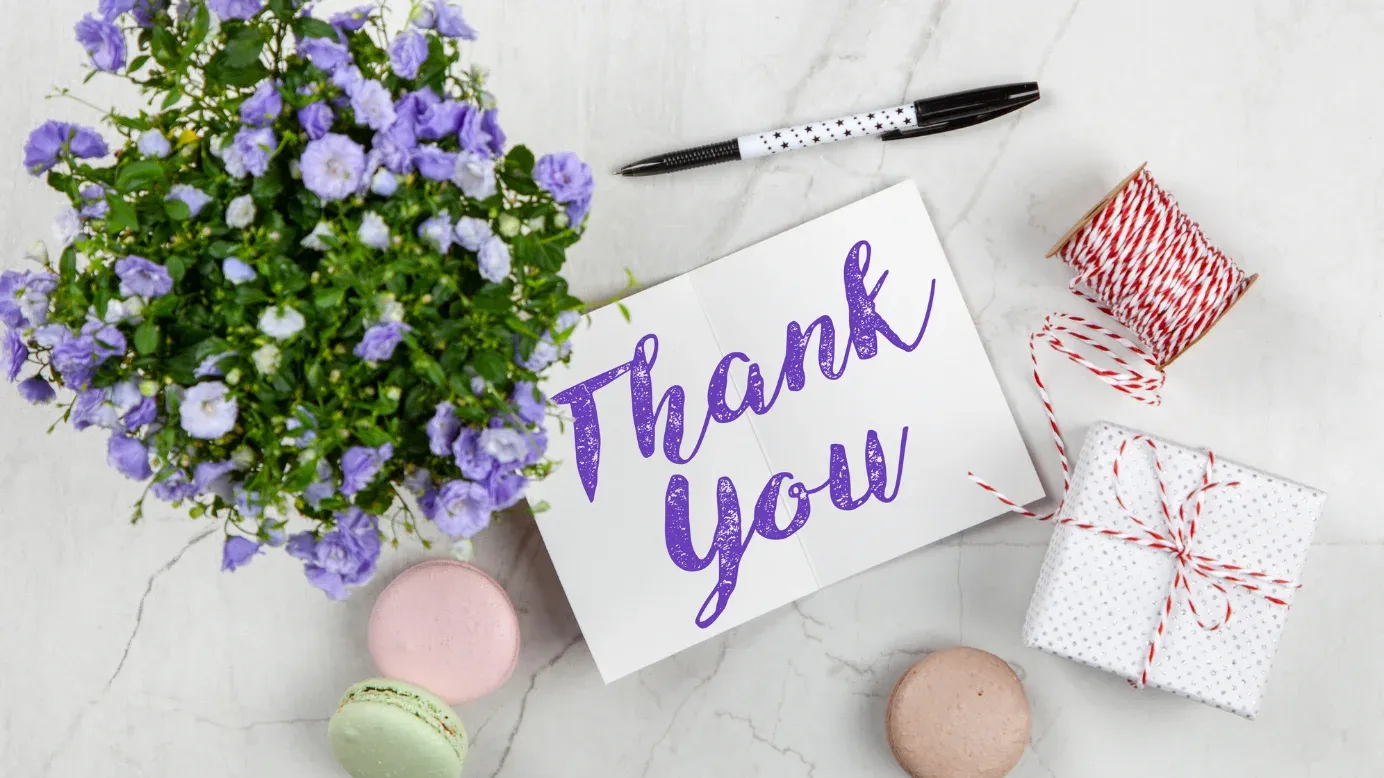 Take a moment to express gratitude to your hardworking employees. Recognize their efforts and contributions over the year, making them feel valued and appreciated.
13. Photo slideshow
Compile a heartwarming photo slide show showcasing memorable moments and achievements from the past year. It's a touching way to reminisce and celebrate together.
14. Grand finale - fireworks
If local regulations permit, end the celebration with a spectacular fireworks display. The mesmerizing burst of colors in the night sky will leave everyone awestruck.
10 Unique Diwali games for an office party
Here are ten unique Diwali games for an office party that will engage employees and add a dash of fun to the festivities:
1. Diya decoration contest
Provide plain diyas (clay lamps) along with paints, glitter, and decorative items. Encourage employees to unleash their creativity and decorate the diyas. The most beautifully decorated diya wins a prize.
2. Rangoli making competition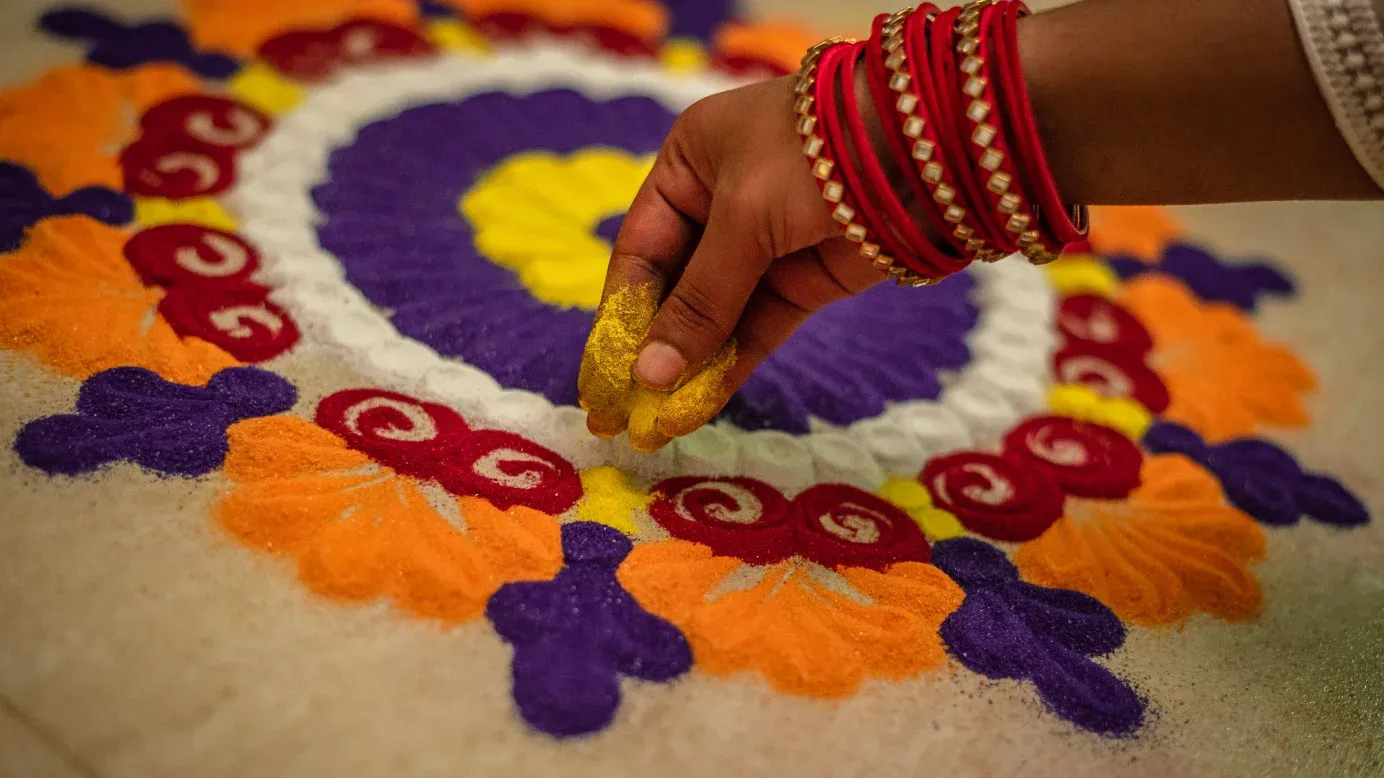 Set up an area where teams can create colorful rangolis using colored rice, flower petals, or even colored sand. This not only showcases artistic talent but also encourages teamwork.
3. Diwali pictionary
Create a list of Diwali-related words and phrases, and have employees take turns drawing them while their team tries to guess. It's a fun way to test knowledge about the festival.
4. Musical chairs with a twist
Instead of regular chairs, use cushions with Diwali motifs. Play traditional Diwali music and when the music stops, everyone scrambles to find a cushion to sit on. The one left standing is out.
5. Diwali bingo
Create Diwali-themed bingo cards with different images or words related to the festival. Call out the items, and participants mark them off. The first one to get a line or a full house wins.
6. Diwali themed quiz
Prepare a set of questions related to the history, traditions, and customs of Diwali. Test employees' knowledge about the festival and reward the team with the highest score.
7. Lantern-making contest
Provide materials like paper, glue, and decorations to make lanterns. Encourage teams to create unique and imaginative designs. The most innovative lantern wins.
8. Treasure hunt
Organize a Diwali-themed treasure hunt around the office. Create clues related to Diwali and hide small gifts or treats at each location. This will get everyone involved and excited.
9. Card-making competition
Provide materials like colored paper, glitter, and markers for employees to create handmade Diwali cards. These can be used to exchange warm wishes with colleagues.
10. Traditional dress competition
Encourage employees to come dressed in traditional Diwali attire. You can have a contest for the best-dressed individual or even a group theme.
🎁
In a world where remote work is becoming increasingly prevalent, it's essential to bridge the physical gap and make our employees feel appreciated, no matter where they are.
Xoxoday Plum reward marketplace
allows us to do just that - by giving our winners the freedom to select their own rewards, we're ensuring that their efforts are recognized in a way that is both meaningful and personalized.
5 Ethnic Diwali party dress ideas
Here are five office-appropriate Diwali party dress ideas for employees:
1. Traditional kurta with palazzo pants
For men: A well-fitted kurta paired with tailored palazzo pants and complemented with a coordinating dupatta can create a smart and traditional look. Adding a Nehru jacket or waistcoat can add an extra touch of elegance.
For women: A kurta with a flared palazzo pant and dupatta can be a comfortable yet stylish choice. Opt for bright, festive colours and accessorize with statement jewelry.
2. Saree with a contemporary twist
For men: A modern take on traditional wear can involve draping a saree in a unique way. Pair it with a well-fitted shirt and a contrasting Nehru jacket. This combination balances tradition with a touch of contemporary style.
For women: Experiment with different draping styles or choose a contemporary, pre-draped saree. Pair it with a tailored blouse and add statement accessories to complete the look.
3. Fusion outfit
For men: Combine elements of traditional and contemporary wear by pairing a kurta with well-fitted trousers or chinos. Add a stylish waistcoat and complete the look with dress shoes.
For women: Mix and match traditional and modern pieces, such as pairing a traditional blouse with a contemporary skirt or palazzo pants. Accessorize with statement jewelry and footwear.
4. Anarkali suit
For women: An Anarkali suit with its flowing silhouette and intricate detailing is a classic choice for Diwali. Opt for vibrant colors and rich fabrics, and accessorize with statement earrings and bangles.
5. Indo-western ensemble
For men: Pair a well-fitted kurta with a stylish jacket or vest and modern trousers. Consider adding a pocket square or unique accessories to add a contemporary flair.
For women: Combine elements of traditional Indian attire with Western clothing, such as pairing a kurta with tailored pants or a skirt. Add modern accessories like statement earrings or a belt to complete the look.
Conclusion
Incorporating Diwali celebrations into our workplace is a wonderful way to foster a sense of unity, camaraderie, and joy among colleagues. By embracing the festive spirit, we not only create lasting memories but also strengthen the bonds that form the foundation of our professional community.
The diverse array of Diwali party ideas and games presented here are designed to add a touch of brilliance to our work environment, making it a place where the spirit of Diwali can truly thrive.
As we prepare to embark on this festive journey, let us remember that the magic of Diwali lies not only in the vibrant decorations and delicious treats, but also in the shared moments of laughter, camaraderie, and goodwill.
May this Diwali celebration in our workplace illuminate our lives with prosperity, happiness, and a sense of togetherness that transcends professional boundaries.
Wishing you all a Diwali filled with light, love, and cherished memories!
---