10 Best Restaurants to Have a Romantic Candle Light Dinner in Kolkata!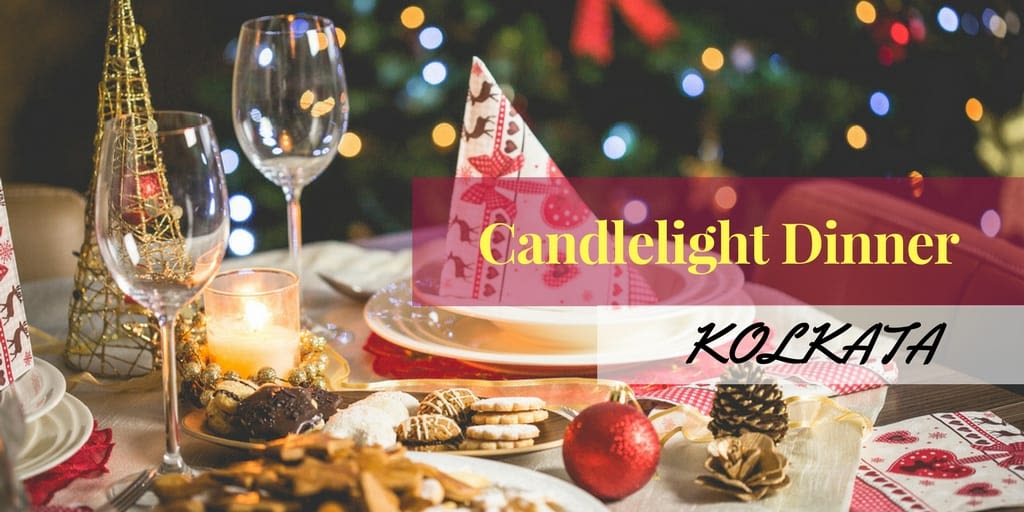 Kolkata is the land of Goddess Durga and some amazing Bengali Mithai. Looking for that perfect place for a pleasant date night with the love of your life in the Sweet City of Kolkata? You have landed on the right page. We have listed some of the most romantic restaurants and cafés in Kolkata. Here, you can create adorable memories with your significant other over a romantic candle light dinner in Kolkata.
Most Popular Restaurants For The Best Candle Light Dinner in Kolkata
Most of these restaurants offer both vegetarian and non-vegetarian cuisine. So, with so many options to choose from, you will be spoilt for choices. Look at these romantic places for candle light dinner in Kolkata and pick up the best one that you would love. Also, you can choose from affordable or luxury restaurants according to your liking.
Sand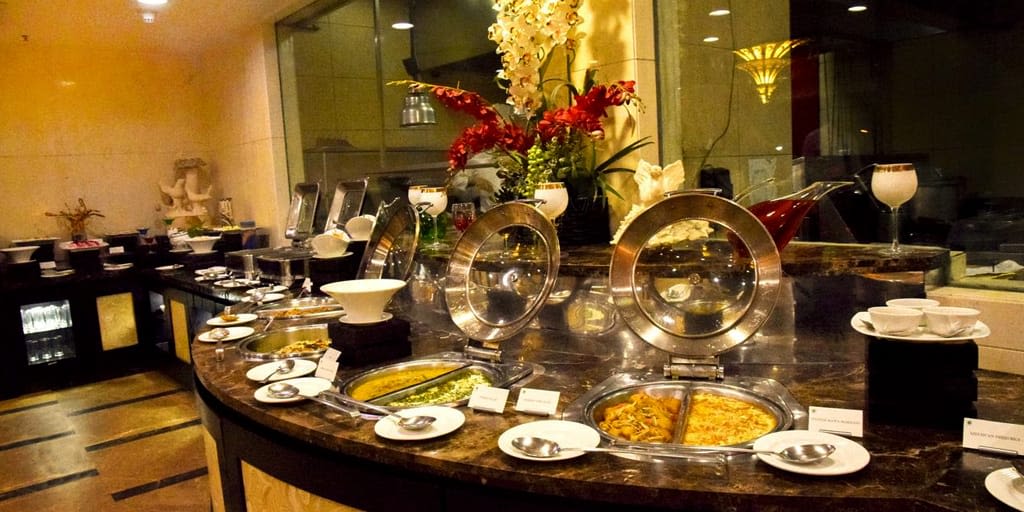 Sand is an open kitchen restaurant that offers multi-cuisine food. It is at Hotel De Sovrani, Sector I. Sand is well-known for its delicious preparations. They offer Oriental, Continental, Indian and Mughlai cuisine. If you want to taste traditional Bengali food, this is the place for you. They prepare their dishes with authentic spices adding a traditional taste and fragrance to the dish. The place is well-known for their splendid buffets that offer unlimited food at a nominal price.
If you and your date are foodies, you can book this Sand Restaurant. It offers buffet including four-course meals, two cocktails and a delicious chocolate truffle cake in candlelight setup. With great hospitality, warm ambience and delicious dishes, your partner would remember this romantic candle light dinner in Kolkata for years to come.
If you are going to visit this restaurant, you must try Dim Sum, Dumplings, Dal Makhani, Fish Fry, Railway Mutton, Noodles and Cheesecake. They also offer a full bar menu.
Durbari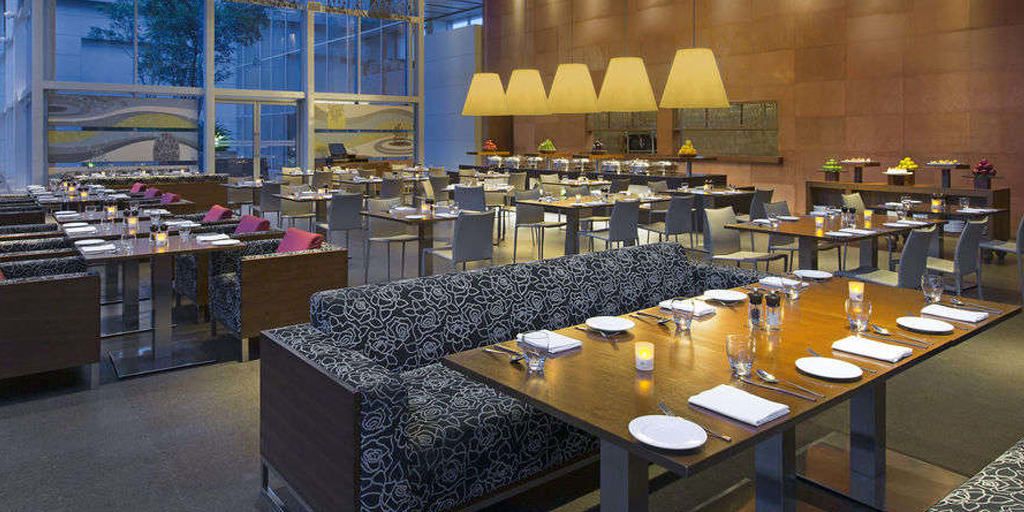 If the quality of service matters to you the most along with the quality of food, this is the place for you. Durbari is inside Swissotel at New Town Rajarhat. They have an extensive range of non-vegetarian cuisine. Being located in the Rajarhat IT Park, the hotel offers a distinct mix of business facilities and leisure. Durbari serves North Indian, Bengali and Mughlai dishes along with some amazing mocktails.
It is a restaurant with a unique offering of Swiss hospitality. It is also popular among couples for its classic, royal ambience and warm welcome. It is a fine example of balance between traditional and modern design. Along with the Ala Carte menu, they have a buffet that offers Bengali non-vegetarian delicacies.
If you are planning to celebrate a memorable date, do book a candle light date like this one, where you will be able to enjoy a welcome drink and a 4- course chef's special non-vegetarian menu. Along with this, Swiss Chocolate Cake and a complimentary dessert would make the evening special. To spice up your date, you can choose a corner table decorated with rose petals and candles. So next time, whenever you are planning to go on a candle light dinner in Kolkata, do book a table for two and enjoy your evening to the fullest.
Live Private Chef Experience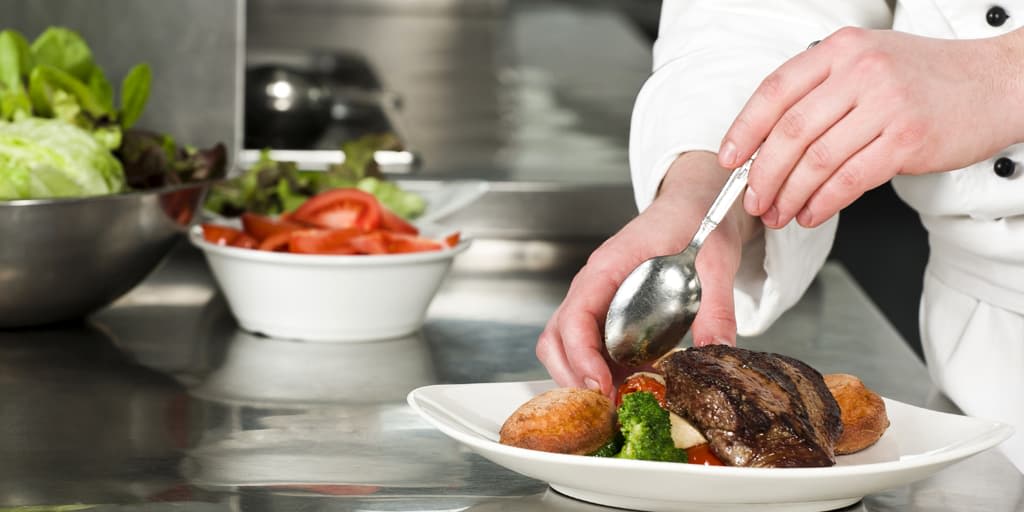 Has your better half ever complained about having to cook every day? If yes, it's a good idea to take them to romantic date where you can give them a break from the daily cooking chorus and experience the live cooking. The best part about this date is you don't have to go through the hassle of driving and parking. Because you can enjoy it at the comfort of your home.
You can avail this service any day between 10 am to 8 pm. Choose from your preferred cuisines such as Chinese, Indian, Continental, Swiss and Mexican. You and your better half can enjoy services and cuisines equal to the best romantic restaurants in Kolkata.
If you are going on this date, there are a few more surprises in the box for you. Apart from the unique experience, you can impress your master chef by delivering flowers. A one pound cake of your choice and a customised banner with pictures surprise her. You can also hire a photographer to capture the romantic moments by spending a bit more. This will be one of the most romantic candle light dinner in Kolkata that you can have!
Ocean Grill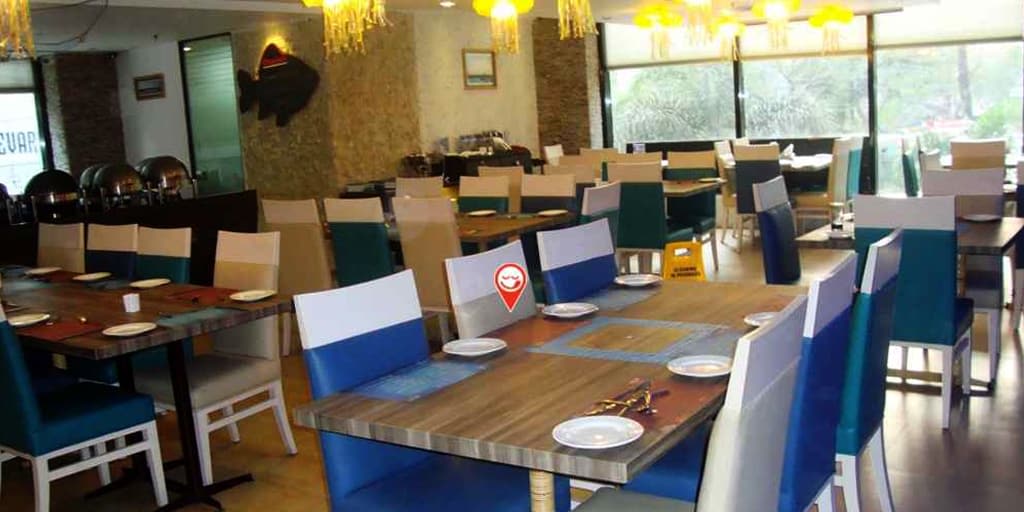 Love seafood? Visit Ocean Grill. It is at infinity benchmark, Salt Lake City. Apart from succulent seafood, they offer Middle Eastern, Asian, continental, and north Indian food. Kolkata is the land of spiritual faith, mysticism and seafood. Even if you are here for a couple of days, you must try traditional seafood that Ocean Grill offers.
Located in a posh office building, they have free Wi-Fi, a smoking area and is great for quick office lunches. It is also couples favourite spot to have delicious sea food. The best thing about this restaurant is, you can get seafood cooked in any cuisine style. So if you want squid cooked in Middle Eastern spices, it is possible. This unique feature makes it one of the best restaurants to dine for an amazing candle light dinner in Kolkata. The entire restaurant has the 'Ocean' theme. Be fishnets hanging from the roofs or shark fish tanks in the walls. They arrange their buffet menu over a boat shaped table adding to the theme.
For couples, they serve you with a welcome drink. You can either choose between buffet or Ala Carte menu while booking this date. It includes soups, salads, starters, main course and dessert. From baked veggies to Afghani Murgh each bite will surprise you with its rich flavours.
Buffet At Swissotel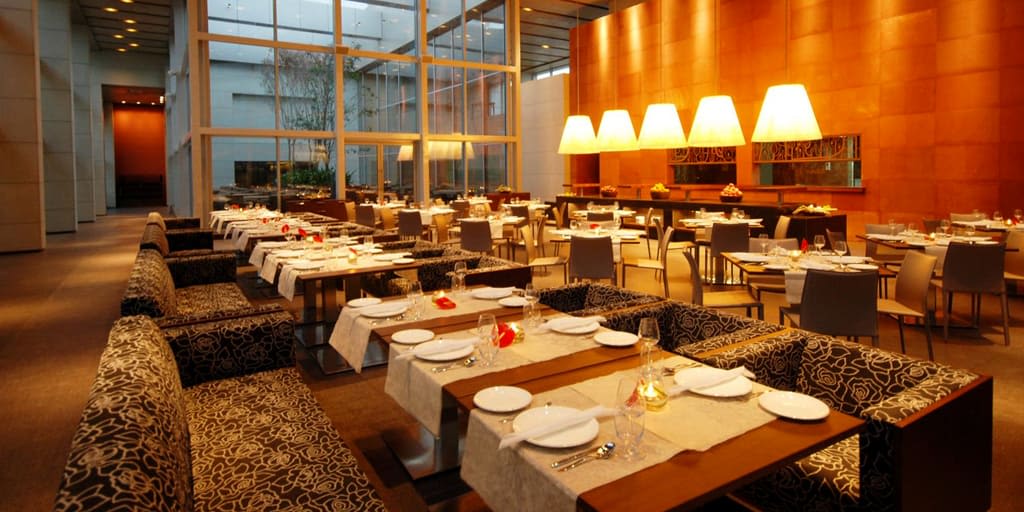 Swissotel is at New Town Rajarhat. It has pleasant ambience and efficient service. You can choose to dine during the day or in the night. Most of the couples prefer to enjoy the splendid view from the rooftop in the candlelight. It is the nearest five-star hotels to Kolkata International Airport. So, it is an ideal place to spend a pleasant evening with your loved one. Have a romantic candle light dinner in Kolkata, before catching your flight.
Café Swiss is an award-winning multi-cuisine All Day Dining restaurant. It offers Swiss inspired European cuisine. But they also have excellent North Indian dishes cooked in authentic spices. The relaxed ambience has contemporary styling and offers superb cuisine. This makes it a great option to have a romantic candle light dinner in Kolkata. The management makes sure that the place not only offers a treat to your taste buds but also feast to your eyes. Swissotel is the only restaurant in Kolkata that offer 12 varieties of desserts in a single buffet.
They offer 24*7 services with indoor and outdoor seating. This place is perfect for couples who enjoy having authentic Swiss and European food. And with a couple's special date like this one, you can enjoy some extra perks such as a welcome drink on the house. You can also enjoy array of speciality delicacies. The chef's special preparation of the day and a flavoured cake in the desert will add the icing on the cake. Some of the must try dishes include Caesar Salad, Masala Kulcha, butter poached fish, and Paneer Tikka. Also try waffles, Chicken Tikka, Spaghetti, Cheesecake and customisable cakes.
The Hub
The Hub is in Taj Bengal, Alipore. There are plenty of reason why you are bound to fall in love with West Bengal and Kolkata. Mouth-watering food is one of them. When it comes to having authentic Bengali cuisine and experiencing the royalty at the same time, The Hub is one of the best options you can try. Since it is inside The Taj Bengal, it has the touch of five star hotels. Not to mention the amazing service and the food.
It is a multi-cuisine restaurant that offers Chinese, Continental, and Italian cuisine. South Indian and of course north Indian cuisine are available too. They offer Sunday Brunch with unlimited wine or drinks. But the best time for couples to visit this restaurant is in the night. It has an impressive view of crystal clear swimming pool through a French window. This adds to a romantic candlelight seating. They have Ala Carte menu as well as elaborated buffet spread and full bar menu.
Some of the must try dishes are Pan-seared Beckti with White Wine and Garlic Bisque Sauce. Also try Swiss Fondue, Risotto, Mud Pie, Spicy Chicken Remen and Panini Sandwiches. If you are celebrating a special date, it is better to book a table first as the restaurant is always crowded. You can also book a table for two from here and enjoy the exotic view from the French window. With its captivating interiors, attractive layouts and delicious food, a candle light dinner in Kolkata like this will leave your better half mesmerised.
Buzz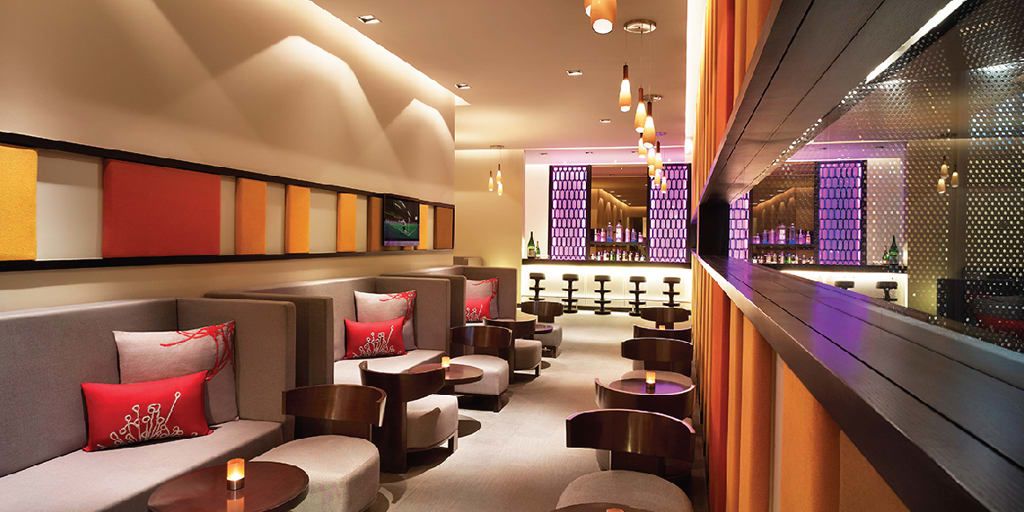 If you are in the mood for experiencing an amazing blend of international and Indian cuisine, you must visit Buzz. It is inside the Gateway Hotels, East Kolkata. Buzz offers a wide array of Bengali, North Indian and South Indian cuisine. They also offer Italian, Chinese and Continental cuisine. They have a special menu for fitness freaks who prefer low-calorie healthy eating options. Buzz is proud of their East Bengali food. And it tastes exactly like authentic home-cooked Bengali cuisine. They pay close attention towards the quality of their preparations. The chef handpicks all the ingredients to make sure that you get an experience of a lifetime.
If your taste buds are craving for some traditional and authentic Bengali cuisine, you can book a three-course meal here and enjoy the best that they have to offer. You have plenty of option in veg and non-veg soups. In the mains, you can go for various kinds of pasta. Try chicken mulligatawny soup, Nizamisubzhandi and grilled chicken breast too.
Some of the must try recipes are Gondhoraj lemon hinted grilled fish, Char roasted Menestra and Roast chicken Pizzaiola. Choosing a dinner buffet at Buzz will not only give an exposure to mouth-watering cuisine but also an experience of a lifetime. It is one of the most romantic places to have a candle light dinner in Kolkata.
Oceanic – The Peerless Inn

Located in the New Market Area, the Peerless Inn is well-known for its finger-licking seafood. The Peerless Inn has three dining options; Aaheli, Ego and Oceanic. All serving specialised cuisine. You can choose from North Indian, Continental, South Asian and Italian cuisines. They also host various food festivals. People from all round the country visit them to enjoy tasty cuisine from every corner of the world. Recently they held an Avadhi Food Festival, celebrating the famous spices of Lucknow
For couples who are hardcore seafood lovers, Oceanic is nothing but a paradise. With over 150 dishes and various mocktails to add to the flavour, your dinner date will not only be a memorable one but also a unique one. The Ala Carte menu is rich but if you are looking for a real deal, you should book a buffet dinner date for you two and enjoy the ultimate preparations by expert chefs.
Some of the must try dishes include Phirni, Dum Aloo, Kulfi, Mango Salad, All the prawns' dishes, Biryani and Shahi Tukda. Warm ambience, pleasant service and an extensive variety of tempting dishes make it ideal restaurants to have a romantic candle light dinner in Kolkata.
Live Music and Candlelight Dinner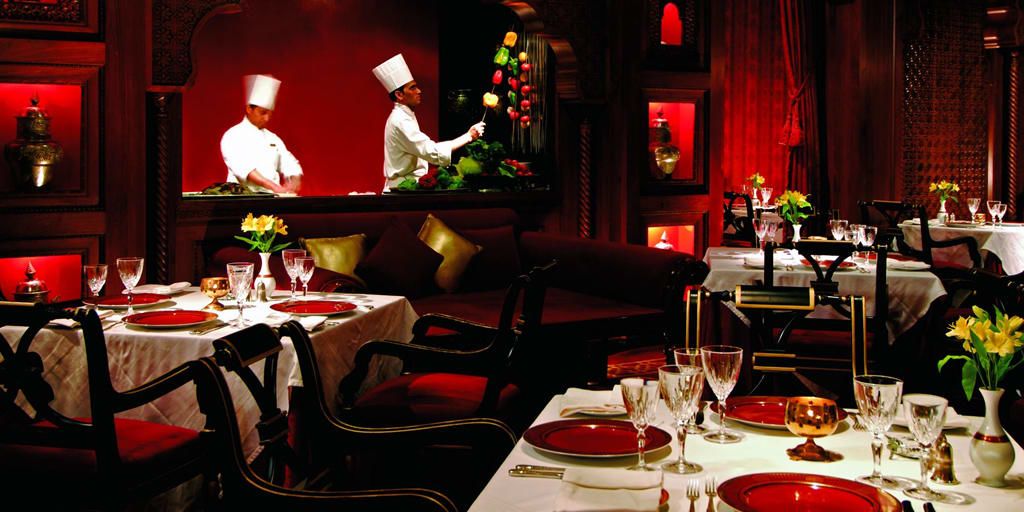 Music can make mood or break it. Same applies to food. A delicious preparation leaves its trace on your memory for a long time. So if you are planning to go on a very special date with that very special someone, here is an ultimate romantic dinner date package with live music for you. It not only offers live music and mouth-watering cuisine but also privacy that all the couples are always looking for to spend some quality time.
While some couples prefer spending time away from the hustle bustle of the city, visiting a hill station some prefer a date night that offers triple bonanza – privacy, amazing cuisine and soothing music. Having a romantic candlelight dinner in Kolkata under twinkling fairy lights is every girl's childhood fantasy. And you can make it come true by visiting this private lounge at the Salt Lake City.
The three course meal includes 2 starters, 2 mains, 1 dessert and 2 drinks of your choice at a pre-decided venue. Along with it, you can get a one pound cake of your choice and a beautiful red rose to show your love towards her. To spice things up further, you get calligraphy roll with a personalised message. Because we know; handmade cards is the best way to convey your feelings. So get ready to create a memory of a lifetime with two hours of live music, twinkling lights and her precious smile.
Blue and Beyond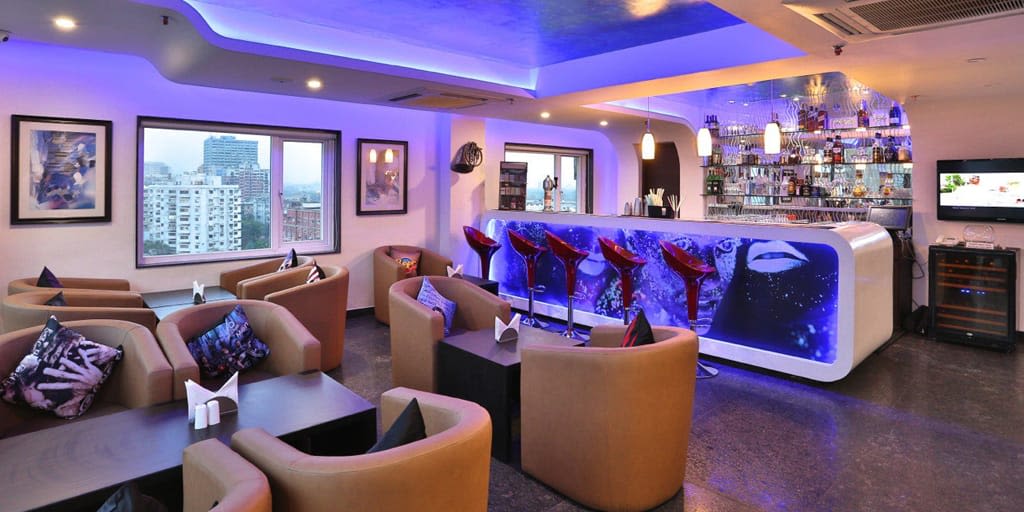 Blue and beyond is an open air resto bar that offers a beautiful, cosy and comfortable ambience. It will leave you mesmerised. It in Hotel Lindsay in Dharmatala. This multi-cuisine restaurant offers a blend of luxury and affordable service. Their premium menu is for the foodies who prefer tasting various cuisines. They serve continental, Chinese, Thai, Italian and North Indian cuisine. Along with this you can order some good cocktails and full bar menu.
If you want to visit lavish places to have a lovely candle light dinner in Kolkata, you can try this restaurant. They have a full bar menu and always have various offers going on which can you can see on their website. Some of the must try dishes include Chicken Steak Singapore, Threaded Chicken, Murgh Makhni and Italian pasta. Blue conclusion and a fine white or red wine of your choice, all the way from France, is a must try.
The unique ambience of Blue and Beyond will take you by surprise. Inspired by the five elements of nature, they have installed beautiful gazebos inside the restaurant that adds to its charm. With light music playing in the background, they create a romantic ambience. So if you are planning to propose your girl or guy, do take him or her here and you can never go wrong with it.
With the fast-paced word and internet on our fingertips, the ways of dating have changed a lot. But nothing can beat the old school romantic candlelight dinner date. We hope you liked this tour through the gastronomic heavens to have a mind-blowing candlelight dinner in Kolkata. Do you know any other places that can create this kind of magic and make someone's date night a memorable one? Do write them down in the comments section and we would give you a tempting tour through those culinary heavens too.
Tags
Comments