Table of Contents
66% of customers say the ability to earn rewards actually changes their spending behavior. (
Source
:
Shopify
)
Most of us understand the frustration of losing a lead after working so hard to get them in the first place.
Despite our best efforts to keep leads engaged throughout the buyer journey, we occasionally lose touch with them. Worse, even when we manage to keep a prospect's attention until the end, we still tend to fall short when it comes to closing them as a new client.
The key here is to keep clients engaged throughout the buyer's process.
Pretty simple, right?
With a duo of AIDA marketing model and rewards, it is.
By leveraging the power of these two, you can surely level up your conversions.
How?
While the AIDA model might help you understand your buyers' needs through different customer journey stages, rewards will give an added advantage to woo prospects towards you.
After all, let's face it, who doesn't love getting gifts and incentives?
By the end of this read, you will understand the following things:
What is the AIDA model
How to know in which AIDA stage a customer is
How you can apply AIDA in the digital marketing funnel
How you can increase conversions with rewards at each stage of the AIDA model
Ready? Let's dive into it!
What is the AIDA Model?
The AIDA Model has been an efficient digital marketing model for ages. It has helped businesses increase their sales. Brands use the AIDA model to identify how to design and deliver valuable information to the right people at each step of the buying process.
When marketers of Coca-Cola were given a task to sell a new product, "Coca-Cola Zero."
Here is how they followed the AIDA model to market it:
Purpose
How Marketer Messages?
How Does the Target Audience Feel About it?
A
Attention
Draw attention to your brand
Black posters with red question marks on it
What is it?
I
Interest
Develop an interest in your product or service
Just add Zero
I like it.
D
Desire
Arouse a desire for it
What does coke zero taste like coke
I want it.
A
Action
Prompt an action to test or buy it
Enjoy your coke zero. Taste it
I am getting it.
AIDA stands for Attention, Interest, Desire, and Action. Ideally, your content must draw attention to your brand, develop an interest in your product or service, arouse a desire for it, and prompt an action to test or buy it.
The 4 Stages of the AIDA Model
Let's understand the different stages of AIDA in more detail.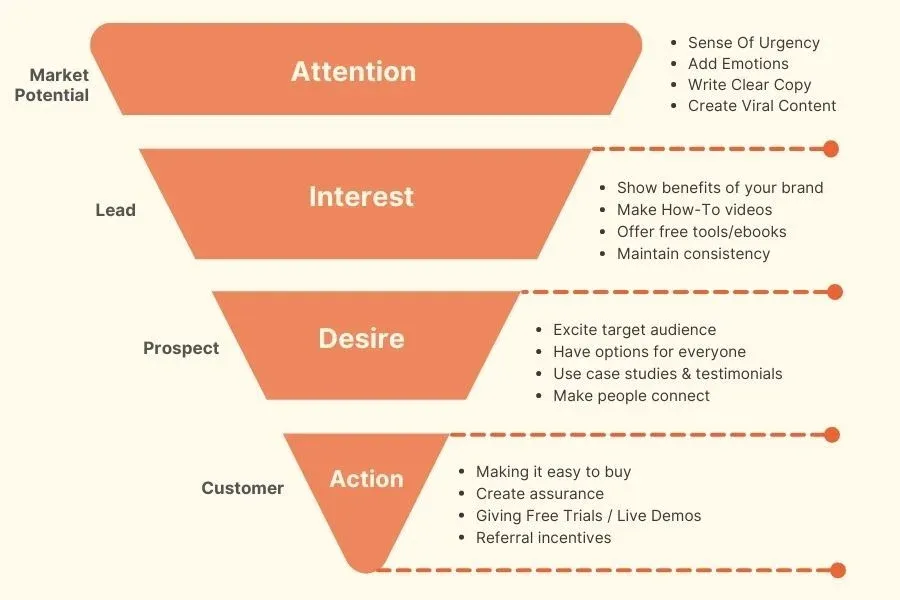 1. A (Attention)
It is the AIDA model's first level.
Initially, your potential customer is unlikely to pay attention to your company's posts. Thus, your objective as a marketer is to raise awareness of your product or service among the target prospects. This way, your consumers will better understand what you do and how you can help them.
You must first capture the attention of your target customers for them to engage with your brand's advertisements, for instance, by creating viral content or advertising discounts on new products.
When Netflix released its original movie "Bird Box, "45 million people viewed it in seven days. Netflix's digital marketing team used an effective strategy outside of using the platform's user interface (UI). So when "Bird Box" was released, the company's decision-makers made sure viewers knew about it by pushing the ad in the homepage slot.
The company's marketing team used a strategy that needs a special mention in social media marketing is — Meme Marketing. They knew most of their viewers were hanging out on social media channels, thus using memes to draw their attention.
People couldn't wait to watch the Bird Box as a movie rather than memes. Within its first week, $45 million Netflix users watched the movie.
This happened due to the hype and FOMO (Fear of Missing Out) created around the release.
2. I (Interest)
It's one thing to capture your consumers' attention; it's quite another to keep it.
However, stimulating a consumer's interest is far more complicated than grabbing their attention.
AIDA model's second stage deals with maintaining the interest of your target audience.
To keep your prospects interested in your advertising or marketing message, you must offer them a reason. Show them why it is significant, or they may want your assistance.
You might accomplish this by storytelling or consumer advertising that allows the customer to "feel" their pressing problem, prompting them to seek a definitive answer
Make it about them rather than about you.
Let's talk about CRED. Their content marketing showcases a simple message: download CRED and earn a reward for paying your bills." They said you will receive rewards if you pay your credit card bills using their product.
Domino's had to "go big" to keep the public interested, while Pizza Hut was the official Super Bowl sponsor. And the brand accomplished this achievement thanks to its novel Piece of the Pie Rewards program.
Customers could participate in the Rewards Program and gain 10 points for scanning any pizza. Yes, even if it wasn't a Domino's pizza! After accumulating 60 points, the individual would earn a free Domino's pizza!
3. D (Desire)
After narrowing it down to a few companies, Buyers will return to the research. They'll start by making in-depth comparisons of each company they're evaluating.
This gets us to the third stage of AIDA—creating a desire for your brand.
In this stage, you must highlight all of your product's characteristics and demonstrate how the end-user will benefit from your product or service. Here, it would help showcase your brand's unique selling proposition and distinguish it from your competition.
If everything is done well, your prospects in the 'desire' stage will be eligible to convert.
Do you know that Steve Jobs revealed its technical characteristics before displaying it whenever Apple launched a new product?
This shifted people's attention to the iPhone's excellent features. In addition, Steve Jobs demonstrated what the iPhone was capable of once people were aware of its capabilities.
4. A (Action)
Finally, your buyers are ready to buy after days, weeks, or months of research.
The last stage of the AIDA model is in action. Here prospects take the essential steps to become clients.
If you want more people to take action at this level of AIDA, make it simple for them. You may accomplish this by including a CTA button on your product pages, adding links to your registration page, and so on.
Furthermore, you may have several case studies and client testimonials on hand to demonstrate to prospects what others have accomplished by working with you and how great their experience has been.
For example- The Buffer website converts visitors into buyers by offering a 14-day free trial with no credit card required and the chance to cancel at any moment. It encourages the user to test the product, and the brand converts the trial user into a loyal client through their service.
But it's not that simple.
Buyers do not want to be prospected, demoed, or closed unprepared.
You can't expect someone who hasn't ever heard of your brand to convert.
When you present something to the wrong customer at the wrong time, it brings no value to the business.
Knowing which AIDA stage your customer is – will help adjust the marketing strategy tactics based on the stage reached.
Here is the list of ways that might help you:
How to know in which AIDA Stage a Customer is?
Here are 3 ways to find out at which stage of the AIDA framework a customer is in:
1. Use 'website analytics tools'
Web analytics is the collection, processing, and analysis of website data. It is a helpful way to improve your website's performance by revealing how people interact with your data.
Some of the advantages of integrating web analytics onto your website are as follows:
Keep track of where the traffic is coming from
Calculating the bounce rate*
Marketing Campaign Optimization and Tracking
Understand what your consumers are searching for
Using this information, you can distinguish contacts who are still in the 'attract' stage from those interested in your business or who have an urge to make a purchase.
You might want to use analytics tools like Google Analytics, HubSpot, Adobe Analytics, etc., to keep track of your website.
*Bounce Rate: The percentage of visitors who arrive at your website and then leave. They don't do anything else or go to another web page. You can calculate it by dividing the total number of single one-page visits by the total number of visitors.
2. Leverage 'heatmaps'
Heatmap software allows you to identify what areas of your website you might need to fix. It displays a colour-coded description of the sections that receive the greatest (hot) and least (cold) interaction.
Based on the page people reached and clicked (or tried to click), you can determine at what stage they are in the AIDA model.
When you have a better idea of what to modify, you can provide your users with the experience they deserve.
For this, you can use tools like Hotjar, Crazy Egg, Lucky Orange, etc.
3. By 'mapping buyer touchpoints'
Each time a client interacts with your brand, a touchpoint is before, during, or after buying anything from you. It might be your website, landing pages, product pages, contact forms, price pages, social media, etc.
It would help if you considered all potential touchpoints between your consumers and your company. Then, to gain deeper insights, organize the touchpoints for each step of the consumer journey.
You may use tools like Lucid Chart, UXPressia, Smaply, etc., to map these touchpoints.
Now that you know which AIDA stage your prospect is in, let's go further.
We will now see how you can apply this information to your digital marketing funnel and what benefits you can reap.
AIDA in Funnel Marketing: How to Increase Conversions with Rewards?
The AIDA  model might help you convert strangers to buyers.
How?
By allowing you to classify your existing digital marketing strategy into different categories. This way, you can evaluate if you're covering all the stages a prospect goes through to become a customer.
Let us look at how you can skyrocket conversions at each stage of AIDA.
1. Attention stage
The world is overflowing with messages fighting for your prospects' attention.
Your objective should be to pause them and draw their undivided attention to your message. You can do this with the help of compelling words and visuals. Only then can you hope to progress them to the next stage of the AIDA model.
Here, remarketing enters the picture. You might increase conversion rates when retargeting is appropriately executed. For example, if a person is in the Attention Stage and leaves, remarketing can push them to the Interest Stage.
In this stage, the consumer wants to know, "What is it?"
To get to this stage, you must first get your content in front of them. This comes with creating brand awareness and compelling messaging.
Here are some tips you can use to grab the attention of the targeted customer groups:
Establish a sense of urgency: E-commerce websites like Amazon add lightning deals to make sure the prospects feel that they could potentially "lose" if they don't act fast.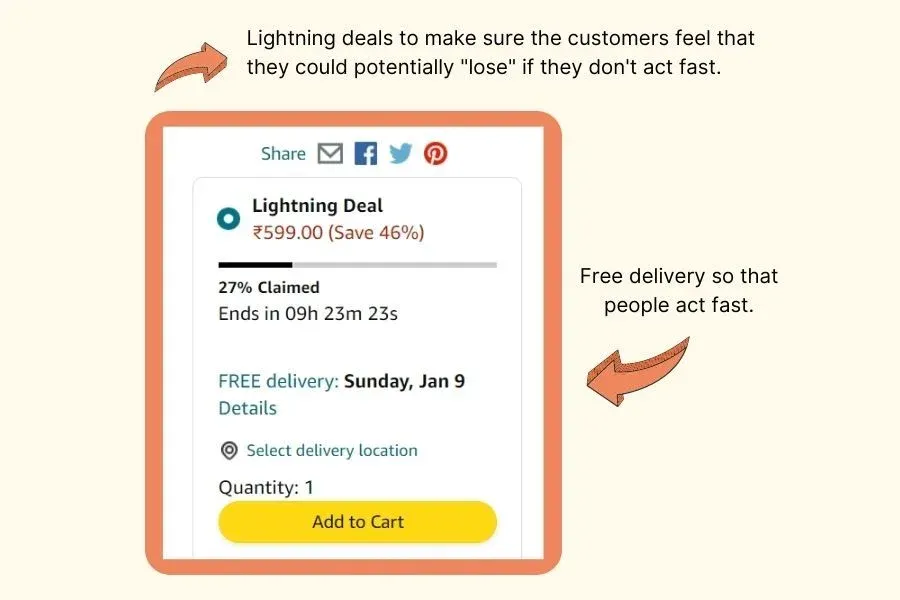 Add emotions to attract customers: Do you remember the famous Nike campaign "Just Do it"? Nike is one of the best brands that connect emotionally with consumers. It is a great way to demonstrate the emotional trigger related to leadership.
Write a short and clear copy targeting your audience: For example, Trello has excellent copywriting on its website. Like most of the copies on their site, their product description is crystal clear. It's always best to use a content writing marketplace to create high-quality, unique content that is best for your brand.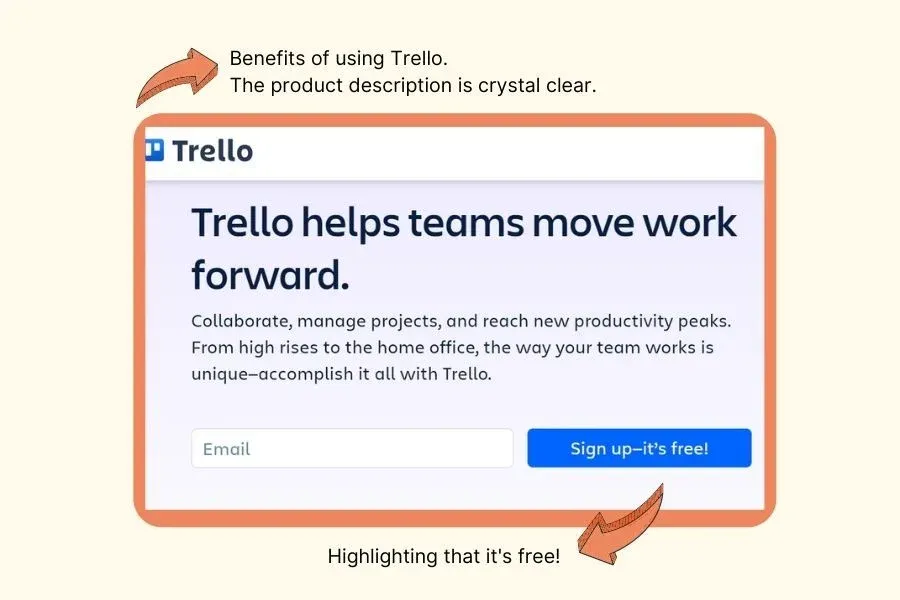 Create a viral content strategy: For instance, a video from Dollar Shave Club helped the razor company skyrocket to unprecedented success after getting just under 27 million views.
Use rewards to gain attention: Rewards let you create urgency. It is one of the most common scarcity tactics and can be highly effective. It's also an excellent angle for FOMO marketing. And, adding a discount at this point is only going to boost conversions. Realizing that the clock is ticking and there's only a finite amount of time to take advantage of an offer can be a strong incentive.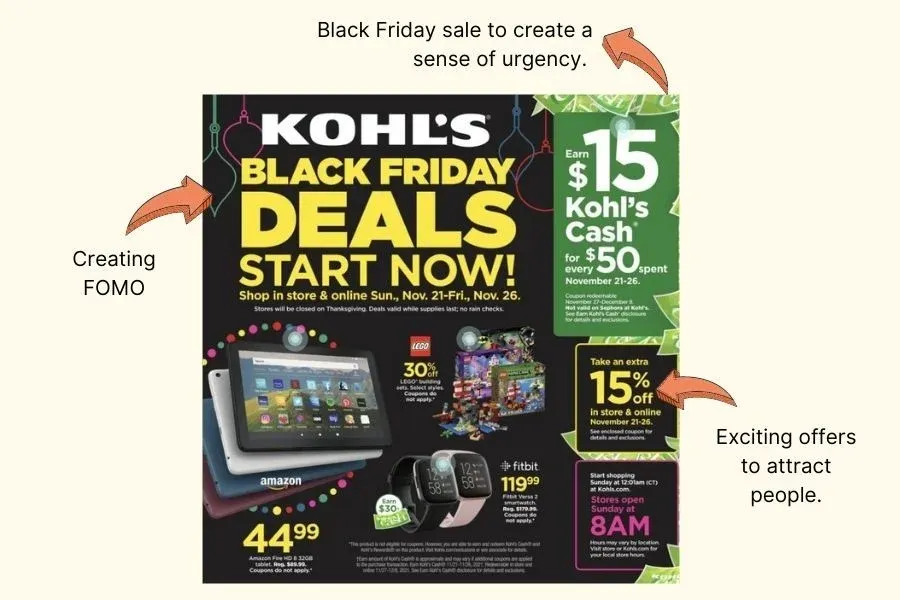 Exclusive rewards help gain customers' attention: Exclusive rewards are a great way to get started with branding. CRED gained popularity using its exclusive rewards approach. The company offered exclusive rewards to its customer base for paying credit card bills using CRED.
Attract customers with a chance to win grand prizes: During the holiday season, Bass Pro conducted a contest in the United States and Canada for two high-value prizes. The promotion, which was designed to bring people into Bass Pro shops or the retailer's online site, helped increase brand awareness throughout the holiday season.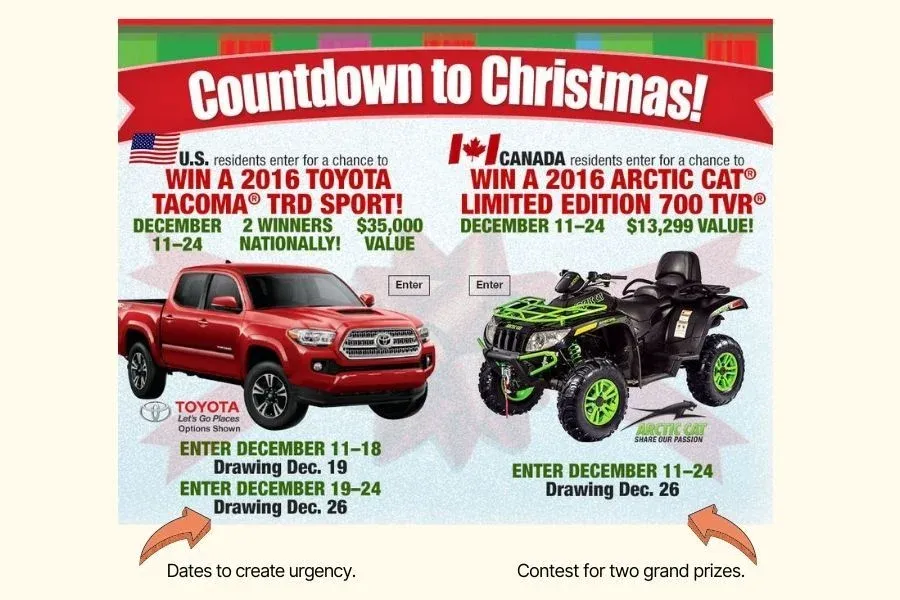 2. Interest Stage
We frequently see fantastic advertising fail at this stage. So make sure to enable your visitors to understand the relevant message quickly.
For example, someone may pause your message if you use an appealing image or a catchy title, but if you fail to explain why it is essential, they will go on to the following message.
The aim at this stage is to get them to say, "I like it."
Once people are interested in your product or service, they will want to understand more about your brand, the benefits of your solution, and how you could fit with them. As a result, they go to the next stage—The Desire Stage. If done right, most of these leads are likely to convert soon!
Here are some tricks that will help you keep your leads interested in you:
Give useful information with the help of how-to videos: One of such videos is made by Moz. Whiteboard Fridays is a famous Moz video series that breaks down SEO concepts in simple language and images. Moz understands that SEO is a challenging subject and strives to make it easy for its audience to understand. You can implement the same using video and voice changer tools to enhance the effectiveness of the video.
Offer free tools/ebooks: Do you know HubSpot is awesome at this? It has an entire knowledge base that provides many free marketing and sales templates used by millions of marketers.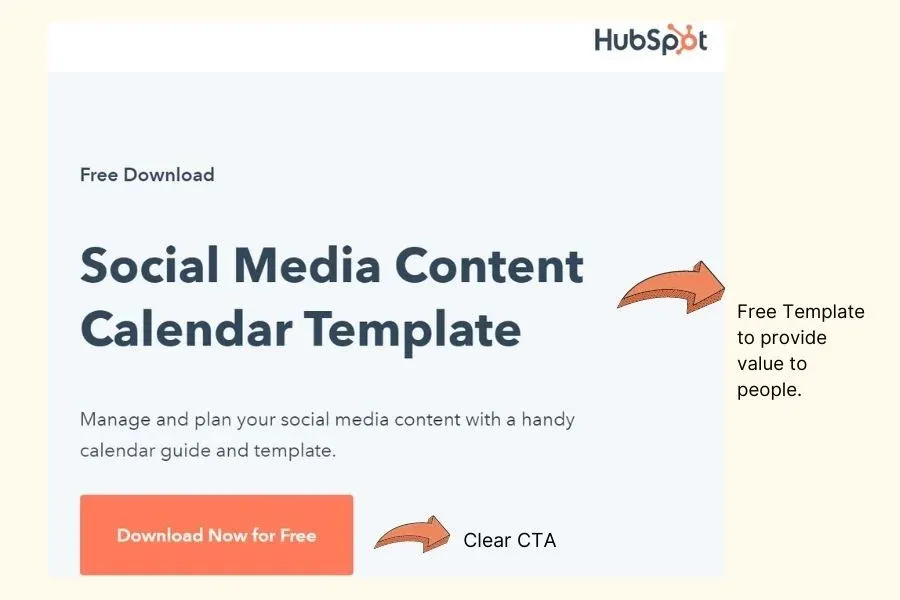 Maintain Consistency: Dropbox, for instance, shines at maintaining consistency in design and personalization across platforms. You won't find any Dropbox platform without its characteristic open, blue box logo alongside. This approach is present in all of the brand's designs, whether home pages or error pages.
Don't focus on selling, focus on improving lives: Consider the cosmetics department, where the emphasis is convincing you to buy the product through samples and expert makeovers. Sephora and Ulta, on the other hand, offer teaching, community, and services to assist customers to feel confident in their ability to apply makeup at home.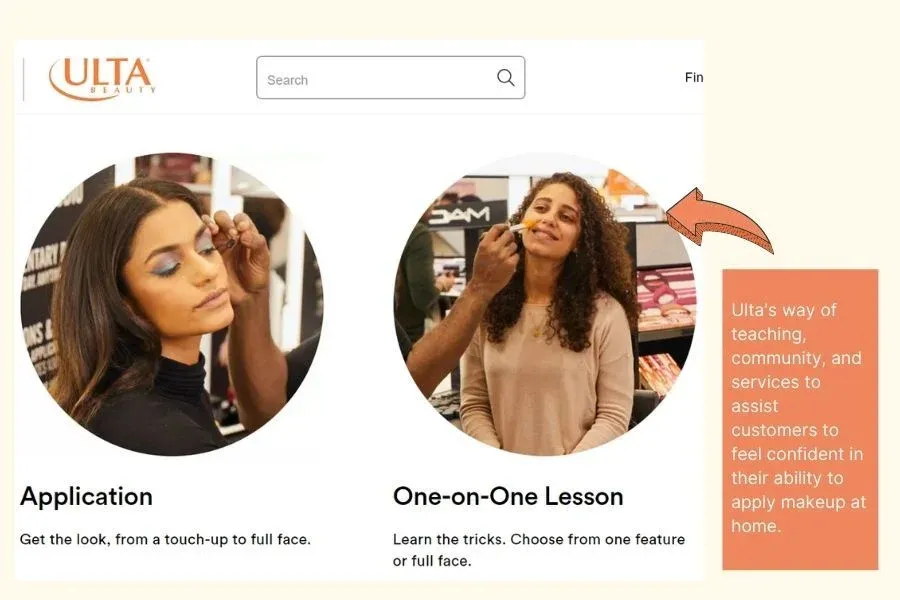 Use rewards to keep your audience interested: Interest is what will keep your reader hooked to your brand. So add features that might interest your target customers. And one brand that does a great job at it is Grammarly. Their advertisements highlight the benefits of using their product in different situations. They end with a simple CTA—which says, it's free!
Rewards let you empathize with customers: Gift cards may be a terrific method to bring clients in the door, especially during the holiday season. One of the ideal times to use gift cards is when families exchange gifts during the holidays. In addition, it's a fantastic approach for businesses to keep an emotional connection with their prospects. For example, Amazon has a creative lot of gift cards you can choose from. Confused about what to gift to a friend? Pick an Amazon gift card.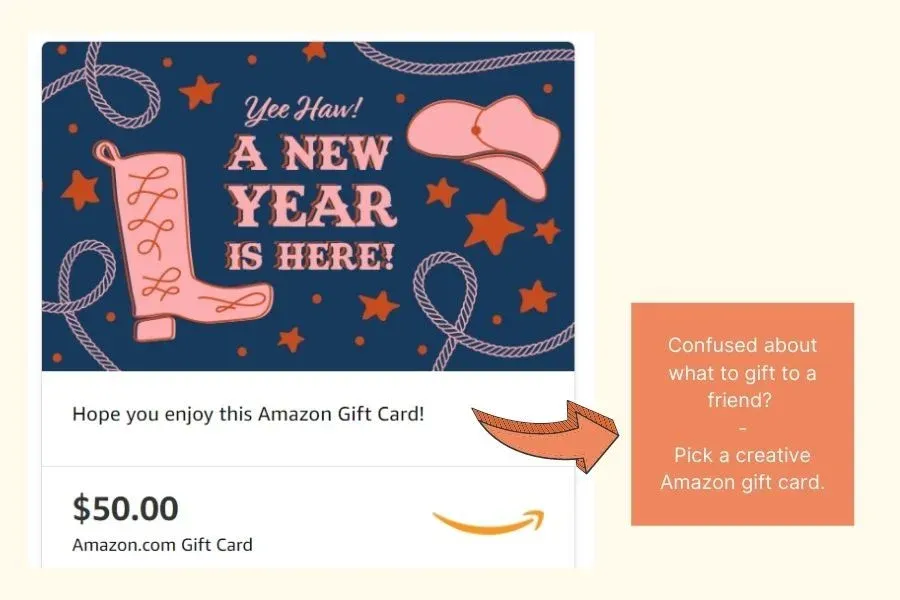 Rewards highlight the perks of availing of your offer
What is unique in your offer that might keep your clients hooked? Highlight it.
🎁
For instance, Xoxoday helps businesses keep customers interested with innumerable rewards choices. Companies can choose from
21000+ reward-rich global catalogs
that are spread across 20+ categories. Incredible, isn't it?
3. Desire Stage
People like to do business with people they know, like, and trust.  The AIDA model's first two stages establish the knowledge and the like.
This stage's goal is to convert "I like it" into "I want it."
And, you can do that by gaining your target customers' trust.
You might do with it by showing them what you have in store for them. Explain how your products are less expensive or more attractive than the competitor's model. Continue to provide them with information. Make sure they follow you on social media, subscribe to your newsletter, and download your offers.
The more prospects connect with your brand, the more they'll trust you, increasing the likelihood that they'll buy your product or service. Leading you to make them easily flow to the last stage of the AIDA model- The Action Stage.
Here are some tricks you can follow to stimulate desire in your potential prospects:
Stimulate, excite, and ignite your target audience: For instance, some brands, such as Red Bull, Gatorade, and Mountain Dew, radiate that sense of excitement in their advertising strategies, making them appear to be a go-to drink for players, particularly those involved in extreme sports.
Have options for everyone: "Freedom to Choose" is a good feeling. H&M's tagline, for instance, is "More fashion choices that are good for people, the planet, and your wallet." The company guarantees a wide range of clothing for everyone, as well as the goal of remaining environmentally friendly. Also, they have customized websites for different regions and countries.
Use case studies & testimonials to add value: For example, HubSpot Partner Agency, Blueleadz, does incredible work by telling a story about their client and their problems while providing a detailed account of how they solved them.
Create memories and make people connect: For example, Cadbury engages with its potential buyers with the Cadbury dominoes ad. The idea of the ad was so unique that it made people remember the ad and the product well.
Use rewards to stimulate desire in the audience: Rewards create a sense of excitement in people. Highlight relevant products members can earn with their points. Here's how Starbucks Rewards works. You earn 1 Star every time you spend some amount with your registered Starbucks Card. The more stars you earn, the greater the rewards you receive. It helps you convert many leads, and they are likely to make purchases from you, again and again, to get rewarded.
4. Action Stage
Finally, your target consumer is aware of you, interested in your product/service, and desires to purchase. All you have to do now is show them what they should do next.
The aim is to convince them to say, "I'm getting it."
For example, if a user adds things to his cart but abandons the purchase, the ad that should be displayed highlights a promotion that you shouldn't miss.
It is critical that your marketing strategy clearly express what action you want someone to take and offers the tools to execute it. Whatever the "next step," you should compel them to respond using low-friction, high-incentive calls to action.
Here are some tricks to follow to encourage 'action' in your audience:
Make it easy for your customers to purchase: For example, The Buy Now Bottom of Amazon helps the users quickly buy a product without putting the product in a cart and then making the purchase.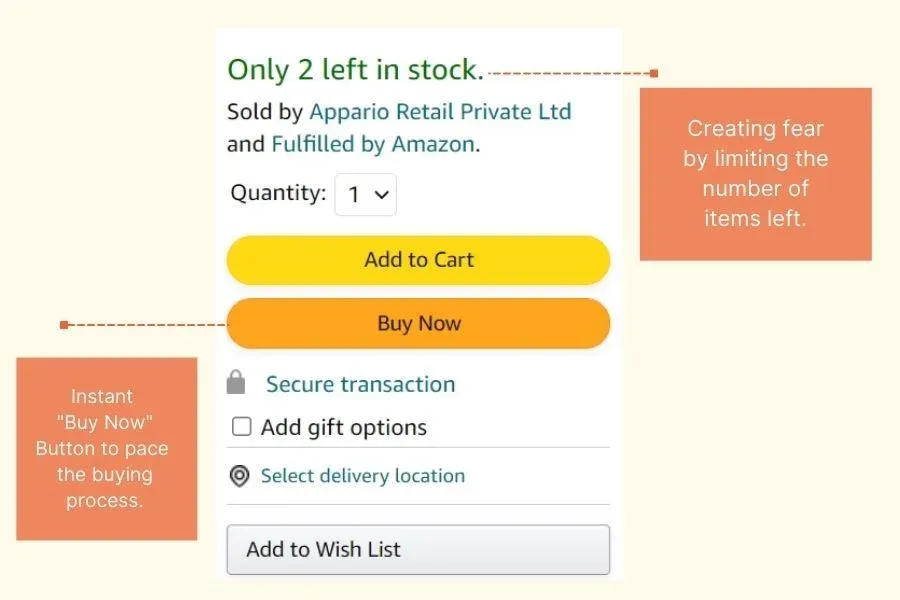 Create assurity: Free warranties and guarantees work well. For example, Eddie Bauer offers a full refund on any of their products. With proof of purchase, you can have up to a year to receive all your money back if you're not happy.
Give free trials or live demos: For example, Hellosign does this well. Though they have a free option with limitations, they know that the key to getting clients into their larger tiers is by offering a free trial upfront. So their pricing page sets the prospect's expectations and points them to the free trial.
Referral incentives: For example, with Tesla's referral program, you can earn awards when your friends and family use your referral link to order eligible Tesla products and transition to sustainable energy.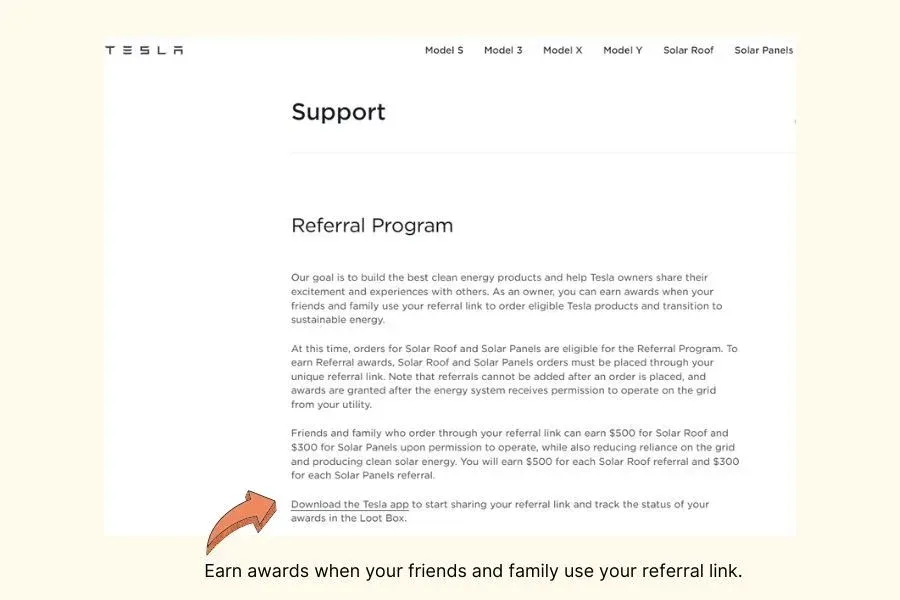 Use rewards to create curiosity: One of the most popular and well-used discounts is new subscriber promotions. It's a great way to incentivize your new potential shoppers. The trick is finding a balance between profit margins and your brand's perceived value to ensure that you're not diminishing product value. This leads us to a great example of a new subscriber discount from Cinnabon.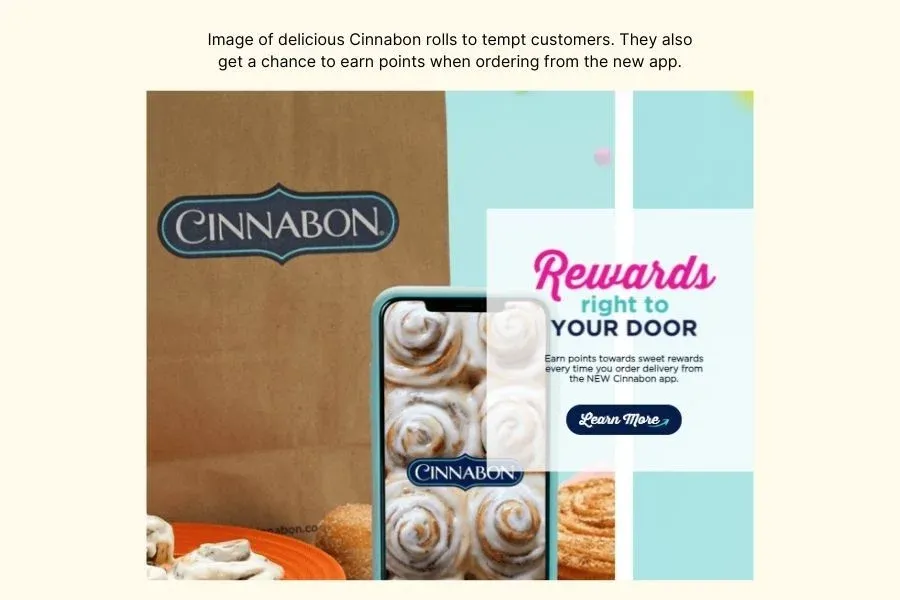 Rewards give customers reasons to come back to you
Keeping your existing customers engaged with you for a long time isn't that tough with rewards. If you allow them to earn points that don't require them to spend money, plus they get free rewards now and then- you win.
Odacité Reward is a program that encourages old clients to return to the brand for their regular skincare purchases. Buyers earn one point for every dollar spent. People can also earn points for sharing their Facebook page, inviting a friend, following them on Instagram, sharing their birthday, and creating an account.
Free shipping to make them complete their action: Some businesses find it compelling. Free shipping is most likely to drive the most conversions. Companies that provide a delivery service use free shipping as a reward. Interestingly, this offer is becoming more and more popular on E-commerce websites such as eBay and Amazon.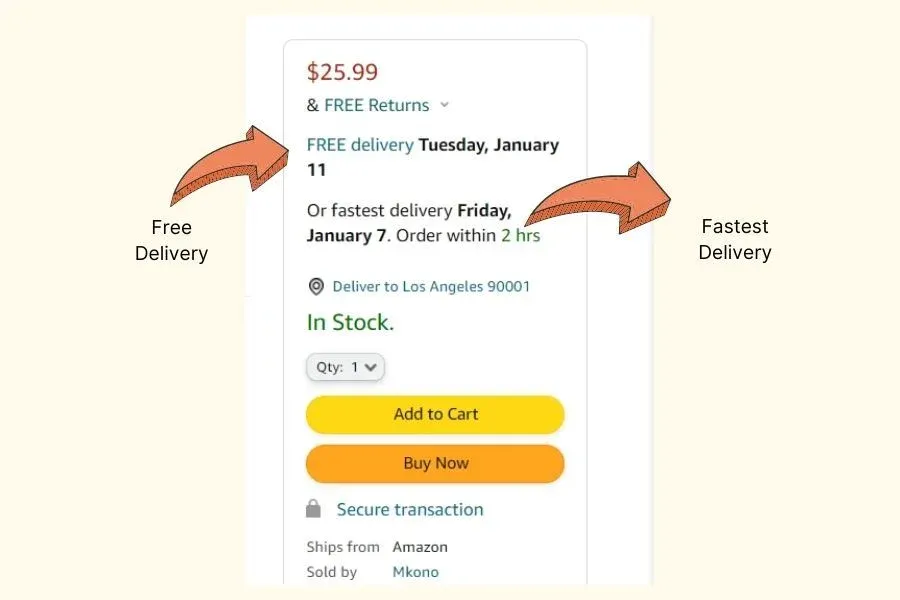 From all these ad copies, we can be sure about one thing- companies are investing heavily in rewards and incentives to attract people at every stage of the customer journey.
Key Takeaways
This should give you everything you need to know about the AIDA model and how it might help you in conversions. You might be aware now how 4 levels of the AIDA marketing model help in creating content that you can now easily create content for different stages a customer is in.
Here is a quick view of how to engage with prospects at four stages of the AIDA model. Also, you are free to be creative and add more to the list.
Attention
Establish a sense of urgency
Add emotions to attract leads
Write a short and clear copy targeting your audience
Create a viral content strategy
Interest
Demonstrate the advantages of your brand
Providing useful information using how-to videos
Don't focus on selling, focus on improving lives
Maintain Consistency
Desire
Stimulate, excite, and ignite the audience
Have options for everyone
Use case studies and testimonials to add value
Creating memories and making people connect
Action
Making it easy for buyers to purchase
Create Assurity: free warranties and guarantees work well
Make CTAs simple and clear
Referral Incentives
Rewards can be a super creative hack to assist you with your marketing campaigns for every stage of the AIDA marketing funnel.
An additional hack lies there in choosing the:
Right tool - that can offer automation at scale
Right partner - who can facilitate a huge variety of gifts to choose from
Right platform -  that offers effortless redemption for your clients
---