Adventurous Camping in Rishikesh for a Thrilling Experience!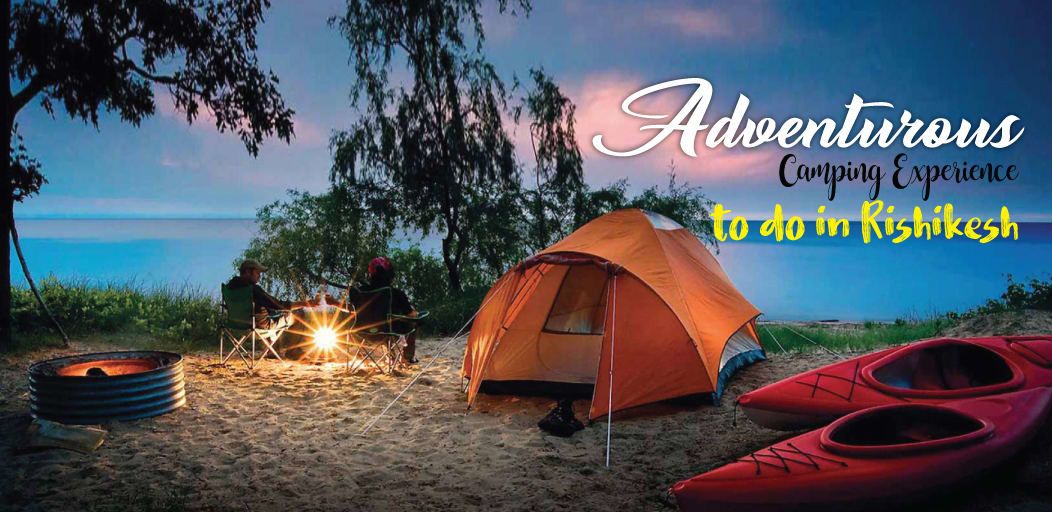 Situating near the foot of the Indian Himalayas in the state of Uttarakhand, Rishikesh, the adventure capital of India is a box full of thrilling, off-the-edge surprises waiting to be discovered.
Rishikesh also is among the few places in India that offers a multitude of adventure sports to its visitors. Rishikesh is a popular city with a contrast of mythological relevance and hippie culture. The Ram Jhula and Laxman Jhula are the two famous sites of the small city that gets over thousands of foreign tourists every year. Rishikesh is where spirituality meets adventure.
But Rishikesh is not all spirituality and contorted limbs, it's now a popular white-water rafting centre, backpacker hang-out, and Himalayan-trekking gateway. Rafting, kayaking, camping and several other adventures, along with Ayurvedic treatments, yoga, and meditation here, inspire tourists from the entire globe are enough reasons to keep Rishikesh on the top of the places to visit in India. Another good thing about Rishikesh is that it can be visited throughout the year. One has to keep in mind that the place is completely vegetarian and free from alcohol.
Once you're in the city of Rishikesh you would never want to leave this place. And you will be amazed to see the Unexplored places of Rishikesh and its beauty. You'll be embraced with its quietness, spirituality most of all its adventure sports. Taking a dip in the holy Ganges is one of the most blissful things that you would want to do once you're here.
Camping as a recreational activity became popular among elites in the early 20th century. With time, it grew more democratic and varied. Modern campers frequent owned natural resources such as national and state parks, wilderness areas, and commercial campgrounds. Camping is a key part of many youth organizations around the world, such as Scouting, which use it to teach both self-reliance and teamwork.
Camping is a recreational activity that does not have any age limit. Any individual who likes to explore new places and enjoy the beauty and serenity of nature can embark on a camping voyage.
Camping in Rishikesh brings the opportunity of staying amid the emerald beauty and tranquillity of nature. Moreover, the visitors can relish impeccable service and lots of fun-filled activities along the side of the sparkling blue water. Indulge in white water rafting and experience the thrill, pick-up your river rafting gear and get on the water. Let your body lose and dive, gliding across the face of the wave or go for a communion with the water.
Camping in Rishikesh on the Ganga beach offer an environment to wake up with the birds chirping chew and can swim in the freshwater of the river Ganges. Camping in Rishikesh is a very popular activity.
There are so many places for camping near Rishikesh where you can go and enjoy a nice camping experience. Go with your friends or family and enjoy a bonfire, great food and an amazing time. There's nothing like a camping experience. And the best part is that these camps have such facilities you will never feel as if you are staying away from home. Here is a list of some amazing places you can head to if you are looking for camping near Rishikesh.
Here are some of the most enthralling camps in Rishikesh
Aspen Adventure Camp
Camping and convenience are two words that don't go together. But one of the most popular lodging destinations in Rishikesh, Aspen Adventures, gives you a great blend of both. Located a few kilometres ahead of the Laxman Jhula, the camp is close enough to the main town to allow you easy access, yet far enough to give you the seclusion you need.
Aquaforest
One of the most picturesque camps of the lot, the Swiss tents at Camp Aquaforest, will make you feel like you're no longer in India. Great attention was paid to detail to ensure you don't have to give up hot water or air conditioning while you live in the middle of the wilderness. They also have a small pool on the premises for those who don't want to take a dip in the river.
Camp Ganga Riviera
Camp Ganga Riviera is best enjoyed at night, gazing at the stars as you sit outside your tent, around a bonfire. They offer many activities like badminton, volleyball, yoga, and trekking, as a part of their packages. You can mix and match and choose the option best suited for you.
Camp Footloose
If you love the hills, you will love this place. Camp Footloose is the only one in the area that offers an uninterrupted view of the Himalayas on all three sides, giving you a chance to celebrate the nature around you. This is one of the few camps in the area that is not located right on the banks of the river. So if you're looking to take a dip, it will take you a 5-minute walk through the wilderness to reach the riverside.
Tags
Comments